This lovely 3 bedroom terraced house is perfectly located in the village and just a hop, skip and jump to the Orford General Store, Pump Street Bakery, The Butley Oysterage and Kings Head pub. Orford is Situated on Suffolk's heritage coast.
Comfortable modern space in a beautiful picturesque village. I double bed, twin beds in bedroom two and a single bed in room three. Electric heating with added gas heater for really cold winter nights. Private parking in village centre Guests will be left with full local information and then enjoy the surroundings! Happy to advise local walks and places to see. Situated on Suffolk's heritage coast Orford is steeped in history. It is truly a lovely place - with lots to do and see and benefits with easy access to Snape, Aldeburgh, Woodbridge, Framlingham, Sutton Hoo and even Southwold Nearest station Melton and taxi service from station to village. The village has a Castle.
Situated on Suffolk's heritage coast Orford is steeped in history. It is truly a lovely place - with lots to do and see and benefits with easy access to Snape, Aldeburgh, Woodbridge, Framlingham, Sutton Hoo and even Southwold
Paul's house was charming. Exactly as described. The location was perfect , right in the centre of the pretty village of Orford. There was lots to do and see and we especially enjoyed the walk across Orford Ness. We had a problem getting into the property but Paul was quickly on hand to sort it out.
Lorna
2015-07-17T00:00:00Z
The house was perfect for us and our two grandchildren. Very clean, well equipped with a modern bright style, perfect for the week. Debbie met us and explained the basics which was great: we also had cereals, bread and milk provided, most welcome. I have no hesitation recommending this property, Orford has lots to offer and the location of the house is perfect. We all slept well as it was comfortable and soooo quiet, lovely. Many thanks to the hosts.
Yvonne
2016-09-04T00:00:00Z
Lovely home to stay in. Thank you
Joanna
2015-08-23T00:00:00Z
Paul was a pleasure to deal with, well organised and great directions, the house was cute and Orford is the most wonderful little town. Just wish we were there longer! Thanks
Hazel
2014-12-06T00:00:00Z
We felt warmly welcomed and well communicated with. House is very warm and cosy and suited our needs well. Area is lovely and some really useful recommendations for things to see and dofrom Paul. Would recommend.
Sue
2016-04-08T00:00:00Z
Paul and Debbie are very welcoming and attentive hosts. Their house was very comfortable and super clean. It was well equipped and had everything you need. They also kindly left us some breakfast things, which was very handy. They were very knowledgeable about the area and recommended some cycle rides for us to try. Orford is a lovely village in a beautiful area of the country. The countryside is really wonderful. There are many well marked footpaths and cycle routes to try, there's plenty to explore as well as the pretty seaside villages of Aldeburgh and Walberswick etc. We barely scratched the surface! We'll certainly come again.
Lynn
2016-06-05T00:00:00Z
Paul was welcoming and helpful. The house was well situated in the village and a convenient, comfortable spot for our short stay.
Debbie
2016-07-08T00:00:00Z
We loved your place and it was a perfect escape from London. We loved exploring the surrounding area too. Thanks for the breakfast too.
anna
2017-01-05T00:00:00Z
Tipe Kamar
Seluruh rumah/apartemen
---
Tipe Properti
Rumah
---
Mengakomodasi
5
---
Kamar tidur
Orford, Suffolk, Inggris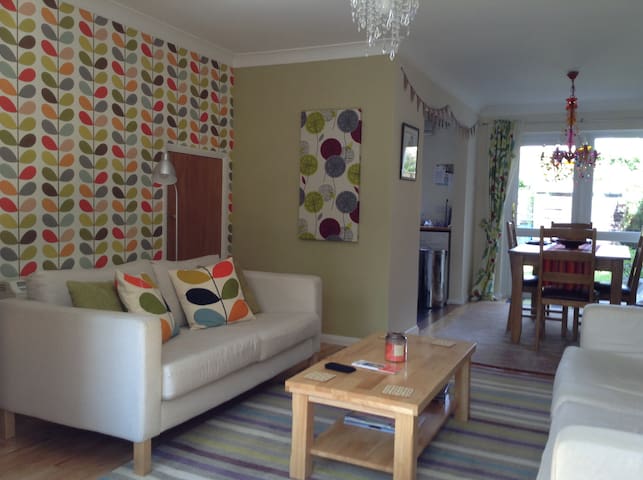 Church View is a Grade II listed terraced cottage in the heart of Orford, opposite the parish Church. It is just off the market square and a few minutes walk from Orford quay and the river. The cottage is full of period character mixed with contemporary style. It is cosy, with an open fire in the sitting room and wood burner in the dining room. The kitchen is light and bright with modern facilities. Church View is ideal for couples, friends and families. Your well behaved dog is welcome!
Tipe Kamar
Seluruh rumah/apartemen
---
Tipe Properti
Rumah
---
Mengakomodasi
5
---
Kamar tidur
Orford, Inggris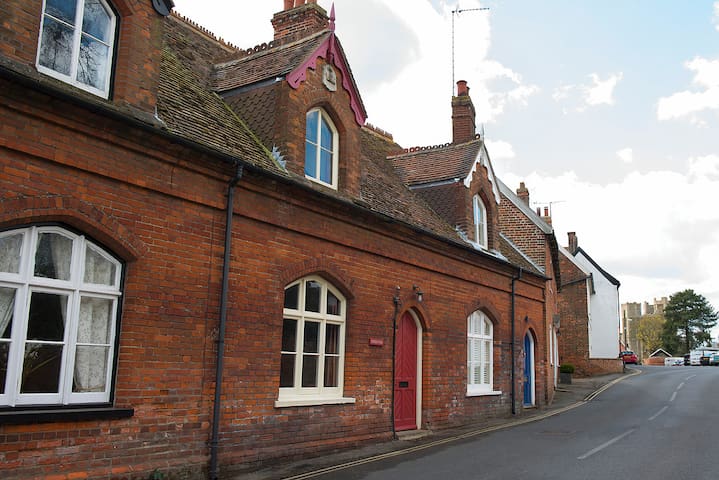 A recently refurbished 3 bedroom cottage located in a very central location just off the main village square. The property has been tastefully furnished and makes for a perfect holiday cottage. The house features three bedrooms (two double bedrooms and one single bedroom), a modern bathroom with overhead shower, a separate cloakroom, a modern kitchen, a double-facing log burning fireplace and bi-folding doors from the dining area which open up to a patio terrace area. NB 2 Car parking spaces inc
Crown Cottage is exactly as shown in the photos: beautifully decorated and with everything you need to be comfortable. The location is perfect for wandering round the village, popping out for breakfast at the Pump Bakery, or to go to the Castle. There are loads of walks in the area, a short walk to the quay for crabbing. We were met on arrival and shown how to work everything. All appliances are brand new and high quality. Lovely shower, cosy soft bedding, table football, log fire. Say no more! It really is a gem of a place.
Fiona
2017-02-20T00:00:00Z
Tipe Kamar
Seluruh rumah/apartemen
---
Tipe Properti
Rumah
---
Mengakomodasi
6
---
Kamar tidur
Orford, England, Inggris
Pretty, period cottage in mature, large, tree-filled garden. Next door to owner's house, has own gate and path and is self-contained. The garden is all open yet the cottage feels private. A very busy holiday let for 3 years, now available for short stays on Airbnb. Flexible check in anytime after 3pm. Usual check out time 12pm. Early check in / late check out usually possible apart from one day changeovers - please request when booking.
Your own small, pretty cottage within the owners' garden. You can be left in peace, are free to use the whole garden and make yourself feel at home. If you like the idea of a relaxed family environment with your own little cottage, you will be happy. Stays between 2 nights and 1 week - short notice is fine. No security deposit, flexible cancellation, well behaved dog welcome and flexible check in and out times.
Orford is a beautiful, peaceful sailing village, like stepping back in time. There is the famous Pump Street Bakery and a compact village shop / Post Office. There are 2 pubs and 2 restaurants in the village. The renowned Pinney's fish shop is on the quay, along with a tea hut overlooking the water. Orford is very popular with sailors, walkers, artists, birdwatchers, photographers, writers, musicians, foodies and people who like to get away from it all. There is a useful garage 100 yards from the cottage which also hires out bikes (closed Saturday afternoon and Sundays). See our site for more info on Orford and the Suffolk Heritage Coast - birdhouseorford.
Jenny wasn't at the property when we arrived but communication was excellent so we knew exactly what to do. The property was lovely and cosy, as described. My boyfriends dog absolutely loved the garden. The property is about a 10min walk from the front, much closer than expected. The restaurants in the area were great! We ate our body weight in sea food.
nina
2016-03-31T00:00:00Z
Fantastic place to stay - we had a really nice time and the cottage was even better than expected. Thank you very much to our hosts for both helping us and making it so nice - we would hope to come again!
Henry
2015-08-17T00:00:00Z
Very nice neighbourhood and lovely cottage.
Barnaby
2016-07-18T00:00:00Z
Absolutely brilliant. We loved our stay and highly recommend it. It is beautifully done up and true to its description.
Zoe
2016-10-30T00:00:00Z
Orford's lovely. Great weekend!
Guy
2015-08-31T00:00:00Z
The cottage is even better than the listing description. It has a warm at-home feeling as soon as you walk in. The fridge was kindly stocked with milk for tea and other drinks, comfy bed, lovely bedroom view and a large bath! Wish we could of stayed longer.
Laura
2016-06-27T00:00:00Z
Jenny kept in touch, to tell us when the cleaners were finished for us to move in etc. We were greeted by a large bottle of bubbly, beer and the local apple juice, together with biscuits, tea, milk etc which was lovely after a long drive. The cottage was very pretty, nicely furnished and equipped and clean, just a total pleasure to stay in.
Antonia
2016-08-19T00:00:00Z
We really enjoyed our stay in Orford, the cottage is a perfect hideaway to escape too. Secluded and equipped as described, with a welcoming pack, including a bottle of wine chilling in the fridge, a excellent way of saying hello and enjoy your stay from our host - would highly recommended and look forward to visiting again.
John
2016-05-31T00:00:00Z
Tipe Kamar
Seluruh rumah/apartemen
---
Tipe Properti
Rumah
---
Mengakomodasi
2
---
Kamar tidur
Orford, Inggris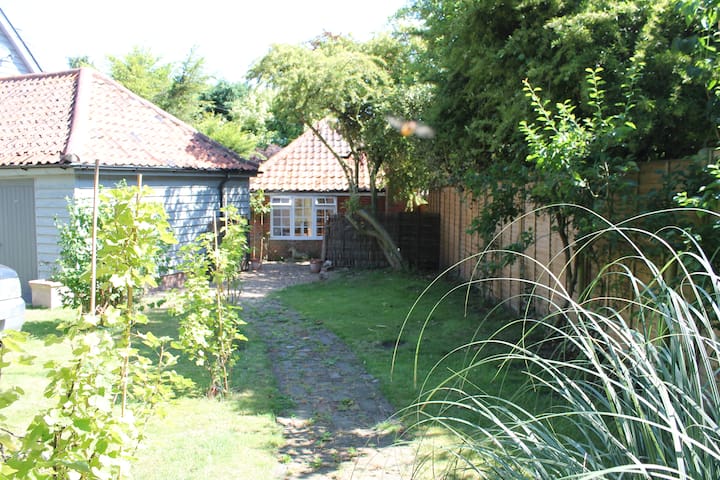 Set back from the main road on the Village Green this is a pretty 2 bed roomed cottage with its own private garden to the rear. Easy access to the river and the village with delightful shops and pubs. Wonderful walks and boating
A wonderful old cottage with lovely gardens, a perfect retreat! Good coastal walks, had a great Christmas in Orford.
Paul
2016-12-28T00:00:00Z
The host canceled this reservation 26 days before arrival. This is an automated posting.
Rachel
2017-03-18T00:00:00Z
Tipe Kamar
Seluruh rumah/apartemen
---
Tipe Properti
Rumah
---
Mengakomodasi
5
---
Kamar tidur
Orford, Suffolk, Inggris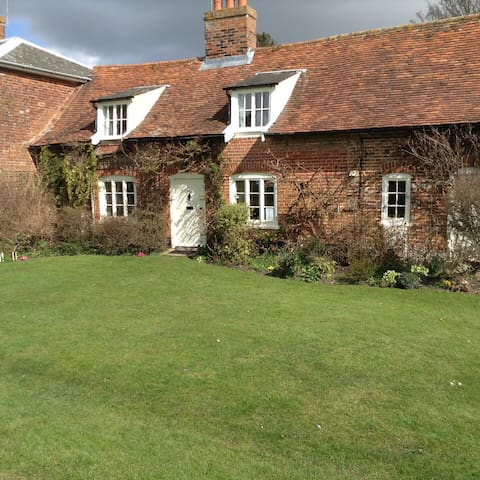 Dovepoint Cottage is in the heart of the village. 30m from the main square with the Kings Head pub, Butley Oysterage restaurant, village shop, artisan bakery and coffee shop. Ruth Watson's famous hotel overlooks the Castle just 300m away. The river is 500m down the road with amazing walks along the sea wall. Conservatory, kitchen, dining room and sitting room with open fire. Upstairs is master bedroom, children's room with bunk and single, family bathroom and attic room with two singles
Available for minimum lets of a week. A listed cottage in the heart of the Village, built in 1878.
We love: - Amazing walks along the sea-wall, with loops back through farmland and the Castle, - Cycling along the (mostly flat) country lanes, - River trips - there are a couple of boats that take passengers - or bring your own boat! - Sailing on the river - picnics on the almost deserted shingle spit - Bird watching - home to famous avocet, the RSPB organises trips to Havergate Island just down the river - Orford Castle - with its Norman Keep and amazing views - Ruth Watson's Crown and Castle Hotel for amazing food or the Butley Oysterage restaurant in the main square for the freshest fish - Two Adnams pubs: the Kings Head just 30 yards from the front door and the Jolly Sailor halfway down the Quay - Crabbing off the Quay with the younger members of the family - Pinney's Oysterage at the Quay for amazing smoked fish and fresh seafood - Pump Street Bakery - award winning artisan bakery on the square - The Village Shop for nearly everything you need - The Meat Shack on a narrow lane just off the main square - The Newspapers sold in the entrance to the Town Hall - Farmers Market in the Town Hall - Friends Garage at the entrance to the village for anything else that the Village shop doesn't sell!
The host canceled this reservation 7 days before arrival. This is an automated posting.
Julie
2016-12-17T00:00:00Z
Tipe Kamar
Seluruh rumah/apartemen
---
Tipe Properti
Rumah
---
Mengakomodasi
7
---
Kamar tidur
Orford, England, Inggris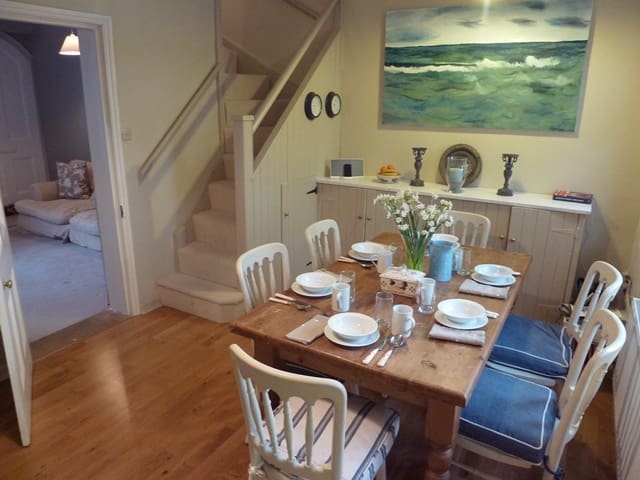 This charming cottage has streaming sunlight, high ceilings and a cosy fireplace. Perfectly positioned in a sunny spot tucked just off Aldeburgh High Street and a stones throw from Aldeburgh beach.
MASTER BEDROOM: The master bedroom is spacious and peaceful with two tall seaside windows catching the coastal light through the changing phases of the day. GUEST BEDROOM: The guest bedroom is furnished with 2 small single beds (190cm L x 80cm W x 40cm H) made of a solid oak wood frame and quality hypoallergenic mattresses and superior bedding.
The Chocolate-Box is located in the idilic seaside town of Aldeburgh on the beautiful Suffolk Heritage Coast. This coastal gem is famous for the Aldeburgh Music Festival, Benjamin Britten, and arguably the best fish & chips, and ice-cream in England! The shingle beach is lined with traditional fisherman's huts and spotted with coloured boats. It can be enjoyed all year round by people of all ages. It is home to Maggi Hambling's much loved shell sculpture. What can I do in Aldeburgh? Aldeburgh has lots of activities for people of all ages. From the enviable selection of art galleries, bookshops, boutiques and eateries, to the wonderful festivals held throughout the year. Beautiful walks, sailing and golf are but a mere few of the favourite activities to enjoy.
Really clean, light and lovely house. Sophie was also very good at communicating with any queries we had on the house
John
2016-01-08T00:00:00Z
We had a fantastic stay at Sophie and Harry's cottage. When we arrived there was a welcome pack which we really appreciated. The beds were really comfortable so we slept well. The cottage is central to everything and very close to the beach. It's a wonderful place and we'd love to come back again.
Jonna
2016-10-03T00:00:00Z
Sophie and Harry were brilliant hosts. The chocolate box is a lovely place to stay, with excellent facilities which includes everything you could need. It made for a very special first holiday as a family.
Charlotte
2016-05-22T00:00:00Z
We had a wonderful stay at Sophie & Harry's lovely house in Aldeburgh. The house is beautifully decorated and every bit as charming and comfortable as the photos suggest. And the little extra generous luxury touches added to our experience. It's extremely close to the beach and a short stroll into Aldeburgh. Sophie was a pleasure to communicate with and very prompt responding. We would definitely return and recommend to others. Thanks again.
Tom
2016-05-16T00:00:00Z
The Chocolate Box suited our needs absolutely perfectly. (Family of 4, children 10 & 8) We stayed 4 x nights and loved every minute. The location is ideal, very close to town centre and sea front. Internally the house was well equipped and beautifully presented - attention to detail was the best I've seen. Clearly this is a labour of love for the owners and these touches made our stay all the more enjoyable. Only negatives I can think of if forced are the steep stairs and 1 x WC but this is to be expected in a character property of this style. Communication was spot on. Would return in a heart beat. Many thanks
Max
2016-08-25T00:00:00Z
Get cottage in a perfect spot to explore Aldeburgh. Lovely accommodation and great facilities. Lee
Lee
2016-11-27T00:00:00Z
Freyja
2017-03-22T00:00:00Z
A fantastic cottage that really does have the 'wow' factor. Immaculately presented, this chic little abode is only moments from the beach and short hop to one of the best chippies around! Sophie and Harry were very accommodating making me, my wife and our little 6 month old girl very welcome with her own room and bouncer all set up in the living room. Touches like chocolates, bubbly and lovely products left for us to enjoy really made our short 4 night stay feel very relaxing. I couldn't recommend the cottage more highly
Sam
2015-11-16T00:00:00Z
Tipe Kamar
Seluruh rumah/apartemen
---
Tipe Properti
Rumah
---
Mengakomodasi
4
---
Kamar tidur
Aldeburgh, Suffolk, Inggris
A converted 18th century barn on a horse stud farm on the Suffolk Coast. Converted to provide a spacious, luxury living space with exposed beams, large bedrooms & bath and lazy leather sofas & wood burning fire. Bedroom 2 on request as: 3 x single beds or 1 Super kingsize + 1 single Set in 100 acres of water meadow paddocks grazed by sheep, horses & the odd friendly pig. Barn Owls, Marsh Harriers & Kestrels. Great coastal and river walks, pub and restaurants within minutes drive/walk.
NOTE: You have the option to have the second bedroom as 3 x single beds or 1 x kingsize & 1 x single on request to suit your needs. We could say plenty about the property, but leave it to our guests: "We have been fortunate enough to stay in some amazing places and we are quite fussy. The coach house at Valley farm met all of our expectations. It is beautiful, comfortable and clean. We didn't want to leave and ended up extending our stay a further 4 nights. We will most definitely be returning. If you are looking for a relaxing break in a beautiful place then you will not be disappointed here. Thank you so much for looking after us we enjoyed every minute of our stay" Mrs Tracey Ball - Manningtree Suffolk
Situated 5 minutes drive Orford one of the prettiest villages in Suffolk, located on the river Alde which boast 2 pubs, the famous Crown & Castle hotel/restaurant & the Butley Oyster fish restaurant, a Norman Castle, riverside walks and boats trips. We are also near the world famous Snape Maltings concert hall and the popular seaside town of Aldeburgh.
A fantastic barn conversion in a great rural setting. Perfect for a weekend away with family or friends. Really spacious and high quality accommodation with all mod cons. Its a great location on the farm with lots of friendly animals to meet.
Tom
2017-04-02T00:00:00Z
Fantastic accommodation, easy drive to Orford, Aldeburgh and Snape Maltings. Would definitely recommend.
Jane
2017-02-19T00:00:00Z
The host canceled this reservation 37 days before arrival. This is an automated posting.
Helen
2017-03-07T00:00:00Z
We had a thoroughly enjoyable stay. Fabulous property , great location and equipped with everything you could possibly need. Loved the wood burning stove! Thanks
Christina
2017-03-26T00:00:00Z
We spent a weekend in February at Piers's place. It's immaculate, well appointed and in a peaceful, rural location. There's a large kitchen and dining area to prepare meals, a wood-burning stove, a huge luxurious bath, as well as mod-cons such as wifi and Netflix on the home cinema. Piers made us feel very welcome and provided full instructions for everything as well as a useful folder of local information. The house is on a farm and you can visit the pigs, ducks and horses. Would highly recommend this place to anyone wanting to escape to the countryside for the weekend!
Andrew
2017-02-12T00:00:00Z
Tipe Kamar
Seluruh rumah/apartemen
---
Tipe Properti
Rumah
---
Mengakomodasi
5
---
Kamar tidur
Sudbourne, England, Inggris
A traditional Suffolk Cottage set in a beautiful location, 5 mins from Orford with walks on the doorstep. The cottage has a large kitchen/diner and cosy living room with log burner. Upstairs there are 2 large bedrooms; one King and one Double and a large bathroom. There is a large private garden with a lovely patio for outdoor dining and a small Orchard beyond. There are 2 fantastic, family friendly, pubs/resturants on the doorstep and Woodbridge and Aldeburgh are a short 15 minute drive away.
The cottage is light and airy with two spacious rooms downstairs; a kitchen and a lounge with a log burner.
The village is really quiet and just has a restaurant although there are shops and a pub a short drive away.
Tipe Kamar
Seluruh rumah/apartemen
---
Tipe Properti
Rumah
---
Mengakomodasi
4
---
Kamar tidur
Chillesford, England, Inggris
This sunny, spacious and newly-refurbished Victorian house is situated in a quiet street in the heart of Aldeburgh. It is within minutes' walk of the beach, fresh fish & chips and the pubs and restaurants of Aldeburgh high street. It comfortably sleeps 6 people and is decorated in a light and contemporary style. It has a large living room, separate dining room and large garden table, perfect for eating indoors or outside.
This spacious Victorian house is in the heart of Aldeburgh on a quiet street, within a minutes' walk of the beach and Aldeburgh high street with its famous fish and chip shops. The house is newly re-furbished in a light contemporary style. On the ground floor it has a large living room, separate dining room and newly-refurbished bathroom. There is a private sunny outside garden with outside furniture. We have a travel cot and high chair for young children in the property as well. Upstairs there are three double bedrooms, two with double beds, and one with twin beds. The twin bedded room leads directly off the second double bedroom.
The house is situated in the heart of Aldeburgh - a picturesque Suffolk seaside town particularly popular among music lovers, bird watchers, walkers and artists. Situated close to Snape Maltings concert hall and host to the Aldeburgh Music Festival, Aldeburgh is known also for it's connection to Benjamin Britton, who lived in the town for many years The High Street hosts a number of good restaurants, pubs, antique shops, bookshops, bakers, butchers, fishmongers, and two fish and chip shops - both less than a couple of minutes' walk.
The property was in immaculate condition and very well equipped. We had a lovely weekend in a lovely town by the seaside. Frances was really helpful and made the stay super confortable for us. Thanks!
Clare
2015-10-11T00:00:00Z
We had very clear instructions about how to get to the house and how to get access. The house was lovely - really clean and some lovely touches such as the towels, the small toiletries and the Adnams welcome pack. It's in a perfect place for exploring Aldeburgh and the Suffolk Coast. Would definitely recommend a visit here.
Fenella
2016-05-16T00:00:00Z
Swift, polite and friendly response to telephone queries. Welcome gift pack was a nice gesture. Cleanliness was first class. Homely and welcoming.
Colin
2016-08-28T00:00:00Z
Lovely cosy little cottage perfect for 4 (but can sleep 6 - see below) in a great location for the beach and the high road. It had everything you could need including a welcome pack including beer jam and coffee. Frances was very quick in responding to any query and her instructions for location and access were impeccable. NB: if there are 6 of you, one bedroom is only accessible through another bedroom
Iain
2015-11-08T00:00:00Z
Lovely airy and bright home with plenty of space for all the family. Excellent location for aldeburgh as only a few minutes from all the shops and sea front .
thomas
2015-12-19T00:00:00Z
Thanks for a lovely stay, lovely house, great location and thanks for the extra logs and the welcome pack and wine.! The house was lovely decorated and all we needed for our short break. Thanks again
Emma
2015-12-15T00:00:00Z
Great place, great location. Very clean and just what we wanted. Overall, great visit.
Paul
2016-11-13T00:00:00Z
The host was easily contactable, there was a lovely welcome package when we arrived and the house was in a great location.
Megan
2016-02-28T00:00:00Z
Tipe Kamar
Seluruh rumah/apartemen
---
Tipe Properti
Rumah
---
Mengakomodasi
6
---
Kamar tidur
Aldeburgh, Inggris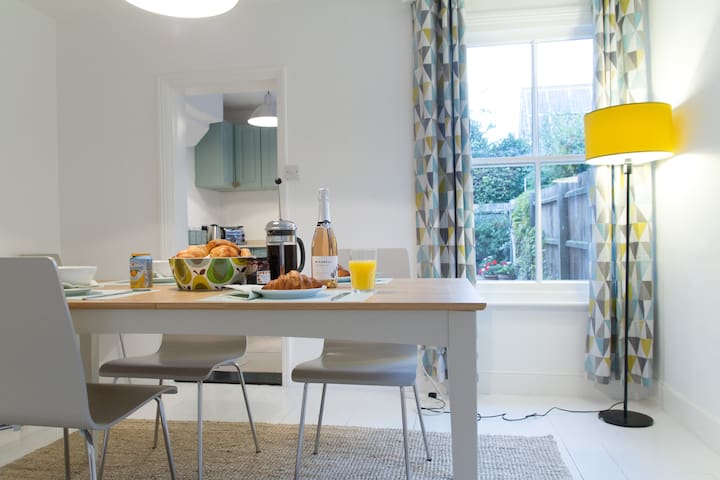 Location excellent, offers good basic accommodation for up to 3 people/couple with 2 children, in the heart of Aldeburgh, 2 mins walk to the beach, 5 mins walk to the river, comprising 2 bedrooms, bathroom, kitchen-diner, living room. Note: no TV.
This is a real home hosted by a real resident. The cottage is on the quiet end of the High Street for convenience and the seafront is just two streets parallel and to the east. The river walks and Martello tower walk along the seafront are 3 minutes away to the south as the town gives way to spectacular views of the sea on the left and the river on the right. Sunsets are a must. My partner is an artist and her colourful contemporary works often featuring nature can be seen around the cottage! My telescope is available for start gazers. During the winter I provide my guests with free coal and kindling to make the front room toasty. During the summer bedlinen is air dried in the sea breeze.
Aldeburgh is famous not only for its fish and chips and music conservatoire but is packed with independent boutiques, delis and cafes, pubs and restaurants. It boasts fish, lobster and crab sourced off the coast sold fresh daily in fishermens huts on the beach, no less than two yacht clubs, and is full of pretty and quirky houses along the high street and sea front. RECOMMENDED Canoeing and Kayaking at Iken near Snape Maltings (website hidden) £25-£30 for 2 hours RECOMMENDED Pubs and restaurants for you… Fish and Chips – the famous Aldeburgh Fish and Chip shop fries traditionally with lard and is the one near the cottage - literally 100 yards up East side of High Street. Most fish is locally caught. Opening times on chalk board. Be warned the queue gets outrageous on weekends! However, as long as you join the queue before closing time they keep open until the queue has been served. There is another branch further up the High Street near the Co-Op which fries using vegetable oil should you prefer. Pubs: the White Hart is next to the Fish and Chip shop, there is seating outside and a good wood fired pizza stall most evenings. The pub is popular with locals and visitors alike and get busy at times but has a lively and including atmosphere. The Cross Keys is toward the Moot Hall (near junction where you entered the High Street. This pub is mainly original C17th with extensions, has big open fireplaces and low ceilings, also a sitting area at the back which faces the sea. Less locals and more tourists here, the joy is in the architecture and they serve food. Restaurants: The Lighthouse (past the Co-Op) for a traditional atmosphere or the Brudenell Hotel (on sea front close to cottage) for a modern design and views of the sea. Snacking, coffee and breakfasts are catered for by Munchies (half way up West side High Street). There many other eateries as you will see but this will start you off! RECOMMENDED Walk or Cycle 5.7 miles Download the map here: (website hidden) From the cottage turn right and go onto unmade road towards Martello Tower. At (1) take the path along the top of the 2 metre river defence to your right and follow along the river past the yachts. At (2) take a right off the wall and negotiate the odd field and odd cow to the Allotments (3) if on bikes you will have to lifer them over some of the styles (you could walk this part, go back to cottage for a snack and then set off on bikes for the trip to Thorpeness and back). At (3) turn left continue to roundabout. Take 3rd exit on roundabout (Church Farm Road) and immediately look out for the path on your left. This will take you past the Caravan site on your left and after 100 yds you will find the start of the disused railway track from Aldeburgh to Saxmundham. This is a lovely straight and cycle friendly path that peters out after a mile and a bit. When the path peters out there is a bench on the left for viewing and resting and you will see a house. Go to the right of this house and negotiate the path which runs between the Thorpeness Meare (scenic artificial lake which you can hire a boat on) and the 3rd fairway of the Thorpeness Golf Course. Actually you will find yourself pretty much on the edge of the golf course all is fine. Me and my family once decided to have a picnic on the green and some old dears playing golf were not amused – our offer of a pastic cup of wine was rejected. I thought my 10year old daughter's offer to rake the sand back into order in the bunker she had been jumping in and out of a fair one. The ladies were not amused! Ok, so you will literally arrive at the Thorpeness Golf Club and can go by road to Thorpeness proper. Here you can grab ice cream by the Meare, grab a brilliant and cheap crab salad at the cafe, have Adnams beer or lunch at the Dolphin pub, have a boating expedition on the Meare etc. Now time for a ride south on the road to Aldeburgh stopping off at the Maggie Hambling Scallop sculpture on the beach to your left as you near Aldeburgh - Aldeburgh. When it arrived it divided local opinion but I really like it, a sculpture you can climb on gets my vote. As you enter town you have the Cross Keys by the seafront, Brudenell hotel bar for a cocktail looking at the sea form where you are 40 paces from the cottage. Or the Aldeburgh Fish & Chip shop (check opening hours) and a pint in the White Hart next door – or wood fired pizza in the pub yard if you prefer.
This is a delightful place. Perfect for two with a very well equipped kitchen and well positioned for both the sea and the centre of the town. Matthew was very prompt in replying to all my enquiries.
Paul
2015-10-24T00:00:00Z
Second stay at Matthew's lovely cottage, and it won't be the last! Highly recommended all round from the house to the host!
Kris
2015-10-27T00:00:00Z
Matthew was a helpful and welcoming host. He was flexible about arrival + departure which was much appreciated. We had some communication difficulties - . . due to my emails failing to send. Visitors should be aware that internet connectivity can be problematic in Aldeburgh! The cottage is in a great location just a few minutes from the sea and local shops and restaurants. It was quiet despite being on the High St. The ideal base for our weekend in Aldeburgh.
Alex
2016-09-26T00:00:00Z
We had a lovely stay in Aldburgh, the cottage was comfortable and in a great location. We would definitely stay again, thanks Matthew
Jennifer
2016-09-06T00:00:00Z
Very nice classic English seaside cottage, well kept and lots of character. The open fire as many have said was a real pleasure (you can buy wood at the Co-Op). Didn't get to meet Matthew but he was super helpful and quick in communication. Aldeburgh is lovely and wish we could have stayed longer.
Joseph
2015-11-16T00:00:00Z
What a beautiful cottage, in the perfect location. Matthew kindly provided everything one might require, including firewood. Can't wait to go again. Thank you! Ana and Jeremy
Ana
2015-12-01T00:00:00Z
Aldeburgh was the perfect destination to recover from the festive excesses and Matthews cottage was the icing on the cake. Very cozy and well equipped with all that can be expected and more. Our host made great efforts to facilitate a relaxing stress free time. We would definitely visit again.
Akis
2016-01-08T00:00:00Z
Brilliant cottage in a fantastic location at the heart of Aldeburgh. Matthew was a very good host and kept in constant contact throughout.
Charlotte
2015-02-23T00:00:00Z
Tipe Kamar
Seluruh rumah/apartemen
---
Tipe Properti
Rumah
---
Mengakomodasi
3
---
Kamar tidur
Aldeburgh, England, Inggris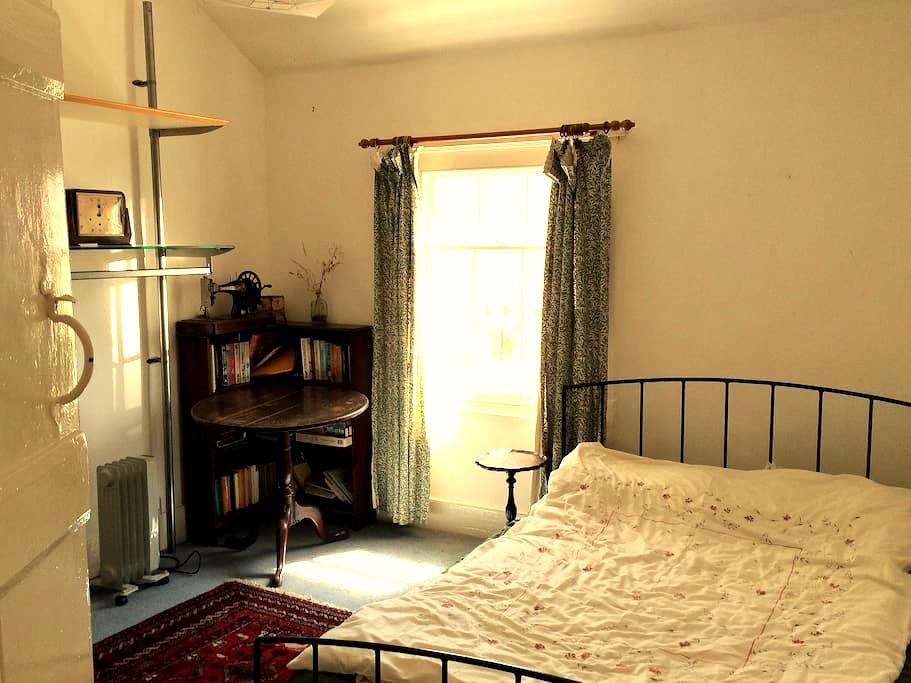 The cottage is in wonderful Aldeburgh on the suffolk coast. It's cosy and comfortable, very near the sea, shops, pubs and restaurants. There are two bedrooms with double beds - one accessed by some quite steep steps. There is another bedroom with a single bed and a single mattress - the bathroom and top bedroom are accessed via this room. To save costs, guests are required to bring their own linen and towels and clean and tidy before you leave. We provide duvets and pillows. Dogs are welcome.
The house isn't glitzy or glammy - more a well used family home. We welcome guests with dogs as we have two little ones ourselves. We keep the price down by expecting guests to clean once they have been. We love the house dearly and hope you will too when you stay. The house isn't a 5 star hotel and if this is what you expect perhaps the house won't be for you.
Miranda was an extremely welcoming and helpful host, communicating efficiently and going out of her way to make arrival and departure as easy as possible. The cottage is beautiful and cosy, right by the main street and beach. The parking space is a lovely bonus and it really could not have been a more happy stay. We would definitely return!
Piran
2016-10-03T00:00:00Z
Miranda's cottage was perfect for the two of us. The house rules were accurate and very helpful. We loved being so near to the sea front, the town high street and the marshes. Inside, the cottage is delightful with loads of artwork, books and plenty of CDs and DVDs should the weather keep you in - the sun shone while we were there though! We hope to be back again soon - thanks!
Ian
2016-09-30T00:00:00Z
What a lovely little house, and what great hosts! We had a wonderful time in Aldeburgh thanks to Miranda's hospitality. The house is not only quaint to look at and well equipped inside, but seconds from the town centre, as well as the yacht club, where my daughter was attending a sailing course. Miranda is an attentive and generous hostess, going to no end of trouble to accommodate our ever-changing itinerary. We look forward to staying in her house again soon, if she'll have us!
Sarah Jane
2016-08-27T00:00:00Z
The host canceled this reservation 10 days before arrival. This is an automated posting.
Elizabeth
2016-08-25T00:00:00Z
We had a lovely few days in Miranda's pretty cottage. It is very well equipped, cosy and comfortable. Great location close to the beach, pubs and shops. Easy off street parking. Nice view out of the back upstairs windows. Thank you.
Linda
2016-12-07T00:00:00Z
Lovely little cottage, very comfortable and cosy. Great for friends wanting a relaxing stay.
Joan
2016-11-20T00:00:00Z
Beautiful cottage, very cosy and perfect for our short stay. We will definitely be back. Thank you.
Julian
2016-11-25T00:00:00Z
Very enjoyable stay. Cottage is in a great location and communication with Miranda was easy and quick.
Victoria
2016-10-16T00:00:00Z
Tipe Kamar
Seluruh rumah/apartemen
---
Tipe Properti
Rumah
---
Mengakomodasi
6
---
Kamar tidur
Aldeburgh, Inggris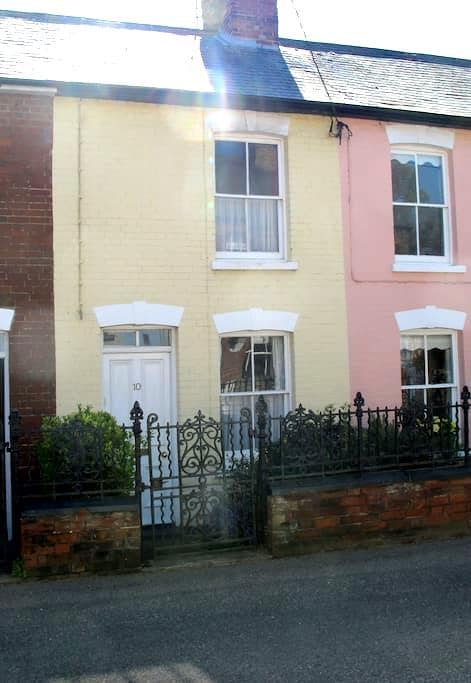 Ann Page Cottage is a pretty pink cottage, built in 1830, but renovated, decorated and furnished to twenty first century standards. It is situated in the quieter end of the High street near to Aldeburgh's popular shops and restaurants and is just moments from the beach. It has all the facilities to make for a happy holiday
Visit England FOUR STAR rated. Two double & two single bedrooms. Onebathroom and another toilet in the courtyard. Ann Page Cottage is a pretty High Street property situated near to Aldeburgh's popular shops, pubs, restaurants and its world famous Fish and Chip Shop! It is just moments from the beach. This charming cottage has a lovely homely feel to it inside. The ground floor has a living room with an open fire, a dining room, and a kitchen. Upstairs are four bedrooms and a bathroom. Outside there's a walled patio back garden. This cottage is ideal for groups of up to five adults and a small child.?
Aldeburgh is a coastal town in the English county of Suffolk. Located on the River Alde, the town is notable for its Blue Flag shingle beach and fisherman huts where freshly caught fish are sold daily, and the Aldeburgh Yacht Club. The internationally renowned Aldeburgh Festival of arts, which takes place at nearby Snape Maltings, was created in 1948 by the resident and acclaimed composer Benjamin Britten. A popular weekend destination, with second homes making up roughly a third of its residential property,particular attractions are the ancient Moot Hall (where the town council still meets), Napoleonic-era Martello tower to the south, sheltered yachting marina at Slaughden, and two family run shops serving fish and chips, one of which is often cited as among the best fish and chip shops in the UK.
My family and I had a fantastic short break away. Barrie made it very clear he was on hand to offer any words of help or advice. As it turned out we were well catered for and found everything we needed. It proved to be a lovely break away by the sea.
Clare
2016-11-28T00:00:00Z
Superb cottage right next to the sea front with lots of little touches that made the stay special. Fantastic!
Andrew
2016-08-09T00:00:00Z
We had a great stay at this lovely old cottage. The kitchen had everything we needed and the cottage was clean,comfortable and a stones throw from the beech. Would highly recommend.
Kobus
2016-06-25T00:00:00Z
Ann Page Cottage is in an amazing location in the beautiful town of Aldeburgh. In less than a minute we could be on the beach, which our children loved (our 3 year old especially loved the toy boat pond and the ice cream stand!). We would very much recommend this cottage for families, and the toy cupboard was appreciated. We also appreciated the fact that the washing machine was fixed the same day that we reported an issue with it. Overall a lovely cottage and perfect location for a holiday!
Sara
2016-10-01T00:00:00Z
Such a beautiful home with the added upmarket surprise of essentials in the kitchen - I will not hesitate to stay here again, location is spot on and perfect Thank you
david
2016-09-05T00:00:00Z
Everything was brilliant - hosts had clearly made a big effort, lots of little extras found in the fridge and bread bin :) We didn't want to leave!! Thank you very much - will definitely come again.
Tamsin
2016-08-05T00:00:00Z
Barry made us feel most welcome in this pretty cottage on the High Street. He even went out of his way to provide us with a highchair on the day we arrived, despite not being included on booking. The cottage itself was in a great location within a stone's throw of the beach and all the High Street shops.. there was also a lovely little patio out the back with enough room to have a BBQ dinner each evening. Would certainly come back again.
Jock
2016-06-21T00:00:00Z
We had a fantastic stay here would recommend it to all. Very clean and well equipped and good central location. We nearly let the no parking put us off but really glad we didn't there was plenty of free parking about a minute away. Good restaurants and pubs shops and the beach all within good walking distance
Susan
2017-02-19T00:00:00Z
Tipe Kamar
Seluruh rumah/apartemen
---
Tipe Properti
Rumah
---
Mengakomodasi
5
---
Kamar tidur
Aldeburgh, Inggris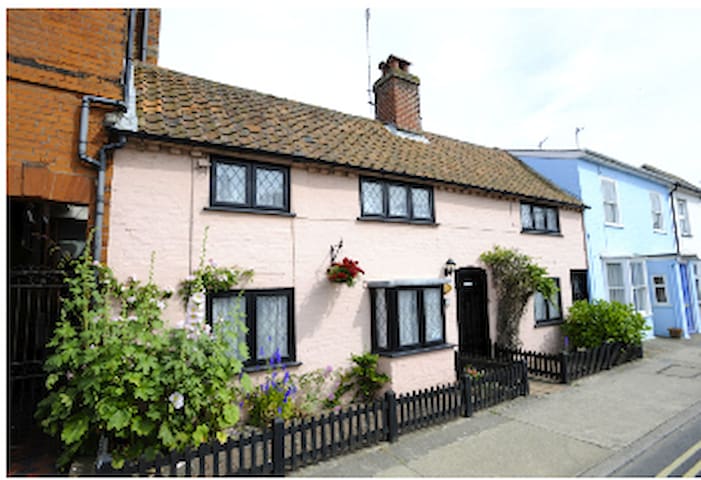 This coastal retreat is tucked away at the bottom of a beautiful garden. It is the perfect mix of quiet retreat and town life. You can open the gate and walk straight out onto the marshes and down to the river. Or take the five min stroll into town and enjoy all Aldeburgh has to offer. It is good for couples and solo adventurers.
The cottage has a open plan kitchen and sitting room downstairs that leads out onto a small terrace. Upstairs there is a spacious bedroom with kingsize bed and airconditioning that leads through to a bathroom with large bath. There is no shower at the property.
The cottage is located in the beautiful seaside town of Aldeburgh on the Suffolk Coast. Aldeburgh is famous for the Aldeburgh Music Festival, Benjamin Britten and wonderful fish & chips. The shingle beach is lined with traditional fisherman's huts and spotted with coloured boats. What can I do in Aldeburgh? Aldeburgh has lots of activities for people of all ages. It has a vibrant high street with many shops, galleries and resturants. For the active guest you can enjoy beautiful bike rides, walks, tennis, sailing and golf.
Fantastic cottage in Aldeburgh. It has everything you need for a holiday on the lovely Suffolk coast. Perfect for a couple, or for a family with small children as there was a second bedroom with bunk beds. Just be aware that it doesn't, at the time of writing, have wifi, which we hadn't checked on the listing details. The mobile signal is pretty good for a country location. Aldeburgh is a wonderful part of the Suffolk coast, and I would reccomend Sue's cottage to anyone looking for a relaxing or romantic holiday on the coast or just away from the city. The standalone bath in the huge en-suite is brilliant! The bottle of sparkling wine upon arrival was a lovely gesture as well!
Simon
2016-12-31T00:00:00Z
This place was lovely - a real bolthole in a lovely secluded spot at the bottom of Sue's wonderful gardens. We arrived to a personalised note with local recommendations and fresh flowers on the table. The pictures don't do it justice, highly recommended.
Jonathan
2016-07-31T00:00:00Z
The cottage was very easy to find after receiving the owner's helpful instructions. In the cottage all mod cons worked and the layout was quirky and comfortable. A lovely adaptation of a former garage at the back of the owner's garden, this is a getaway full of character in the inspirational setting of Aldburgh.
Elizabeth
2016-06-20T00:00:00Z
Wonderful find, secluded but short walk into town. Everything you could need, with some lively personal touches. A wonderful oasis of calm, loved it!!
Terry
2016-09-19T00:00:00Z
Sue's place was amazing. Beautiful and surrounded by countryside and sea side! It's a short walk to the beach and hughstreet. Ideal for couples and for small families! On our arrival there was prosecco and restaurant recommendations, overall a fabulous retreat! Would definitely go back.
Kyleigh
2016-09-09T00:00:00Z
Lovely spacious cottage with bags of character. Secluded location - country walks nearby. Town centre is a short walk away down a lane. Very clean throughout. We enjoyed our weekend break in this cottage.
Steve
2016-10-18T00:00:00Z
The Coastal Retreat was a beautiful property in an amazing location. It was a very short walk into town and the beach, and the walk through the marshlands towards the Martello tower was stunning. The property had more space than we had anticipated, including an extra bedroom with bunk beds. We met the husband of the host several times, and he was absolutely charming, full of advice and suggestions for walks and food. The local seafood and smoked fish were fabulous, and we did make a concerted effort to try the local beers. We also loved the fact that there was a provisions pack on arrival, including a bottle of wine! Great place, thoroughly recommended.
Helen
2016-07-17T00:00:00Z
We had a wonderful break in this amazing location. Bordering the marshes and set in a wonderful garden, the cottage is very quiet, spacious for 2 people and generously equipped. Sue (and her family) made us feel very welcome, even though she herself was away the weekend we stayed. If you're looking for something better than the usual impersonal agency holiday home, look no further.
Chris
2016-10-25T00:00:00Z
Tipe Kamar
Seluruh rumah/apartemen
---
Tipe Properti
Rumah
---
Mengakomodasi
2
---
Kamar tidur
Aldeburgh, Inggris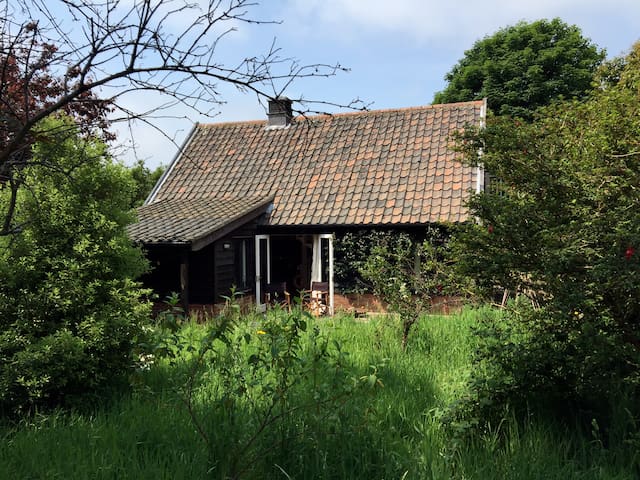 This recently refurbished Victorian terrace Aldeburgh property is located in the heart of the town and is just ten minutes walk to Aldeburgh Beach. This self catering holiday cottage is an ideal base to explore the heritage coast and with a pretty enclosed rear garden that offers sunset views, it is perfect for evening relaxation.
Key Features: Town location and close to all amenities A short walk to Aldeburgh beach 2 bedrooms & 1 bathroom Pretty enclosed garden Flatscreen TV, DVD, Wi-Fi One well behaved dog welcome
Aldeburgh is a town located by the River Alde on the stunning Suffolk Heritage Coast. It is famous for the annual Aldeburgh Festival, which takes place nearby at Snape Maltings – home to the renowned composer Benjamin Britten. Aldeburgh also hosts a Carnival which takes place over a long weekend in August. It includes a funfair, mini-marathon, Carnival procession, Military band and fireworks display. Whilst in Aldeburgh, make sure you visit the life boat station, Moot Hall, Martello Tower, buy fresh fish from the huts on the beach and of course do not forget to try the famous fish and chip shop! Thorpeness is a village located just one mile north of Aldeburgh on the stunning Suffolk Heritage Coast. Developed as a private fantasy holiday village, Glen Ogilvie built the Country Club, golf course, tennis courts and an artificial lake called the 'Meare'. The Meare has inspirations from J. M. Barrie's work of Peter Pan and holds the annual Thorpeness Regatta where boat races are held during the day and a fantastic fireworks display can be seen at night. Thorpeness is also home to the House in the Clouds. An old water tower that was considered an eye-sore has been developed into a fantastic 5-storey holiday home. You won't miss it whilst you are visiting the village!
We really loved our stay at Railway Cottage. It's a cute and nicely decorated place with a very comfortable bed and a great garden (with cool lights for use at night). The kitchen was a good size and had a dishwasher and washing machine, but we missed not having a microwave and we found there to be a shortage of mugs/cups and some kitchen utensils. The neighbourhood is nice and it's a very short walk into town and an even shorter walk to a nearby Tesco and Coop. The cottage is on a busy road though with lots of passing traffic, worth bearing in mind if you're a light sleeper. We also found that parking was a bit of a problem, having to park quite a way down the road. The lounge was comfortable. There's a small TV with a VCR and DVD player and there's a coal fireplace (though no instructions were left on how to use it). In conclusion, despite a couple of very minor issues, we had a lovely weekend in Suffolk and wouldn't hesitate in recommending this property to you.
Matt
2015-05-05T00:00:00Z
Cosy, homely & suited us with two teenagers & small dog. Only ten minutes walk to the sea.
lucy
2017-01-29T00:00:00Z
What a lovely cottage and town! We loved our stay thank you. The garden would be amazing in the summer. The location was very convenient to the town, shops and also other areas to explore the beautiful East of England. Thank you!
Ellie
2015-04-12T00:00:00Z
This house was absolutely great to stay in! Fantastic location, and perfectly equipped. The host was really accommodating with regards to requests for slightly different check-in/out times, and all in all this made our trip really easy and enjoyable.
Rosie
2015-04-25T00:00:00Z
The cottage was lovely - it seemed that it had recently been renovated as all the fixtures and fittings appeared brand new. Space in the house has been cleverly managed to create a lovely place to base yourself while in suffolk and Aldeburgh is delighful. Angela and Emma were more than accommodating and very friendly - they went out of their way to make our stay remarkable. I would and will rent the place again - perfect for a small family like ours.
Alexander
2016-07-10T00:00:00Z
We had a very pleasant stay in Aldeburgh. Thanks Emma!
Pierre
2016-08-04T00:00:00Z
Lovely little house a 10-15 minute walk from the heart of Aldeburgh... just about big enough for 2 couples (tip: arrive first and grab the double room/bed!) We didn't meet Emma ... but someone from her team did offer to come and check us in but there was no need as everything was straightforward. As we were only there for 2 nights we chose to eat out but there was a very well equipped kitchen and there are 2 supermarkets 2 minutes walk away. Aldeburgh is a delight and we found a new home from home at the White Hart Inn on the High Street (next door to the fabulous fish and chip shop). We also enjoyed a lovely walk to Thorpeness on Sunday with the added reward of a decent roast rib of beef and crumble at the Dolphin Inn. I can't wait to come back!
Stuart
2016-06-20T00:00:00Z
Great place to stay about a 10 minute walk to gorgeous Aldeburgh. The cottage seems to be recently refurbished to a good standard. It is well maintained and although the cottage is small, there has been great thought in how best to utilise the space and so does not feel cramped. We're a family of four with two young girls. We stayed on a couple of very hot nights and found the rooms really hot. We had the windows propped open but were worried the girls might fall out. The stairs are quite steep too so we should have requested a stair gate. the Cottage is on the same road as a pub and there is a Tesco Express and Co-op a minute walk from the house so no need to arrange an online delivery. I would definitely recommend and would stay there again
Susan
2016-07-28T00:00:00Z
Tipe Kamar
Seluruh rumah/apartemen
---
Tipe Properti
Rumah
---
Mengakomodasi
4
---
Kamar tidur
Aldeburgh, Suffolk, Inggris
Cozy beamy cottage in a quite village, pretty garden, on Tunstall Common, very near Rendlesham forest, Snape music, Orford quay, Aldeburgh beach. Fantastic for walking, cycling, culture, food, lots to do with great country and coastal surroundings. Take advantage of 2 nights free and arrive to a lovely local hamper if you book a weeks stay.
Downstairs A small cozy sitting room full of beams and original stone floor, with two sofas, a TV and wifi. Opening into the kitchen with a table to sit everyone. There is all you need to cook as well as a washing machine. The bathroom is downstairs with a bath, shower head, basin and loo. There is a small conservatory porch for you coats, boots and stuff. Upstairs Bedroom 1: Master bedroom with a kingsize bed, en suite loo and wardrobes. Bedroom 2: Double/twin bedroom, will be made up as you prefer. Bedroom 3; Kids bunk bed room. Outside Large enclosed garden, with lockable shed for bikes and lots of parking. Right on the edge of forest and heathland for amazing walking and cycling. Pets very welcome
On the edge of ancient forest and common land with amazing walks and circle tracks. Half a mile to Tunstall village pub and close to lots of fantastic traditional foodie pubs. Great for relaxing eating drinking and walking, or actively cycling, riding and sailing. It is near beaches, castles, estuaries and culture and renowned for lobsters, oysters, local cheese, meats. Hosting the world famous Aldeburgh Music concert hall, shopping and food festival at Snape Maltings 2 miles away.
We had a great weekend in the small cottage, close to the coast. The cottage is clean, well equip in the kitchen and plenty of room for our Easter get away with friends. We even managed a hot meal, round the kitchen table on the Saturday night! Advise in where to see and how the house works were great and insightful (especially the hot cross buns that were enjoyed on Easter Sunday from pump street bakery!) the accommodation suited 5 adults no problem would also suit a family. We drove to the coast both days as its a short and do able commute to a day on the coast!
Lucy
2016-03-27T00:00:00Z
The cottage was lovely. It had everything we needed. I particularly liked having some garden space. The cottage was in a pretty location surrounded by fields with easy access to lots of lovely places around. My husband really enjoyed cycling around the area. Abi provided very useful information about the areas to visit around. We had a very enjoyable meal at the Unruly Pig. Thank you for making us feel so welcome with the things in the fridge and all the information provided.
Beverley
2016-07-28T00:00:00Z
Lovely host - suprise wine and milk on arrival very welcoming. Spotlessly clean property - quite small but of course this is in keeping with period cottage! Fab welcome pack full of information. Very smooth process all round. Really lovely original art work on the walls. Thank you!
Kitty
2016-08-21T00:00:00Z
A lovely little cottage in Suffolk, with easy access to all the best places the county has to offer. We had a lovely stay here celebrating my mother-in-law's 70th birthday and provided a great base for our day trip to Latitude Festival. There's even a drawer full of toys for the children and a beautiful garden too. Highly recommend staying here if you're in the area. We stayed with a nearly 2 and 5 yr old too, they loved the garden, and there's plenty of space if you're bringing a travel cot in either of the two double bedrooms. Abi is very responsive and very helpful, making some great local recommendations for an anniversary lunch - The Unruly Pig near Woodbridge.
Kirsten
2016-07-18T00:00:00Z
Abi made us feel very welcome from the moment we arrived without even being there with a welcome note and a surprise in the fridge. The house was perfectly relaxing in a quiet area away from noise and light pollution. It had a big garden and was located a short drive from a good selection of seaside towns. Great way to spend a long weekend. Just wish we could've stayed longer.
Marcus
2016-09-19T00:00:00Z
Lovely little semi in the countryside. My wife, sister brother in law and two nieces spent 3 nights in the house. Nice size garden perfect for kicking a ball around with the kids or playing badminton. A short walk to the forest and easy drive to orford Ness and Sutton hoo national trust places as well as Much more. The ensuite bed was comfy and all rooms decked out to a nice standard. The road can be a bit noisy in the mornings with tractors etc so in summer I'd suggest taking ear plugs if you're a bit sensitive to that (only if staying in the front bedroom). Cosy living room and enough room to sit on the floor and play cards. Bathrooms nice and clean. It probably mentions it but the shower is an attachment to the taps and no hold rail, so it's a bath or sit down in the bath for a shower. All in all a nice place to stay for a few nights in the country and plenty of walking and countryside benefits within a short walk or drive. Abi was very nice to converse with and also very prompt with responses etc.
PETER
2016-08-30T00:00:00Z
Abi was a wonderful host and helped us (we were a party of 4 adults ) when we initially couldn't find the cottage. She had sent accurate directions but I had no wifi on my 'phone and so couldn't access them. Next time I'll write down directions before I travel! A bottle of 'bubbly' and a pint of milk were in the fridge and the whole cottage was extremely clean on our arrival. Our 2 dogs loved the garden which was safe and completely enclosed. We has a plumbing emergency on the 2nd night of our stay and Abi and her husband arrived quickly to sort out the situation and organised plumbers for the following day. They then generously gave us a refund for the last 2 days of our stay. The cottage is ideally situated for trips out in the area and we made full use of Abi's recommendations of things to see.
Jan
2016-08-01T00:00:00Z
Small but good for a weekend. Great for dogs as in the heart of the common area. Pubs and shops not walkable. Would recommend
Lesley
2017-02-26T00:00:00Z
Tipe Kamar
Seluruh rumah/apartemen
---
Tipe Properti
Rumah
---
Mengakomodasi
6
---
Kamar tidur
Tunstall, Suffolk, Inggris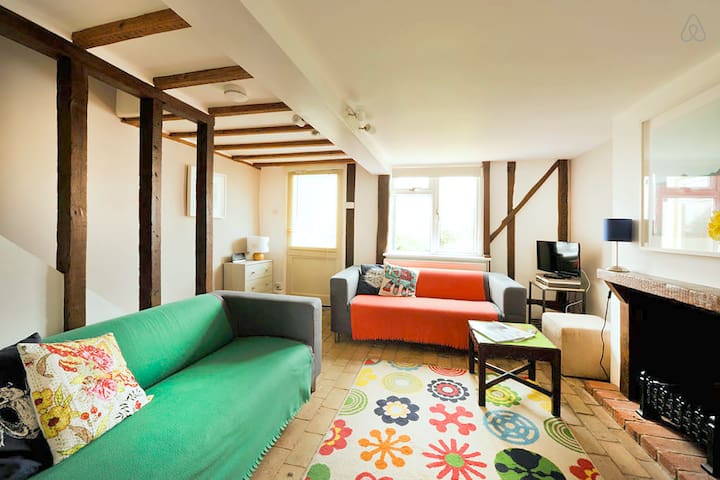 Beautiful cottage within Fazeboon Barn located a few miles from Snape Maltings and Orford. Great for couples wanting to escape the city or just wishing to explore this wonderful part of Suffolk.
Spike Cottage is a newly converted 1-bedroom apartment decorated and furnished to a very high standard. The cottage provides light and airy accommodation suitable for two guests and benefits from a private courtyard – great for sunny days and family BBQs. Spike Cottage is located in the middle of Suffolk on the East Coast of England, only two and a half hours from London. Steeped in history and culture from the Vikings and the Romans, the barn, has in fact, even been mentioned in historical records dating as far back as 14th century. Its' surrounding area provides a sensational location for birdwatchers, walkers, bikers and sailors but also an oasis of tranquillity for those wanting to escape the hustle and bustle of the city. Within our grounds, deers, rabbits, pheasants, partridges as well as the resident Muscovy ducks and Moore hens can all be seen. Even more, a herd of beautiful and inquisitive Red Poll cattle live on our field. The space Set up as an open plan living room, the sitting area is furnished with one comfy sofa, coffee table, a wood burner for which a free basket of logs will be provided (more available for purchase on site), Freeview TV and DVDs available upon request. The kitchen comes fully equipped with crockery and glassware, a dishwasher, full size oven, microwave and cleaning materials. The dining area is stunning with a large table for 2. A welcome package is provided including eggs, milk, coffee and tea. The cottage can accommodate 2 guests. The master bedroom benefits from an ensuite shower room. Needless to say, all bed linen, towels, tea towels are provided. Please note the cottage this accommodation is offered on a non-smoking basis. Other facilities: FREE wifi FREE parking (1 car) FREE starter pack for the wood burner provided. One well behaved dog is welcome as long as it is kept on a lead in the garden area - however a further fee of £5 per day applies. This is to be paid at check in. ***Tennis Court*** On request: DVDs Washing Machine Bike – extra charges may apply Wood logs – extra charges apply
The cottage is situated a few miles from one of the prettiest villages in Suffolk - Orford, which boast two pubs, the famous Crown & Castle restaurant & the Butley Oyster fish restaurant, a Norman Castle and a great bakery. Yachts and river trips are available from the quay. Aside from miles and miles of unspoilt countryside, there are many other places to visit – from Snape Maltings with its renowned concert hall, restaurants, galleries and shops, the beautiful seaside towns (Aldeburgh, Southwold, Walberswick and Thorpeness) or the bird sanctuary at Minsmere. The area is very popular amongst hiking and cyclists with miles of marked routes across the ancient woodland. Iken is a reputed base of Boudica and the marauding Iceni tribes who made good use of the commanding position on the south side of the Alde Estuary. Later, in 869AD, a Viking sailing fleet destroyed the 7th Century monastery at Iken. But the entire area has inspired many authors and poets in the past but the most famous one is Benjamin Britten who founded the Aldeburgh Music Festival which now has worldwide acclaim and is held every year in June at Snape Maltings. Local attractions: •Orford Ness National Nature Reserve •Aldeburgh Beach •The Walled Garden •Glemham Hall •Rendlesham Forest Centre •Valley Farm Equestrian Leisure Food and Drink: •Pump Street Bakery, Orford •Plough & Sail, Snape •Butley Orford Oysterage, Orford •Crown and Castle – Trinity Restaurant, Orford
We spend a long weekend in Spike cottage and had a great time! The cottage is lovely, perfect for a couple looking for a quiet time. It is next to a farm and in a remote quiet area. The kitchen is well-equipped and was great to cook in. It was really easy to arrange our travels with the host, they had tea, coffee, biscuits, fresh eggs and milk ready for us when we arrived. The cottage is close to Snape Maltings and not far from Aldeburgh (getting around without a car would probably be difficult), a great base for exploring the coastal towns. We highly recommend and would go back again!
Hanns Hagen
2017-04-02T00:00:00Z
Tipe Kamar
Seluruh rumah/apartemen
---
Tipe Properti
Rumah
---
Mengakomodasi
2
---
Kamar tidur
Suffolk, England, Inggris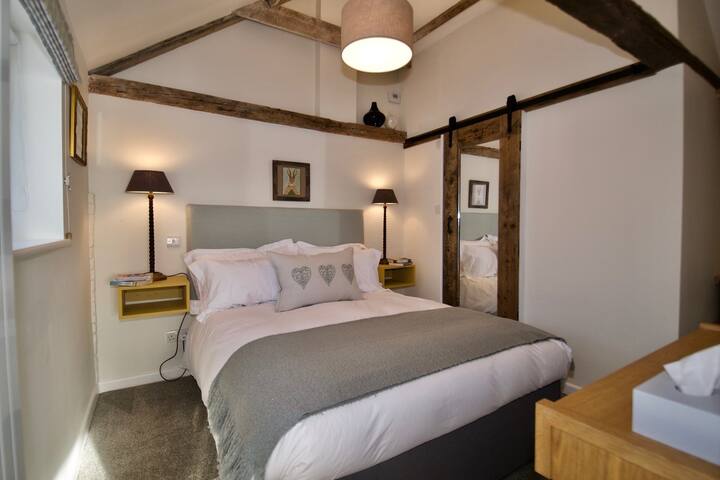 Arwen Cottage is a beautiful Suffolk fisherman's period cottage, believed to date back to around the 1800's. It's a delightful two-storey holiday cottage in the heart of Aldeburgh, 25 yards from the beach. This traditional seaside fisherman cottage sleeps 4 people and offers the perfect cosy retreat for families and couples seeking a relaxing holiday or a romantic break. Arwen cottage is just a stone's throw from the beach and perfect as a base for touring the picturesque suffolk coastal area.
A gorgeous haven for couples and families, it is a wonderful holiday base throughout the year, with coast, countryside, culture & food on the doorstep. Days at the beach, sailing, horseriding, fishing, birdwatching, relaxing galore! This lovely Victorian fisherman's cottage is in the heart of Aldeburgh on a quiet street, 25 yards from the beach and 25 yards from Aldeburgh high street. Arwen cottage is a lovely cosy cottage, full of character and exceptionally comfortable, clean and well-equipped, including the use of unlimited Wi-Fi and super fast broadband. Arwen cottage is close to an excellent selection of shops, restaurants, characterful pubs, excellent art galleries, a cinema and a theatre. The cottage is also a few paces from the most famous fish and chip shop in the country. There are excellent restaurants just a couple of minutes walk away - The Lighthouse, Regatta and Brudenell are all excellent as well as several others. As you step out of the cottage door the promenade and beach are a few paces in one direction, and the high street just yards away the other way. Despite the perfect location, the cottage is delightfully peaceful. There is also public parking just outside the cottage. The cottage has been re-furbished in a light but luxurious style and has been brought into the 21st century, with contemporary kitchen and bathroom and very comfy furnishings. On the ground floor it has a lovely cosy living room and dining space with a well-equipped kitchen and bathroom. There is a private sunny courtyard with outside furniture too. On the first floor it has a master bedroom which is spacious and peaceful with Victorian sash windows and a solid wood frame king size bed. There is also a guest bedroom, which is furnished with a bunk-bed made of metal frame and superior quality mattresses, covered with natural linen. Arwen cottage is a lovely fisherman's cottage, full of character and exceptionally comfortable. We provide complimentary toiletries and essential pantry items such as coffee, tea, sugar, biscuits, salt and pepper. We also provide household essentials such as washing up liquid, cling film wrap, foil paper and cleaning products. Property type: House Accommodates: 4 Bedrooms: 2 Bathrooms: 1 Beds: 3 Check In: 3:00 PM Check Out: 10:00 AM Early check in or late check out available by request (additional fee applicable).
The house is situated in the heart of Aldeburgh just one street from the sea front (25 yards). This picturesque Suffolk seaside town is particularly popular among music lovers, bird watchers, walkers and artists. Aldeburgh and the surrounding area has inspired many authors and poets in the past but the most famous son of the town is Benjamin Britten who founded the Aldeburgh Music Festival which now has worldwide acclaim and is held every year in June at Snape Maltings. Fishermen still pull their colourful boats up on the shingle beach and sell fresh fish from the picturesque huts. The wide, mainly Georgian high street has many attractive buildings whilst the seafront properties all have commanding views of the beach and the North Sea. Sailing is popular on the nearby Alde estuary where a large variety of yachts can be seen at summer weekends. Aldeburgh's high street hosts a number of good restaurants, pubs, antique shops, bookshops, bakers, butchers, fishmongers, and the best fish and chips shop in the country. Thorpeness: 5 mins. Snape Maltings: 10 mins. Saxmundham: 15 mins. Framlingham: 20 mins. Southwold: 20 mins. Walberswick: 20 mins.
We had a great 2 night stay at Lucy and Tim's cottage - it is very well equipped and very homely which makes a big difference. I have stayed in some very stark rental cottages and this felt like a home from home. There are a few points I'd like to feedback on - one is that I think this cottage is perfect for a couple but we found with 3 we were very squashed at the dining table and we found that it was easier if one of us ate on the sofa or moved the sofa each meal time. Also on arrival ( a chilly eve) the heating was not on so it took a while for the cottage to feel warm which after a long drive was not great. The fridge was not on either and we would have been grateful the Welcome Pack! That said the cottage is in a wonderful location - really close to both sea and the town, it was quiet, very clean and communication with the owner excellent even though they were abroad.
emmy
2016-02-21T00:00:00Z
Tim and Lucy were extremely accommodating with last minute reservation. Communication was excellent. Cottage is comfortable and nicely decorated. Close to sea shore and great pub. Wonderful hosts!
Greg
2016-09-20T00:00:00Z
Great cottage in a prime location - we were right next to the best pub in Aldburgh and the famous fish and chip shop - which meant we were happy! Inside the cottage was very clean and had everything we needed. Including a good dvd collection for a Sunday morning film!
Nick
2016-11-13T00:00:00Z
Thank you Tim & Lucy for a wonderful stay. The cottage is in a perfect location, right in the centre of Aldeburgh and a stones through away from the beach! The cottage was exactly how it was described and they left us tea, coffee, milk and an apple pie on arrival which was a lovely touch. I would highly recommend anyone staying at the cottage.
Sophie
2016-03-23T00:00:00Z
A lovely little cottage in a perfect situation in Aldeburgh. Comfortable furniture and bed. Well equipped kitchen but there was so much good food around town that I didn't really cook. I made a last minute reservation for 4 nights and Lucy was most kind and accommodating, gave excellent instructions for getting the key and sent someone around with a beautiful cake and milk. The stairs could be daunting to some, but I found them easy to negotiate. The lovely patio out back was a pleasant place to sit and enjoy the sea air. There is a pub directly behind with a large outdoor seating area (a good place to take your fish and chips from the famous shop just steps away). There is some chatter in the evenings but it quieted early and was not a problem. Would definitely recommend it and stay again.
rebecca
2016-07-30T00:00:00Z
Great little cottage and a very enjoyable stay.
Rob
2016-08-20T00:00:00Z
We stayed for a night to visit the area for a wedding. Lucy was always quick to answer and super helpful when we needed early check in at short notice. Arwen House is a beautiful old fishing cottage on a quiet road just metres from the sea. It's beautifully decorated and has everything you will need in it. Lots of thoughtful touches like welcome packs, food and quality toiletries. The town is beautiful and has a lot to offer. The best bit is the early mornings on the beach. Well worth a visit.
William
2016-08-28T00:00:00Z
We had a wonderful couple of days in Aldeburgh staying at Arwen Cottage. The cottage itself is lovely - cosy and spotless and exactly as pictured. Perfect for a family of four. Tim and Lucy were great hosts and all our communication was very swift and efficient. We arranged an early check-in with no hassle at all. While in Suffolk we had a lovely walk to and from Thorpeness, a fab day at the seaside in Southwold and great meals at the White Hart and the pub behind the house (great pizzs!). And fish and chips (obvs).
Barbara
2016-06-06T00:00:00Z
Tipe Kamar
Seluruh rumah/apartemen
---
Tipe Properti
Rumah
---
Mengakomodasi
4
---
Kamar tidur
Aldeburgh, Inggris