PENTEL!!! History in a name!! This is the hill that the famous marbles rolled till they reached Acropolis! A hill full of precious springs of water that offers a magnificent, one of a kind, view of Athens and its coastline suburbs.
PENTELI !!! History in a name!! This is the hill that the famous marbles rolled till they reached Acropolis! A hill full of precious springs of water that offers a magnificent, one of a kind, view of Athens and its coastline suburbs. We offer a specifically modified space that affords you the opportunity to enjoy quality relaxation in unique surroundings with picturesque sunsets! Three bedroom, two bathroom,from two to six persons fully equipped kitchen, free Wi-Fi, large garden with swimming pool. In a safe and clean neighborhood with easy parking space, 10 minutes away from the subway station with several choice shops within distance, we look forward to welcome you with homemade delicacies and drinks! Twenty five minute to airport.
This is where you loved someone in the neighborhood is the magnificent view and the quiet and safe.
Nina was a great host and the apartment was clean and beautiful. Her and her husband's hospitality is unmatched. Would definitely stay with her again
Constantinos
2016-06-01T00:00:00Z
Appartement est conforme aux photos! La climatisation de la pièce à vivre était en panne mais heureusement pas dans les chambres! La vue est incroyable. Par contre un moyen de transport est nécessaire car loin des transport! Nina et sa famille sont accueillant et il est très agréable de discuter avec eux!!!
Sabine
2015-09-07T00:00:00Z
The apartment is beautiful and exactly like the pictures. The view from the balcony is absolutely amazing. Nina is a good host, even though she was not able to make it when we arrived at the apartment, one of her daughters welcomed us with a nice dish of fresh cut fruits which was really nice. She later stepped by herself to make sure everything is ok. They helped us out when we had an issue with the pool and when we needed some towels. We had a really nice time and would recommend it.
Ivi
2016-04-26T00:00:00Z
NOUS AVONS ETE ACCUEILLIS PAR NINA ET SON MARI QUI SE SONT ENTIEREMENT RENDU DISPONIBLE POUR NOUS; Tres très bon accueil dans un très agréable environnement. Le mari de Nina nous a accompagné le lendemain matin à l'aéroport malgré un départ très matinal . Encore merci
PASCAL
2015-05-17T00:00:00Z
Me and my family stayed here for one night only, since we had to get an early flight the next morning and we wanted to see a bit of Athens before we had to leave. It took us quite a while to find the apartment, but besides that it was really really great! Both Nina and her husband were very kind, the rooms were exactly as on the pictures, the beds were comfartable and the view from the balcony over whole Athens was really stunning. Also the location was really convenient, since it took only around 20 minutes by metro to get to the center of Athens and the airport is only less than 30 minutes away by car. I would definitely recommend this apartment! :D
Esther
2015-05-09T00:00:00Z
The apartment was immaculate. Clean, tidy and nicely appointed. The view is absolutely stunning. Finally, the hosts were perfect - very welcoming and helpful without being in any way obtrusive. I'd gladly stay again and wouldn't hesitate to recommend it to anyone looking for a place away from the hustle of downtown Athens.
Alex
2016-09-08T00:00:00Z
Very welcoming with a pickup at the airport. Apartment in a affluent rural neighbourhood. The apartment was as luxurious as advertised with a fantastic view of Athens. Nina was very helpful in providing personal transportation services!
Tom
2016-05-15T00:00:00Z
Nina was waiting for us at the agreed time. The apartment was clean, secure and had a great view of the city. There was a bottle of wine and some food provided for us in the fridge when we got there. Very shortly after our arrival Nina showed up with a plate of fresh vegetables which was greatly appreciated. The apartment is large, bright and comfortable with a well equipped kitchen. The parking was on the premises, easy to get into and secure. The location is quiet and located in a residential neighborhood. The beds are comfortable and were covered with comfortable duvets. The pictures and the description are accurate.
Sam
2015-04-25T00:00:00Z
Tipe Kamar
Seluruh rumah/apartemen
---
Tipe Properti
Rumah
---
Mengakomodasi
6
---
Kamar tidur
Penteli, Yunani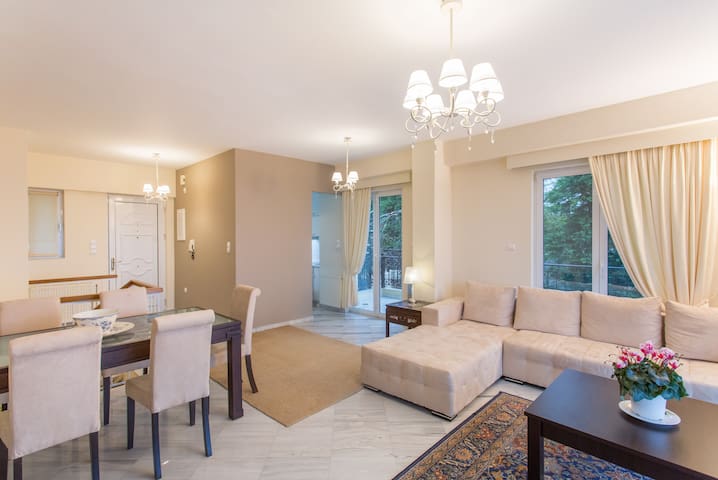 My home is close to restaurants, public transport, beach and nightlife. Advantages of my home: high ceilings, view of mountain and sea, the location, the people and the environment. My space is suitable for couples, activities for an individual, business travelers, families, large groups and pets.
Αν σας αρέσει η φύση και η άθληση, η γύρω περιοχή προσφέρεται για πεζοπορία, τρέξιμο, ποδηλασία.
Η Πεντέλη είναι γνωστή απο την αρχαιότητα λόγω του Πεντελικού μαρμάρου που χρησιμοποιήθηκε για την κατασκευή του Παρθενώνα και πολλών άλλων μνημείων, καθώς και αρχοντικών στη σύγχρονη Ελλάδα. Σε απόσταση 3΄ με τα πόδια βρίσκεται το Καστέλλο της Ροδοδάφνης, γνωστό ως Πύργος της Πλακεντίας που χτίστηκε απο τον αρχιτέκτονα Κλεάνθη το 1840 για λογαριασμό της Σοφί ντε Μαρμπουά Λεμπρέν, την Δούκισσα της Πλακεντίας, καθώς και τρία ακόμα σπίτια, τη Maisonette (Μεζονέτα), την Plaisance (Πλακεντία) και τον Tourelle (Πυργίσκο).
Tipe Kamar
Seluruh rumah/apartemen
---
Tipe Properti
Rumah
---
Mengakomodasi
7
---
Kamar tidur
Penteli, Yunani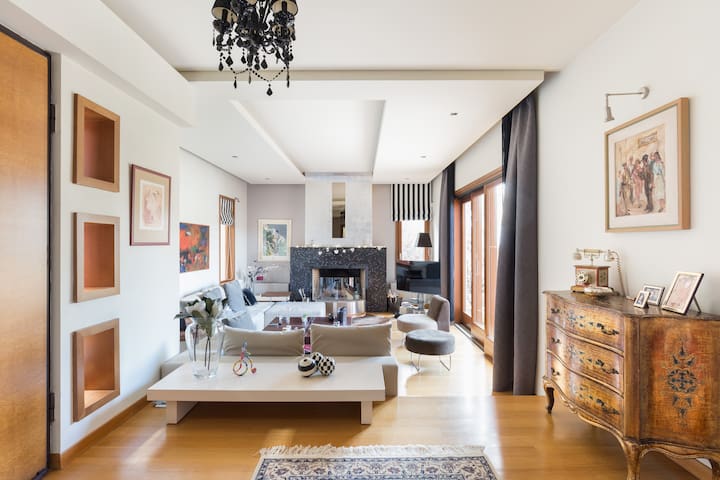 A luxurious, spacious (400m²) and elegant apartment in Northern Suburbs of Athens, is nearby to park , ideal for family-friendly activities, close to restaurants, and culture, great views, mountain You'll love my place because of the outdoors space, the ambiance, the neighborhood, the light, the big garden where kids or pets can play all day, the cool breeze, space for walking and biking .Transport from/to Airport My place is good for couples, solo adventurers, business travelers, families
Penteli is a suburb in the northeastern part of the Athens is very easy accessible with Proastiakos train.Situated in a very prominent area, nearby Penteli mountain the house is located near a park
Tipe Kamar
Seluruh rumah/apartemen
---
Tipe Properti
Rumah
---
Mengakomodasi
15
---
Kamar tidur
Penteli, Yunani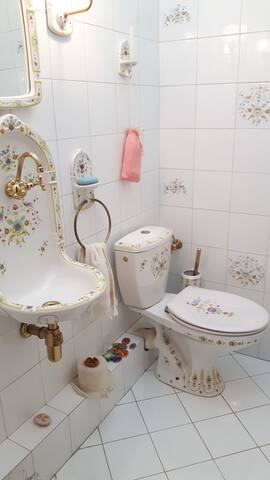 Nice little studio, with bathroom , one king size bed, a huge wardrobe, work surface, microwave, fridge, oven, coffee maker, cooking and cleaning supplies. Wifi 32 Mbps and television. Beautiful yard and quiet neighborhood. 5 minutes from metro station Neratziotissa (green line and yellow line) 20 minutes from the center of Athens ( using the green line) 20 minutes from Athens International Airport ( El. Venizelos) using the yellow line.
For my purposes this was the ideal location in the northern suburbs of Athens - for driving and public transport. Georgia was very kind, considerate and helpful and responsive. The studio is not the height of luxury but excellent value for money. A large comfortable bed and very warm room despite cold weather, wi-fi good and TV (though BBC seemed to be a problem). Shower room is tight and washing up difficult in a small basin but manageable if you are practical. Plenty of storage for clothes. I would go there again.
Nick
2017-03-31T00:00:00Z
Η Γεωργία ήταν πολύ εξυπηρετική. Το σπίτι είναι ένα δωμάτιο και το μπάνιο είναι πάρα πολύ μικρό που είναι κ τουαλέτα μαζί. Για μεγαλόσωμους δεν βολεύει.Παρόλο που δεν φαινόταν το μπάνιο στις φωτογραφίες η Γεωργία μας έφερε ότι χρειαστήκαμε. Αυτό που χρειάζεται το σπίτι είναι σφουγγαριστρα γιατί επειδή το πλύσιμο των πιάτων γινόταν στο μπάνιο γέμιζε νερά το πάτωμα και χρησιμοποιούσαμε πετσέτες.Γενικά είναι μια οικονομική διαμονή και το κρεβάτι ήταν αρκετά αναπαυτικο. Επιπλέον είχε αυλή, πολύ ωραίο εξωτερικο χώρο με ζωάκια και άνετο παρκάρισμα. Ήταν μια ήσυχη γειτονιά και το δωμάτιο ήταν αρκετά ζεστό.
Akis
2017-02-06T00:00:00Z
It wa nice, clean and quet place to stay. Inside I found everything I need. Thank you Giorgia for the towel and the oranges! :)
Ivor
2017-02-12T00:00:00Z
Πολύ καλή τοποθεσία, κοντά σε ηλεκτρικό. Πολύ ομορφος χώρος, άνετο παρκάρισμα. Πολύ καλά ασφαλισμένος χώρος. Άριστη θέρμανση και ζεστό νερό.
Κατερίνα
2017-03-12T00:00:00Z
Έμεινα στο συγκεκριμένο studio για 5 διανυκτερεύσεις. Το κλίμα ήταν άψογο,η Γεωργία πολύ φιλική και εξυπηρετική και συννενοήσιμη. Με 5 λεπτά απόσταση από μέτρο,προαστιακό και mall ήταν η ιδανική λύση για μένα και την κοπέλα μου. Θα το συνιστούσα ανεπιφίλακτα!!!
Νίκος
2017-03-27T00:00:00Z
Ήταν η πρώτη φορά που μέσω του site έμεινα σε κάποιο σπίτι και εμπειρία ήταν πολύ καλή. Η τοποθεσία του σπιτιού ήταν σε καλή και ήσυχη γειτονιά και το σπίτι ήταν ακριβώς ότι ήθελα για τη δική μου διαμονή. Τη μέρα μας έφτιαχνε κάθε πρωί και μία όμορφη και φιλική σκυλίτσα, η Ίρμα οπότε θα το συνιστούσα ανεπιφύλακτα.
Γιάννης
2017-03-20T00:00:00Z
The metro station was 5 minutes awaay by walking .The studio was beautiful and clean .The studio was really nice and sunny.I really enjoyed the Gren surroundings and the peaceful area.The wardrobe is very big,i put all my things there.Everything was pretty great and all the studio has a high quality of furniture.The yard is so beautiful,you can sit drink your coffe and relax breating fresh air.I definitey recommend it to all visitors!
ΑΘΗΝΑ
2017-03-10T00:00:00Z
Ενα μερος απολυτα πρακτικο και εναρμονισμενο στην τιμη που προσφερεται. Η φιλοξενεια και η διακριτικοτητα της Georgia αριστη. Προτεινεται ανεπιφυλαχτα
Antreas
2017-03-08T00:00:00Z
Tipe Kamar
Seluruh rumah/apartemen
---
Tipe Properti
Rumah
---
Mengakomodasi
2
---
Kamar tidur
Marousi, Greece ,Athens, Yunani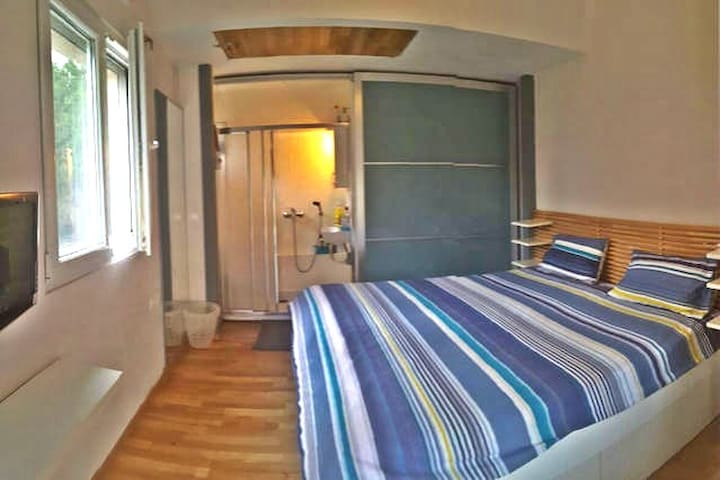 A gorgeous 57m2 cozy studio, in a luxurious building in one of the safest and peaceful areas of Athens, very close to the center and yet with a sense of the suburb. Walking distance from Igia and Mitera Hospitals.
The studio has a double bed, living room, dining table, TV, fireplace, bathroom with shower and a full equipped kitchenette.
This is an incredibly quiet green neighborhood filled with family buildings very close to one of the most important avenues in Athens.
The neighborhood was peaceful and beautiful. The apartment was what i was presented with in the photos, very clean and comfortable. Everything was great and I would gladly stay here again!
Panagiotis
2016-04-25T00:00:00Z
Πολύ καλή φιλοξενία και επικοινωνία. Το προτείνουμε!
Angeliki
2016-11-07T00:00:00Z
It was a great apartment, just as it is shown in the pictures. The bedroom/living room was really big. The apartment was clean and Grigoris was really nice. He even changed the sheets every week. It was a pleasant stay. The apartment was a basement, so it was a bit dark. However, it was really cool. Even in the hottest days, with almost 40ºC outside, I did not need to turn on the air conditioning. The location was really good also: a very quiet neighbourhood.
Víctor Manuel
2016-07-02T00:00:00Z
Greg is the perfect host. The accomodation is perfect. Large self contained unit and absolutely beautiful. Thanks for making me welcome mate
Dave
2016-03-31T00:00:00Z
Perfect just perfect all you need and more, friendly people reat house very modern in one of the best areas of Athens...Thanx to mr Grigoris we never felt like strangers he was kind and helpfull and caring...i would sujest it to enyone ..
Kostas
2017-01-11T00:00:00Z
Everything was perfect, recommended. Spacious place, very clean.
Konstantinos
2016-11-29T00:00:00Z
πολύ εξυπηρετικός ευχάριστος φιλόξενος και διακριτικός
Konstantinos
2016-05-21T00:00:00Z
Mr Grigoris was very polite. The house was nice and cosy and it smelled very nice!
Ariadni
2016-10-04T00:00:00Z
Tipe Kamar
Seluruh rumah/apartemen
---
Tipe Properti
Rumah
---
Mengakomodasi
3
---
Kamar tidur
Marousi, Yunani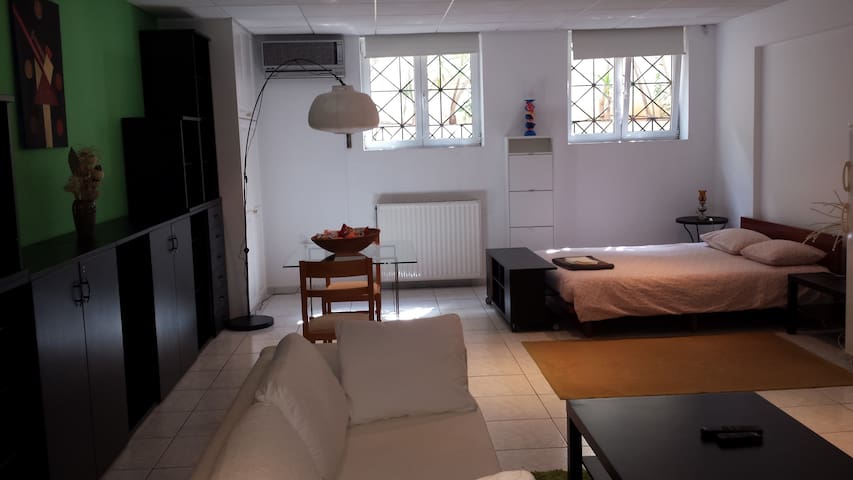 Detached house in quiet region full of greenery! The house contains a lush vegetable garden and trees that provide cool shade.
Provides a non-conventional environment, not the average athenian house.
Tipe Kamar
Seluruh rumah/apartemen
---
Tipe Properti
Rumah
---
Mengakomodasi
5
---
Kamar tidur
Marousi, Yunani
Ο χώρος μου είναι κοντά σε δραστηριότητες για οικογένειες, δημόσια συγκοινωνία, αεροδρόμιο και κέντρο πόλης. Λόγοι που θα σας αρέσει ο χώρος μου: το περιβάλλον και η τοποθεσία. Ο χώρος μου είναι κατάλληλος για ζευγάρια, επαγγελματίες ταξιδιώτες, οικογένειες (με παιδιά), μεγάλες ομάδες και κατοικίδια.
Tipe Kamar
Seluruh rumah/apartemen
---
Tipe Properti
Rumah
---
Mengakomodasi
8
---
Kamar tidur
Marousi, Yunani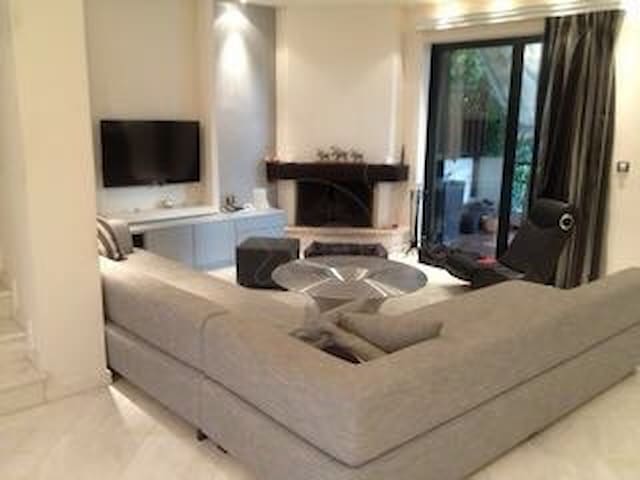 Μονοκατοικία μέσα σε καταπράσινη περιοχή εκτός σχεδίου πόλης. Απόλυτη ησυχία και δροσιά.
Tipe Kamar
Seluruh rumah/apartemen
---
Tipe Properti
Rumah
---
Mengakomodasi
5
---
Kamar tidur
Marousi, Yunani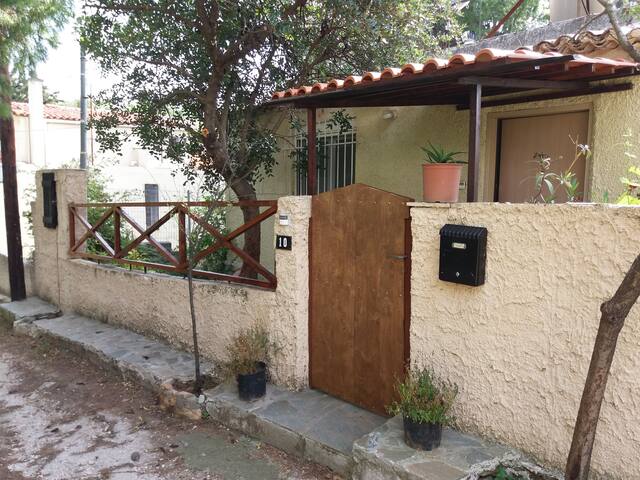 Σε κερδίζει από την πρώτη στιγμή. Ιδανική μεζονέτα για όσους λατρεύουν τον ήλιο, το πράσινο, την άθληση, την ησυχία και τα ψώνια. Πέντε λεπτά από το Athens Mall, το Ολυμπιακό Στάδιο, την Αττική Οδό, δύο Σταθμούς Ηλεκτρικού, το super market AB.
Vassilis was the most generous, thoughtful and considerate host we have ever come across on Airbnb. We have stayed at many Airbnb rentals and have had many great hosts but Vassilis by far would win our #1 host vote. He took the time to take us on a walking tour of his neighbourhood, recommended great restaurants and was accommodating with check in and out times. The apartment is great! It is extremely clean, bright, spacious and ideal for families. We were in Athens for a week and spent a great deal of time at the Olympic pools so the location was ideal for us. It was a 10 min walk to the pool and the metro station is even closer. We could jump on the metro and be in the city centre in 25min. There is also a small playground just down the street which was great for our young daughter. We highly recommend both Vassilis as a host and his apartment. You will be very comfortable during your stay here.
Kent & Brooke
2016-04-01T00:00:00Z
What you see is what you get! From the moment we arrived Vasilis and his family were warm, friendly and tremendously welcoming. Myself and my family rented the property for our stay in Athens and for preparations leading up to my sisters wedding. The house was immaculate, well kept and exactly what we saw in the photos... Full of light and soft warm tones. As a secure complex we were never disturbed and with AC in most of the property we were able to stay cool through hot summer nights. Modern open plan living and comfort! Lovely neighbourhood with local supermarket, bakery/cafe, shopping mall and much more. This house was truly unforgettable and we will forever remember it and our stay in Athens over the month of August. Vasilis and his property are highly recommended with an A+ in quality. We would most definitely stay again!!!
Georgios
2016-08-30T00:00:00Z
Πολύ καλή τοποθεσία.ιδανικό για οικογένεια.
Γιάννης
2016-07-06T00:00:00Z
Our sincere thanks to Mr and Mrs Rizos for their welcoming, generosity and continuous support. They are kind of people which it is a pleasure to deal with. The apartment is very clean, bright and large enough with pleasant decoration and dispose veranda where you can enjoy specially the morning coffee It is located in a quiet neighborhood with very important services nearby as per Metro, Mall, sport installations and the Attiki ring road. We really enjoyed our time there and I can easily recommend it.
Riad
2016-07-29T00:00:00Z
We spent five nights in Athens with our two kids. the apartment is amazing! Vassilis is a great host.
Catalin
2017-01-02T00:00:00Z
This is a true Supehost! The apartment was everything advertised and then some. Spacious, clean, modern, and loaded with amenities [3 full bathrooms, beautiful & amazing terrace, washing machine, dishwasher and many more]. Vasili also was great at staying in touch and working with my changing schedule to greet me at a late hour and show me around, not to mention having some goodies for us in the fridge which came in very handy. As for location, it is 1 minute away from the main highway [Attiki Odos] that leads both to the airport and to any part of Athens you need to get to within 15-20 minutes, with beautiful Kiffisia only 5 minutes away. Only wish we stayed more than 2 nights. Will definitely want to come back here. Thank you Vassili!
Nicholas
2016-09-01T00:00:00Z
Tipe Kamar
Seluruh rumah/apartemen
---
Tipe Properti
Rumah
---
Mengakomodasi
5
---
Kamar tidur
Marousi, Yunani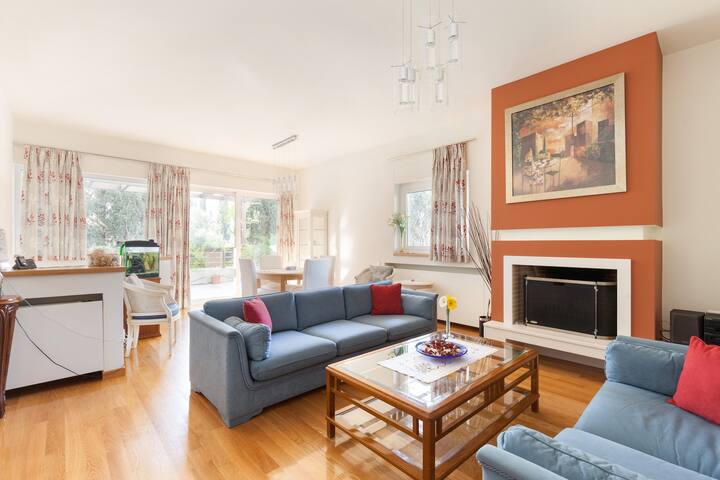 Μια 4ώροφη μεζονέτα σε ήσυχη γειτονιά του Πολύδροσου Αμαρουσίου-Χαλανδρίου. Με 4 υπνοδωμάτια ,2 μεγάλα μπάνια και 1 WC. Το Σπίτι ακόμη διαθέτει ενα γραφείο με υπολογιστή (Desktop) και Roof Garden με αυτόνομη κουζίνα,Ξυλόφουρνο και ψησταριά. 1 αυλή στο πίσω μέρος του σαλονιού και άλλη μια στην μπροστινή πλευρά,στην είσοδο.
Tipe Kamar
Seluruh rumah/apartemen
---
Tipe Properti
Rumah
---
Mengakomodasi
6
---
Kamar tidur
Marousi, Yunani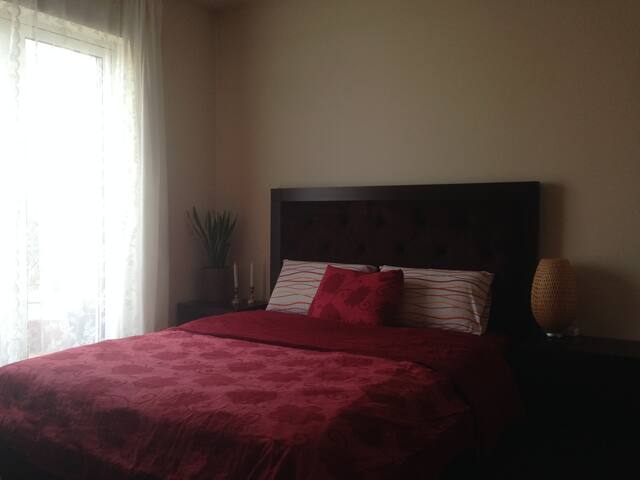 The house was built in 2004 with taste and love in the area of Marousi. The house can accommodate 7-8 people in total, and for families with babies or small children under 5 years old we can offer you 2 cot beds.. It contains all electrical appliances you may need (laundry, dishwasher, espresso coffee maker, grill, oven, microwave oven, refrigerator, hair drier etc.) It has big shiny balconies and at the top floor there is a barbecue as well. Satellite TV, 3 TV in total the master one is 42 inches, video games , DVD movies are provided free of charge. We can easily be at the train or the bus station after your arrival from the airport or the harbour and help you with your bags. You don't have to worry about how to come , it is very easy, without spending time, and low cost from any place, we will give you any info you may need. For all of you arriving on Saturday or Sunday (up to 4 persons) , we can transfer you from the airport to the house. The Athenian suburb of Marousi is an upper class and quiet neighborhood with no criminality, many churches and beautiful houses. The house is in 3 levels. The ground floor has a living room with satellite TV ,(2 TV's in the house the main tv is 42 inches), fireplace , hidden lighting, wc, kitchen with any electrical appliance you may need, wooden bar and snack bar, the dining table which is also an American billiard and a nice balcony with various plants. The 1st floor has in total 3 bedrooms which can accommodate 5 people with big cupboards and a nice wide bathroom with the ability to do hydro massage if you like. Every bedroom has access to balcony. The 2nd floor is the master bedroom with its own fireplace , built cupboard for shoes and its own bathroom. It can accommodate 2 people. At this floor is also the master Balcony - terrace with the BBQ. At the basement there is a small apartment where is located a private gym. The house is located at the new transportation and commercial center of Athens. It is located in walking distance(5mins walk) from the suburban train which leads to the airport and Korinthos (cost 8€, 25 minutes to the airport), it is located near to the metro station (5 mins walk) from which you don't have to change lines to go to the most important and historical places such as Acropolis, Monastiraki , Thisseio, Piraeus harbour and Kifissia (with a cost of 1,4€, half an hour away to the historical center , 45 minutes to the harbor, 5 mins to Kifissia). Very close also to the house is the bus stop that leads also to the airport and to all suburban buses (half an hour to the airport, cost 5 euros to the airport, 1.2 to all other places). For those planning to come at summer time, don't worry about going to the beaches of Attica , there is a Pullman close to the house that drives daily at 9 o clock to Porto- Rafti beaches returns at 1 at midday (total cost to go and return 5 euros) and at 4 in the afternoon to the beaches of Marathon and return at 8 in the afternoon (total cost to go and return 3 euros) In walking distance less than 5 mins is the biggest mall of Greece "The Mall Athens" with Village Cinemas and all world known restaurants , the second bigger mall "Golden hall" (10 mins walk) , The biggest stadium in Athens "Olympic stadium" (12 mins walk) , The "Kosmopolis mall" with Odeon cinemas (10 mins walk), The 'Aithrio' Mall (7mins walk) The 'Avenue' Mall with hyper carrefour supermarket (12 mins walk), Summer cinema "Mimis Photopoulos" and restaurants, pubs (7 mins walk). Supermarket Bazaar and Carrefour Marinopoulos (4-5 mins walk)
This is an absolutely lovely house With high standards in a quiet neighborhood. George also provided us With all relevant services. All in all a five star experience!
Amund
2015-08-01T00:00:00Z
Maybe because George owns many apartments in Athens for renting. He never reply my query mails and didn't response an important mail regarding rental for 3 months, we were asked to pay more rental when we arrived which cause unhappy situation and time wasting. He did't pass our phone message about arrival time to real house owner and almost cause no one is there when we arrived. No welcome drink or cake shows but a REAL house owner. It wasted treasury time for communications among 3 parties for more rental issue. House owner introduced his house and surrounding well, and provided an mobile phone free, that's considerate. He also offer airport shuttle service but car status is not acceptable and driving too fast which bring us in risk. Basically house status is excellent and recent environment is convenient too, we spent a wonderful time in Athens depending on a good place for rest.
Poshen
2014-07-09T00:00:00Z
Ο οικοδεσπότης μας ήταν άψογος, το σπίτι ήταν καλύτερο από ότι περιμέναμε, η γειτονιά ήταν όμορφη ασφαλής και ήσυχη. Ο οικοδεσπότης μας ήταν ευγενέστατος, διακριτικός και πρόθυμος να μας βοηθήσει σε ότι και αν χρειαστήκαμε, πραγματικά θα ήθελα να είχαμε στη διάθεσή μας λίγες μέρες ακόμη... Ευχαριστούμε για όλα!!!!!!!!
Kiriaki
2016-04-05T00:00:00Z
This apartment is in a northern suburb of Athens and by that I mean it takes 15 minutes to get to downtown Athens by car---very convenient. It was clean and comfortable. George communicated by email and text prior to arriving and arranged for we 3 guests to be picked up from the airport and to be given a personal tour of Athens, the Acropolis, The New Acropolis Museum, and the surrounding area. We also had a tour on a separate day of the southern seaside area of Athens and Piraeus, again arranged by George. Thank you. We loved being in Athens and we loved this clean and comfortable apartment.
Elizabeth
2014-05-28T00:00:00Z
Host is very welcome and helpful, listing accurate, and overall experience positive. I would recommend this property any time
Nikola
2015-03-23T00:00:00Z
The house is amazing. We are 8 people traveling as a group. And we loved the house. The area is quite great, safe quite and convenient. There is a bus take you direct to the city center. We were a little bit shocked when we see the house because it's well equipped and the host takes good care of it. If you are expecting some relaxing day during your trip this is definitely a good choice to make
Xiaoting
2015-04-07T00:00:00Z
Ηταν πολυ ωραιο σπιτι. Κοντα σε σταθμο του μετρο και λεωφορειων.. Κοντα στο mall και σε περιοχη με ευκολη προσβαση σε ζαχαροπλαστεια και supermarket. Στο σπιτι προσφερονται τα παντα. Το μονο προβλημα ηταν το νερο στο μπανιο οπου καποτε δεν ζεσταινοταν με το thermitron και επρεπε να περιμενουμε λιγο μεχρι να κανουμε και τα 8 ατομα μπανιο. Σε γενικες γρσμμες ολα καλα. Ο οικοδεσποτης μας περιμενε στη σταση του λεωφορειου και μας κατατοπισε στη περιοχη. Ηταν πολυ εξυπηρετικος και ευγενικος.
Anastasia
2015-06-06T00:00:00Z
George was a perfect host and everything was as described - great stay and would recommend!
Lars
2016-06-19T00:00:00Z
Tipe Kamar
Seluruh rumah/apartemen
---
Tipe Properti
Rumah
---
Mengakomodasi
8
---
Kamar tidur
Marousi, Attica, Yunani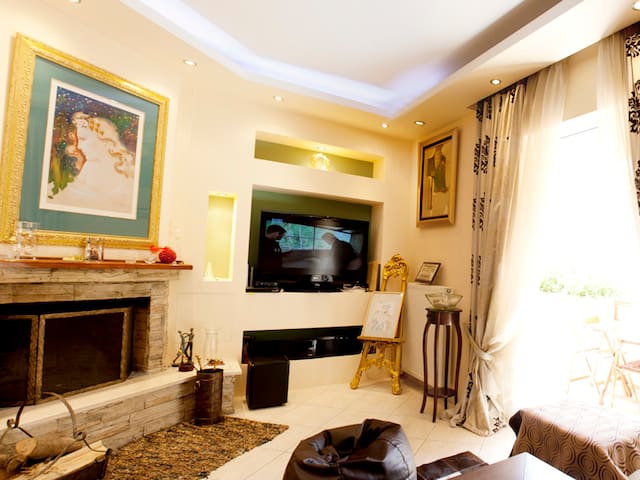 It is a building which belongs to the historical part of the city of Corfu being renovated internally (floors and roofs, central air and a/c system etc) utilized until 2011 as a bank (it was let by MARFIN EGNATIA BANK). It is located at the entrance of the city of Corfu at the corner of the streets: Polychroniou Konstanta 10 & Gerassimo Lychnou. It is at a distance of 300 m., approximately, from Sanrocco square and equidistant from the center of Corfu (Liston area), the Central Bus Station and the port of Corfu (no more than 15 minutes on foot). Additional info (photos, drawings etc) could be provided, if requested. The building is offered for long lasting letting from now on, preferably to one physical or legal entity for the exercise of any legal activity providing also the option of subletting. The rental will be on a annual basis of the order of 20000 GBP per year.
Tipe Kamar
Kamar pribadi
---
Tipe Properti
Rumah
---
Mengakomodasi
5
---
Kamar tidur
Marousi, Attica, Yunani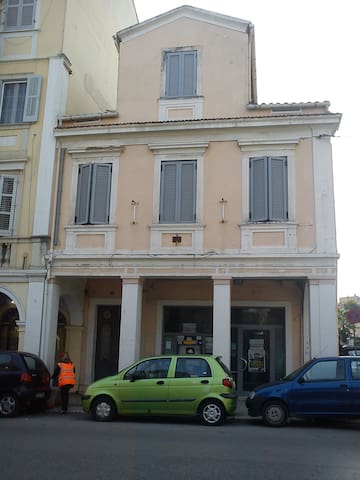 Hello! We are Evie and Markos We would be very happy to host you in our house We rent a double bedroom, fully equipment, in a spacious house with a garden Halandri is a very lively suburb, in the North suburbs of Athens
Spacious double room with a Private Bathroom in a shared home
Chalandri is a very lively and safe suburb of Athens It is not a high tourisic area, and you can find excellent quality of shops , coffes , food, coctail bars, and traditional Greek cuisine
I stayed at Evie's apartment for two months.I loved Evie's place so much. Evie was so friendly and helpful. The apartment was clean, the internet works very well, the apartment was very hot in the winter cold. The location was perfect.I highly recommend her place. Thanks Evie for everything. I really enjoyed staying here. Hope to see you again. Maria
Maria
2017-01-16T00:00:00Z
Evie and Ilia are superhosts!! We felt like visiting family from the first moment we stepped into the house: Evie was so welcoming and nice and attentive to details! The room was very comfortable and it had its private bathroom; the kitchen was fully equipped: we cook a lot and we were impressed! We woke up every morning to the sound of birds near our window, it was just magic. Each Tuesday they have an incredible farmers' market right on their street: the food we bought there was amazing. Evie made us breakfast but she couldn't help it and invited us for dinners as well - it was truly like being part of an authentic Greek family. They have 3 lovely dogs, a beautiful garden with a pond with fish and lemons and oranges that we picked and ate. The house was very clean and full of Evie's art (she is a very talented crafter). The neighborhood was quiet and peaceful and at the same time very close to a lively centre full with shops and tavernas with excellent and affordable food. After meeting these lovely people we can't imagine returning to Athens and staying anywhere else, we simply can't. Everything was perfect for us!
Adrian
2017-03-02T00:00:00Z
Evie is a wonderful host. A very kind and open hearted individual who made me and my daughter feel like home. The room was very comfortable and clean. The same applies for both bathroom and kitchen area. The location is super! Only a few minutes walk from the lively Halandri center. I strongly recommend this place. Super convenient!
ΠΑΤΡΙΝΑ
2017-03-31T00:00:00Z
Evie has been a wonderful host! So nice and helpful. She even cooked some greek special dishes for my daughter and I. The room is very nice, large and confortable. And the house is great, with a cute garden. 5 minutes walk from the center of Chalandri, full of restaurants, cafés, shops. I strongly recommend this place!
Mehdi
2016-05-18T00:00:00Z
Evie is nice host! Definitely recommended.
Aleksandr
2017-04-03T00:00:00Z
Ο χώρος είναι άνετος,ήσυχος,λειτουργικός και η Ευα ευχαρης, προσέχει να ικανοποιήσει όλες τις ανάγκες με μεγάλη χαρά!
Irini
2017-01-25T00:00:00Z
La casa pulitissima..loro molto gentili ...e poi molto vicino a tutto ...ristoranti bar discoteche. Tutto ciò che vuoi!
Afrodite
2016-10-31T00:00:00Z
Accueil très chaleureux d'Evie. A conseiller si vous recherchez une ambiance familiale.
Herbert
2016-10-05T00:00:00Z
Tipe Kamar
Kamar pribadi
---
Tipe Properti
Rumah
---
Mengakomodasi
2
---
Kamar tidur
Chalandri, Yunani
A beautiful house in North suburbs just 5 minutes walking distance from the central square of Chalandri. It has 2 bedrooms, 1 bathroom and 1 fully functional kitchen. It is set to keep satisfied every guest and it can host up to 4 ppl at the same time.
A nice and cozy house located in a well developed, green and safe area of Athens.
The neighborhood is very vivid and joyful. Just a few meters away from bus station that connects Chalandri to the city center in 20 minutes . There are also two Metro stations, Agia Paraskeui and Cholargos that they are easily accesible.
Συστήνεται ανεπιφύλακτα! Ευχαριστούμε πολύ!
Georgios
2017-03-18T00:00:00Z
Ήσυχο περιβάλλον εξαιρετικό σπίτι
Anna
2016-12-06T00:00:00Z
The apartment was exactly as advertised. Nice place to stay!
Julia
2016-10-18T00:00:00Z
Το σπίτι ήταν πολύ όμορφο, αλλά και άνετο και σε περιοχή όπου έχει ό,τι χρειάζεσαι! Το συνιστώ ανεπιφύλακτα!
Anna
2017-04-04T00:00:00Z
Tipe Kamar
Seluruh rumah/apartemen
---
Tipe Properti
Rumah
---
Mengakomodasi
4
---
Kamar tidur
Chalandri, Yunani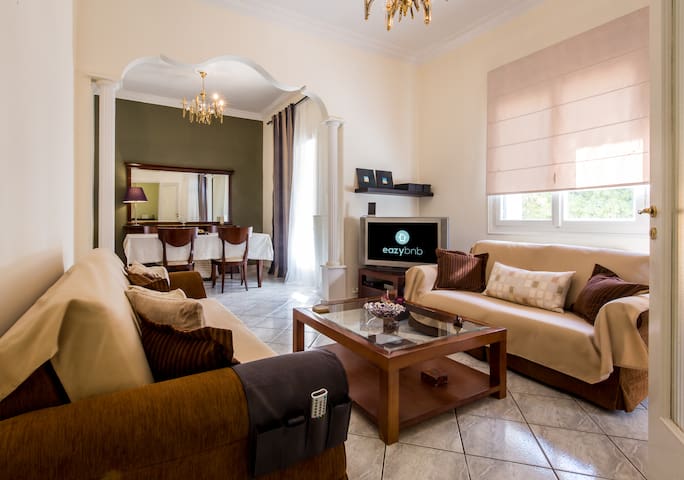 You can use a private room with bathroom and a washing machine inside, the only rooms on this floor, and a private terrace with view to Imitos mountain. You can also use in common with 1 more person, me, a fully equiped cuisine and a nice garden. It is a new-built single house at the north suburbs of Athens, very close to a metro and a suburban railway station, with direct connection to the airport and the center of the city. Your room is on the 3rd floor without elevator. wifi access.
Tipe Kamar
Kamar pribadi
---
Tipe Properti
Rumah
---
Mengakomodasi
3
---
Kamar tidur
Chalandri, Yunani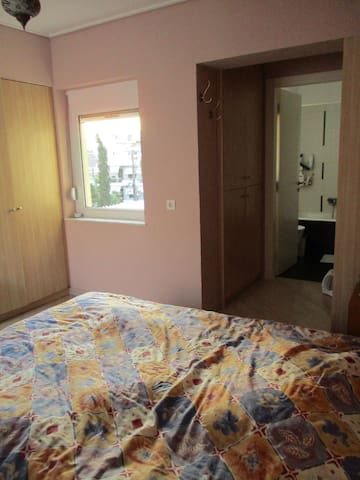 A nice, warm and cosy place, to make you feel comfordable and welcome during your stay.
Old stone house in Chalandri 65 sq.m. Ground floor 3 rooms, bathroom, kitchen and courtyard. What you will definitely find is a hospitable stay by me and Mrs. Maria (my mother) that stays right on top. Also the cooking of Mrs. Maria is something that you should try to understand what it's really old Greek cuisine. The neighborhood is a typical Greek quiet neighborhood where you can find supermarket and fishing across the road and butcher shop with grocery store, pharmacy and convenience store just beyond.The central square of Chalandri located a 5 minute walk, where there you can find realy everything. Shops, bars, cafes, restaurants and everything else you want are there for what you need. But what you really can enjoy, is the spinney with the ravine located nearby only three hundred meters away where you can go for a walk or have a picnic.There is also a small chapel with a playground were kids can play and have fun. There is a bus stop to Athens and the metro 40 meters away. Our hospitality and cooking of Mrs. Maria will remain unforgettable. You will enjoy your stay!
We had a great time in the Greek house,everything was very atmospheric and authentic ,we loved it.Theo met us after the flight and also took us to the airport after.He told us about Athens and Greek culture.Thank you very much for everything ,we hope to be back later!
Evgeny
2015-05-03T00:00:00Z
Prima Unterkunft in Chalandri. Angemessenes Preis-Leistungs-Verhältnis. Gute Lage. Netter und unkomplizierter Kontakt zum Vermieter. Alles wie beschrieben (siehe Anbieterfotos) und in einem ordentlichen, sauberen Zustand. Einzige klitzekleine Kritikpunkte: Wohnung durch Erdgeschosslage etwas dunkel, außerdem recht viele Mücken. Insgesamt eine wirklich empfehlenswerte Unterkunft. Wir (2 Erwachsene, 1 Kleinkind) haben uns hier zwei Tage sehr wohl gefühlt.
Martin
2016-09-12T00:00:00Z
Η επικοινωνία με τον Θεόδωρο ήταν εξαιρετική σε όλα, ήταν σαφής στις συνεννοήσεις, πολύ βοηθητικός κατά την άφιξη μας. Το σπίτι ήταν πολύ καλά οργανωμένο και πλήρως εξοπλισμένο σε όλους τους χώρους. Η τοποθεσία πολύ καλή, δίπλα στην αγορά, με είσοδο από ένα ήσυχο δρομάκι, δίπλα στην στάση λεωφορείου, και με εύκολο παρκάρισμα.
Maria
2016-10-19T00:00:00Z
I had a very nice stay at the house, the location is great and it was wonderful to be able to sit outside. Chalandri is a very nice area full of restaurants. Theo is a very friendly person, always ready to help and answer questions. I would definitely recommend this place.
Thijs
2017-04-05T00:00:00Z
We stayed at Theodoros appartment for 1 week, but from the first instance we communicated with him the experience was very positive. He was always fast and helpful with his replies and he even proposed to pick us up from the metro station. The appartment was clean and equipped with all modern amenities plus a wifi connection with decent speed. He had also provided us with bread, coffee, orange juice, fruits; everything we needed for our breakfast. Also, his mother prepared for us some delicious home-made sweets:) Just in the opposite corner of the house there is a small supermarket and the commercial center with plentiful of bakeries, coffee shops, restaurants is only 8min on foot. We truly enjoyed our stay at Theodoros appartment and we wholeheartly recommend it.
Alexia
2014-12-30T00:00:00Z
Great location and a wonderful place to stay, I truly felt like a local. The space was perfect for what I needed and Theo was very responsive during both the booking and if needed. I would certainly recommend this place to a friend and if I am in the area again I would absolutely book with Theo.
Cameron
2016-10-15T00:00:00Z
We stayed with Theo for the weekend and the stay was absolutely perfect! Theo was attentive, responsive. And he provided us with everything we needed. The house is absolutely lovely with everything you need and the simple feel of old urban living. The area is fantastic! Right down the road you can find great cafes restaurants bars and all the shopping you may need. I will def be back! Highly recommend :)*****
Amitai
2016-10-23T00:00:00Z
We contacted Theo one day before arrival and he has no problem to host us. He was waiting for us at the metro station and drove us around in the neighbourhood. Theo is very caring host. He made sure we knew everything about the facilities and answered all my questions. The house is very clean and perfect for 3-4 ppl. It was Sunday and also our last night in Athens, so we decide to stay in Halandri. It is a nice area for walk and plenty of restaurants and bars to choose. The next morning, Theo took us to the airport at 5:15am with punctuality.
Hao
2015-06-02T00:00:00Z
Tipe Kamar
Seluruh rumah/apartemen
---
Tipe Properti
Rumah
---
Mengakomodasi
4
---
Kamar tidur
Chalandri, Attica, Yunani
Guests are welcome to use all the spaces of the house. Please notice that there is a possibility, other people stay in the other bedroom of the house.
The Bedroom has access to a balcony it has a semi-double bed , in a 2 bedroom house, with a living room and a nice kitchen. In Halandri suburb, the house is about 5 minutes by bus/taxi (3.5 euros taxi) and 20 minutes walk to Halandri metro station. From the airport to Halandri is about 20 minutes and the same time from Halandri to tourist centre of Athens by metro. In the house there is a bathroom, which will be sharing propably with other people staying at the other bedroom
Halandri is a lively and safe suburb of Athens, it is famous among locals because of many bars, shopping, variety of cafes and restaurants. It is a good place to experience real Greek food and meet locals, and on the top of that it is cheaper than the tourist area in Athens.
Ilia is an amazing host, generous, caring and discrete. She has created a distinctively artistic household in this beautiful house with the splendid verandas over the garden; a little oasis just a few blocks away from the bustling center of Halandri with wonderful shoping and entertainment options.
ELLI
2015-05-19T00:00:00Z
Ilia is a delightful host! I would have liked more time in Chalandri just to spend more time together! The house is clean, the room is cozy, the bed is comfy, and the dogs are sweet. There are two peaceful balconies hugged by grapevines, pear trees, and other greenery. Ilia was available to hang out for a while (which enjoyed!) and was happy to give advice on where to go around town. She even drew me a map to the bus and was available to help with any logistical questions. When I was there, a few other guests were also, and I enjoyed meeting fellow travelers. I hope to stay again!
Natalie
2015-06-07T00:00:00Z
Ilia is a very kind hostess; she is the perfect example of Greek hospitality. I visited Greece during the tough moments of the referendum, but I did not have to worry a single bit about the political situation. The neighbourhood is really nice, very close to coffee shops, food, and there is even a supermarket just a block away. The house is at a very convenient location. Listing is exactly as is written on the page and if you like pets, Ilia has 2 adorable dogs - which is always a bonus for your holiday. The room I stayed in is just perfect. It's on the second floor with balcony, so you can enjoy your breakfast there; gorgeous view. It got rather hot during the night due to the season, but Ilia provided fans so there was absolutely nothing to complain about. Ilia is also very generous with breakfast and made me feel like home. All and all, I highly recommend staying with Ilia if you are interested in a place close to the vibrant life of Chalandri!
Dwinta
2015-07-08T00:00:00Z
This was my first experience using airbnb, and it was great!! Ilia, and a very friendly and helpful. The house is great, comfortable and you fell at home. I had the opportunity to meet some of her friends, which was very nice. Ilia, has a nice and friendly dog and a cat!
Cleverson
2015-01-16T00:00:00Z
I had the good fortune of booking a stay at Ilia's place in Chalandri, near Athens. Chalandri is a great town with great restaurants, bars, and nightlife. Best of all there are no tourists! Ilia is a wonderful host, and goes way out of her way to make you feel comfortable in her home. She is warm, welcoming, and kind, and provided me with many ideas for things to do in Athens, and the best islands I should visit. When I get back to Athens, I am definitely staying at her place. Thanks Ilia!
Justin
2015-06-06T00:00:00Z
I loved staying at Ilia...the location was perfect for what I needed and the balcony was Awesome to take some snack or lunch or an evening drink...And I loved the pets... :)) And Ilia was always making sure I didn't need anything and she was super friendly and welcoming. It was easy to feel at home! :))
Maïka
2015-04-19T00:00:00Z
Ilia was brilliant. She was very attentive in making sure I found the place easily. Provided more than I could have hoped for, and made me feel that I was a special guest in her home. A pleasure to be staying there in Athens. I will come again.
Lovett
2015-08-09T00:00:00Z
Ilia was very accommodating considering that I was without a phone and arrived with little notice. She was very kind and even came to meet me when I got lost. Ilia gave good directions and ideas as to where to travel. I only wish I had asked her sooner before arranging a trip to the islands. The neighborhood and town of Chalandri is much more laid back than the city of Athens. I believe it was a worthwhile location, especially considering that the metro lines run very close to her home. The only issue I had was that the metro did not run after 01:00am, which I needed upon return from the islands. As stated in the description, the room is quite spacious for the needs of a individual traveler and has a nice balcony on the side. I would happily recommend the place.
Silas
2015-06-18T00:00:00Z
Tipe Kamar
Kamar pribadi
---
Tipe Properti
Rumah
---
Mengakomodasi
1
---
Kamar tidur
Chalandri, Chalandri, Yunani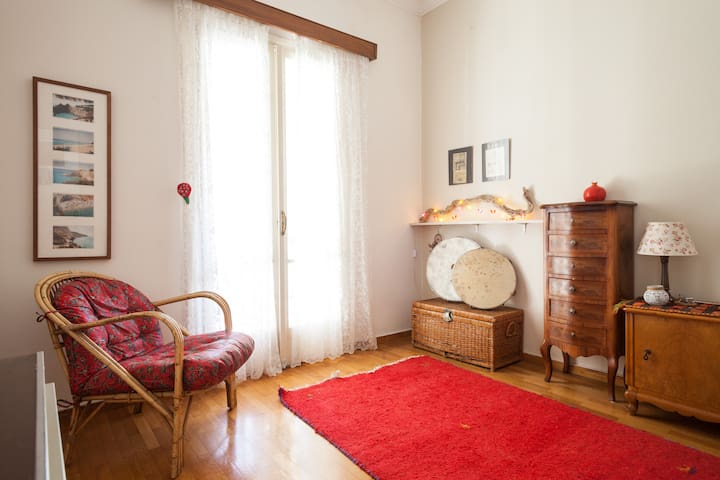 My place is close to restaurants and dining, public transport, family-friendly activities, and many bars. You'll love my place because of the coziness. My place is good for couples, business travelers, and families (with kids). The house is located in a quiet street and has a front yard that leads to the stairs of the house. You can chill in the terrace and have a coffee on a sunny day. 7' walk to the shopping area and 10' walk to the Olympic Stadium, luxurious shopping malls and center streets.
Tipe Kamar
Seluruh rumah/apartemen
---
Tipe Properti
Rumah
---
Mengakomodasi
4
---
Kamar tidur
Chalandri, Yunani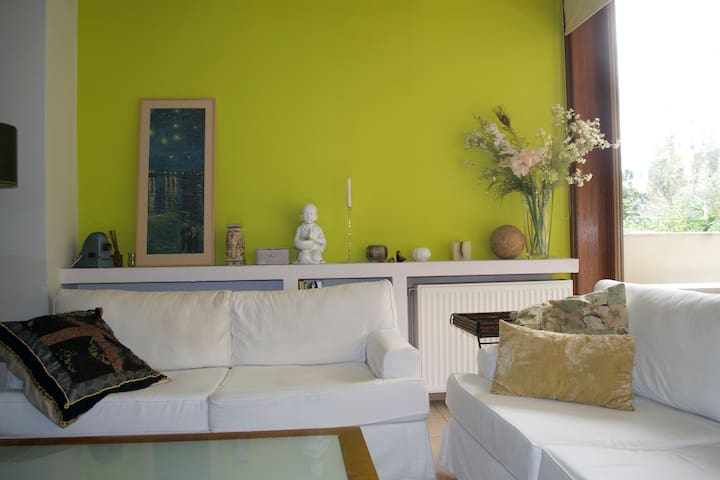 Penteli - Airbnb
:
Rata-rata

4.79

dari

5

bintang dari semua

162

ulasan tamu