The listing description was accurate and the host was extremely nice. The cabin was in a quiet neighborhood.
Adriana
2016-07-05T00:00:00Z
From the moment we arrived we felt at home. The place was, for us, spectacular. The views, the wildlife, the property itself, the peacefulness. Everything was clean and homey. We had many contacts with Peter and his fiance and they were always enjoyable and welcoming. We will be going back, probably renting the larger of the 2 homes. Would most definitely recommend this property and hosts.
Debi
2016-08-29T00:00:00Z
Simply put, this place was beautiful. The house is a one room guest house style cabin with everything you really need for a nice little get away. The location couldn't be more perfect. About 100 feet out the front door is a river and a forest service trail that seems to wind for a few miles down the river through some really beautiful meadows and rocky outcrops. Peter was really nice and accommodating, would definitely come back. Be sure spend more time outside than inside! That's the best way to enjoy this area.
Brett
2016-06-04T00:00:00Z
My boyfriend and I enjoyed a wonderful weekend at Peter's house. Peter was very accommodating and answered every question and concern we had. Peter and his fiance were very friendly and gave us great recoommedations on what to check out. House was very cozy and very nice, we had lots of fun.
Flor
2016-04-05T00:00:00Z
We really enjoyed our stay here at the riverfront hideaway! We were expecting a little bit more solitude, but it was actually pretty busy where we were. We enjoyed walking along the river and finding the private swimming holes and sitting on the porch looking at the river. Peter gave us a lot of suggestions of places to go and was very helpful! We hope to come back!
Katrina
2016-06-14T00:00:00Z
All in all a great experience. You can't beat the location of this place. Very peaceful right on the river bank. The house was a bit dusty, and could maybe use a good shampooing, but nothing that would prevent me from staying again.
Ryan
2015-05-04T00:00:00Z
We had so much fun relaxing. It's a great weekend getaway and we couldn't complain about anything. Beautiful area and we plan on returning in the future.
Ethan
2015-05-26T00:00:00Z
So lovely to be close to the river. Great studio, poetic location! Peter & Michelle stopped by to make sure we were settled & we had a pleasant chat with them.
Marti
2016-11-06T00:00:00Z
Tipe Kamar
Seluruh rumah/apartemen
---
Tipe Properti
Apartemen
---
Mengakomodasi
2
---
Kamar tidur
Payson, Arizona, Amerika Serikat
Tipe Kamar
Kamar pribadi
---
Tipe Properti
Apartemen
---
Mengakomodasi
2
---
Kamar tidur
Payson, Arizona, Amerika Serikat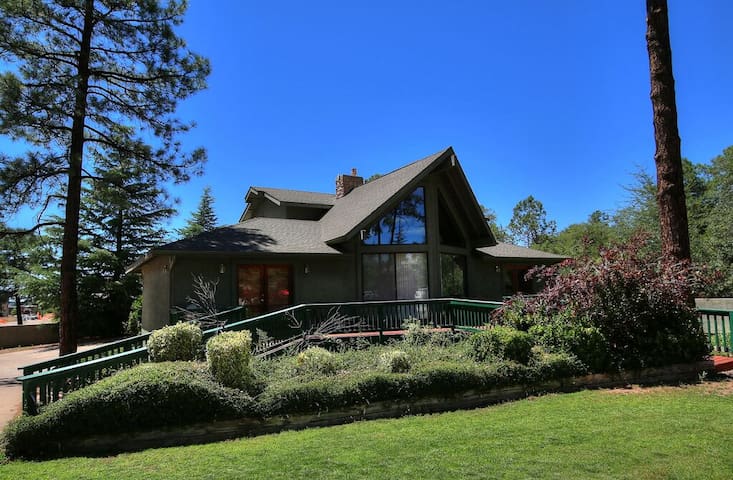 Tipe Kamar
Seluruh rumah/apartemen
---
Tipe Properti
Apartemen
---
Mengakomodasi
4
---
Kamar tidur
Payson, Arizona, Amerika Serikat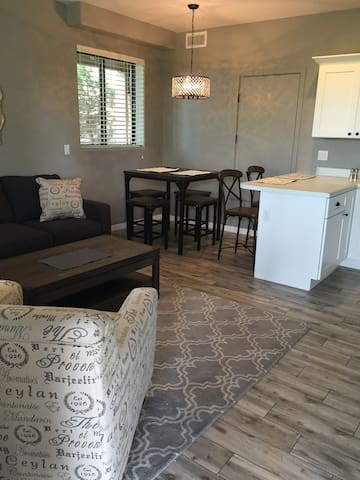 这家新近改建的海狸谷4丛距离佩森,亚利桑那州的一个短的车程。享受过250英尺河前财产半亩。东方豪园河提供了一个伟大的观点和配乐为你放松!这是一个浪漫之旅或质量时间与家人和朋友放松的理想场所。室外生活空间几乎总是阴影和河边的微风冷却。你度过轻松的下午,徒步旅行,钓鱼,或古董购物佩森。这是一个完美的现场拿到远离一切,参观附近的亲属或把自己暴露于亚利桑那州北部的美。你不会错过任何的设施,配有有线电视和高速无线上网。
从日常生活的喧嚣匆忙逃离而来享受清新的山间空气接近一环。步行到流行的国家森林步道入口头,如非常优美孵化溪径有历史悠久的木桥和常年流淌的小溪。如果好奇心带您进一步走进森林,你会很快与所有大自然的美丽和野生动物展出临到比利河和汤普森河。相机强烈推荐捕捉到这些景点真棒!不要忘记人类最好的朋友,派恩托普的间小屋是PET带围栏的后院,可狗门友好。 当涉及到娱乐,派恩托普的间小屋是一个短的步行到受欢迎的餐厅,精品店和商店,如狮子穴,现场音乐和舞蹈,米娅的Piachi小酒馆与美味佳肴,如新鲜的著名葡萄酒汉堡之家糕点,馅饼和咖啡,埃迪的乡村商店杂货,Clarkie克拉克牛排馆,意式面食之家,和这么多。享受周围的娱乐节目和活动,而不必担心驾驶。 对于那些愿意赌一把,汉大新赌场不到10分钟车程。 Pinetop的湖区高尔夫乡村俱乐部,这是向公众开放,只有5分钟的路程。日出滑雪场约30分钟路程。一个巨大的和流行的雪橇山上大约有10分钟的路程。
友好,安静,农村邻里7-10离市中心懋英里。为孩子们玩耍的小公园步行距离之内。
Awesome location! Close to multiple trails and hikes. Right outside of the city if we were to need anything. It's in a neighborhood but felt super secluded. Great stay, we will be back in other seasons!
Jordan
2017-02-26T00:00:00Z
Best relaxing weekend ever. I grew up going to Payson on a timeshare to Kohls Ranch once a year since I was 4. This vacation brought back so many memories. Better yet, my babies got to experience it. We can't wait to go back! It was so comfortable in the condo we hung out most of the day going in and out. Very clean and safe, I felt totally comfortable letting my kids play. My favorite was that the worries all faded away. No locking the doors, or anxiety over your kids. I even said out loud, "This was the best money I've ever spent." It went by so slow but also so fast. I'm looking forward until the moment we're driving the easy hour drive back to the beautiful wilderness. I felt like a kid again. My hubby is still asking me if we're allowed to rent it and live there, and means it! Have fun experience it with your family! Thank you ❤️
Ashley
2016-04-06T00:00:00Z
Location is amazing. Property is very clean. It was so convenient to have pans and dishes to make food. The beds are all so comfortable. The sound of the river is very relaxing. This place is minutes from the water wheel waterfall hike. The hike was beautiful. I love the Payson area
J
2016-08-15T00:00:00Z
everything was just as described. great place to stay, far enough apart for privacy. it was nice and peaceful.
Scott
2016-10-04T00:00:00Z
Very relaxing anniversary getaway! Feet from relaxing sound of the river. Great hiking! Very friendly and safe neighborhood. Close to town for dinners and antique shopping. Nicely remodeled and comfortable. WIFI worked great! Highly recommended...
michael
2016-11-06T00:00:00Z
Communication after booking was fantastic. The setting was fantastic. The location was fantastic. Basically, our entire stay was fantastic :)
David
2016-10-23T00:00:00Z
This place was clean and has some nice outdoor landscaping for picnics and watching the river when it has water. The bed was comfortable. The kitchen had most everything necessary for simple meal prep. Not too far from Payson. Those with ATT service should know that there is no reception here. We had to drive 10 to 15 min to find reception. Apparently ATT is notoriously spotty in this part of the country. We used the WiFi to communicate. Having a washer and dryer was great too. It's always nice to return home with clean clothes in the suitcase.
Cameron
2016-11-29T00:00:00Z
Had a fantastic time in a condo (three other units) perched against the East Verde River! The condo comfortably accommodated four, was super clean upon arrival, and had everything we needed for our two nights. Great value for such a quite and serene location. Would also love to visit during the winter months!
Canyon
2016-07-31T00:00:00Z
Tipe Kamar
Seluruh rumah/apartemen
---
Tipe Properti
Apartemen
---
Mengakomodasi
4
---
Kamar tidur
Payson, Arizona, Amerika Serikat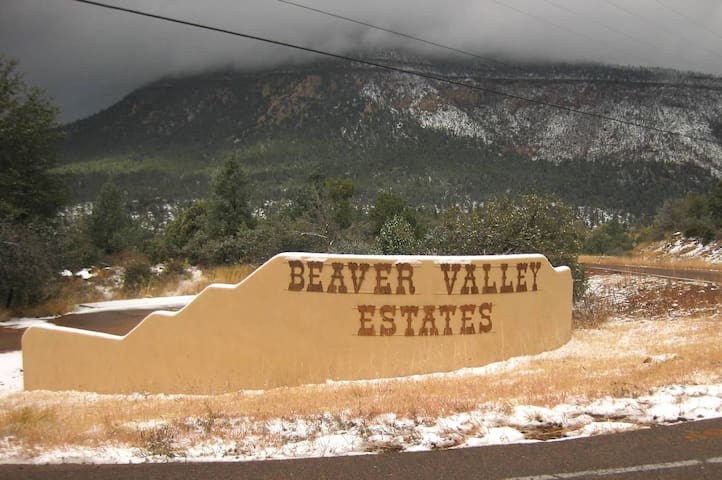 Herzlichst als "The Heart of Arizona" bekannt ist, die stolz von Payson Bergstadt entspannt bewahrt den westlichen Geist. Erleben Sie den Wilden Westen und entdecken Sie ein reiches Erbe von Cowboys, Pioniere und Indianer.
Entspannen Sie sich in Ihrem gemütlichen, Unterkünften in Berglage und genießen Sie die frische Waldluft von Ihrer Terrasse oder Deck. Jede Unterkunft bietet den zusätzlichen Komfort einer Kaffeemaschine, Mikrowelle, Kühlschrank, Kabel-TV, Safe im Zimmer, Haartrockner, DVD-Player und Internetzugang. Das Studio verfügt über ein Kingsize-Bett. Guest Check-in muss mindestens 21 Jahre alt sein und einen gültigen Ausweis und eine Kreditkarte für Kaution sein. Preise und Verfügbarkeit können variieren. Dies ist ein Timesharing-Anlage, sondern die Teilnahme an einer Präsentation oder einer Tour ist nicht erforderlich. Alle Einheiten sind vom Resort zugeordnet. Einheit Ansicht, Boden und Lage der Einheit auf Eigenschaft kann nicht garantiert werden. Sobald Reservierungen bestätigt werden, werden Sie nach dem Namen und der Adresse des Hauptgast gebeten, die Check-in wird (der Rezeption des Resorts wird auch für diese Informationen fragen, wenn Sie einchecken, aber diese Informationen, bevor Hand zu erhalten wird der Check-in Prozess zu beschleunigen) zusammen mit einer E-Mail-Adresse eine persönliche Bestätigung zu erhalten.
Herzlichst als "The Heart of Arizona" bekannt ist, die stolz von Payson Bergstadt entspannt bewahrt den westlichen Geist. Erleben Sie den Wilden Westen und entdecken Sie ein reiches Erbe von Cowboys, Pioniere und Indianer. Besuchen Sie die Tonto-Brücke und die indischen Ruinen, erkunden Sie die Zane Grey Museum oder einen kostbaren Schatz zu finden, während Antiquitäten auf historische Main Street. Mit frischen Bergluft und moderaten Temperaturen das ganze Jahr, dieses malerische Rim Country Retreat bietet eine malerische Hinterland Paradies mit aufregenden Ausflüge, Wandern, Berg Reiten und Forellenangeln. Im Schatten von den hohen Wipfeln des größten Ponderosa Kiefernwald in der Welt, Kohls Ranch Lodge liegt ruhig am Fuße des Mogollon Rim. Das idyllische Wald Rückzug bietet eine freundliche, lockere Atmosphäre mit allen wichtigen und gewohnten Komfort seines Zuhauses. Mit einer gemütlichen Einrichtung in einer Berghütte Stil eingerichtet, verfügen diese geräumigen Zimmern eine gut ausgestattete Küche, Essbereich und in-suite Unterhaltung. Entspannen Sie am Pool oder genießen Sie das Fitnesscenter, Arcade-, Minigolfplatz und vieles mehr.
host was great. I enjoyed my stay in the studio. It was clean, quiet, and well stocked.
Alan
2016-04-13T00:00:00Z
Very easy and efficient process. Very nice quaint resort 20 minutes east of Payson. Many creeks within 20 minutes.
Max
2015-12-20T00:00:00Z
The studio was very comfortable. I loved how close the lodge was to Payson and Christopher Creek. Everything was clean and the studio had everything I needed for a relaxing stay. The staff at the lodge was super friendly too! Thank you Scott for your fast response to my questions. :)
Melissa
2016-05-03T00:00:00Z
Our stay was quite cozy and comfortable. The area is nice and quiet and the Lodge has very nice staff and had plenty of activities. The room was clean and was great for a two night stay!
Michael
2016-02-17T00:00:00Z
Great place to stay and escape the heat in Phoenix! Great location between Payson and the mountain lakes.
Dan
2016-07-24T00:00:00Z
Relaxing
Stephanie
2017-01-05T00:00:00Z
It's a very nice place to stay. The nature around is beautiful, and there are lots of hiking trails to explore. The room was clean with a nice view.
Frederike
2017-03-16T00:00:00Z
Tipe Kamar
Seluruh rumah/apartemen
---
Tipe Properti
Apartemen
---
Mengakomodasi
2
---
Kamar tidur
Payson, Arizona, Amerika Serikat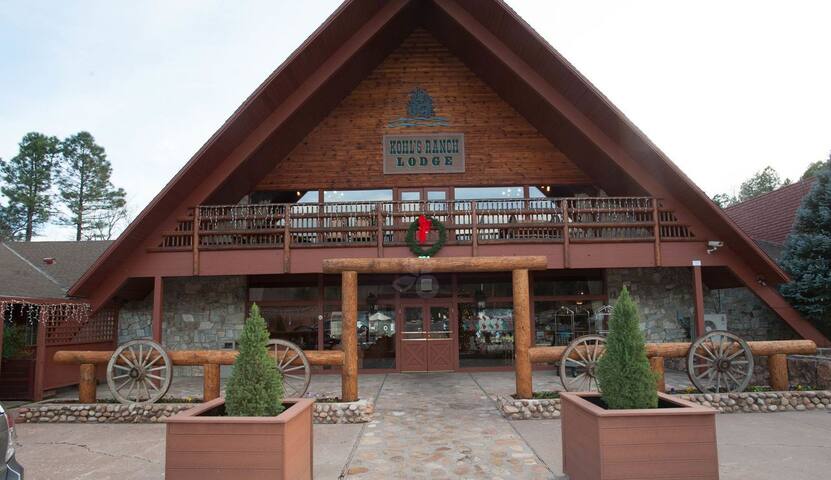 Kohl's Ranch Lodge is a great place along Tonto Creek about 20miles outside of Payson. Noah did a great job making sure out stay went well and everything was taken care of. The whole ranch is a hotel with a collection of near identical cabins surrounding the hotel. Luckily for any visitors staying at Noah's cabin, it is one of only two with a private hot tub on the back balcony. We had a phenomenal stay and would absolutely stay here again!
Thomas
2015-12-06T00:00:00Z
Tipe Kamar
Seluruh rumah/apartemen
---
Tipe Properti
Apartemen
---
Mengakomodasi
8
---
Kamar tidur
Payson, Arizona, Amerika Serikat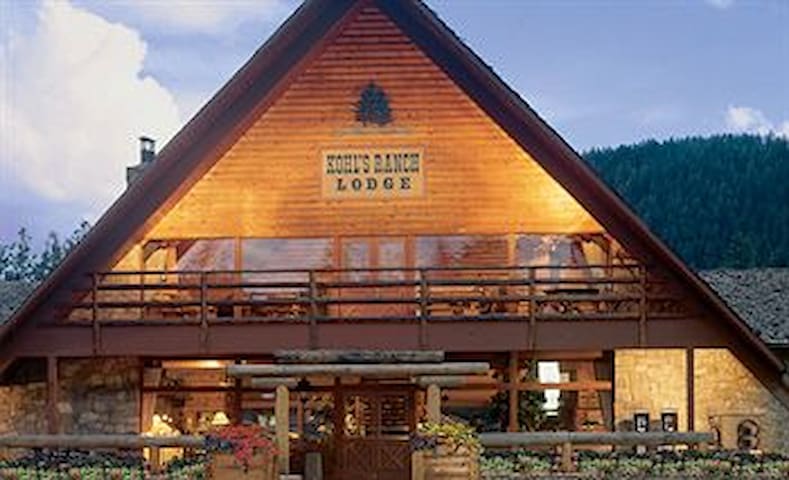 My place is close to great views.
We were not able to stay because of a personal health issue. Kandy was great to work with and we look forward to staying at some point in the future.
Keith
2016-08-22T00:00:00Z
Kandy's place was perfect!! Quiet, intimate, great location, clean and exactly what we were looking for as our get away. She even has a bottle of wine and snacks waiting for you. Added bonus, we even stumbled upon the last night of the meteor shower....the porch was perfect. Highly recommend....we will be back!
Bob
2016-08-14T00:00:00Z
Great cozy place. Location was easy to find. Host provided detailed instructions for our arrival since she wouldn't be present. It was nice to feel like we had the place to yourselves since the house is detached. Neighborhood was very safe and comfortable. Love the little touches, that really made it special. And there was even a TV/DVD player with movies for us too.
Elizabeth
2016-10-09T00:00:00Z
Had a delightful stay at Kandy's guest room! She even had a bottle of wine and snacks for us! Nice, peaceful cool and quiet and Kandy was very accommodating and gracious! Many thanks! G and M.
Gregg
2016-08-02T00:00:00Z
Katy was a very welcoming and charming host. She explained us everything we needed (heat, A/C, shower, etc.) and we really enjoyed the little details in the room (she left some snacks, water and a bottle of wine). The room was very cosy and we slept very well in the bed. We had a great time and would definitely recommend this place!
Emilie
2016-10-02T00:00:00Z
We arrived with Kandy waiting to welcome us with big smiles. The room was exactly as advertised and a great place to bunk for the night. The location was easy to find and the neighborhood exactly what you'd expect for a quaint little mountain town. The hospitality Kandy provides makes you feel like an honored guest at her home. We highly recommend this Cozy place to land!
Justin
2016-07-12T00:00:00Z
Kandy was a great host. Her place with clean and quaint. She goes above and beyond to make you feel comfortable. No wifi is available, but that was actually a bonus. We will certainly be back.
Stacee
2016-09-18T00:00:00Z
Kandy offers a terrific place to get away from it all, her little guest house is perfect for R&R and close to local night life for a quick bite or a great beer
Sid
2017-04-01T00:00:00Z
Tipe Kamar
Seluruh rumah/apartemen
---
Tipe Properti
Apartemen
---
Mengakomodasi
2
---
Kamar tidur
Strawberry, Arizona, Amerika Serikat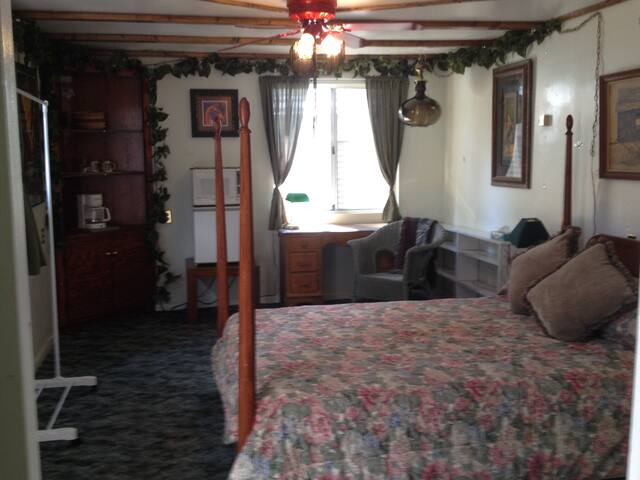 Located at Arcosanti, an urban design experiment started in 1970 by Italian-American architect Paolo Soleri, this beautiful and open accommodation is perfect for a weekend get-away or a peaceful stop-over roadtrippers, couples, solo adventurers, families (with kids), and big groups. ADA compliant. Take in the high desert views while enjoying the architecture and mid-century modern decor. This open concept rental is furnished with a queen bed, sleeper sofa, dining room, and kitchenette.
This is one of the newest apartments on site. It is ADA accessible and features a queen bed, sleeper sofa, dining room, kitchenette (hand built by host) and private bath, all furnished in an eclectic mid-century decor. This unit does have a window unit AC.
Arcosanti is an exceptionally interesting and beautiful place. Framed by incredible canyon views, the "city" (as we like the call it) is a network of apses, vaults, performance spaces, and residences. We have a bronze casting foundry, a ceramics production area, a cafe on site, a 350-person amphitheater, a pool, and myriad other functional structures. We are home to approximately 70 residents who live and work here. Most of us have interests in urban planning, sustainability, and architecture, but Arcosanti attracts a huge diversity of expertise and skill sets. Sedona and Prescott are relatively close, and Phoenix and Flagstaff are both a little more than an hour away. We are less than 2 and a half hours to the Grand Canyon.
This was my first Airbnb and it was an excellent experience. Very unique property and extremely comfortable. Everyone we met there was so helpful and friendly. The bed was comfy and the shower was amazing. There is nothing I could possibly say to describe the night sky from this remote property with no city lights interfering with the clear night sky, it was beyond beautiful. I did not meet the host and had complete privacy. It was a little difficult to find the room but that is only because we showed up late at night and it was dark so I went the wrong way at first (my fault, hadn't read the directions closely enough).
Georgia
2016-10-01T00:00:00Z
Lana was not in town for my visit, but made sure I had very specific directions to get to my room. She also made sure I could get into the room despite her not being there. Even in her absence, she quickly replied to any of my questions. The room is as described, and the property is simply beautiful.
Lauren
2016-11-06T00:00:00Z
A truly unique and peaceful experience. Dinner at the cafe was delicious (prickly pear cheesecake lemon brownies, yum!). It was fun to explore and the view from the front door was lovely. A great respite from the hustle and bustle of the city.
Jessica
2016-11-20T00:00:00Z
Loved staying at this unique studio. Lucas and I had a really great time checking out the facility, relaxing and talking with the awesome people who lived there. Thank you
Morgan
2016-12-05T00:00:00Z
Let me preface this review with the fact that absolutely none of these details would ever stop me from coming back to Arcosanti, and should not deter you either, but serve as a blemish on the particular hosts ability to welcome guests, and be a friendly human. This Beautiful, magical place, is a one of a kind wonder for sure. You will be lucky to have stayed here even for a night. We met some great people, unfortunately this particular host, Lana was not one of them. Luckily the rest of this community picks up some slack where one lets go, I guess that's part of the concept. We arrived after dark with our newborn (moving cross country) and had to find someone to show us to the room (successful at the second person I found), which was fine, just unnecessary extra stress for our family after driving 5 hours, including the unexpected mile long rough dirt driveway (I've seen worst but wish i knew a head of time) just watch when you first enter the gate, there is a nice little dip if you are driving something with low clearance. Lana-We wish you had the foresight to find someone else to put us in contact with to help us find the room, as you had your meeting coming coming up at the same time I told you we may be arriving. If you would have, it would have made our stay absolutely pristine. Another way you could have fixed the situation a bit would have been to come and see us after your meeting and tell us about the place, where everything is, (URL HIDDEN) was fun finding everything on my own, but probably wouldn't have minded a guide. Jeff and Genie (who work with Arcosanti but do not live there full time) welcomed us when we crossed their path, lovely couple, helpful and very kind. Crossing paths with Lana was awkward, like a pretentious art gallery in Brooklyn awkward. We were 3 feet away from her the next morning and made no introduction, just continued her conversation which I'll spare you the details for her benefit. Looking at other more positive comments, and realizing it may just be that time of year and you may be having a hard time. Some advice, you gotta be responsible for other peoples well being as its not only super vital to the people visiting, but also important for the business of this wonderful place (any probably your job). A message to the whole Arcosanti community: you are a part of a tight knit community, it needs to be welcoming and friendly, especially to strangers in the middle of no where. Chips on shoulders don't serve anyone.
Justin
2016-09-30T00:00:00Z
Lana was a great host! She made sure that we had everything that we needed and went above and beyond to help us out. We had car trouble when we were leaving and she really pulled out all the stops to make sure that we didn't panic.
Awhona
2016-11-12T00:00:00Z
Lana was wonderfully welcoming upon our arrival. The Soleri Studio was perfect for our stay. Thank you, Lana!
Hillary
2016-10-29T00:00:00Z
Fascinating and beautiful place. Well worth the stop. Will definitely be back.
Laurel
2017-03-31T00:00:00Z
Tipe Kamar
Seluruh rumah/apartemen
---
Tipe Properti
Apartemen
---
Mengakomodasi
5
---
Kamar tidur
Mayer, Arizona, Amerika Serikat
My home is located in a quiet neighborhood conveniently located between Sedona and Historic Jerome. Good for couples, solo adventurers, and business travelers. Lots of hummingbirds in the summer!
This is a converted room at one end of my house with a private entrance. It is part of my house that now functions as an apartment. It has a bedroom, living area, it's own bath and laundry closet. As you walk through the door, you walk into a spacious bedroom with a King bed, large closet and a desk. To the right is the door leading to the living area. As you walk through the bedroom door, you walk into a bright open living area with a table, fridge, dishwasher, stove and microwave, a daybed and a TV and DVD player. THERE IS NO CABLE. I have some DVD's you may borrow and there is a Red Box a short distance away. The laundry closet is to your right and the 3/4 bath is straight ahead. The back yard is rock. Just beyond the immediate yard are pomegranate trees, beyond that are two plum trees and to the northeast you can view Sedona.
I live in a quiet, tucked away neighborhood, maybe 5 minutes to old town Cottonwood with restaurants, wine tasting rooms and shopping. If you prefer to cook your own meals, there is a grocery store at the end of the street and banks are nearby.
Alida's place is great! It is very easy to find and right in the middle of all the attractions in the area. The room is like she states, "it's own little apartment" with private entrance. It is clean and the bed is super comfortable. Alida is the sweetest. She will interact with you, but offers complete privacy. She was VERY attentive during our stay; will definitely go back.
Cris
2017-02-26T00:00:00Z
The apartment was beautiful, big and very clean. The king size bed was super comfortable and the kitchen was perfect. We were super close to Old Town, restaurants and everything we needed. Alida was the perfect host. We highly recommend her place and we will certainly be back!
Debbie
2017-03-08T00:00:00Z
Alida's East Wing was perfect for my stay! Very conveniently located for any of the attractions in Cottonwood or surrounding areas! Quiet neighborhood, but near to grocery, pharmacy and main thoroughfares. Alida was wonderful, very responsive, warm and hospitable. She wanted my visit to be easy and comfortable, with advice on restaurants, day trips, sights. She is familiar with local hiking trails. The apartment is very new, lovely kitchen, spacious rooms. A great value. I felt safe coming and going, as a female on my own. Enjoyed the hummingbirds at her feeder!
Julia
2017-03-22T00:00:00Z
Tipe Kamar
Seluruh rumah/apartemen
---
Tipe Properti
Apartemen
---
Mengakomodasi
2
---
Kamar tidur
Cottonwood, Arizona, Amerika Serikat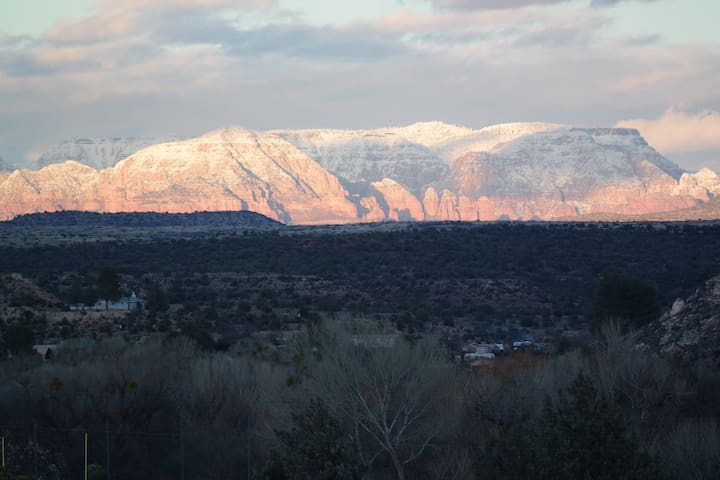 You'll love my place because the home is located right on the Verde River. The house sits slightly above river level, but there is a short trail that will take down to a nice area and private swimming hole. You are literally minutes from Old Town Cottonwood and a short drive to Sedona and Jerome. There are several wonderful vineyards nearby as well.
The space is a private 1 bedroom/1 bathroom apartment with a private entrance around the back of the house. The apartment shares a common wall with the main house.
The house is located on two acres right on the Verde River. It is close to town, but feels like you are miles away. The space is quiet and private.
the location was great. it was relaxing space. conviently located near hiking and old town cottonwood. Scott was a great host. thank you for letting us meet Toby and Cherry. we hope to be back again.
mary
2016-10-30T00:00:00Z
Scott and his wife did a great job! Their place was quiet, clean, pet friendly and felt like home. His wife and daughter made homemade cinnamon buns, which was just the perfect touch. They have a convenient location to OCRS. They had everything we wanted and needed. We highly recommend staying here!
Vijali
2016-10-17T00:00:00Z
I loved this place for our stay in Cottonwood! We had a quick 10 min drive to most places like main St and the local Vineyards. The place was well stocked with everything to make it feel like home including cinnamon rolls ready to bake! Loved being able to go down to the river and relax as well, so beautiful. :)
Valerie
2017-04-02T00:00:00Z
Scott and his wife are perfect hosts. We were greeted with fresh cinnamon buns to bake and a carafe of OJ for the next morning. What a treat! Scott made sure that we had proper directions and information about his place. He also checked in on us several times to make sure that we had everything we needed or had any questions about the area. He even wanted to make sure that Netflix was working, since he had a previous issue with it before our arrival. This is a very nice accommodation which is tastefully decorated. We loved that it was located in a private area near the river. My dogs had a blast at the river. On a different note, Cottonwood has some very good restaurants that you don't want to miss. We tried some new ones this time in Old Town. Thank you Scott for making our stay a good one. I hope you will have us back again.
Suzanne
2016-10-12T00:00:00Z
The casita was just as in the pictures. We arrived at 11:15pm but had no problem finding the home. Scott's directions for parking and accessing the home are very clear. My family and I were able to visit with Scott and his family who were very nice. We went down to the Verde river where my husband fished for a bit while I enjoyed sitting with nature. The casita is very cozy and clean. We had enough towels for all 5 of us, clean linens and blankets. I did use the washer/dryer and coffee maker. Imagine our delight when we found a note in the fridge with cinnamon rolls to bake. The kids loved that! I recommend Heron Point, it is a tranquil place to stay. Close to nature but a quick drive to Cottonwood, Jerome, and Sedona.
Dioscelina
2016-09-24T00:00:00Z
Scott was very informative as far as making sure we are knew everything the property offered. The place was easy to find, clean and the host was available if needed, which was a comfort to know.
Megan
2016-11-20T00:00:00Z
This place is very well decorated and probably recently renovated. It's modern and has all the amenities: fridge, kitchen, washer, dryer. Even board games. The hosts were very kind and accommodating. The only thing to be aware of is that their home is upstairs, so you will hear a little bit of noise from up there. Not a big deal, and otherwise the place was perfect
Peter
2016-11-22T00:00:00Z
I had an absolutely lovely stay. I am a single female and traveled with my two larger dogs. The place was in a super quiet and gorgeous neighborhood with awesome views of Jerome and the surrounding mountains. River access was fun for my two dogs to play in and enjoy. The guest house was super clean with all the amenities. The kitchen was stocked with everything you would need including a Keurig and KCups. The living room was spacious and the TV was nice to have with Netflix hook up. The bed was super comfy and there was even an additional mattress pad for the pull out couch (they really did think of everything). The bathroom was gorgeous and extra towels, soap, shampoo etc. was available. When I arrived everything was spelled out nicely in a note left on the counter. There were tour guides and awesome area books throughout the space. I was in town for a special event and several of my friends paid more than I did to stay at a not so nice hotel. I couldn't believe the deal I got. I came back from my Jerome adventures on Sunday to fresh made cinnamon rolls and OJ. You really can't beat that. I only saw the owner when I was getting ready to leave otherwise it was really quiet. I would highly recommend this place if you are traveling to Sedona, Cottonwood, or Jerome as it is conveniently located between them all.
Michele
2016-09-05T00:00:00Z
Tipe Kamar
Seluruh rumah/apartemen
---
Tipe Properti
Apartemen
---
Mengakomodasi
4
---
Kamar tidur
Cottonwood, Arizona, Amerika Serikat
Paisible et calme cette retraite privée vous permet de visiter Sedona et de rester dans le confort de votre propre appartement d'une chambre.
Nous avons créé un appartement très calme situé juste en dehors des limites de Sedona de la ville. Ceci est un espace contenu libre avec chambre privée, salle de bains avec douche qui a structuré l'eau. L'espace de vie a une petite salle à manger, un canapé et une télévision écran plat avec le réseau de plat. Les grands ventilateurs de plafond et puissant A / C vous gardera au frais et détendu. Il y a un petit réfrigérateur, une bouilloire et un grille-pain avec banc de cuisine pour vous préparer et des collations des magasins. Nous avons un petit lavabo dans la salle de bain et l'eau est structuré de sorte que vous pouvez boire cela. Nous avons pas évier de cuisine dans cet espace. Sedona a de nombreux restaurants et attractions pour votre plaisir. Nous ne permettons pas aux invités d'apporter les animaux de compagnie dans cet espace. S'il vous plaît ne pas prévoir d'arriver avant 15 heures checkin.
Nos voisins sont gentils prévenant et calme, nous respectons la terre et la faune qui se connecte avec cet espace.
This was a beautiful place that is well maintained. Amanda and Steve are wonderful hosts. The place is quiet with a great little outdoor seating arrangement that gives you a great view of the night sky. The place is 5-10 minutes from uptown. Highly recommend.
Michael
2015-10-04T00:00:00Z
We loved our stay at Amanda and Steve's place. It was quiet and beautiful. The location away from the center of town was ideal for us and near many amazing hikes. We would definitely recommend it.
Pamela
2016-07-25T00:00:00Z
Perfect place for staying in Sedona. Close to Red Rock State Park and many hiking trails. Could not have asked for a better experience. Would stay again.
Paul
2016-06-15T00:00:00Z
A great space in Sedona! I really enjoyed the secluded location - away from tourists, yet close to everything. Our host provided great information about the area and their suggestion of how to visit the Grand Canyon was perfect.
Beth
2016-01-26T00:00:00Z
The property is comfortable and beautiful. The hosts are very accommodating and even left the lights on for our late arrival. The place has a cool Sedona vibe and great sheets. You'll love it!
Josh
2016-04-10T00:00:00Z
Steve welcomed us upon our arrival and was very helpful. He had some specific recommendations about local hikes and things to do in Sedona. We took his advice and hiked the to mountain right above their place and then visited Jerome, a old mining town within a close driving distance. He also provided us a Forest Service map, which was quite helpful. He also gave us a helpful tutorial for the television and sound system.
Gary
2016-03-22T00:00:00Z
Amanda's place was a great retreat while staying in Sedona. Very quiet neighborhood yet close to town. Very beautiful and comfortable space with an upscale feel. Easy and quick communication via text. Highly recommend!
Chris
2016-09-11T00:00:00Z
My husband and I had an excellent two night stay in Sedona. Amanda's apartment was a perfect fit for our visit. We sincerely appreciated Amanda's willingness to answer questions but even more important for us was her allowing us complete privacy. The place was spotless and exactly as described. The hiking trail that begins practically at the end of the driveway is an excellent run and perfect for a sunrise adventure.
Gary
2016-01-10T00:00:00Z
Tipe Kamar
Seluruh rumah/apartemen
---
Tipe Properti
Apartemen
---
Mengakomodasi
2
---
Kamar tidur
Sedona, Arizona, Amerika Serikat
スタジオは山に面した大きなフロントデッキと上位装置です。家はクイーンベッド、食器洗い機、オーブン、レンジ、電子レンジ、コーヒーメーカー付フルキッチンが含まれています。ベッドルームとリビングエリアには、山の景色とプライベート大型デッキ付きガス暖炉と絵の窓を持っています。公共エリアではバーベキュー、専用駐車場があります。
クリーク、トレイル、ショッピング、restaraunts分以内
Carolyn and Elan have made a very nice, conveniently located space. The unit is clean and very well appointed. They are very gracious providing nice additional features like wifi, music station and very helpful tips and pointers for local attractions. We most certainly intend to return.
Sean
2016-04-21T00:00:00Z
What a fabulous oasis in Sedona! Upgraded finishes, full kitchen, and huge private deck...what else could you want?! The location was perfect; quiet but walking distance to food and shops. We enjoyed a glass of wine on the deck after hiking all day and our morning coffee and tea waiting for the sun to crest over snoopy rock! Carolyn & Elan were fabulous hosts with amazing recommendations! Thank you!
lynn
2016-10-08T00:00:00Z
We loved the loft studio! The space was beautiful, and the views were breathtaking. Carolyn and Elan were wonderful hosts and extremely accommodating. Loved the wine and Pellegrino! We also took advantage of buying day passes to the resort/hotel next door. Great vacation!
Sarah
2016-08-22T00:00:00Z
We had a great time in Sedona. We enjoyed coming back to your apartment each day, and having a glass of wine on the deck. The views to the east were magnificent. We arrived to find a bottle of Arizona wine and a bottle of Pellegrino water waiting for us. That was the first time anything like that had happened to us at any of our Airbnb stays! The apartment was very clean, in fact, the cleanest ever. This was our best Airbnb stay yet. We were very close to the center of Sedona, but after hiking all day, it was a long walk into town, so we always drove in. We will definitely be recommending this place to anyone we know who is going to Sedona.
Jim
2016-06-21T00:00:00Z
Arrived to bottle of wine to welcome us , really thoughtful. Was really close to everything , from shopping , eating, to accessing some of the really cool walks around Sedona
PETER
2016-08-13T00:00:00Z
Great beautiful space to stay
Heather
2016-10-31T00:00:00Z
The host was very communicative via text and email. Directions were good, had no issues getting in, and the place was perfect. It was very close to where my friends were staying, and the mountain views from the deck were beautiful in the morning when the sun was rising.
Terry
2016-09-14T00:00:00Z
Best place ever. Even the toiletries were great and from Whole Foods which was terrific! Super clean and adorable. Nice people too! Had all the details you could imagine!
Geneva
2016-12-31T00:00:00Z
Tipe Kamar
Seluruh rumah/apartemen
---
Tipe Properti
Apartemen
---
Mengakomodasi
2
---
Kamar tidur
Sedona, Arizona, Amerika Serikat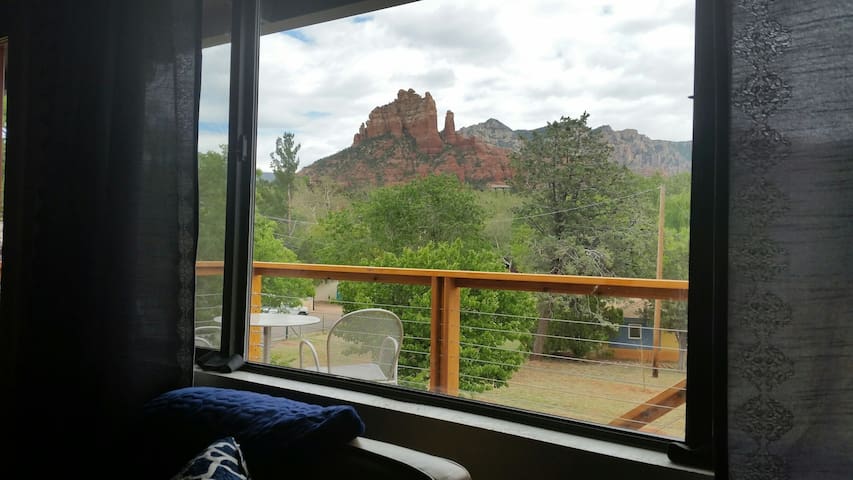 Denne fredelige oase er beliggende i hjertet af West Sedona, gåafstand til: Chimney Rock, Thunder Mountain, Kaffekande, Sugar Loaf og Amitabha Stupa. Tag dig tid under dit ophold til healing, selvrefleksion, og opdage den skønhed, der er omkring dig.
Sunshine Suite er et godt sted at genopdage dig selv i alt privatlivets fred, gåafstand til fantastiske vandrestier, hellige steder, og få minutter fra lokale butikker. For underholdning om aftenen, tjek vores mange eklektiske spillesteder for levende musik og god mad, herunder Oak Creek Brewery, Vino Di Sedona og meget mere! (Mange inden for gåafstand)
Jimmy is a really nice guy who cares about his guests. I enjoyed staying at his place. It was clean and comfortable. He has a number of books available to read, nice towels, and a rocking chair couch! There are plenty of trails just a block or two away and the scenery is beautiful. You're within a short driving distance to grocery stores. I would definitely stay here again!
Laura
2017-03-05T00:00:00Z
Great space. Jimmy is a great host!!!
julie
2017-02-22T00:00:00Z
Jimmy provided excellent space and comfortable accommodation. Location is amazing in a quiet neighborhood near the mountains of Sedona
Rick
2017-03-09T00:00:00Z
The host canceled this reservation 12 days before arrival. This is an automated posting.
Lesa
2017-01-06T00:00:00Z
Jimmy's place is ideally located with direct access to the fabulous Sedona trail system. The apartment is very private and beautifully furnished. Jimmy is a great host, devoted to making sure your stay is wonderful. Of all the places I've stayed in Sedona, this is by far our favorite and we will no doubt stay again.
Leslie
2017-04-02T00:00:00Z
Wonderful place to relax, and great location for hiking and visiting the best part of Sedona. Jimmy is a great host. Very clean with nice touches.
David
2017-03-25T00:00:00Z
This location is amazing, there are trails five minutes away to walk to. The bed is very comfortable, so much so I didn't want to get up. Very private and of course Sedona is gorgeous. I would recommend this place to stay.
Helen
2017-01-18T00:00:00Z
If you think the Sunshine Suite looks good in the ad, just wait until you get there! Really a private home away from home, just a block from a trailhead leading to a network of West Sedona trails (Sugarloaf, Thunder Mountain, Coffeepot, etc.), and a couple of blocks from the tranquil Amitabha Stupa and Peace Park. More amenities than I could have hoped for were provided, and Jimmy answered every question immediately. All this for just a few dollars more than the bare-bones motel I stayed in last year. This was my first Airbnb experience, and if they are all like this I am completely sold.
Denise
2017-03-30T00:00:00Z
Tipe Kamar
Seluruh rumah/apartemen
---
Tipe Properti
Apartemen
---
Mengakomodasi
2
---
Kamar tidur
Sedona, Arizona, Amerika Serikat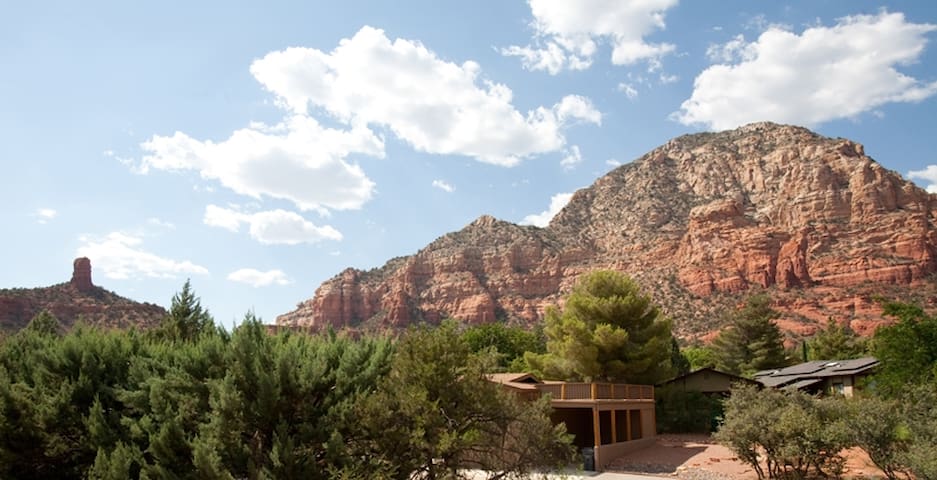 Right off the main strip of AZ-89A, and just a short drive to all the Sedona trails. Close to grocery stores and a handful of restaurants. Place is quiet and very private. The owners are great hosts and strive to ensure that you enjoy your stay.
Dennis
2017-02-07T00:00:00Z
My stay at Maureen's was absolutely lovely. Maureen was a communicative host- She responded promptly if ever I had a question or request. Furthermore, she went out of her way to give me a lift across town when I had lost my car keys on a hike with my wallet locked inside. Her generosity even extended to lending me some dog food while my wallet was inaccessible to me. The apartment was exactly what I needed during my stay in Sedona and was a two minute walk from breath-taking views of the red rocks. Additionally, though it was a quiet neighborhood, I was able to walk down to restaurants, groceries etc. in less than ten minutes. The apartment itself is cuter than the picture give it credit, and the kitchen had everything I needed to cook myself dinner everynight- hot plate and toaster oven. I highly recommend this bungalow- you won't regret it!
Kelsey
2017-03-09T00:00:00Z
Maureen's place was perfect for us. We were within 5 minutes walking to watch the sunset and rise! and close to many other hikes via car. Friendly, safe neighborhood. Lovely place to sit outside in the morning and enjoy coffee! as well as, all meals. The bed was comfortable and there was plenty of space for suitcases. The kitchen had everything we needed for cooking - not overly crowded, but enough. Maureen was great at communicating and answering questions, and just a very nice person.
Karen
2017-03-13T00:00:00Z
Nice little private space, very central to all things Sedona- walk to Whole Foods, Restaurants, Banks... even the Pickleball courts are close! We were able to prepare most of our meals in the little kitchen. The bed was very comfortable. Our hosts even let us get some fresh greens from their garden. We will definitely be back!
Ron
2017-04-07T00:00:00Z
I loved staying at the Ivy and Maureen is super kind and helpful The place was just perfect for what I needed, it has a small table that I used to study on and the kitchen had everything I needed to cook a few small meals, the bed was very comfortable and I slept like a baby. Privacy and quiet was important to me and I got both. I defiantly would stay at the Ivy again
Patty
2017-02-13T00:00:00Z
Tipe Kamar
Seluruh rumah/apartemen
---
Tipe Properti
Apartemen
---
Mengakomodasi
2
---
Kamar tidur
Sedona, Arizona, Amerika Serikat
Cutest petit studio jamais. Cet espace est apprécié par les randonneurs, les vététistes, les artistes, photographes, musiciens, étudiants et tous ceux qui veulent juste le plus incroyable accès au réseau de sentiers de roche rouge Sedona a à offrir. baignoire Jet et la cuisine aussi.
Se trouve à droite sur le sentier des célèbres sentiers Sedona comme highline, Rabbit Ears, Palais de justice, Slim Shady, Bell Rock et tant d'autres. Littéralement une promenade de 50 pieds pour accéder au Head Trail. Je laisse pour l'enregistrement automatique de sorte que son super facile.
Bell Rockに続くトレイル入口のすぐそばのお宅で、とても見つけやすかったです。おうちは清潔で、リーズナブルで大変気に入りました。寒い時期に訪れたので、熱いお湯に浸かることができるバスタブがあり、助かりました。ヨガマットを敷いて、ヨガをするスペースも十分にあり、とてもよかったです。洗濯機はどこですか、とメールで問い合わせたところ5分後に返信があり、信頼できる方だと思いました。お家のあるところからセドナの中心街まで車で15分程度ですが、その間にChapel of Holy CrossやCathedral Rockがあり、壮大な景色を見ながら毎日ドライブできて、最高でした!
Eri
2015-12-31T00:00:00Z
Craig's place was an absolute delight. He was very quick to help me with any issues that arose and the description provided matched the place perfectly. The only complaint I could possibly think of was our feet got a tad dirty our first day walking around inside but it was nothing a quick pass of a mop couldn't fix. Asides for that slight issue everything was perfect and I would without a doubt recommend this spot.
Sky
2015-08-04T00:00:00Z
This is the perfect little getaway. Craig provided a very comfortable, amazing home for our weekend in Sedona. The apartment has everything you could possibly need and is close to beautiful hiking trails. We had such a wonderful stay and Craig was a wonderful host.
Ashley
2015-02-23T00:00:00Z
I took a hiking vacation and stayed here, it was the perfect vacation. The place is right by the Slim Shady trailhead and across the street from the Bell Rock trailhead, so trail access was perfect, no need to even get in your car. It was safe, quiet, clean and comfortable and Craig is the perfect host.
Sue
2016-02-12T00:00:00Z
Great stay, as noted in my other review.
Jill
2015-02-19T00:00:00Z
After airing out the condo with all the windows open, Craig's place was very comfortable. If you are looking for something close to a beautiful hike in Sedona and close to restaurants, this is the place for you.
Sarah
2016-07-27T00:00:00Z
Great location and accommodations. Kitchen was well stocked for cooking in. Would stay again.
Jerilyn
2015-07-24T00:00:00Z
The Trail Head Studio was perfectly located for our trip to Sedona. Located right on the trail heads it gave us access to some of the best hiking in Sedona without having to hop in a car. A cute, cozy, clean studio we enjoyed relaxing in between hikes. Craig is very nice and helpful with the area's outdoor activities as well. I would recommend this no frills studio to anyone looking for adventure and location!
Stacy
2015-12-14T00:00:00Z
Tipe Kamar
Seluruh rumah/apartemen
---
Tipe Properti
Apartemen
---
Mengakomodasi
2
---
Kamar tidur
Sedona, Arizona, Amerika Serikat
A beautiful place to stay that's perfectly located for a wide range of day trips. Our original plan was to linger around the house and only make a few short trips out. There were so many sights within a 2 hour drive that we were barely there! We woke up to a beautiful sunrise in the morning and went to bed with an amazing view of the stars. For a small amount of square footage the home is very spacious and feels way bigger. Everything was clean and well done. I hope we get a chance to visit again.
Rachel
2017-03-04T00:00:00Z
Charlie and Nina's place is close to Sedona, Jerome and many national parks in the area. The rental was spacious, very clean and private. We only met Charlie but he was a gracious and friendly host. Loved their friendly dogs too! I highly recommend Charlie & Nina's place to anyone travelling to this area of the world.
Diane
2016-12-11T00:00:00Z
As a first time AirBNB user, we could not be more happy with Charlie and Nina's Hideaway. Everything was absolutely perfect, down to the very last little detail. We arrived late at night and did not have time to navigate through the dark mountains to find a grocery store. So we were so pleased to see that they had coffee in the cabinet for us. Every small detail was covered. The suite was clean and comfortable. Charlie and Nina gave us our privacy, but greeted us warmly. Even though their place is not in the "heart" of Sedona, we had no problem with the 15-20 minute drive into town. It was well worth the privacy and peace of mind. If you are looking for a great place to relax, seriously look no further. This is the place!
Cara
2017-02-20T00:00:00Z
A lovely house in a wonderful area with kind friendly hosts. Highly recommended...
Huw
2016-03-23T00:00:00Z
If you are looking for a private, tranquil, beautiful spot to recharge, this is it! Easy and scenic ride to Sedona! The location on the hill made for wonderful views, sunrises & sunsets, and star gazing - couldn't ask for more, the space and amenities included everything we needed. Beautifully decorated, comfortable bed, relaxing patio. To top it off, we got a lesson in star gazing and constellations 101! Thanks Charlie! We hope to come back again soon! - Debra
Debra
2017-03-31T00:00:00Z
I would definitely recommend. I am in the process of checking out now and I don't want to leave. It's a very peaceful location and near Sedona.
Prisma Y.
2017-03-12T00:00:00Z
I was a late check in but Charlie was there to greet me and we had a long chat about the local sites and the history of the home. The accomodations were very nice and cozy. all that I expected.
John
2016-03-06T00:00:00Z
We had a slight concern that this would be too far from Sedona, etc. Actually, staying in this quiet beautiful spot enhanced our day tours - because we came home to a great spot. Highly recommended, I don't think the pictures even do it justice. Nina and Charlie are attentive but unobtrusive.
John
2017-04-05T00:00:00Z
Tipe Kamar
Seluruh rumah/apartemen
---
Tipe Properti
Apartemen
---
Mengakomodasi
4
---
Kamar tidur
Rimrock, Arizona, Amerika Serikat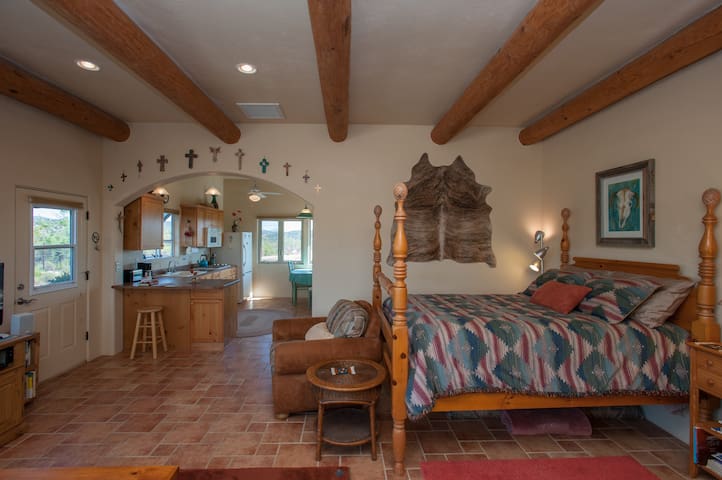 Emplacement, emplacement, emplacement! Laissez votre voiture derrière. Nous sommes au pied du Chimney Rock / Thunder Mountain - voir la flèche rouge sur notre image de couverture. Vous pouvez marcher, dès les portes de votre studio, à l'Amitabha Stupa, Chimney Rock, Lizard Head, Thunder Mtn, Coffee Pot, le trou d'évier et à droite sur dans les quartiers chics. Une vue imprenable tout le long du chemin sont garantis! Jetez un oeil à nos photos qui vous montrent des vues ainsi que le temps estimé qu'il faut pour y arriver. Notre studio dispose d'une chambre avec un lit queen et salle de bains attenante complète, une salle de séjour avec un lit-canapé qui peut être déplié en taille réelle, d'une kitchenette avec réfrigérateur, deux plaques chauffantes, un four grille-pain, bouilloire électrique et café fabricant. La spacieuse, orientée sud terrasse vous permet de prendre votre petit déjeuner au soleil du matin ou avoir une partie de la grille dans la soirée.
Nous sommes idéalement situés à West Sedona, juste à côté du prestigieux ranch Thunder Mountain, au pied du Chimney Rock et l'accès immédiat aux meilleurs sentiers Sedona - Pas besoin de voiture! Alors que nous sommes à quelques minutes de 89A, la salle de cinéma Harkins, les restaurants de West Sedona et Tlaquepaque, nous sommes également juste assez de la route afin que vous puissiez profiter de la tranquillité, la sécurité et la solitude que vous méritez.
Highly recommended accommodations and top notch hospitality. Sandy and Dieter were helpful with directions and tips. We will definitely stay again on our next journey to Sedona. The studio is charming, well appointed and the view cannot be beat. Many thanks for the fresh spring water(URL HIDDEN)
Sabrina
2017-02-25T00:00:00Z
I highly recommend Sandy's place! It was cozy, close to beautiful hiking, and reasonably priced. A short 5 minute drive out of the quaint neighborhood has you right in the middle of the action in downtown Sedona! The place was simple but so sweet and clean. Sandy was very helpful with recommendations, but also gave me plenty of privacy which is important to me. I could tell she really cared if I enjoyed myself. Stay at Sandy's cozy Thunder Mtn location. You won't regret it!
Michelle
2017-01-27T00:00:00Z
Our stay at Sandy's place was great. Perfect location for hiking and only a short drive to restaurants and shops in Sedona. Check in/check out was smooth and flexible, and we were greeted with a bottle of wine!
Molly
2017-03-27T00:00:00Z
This spot is ideal for anyone coming to beautiful Sedona to enjoy the hiking. Sandy and Dieter are ideal hosts, and their place, which echoes European minimalism, worked like a charm for us.
Chris
2017-02-17T00:00:00Z
We really enjoyed our stay here - the place is so cozy! Don't miss the opportunity to walk the very quick trail from the Thunder Mountain trailhead to the stupa - it's a beautiful walk! There are also longer trails you can connect to from there. The place was very clean & organized, and nicely furnished, with a nicely appointed porch as well. Our hosts were very communicative & helpful, and even reached out to us when they knew we were driving through some bad weather to make sure we made it back OK. We'd love to stay again the next time we are in Sedona!
Juli
2017-03-01T00:00:00Z
We had such a wonderful stay at Sandy's and Dieter's place!The accommodations were super clean and had everything we needed with extras (great coffee & spring water, wine, candy). The location could not have been better for the film festival and hiking. The neighborhood was off highway 89A and all the venues were 5-7 minutes drive from where we were. Some fabulous hiking trails were as described and just a hop, skip and jump away from this location. The neighborhood was really quiet and we even got an opportunity to see the javalinas in the neighborhood! Most importantly, our hosts were super gracious and respected our privacy but were available throughout the weekend when we had questions. We will definitely make this our first choice when we return.
Gloria
2017-02-21T00:00:00Z
Fabulous spot! Right at the base of Thunder Mountain, with beautiful scenic walks right outside your door! Sandy and Deiter are wonderful - you are in a private little home/apartment, well-equipped with everything you could need, with the two of them living next door if you have any questions or concerns. Highly recommend this excellent airbnb! The absolute best of Sedona! Thank you Sandy & Deiter!
Veronica
2017-02-15T00:00:00Z
A home right at the foot of thunder mountain? Couldn't get any better! Dieter and sandy were exceptionally hospitable, n tried the best to make us feel at home. Amenities are basic, but whatever u actually need is included. The place was quiet, clean and cozy, exactly what I needed for this stay. Not sure when I'll b in Arizona again, yet if I'll ever come again, I'd definitely consider this place again. Did I mention the water quality? They've got freshly pumped water straight out of the Sedona creeks! A taste of heaven..
Sarah
2017-02-05T00:00:00Z
Tipe Kamar
Seluruh rumah/apartemen
---
Tipe Properti
Apartemen
---
Mengakomodasi
3
---
Kamar tidur
Sedona, Arizona, Amerika Serikat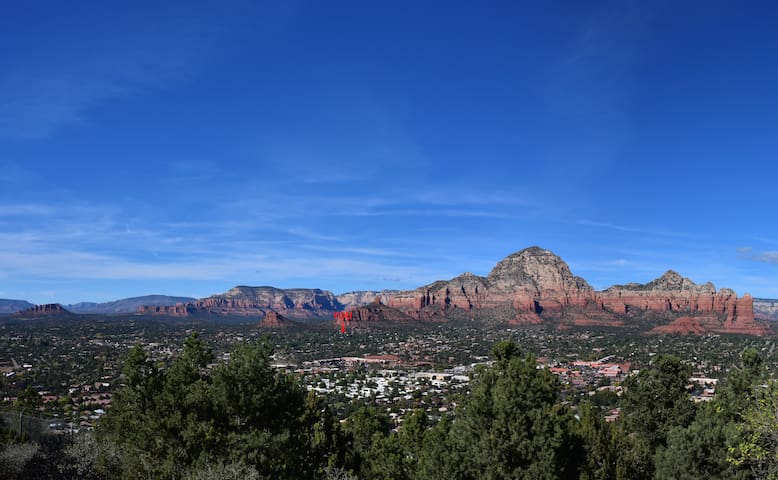 Ein Juwel von einer Ferienwohnung günstig in Sedona Dorf von Oak Creek ..... mit den herrlichsten Aussichten der Welt! Perfekt für 2 Personen - schön eingerichtet, WLAN, Flachbildfernseher, Blueray-Player und DVDs, Gourmet-Küche und vieles mehr.
Kommen Sie nach Hause zu einem wunderschön eingerichtet, Ferienwohnung mit einem Schlafzimmer mit roten Felsen Aussicht, Edelstahl / Marmor Gourmet-Küche, Grillen im Freien sind ein zusätzlicher Bonus, WLAN, Netflix auf Flachbildschirm-Fernseher in jedem Zimmer, CD / iPod-Stereoanlage ...... .cozy und perfekt für zwei Personen. Das Queen-Bett ist verträumt bequem mit Memory-Foam-Matratze mit Kissen, Bettwäsche aus ägyptischer Baumwolle, Daunenkissen (alternative Daunenkissen zur Verfügung, wenn Sie allergisch sind). Es gibt auch ein Queen-Schlafsofa, gut, wenn Sie ein Kind haben, aber der Raum ist ein bisschen eng für mehr als zwei. Sie erhalten einen Schlüssel, um auf dem Gelände Wäscherei 24 Stunden geöffnet und kostenlos haben. Eine Woche Mindestaufenthalt. Es gibt neun Fotos hochgeladen; Sie schauen und sehen, wie die Unterkünfte Ihre Bedürfnisse zu erfüllen. Eine Woche Mindestaufenthalt.
Gehen Sie zu Fireröster am Morgen für die besten Kaffee der Welt, oder spazieren Sie einfach die Nachbarschaft verloren in der Schönheit unserer herrlichen roten Felsen Aussicht. West und Uptown Sedona sind in der Nähe, nur wenige Minuten Fahrt auf einer der schönsten Panoramastraßen Sie jemals erleben. Wir befinden uns im Dorf von Oak Creek, und es ist der Autoverkehr auf den Hauptstraßen in Sedona. Während wir zwei Blöcke von dem "Haupt-Drag" sind .... es gibt immer noch Autos auf den Seitenstraßen. Wir sind in einer Sedona Resort Nachbarschaft mit roten Felsen Aussicht, aber nicht auf einem Berggipfel oder remote "Hütte im Wald" Lage.
The condo is lovely, a perfect getaway for a couple. The view from the front takes in Bell Rock and Courthouse Rock. Located on a quiet street within walking distance of restaurants, a local artist gallery, and the post office. A five-minute drive from beautiful Red Rock Scenic Byway on 179, a photographer's paradise and hiker's quick getaway. We prefer the village of Oak Creek over Sedona proper which is too built up now. The older downtown of Sedona is overly touristy too. The condo itself had all the comforts of home: cookware, cleaning supplies, hygienic items (soap, lotion, etc.), towels, and so forth. If you like to BBQ, a couple of grills were on the side of the building and briquettes available in the condo. The condo also had lovely Southwest artwork, including some nice lithos. Points for that. Complaints are few. One is that a bright security light is out front, and the window blinds are inadequate to block out the light at night. So, I'd recommend an eye mask. Also, laundry facilities are not in the condo but across the street and require quarters. But, at least, a washing machine and dryer are available
Karen
2016-10-14T00:00:00Z
Great place, great host! Beautiful scenery all around. It was the perfect place to crash after long days of hiking.
Molly
2017-02-16T00:00:00Z
What an awesome condo! Ellen's condo has everything you need for a comfortable and memorable stay in Sedona. The condo is fully stocked, and instructions are provided for everything available- from the TVs to the blenders! My husband and I stayed for a month and we wanted for nothing! The bed is incredibly comfortable and the condo is conveniently located near coffee shops and hiking tails, which pretty much sum up our needs! Contacting Ellen was easy and her responses were prompt. We had no issues but if we had, I'm confident she would have addressed them swiftly. I have NO complaints, but one small caution. This condo is on the second floor and it is not handicap accessible- there is no elevator and the stairs are a little rickety. This is likely not a problem for most but my nephew is in a wheelchair so I wanted to mention this.
Kelley
2016-07-03T00:00:00Z
Ellen's condo met all our needs; perfect for a couple like us, but could be a bit snug for more than 2. The neighborhood is nice and quiet. The location is ideal; within walking distance to shops, and a short drive to magnificent red rock mountain trails. We will remember this visit for a long time, and would recommend Ellen's condo to anyone! Sam & Sara
Sam
2017-02-07T00:00:00Z
Amazing fantastic great location do not look any further! Red Rock view from your front door!
LOUISE
2015-11-14T00:00:00Z
Beautiful condo with everything you need. Great dealing with Ellen with any questions and she gives you all the info you could ever need. Can't beat the surrounding views and food. Red rock cafe for breakfast and schoolhouse for dinner and they're both less than 2 mins away. Loved it and will be back.
Jonathon
2015-11-04T00:00:00Z
Very much enjoyed the beautiful views from the windows and balcony, the quiet, convenience, cleanliness, and hospitality. Well appointed get-away for a couple.
Don
2016-12-30T00:00:00Z
Place was very clean and nice. All was like it should be :) Just walk away from Bellrock and we really enjoy our stay at Ellens Place.
Sini-Maria
2015-09-27T00:00:00Z
Tipe Kamar
Seluruh rumah/apartemen
---
Tipe Properti
Apartemen
---
Mengakomodasi
2
---
Kamar tidur
Sedona, Arizona, Amerika Serikat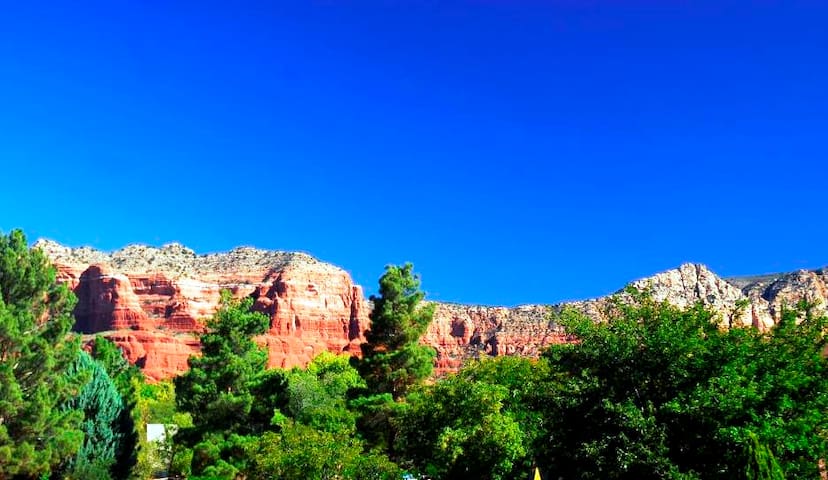 1

–

18

dari

108 Sewa Apartemen
Masukkan tanggal untuk melihat harga lengkap. Biaya tambahan berlaku. Mungkin dikenakan pajak.