Experience gorgeous views from a very comfortable and private, self contained cottage situated on 16 acres. We are also excellently located close to beaches, golf courses, and some of the best wineries in Tasmania. Complementary Continental breakfast with great, real coffee and farm fresh eggs.
Our self contained cottage is ideal for two adults and is separated from our farmhouse. We provide for your comfort a good quality bed, bedding and towels. A BBQ is available for your use on our large deck with Bass Strait views where you can enjoy a wine and nibbles and watch the sunset. We also provide a range of breakfast cereals, bread, farm fresh eggs, home grown tomatoes (when available), garlic, and olive oil produced from olives grown on our farm. We provide organic, fair trade, real coffee and a selection of T2 and other teas both in leaf and teabag form. A laundry with washer and dryer is available for your use, on request. FREE WIFI. Our property has two olive groves, two orchards (second orchard planted this year), a berry patch planted this year and a very large vegetable garden. Our animals include; Galloway cows and bull, heritage chickens for our farm fresh eggs, peacocks who visit on occasions, a golden Labrador, and cat.
We reside in a beautiful, picturesque part of northern Tasmania. Rolling hills, ocean views, seaside villages, and lots of vineyards to visit within 10 km of our property. The nearest beach is Bellingham which is 5 minutes away. The seaside village of Bridport is 15 minutes away. Here you can access shopping, cafe, great pub meals, and groceries. The beaches at Bridport are fantastic and the village has a history walk along the beach. It is also home to the Best Cafe in Australia 2015. Two golf ranges, Barnbougle and Lost Farm are also nearby. The Lost Farm provides scrumptious meals with great views! The wineries located within a 10 km radius are some of the best wineries in Tasmania and include; Pipers Brook winery, Jansz, Sinapius, Brook Eden, Bay of Fires, Clover Hill, and Delamere. Additionally, you are welcome to explore our 16 acres on a pleasant walk around the farm.
Cosy little cottage beautifully situated overlooking a vineyard farm property with lovely sunsets and peaceful surrounds. Location is near to a couple of the regions best wineries, at the northern end of the Tamar Valley. Cottage is just the right size and retains the heat of the afternoon sun to get you through the cool nights. Lovely host family provided a very thoughtful and well stocked kitchenette with delicious home made jams, farm eggs and breakfast supplies including great coffee.
Angelita
2016-05-05T00:00:00Z
Easy homestay. Detached flat with comfy bed and own kitchen/bathroom. Nice view with breakfast provided.
Stefan
2017-01-29T00:00:00Z
Diane and Phil's cabin redefined Tasmanian accomodation for my partner and I. It is perfect. Upon arrival, they welcomed us with warm smiles. The cabin is cosy, clean, and absolutely beautiful. Everytandhing you need is provided, and well presented sx and the bed was exceptionally comfortable. Waking up, having a cup of and enjoying the superb view is the best way to start the day.
Julia
2017-01-25T00:00:00Z
Di and Phil were very welcoming and gave good advice on where to visit and places to eat. There were provisions for breakfast and lovely homemade jams. The cottage is well located for the wine trail and beaches nearby. The cottage is nicely furnished and very clean. Bed linen lovely.
Susan
2016-06-25T00:00:00Z
We had a really great stay in Di's gorgeous little cottage. Located about 40 minutes from Launceston, kind of at the far end of the Tamar valley wine loop, there were lots of wineries and great little seaside villages within easy driving distance. Di and her family were very welcoming, but the cottage was also very self contained and private, with seemingly everything thought of and provided. They also provided options for a delicious breakfast including eggs and homemade jam. Getting in was also a breeze even though Di was out at the time. Couldn't recommend more.
Annalise
2016-10-27T00:00:00Z
The farm eggs were lovely, and the sunrise was great, however the views of Bass strait are very, very distant, and as this was a deciding factor in our accommodation selection, we were rather disappointed.
Susie
2016-06-01T00:00:00Z
My partner and I stayed here for one night and what a great location and lovely views. We were in touch with Diane prior to arriving with easy directions and told where to find everything. Whilst she wasn't there when we arrived or that night, we met her husband later on who was lovely and happy to assist. When we arrived there was breakfast sorted for the next day as well as dinner if we wanted; so unexpected, but so nice too as it is in a remote area with closest grocery shop being at Bridport. It was a nice place to relax with a very comfortable bed and heating if you wanted it. It's in a great location close to a variety of wineries which I highly recommend checking out.
Jenny
2016-11-03T00:00:00Z
A lovely cottage with beautiful views and a great base for seeing some of northeast Tas. Very well-equipped with breakfast and cooking supplies. Our one-year old daughter loved meeting the kids and Jenna!
Nic
2017-01-15T00:00:00Z
Tipe Kamar
Seluruh rumah/apartemen
---
Tipe Properti
Bed & Breakfast
---
Mengakomodasi
2
---
Kamar tidur
Pipers Brook, Tasmania 7254, Australia
Come and experience life on a vineyard! 2 bedroom 2 bathroom villa designed by acclaimed Morris-Nunn is overlooking Pipers Brook vineyards with views to the ocean. Gourmet kitchen private courtyard stunning views. 2 spacious bedrooms plus fold out sofa sleeps extra 2. Barnbougle Golf 18min, Bridport 12min, Cafe Cellar Door 400m. Enjoy a complementary bottle of our premium wine on arrival and breakfast provided.
Close to Barnbougle Dunes and Lost Farm Golf course and Bridport, this 2 bedroom, 2 bathroom villa was designed by Robert Morris-Nunn in 1996. Circa Morris-Nunn is the most awarded architectural practice in Tasmania and has achieved national and international recognition in many genres for their outstanding designs. Some of their award winning designs include Saffire Resort, IXL Redevelopment, Pipers Brook Winery and Princes Wharf No 1 Shed. The Villa has everything to offer with ocean and vineyard views from every room. The private courtyard is ideal for entertaining and the kitchen is complete with gas appliances, dishwasher and granite bench tops to please the avid chef. Both electric and wood heating are available during the cooler weather and the master bedroom has its own private deck where you can sit, relax and enjoy the peaceful surrounds of one of Australia's best known wineries. No visit to Pipers Brook Vineyard would be complete without a tasting of their magnificent wines at the Cellar Door, or a meal at the Winery Cafe. The villa will comfortably accommodate 4 people, however the sofa can fold out to sleep a further 2.
Pipers Brook Vineyard is only a short drive from Launceston, the Tamar Valley, Bridestowe Lavender Farm, Barnbougle Dunes & Lost Farm golf courses and Bridport. Bridport has some of Tasmania's finest beaches and Australia's No 1 cafe 2015
Had a great time, beautiful location and easy access to all the surrounding area highlights. Sandra was really helpful as well
Damien
2016-01-22T00:00:00Z
We had a unique and memorable stay in this secluded home amongst the vines. Although there were a couple of maintenance issues, we were well looked after and enjoyed our stay at Pipers Brook Winery :-)
Melissa
2016-08-05T00:00:00Z
We had a wonderful time at Piper's Brook villa. The staff were very friendly and welcoming and it was a short walk to two wineries. Beautiful views. Unfortunately we didn't know any breakfast was provided so purchased some before we arrived.
Anne-Marie
2016-07-19T00:00:00Z
After a less than impressive start, April & the Pipers Brook team were wonderful. We arrived in the middle of winter and although the wood fire had been lit, the other heating was not on and we could not work out how to make it work. We contacted the cellar door (as instructed) but they were unable to help. After contact with April, things were quickly sorted with the help of a handyman. Having all the heating turned on would have made our arrival much more welcoming and comfortable. To be fair, Pipers Brook vineyard have not been renting out this beautiful and quirky villa for long, so were very keen for & receptive to feedback. Cleanliness could also be improved. Set in a beautiful and remote location, it was great to have some generous breakfast provisions, which could easily have feed us for lunch and dinner as well! July is not a great time to visit this region and wet weather is not necessarily a friend to this villa but it would be fantastic in summer for a group of mates. We could not fault April's responsiveness, friendliness and genuineness.
Gillian
2016-07-26T00:00:00Z
Simply amazing!
narcissus
2017-01-23T00:00:00Z
We had a lovely time at the villa set in the grounds of the Pipers Brook vineyard. We walked amongst the vines and enjoyed a coffee, Devonshire Tea and lunch at the vineyard cafe and spent some time tasting great wines. Thank you April for the breakfast and bottle of champagne in the fridge on arrival. The cafe is modern as is the cellar door and the food, wines and champagne were all enjoyable. The villa itself is big, private with magnificent views out most windows .The courtyard needs some work...however the surrounding vines and views more than compensates. Thanks Adam, John and April for your hospitality and we hope to be back some time and would recommend to others.
Di
2017-01-28T00:00:00Z
What a wonderful escape in a beautiful location! The views were stunning and the house had everything you could need, including a fantastic supply of breakfast goodies. The house itself needs a bit of TLC but we loved our girls weekend away there and appreciated all the little touches like the candles, kitchen and toiletry supplies and sparkling wine on arrival. April was very warm and friendly and was available to answer any questions we had. Being walking distance to two wineries was an added bonus! Thank you for a very relaxing stay, we can't wait to come back!
Sue
2017-01-17T00:00:00Z
Beautiful setting and comfortable house. April was a helpful host. Gardens and house need a bit of love to restore it to previous grandeur but as is, was a pleasant stay with great host.
Kym
2016-12-11T00:00:00Z
Tipe Kamar
Seluruh rumah/apartemen
---
Tipe Properti
Rumah
---
Mengakomodasi
6
---
Kamar tidur
Pipers Brook, Tasmania 7254, Australia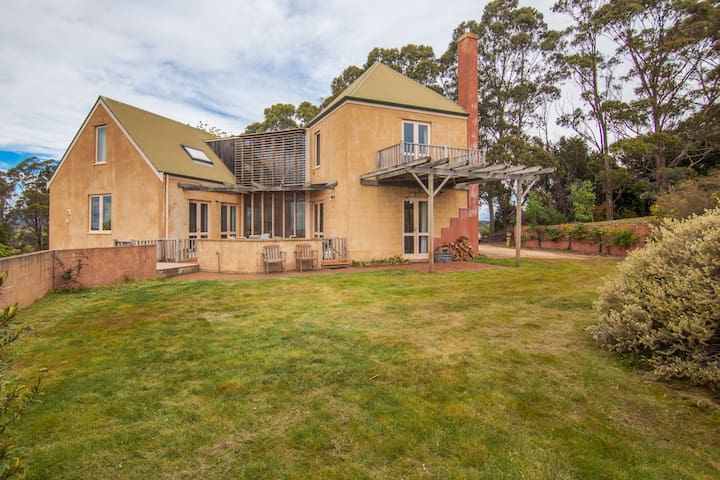 Masukkan tanggal untuk melihat harga lengkap. Biaya tambahan berlaku. Mungkin dikenakan pajak.