Tipe Kamar
Seluruh rumah/apartemen
---
Tipe Properti
Apartemen
---
Mengakomodasi
5
---
Kamar tidur
PODENZANA, Toscana, Italia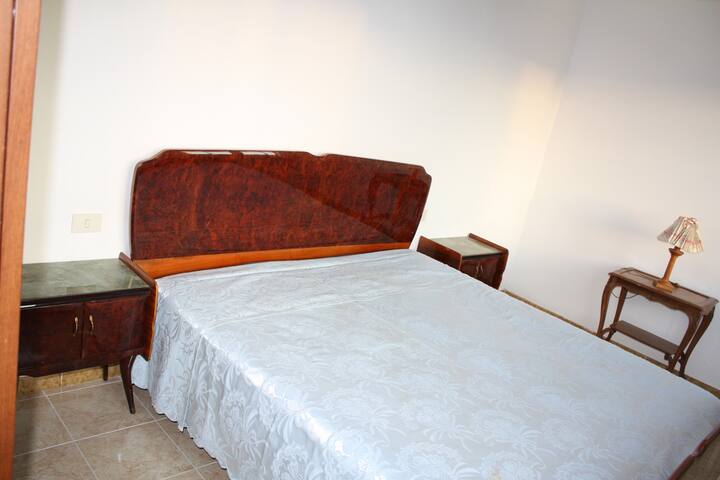 A 25 km dalle cinque terre ai piedi della lunigiana ....appartamento immerso nel verde con splendida vista sulla vallata fino al mare. In zona strategica vicino a Portovenere , Lerici , Versilia , 5 terre , Lunigiana ....facilmente accessibili...
Appartamento é così composto: ingresso nel soggiorno con camino angolo cottura due camere servizio Splendida terrazza vivibile Posto auto privato
(URL HIDDEN) tipico del posto PANIGACCI CON AFFETTATO
Place is a dream come true. Most beautiful views ever. House was better even in person and Antonella was just amazing. Can't say enough. Wonderful experience. Didn't want to leave. A must see!!!!!
Sherri
2017-01-03T00:00:00Z
Antonella was the best host ever !! She helped us with everything, from touristic advises to transportation. Without her our trip would have been totally different. The house is beautiful, fully equipped and its location is incredible. We totally recommend it, thank you Antonella ! Ps: the view is amazing
Clara
2016-07-29T00:00:00Z
The place was nice and clean, with a nice terrace that offered a magnificent view of the valley towards La Spezia. The communication with the host was fast and pleasant. The price was more than acceptable. The access to 5 terre was fast and easy. Highly recommended for all who wish to explor the area.
Lubo (Liubomir)
2016-08-07T00:00:00Z
What a fantastic time we had at this amazing apartment located in one of the most beautiful parts of Italy. The apartment was way better than described, a true "home from home" experience. Antonella and her family proved to be wonderful hosts who worked hard to make our stay exceed expectations by a country mile. In twenty years of self catering, this place is the best we have stayed without question. The August 15th firework display down in the valley was just one example of the unexpected delights of our stay - we will return for sure.
Roger
2016-08-21T00:00:00Z
We had a wonderful 3 nights stay. The best thing about this place is the views from the terrace and the living room. The house is very comfortable for a family of 3. You do need a car however as it is pretty high up in the mountains. Great location, not far from Cinque Terre, La Spezia and Genoa. Communication with the host was good. We were met by the host's son and made welcome. We would definitely come again. Thanks a lot.
Maxim
2016-08-11T00:00:00Z
Antonella was a WONDERFUL host!! We enjoyed having a real Italian meal with her and her friends. We have already told many friends about her place! We are so thankful to have met her, and if we ever come out that way again - we will be staying at the same place! I wish we would've been able to say goodbye, we can't thank you all enough for all the fun we had with you!! Our best Airbnb experience ever! Thank you so much!!
Anja
2016-08-07T00:00:00Z
L'appartamento è ampio e comodo per il soggiorno di una famiglia che vuole visitare le cinque terre e dintorni. La proprietaria è stata molto disponibile e accogliente. Ottimo per chi viaggia con animali. La terrazza è stupenda!
Francesca
2016-08-29T00:00:00Z
Casa molto bella ottima posizione
Daniela
2016-08-14T00:00:00Z
Tipe Kamar
Seluruh rumah/apartemen
---
Tipe Properti
Apartemen
---
Mengakomodasi
4
---
Kamar tidur
Podenzana, Toscana, Italia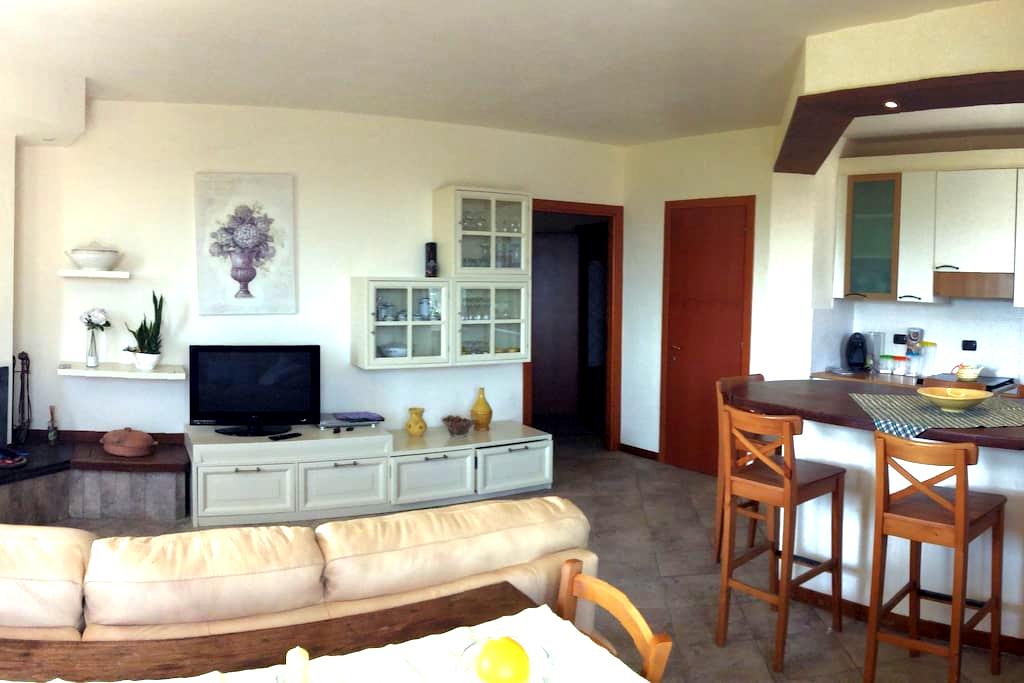 LA LEGGEREZZA DELL'ABITARE E IL FASCINO DEI LUOGHI VISSUTI. Cerco di viziare l'animo degli ospiti con atmosfere cariche di storia e ricordi, in case di pietra dal sapore retrò, ubicate nel borgo di un piccolo paese in collina.
PENSA AD UN SOGGIORNO IN COLLINA, NELLA CAMPAGNA AL CONFINE TRA TOSCANA E LIGURIA, POCO DISTANTE DALLA RIVIERA DELLE CINQUE TERRE, PORTOVENERE, LERICI... La Lunigiana e' terra di confine situata tra Toscana e Liguria, di entrambe queste regioni ripropone i caratteri più peculiari. Genicciola ed una miriade di piccole frazioni compongono la località Montedivalli, che si estende nel versante verso la Val di Vara, del comune di Podenzana. Il paese é servito da mezzi pubblici di trasporto ed é facilmente raggiungibile con mezzi propri dagli svincoli autostradali di Santo Stefano Magra (La Spezia), Aulla e dalle località d'interesse turistico. In paese c'è un grande parcheggio pubblico gratuito e un'area verde pubblica dotata di tavoli e sedute. IMMAGINA UN' ANTICA DIMORA DI CHARME, RECENTEMENTE RISTRUTTURATA, DA VIVERE IN AUTONOMIA E RELAX. Chi lo desideri ha la possibilità di soggiornare in un edificio rurale, che ha conservato la fisionomia della casa tipica in pietra, ubicato nel borgo del paese. APPARTAMENTO COMPOSTO DA Balcone completo di piccolo tavolo e due sedie ZONA GIORNO: cucina dotata di efficiente stufa a legna che permette di riscaldare l'intera casa ZONA NOTTE: bagno - camera con letto matrimoniale Caratteristiche: pavimento cotto fatto a mano muri in pietra intonaci in argilla e calce serramenti in legno di castagno lavandino cucina in marmo antico bagno rivestito in travertino dotato di doccia Il mio stile: Casa dal sapore retrò, sembra vissuta da anni, al contrario é frutto di un attento restauro recentemente ultimato, utilizzando materiali di recupero, tradizionali e di bioedilizia. Gli arredi sono semplici e tradizionali. Ciò che preferisco sono i toni neutri nelle tonalità del ghiaccio, avorio, latte, grezzo, sabbia, polvere, ecru, miele e tortora... ed il bianco colore fresco, elegante, abbagliante e puro. DESIDERA LA CURA PER OGNI PICCOLO DETTAGLIO. ...ESSENZE Utilizzo olii essenziali naturali per creare atmosfere ...BENESSERE Sono a disposizione degli ospiti cosmetici naturali ...FIORI E PIANTE Presenze costanti nella casa ...TESSUTI NATURALI Viene fornita la biancheria necessaria per il soggiorno biancheria per il bagno, la cucina e la camera da letto rigorosamente di fibre tessili naturali. FANTASTICA UNA PERSONALIZZAZIONE PER UN BREVE FINE SETTIMANA, UNA FUGA ROMANTICA, UN LUNGO SOGGIORNO O UN REGALO. Sarò felice di essere tua complice nell'organizzare il tuo soggiorno in base ai tuoi desideri. I soggiorni e i servizi sono personalizzabili, non esitare a contattarmi. RICHIEDI LE NOSTRE PARTICOLARI ATTENZIONI PER I TUOI PICCOLI Gli ospiti con età inferiore ai tre anni non pagano nulla ed a loro dedichiamo le massime attenzioni. E' possibile richiedere il il "kit baby" - lettino con sponde, posate, bagnetto, biancheria, giochi .... QUELLO CHE NON C'E'... ...non e' l'agriturismo dei cliché, non e' una beauty farm, non ci sono piscine o i servizi tipici del settore alberghiero. non c'e' tutto ciò che in qualche modo possa avere un rimando alla vita di città a favore del "buon vivere" .
C'était la première fois que nous passions par Airbnb, notre expérience chez Cristina a été merveilleuse, au delà de nos attentes. A notre arrivée Cristina nous a parfaitement bien accueilli, guidé pour nos excursions, nos sorties au restaurant, et tout ce qu'il nous fallait. A notre arrivée dans la maison, nous avons été surpris de voir que le logement était encore plus beau que ce que nous avions pu voir sur les photos. La maison a été fraichement rénové avec un goût rare et des matériaux de grande qualité (évier en pierre, carrelage ancien, interrupteur en porcelaine...), et surtout PARFAITEMENT PROPRE. Elle était remplis d'un millions de choses dont nous aurions pu avoir besoin, de la nourriture, du thé, une bouteille de vin, des cotons, des brosses à dents..... et j'en passe. Tout est neuf, il y a beaucoup d'électroménager à disposition: micro-onde, sèche-cheveux, fer à repasser, lampe torche........... La vue est splendide, et le village très calme. Les habitants sont accueillants. Le soir de notre arrivée, étant arrivé un peu tard, Cristina nous a recommandé de diner au bar du village. Je dois admettre que nous étions un peu régissant au départ, mais, encore une fois, avons eu une bonne surprise. Massimo, le maitre des lieux, nous a reçu comme chez lui, en toute simplicité. Nous avons mangé du bon saucisson, de bonnes pâtes, du bon fromage, le tout avec un bon vin. Et pour finir un lemoncino maison du tonnerre! Pour un prix défiant TOUTE concurrence. Son accueil nous a tellement plu que nous y sommes retourné trois fois. Il nous a également trouvé des saucissons artisanaux (certain) pour notre départ. BREF, ALLEZ-Y LES YEUX FERMES! Merci Cristina!!!
Renaud
2016-07-28T00:00:00Z
Christina nous a accueilli très chaleureusement dans un village typique dans les collines ; dans un appartement très agréable, récemment rénové avec beaucoup de goût ; corbeille de fruits et produits bio, à disposition ; bravo et merci à Christina!
Aline
2015-09-08T00:00:00Z
We really loved it here! The interior is beautiful and cosy, perfectly renovated with natural materials and an eye for details. high above standard. The village (some Houses) is very nice, we recommend to walk up a bit for a great view on the landscape. There is also a little Pub where you can have a coffee and a Chat with the locals. Christina was a charming host, she gave us fresh saisonal fruits and lots of food for breakfast. She even had nice toys for our baby there. We felt at home :-)
Sebastian
2014-09-10T00:00:00Z
Niché dans la colline surplombant la vallée de Ceparana, le petit hameau de Genicicola est un havre de paix et de tranquillité. La petite maison que Cristina a restaurée avec beaucoup de goût et de soins quant aux matériaux utilisés se révèle un véritable écrin douillet et chaleureux mais également plus spacieux que ce que les photos ne pourraient laisser croire. La vue de la petite terrasse est magnifique. Les placards sont plein de produits bio, il ne manque rien pour le confort de ses visiteurs, Cristina est toujours prête à rendre service et à promulguer des conseils touristiques. Nous avons par ailleurs eu l'occasion de lier des liens avec certains habitants du hameau en passant quelques soirées chez Massimo et Rosie, les proprio du bar/ resto où il est possible de croquer ces portions de vie au gré des récoltes du moment. Un régal!!!
Sophie
2016-10-29T00:00:00Z
We spent 1 week in Genicciola at Cristina's place and enjoyed it very much! Not only for Cristina being so nice person and great host, taking care of us all the time, but also for the place being so native and romantic, perfectly equipped and in a great condition, newly renovated. Last but not least, to stay with locals around you is refreshing and you can feel like home. Thank you, Cristina! See you xxx
Marie
2013-08-18T00:00:00Z
Cristina's place is just wonderful and Cristina is that kind of a host you wish to have. She is very friendly and generous. The apartment is beautiful furnished and perfectly equiped. With a bottle of wine, fresh fruits and a lot of organic food, you feel at home from second one. The view from the balcony is amazing and you can the sea. The possibilities to explore Cinque Terre and Liguria are very good. Thanks again for the wonderful time.
Simone
2016-08-08T00:00:00Z
Todo muy bien
Avelino
2016-08-15T00:00:00Z
Appartamento molto bello, curatissimo, che corrisponde esattamente alle foto pubblicate. Grazie ancora a Cristina, molto gentile, che ci ha dato tante informazioni utili in merito a tutto ciò che era possibile fare in zona. Un'esperienza sicuramente da consigliare!
Lorenzo
2014-07-06T00:00:00Z
Tipe Kamar
Seluruh rumah/apartemen
---
Tipe Properti
Apartemen
---
Mengakomodasi
2
---
Kamar tidur
Podenzana, Massa e Carrara, Tuscany, Italia
Appartamento indipendente al piano terra di una villetta sulla Via Francigena ad 1 km dall'uscita del casello autostradale di Aulla nel paese di Terrarossa nel cuore della Lunigiana, terra ricca di storia, borghi medievali e castelli. Luogo ideale anche per visitare Le Cinque Terre, la Versilia il Golfo dei Poeti , raggiungibili in circa 30 minuti, oppure escursioni in giornata anche nelle città d'arte come Pisa Firenze e Genova in circa un'ora sia in macchina che in treno.
Ideale per una coppia, una coppia con figli oppure due coppie di amici, poichè la seconda camera può essere singola o matrimoniale. Bagno con doccia, cucina completamente attrezzata a disposizione.
In posizione ottimale per relax, passeggiate direttamente sulla via Francigena, escursioni, in un piccolo paese con tutti i servizi:bar, ristoranti, pizzerie, supermercato, farmacia, etetista.
Tipe Kamar
Seluruh rumah/apartemen
---
Tipe Properti
Apartemen
---
Mengakomodasi
4
---
Kamar tidur
Terrarossa, Toscana, Italia
casa medievale di fascino in borgo medievale attorno ai resti di un castello. domina con una vista a 360 gradi la vallata circostante. tramonti infiniti. a mezz'ora di auto dal mare: lerici, tellaro, monte marcello oppure la la versilia.
The house was perfect for us. Beautifully situated with easy access (within one hour of the main attractions). The village is safe for children. My could very well play alone outdoors and explore the area. Tommaso is a very nice guy and accommodating. The neighbors very pleasant. The apartment is newly renovated and has everything you need. Dish-washer, washing machine, fully equiped kitchen. When I come back in the area, I would stay again byTommaso :-)
Urszula
2016-08-04T00:00:00Z
Charming small hamlet. Town of Aulla with shops and supermarkets 5 min drive (50 min walk - back up the hill) away. We didn't meet Tomasso but were in contact by email. Excellent value for money.
Helen
2016-09-21T00:00:00Z
Si on pouvait mettre une sixième étoiles à Tomaso, j'en mettrais sept ! Tout était parfait. Nous sommes arrivés plus tardivement que prévu pour cause de bouchons (dans la nuit) mais Tomaso avait anticipé en organisant notre arrivée en autonomie (plan du village, coffre à clé,..). En entrant dans la maison, tout était entièrement équipé à neuf, propre et conforme aux photos. La vue de la terrasse et la terasse en elle-même est juste incroyable. Le petit village médiéval est très beau et très calme. Des sentiers de randonnées partent de ce village, La Spezia est à 25 minutes de voiture. Vous pouvez réservez les yeux fermés ! Merci pour tout Tomaso !
Anthony
2016-08-14T00:00:00Z
Apartament znajduje się w kamiennym odnowionym domu,na szczycie góry. Z tarasu jest piękny widok na okolice. Tomasso jest bardzo pomocnym gospodarzem. Bardzo polecamy! Jesteśmy zachwyceni mieszkaniem,Bibolą i okolicami.
Monika
2016-08-20T00:00:00Z
It's a fairy-tale... Highly recommended! A lakás frissen felújított, teljesen felszerelt és gyermek-barát. A szomszédság nagyon kedves és vendégszerető. A környék hihetetlenül nyugodt, a kikapcsolódás garantált! Tommaso megbízható, a kérdéseinkre hamar válaszolt. Utazás előtt kikérdezett, mire van szükségünk, és minden úgy várt minket a lakásban, ahogyan kértük. Jó szívvel ajánljuk mindenkinek ezt a helyet!
miklos
2016-08-29T00:00:00Z
Emplacement magique et toujours au-dessus des nuages :) Appartement très agréable et accueil chaleureux. On recommande !!
marion
2016-10-25T00:00:00Z
PERFECT! :)
Anna
2016-09-30T00:00:00Z
Tipe Kamar
Seluruh rumah/apartemen
---
Tipe Properti
Apartemen
---
Mengakomodasi
4
---
Kamar tidur
Bibola, Toscana, Italia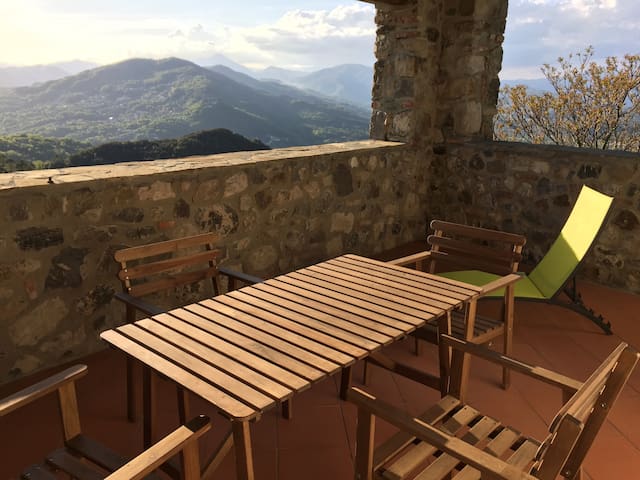 Luxury apartment with pool inside a villa built in the XVth century. The property is located on the hills near La Spezia and has an incredible view over the whole valley. The site is ideal for nature lovers and it's just 20 minutes away from the sea.
This old stone house is near the village of Bolano. It's an excellent base for visiting the 5 Terre (40min), Portovenere, the Gulf of Poets (30 min), the historic town of Sarzana (15min), Versilia (30min), and the medieval towns of Lunigiana. At 5 minute drive there is the village of Ceparana which offers all the services: supermarket, pharmacy, bank, shopping center, post office etc. Description of the house: living room with two sofas and television, fully equipped kitchen, a large living-dining area (about 30 mq) with view over the valley. The living-dining room has also two single beds ( or one double bed ), a wardrobe and a bathroom with shower. The master bedroom is located in another floor of the house and has its private bathroom with very big shower-box and double sinks. The swimming-pool is an integral part of the apartment and to free use for the guests (from end of May to end of September).
The house 'located in the tiny, green village of Panigale. In 10 minutes walk you can reach the old and characteristic town of Bolano from which you can admire the magnificent view stretching from the Versilia coast to the Gulf of Poeti. The place is ideal for wonderful walks.
Wonderful three day stay in a charming apartment with a pleasant pool. Laura was a helpful hostess and provided valuable info on sightseeing in the area. Wish we could have stayed longer in this 5 star accommodation.
caitriona
2016-08-04T00:00:00Z
We had a great stay at Laura's place, it was in good location for exploring surrounding areas and the house is very nicely decorated and spacious. Laura and her partner were both very helpful and great with communication. Would recommend !
Jake
2016-07-12T00:00:00Z
Laura fut très disponible pour nous donner des renseignements sur la région. Le logement est très agréable. Avec une très belle vue. Nous avons passé un agréable séjour. Merci Laura.
Marie
2016-08-09T00:00:00Z
Wonderful location and environment! Beautiful house with plenty of little details. The swimming pool outside is perfect to cool down, with a view! On arrival there was a nice bottle of wine waiting for us and Laura gave many good tips for trips/beaches/.. 20 min from le Spezia by car. Really a place you don't wanna miss!
David
2016-07-07T00:00:00Z
Even better than the pictures and great view over the a lovely landscape! Wonderful place in peaceful area. Clean and nice. The kids loved the pool. The house is old (parts from 1600) - but newly renovated. Laura and her husband was nice and friendly and we enjoyed every moment of our stay. They are living upstairs - and was available and willing to help any time - with great respect for privacy. It's a great place for tours to Pisa, Cinque Terre and the Beach of the Poets in Lerici. There is air conditioning - but the walls are thick - so we didn't need it. There are two wonder bathrooms - and everything is spacious. We loved to sit at the terrace next to the pool and enjoy the warm nights.
Christian
2016-07-20T00:00:00Z
Laura est une femme très élégante, belle et souriante et la maison est bien à son image: jolie, très soignée, confortable et bien équipée. Laura et David (son mari) nous ont accueilli et nous ont donné les conseils nécessaires pour que notre semaine se passe bien (visites, restaurants, plages). Dans la maison nous avons trouvé des fruits, de l'eau et une bouteille de vin pour notre arrivée. Nous avons profité de la maison, sa piscine avec une petite terrasse ombragée, le BBQ mis à notre disposition. L'endroit est beau et la vue sur les collines environnantes splendide. Nous étions 4 adultes (2 couples) et chacun a eu sa chambre et la salle de bain. La salle d'eau du haut est équipé d'un sanibroyeur mais celle du bas est très spacieuse et peut être partagée (pour ceux qui ne font pas confiance au broyeur :)). En somme, nous avons passé une superbe semaine et nous recommandons sincèrement cette maison.
Daria
2016-07-31T00:00:00Z
Tipe Kamar
Seluruh rumah/apartemen
---
Tipe Properti
Apartemen
---
Mengakomodasi
4
---
Kamar tidur
Via Romana, Liguria, Italia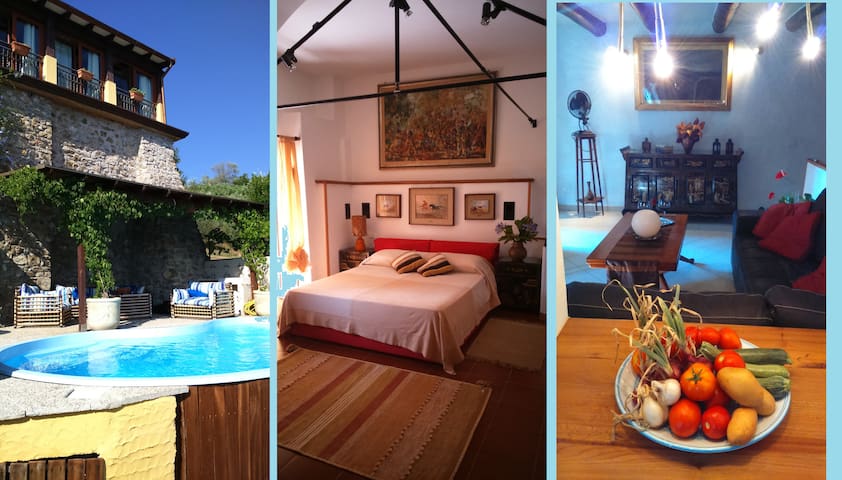 Mansard apartment in very quiet area with a covered terrace. It consists of a bedroom with two single beds, living room with kitchenette, sofa bed, bathroom with shower. And 'it surrounded by a large enclosed garden and has private parking. It is about 11 km from La Spezia, in less than 30 minutes you can reach the beaches of Lerici, Marinella di Sarzana. It is accessed by climbing a wooden staircase, not suitable for small children and people with mobility problems.
The town more 'near and' Ceparana reached in five minutes by car where and 'can find shops, bars, supermarkets, pharmacy and all necessary services.
Tipe Kamar
Seluruh rumah/apartemen
---
Tipe Properti
Apartemen
---
Mengakomodasi
4
---
Kamar tidur
Bolano, Liguria, Italia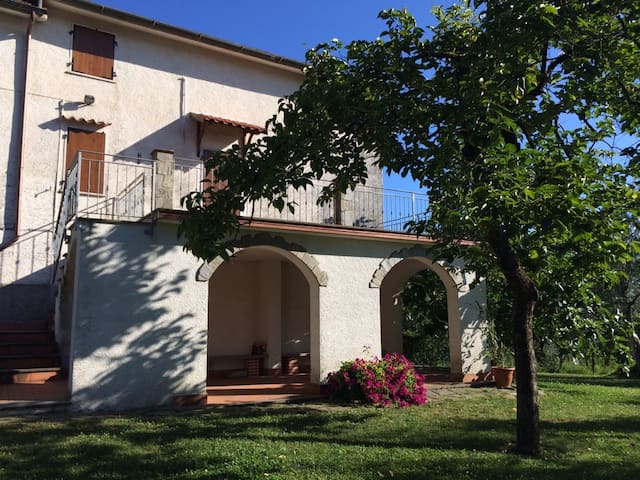 Incantevole appartamento ristrutturato in stile rustico con cucina abitabile, camera matrimoniale con possibilità letto/culla aggiuntivo, ampio soggiorno con divano-letto. Giardino curato e piscina completano la cornice per un soggiorno da favola!
L'appartamento è ottimo per coppie di tutte le età e famiglie con bambini. Si dispone di letto a 1 piazza aggiuntivo oppure di culla che potranno essere sistemate nella camera matrimoniale o nell'ampio soggiorno. Fornitura e cambio biancheria a cura dell'host.
La Lunigiana offre fantastiche mete da visitare come i castelli (che ne contraddistinguono le diverse località), i parchi naturali, i borghi medievali. Località facilmente raggiungibili sono anche Sarzana, le Cinque Terre (anche via treno), Lerici e La Spezia, il litorale da Marinella di Sarzana a Viareggio. Molti sono i ristoranti e le trattorie sia nelle strettissime vicinanze dell'appartamento che nei comuni limitrofi di Aulla, Podenzana e Pontremoli. Cucina tipica lunigianese, testaroli, panigacci, torte salate, carni e salumi... c'è solo l'imbarazzo della scelta! Rapporto qualità prezzo molto buono.
The apartment was incredible and beautifull, even better than described in the photos. Sara was a great host, she welcomes us with great affection and introduces us theis family, sons and parents who also proved to be great hosts. Everyone did their best to make us feel comfortable, and they were very good at it because we all felt completely at home. We promise to return for longer staying.
Jose Mari
2016-07-11T00:00:00Z
Cinque stelle sono poche per descrivere la cortesia, la gentilezza e la disponibilità di Sara e dei suoi genitori! L'appartamento che affittano fa parte della loro casa ma sono talmente discreti che sembra di essere soli! Allo stelle tempo però sono sempre disponibili ad aiutare se qualcosa non va! Un pomeriggio addirittura ci siamo bevuti una birra insieme in giardino. La casa l'abbiamo trovata pulitissima e fornita di tutto l'indispensabile e anche di più! C'era acqua in frigorifero latte e biscotti fette biscottate e marmellate per la prima colazione! Sembrava di essere in un b&b! E con la bella stagione si può mangiare nel giardino sul retro che ci si accede solo dall'appartamento che affittano quindi uno spazio riservato in Più!!! Spero davvero di tornare presto perché ho conosciuto persone fantastiche!!!
Simone
2016-09-04T00:00:00Z
Sara (and her parents who stay at the same place) were all very helpful, extremely nice and accommodating us in the best way they could during all week or our stay. We felt very nice at their place - the flat they offer for guests provides a lot of privacy (own garden at the back) and unlimited access to the pool. There is even a garage for your car that offer shaded and safe storage place. The flat and its surroundings is very clean and well prepared. you will find there all you need for your stay. Our children were safe and happy there. You need a car to move around - as there is no safe way (and it is quite far) to walk to the closest city to reach shops or restaurants. The location allows you to reach the mountains or La Spezia (to go to Cinque Terre) or the seaside (Marina di Carrara) within 1 hour. There is also a beautiful view from the house over Apenine mountains
Ewa
2016-07-24T00:00:00Z
We had a great time in Tassonarla. The appartment is nice and very clean, the pool and garden are lovely. Sara is a great host, her parents are very sweet and hospitable and our 2 year old daughter had a great time with Sara's kids. The surroundings of Tassonarla are also very nice, you can visit beautiful towns at the seaside within half an hour. Very much recommanded...Mille grazie a Sara and nonna and nonno..!
Marjolein
2016-07-02T00:00:00Z
Appartement très agréable et toujours frais malgré la chaleur extérieure. Accès au jardin avec piscine, barbecue et jeux pour enfants. Garage a l'intérieur de la propriété. Sara et ses parents sont des personnes charmantes. Ils ont été très accueillants et disponibles. C'était parfait ☺️ Grazie Sara !
Nicolas
2016-08-14T00:00:00Z
Alles war perfekt. Schon ab dem ersten Kontakt an. Sara war sehr freundlich. Die Wohnung, der Pool, sowie der eigene Garten / Sitzplatz hinter dem Haus waren wunderschön und sehr sauber. Wir fühlten uns sehr wohl. Sara war bei Fragen sehr hilfsbereit. Sie gab uns Tipps betreffend Sehenswürdigkeiten. Wir konnten uns wunderbar erholen und hoffen sehr wieder einmal Gast bei ihr sein zu dürfen.
Cécile
2016-07-04T00:00:00Z
Tipe Kamar
Seluruh rumah/apartemen
---
Tipe Properti
Apartemen
---
Mengakomodasi
4
---
Kamar tidur
Tassonarla, Toscana, Italia
Rustico a pochi chilometri dal mare,500 metri supermercato,farmacia bar ristoranti pizzeria ,fresco in estate,zona vicino alle cinque terre .fornita di lavatrice ,cambi lenzuola,asciugamani ,riscaldamento autonomo.
E' tranquillo inserito in un piccolissimo borgo fuori dal tempo, presenta angolo cottura con il necessario,sono incluse biancheria letto piu' asciugamani,non c'e' tassa di soggiorno, alla spesa giornaliera si aggiungono 5 euro per le pulizie.
Sistemazione accogliente e confortevole. Grazie anche alla gentilezza di Silvana
Laura
2016-12-04T00:00:00Z
It was a pleasure to stay with Silvana. The accomodation is great and it is very convenient to travel around if you have a car. I can highly reccomend Silvana as a host.
Evgeniia
2016-10-23T00:00:00Z
Silvana jest uroczą osobą. Dom cudowny gustownie urządzony.Bardzo czysty .Cudowny pobyt. Polecam!!! Piękna okolica.
Marta
2016-10-26T00:00:00Z
We spent 3 nights with husband in this authentic, cozy and beautiful apartments. There a lot handmade and vintage pieces in interior and I enjoy each of them. Silvana warmly meet us. Also she left tasty fruits and local goodies for breakfast, coffee/tea, basics staff for cooking as well. Fantastic experience, I'm highly recommend you this apartments, especially if you traveling on car
Anastasiia
2016-08-27T00:00:00Z
Great!
Lorenz
2016-12-12T00:00:00Z
Its a really nice apartement for 2 people. We had breakfast and other things you need for cooking, in general its very cozy. Its located about 3km outside of Aulla, but in Aulla you get everything you need. Perfect to start trips to cinque terre, if you have your own car.
Philipp
2016-09-29T00:00:00Z
Eine nette kleine Wohnung in einem wahrscheinlich ehemaligen Weinkeller. Alles da was man für einen gemütlichen Kurzurlaub braucht. Gerne wieder!
Antonio
2017-03-19T00:00:00Z
Lovely, traditional little place. Host was communicative, friendly and as helpful as possible despite our poor Italian! There is not much going on in the town but it's a good spot to explore and drive around the surrounding mountainous areas. Very peaceful and quiet.
Fleur
2016-09-18T00:00:00Z
Tipe Kamar
Seluruh rumah/apartemen
---
Tipe Properti
Apartemen
---
Mengakomodasi
2
---
Kamar tidur
Costamala, Toscana, Italia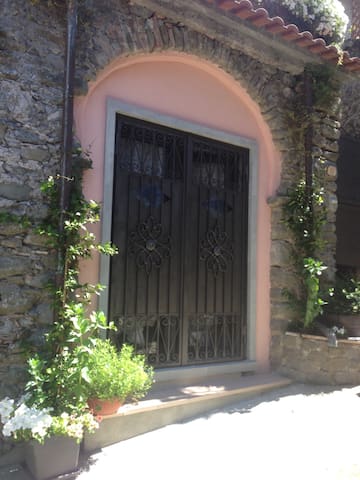 warm and sunny one bedroom apartment with all comfort with parking inside the property. Located a few kilometers from La Spezia is a great starting point to visit the Cinque Terre, the medieval villages of Lunigiana and Versilia.
Tipe Kamar
Seluruh rumah/apartemen
---
Tipe Properti
Apartemen
---
Mengakomodasi
3
---
Kamar tidur
Albiano Magra, Toscana, Italia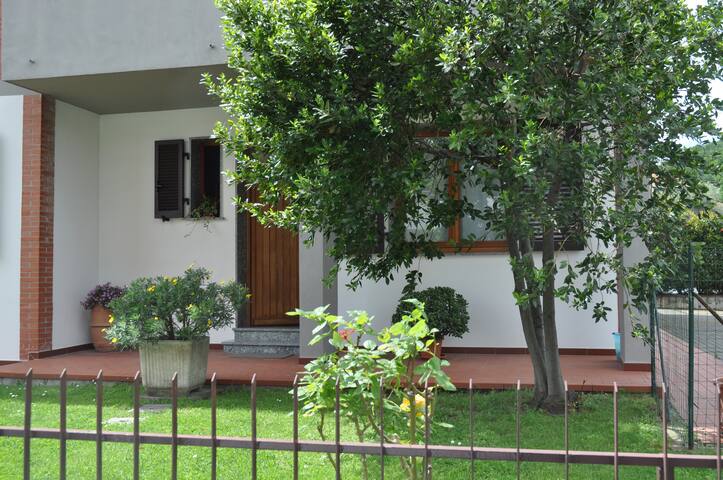 My accommodation is close to public transport, parks, downtown and art and culture. You will like my accommodation for these reasons: location, people and intimacy. My accommodation is suitable for couples, lone adventurers, business travelers, families (with children) and furry friends (pets). Portovenere and 5 Terre 25 km. Toll highway 3 km. The spice center 10 km. Lunigiana 10 km. And 'it allowed the free use of the garage for motorcycles.
At 15 minutes from La Spezia, where you can catch trains or ferries to Cinque Terre, Portovenere and Lerici.
Peaceful and quiet, away from the chaos of the city '
Tipe Kamar
Seluruh rumah/apartemen
---
Tipe Properti
Apartemen
---
Mengakomodasi
4
---
Kamar tidur
Aulla, Toscana, Italia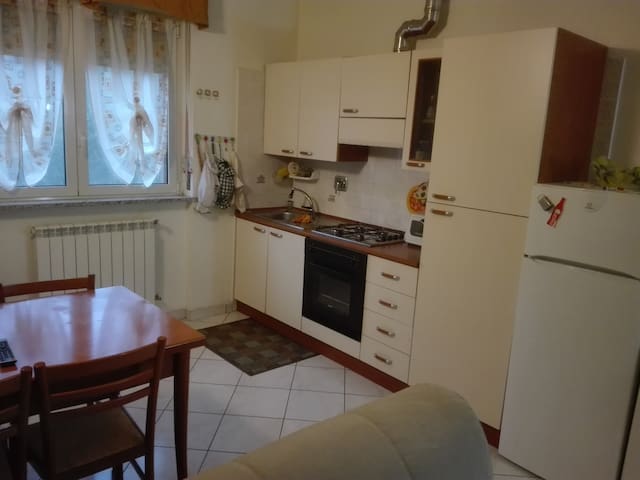 Belle, penthouse lumière avec vue magnifique sur la vallée de la Lunigiana et 5 de son meilleur château. Nouvellement construit et spacieux appartement avec un grand balcon et 2 salles de bains, il est idéalement situé dans le centre de Aulla. Lumineux appartement avec une vue magnifique sur Lunigiana et 5 de ses plus beaux châteaux. Récemment construit, l'appartement spacieux dispose également d'une grande terrasse, 2 salles de bains et est situé dans le centre de Batesville.
Le penthouse est situé au 6ème étage (accessible par ascenseur) d'un immeuble dans le centre de Aulla, et il a une belle vue sur la vallée, où vous pouvez repérer 5 châteaux! Il a été récemment construit et il a un grand séjour lumineux avec un canapé-lit, d'une salle à manger avec un coin studio, une cuisine moderne entièrement équipée, 2 salles de bains modernes avec douche et bidet, 2 chambres confortables, beaucoup d'espace de stockage.
La maison est idéalement situé dans le centre de Aulla, juste en face des gares routières et quelques secondes loin de supermarchés, cafés, restaurants et magasins.
L'appartamento è bellissimo. Super luminoso, ordinato e pieno di indicazioni su cosa fare e comportarsi.
Luca
2016-08-16T00:00:00Z
Grazia, her husband and daughter Selena have been very very nice to welcome us on our traveling back to France. The communication before our arrival has been very fluent. They are very very nice and down to earth persons and we felt immediately at home in their very nice flat. They speak Italian of course but also very good English and French !
Sophie
2016-08-07T00:00:00Z
Grazia è stata disponibile per le chiavi. La casa è carina e c'è tutto il necessario. Grazie!
Juliette
2016-08-04T00:00:00Z
Our host came to pick us up from the train station, even bringing 2 cars with a friend, because as a family of 5 we couldn't for in just 1! She gave us a warm welcome and recommended local restaurants and sights to see. The apartment is spacious, airy, clean and beautiful. Very special. The penthouse terrace is lovely with views of local hills with castles. We went to the Cinque Terre for 2 days and it was great. My only caution is to watch for the last train about 9pm from La Spezia because we missed it and had to take a taxi from La Spezia to Aulla for 50 euros. Wonderful apartment with all you need. Highly recommended!
Christine
2016-08-19T00:00:00Z
Siamo stati solo per una notte, ma tutto si è rivelato perfetto. L'appartamento, molto confortevole e Serena gentilissima.
Puiu
2016-08-15T00:00:00Z
We loved so much our very short stay at Grazia's place on our way back to France, in August that we decided to come back for a longer stay. Again Grazia has been very nice to us to make us feel immediately at home with our 4 children. She was there to welcome us and always available to answer all our questions. We had again a fantastic stay to visit the 5 terre and will come back again ! Thanks a lot Grazia for your kindness and warm welcome !
Sophie
2016-08-30T00:00:00Z
We recommend everyone this apparnent. It is located in a lovely small city. Apparnent is on 5th floor with big loggia where you can adimre a beautiful view. Grazia and her daughter Serena are very helpful and available at any time. Serena has recommend us a great place - Cinque Terre which you must visit when you will be there. Thank you Grazia and Serena for everything.
Lilianna
2016-08-01T00:00:00Z
Very good place to live
hanson
2016-08-10T00:00:00Z
Tipe Kamar
Seluruh rumah/apartemen
---
Tipe Properti
Apartemen
---
Mengakomodasi
6
---
Kamar tidur
Aulla, Toscana, Italia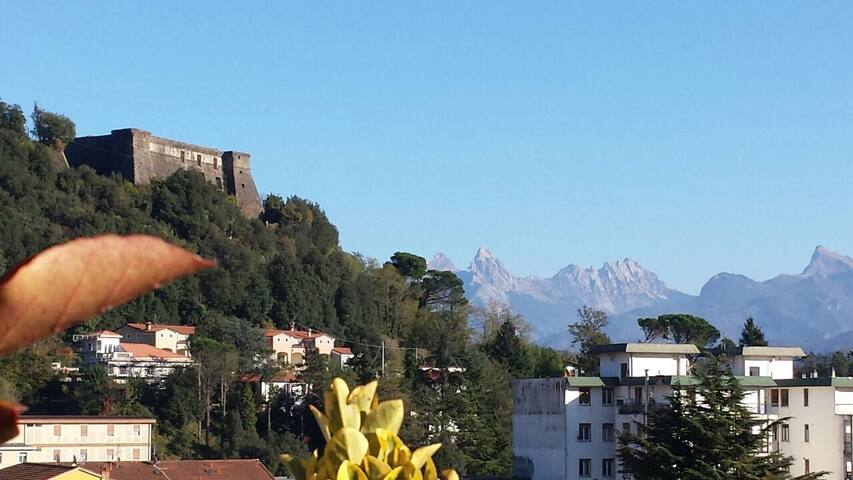 apartment located in a very convenient area near the bus square with service to La Spezia and 5 lands (Pulman direct who in Monterosso, direct bus to the station of La Spezia) 10 minutes from the center of La Spezia and Sarzana. Apartment living room and kitchen facilities, 1 double and 1 full bathroom shower. (No towels)
It is a small town with all facilities! Very convenient to reach all the resorts like La Spezia, Cinque Terre, Portovenere, Sarzana etc.
Жилье соответствует описанию. Удобное месторасположение. Наличие автостоянки рядом с домом, на которой всегда есть места. Прекрасное местечко.
Сергей
2016-08-08T00:00:00Z
Ottima location, a un passo da La Spezia. Casa molto graziosa e ampia.
Marco
2017-02-06T00:00:00Z
Appartement spacieux, parfaitement équipé
Sebastien & Pauline
2016-09-06T00:00:00Z
Super séjour, l'appartement est très agréable, très propre et conforme aux photos. Merci encore :)
Baptiste
2016-08-18T00:00:00Z
This was definitely a great apartment to stay in and value for money! You get the whole apartment to yourself and if you are like us the kitchen will be great for you too! The bus stop is right outside but it is important to note that buses to La Spezia are not as regular as we hoped. It can be as little as one per hour in the afternoon. The journey to the station of La Spezia also takes at least 30 minutes instead of the 10-15 minutes that was advertised. However, it is easy enough as it is a direct bus. Also note that the last bus from La Spezia to here is around 21:10 so if you were planning on having evening plans, you might have to reconsider alternative transport! A final note is that while we were here, the hot water for the showers didn't seem to last longer than 30 seconds! Overall, we still had a great time and were very comfortable.
Stephen
2016-08-15T00:00:00Z
A perfect accommodation in a quiet area. easy access to visit the Cinque Terre and its environs. Eleonora is very welcoming.
Nathalie
2016-08-21T00:00:00Z
Hôte très accommodant. Logement très fonctionnel et conforme à la description . Localisation stratégique pour visiter les cinque terre et environs en bus/train ou (URL HIDDEN) emplacement idéal pour garer la voiture. Prix très doux.
PASCALE
2016-08-26T00:00:00Z
Tutto perfetto grazie di tutto lo consiglio vivamente
Mattia
2016-09-04T00:00:00Z
Tipe Kamar
Seluruh rumah/apartemen
---
Tipe Properti
Apartemen
---
Mengakomodasi
3
---
Kamar tidur
Ceparana, Liguria, Italia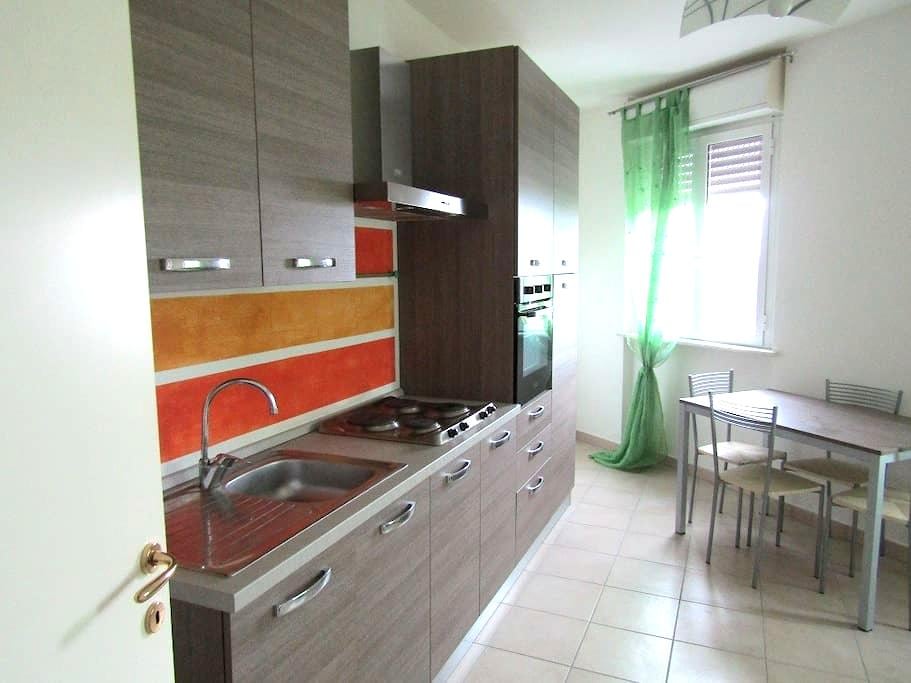 L'appartement se trouve à 15 km de La Spezia, à 10 km de Lerici, à 5 minutes de la ville de Batesville et l'arrêt de bus et « dessous de l'appartement. Aulla se prolonge le long d'une surface plane, à partir du chemin de fond de la rivière Magra, à l'endroit où le flux de courant Aulella, tandis que la partie nord est délimitée par Taverone. Il est situé dans une position stratégique entre les étapes de la Cisa, Cerreto, Lagastrello et sur la route de Casola et Garfagnana.
L'appartement est très lumineux, confortable, décor moderne et provençal avec toutes les commodités.
Une étroite bande de terre au confluent de la Magra et Aulella, contient l'un des chapitres les plus importants de la vie religieuse et civile lunigianese mille ans. Aulla dans ces années était déjà un petit village dans la défense des ponts et des routes menant dans la région de Lucques, en Ligurie, vers la Cisa: ce sont les années de la grande fortune de la Via Francigena en tant que route commerciale et de pèlerinage. Dans la vieille ville a été détruite presque entièrement par les bombardements de la 2ème guerre mondiale, cependant, ils méritent une visite de l'abbaye de S. Capras(PHONE NUMBER HIDDEN) sec.) Et Brunella Forteresse (milieu du XVIe siècle.) Hors du centre, ne manquez pas les deux anciens villages de Bibola (VII sec.) Et Caprigliola (XII sec.) Pour les amoureux de la nature, les sentiers de la nature offrent d'agréables promenades sur bois anciens sentiieri et sites merveilleux à la mer. Parmi les plats typiques, il y a les focaccette, préparé avec de la farine de blé mélangée avec de la farine de maïs, cuit entre « testelli » surchauffé terre cuite au feu et servi avec des viandes et fromages. Rappelez-vous, aussi, l'ancien panigacci préparé avec une pâte très liquide d'eau et de sel et aussi cuit dans des « textes » de terre cuite et servi avec des viandes et fromages ou assaisonné avec pesto ou de la sauce.
Tipe Kamar
Seluruh rumah/apartemen
---
Tipe Properti
Apartemen
---
Mengakomodasi
4
---
Kamar tidur
Aulla, Tuscany, Italia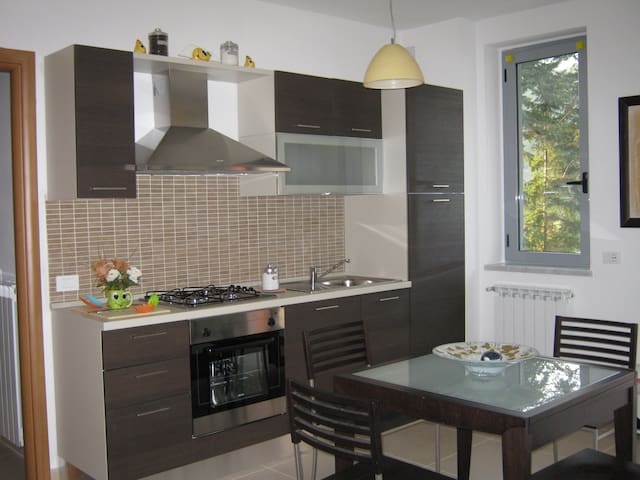 Our house equipped with every comfort, featuring a terrace with magnificent views, inserted in a medieval village, it can comfortably accommodate 4 people and offer peace and tranquility of yesteryear.
All our solutions are equipped with: - 1 double bedroom, - 1 bedroom with 2 single beds with direct access to a bathroom with sink and toilet, - Bed linen included (changed weekly or extra), - Living room with sofa and kitchenette equipped with every comfort, - 1 bathroom with shower, - Towels and hair dryer, - Washing machine, - heating, - Large size, can sleep 2/4 persons, - A furnished terrace with table and chairs where to dine comfortably in 6 people and spend excellent evenings enjoying a charming and enchanting sunset.
Our little house, located in a picturesque medieval village surrounded by the majestic and ancient walls, on the border between Tuscany and Liguria, stands on a hill overlooking two valleys, crossed by two rivers Magra and Vara. This strategic position makes our house a great retreat from which to reach all the places very quickly.
We met Andrea, who guided us to the appartment. Didn't expected such a nice home can be hidden in a small village. It is clean, nice and all required stuffs are available. there are also some snacks, pasta saus, spagetti, wine to consume. The only difficulty is to ride thought the gate which is very small. With good guidance of Andrea no single scratch can be found on our car. Good advice given by Andrea what was good to use for our stay. Nice small, quite village. By car everywhere is easily accessible.
Cindy
2015-09-13T00:00:00Z
Мы провели прекрасные 10дней в Италии, благодаря Валери и Андреа! Хозяева были очень доброжелательны и приветлевы.! Нас встретили по прибытии, все показали и рассказали очень подробно! Квартира прекрасная! Свежий ремонт, со вкусом обставлена, есть все необходимое для отдыха. Прекрасный вид с балкона! Квартира расположена идеально для тех, кто хочет посетить Пизу, Парму, Флоренцию, Генуя и Милан. Наличие машины обязательно, тем более,, что с парковкой проблемы нет. Валери и Андреа, спасибо ,было приятно познакомиться с Вами!
Сергей
2015-08-25T00:00:00Z
Nous avons passé 1 semaine très agréable dans l'appartement de Valérie. Tout était conforme à la description indiquée. Nous étions très bien situé proche des 5 terres et de magnifiques villages italiens! Nous en garderons un excellent souvenir! Un grand merci à Valérie pour sa disponibilité! Le petit repas du soir était très appréciable! Bref que du bonheur! A préciser que l'accès à l'appartement se faisait par une petite ruelle étroite pas très pratique pour le transport des affaires mais c'était le prix à payer pour loger dans un village magnifique!
Francois
2016-08-08T00:00:00Z
We enjoyed our stay at Valerie's apartment. It was very clean and modern. It is located in a small historic village. It has an incredible view from both the front balcony and also from from the side. We met Valerie and she showed us everything. She accommodated us when we had a slight change in our travel plans which helped us greatly due to a late flight. We would recommend her place greatly. Thanks
Brett
2015-09-19T00:00:00Z
Valerie est une hôte très sympathique, disponible et a l écoute de nos besoins. Elle est toujours joignable pour nous faire profiter de sa connaissance des bons coins de sa région. Nous avons apprécié de trouver à notre arrivée, un frigo garni pour notre premier dîner. L'appartement est très fonctionnel, propre, confortable et surtout bénéficie d une terrasse avec une vue à couper le souffle sur la région. Très bonne prestation, à recommander !!
anne
2015-08-09T00:00:00Z
Appartement très agréable avec sa petite terrasse qui offre une belle vue sur la vallée, au calme dans un très joli village (épicerie dans le village et petit bar) Pratique pour se rendre dans les cinque terre, et visiter les villes de Toscane Florence, Lucca, pise. Nous remercions Valérie Anna pour son accueil et les petits produits régionaux pour le soir de notre arrivée que nous avons bien appréciés.
Nathalie
2016-08-20T00:00:00Z
Valerie and Andrea provided a great apartment for my father and I to enjoy our stay in Italy. Despite some initial confusion and misunderstanding with the directions, Andrea patiently waited for nearly an hour for our arrival. We found him extremely helpful with his recommendations on places in the local area and tips regarding transport arrangements. The apartment is set in the wonderfully quaint old village of Caprigliola which is perched on top of a hillside with splendid views of the surrounding area. It's a very quiet and peaceful area and a lovely place to chill out and relax in the evenings. The area definitely requires a car to access as it's quite remote but it nevertheless serves as a solid base for further adventures in places like La Spezia, Cinqueterre, Lucca, Florence, etc. The apartment itself is comfortable yet basic enough. The standout is the balcony. It's a lovely place to chill out in the evenings with a glass of wine and take in the scenery.
Kyle
2015-07-30T00:00:00Z
L'appartement est bien situé et très bien équipé. Literie confortable. De plus c'est tes facile d'(URL HIDDEN) terrasse offre une belle vue sur la vallée, il est très agréable d'y prendre les repas. Nous avons été très bien reçus par Valérie et Andrea nous a organisé une sortie en voilier aux 5 terre. Parfait pour une étape ou pour rayonner dans la région. Nous recommandons vivement.
eric
2015-08-13T00:00:00Z
Tipe Kamar
Seluruh rumah/apartemen
---
Tipe Properti
Apartemen
---
Mengakomodasi
4
---
Kamar tidur
Caprigliola, Toscana, Italia
Lovely new apartment with kitchen, living room, bedroom, bathroom, terrace. Car park. At 10 minutes from the exit of Santo Stefano Magra. A 7 km from the railway station of La Spezia starting point to reach the 5 Terre. A few km from Sarzana, Lunigiana, Lerici, Portovenere, Versilia, Pisa and Florence. Agreement with bathing establishment Blue Bay of Lerici.
Convenient public transport, bars, restaurants, pizzerias, supermarkets, pharmacy, etc.
Tipe Kamar
Seluruh rumah/apartemen
---
Tipe Properti
Apartemen
---
Mengakomodasi
5
---
Kamar tidur
Ceparana, Liguria, Italia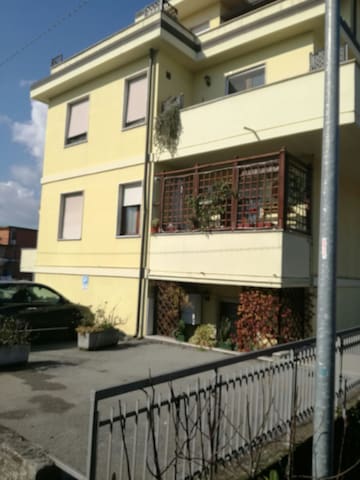 appartamento nel cuore della Lunigiana.Facilmente e velocemente raggiungibili cinque terre, Cerreto, Pisa, Firenze, Parma, la Versilia, Pontremoli,vicino a TUTTI i servizi (5minuti). 2 camere, bagno, cucina, sala con camino, 2 balconi box, posto auto
due camere da letto. cinque posti letto. matrimoniale in una Camera, singolo in cameretta e divano letto comodo e con un ottimo materasso in salotto. bagno con doccia e vasca. ampio Open space sala e cucina con camino. due balconi. box doppio. nel verde. vicina a tutti i servizi
è una zona tranquillissima ma vicina a tutti i servizi
Anche se non abbiamo incontrato l'host di persona, non c'è stato alcun problema. Casa ottima ed accogliente.
Matteo
2017-03-19T00:00:00Z
Tipe Kamar
Seluruh rumah/apartemen
---
Tipe Properti
Apartemen
---
Mengakomodasi
5
---
Kamar tidur
Terrarossa, Toscana, Italia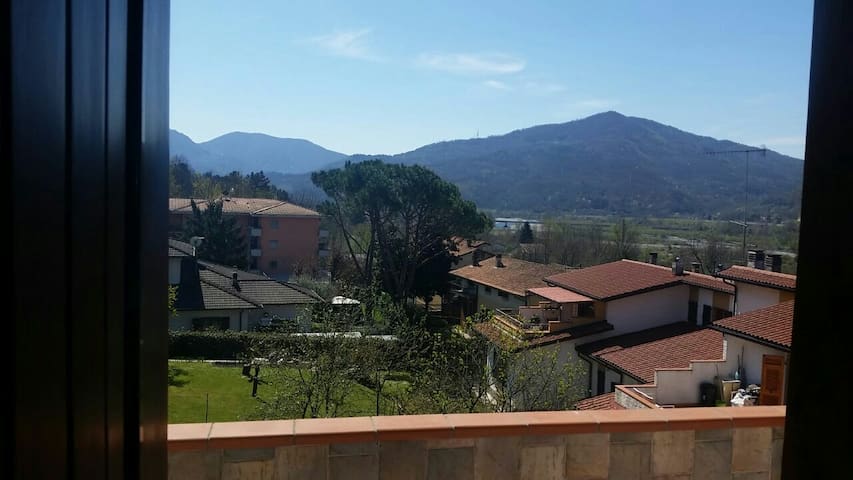 Tipe Kamar
Seluruh rumah/apartemen
---
Tipe Properti
Apartemen
---
Mengakomodasi
4
---
Kamar tidur
Aulla, Toscana, Italia