Witajcie , zapraszamy na nasze ukochane mokradła - malutki domek nad stawem otoczony lasem gdzie każdy podróżnik oczekujący ucieczki od cywilizacji znajdzie chwile wytchnienia. Dla gości w cenie pobytu udostępniamy 2 rowery na wycieczki po okolicy
We always wondered about a place , where we can hide from all the troubles and find a shelter far away from big city life. So we searched , searched and searched (here is place for a whole long story , but I will show you my empathy and skip it :) ..... and we found MOKRADŁA . - Our hut in the middle of nowhere Where our whole family (included our dog - Luba , or especially her) loved with all our hearts. But becouse it's a escape place we can not escape there all the time. HERE comes your part :) We decided to shere with it , so you can also let MOKRADŁA grab you and understand that doing nothing taste best right there - in the middle of nowhere. See you
Przepiękne tereny parku krajobrazowego dolina Słupi
Best place to stay in Poland! :) Thanks for everything.
Kata Anna
2017-02-19T00:00:00Z
The hut in the middle of nowhere is a perfect place for the nature lovers or for those who would like to calm down. We enjoyed the view from the terrace as well as the relax in the hammocks. The little haus provided us a comfortable shelter in the rainy days when we enjoyed the music collection on the gramophone. Exploring the surrounding forests was fun, especially because they are rich on mushrooms.... We just love it!
Zbyněk
2016-07-10T00:00:00Z
The hut is a beautiful and cozy little retreat in the middle of nowhere. I would say that it's perfect for couples to spend some time together without any distractions. The scenery is absolutely incredible. Along with the hut you basically rent 3 acres of land, mainly consisting the lake. At night the moon rose above the forest, illuminating a light for that would role across the lake. Stunning to see. However, the water in the lake isn't very fresh. So swimming isn't very nice. The house itself is great, yet tiny. We rented it for four people and honestly it's a bit too small for that. Luckily we brought our own air mattress, for the hut only has a double bed and a small mattress that goes on the floor. Also for us wifi wasn't working, however Jarema said that he was busy setting up a new connection. Also the shower didn't work too well, warm water would only trickle down. Jarema was very friendly and enthusiastic. He came to the nearby town to guide us to the property in his own car, while we followed in our car. The rest of the week we didn't see him, which was fine for we were able to contact him via sms if we had any questions. Some advice for future residents: the roads around the hut are in quite bad shape. They are definitely drivable, but don't expect to be able to travel faster than 50km/h safely. Also, the traffic is relatively unsafe because all the main roads are only double lanes. As such, you will encounter a lot of risky overtaking. We saw three accidents in our brief time there. Overall a great experience, I would highly recommend Jarema and his hut!
Daan
2016-07-27T00:00:00Z
Perfect stay for nature lovers looking for a place to wander the woods and unwind. Most other reviews sum it up pretty well. Personal highlights: Mushrooms! Beavers! Outdoor cooking! (bring your pot)
Alexander
2016-08-14T00:00:00Z
Absolutely stunning! Jarema had everything set up for us. The hut was heated up and he even made us tee and put out some cookies. Everything was perfect. We didn't see a human being for 3 days. It was more than we expected. Thank you!
Richard
2016-12-18T00:00:00Z
The hut in the middle of nowhere is an amazing place to go to with your loved one. Jarema welcomed ut with some coffee and cookies and started the fire. Its just beautiful. Theres a small kitchen area and a nice bedroom with a big bed. There is not really much to do except for exploring the nature and listening to good music. But what alese do you need? You should definetely check it out!!
Angelina
2016-03-06T00:00:00Z
Jarema greeted us with a big smile and warm attitude. The stay at his place was very relaxing and peacefull and we hope to be back soon for another weekend.
Jakub
2016-11-13T00:00:00Z
Niesamowite miejsce. Godne polecenia! Jerema bardzo uprzejmy i pomocny. Na pewno wrocimy
Lukasz
2017-01-31T00:00:00Z
Tipe Kamar
Seluruh rumah/apartemen
---
Tipe Properti
Kabin
---
Mengakomodasi
4
---
Kamar tidur
Darżkowo, Pomeranian Voivodeship, Polandia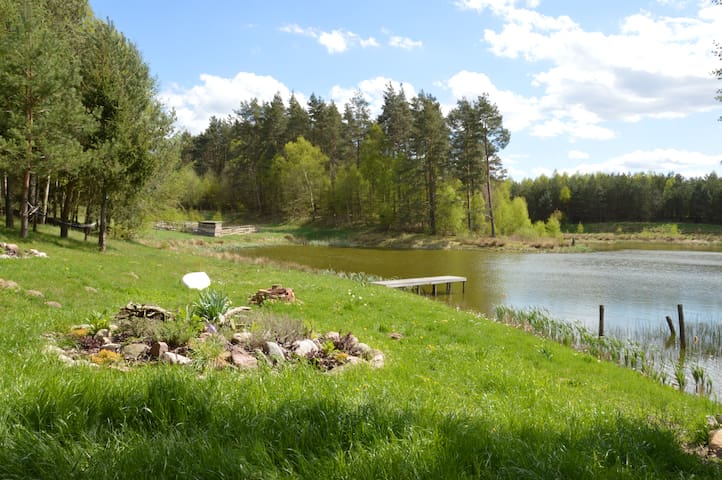 Studio renovated (2016) near the center of Gdańsk's Old Town. The apartment is located in a closed chamber estate 10 minutes from the Old Town.
The studio consists of a large room with kitchenette, bathroom, balcony and lobby. The large room has a large bed and a sofa. The kitchen is fully equipped.
My stay at Dariusz was peaceful. Clean & very neat cozy appartment, evrything I expected :) very close to the city. I highly recommend staying in this apartment. Can't wait till my next visit..
Maguinda
2016-09-07T00:00:00Z
Pour une première expérience en Pologne, je dois dire que l'appart de dariusz a rempli tous nos désirs. Simple, bien organisé, calme tout en offrant commerces et transports en communs à proximité.
Thierry
2016-07-19T00:00:00Z
Mieszkanie czyste, zadbane, świeżo po remoncie, dokładnie takie jak na zdjęciach. Wygodne łóżko, urządzone z gustem. Okolica spokojna, osiedle zadbane i bardzo zielone. Dariusz to przemiły i uczynny gospodarz. Miałem bardzo napięty grafik podrzucił mi klucze do mieszkania w miejsce, które mi pasowało. W lokalu miało być żelazko, kiedy okazało się że go jednak nie ma bo ktoś wywiózł je po remoncie Dariusz zaoferował że zaraz mi je przywiezie. Nie minęła godzina i problemu nie było. Super!!!
Bartosz
2016-05-21T00:00:00Z
Bardzo dobry kontakt z gospodarzem, szybkie i precyzyjne odpowiedzi, pogodny i sumienny. Zdjęcia w 100% oddają wygląd mieszkania- przytulne, ciepłe, bezpośredni dojazd do centrum miasta w ciągu 10 minut, co jest niewątpliwą zaletą. Zdecydowanie polecam:)
Kaśka
2015-03-02T00:00:00Z
Apartment is great, very well equipped, and you can easily get to the city center. Dariusz let us in few hours earlier and we didn't have to wait until 2p.m. Dariusz replies very fast. Strongly recommended
Katarzyna
2016-03-16T00:00:00Z
Отличная, очень чистая и удобная студия в тихом месте, в нескольких остановках на трамвае от центра. Мы приехали слишком рано, но Дариуш разрешил оставить вещи, дал ключи. В квартире есть все необходимое, очень удобная кровать. Все понравилось. Beautiful, very clean and comfortable studio. Not far from the center. Dariusz very nice and friendly man. Many thanks!
Ирина
2016-05-07T00:00:00Z
Dariusz appartment was very confortable as you can already tell by watching the pictures. Everything worked like expected. We were able to reach out to Dariusz through phone and via (EMAIL HIDDEN). He was reachable and helped us out.
Max
2016-10-24T00:00:00Z
Due to my delay I couldn't meet Dariusz in person, but he left me a very detailled instruction to enter the building by myself. I want to thank him for his trust. The appartment is truly beautiful. It is a bright and fresh place with a good atmosphere. Dariusz has eye for detail, because every little thing in this appartment is decorated and furbished well. I felt at home immediately. Plus, I slept like a baby. It's a very quiet neighbourhood and building. The matress and pillows were very comfortable. The sheets and towels fresh and clean. The kitchen has all the basics you need. It's easy to get there. Take line 10 or 12 and stop at Skrajna. Than it's only 1 minute by foot. A tramticket is only €(PHONE NUMBER HIDDEN) hour). Super!
Nikki
2016-07-15T00:00:00Z
Tipe Kamar
Seluruh rumah/apartemen
---
Tipe Properti
Apartemen
---
Mengakomodasi
2
---
Kamar tidur
Gdańsk, pomorskie, Polandia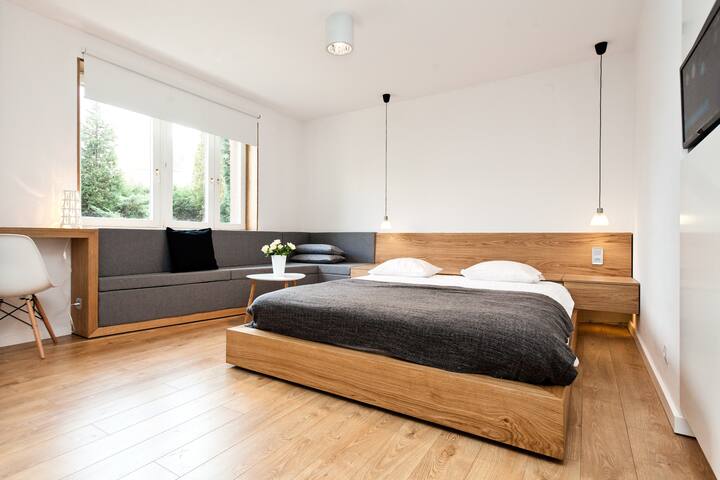 Our apartment offers a wonderful combination of city living with great local amenities all in a private space of your own in a safe and comfortable home with view on Baltic See :) What I offer for you: Attractive, bright, independent, fully furnished apartment with balcony, which is a super view of the sea in Sopot (bedroom + living room with kitchenette). Very close to the beaches of Sopot and the Aqua Park (10 minutes walk), to stop SKM 5 minutes. Perfect for families - prepared for four people). Flat fully equipped: TV, washing machine, fridge, hob, bed linen, towels, dishes. Before the block can park your car. Perfect flat for, one- two couples or a group of friends, also for a family Price per night regardless of the number of people. Want to visit Sopot but want a more personal experience than what a hotel can offer? Then try staying at my home where I hope to make your experience comfortable, informative, and memorable. Great energy! Feel free to message me with any questions!
Oferta zgodna z opisem, warunki bardzo dobre, mieszkanie w pełni wyposażone. Bardzo dobry kontakt z Grzegorzem- bardzo szybko odpisywał na każde pytanie. Grzegorza nie mieliśmy okazji poznać osobiście (klucze przekazał kolega Grzegorza- Wojtek). Mieszkanie bardzo blisko stacji-5 min pieszo do SKM Sopot Kamienny Potok i ok 15 min pieszo na najbliższą plażę. Niedaleko mieszkania dużo sklepów (Lidl, Biedronka, monopolowy)
Andrzej
2016-05-17T00:00:00Z
Gospodarz świetny, szybki kontakt, żadnych problemów. Mieszkanie zadbane, czyste, funkcjonalne. Nic nie brakuje. Sam blok trochę zaniedbany, stara winda (ale to typowe chyba we wszystkich budynkach w tej części Sopotu) ale okolica ok. Blisko do skm i do okolicznych sklepów. Ogólnie pełne zadowolenie i polecamy.
Joanna
2015-08-31T00:00:00Z
Grzegorz jest niesamowitym hostem. Zadbał o każdy detal. Przekazanie kluczy i komunikacja na najwyższym poziomie. Mieszkanie bardzo czyste i zadbane. Genialna lokalizacja. Wszędzie blisko i wygodnie. Zdecydowanie polecam!
Michal
2015-10-26T00:00:00Z
Hadde et veldig fint opphold her i juni. Beliggenheten er fantastisk, bare 3 min med t-banen til Sopot. Leiligheten er stor og holder høy standard. Husverten svare raskt på spørsmål vi hadde. Anbefaler dette stedet på det sterkeste. Kommer til å bo her igjen om jeg tar turen til Sopot.
Kamila
2016-06-18T00:00:00Z
Both Grzegorz and his place were fantastic! I stayed with a friend to visit family/enjoy Trojmiasto and had a blast using Grzegorz's flat as a home base. The location is great (one step on the SKM to the main strip in Sopot) and is close to grocery stores. The flat itself is very comfortable and nice, and probably even better in the summertime (we stayed during a surprisingly warm January). The best I can say is that while living there, it started to feel like home!
Filip
2014-01-13T00:00:00Z
Pozostawiam po wizycie u pana Grzegorza bardzo pozytywny komentarz. Mieszkanie zgodne z opisem, bardzo dobrze wyposażone. Mieliśmy bardzo dobry kontakt z gospodarzem. Polecam wszystkim zainteresowanym.
Robert
2015-05-17T00:00:00Z
Super miejsce! Dogodna lokalizacja (przy SKMce) z widokiem na morze. Zdjecia odpowiadaja rzeczywistosci wiec mozna spodziewac wysokiego standardu. Super kontakt z bardzo milym wlascicielem Zdecydowanie polecam;)
Fabian
2015-03-13T00:00:00Z
Хозяин нас встретил как договорились. На все вопросы ответил. Квартира соответствует описанию и нам очень понравилась. Рекомендуем!!! Спасибо
Григорий
2015-04-10T00:00:00Z
Tipe Kamar
Seluruh rumah/apartemen
---
Tipe Properti
Apartemen
---
Mengakomodasi
4
---
Kamar tidur
Sopot, Pomorskie, Polandia
The Green Apartment is a cozy flat in the center of Old Town. Very convenient location allows you to quickly move around the Tri-City: 6 min. walk to the Main Railway Station, 2 min. walk to Motlawa River where stops of water trams are located. The apartment is located on the fourth floor without lift. There is a small kitchenette with a fridge, coffee machine, electric kettle and a microwave.
Byliśmy gośćmi Oli i Pawła razem z naszym przyjacielem z Meksyku. Wszyscy byliśmy zauroczeniu prostym, ale bardzo wysmakowanym mieszkaniem. Świetny, jasny, przytulny apartament. Doskonale położony na Starym Mieście. Bardzo cichy, z przepięknymi widokami z okna. Wszystko zgodnie z ofertą. Paweł to przesympatyczny, pomocny i życzliwy gospodarz (Oli, niestety, nie poznaliśmy osobiście). Spędziliśmy kilka dni czując się jak w domu. Polecam! Pawle, Olu, dziękujemy :)
Wojtek
2014-05-12T00:00:00Z
The apartment is exactly as described, very cosy and tastefully decorated and with great view being located on the 5th floor. It provides everything one might need but it might not be suitable for someone looking to cook there (only kettle and fridge provided). However, you couldn't wish for a better location-there is plenty of restaurants and cafes around where you can eat out for a very reasonable price. We were only staying for two nights but thoroughly enjoyed our stay and if ever back in Gdansk we won't hesitate to stay at Ola & Pawels' apartment again.
Marta&Robin
2016-06-01T00:00:00Z
Great location, quiet at night, clean and a nice welcome. I do really recommand this apartment.
Lieke
2016-03-05T00:00:00Z
I stayed in Ola's and Pawel's place for 2 nights with my fruends. It was great location in the heart of old city. The apartment was so cozy and perfect. Pawel and Ola were really helpfull. Thanks for everything.
Nazim
2013-12-29T00:00:00Z
We spent 2 nights at this really beautiful apartment. It is situated right in the center of Gdansk so you can go everywhere by foot. We enjoyed the time, and if one day I return to this city I'm sure to chose again Ola's and Pawel's apartment!
Christine
2014-06-08T00:00:00Z
My partner and I had a truly brilliant time in Ola and Pawel's gorgeous apartment. The location was perfect - just a short walk to everywhere we needed to go, and round the corner from an amazing cinema cafe (Kawiarnia Filmowa). The flat had everything we needed and made for an excellent place to relax.
Adam Jacob
2015-09-11T00:00:00Z
Pawel was marvelous. The apartment exceptional. Beautifully appointed with great character.
Martin
2015-09-21T00:00:00Z
Nice apartment Good location But limited hot water
Lai Yee
2015-07-08T00:00:00Z
Tipe Kamar
Seluruh rumah/apartemen
---
Tipe Properti
Apartemen
---
Mengakomodasi
4
---
Kamar tidur
Gdansk, Pomeranian Voivodeship, Polandia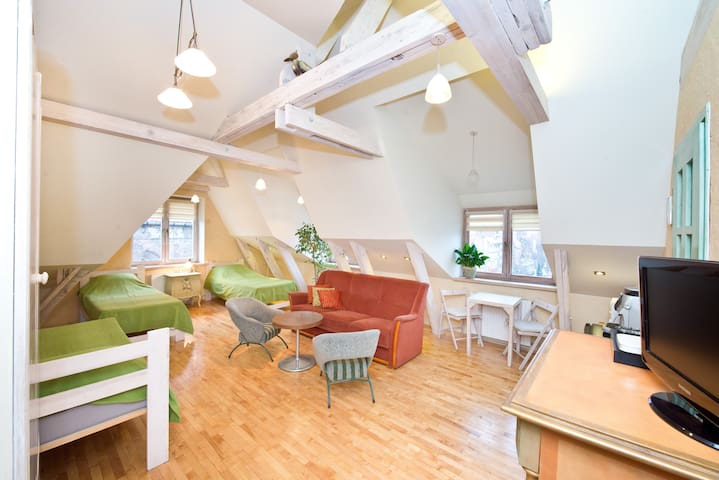 Fantastically located, cosy apartment in heart of Gdansk. One of 2 in same building. Minutes away from all historical areas, near main Gdansk transport hub, shopping mall. Farmer market and old town are right across the road. Lovely view from balcony and living room over old town. Apartment is small but fitted in all necessary amenities for your stay (wifi, TV with international channels etc). Children and pets are welcome - we have cot and high chair. Check in/out 24/7. VAT invoice.
Planning a trip to Gdańsk? It will be our pleasure to host you in our sunny apartment overlooking the old Gdańsk city walls and St. Hyacinth Tower. Its a small but cosy and fresh apartment filled with all amenities necessary for you for both shorter and long stay in our town. Our apartment has a fabulous location, it's just across the street from Old Town Gdańsk, by the city famous fresh indoor and outdoor farmer's market Hala Targowa (so shopping will be easy for cooking in the apartment) and St Hyacinth Tower which was a part of old town city walls. It is only minutes walk away from all Gdańsk attractions. All major banks, shopping mall Maddison, grocery stores, coffee shops, farmers market, several excellent and famous bakeries, cinema Krewetka, Gdańsk Wybrzeże theatre, restaurants, old churches, museums, river walk are just near the apartment or minutes away as well as trams, busses and SKM trains connecting Three Cities, taxi stop is also just 20 meters away. We have facilities to accommodate little ones too - cot and high chair are available. Apartment consist of an entrance hall, bedroom with large double bed, bathroom with shower, living room with open kitchen and a balcony. In the living room large sofa opens and sleeps extra two people. Kitchen is well equipped - with oven, dish washer, kettle, toaster and all necessary other cooking equipment. Towels, fresh linen will of course all be provided. There is a small balcony overlooking Gdansk Old City walls in the apartment so if you are a smoker you can comfortably smoke there. Apartment has a plasma TV with Polish as well as English and other language channels, wifi, hair dryer, washer dryer, iron, iron board, hoover. There is a bowling alley just across the road which is open till late ( U7 ). In summer there is a bike hire in the courtyard at the back of the building. There is a free standing air-conditioning unit supplied for the bedroom in case its hot and our guests prefer to keep windows closed. Apartment is on the second floor. Check in/out 24/7, VAT invoices are also available! It will be a pleasure to host you! Karolina & Izabela
Its a great neighbourhood. Everything is available ; banks, great farmer's market is just across the road, pharmacy and cosmetic stores too. There is a number of great bakeries, cupcake shop, and many restaurants as well as cheap eateries (kebabs, burritos, pizza, noodle joints nearby). there is even a bowling alley just outside! (U7). There are 24hrs delicatessen too just 2 streets away (Kos delicatessen on Szeroka street) and a shopping mall! There is plenty of upmarket restaurants, pubs, clubs and little cosy places to sit down around old town just minutes away from the apartment. There is also a airport check in just few hundred meters from the apartment - on Heweliusza street opposite a tall Heweliusz hotel and past Maddison shopping mall. Please check our website for details and links to the restaurants and museums.
Great location very close to the train station and Gdansk's old town. The check-in process was quite easy, and Karolina was a very communicative and helpful host. Highly recommend!
Sophia
2016-12-05T00:00:00Z
We had a lovely stay at Karolina's white apartment in Old Gdansk. It's location was perfect, just 1 minute by walk from the Old Town. It's quite easy to go around Gdansk by foot, you don't need any other ways of transport as everything you should see is within short distance. The neighborhood is quite safe and there was a 24/7 supermarket next to us. There were other 24/7 supermarkets (Express chain) few minutes away by walk. All information was provided - maps, suggestions regarding bars, shopping malls, restaurants, sightseeing and so on and everything was as in the photos. Apart from that, what really struck us was the effective and very good communication with the host. Even though she lives abroad, we communicated with her via (SENSITIVE CONTENTS HIDDEN) and her response was always immediate. We appreciated her help and she even booked our Taxi for us which was there on time. This really helped us because of the language barrier. Not everyone there speaks English. Overall Karolina's apartment was perfect for us, small but ideal for 2-4 people. I highly recommend this apartment and for sure you will not regret it! It was a memorable experience :)
Christian
2016-08-28T00:00:00Z
The apartment is centrally located in the Old Town of Gdansk. There is a good selection of shops and resturants in the immediate vicinity. The apartment was perfect for a couple on romantic trip. Karolina is a very good host. The apartment has everything one needs, and Karolina's easy to get in touch with, she responded quickly to all questions we had, and She gave us a lot of tips. We clearly want to visit this apartment again!
Håkon
2014-03-04T00:00:00Z
The apparment was as good as it looks in photos. It was perfectly situated, clean and really confortable and well decorated. Karolina was so kind with us, and she didn't have any problem in helping how to arrive or attend to everything i asked her. I think it was one of my best experiences using airbnb, really really recomendable !!
Rebeca
2016-12-02T00:00:00Z
Wir fuhren zu viert nach Danzig, um dort zwei Nächte zu bleiben. Das Appartment ist zwar klein, jedoch hat uns das überhaupt nicht gestört. Ganz im Gegenteil, es hatte alles, was man benötigt. Ganz liebevoll eingerichtet und wunderbar auf seine Gäste eingestellt haben wir uns dort wie zu Hause gefühlt. Es liegt superzentral zwischen Bahnhof und Altstadt und ist von verschiedenen Geschäften umgeben. Auch die Restaurant-Tipps, die in der Wohnung auslagen, haben wir genutzt und sehr leckere Pierogi in der Danziger Altstadt gegessen. Auch wenn Karolina in HongKong lebt, hat sie für alles gesorgt, damit wir uns willkommen und gut aufgehoben fühlen. Absolut empfehlenswert! // We (4 persons) stayed for two nights in Gdansk at Karolina's appartement and felt quite at home there. The appartment smelled fresh and clean as we entered it and everything was lovingly furnished. The appartment is fully equiped with everything you need to stay, to cook and to live. Located very central between main station and old town, we reached everything easily on foot. Many shops and supermarkets right down the building. There are even some restaurant advices we took advantage of and got to eat delicious pierogi in the old town. A stay at Karolina's is completely recommendable! We had a wonderful stay
Romina
2016-05-18T00:00:00Z
St. Hyacinth is in a prime location, and the apartment was tidy and clean. It is on a busier street, so there is a little street noise (more noticeable on weekends). Everything was as described, and we enjoyed our time in Gdansk.
Amery
2014-09-22T00:00:00Z
Close to Old Town, neat and tidy - great apartment. The street is a good 10 minute walk from the train station and close to everything. Even though we found it a bit hard to find, we didn't have any real problems getting in and out. We really like the apartment, with modern and white interior. It's spacious enough for two people and everything worked as expected. Although, we noticed that the wooden floor in the main room was creaky. Still, we won't hesitate to recommend it!
Jonas
2016-06-18T00:00:00Z
Nice apartament in the central historical part of the city. Everything you need for a long period of staying. Recomend for everyone!
Yulia
2015-10-05T00:00:00Z
Tipe Kamar
Seluruh rumah/apartemen
---
Tipe Properti
Apartemen
---
Mengakomodasi
4
---
Kamar tidur
Gdansk, Pomorskie, Polandia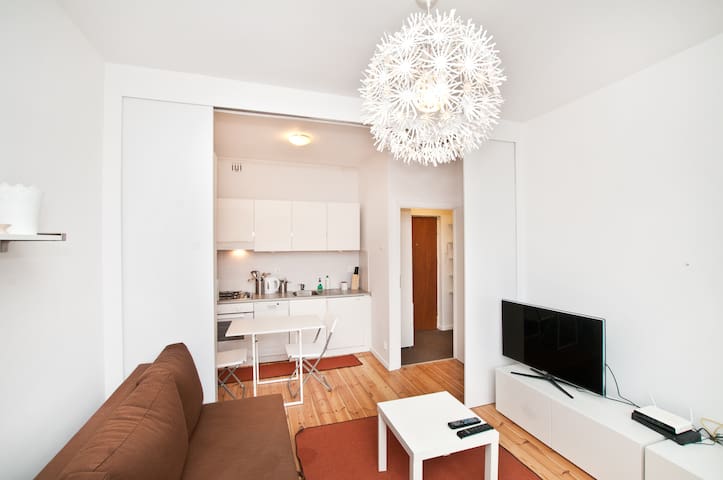 Very bright and nicely furnished apartment near the beach with convenient access to the center.
Feel free to just renovated apartment adapted for the discerning guest. The bedroom has a comfortable bed with linens czysciutka. In the second room is a large sofa that can easily turn into the next place to sleep for two people. In addition, the apartment has a large LCD TV with cable TV, WiFi, table and chairs. The kitchen is equipped with appliances such. Fridge, induction hob, microwave, and cutlery, crockery and tea towels. There is also coffee, tea, sugar and milk for coffee. The bathroom has a shower with soap and washing-up liquid, towels, washing machine, iron and ironing board.
On the beach we come in 2 minutes. Nearby are bicycle paths and walkways, pier, playgrounds, restaurants, shops, lighthouse and ferry.
Die Wohnung war zwar wie beschrieben, jedoch in einer schrecklichen Umgebung. Das Treppenhaus hat nach Alkohol, Zigaretten und Schweiß gestunken. Kein Wunder bei dem Niveau der Bewohner. Leider drang der Gestank oftmals in die Wohnung, da die Tür nicht dicht schloss. Wir fühlten uns in der Gegend sehr unwohl und hätten die Wohnung nicht gemietet wenn wir über die Gegend Bescheid gewusst hätten. Alles sehr einfach und primitiv gehalten. Der Strand konnte zu Fuß in 10 Minuten erreicht werden. Allerdings brauchte man mit der Bahn 30 Minuten bis in die Innenstadt von Danzig.
Josefine
2016-08-07T00:00:00Z
Ładne, dobrze zaprojektowane mieszkanie zaledwie 10 minut spacerem od morza. Idealny metraż dla pary, okolica przyjemna, bezproblemowy kontakt z hostem.
Lukasz
2016-08-28T00:00:00Z
Although my stay was short it was definitely one of the best venues I have visited with AirBnB. There is no expectation v. reality dilema ;) the apartament looks exactly like on the photos - its clean, modern and cleverly designed. It is also perfectly localised - close to the sea and in good communication point to the city centre, old town and railway station (about 30 minutes route via bus or train). I have visited Gdansk in November so there was no turists-everywhere-problem and I strongly recommend this place in autumn for all of you who want to escape crowd and chill out in calm, beautiful place.
Sylwia
2015-11-21T00:00:00Z
Darius War sehr nett, die Wohnung War super und sehr nah am strand.
Julina
2016-05-24T00:00:00Z
Mieszkanie bardzo ładne, gospodarz miły i pomocny. 10 minut spacerkiem do pięknej plaży. Zdecydowanie polecam :)
Anna
2016-01-25T00:00:00Z
Kontakt z panem Darkiem bardzo dobry a on sam miły i życzliwy. Mieszkanie wygląda dokładnie jak na zdjęciach, zawiera wszystko czego trzeba. Bliskość przystanków sprawia, że wszędzie można łatwo się dostać. Pobyt w tym apartamencie to duży plus dla wycieczki do Gdańska.
Piotr
2015-11-25T00:00:00Z
The apartment met our expectations and it was super fresh and clean. It were easy to get in contact with Dariuz and he were helpful. We can strongly recommend this accommodation.
Alexandra
2016-07-21T00:00:00Z
Great stay at Dariusz's apartment. Dariusz was extremely helpful with checking in along with useful information on public transport & booking taxis. Location is about 20 minutes from the centre but tram takes you straight there & stop is a minute away. Would recommend a stay here!
Sarah
2016-12-08T00:00:00Z
Tipe Kamar
Seluruh rumah/apartemen
---
Tipe Properti
Apartemen
---
Mengakomodasi
4
---
Kamar tidur
Gdańsk, pomorskie, Polandia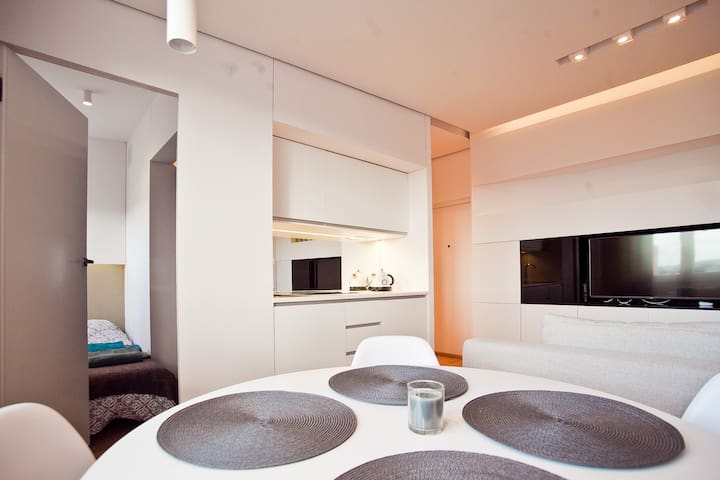 A 5 minuts del centre de l'estació de tren de Gdansk, A 3 minuts del centre de l'estació d'autobusos de Gdansk (també - Estació PolskiBus pick-up), Totalment moblat, 2 habitacions separades, annex de cuina, Capacitat de fins a 4 persones, ideal per a 2, L'antiga casa del segle
Per als hostes l'ús fa que tot, apartament completament moblat: dormitori amb un llit gran, una sala d'estar amb sofà llit, un bany, cuina totalment equipada. L'apartament té wifi. roba de llit, tovalloles.
Martyna was a fantastic host - extreme responsive and helpful. The apartment was really nice. Also, very central and close to the metro (SKM). Thanks Martyna!
Mike
2016-04-08T00:00:00Z
Martyna очень отзывчива! Сразу же ответила на запрос бронирования и изменения даты выезда. Подсказала хороший торговый комплекс и как добраться до Торуня. Позволила ранний заезд. Квартира расположена очень близко к вокзалам ( жд и авто ). Фотографии соответствуют действительности - светлая солнечная квартира! Есть всё для комфортного проживания.
Stanislav
2016-04-30T00:00:00Z
Wir hatten eine super Zeit in Martynas Unterkunft. Fast alles war fußläufig zu erreichen und ansonsten gab es in direkter Nähe Tram- Bushaltestellen. Die Wohnung war sauber und die Umgebung ruhig. Besonders hervorzuheben ist, wie schnell und freundlich die Kommunikation vor und während des Aufenthalts ablief. Wenn wir nochmal nach Danzig kommen, dann gerne wieder in diese Wohnung!
Laura
2016-08-14T00:00:00Z
Wszystko na medal ! Bardzo polecam pobyt u Martyny. Pozdrawiam i do zobaczenia następnym razem :)
Paweł
2017-02-03T00:00:00Z
Mieszkanie czyste i przyjemne. Z gospodynią kontakt był bez zarzutu. Lokalizacja rzeczywiście "rzut beretem" od dworca PKP Gdańsk Główny, a mimo tego okolica spokojna. Polecam tego gospodarza i to miejsce z czystym sumieniem.
Alicja
2016-06-30T00:00:00Z
The place was really clean, near the center and we loved the montain near the appartement with a vue on all Gdańsk ! Free parking for a really nice trip :)
France & Mariusz
2017-03-26T00:00:00Z
The flat is very nice and clean, equipped with all important facilities (wifi, iron, hair dryer, towels and sheets, basic cosmetics…). Location is perfect – close to Gdańsk Główny train station, so the flat is well-communicated with Gdańsk citi centre, Sopot and Gdynia. Martyna is a great host, ready to help and responding really quickly to all questions. I highly recommend this place and the host, we had a very pleasant stay :)
Adriana
2016-05-09T00:00:00Z
Martyna is communicative and pleasant host. Thank you! The flat is very nice and its location is very comfortable, so if you have a lot of bags this flat is ideal for you :)
Anastasiia
2016-05-11T00:00:00Z
Tipe Kamar
Seluruh rumah/apartemen
---
Tipe Properti
Apartemen
---
Mengakomodasi
4
---
Kamar tidur
Gdańsk, pomorskie, Polandia
Apartment im Zentrum der Altstadt von Danzig. Tolle Aussicht auf den Langen Markt und dem Grünen Tor. Die repräsentativsten Straße von Danzig. Alte Charakter Oberflächen und außergewöhnliche Umgebung wird Ihren Aufenthalt hier wird für eine lange Zeit erinnern!
Apartment im Zentrum der Altstadt von Danzig. Tolle Aussicht auf den Langen Markt und dem Grünen Tor. Die repräsentativsten Straße von Danzig. Alte Charakter Oberflächen und außergewöhnliche Umgebung wird Ihren Aufenthalt hier wird für eine lange Zeit erinnern! Direkt am Green Gate und an der Mottlau.
Die gegenständliche Stadtteil von Danzig. Die geschäftige Stadt bietet erstaunliche Empfindungen! :) Tonnen von Restaurants und Klima Pubs.
A lovely apartment with amazing views and probably the best location you could ask for in Gdansk - close to the river/canal and on the main street. It's quiet at night too which was quite surprising given how central it is. The bedroom is very small, but the living space is great so it doesn't matter. Highly recommended!
Kim
2016-04-06T00:00:00Z
Great location! I like this place very much. Thanks a lot to Michał. He is very hospitable and pleasant person. The apartment is nice and clean.
Zinaida
2016-09-23T00:00:00Z
Michal was great and very accommodating. The location is AMAZING! The Gdansk spirit was right outside our window! The apartment has everything you need. I would definitely come back!
Jadzia
2015-07-23T00:00:00Z
The flat is perfect for few days in Gdansk and it is near everything in the city. It is cosy, clean and modern Michal is an excellent host and he is very helpful Highly recommended!
Martin
2016-11-17T00:00:00Z
Michał was a perfect host! Super friendly! He greeted me promptly at the front door and showed me around the beautiful apartment. It was exactly as described. The neighborhood was spectacular, the food was great, the people friendly. Michał even went out of his way to help me out by printing out my boarding pass for my return flight and bringing it back to the apartment for me! I would HIGHLY recommend staying at Michał's place in Gdańsk!
Marc
2016-04-25T00:00:00Z
The location of this apartment is exceptional and offers charming views across the loveliest street in Gdansk. The apartment itself is very comfortable, with the best sofa of any Airbnb. It's very easy and pleasant to take a break here between explorations of the town. While the apartment is small, it is quite manageable, with more than enough room to store travellers' clothes etc Be at aware that this apartment is a walk-up on the second floor with steep stairs but good landings. Michal was an exemplary host, maintaining good communication and promptly responding to any reasonable request.
Ken
2016-06-24T00:00:00Z
Lovely apartment in great location. Good communication and flexible with check out arrangements which was very helpful. Thank you!
Kate
2016-11-21T00:00:00Z
Perfect located flat in the heart of Gdansk with nice ambience of Dlugi Tark! Thanks Michal!
Tobias
2015-08-27T00:00:00Z
Tipe Kamar
Seluruh rumah/apartemen
---
Tipe Properti
Apartemen
---
Mengakomodasi
4
---
Kamar tidur
Gdańsk, pomorskie, Polandia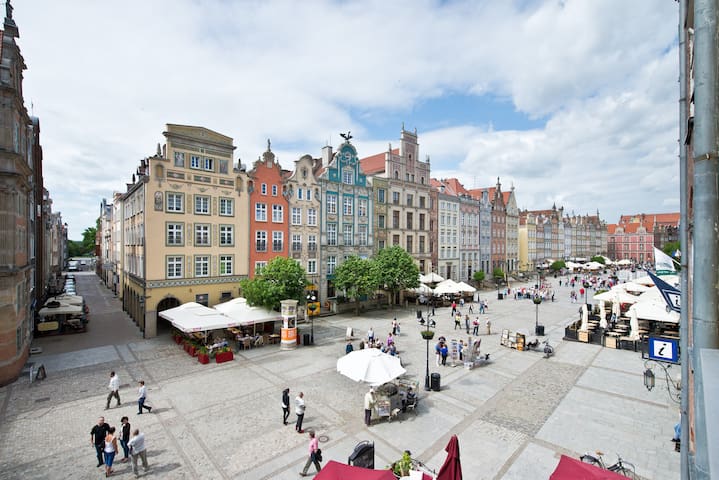 Slunný byt nejlepší pro páry, přátel nebo rodiny. Se nachází nedaleko od silnice, která vede přímo do starého města. Krásný výhled z oken na zelené přírody a zpěvu ptáků. Silent okolí vám umožní relaxovat po náročném dni stráveném prohlídkou města. Byt je plně vybaven, veřejné parkoviště pod budovou.
Přijďte a prozkoumat úžasné a krásné Gdaňsk. Relax v jednom z spousta kaváren Charmy podle straně ke kanálu Motlawa nebo Yachts Marina. Vystup 409 kroků věž kostela Mariacki se dívat na město od shora :) Z mé místo, kam bude jen pár minut pryč od toho všeho ... :)
Byt nabízí krásný výhled z okna, tichu, zelené přírody a relaxační zvuky zpěv ptáků. Obchody v blízkosti svého bydliště (potraviny, zeleniny, alkoholickými nápoji, drogerie apod.) Byt se nachází na slunné jižní straně budovy, ke kterému rušného centra nedosáhne, ale zároveň je velmi blízko k hlavní silnici Kartuska, která vede přímo do Starého Města. Tím se pohybují velmi snadné.
Mieszkanie i jego wyposażenie zgodne z opisem. Bardzo ciepłe co o tej porze roku uważam że ważne. Bardzo dobry kontakt z właścicielką,która chętnie,szybko i wyczerpująco udzielala odpowiedzi na moje pytania np dotyczace komunikacji czy dodatkowych atrakcji
Małgorzata
2016-11-11T00:00:00Z
the appartment was really nice and as one of the previous guests commented daniela left lots of useful information about everything. i will definitely stay here again!!!!!
Damjan
2016-09-23T00:00:00Z
Mieszkanko bardzo przytulne, zadbane, bardzo czyste. Dojazd do centrum rewelacyjny. Polecam wszystkim chętnym do spędzenia przyjemnych chwil w Gdańsku!!!
mikolaj
2016-10-14T00:00:00Z
Даниела очень гостеприимная и общительная;)кварира чистая и уютная) все необходимое для проживания есть и находится в принципе недалеко от центра, всего 10 минут на трамвае:) рекомендую!!
Анна
2016-10-19T00:00:00Z
Beautiful apartment. Did not get to meet her but everything went along smoothly. Will probably stay here again if I get to go to Gdańsk again
Arthur
2016-04-15T00:00:00Z
Great location, great apartment. Has everything you need. Tram is only 2 minute walk away, quiet and safe environment. You can even walk to Old Town in 15-20 minutes. Airport transfer is also very smooth as its on a public transport route. Definetely top spot!
Altug
2016-10-26T00:00:00Z
Daniela was very helpful from the time we confirmed our booking. She provided complete information about Gdańsk, very quick in responding to messages. We wanted to check-in early and Daniela arranged for it like in few hours. Apartment was very clean and nice, it is in a very calm locality, it had everything just as described in the listing. This place is well connected by public transport (Bus & Tram) and near to the old town. Will definitely stay here on my next visit to Gdańsk!
Ramesh Chaitanya
2016-06-22T00:00:00Z
Great
Ihor
2016-10-03T00:00:00Z
Tipe Kamar
Seluruh rumah/apartemen
---
Tipe Properti
Apartemen
---
Mengakomodasi
4
---
Kamar tidur
Gdańsk, pomorskie, Polandia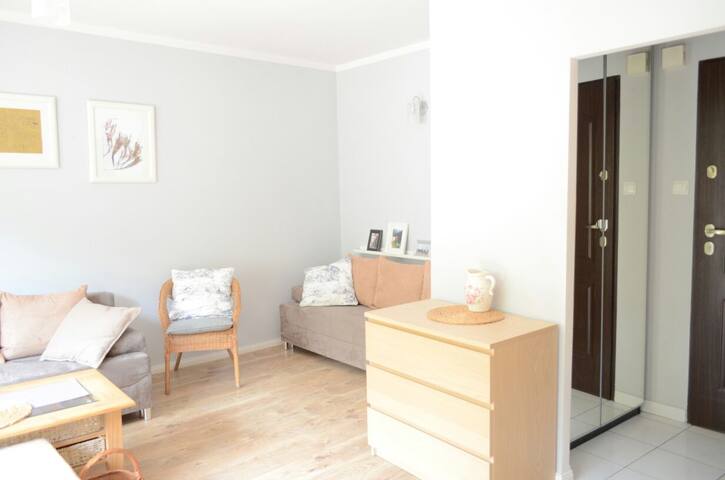 Exlusive lejlighed beliggende i centrum gamle bydel! Arkivering af luksus, afslapning og bekvemmelighed. Sauna, fitness center, billard, afslapningsrum, gårdhave med et springvand og have, sikkerhedsvagter, overvågning, og indendørs garage.
Jacuzzi, billard, sauna og fitness-klub i anlægget til brug for vores gæster! Pool billard (2zl / h) Jacuzzi og sauna - ekstra betalt (PLN 16 / h) Fitness klub - uden ekstra beregning.
Vores lejlighed ligger i hjertet af den gamle bydel, overfor St. Johns kirke, kun 100 m fra den historiske Great Crane og maleriske havn, og 300 m fra Long Market og Mariakirken.
This apartment was so close to the city centre and made exploring the town very easy. Old town and the amber street are only a 5minute walk away and the neighbourhood was brilliant. Pawel set up three beds for us and was a very accomodating and gracious host. The jacuzzi and sauna are also amazing! Would highly recommend.
Alison
2016-06-15T00:00:00Z
Pawel was a very nice welcoming guy. We were greeted with a warm reception and a beautiful free bottle of wine. Pawel advised us on places to visit and see. Pawel was fantastic and was very helpfull. The apartment was beautiful and we will 100% be staying here when in Gdansk again. The apartment made the holiday. The spa/sauna was fantastic. Thankyou for a great trip Pawel
Phil
2016-03-05T00:00:00Z
Leiligheten var akkurat som den var beskrevet. Ren, lys og hyggelig. Beliggenheten var perfekt, matbutikk og restauranter i underetasjen, få minutter å gå til gågatene og krana. Torghallen med frukt, ferske bakervarer og ferskvaredisker ligger også like i nærheten. Hyggelig å legge seg om kvelden og høre menneskene som satt på baren Polslki Kino sitte ute og hygge seg. Vi fikk oppbevare bagasjen vår hos sikkerhetsvakta i bygningen etter at vi hadde sjekket ut. Vi kommer gjerne tilbake hit!
Kirsti
2015-10-04T00:00:00Z
Emplacement idéal proche du centre ville et de la gare. Appartement correspondant au descriptif il manque juste une machine à café...
Gordana
2017-04-12T00:00:00Z
Perfect location!
Drew
2017-03-20T00:00:00Z
Everything was fine and clean. Its just 3 minutes from the city center.
Christian
2015-02-08T00:00:00Z
Pawel was an enthusiastic and friendly host! The checkin process went smoothly . As a welcome surprise waited there bottle of red wine on us. The apartment was spacious, luxurious , modern and very clean. The location was ideal, right in the old city center . In the immediate vicinity were several restaurants.
Marjan
2016-05-15T00:00:00Z
Pawel was a great host, leaving us a bottle of wine and explaining everything in and around thr building clearly. He was helpful on the day when we arrived slightly late. The apartment is clean, comfortable and exactly as advertised. It's perfectly located - with old town and the station in easy walking distance. We also ate at his restaurant, Mon Balzac, which was easily the best meal we had in Gdansk!
Tom
2015-11-21T00:00:00Z
Tipe Kamar
Seluruh rumah/apartemen
---
Tipe Properti
Apartemen
---
Mengakomodasi
5
---
Kamar tidur
Gdańsk, pomorskie, Polandia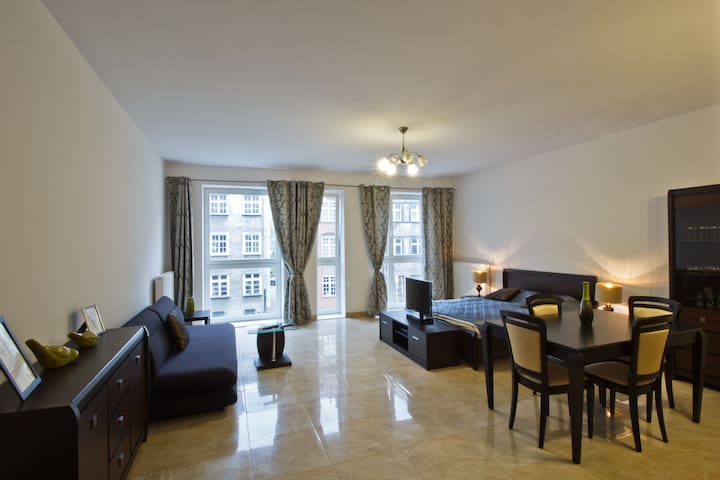 Exlusive apartment located in center Old Town! Filing of luxury, relaxation and convenience. Sauna, fitness center, billiards, relaxation room, patio with a fountain and garden, security guards, monitoring, and indoor garage.
Our apartment is situated in the very heart of the Old Town, opposite St. John's church, just 100 m from the historic Great Crane and picturesque harbor, and 300 m from the Long Market and St. Mary's church.
Great apartment with lovely facilities. Pawel met us and guided us to the accommodation. We were given the right advice of where to go for food/drink/sights. I will 100% return. Jacuzzi and sauna are a nice touch!
Edmund
2015-01-15T00:00:00Z
Pawel's apartment was a great place for our stay in Gdansk, it is really central in the old town and was close enough to the main streets to be able to pop back whenever we needed to. Despite it's central location it's a lovely peaceful place to stay as it looks out over an enclosed courtyard, and we felt very safe there thanks to the security gates and 24 hour security guard. The apartment itself has everything you should need and we found it very comfortable for 3 friends staying for 4 nights, plenty of space for us. Pawel had thought of everything and even left us a bottle of wine to welcome us on our first evening and a spare fold out bed in case 2 of us didn't want to share the double bed. The shower was lovely and powerful and hot and the beds were really comfortable. We also used the apartment buildings jacuzzi for 1 hour one of the evenings (16zl) which was a lovely relaxing thing to do after a day of walking. We were also able to leave our luggage with the security guard after checking out on our final day whilst we had one last walk around the city. All in all a great stay, thanks Pawel!
Prudence
2015-08-02T00:00:00Z
Wszystko jak należy. Doskonały kontakt i wyjątkowa lokalizacja. Polecam serdecznie!
Bartosz
2016-06-13T00:00:00Z
My boyfriend and I recently spent 3 nights in this lovely bright apartment. This was in a perfect location and we could walk to all the sights and restaurants/bars within 5 minutes. We also loved using the jacuzzi facilities. Overall great apartment.
Ciara
2016-05-03T00:00:00Z
Perfect location and a very friendly and welcoming host. The apartment was also very clean and had everything we needed. We enjoyed our stay very much. I recommend this place!
Neville
2016-11-28T00:00:00Z
Paweł's place is more than what was expected. Clean and very comfortable with Enough space and facilities for four lads for a weekend break. The location was 5 minutes from the Main Street and is perfect for a quiet night sleep with it being in a courtyard. Security is high on the premises and 24/7 manned who walks around hourly I would definitely recommend Paweł if I am to come back to Gdansk to see if I could use one of his places.
Marc
2017-01-30T00:00:00Z
Apartament w centrum, blisko dworca. Ładnie urządzone. Możliwość skorzystania z sali fitness, jacuzzi oraz sauny. Idealne miejsce dla pary. Polecamy serdecznie
Magdalena
2017-02-17T00:00:00Z
Очень хорошая квартира, прекрасный район ( центр города).
Yaacov
2015-07-10T00:00:00Z
Tipe Kamar
Seluruh rumah/apartemen
---
Tipe Properti
Apartemen
---
Mengakomodasi
4
---
Kamar tidur
Gdansk, Pomeranian Voivodeship, Polandia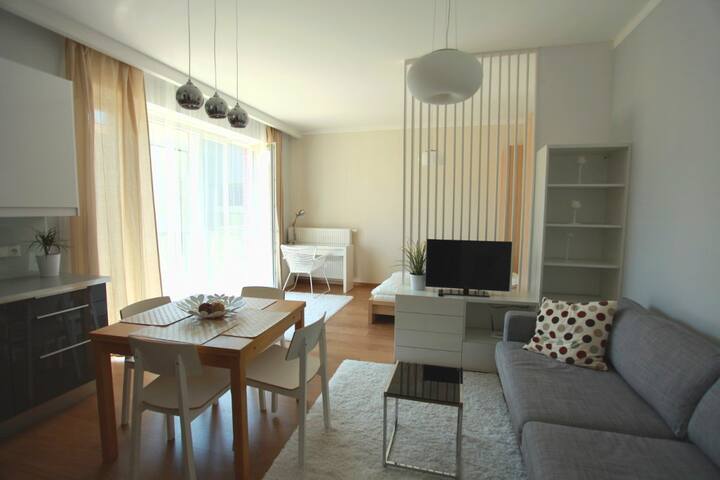 Funky a zábavné byt v budově, kde již máme další 2 apartmány. Krásný výhled z našeho balkonu a den prostoru směrem k malé staré radnice. Jeho pár minut chůze od Starého města, v těsné blízkosti hlavního dopravního uzlu v Gdaňsku, nákupní centrum, kino, pekařství, restaurace. Apartmán může ubytovat až 4 osoby a ve 2. patře. K dispozici je bezplatné parkování před budovou. Děti a domácí mazlíčci jsou vítáni. Wifi, mezinárodní tv atd jsou všechny k dispozici. Check in / out 24/7. faktury DPH.
Její krásné, funky a moderní byt s balkonem s výhledem na malou radnici. Má velmi otevřený a velký cit a má veškeré potřebné vybavení - wifi, televizor s polskými a anglickými kanály. Byt má také: myčka, pračka, žehlička s žehlícím prknem, vysoušeč vlasů, stůl, ložním prádlem, ručníky, mýdla poskytovány. To může spát až 5 - jeden je správný postel a jedna velmi pohodlné futon plus samostatné lůžko. Ochrana osobních údajů je poskytována přepážkou a husté opony, ale není úplné uzavření mezi dvěma místnostmi, takže se nemusí nich ty, kteří chtějí naprosté soukromí. K dispozici je malý krb biopaliv v denním oblasti.
Její krásné fantastické sousedství, velice pohodlné pro vše opravdu - všechny obchody jsou velmi blízko, kino, lékárna, nákupní centrum, pekárny, řada příjemných restaurací a nočních tae outs. Staré město je jen pár minut pryč, ale první slavné kostely a 2 staré vodní mlýny jsou jen pár metrů od hotelu.
Fantastyczne mieszkanie! Pięknie urządzone, przestronne, jasne i czyste. Lokalizacja bardzo dobra, parking zaraz za blokiem.W razie jakichkolwiek pytań świetny kontakt z gospodarzem. Gorąco polecam i dziękuję (:
Monika
2015-11-09T00:00:00Z
Staying at Karolina's apartment was a pleasure. The location is great - very near to Old Town and railway station, but the neighborhood is peaceful and quiet. The apartment is very convenient and fully equipped with everything you need.
Anna
2015-10-17T00:00:00Z
The flat was in excellent condition in which was within walking distance of Old Town. Location was great between host and our party, even though we booked very suddenly. Very easy to pick up and check into the apartment. Would definitely recommend Karolina's apartment.
Travis
2015-12-29T00:00:00Z
great communication and accurate description of the apartment. The neighbourhood was fine and very handy for the train station and only a few mins walk to the café bars and restaurants of the old town. We didn't meet the host as we arrived after midnight but I was fully instructed on how to gain access into the building and to pick up the key from a key safe beside the front door. Would recommend this apartment to all my friends :)
David
2015-07-07T00:00:00Z
We had a wonderful stay in Karolina's apartment. It's perfect location was a huge benefit for us - very close to train station and not so far from the old town. The apartment is interestingly decorated. Also communication was going smoothly between us. I must say that I highly recommend staying there! :)
Łukasz
2015-09-21T00:00:00Z
Mieszkanie znajduje się w idealnej lokalizacji, oddalone tylko kilka minut od dworca oraz starówki. Jest czyste i zadbane, a ponadto pięknie urządzone. Nie brakowało niczego, a informacje udzielone przez Panią Karolinę były bardzo szczegółowe przez co nie mieliśmy żadnych problemów z dotarciem. Gorąco polecam!
Agata
2016-03-01T00:00:00Z
Die Beschreibung der Wohnung ist sehr detailliert und wahrheitsgemäß. Die Bilder entsprechen voll und ganz der Realität. Wenn jemand mehr Privatsphäre möchte, sollte er eine andere Wohnung wählen, wir haben uns sehr wohlgefühlt. Die Wohnung liegt, wie beschrieben, wirklich sehr zentral in Danzig, Hauptbahnhof und Altstadt sind zu Fuß erreichbar. Der Kontakt mit Karolina war sehr freundlich und vor allem erhielten wir immer eine schnelle Rückantwort.
Lhr
2015-08-09T00:00:00Z
Perfect in every aspect! Very nice apartment with lots of lovely details to it. Close to the old town and quiet, too. We can recommend Karolina as a host as well and would come again. Thnx!
Ines
2015-08-23T00:00:00Z
Tipe Kamar
Seluruh rumah/apartemen
---
Tipe Properti
Apartemen
---
Mengakomodasi
5
---
Kamar tidur
Gdańsk, pomorskie, Polandia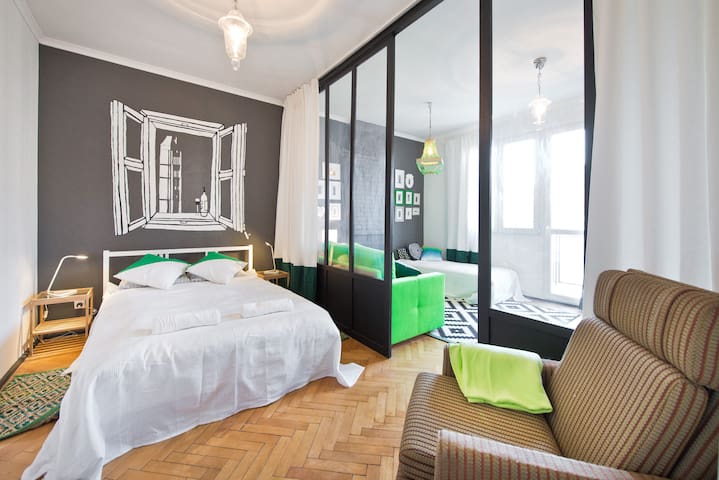 Apartment on Piwna Street in Gdańsk is situated in the heart of the city, beetwen the largest brick church in Europe - St. Mary's Church and Great Armoury.
Welcome to our modern, spacious two-room apartament (55 square meters). It's located on the first floor in the tenement house which was reconstructed in the fifties of XX century. The kitchen with the living room has double sofa bed and view on the Piwna Street. The kitchen is equipped with a fridge, induction hob, kettle, cutlery, dishes and pots. The second, bigger room is a bedroom with a large bed, TV, DVD and is decorated with the images of prewar Gdańsk. The bedroom has a view on spacious backyard. In the bathroom there is a wc, sink and a shower. At your disposal there is also internet, wi-fi, beddings and towels, iron and big playpen for a baby if it's necessary. Please note that in April 2016, the building work on a small hotel started nearby our apartment. The work takes place at the back of our building (Mon-Fri till 5pm and occasionally on Sat till 1pm). The view on Piwna Street has not been affected and it still remains charming:)
In the closest neighbourhood there are a lot of pubs, restaurants, cafes, museums, cinema and wonderful monuments such as: St. Mary's Church, Great Armoury, Neptune Fountain, Artus Court or The Hall of the Main City. The best city guides, who are my friends, are waiting for you and could tell you much more about this amazing city.
Great experience. Everything written about apartment true, "Clean, large, city center". Also close to tram, bus and train stops. Many landmarks easy to walk to, but bring comfortable shoes as the streets and sidewalks are made with bricks, so flat but uneven to foot traffic. Many restaurants and shops in this area. St. Mary's Basilica 100 steps away. The host is very accommodating and supplies brochures in many languages so you can get acquainted with the area. We definitely recommend this apartment.
Maryann
2016-08-26T00:00:00Z
Bardzo przestrzenne mieszkanie w idealnej lokalizacji - wspaniały widok na ulicę Piwną! Bezproblemowy kontakt z gospodarzem - na każde pytanie odpowiedź otrzymywaliśmy niemal natychmiast. Polecamy, bardzo.
Piotr
2015-10-03T00:00:00Z
We really enjoyed our stay in Gdansk. The large well equipped apartment looking out over Piwna street is right in the heart of the old town. We were able to cook meals easily and there is a good market hall with fruit vegetables and meat nearby as well as supermarkets. the walk around from Gdansk Glowny and the bus station is easy. Our train from Wroclaw was delayed so we were nearly an hour late but Ewa was still waiting and hailed us from the first floor as we arrived. Thanks Ewa and Gosia for a wonderful home in Gdansk.
Gerald
2016-06-07T00:00:00Z
Fine appartment and perfect location.
Jørgen
2016-10-23T00:00:00Z
The apartment was wonderful, Ewa's attention to details made us feel like home. There were umbrellas to use. pamphlets with local attractions, beautiful albums of Gdansk and pain killers if needed.
Krystyna
2016-08-03T00:00:00Z
Great apartment. Incredible location. Had everything we needed. I highly recommend staying here.
Gabriel
2017-02-13T00:00:00Z
We were met according to agreement .A comfortable,clean and superb located apartement. the host had a lot of info for us, and was very helpful. would definately recommend this host and flat to others.
Arnfinn
2014-11-16T00:00:00Z
We had a great time in ewa &gosia their appartement. I highly recommend their appartement.
Dennis
2016-02-02T00:00:00Z
Tipe Kamar
Seluruh rumah/apartemen
---
Tipe Properti
Apartemen
---
Mengakomodasi
4
---
Kamar tidur
Gdansk, Pomeranian Voivodeship, Polandia
Moderní, tichý a prostorný byt v centru. Většina z atrakcí (Long Street, Long Market, Kostel Panny Marie) během 15 minut chůze. Je tu Čerstvý trh v blízkosti, ATM a tramvajová zastávka v 70 metrů od bytu. Okamžité check-in
Byt se nachází v historickém domě na Starém Městě. Dům je velmi světlý a slunný a to i přes blízkost k centru - velmi tiché. K dispozici jsou dva oddělené pokoje uvnitř, kuchyň a koupelna. V ložnici je pohodlné dvojlůžko. V obývacím pokoji si hosté mohou využít dva dvoulůžkové rozkládací pohovka. Byt se nachází v historické budově. Byt jasné a slunečné, a to navzdory blízkosti centra - velmi tiché. K dispozici ve dvou oddělených místnostech, samostatná kuchyň, koupelna. V jedné ložnici je manželská postel. V obývacím pokoji jsou dvě konvertibilní dvojmístné.
V bytě se nachází 15 minut pěšky od Targ Węglowy a Dlouhé ulici (Ulica Długa). Hlavní město je snadno dostupné pěšky, všechny turistické atrakce jsou v docházkové vzdálenosti. Hlavní vlakové nádraží - Gdańsk je 12 minut. Odtud můžete jít do Sopot nebo Gdyni. Vlaky odjíždějí každých patnáct minut. Je snadné se dostat do bytu z letiště a zpět. Tam je přímý autobus číslo 210 z letiště do hlavního města. Chcete-li získat na aprtment Musíte se dostat ven na "Płowce" zastávky, odtud je to jen 4 minuty chůze od hotelu.
Bardzo dobre połączenie komunikacyjne, mieszkanie ładne i czyste! Polecam :)
Karolina
2017-02-22T00:00:00Z
Wszystko OK Polecam
Remigiusz
2017-03-12T00:00:00Z
Nice, spacious and modern place. Centrally located. Main street is at a walking distance.
Jonathan
2017-01-05T00:00:00Z
Już drugi raz w tym miejscu i ciągle bardzo fajnie :)
Anna
2017-03-19T00:00:00Z
Adam is a very friendly host! We (my mom, my siblings and I) spent a very nice prolonged weekend in one of Adam's apartments. The apartment was clean, and check in was very smooth. We'd expected the place to be in the old town but in reality it was within a walking distance to the old town. However, there is a tram stop very close to the apartment if you are not up for the 15 minute walk. The neighborhood is calm and seems safe. I would recommend this apartment, if you want a good and cheap alternative to the places in the old town.
Fie
2017-01-30T00:00:00Z
Mieszkanie dokladnie jak w opisie plus bardzo dobra komunikacja z gospodarzem
Malgosia
2017-03-02T00:00:00Z
Czyste i przytulne miejsce. 15 min pieszo do zabytkowego centrum. Za rogiem apteka i delikatesy - wszystko pod ręką. Mieszkanie przy głownej drodze ale jest cicho i spokojnie. Swietne miejsce jako baza wypadowa do zwiedzania 3miasta.
VICTOR
2017-02-03T00:00:00Z
A great place very central, nicely decorated and comfortable. Great communication with the host.
Michael
2017-03-10T00:00:00Z
Tipe Kamar
Seluruh rumah/apartemen
---
Tipe Properti
Apartemen
---
Mengakomodasi
6
---
Kamar tidur
Gdańsk, pomorskie, Polandia
Comfortable apartment (approx. 50 m2), 2 rooms, 1st floor, furnished and equipped, fully functional kitchen, beddings, TV, internet WIFI, etc. 2  beds (2 +2, or with extra bed 2 +2 +1). The bathroom has a bath / shower, hair dryer.
Our apartment is situated in the very heart of the Old Town, just 100 m from the historic Great Crane and picturesque harbor, and 200 m from the Long Market and St. Mary's church.
The apartment is in a prime location, close to center of Gdansk. There's a little convenient store just down the street. Pictures in the listing are accurate. The apartment was clean and check in was smooth. Pawel arranged for a driver to collect us from the airport. He even provided a bottle of wine.
Hasina
2016-05-15T00:00:00Z
Dla nas super
Norbert i Dorota
2016-10-18T00:00:00Z
tout était parfait, rien à redire.Logement très bien décrit , pas de surprises, encore merci
jan nicolas
2015-04-11T00:00:00Z
Sentralt, flott leilighet, ryddig og rent, og ikke minst en vert som er på tilbudssiden og profesjonell!
Trine
2016-10-28T00:00:00Z
Der Aufenthalt in Gdansk war sehr gelungen, welches zum Teil auch an der Unterkunft von Pawel lag. Die Unterkunft ist wie beschrieben-sauber und in gutem Zustand. Meiner Meinung nach besticht das Apartment besonders durch die zentrale Lage. Neben der Schlüsselübergabe war Pawel auch Ansprechpartner für alle Anliegen und stets ereichbar. Für den angebotenen Preis würde ich es stets wieder buchen.
Eduard
2016-01-05T00:00:00Z
Great location in the heart of the old town, near Moltawa. Apartment with fireplace. Pawel was very friendly.
Andrey
2015-03-30T00:00:00Z
The appartment is very well located in the old Town. Sightseeing, Bars and Restaurants are directly amount The corner. The appartment is nice and clean and the communication with Pawel was very easy.
Maria
2015-03-28T00:00:00Z
Pawel came to meet us late in the evening when we arrived, very kind, welcoming and friendly. Explained everything in the apartment, great fast wireless, clean, warm place, exceptional bathroom, but most of all quiet while being right smack in the heart of the very old heart of the city. Cannot find a better place in Gdansk!
barbara
2016-10-22T00:00:00Z
Tipe Kamar
Seluruh rumah/apartemen
---
Tipe Properti
Apartemen
---
Mengakomodasi
4
---
Kamar tidur
Gdansk, Pomeranian Voivodeship, Polandia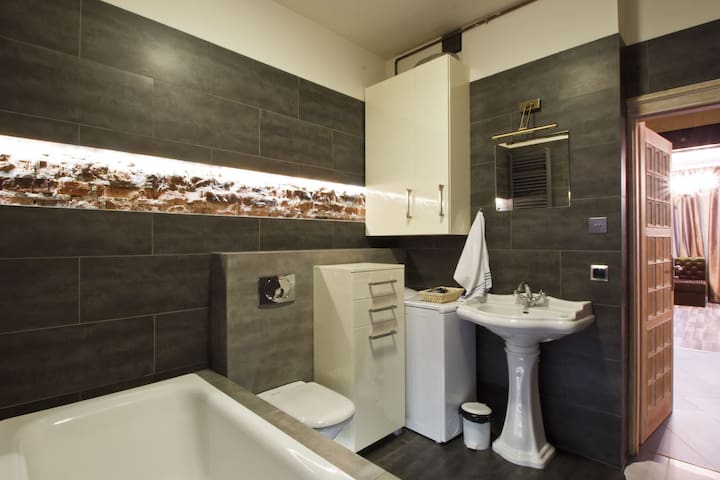 "Seventh heaven" You are looking for accommodation in the center of the old town with breathtaking views of the City Hall and St. Mary's Church, just 50 meters from Neptune Fountain. 4 floor without elevator!
Beautiful and quiet location in the center of Gdansk Old Town, full of monuments and charming places Close to restaurants and pub'ów, museums and other attractions.
The opportunity to visit the Old Town, take advantage of the offer of restaurants, clubs and museums. Distance from the sea / beach ok.25min. tram / 15 min. by car.
Polecam! Wszystko bardzo sprawnie i przyjaźnie - po przybyciu czekały na nas małe przekąski, przy wyjeździe nie było problemu, żeby zostać w mieszkaniu trochę dłużej (pociąg o godz. 17.00), Mieszkanie jasne, czyste, komfortowe, z dużą łazienką (zapas ręczników), wyposażonym aneksem kuchennym, wygodną szafą w przedpokoju, lokalizacja najlepsza z możliwych, widok z okna - marzenie.
Marta
2015-06-22T00:00:00Z
Wir haben uns sehr sehr wohl gefühlt in diesem schönen Appartement, ganz nah vom Zentrum Danzigs aber trotzdem ganz ruhig gelegen. Es war alles da, sehr ordentlich und sauber und Aleksandra hat uns sehr warmherzig willkommen geheißen. Sie hat uns auch sehr weitergeholfen mit allen Fragen die wir hatten. Wir würden sehr gerne wiederkommen, das Appartement ist so schön und absolut ideal gelegen für den Besuch dieser schönen Stadt. Man kann diese Unterkunft nur wärmstens empfehlen!
Antje
2015-09-05T00:00:00Z
We stayed in Aleksandra's beautifully kept apartment for one month. Not only was the apartment clean and cosy, but had everything we needed (including a washing machine, small fridge-freezer and reliable, fast WiFi). Above all we loved the view of the clock tower from the room, which looks even more beautiful in the evening when it is lit up. The location of the apartment is fantastic. The main attractions of Gdansk are right on your doorstep. Aleksandra was friendly and welcoming, as well as being available for any queries we had. We would definitely recommend this apartment to anybody wishing to have a pleasant stay in Gdansk. Thank you!
Erik and Laura
2015-04-17T00:00:00Z
Alexandra was very welcoming and told us how to find the appartment. The appartment was located in the middle of the centre with nice restaurants and bars. At night there is so much to do! The appartment was also very clean and had everything we needed. We enjoyed our stay very much!
Julia
2016-07-26T00:00:00Z
Fantastyczna gospodyni, otwarta i pomocna przy przyjeździe. Mieszkanie malutke, ale w pełni wyposażone, czyste, z rewelacyjnym widokiem na wieżę ratusza. Zdecydowanie polecam!
Aleksandra
2016-02-29T00:00:00Z
The stay in Aleksandra's apartment was just great. It is fancy furnished, clean and made with love. The apartment in the heart of the city with awesome bars and restaurants. Aleksandra is a great and helpful host. A 100% recommendation.
Julia
2014-07-22T00:00:00Z
Perfekt läge om man vill utforska staden. Lugnt läge. Fanns allt och vi blev väl omhändertagna
Christina
2017-01-10T00:00:00Z
The apartment is located in the very beautiful city centre of Gdansk. It's quite small but very cleaned and well equiped. The only negative comment is about the sofa bed: lines provided were too small for the bed and the matress was quite unconfortable.
Martine
2015-10-20T00:00:00Z
Tipe Kamar
Seluruh rumah/apartemen
---
Tipe Properti
Apartemen
---
Mengakomodasi
2
---
Kamar tidur
Gdańsk, Pomorskie, Polandia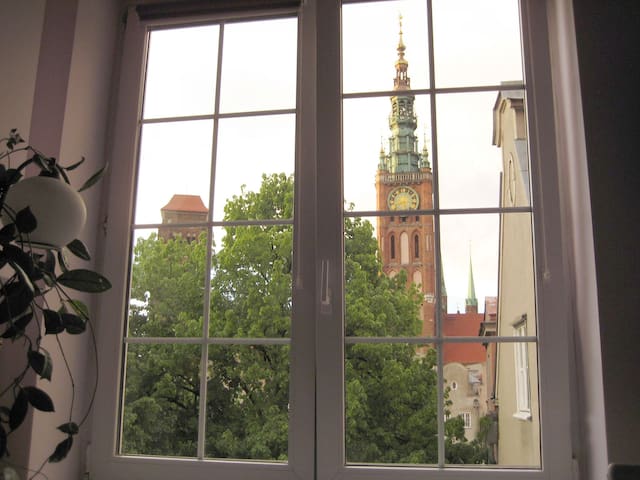 What I love about this offer is the central location of the Apartment, the standard and free use of swimming pool, sauna and fitness. Welcome home!
Waterlane to Apartament, który ma 50m2 i jest usytuowany na 4 piętrze luksusowego kompleksu Waterlane ulokowanego przy marinie. Goście mogą bezpłatnie korzystać z basenu (28 stopni celsjusza), dwóch saun, wanny z hydromasażem (33 stopnie celsjusza) i strefy fitness. W słonecznym salonie stoi rozkładana kanapa (po rozłożeniu ma 140 cm szerokości). W Apartamencie jest również w pełni wyposażony aneks kuchenny i przestrzeń jadalna z miejscem dla 4 osób. W oddzielnej sypialni stoi łóżko o szerokości 160 cm. W Apartamencie jest również łazienka z prysznicem. Ambra Waterlane to nowoczesne i ciche miejsce położone w samym sercu Starego Miasta. Po pobycie w naszym Apartamencie zostają piękne wspomnienia i chęć powrotu tu przy następnej wizycie w Trójmieście. LOKALIZACJA : Apartament znajduje się przy rzece Motlawa, 400m od ulicy Długiej. Dworzec Główny oddalony jest o 1.5 km. W pobliżu znajdują się sklepy, restauracje, muzea i inne atrakcje. Okolica zachęca do zwiedzania i spacerów. Bez problemu dostrą Państwo stąd do Sopotu i Gdyni. Pościel, ręczniki, kosmetyki - zapewniamy na miejscu!
Beautiful place right across downtown! Nice wellness area. Parking will be arranged if necessary.
David
2015-10-24T00:00:00Z
The time in gdansk was wunderfull. Malgorzata is nice and helpful hostess. The apartment ist fantastic. You need only five minutes to the Old town. Everything was clean an well prepared. Thank you for the great vacation!!!
Caroline
2013-08-27T00:00:00Z
Perfect apartment! Excellent location and facilities. It was very clean and had everything we needed. Great host, everything was exactly as pictured. I will definitely stay there again
Ian
2015-12-08T00:00:00Z
Super miejsce. Aż nie chciało sie wyjeżdża.. Bardzo przytulnie :)
Klaudia
2016-03-09T00:00:00Z
From the location to the amenities, Malgorzata's place is ideal for any type of trip youre hoping to have in Gdansk. The apartment is clean and well lit, it's very easy to feel right at home from the get go. Check in is very easy, and no building attendants bothered us. You are only steps away from the bridge to connect you to old town Gdansk, and a short uber ride from the Solidarity Movement museum(highly recommend!) the pool and spa get less crowded around 10pm. There is only cardio machines if you are interesting in the fitness center, no weights. Malgorzata was extremely thorough and quick to respond, I did not meet her but through messaging she made our group feel comfortable and taken care of, leaving us tea and coffees and very fluffy towels. The shower was a religious experience. Amazing experience and if I come back to Gdansk, i will not hesitate to book her place again!
Helina
2017-03-19T00:00:00Z
The place is as seen in the photos. Location is literally the heart of old town.you couldn't want more. Brilliant value for money. Cant recommend it enough! Apartment is quiet and has balcony overlooking the interior courtyard. Pool, steam room are fantastic and no issues with time. (Sauna was down for our trip) A few minor issues with some of the lights not working and note there isn't a oven just a microwave oven. But definitely worth staying here. You won't be disappointed. Communications were great (just needed a bit more info on getting through the apartment building .. but once you do it once it'd easy) and I love the easy check in system. Worked perfectly for us. We took a taxi to the local beach stogie which was stunning in the snow! And easy tram back. Thank you for the perfect accommodation!
Sarah
2017-02-07T00:00:00Z
Brilliant location, brilliant flat - exactly as described. Swimming pool was lovely and a welcome break for our children. Malgorzatas communication was superb. Cannot fault the experience. Highly recommended.
Claudia
2016-08-14T00:00:00Z
This has got to be the model Airbnb listing. Amazing modern apartment, right in the centre of town, nice pool, hot tub and sauna, and a great host!! Check in was easy, as was check out, any questions were answered immediately, couldn't be happier!!
George
2016-03-17T00:00:00Z
Tipe Kamar
Seluruh rumah/apartemen
---
Tipe Properti
Apartemen
---
Mengakomodasi
4
---
Kamar tidur
Gdansk, Pomeranian Voivodeship, Polandia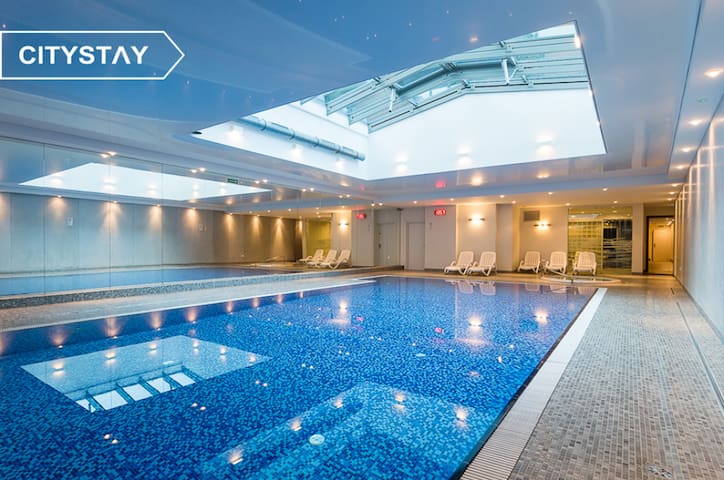 Chtěl bych Vás pozvat na mé světlé a slunný byt, který se nachází v samém srdci Starého Města v Gdaňsku. Zde najdete nejlepší turistické spoty v 5 minut chůze, takže budete mít vše potřebné tip na víkend nebo delší prohlídce Gdaňsku. Byt se skládá z jednoho velkého prostoru (42 metrů čtverečních), který je ideální pro páry i pro jednotlivce: - Obývací pokoj s velkým pohodlné pohovkou a konferenčním stolkem - Plně vybavená kuchyň s velkým mrazákem, indukční varná deska, elektrická trouba, rychlovarná konvice, myčka nádobí, základní hrnce, příbory a nádobí a jídelní stůl se dvěma sedadly; - Ložnice s manželskou postelí a skříní - Koupelna s komfortním sprchovým koutem, umyvadlem, pračkou a velké skříně s policemi; čerstvé ručníky jsou v ceně Prosím, mějte na paměti, že Byt se nachází ve třetím patře bez výtahu v panelovém domě. Trhy se všemi dodávky jsou k dispozici jen mimo budovu, je možné parkovat v okolních oblastech. Nádraží, tramvaje jsou cca 15 min chůze, kde můžete snadno chytit vlak do dalších zajímavých míst v 3City (Gdansk-Sopot-Gdynia). brzy se uvidíme!
Beautiful apartment, excellent safe location. Wonderful view of the Old Town Clock Tower. Will come back. Amazing experience. Thank you!
David
2016-08-24T00:00:00Z
Marcelina's accomodation is amazing. It's exactly how it looks in the photos. It's also immaculate inside and very clean. The location is perfect and we would have stayed longer but she was booked up. One night we stayed in and cooked but restaurants are 1 minute away. It was our first time in Gdansk and having this apartment felt like home from home but luxury as well. So if you're lucky to find it is available then definitely book it!!
Samantha
2016-11-11T00:00:00Z
Umówiliśmy się z Marceliną w jej mieszkaniu ale ponieważ nasz lot był opóźniony, Marcelina zaproponowała, że przyjedzie po nas na lotnisko autem. I tak się stało :). Było to pierwsze miłe zaskoczenie. Drugim było mieszkanie. Bardzo stylowe a przy tym przytulne. Zakochałam się w tym mieszkanku, naprawdę :)! Trzecim miłym zaskoczeniem było to, że Marcelina zostawiła nam śniadanie! Powinnam też wspomnieć o tych wszystkich małych i nie niezbędnych ale przydatnych w niektórych sytuacjach rzeczach typu waciki, patyczki kosmetyczne, podpaski, serwetki itd. Marcelino, bardzo serdecznie dziękujemy raz jeszcze! Wrócimy do Ciebie na 100 % :)
Agnieszka
2016-11-13T00:00:00Z
Very comfortable accommodation in a central location. Our highlights include the Solidarnosc museum, the hot chocolates with cherry vodka at various cafes and favourite places to eat include Jacobsens, Bistro Familia and Mandu.
Janice
2017-01-29T00:00:00Z
This stay was amazing! The apartment was beautiful and I wish I could have eaten breakfast at the breakfast table everyday. The location was perfect. If we were to be back in Gdansk at a later time we would definitely like to stay here again.
Amanda
2017-02-17T00:00:00Z
Marcelina to bardzo ciepla, przyjazna dziewczyna. Mieszkanie tak piekne jak na zdjeciach, polozone w samym sercu Gdanska, czyste i ciche. Jestesmy baaardzo zadowoleni ze spedzonego w nim czasu:)
Ewa
2017-01-09T00:00:00Z
Right in the heart of Gdansk, extremely well decorated, clean and comfortable. This apartment is exactly how it looks like in the pictures. It has everything you may need and is within walking distance to the main spots like Gdansk Glowny Station or the main streets of Gdansk. It was a pleasure coming back everyday to Marcelina's place. We would come back for sure.
Maria
2016-12-10T00:00:00Z
The place is exactly as described and shown in the pictures: bright, clean, modern, cozy. It's very well located (within two-minute walk to the medieval crane, five-minute walk to the old town main thoroughfare) and is surrounded by all amenities, such as convenience stores, restaurants, drugstores etc. As for the hostess Marcelina, well, I've had good Airbnb experiences before but she was something else. She made us feel like we were meeting an old friend. Enough said. We've already recommended her place to friends and relatives and we'd definitely go back if we ever decide to revisit Gdansk - one of the most incredible cities I've been in my life.
Paulo
2017-01-03T00:00:00Z
Tipe Kamar
Seluruh rumah/apartemen
---
Tipe Properti
Apartemen
---
Mengakomodasi
2
---
Kamar tidur
Gdańsk, pomorskie, Polandia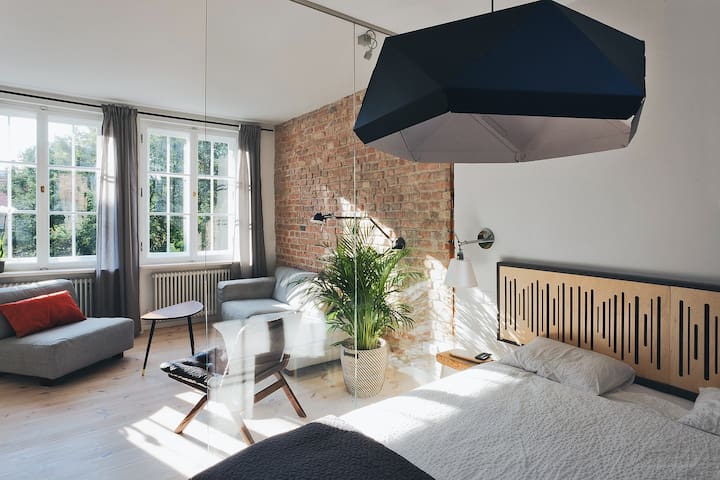 1

–

18

dari

300+ Sewa Tempat
Masukkan tanggal untuk melihat harga lengkap. Biaya tambahan berlaku. Mungkin dikenakan pajak.