Nový byt u Středozemního moře. Luxus, kvalita, nádherné pohledy z libovolného místa v domě. Kola zdarma pro všechny naše hosty. To má 2 dvoulůžkové ložnice se šatnou, 2 koupelny, obývacího pokoje s vybaveným kuchyňským koutem. Je situován v obytné oblasti s supermarkety, autobusová zastávka, pekařství, lékárna, restaurací, kaváren. V bytě je Wi-Fi, klimatizace, plazmová TV, parkoviště. Je ideální pro pár nebo rodinu s dvěma dětmi. V bytě je 15 minut jízdy od města
Úžasný výhled z libovolného místa v domě. Můžete vidět východ slunce z postele, nebo na západ slunce z terasy. Full Moon večery jsou úžasné od bytu. Můžete to vidět na moře.
Byt se nachází v jedné z nejlepších plážových místech Valencie. Má opravdu blízko autobusové zastávky, supermarkety, prodejna zelinářství, lékárna, módní restaurace, kavárny, posilovny .......
We had a pleasant stay in this big apartment. Everything was new and very clean. The views are stunning so if you like the beach you certainly have to book this apartment!
Sasja
2016-12-15T00:00:00Z
Это было потрясающе. Мы благодарны и надеемся еще раз вернуться в роскошные белые апартаменты и гостеприимную Валенсию. Фотографии только слегка передают все удобства. Мы были удивлены чистотой квартиры, блеском и наполированностью всех предметов. В огромных понорамных окнах до пола меняется цвет моря. Пляж на расстоянии вытянутой руки, мелкий белый песочек и теплое море. На пляже бар с коктейлями, шезлонги, вокруг много ресторанов куда приезжают валенсийцы отведать испанские деликатесы. Супермаркет и остановка автобуса в 100 метрах. Квартира расположена в пригороде Валенсии, в пляжной зоне, но это не мешает открыть удивительный город во время сиесты. Кухня оборудована на самый взыскательный вкус, мы наслаждались дрмашними приготовлениями ужинов из самых натуральных продуктов. Ужинать можно как на террасе с видом на море, так и во дворике. Для нас заботливо приготовили мягкие полотенца, все для пляжа, зубные щетки, фрукты, воду и еще много приятных мелочей. Мы очень благодарны синьоре Кристине и всей ее семье, вместе встретили нас как самых уважаемых гостей!
Vlad
2016-08-01T00:00:00Z
We had a wonderful stay. The apartment is in ancredible location with amazing views. The beach is wonderful, there are many nice restaurants and cafes along with a great market in the neighborhood. only 10 minute taxi to the city center, and about 20 to the airports. Wonderful place, kind host, highly recommended.
David
2016-10-23T00:00:00Z
Unseren Aufenthalt in Valencia war ein absoluter Volltreffer! Liebe Cristina, es war so wunderbar in deinem Apartment. Es war alles tadellos sauber, nichts hat gefehlt, die Wohnung war genau wie sie beschrieben und abgebildet war. Wegen meiner Glutenintoleranz hat Cristina mir Brot organisiert (wir sind am Sonntag gelandet), es waren Früchte da und Getränke. Wir wurden so herzlich empfangen. Die Umgebung ist sicher, der Strand sehr sauber. Wir haben die Bikes, die uns Cristina zur Verfügung gestellt hat gut brauchen können. Von der Wohnung aus haben wir alle Sehenswürdigkeiten, die wir anschauen und erleben wollten mit den Bikes gut erreicht. Die Altstadt, der Port America's Cup, Ciutat de les Arts, Gulliver Park... In Valencia hat es gut ausgebaute Velowege, und sich in der Huerta mit dem Bike fortzubewegen ist ein absoluter Genuss. Cristina hat uns mit Kartenmaterial und Restaurantempfehlungen ausgestattet. Danke für alles!
Katharina
2016-10-14T00:00:00Z
Sensational! Everything was perfect. We were warmly greeted on our arrival by Cristina. Cristina personally escorted us to our parking spot, then to the apartment. The apartment block is brand new and Cristina'a apartment is the best in the block. Offering million dollar views from every room, luxuary fitting and fixtures, comfy beds and designer furnishing. After Cristina left we sat out on the deck with a cold beer and enjoyed the views (thanks for the beers, they were perfect). We didn't want our stay in your apartment to ever end! Our main reason for visiting the area was to explore Valencia, however we didn't leave the area and never made it to Valencia. Alboraia is magical and has so much to offer including pristine beaches, cafes, restaurants, playgrounds for the children and an esplanade stretching for kilometres along the beach to the harbour, perfect for a stroll. The apartment is extremely safe and the door man is always about offering advise, providing maps and a warm welcome every time you arrive home. Thank you Cristine for sharing your sensational home with us, we will treasure our memories in Alboraia forever xox
Karen
2016-07-07T00:00:00Z
La casa excepcional, en muchos hoteles pagas más por menos.
santiago
2016-10-02T00:00:00Z
Appartement magnifique et bien placé, parfait pour les sportifs( des vélos sont à dispositions,parcours sportif sur la plage etc...) et les contemplatifs de beaux paysages vu imprenable sur la mer . Accueil chaleureux et tout est mis à disposition à notre arrivée : corbeille de fruits, frigo garni et des petites attentions de ci de là. Nous reviendrons.
Jose
2016-11-06T00:00:00Z
Es un excelente apartamento, cómodo, luminoso y muy bien equipado. Su ubicación es perfecta, con unas vistas inmejorables... Cristina ha sido una anfitriona genial. Volveremos!!!
YAN
2016-12-11T00:00:00Z
Tipe Kamar
Seluruh rumah/apartemen
---
Tipe Properti
Apartemen
---
Mengakomodasi
4
---
Kamar tidur
Alboraia, Comunidad Valenciana, Spanyol
Reforma a estrenar de apartamento a 500met de la playa (URL HIDDEN) alquila días o semanas .2 habit + 2 baños totalmente equipado . Wifi
Lorena's apartment is quite nice and relatively close to the beach. We had great communication, although we didn't actually met her. There is a supermarket near by and it is free to park on the street, although it is not always easy to find a free place. The apartment is spacious and modernly furnished. As we visited on Christmas it was not that warm during the night and there were 2 heaters for the bedrooms, which warmed them well, but the living room remained cool. There is WiFi which was quite useful. We missed not having a balcony but it was not a problem. We recommend it.
Martin
2016-12-27T00:00:00Z
Nice stay, clean apartment!
John
2017-03-04T00:00:00Z
El apartamento es fresco, moderno y cómodo, justo como se ve en las fotos! :)
Ana
2017-01-06T00:00:00Z
La casa está fenomenal. Completamente reformada y mucho mas bonita que en foto :) Lorena es una persona muy amable y super disponible. Muchas gracias Lorena!
Virginia
2017-02-26T00:00:00Z
Lorena's apartment was very well kept and spacious. She was very quick to respond to my questions and flexible about times for check-in and check-out. The location was about a block from the beach but was not a walkable distance from the city and the area felt a bit unsafe at night. However, perfect spot if you're looking to be near the beach. Overall she was a great host.
Maggie
2017-03-07T00:00:00Z
Apartamento muy limpio y bien equipado. Cerca del transporte publico. Nos hemos sentido como en casa y Lorena super atents en todo y respetando nuestra intimidad. Volveria sin duda!!
Eli
2017-03-19T00:00:00Z
Alles super.
Eduardo
2017-01-26T00:00:00Z
This apartment was amazing, perfect to cook (and make smoothies). Everything was clean so we can´t find anything bad. The apartment is round about 350 m away from the beach so you can easy walk to. The only thing we´ve got to fault is the area near the apartment. In my opinoin it´s not the savest area in the evening but it´s ok and we can imagine to book the apartment again. Lorená was very friendly and helped us in every way. We´re so thankful to Lorená for beeing so nice to us. If you need a great place to stay in Valencia this it is. It was a pleasure to be your guests Lorená and if we need a place to sleep in Valencia we will come back to you :) Best regards from Germany Steffi & Benni
Benjamin
2016-05-07T00:00:00Z
Tipe Kamar
Seluruh rumah/apartemen
---
Tipe Properti
Apartemen
---
Mengakomodasi
4
---
Kamar tidur
València, Comunidad Valenciana, Spanyol
Valencia Beach, Residential area, supermarkets, pharmacies, banks, restaurants. Rental bikes. Sports center, indoor pool, paddle tennis courts. sea to the port of Valencia, nice atmosphere, restaurants, ice cream parlors, and breweries ride. .
-the apartment is located less than 3 minutes from the beach, seen from the house, in which you can acquire the services of sunbeds, kiosks with refreshments and ice cream. I facilitate an umbrella.
New residential area near the sea in the city of Valencia. quiet, with all amenities such as bars, restaurants, supermarkets, banks etc. We enjoyed a pleasant promenade which stretches to the seaport of the capital, about 4 km., With pubs, ice cream shops, live music, restaurants, etc.
Rakel очень гостеприимная, добрая и отзывчивая! Она встретила нас как близких родственников. Она была готова поделиться всем. Совсем рядом находится очень хороший пляж. Квартира полностью совпадает с фотографиями. Rakel огромное спасибо тебе!
Yaroslav
2016-07-13T00:00:00Z
It was the best place we've ever been in Spain... We really do recommend RAkel's house and she. We felt like at home for real... We hope we'll manage to come back to this place.... Arek & Asia
Arek
2016-09-06T00:00:00Z
Fantastic host! she speaks very little english but that was never a problem. The place was fantastic literally 2 mins from the beach . Many restaurants, shops and bus stops nearby for the city centre. Rachel has been a great host and felt home. Would visit again.
Siddique
2017-02-26T00:00:00Z
Rakel is such a nice lady. She helps you where she can and she lives in a really nice place. Would definitely go back to her place if I'm in Valencia again :)
Charmaine
2016-08-06T00:00:00Z
Una experiencia excelente. La zona es tranquila y agradable para poder desconectar. Y Rakel, no tengo palabras........cercana, simpática, te facilita todo lo que está en su mano.........yo, la verdad, repetiré. Gracias por todo Rakel. Un besazo
Rebeca
2016-09-12T00:00:00Z
Pasamos unos días perfectos en casa de Rakel. Playa, descanso y turismo. Nos sentimos verdaderamente como en casa.
Secre
2016-07-07T00:00:00Z
Appartement parfait ! Rakel etait très prévenante et tres Sympa ! L'appartement est a 2 minutes de la grande plage de sable fin avec plein de restos pour prendre le petit déjeuner en terrasse face au soleil ! le pied surtout mi novembre !. Merci rakel ! ne changez rien ! tout est parfait ! Anny
anny
2016-11-13T00:00:00Z
Rakel è stata un'ospite eccezionale, cortese e disponibile ad aiutarci in tutto. Ci ha fatto sentire parte della sua vita. L'appartamento è a due passi dal mare, bar, ristoranti, supermercato.. Diversi bus per il centro passano sotto casa.
Alessandra
2016-11-20T00:00:00Z
Tipe Kamar
Kamar pribadi
---
Tipe Properti
Apartemen
---
Mengakomodasi
2
---
Kamar tidur
Valencia, Valencian Community, Spanyol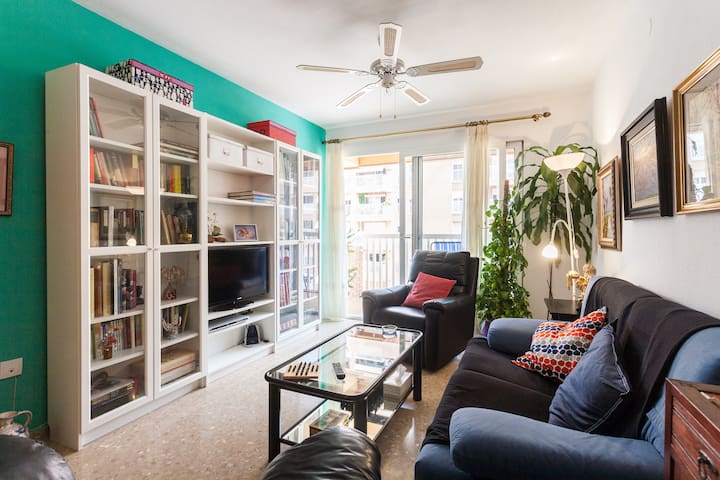 Große Wohnung mit zwei Schlafzimmern. Sehr geeignet für 4 Personen oder eine Familie. Aber maximal ist für 6 Personen geeignet. Verfügt über einen eigenen Parkplatz
Es un apartamento totalmente reformado y muy confortable.
Mónica
2017-04-12T00:00:00Z
Tipe Kamar
Seluruh rumah/apartemen
---
Tipe Properti
Apartemen
---
Mengakomodasi
4
---
Kamar tidur
Port Sa Platja, Comunidad Valenciana, Spanyol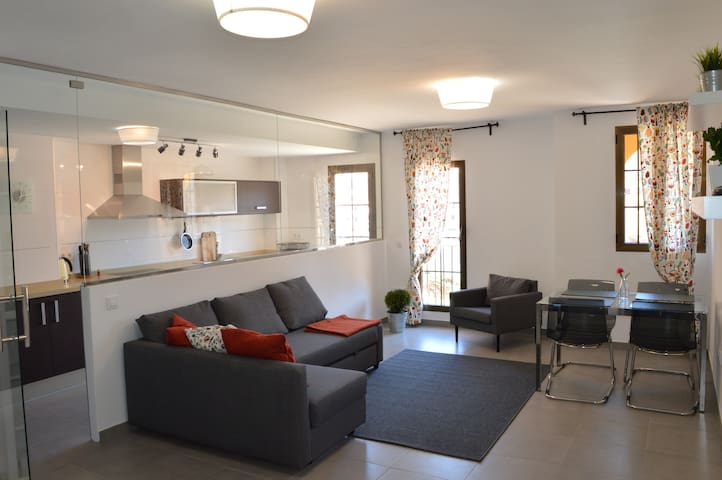 This loft in front of the sea, located in Portsaplaya, 15 minutes from the city center, has beautiful views: it overlooks the beaches of Valencia. It has two independent bedrooms one in each floor, one balcony and one terrace to enjoy the sunbeams all year through.
Its priviledged location allows the traveller to rest under the sun or prepare a romantic dinner looking out over the valencian beaches, from Portsaplaya to the port of Valencia. The apartment has a dúplex-room with private toilet and terrace.
Portsaplaya is an exceptional place belonging to the area of Alboraya. Its beaches offer the tranquility and summery light that every traveller desires all year long. Walks are very attractive due to the special location, the old fisherman-houses, the unique chapel of els Peixets, the mouth of the channel of Alboraya betwee the beaches of Patacona and Portsaplaya, etc.
Está bien
Koby
2016-11-14T00:00:00Z
RECOMIENDO TOTALMENTE ESTE APARTAMENTO SITUADO A ESCASOS METROS DEL MAR Y DONDE DA EL SOL TODO EL DIA, TIENES UN SUPERMERCADO DEBAJO Y VALENCIA A 3 MINUTOS EN COCHE. VICENTE Y SU CHUCA SON GENTE MUY AMABLE Y OS ATENDERAN DE MARAVILLA!! AAA+
Alberto y Esther
2014-01-07T00:00:00Z
Vincente è stato preciso e gentile. La casa corrisponde all'annuncio ed è luminosa e accogliente. Il quartiere è molto particolare si tratta di edifici costruiti intorno al porto. E' molto comodo alla città pur permettendo di stare sul mare. Unica nota il rumore del traffico.
Monica
2015-08-23T00:00:00Z
Relación calidad-precio inmejorable, al lado de la playa y muy cerquita de Valencia. El apartamento está totalmente equipado, ha sido como estar en casa. Gracias Vicente!!!
Lorena
2014-01-21T00:00:00Z
Nice location with great view . Good communication with the host . The place was as described in the listing.
Dirk
2015-08-26T00:00:00Z
Apenas pude apreciarlo, ya que estuvimos la mayor parte del tiempo fuera, dado que nos hizo muy buen tiempo.
Enrique D.
2015-12-10T00:00:00Z
Ubicacion excelente, y Vicente muy agradable! MUY RECOMENDABLE!
Yann
2015-03-09T00:00:00Z
Excelente!
Kyrie
2014-09-01T00:00:00Z
Tipe Kamar
Seluruh rumah/apartemen
---
Tipe Properti
Apartemen
---
Mengakomodasi
4
---
Kamar tidur
Port Saplaya, Valencian Community, Spanyol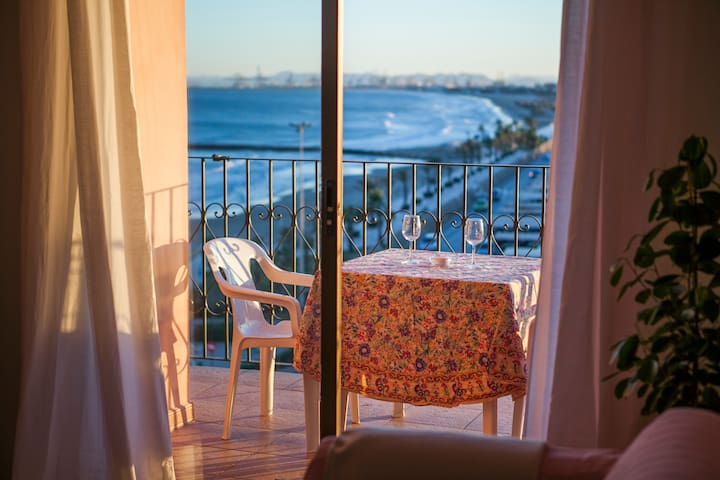 Attractions: incredible views, parks, restaurants and food. You'll love my place because of the location, views, and welcoming space. My accommodation is good for couples, adventurers and business travelers.
The property is situated in a residential area, 4 km from Valencia. The apartment is a duplex penthouse. The room is on the top with access to a large terrace with barbecue.
The neighborhood is known as Little Venice. With boats and canals. Ideal for walks.
La ubicación era perfecta!! También la casa era muy limpia y Francisco es muy simpático :) Y la habitación tiene una vista noctruna maravillosa!
Sohyun
2017-03-11T00:00:00Z
La estancia se ha adaptado perfectamente a nuestras necesidades, es tal y como sale en las fotografías, la terraza es muy amplia y tiene buenas vistas y comunica directamente con la habitación, playa a 3 pasos, y con Francisco buen trato ha sido muy amable.
Diego
2016-08-19T00:00:00Z
Francisco ha sido un anfitrión estupendo, siempre disponible para consultarle cualquier cosa, educado y discreto. La casa estaba muy limpia y en buenas condiciones.
Irene
2017-03-19T00:00:00Z
Todo perfecto, un sitio idoneo para ir en pareja. Muchas gracias por todo Francisco,
Almudena
2016-08-28T00:00:00Z
Mi experiencia ha sido estupenda, le trató muy agradable, el sitio perfecto y la habitación muy bien, en general todo muy positivo.
Emilio
2016-09-25T00:00:00Z
Was a perfect stoping place. Apartment was in a charming location right on the water. Easy parking and great food!! Room was perfect! Private balcony and bathroom! Clean and cozy! Wish we could have stayed longer! Host was very nice and helpful!
Jo
2016-09-15T00:00:00Z
Francisco es muy agradable y dispuesto a ayudar. La habitación es estupenda y la terraza es preciosa y fresquita. La zona es preciosa y tranquila. La playa y la piscina de comunidad a dos pasos. La piscina municipal con bar paellas por encargo y tapitas. Tumbonas gratuitas y camas de alquiler. Ambiente ameno y agradable. Muchos bares cerca de muchos estilos (unos estupendo al lado de la casa la taberna del mar arroces y comida riquísima,aunque los fines de semana hay que ir con tiempo y mejor con reserva) En general una estancia estupenda por la localización y la gente. Muy recomendable. Si nos surge la oportunidad volveríamos sin dudarlo. Muchísimas gracias por abrirnos sus puertas hemos estado genial.
Isa
2016-08-22T00:00:00Z
Tipe Kamar
Kamar pribadi
---
Tipe Properti
Apartemen
---
Mengakomodasi
2
---
Kamar tidur
Port Sa Platja, Valencian Community, Spanyol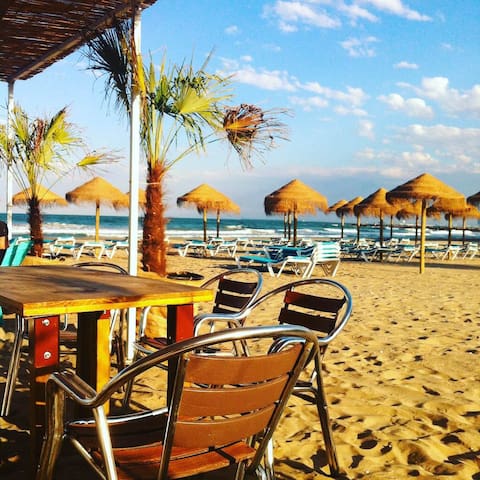 Byt v těsné blízkosti pláže s krásným výhledem na moře. Port Saplaya byla rybářská vesnice s názvem "malé Benátky" s krásným mola, ze kterého malé lodě bob nahoru a dolů v klidných vodách. Byt je ideální pro páry a rodiny. můžete vstávat časně vidět krásný východ slunce nad mořem, chodit na pláži písek, poslouchat zvuk moře a cítí svou vítr ... můžete jíst dobré paellu s masem nebo mořské plody. Valencia je blízko, 4 km
Relaxovat, užívat s názory, pláž velmi zavřeno ...
Obytný prostor, velmi klidné a rodina. Ideální pro odpojení od rutiny a užít si scenérie a moře.
Bello lugar para unas buenas vacaciones ,la anfitriona una belleza de persona ,recomendable al cien por ciento
Antonio E
2017-03-20T00:00:00Z
Belen was prompt in contacting me and she helped us check in easily. The listing is located right in front of a beautiful beach where you can see the sunrise. The place is huge, which is perfect for our family trip, only it is a bit away from the city but it wasn't a problem for us since we rented a car. Trying to find parking was a bit hard though since it is shared open parking.
Nurul Liyana
2016-12-27T00:00:00Z
Hemos estado muy agusto, unas vistas espectaculares, la casa genial. Belen y su marido encantadores.
Maria Consuelo
2017-03-26T00:00:00Z
Hemos pasado unos días maravillosos en casa de Belén. La zona es preciosa y la casa de Belén está genial. Además de amplia y tener de todo para hacer la estancia super agradable se encuentra situada en una situación privilegiada en primera linea de playa y con la terraza orientada a la salida del sol. Los amaneceres desde la terraza son preciosos. Agradecerte también la flexibilidad horaria que tuviste tanto en la entrada como en la salida y las recomendaciones sobre los sitios donde ir. Repetiremos. Muchas gracias Belén.
DANIEL
2016-12-11T00:00:00Z
Tipe Kamar
Seluruh rumah/apartemen
---
Tipe Properti
Apartemen
---
Mengakomodasi
6
---
Kamar tidur
Port Sa Platja, Comunidad Valenciana, Spanyol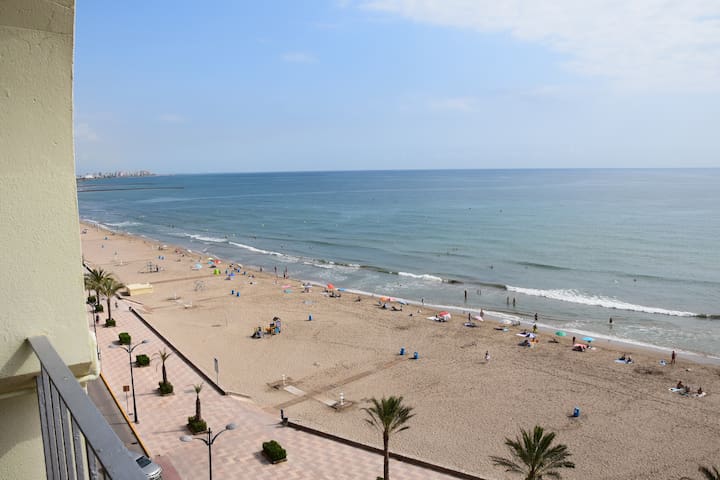 The apartment is located on the first line of the beach. It is located in a complex of apartments equipped with swimming pool, supermarket, kiosk, bakery, restaurant, ice cream parlor, concierge 24/7, has smart tv, wifi, osmosis water.
The location of the complex "tourist apartments" is key to achieving full enjoyment of your holidays or days off, located in the south enjoying plenty of light and views wing beach, the promenade and the ypuerto lighthouse Valencia side which is noche.disfrutaras very attractive for both inside and outside the apartment without forgetting that you have a community pool at your disposal for use and enjoyment of our guests. We will be waiting for the day of your arrival.
It is a quiet and safe residential and resort area, Valencia has one of the best climates in Spain, you can come in any month of the year. Valencia and Alboraya Patacona not disappoint you away from these want to return soon.
Nice hosts and nice apartment
Domingo
2016-12-02T00:00:00Z
Nelson and Pepi are great hosts! Hospitable and thoughtful. The apartment is very clean and exceptionally well equipped. Very secure. You can find anything you need for a good vacation. You do not need to worry about beach umbrellas/seats/towels everything is provided by the owners. Wifi works very well. Nelson even left us a cell phone to facilitate communication. Children loved the pool, though, personally I, prefer the sea, which is really close to the apartment (the promenade and the beach are just across the road). You have a small shop to buy food inside the building, a reasonably priced restaurant, which provides take away service and a very good ice-cream cafe. The majority of nearby restaurants have nice design and good food.
MARIA
2016-07-24T00:00:00Z
Todo tal y como se describe. El anfitrión muy amable y atento. El apartamento tiene todo lo que necesitas para pasar unos días cómodamente cerca de la playa. Nos hemos sentido como en casa.
Jenny
2016-10-09T00:00:00Z
El apartamento está muy bien equipado, con muchos extras, incluso botellas de vino en la nevera. Y si se necesitara algo diferente seguro que Nelson y su mujer lo consiguen. La limpieza es exquisita y todo resulta confortable y cómodo. Es amplio, la habitación con dos camas es la que resulta más reducida pero también es práctica. El baño está muy bien, es muy amplio. La ubicación es perfecta, enfrente de la playa y el paseo, un lugar precioso para pasear y hacer deporte. Tiene un autobús en la puerta del edificio y se puede aparcar bien la zona, al menos en octubre. En el mismo edificio hay una cafetería para desayunar.
Ana
2016-10-30T00:00:00Z
I had a warm reception from Pepi. The apartment is very well situated in la Patacona near the beach and the restaurants. I recommand it !!!
Brigitte
2017-02-13T00:00:00Z
La casa en sí, cómoda, bonita y práctica. Con todo lo necesario para hacer de tu estancia muy agradable. Una piscina grande. Incluso la infantil era enorme y con una temperatura ideal. La playa está cruzando la calle, a escasos 30 metros, si cabe. Aunque estuvimos ya a finales de agosto, la playa estaba poco concurrida y daba gusto. Respecto al anfitrión, tanto él como su mujer, encantadores y disponibles para cualquier cosa que necesites. Incluso pusieron a nuestra disposición una plaza de garaje para no tener que dar mil vueltas para poder aparcar. Recomendable 100%
Paloma
2016-09-03T00:00:00Z
Appartement très bien équipé (cuisine, affaires de plage, linge de toilette), très bien situé (à 1mn de la plage). Hôtes très gentils et très arrangeants sur les horaires. Je recommande cette appartement sans hésiteR.
Séverine
2016-10-17T00:00:00Z
MI hermana disfrutó de unos días más en el apartamento. Todo perfecto. Es un muy buen alojamiento y los anfitriones muy atentos.
Ana
2016-11-01T00:00:00Z
Tipe Kamar
Seluruh rumah/apartemen
---
Tipe Properti
Kondominium
---
Mengakomodasi
4
---
Kamar tidur
Alboraia, Comunidad Valenciana, Spanyol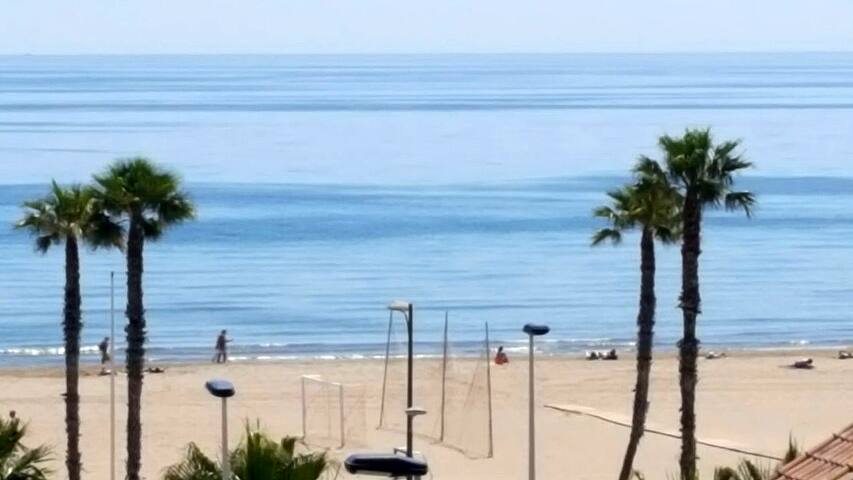 - Private room, modern furnished on the first floor of a beach mansion - 1 queen size bed, 1 couch and a private bathroom - Oceanview from your bed! - Direct bus to the city center in front of the house - Perfect location to enjoy the winter sun at the beach - Fully equipped kitchen, living room and chillout terrace - Free use of our washing machine - Free parking in front of the house
This house is amazing. Located directly beside the beach Malvarosa! It has everything: a huge living, fully and modern equipped kitchen, two chillout areas, parking and a great host ;) You will have a once in a life time experience in my mansion. Get ready and discover the wonderful city of Valencia during a weekend or a whole week!
The house is located directly beside the beach. Therefore, go swimming in the morning, after a coffeebreak or at night! Furthermore, you have many typical local Spanish restaurants and bars within walking distance to eat paella, seafood or tapas. Furthermore, there is a bus stop in front of the house. The bus brings you directly to the city center to Plaza de Ayuntamiento. There you have all main tourist attractions, shopping streets, cidade de las artes and much more.
Super Adresse! Kommen gerne wieder! 50 Meter Luftlinie zum Strand. Und wenn ihr etwas braucht, einfach nach chico fragen
Wilhelm
2016-08-20T00:00:00Z
Der Valencia Aufenthalt war super schön. Das Zimmer 1:1 wie auf den Bildern. Meerblick vom Zimmer aus und außerdem ein insgesamt sehr schönes Haus. Sehr sauber und ein geräumiges Zimmer mit eigenem Bad, Kleiderschrank und alles was man sonst so benötigt. Thomas war super sympathisch und freundlich. Würde ich immer wieder buchen und 100% weiterempfehlen.
Viktoria
2016-08-18T00:00:00Z
It was great staying at Thomas' place. The location is excellent if you are searching for a holiday at the beach. You just cross the street and you're there. The room is also very nice with seaside view and a private bathroom. There's multiple people staying in the house but everyone is chill and it's nice to meet some new people. I would recommend his place.
Jessie
2016-08-29T00:00:00Z
This place ticked the boxes for us, -near the beach (across the road in fact) and close to public transport and city centre (the bus stops outside the property). We swam and had a lazy breakfast in the morning and then went and saw the many beautiful sights of Valencia. Maria was particularly taken with the many beautiful shops and I enjoyed the architecture and people watching. Thomas and Chico are lovely hosts and the property is homely. The outdoor living area is a treat where you can chat to other guests as the mood takes you or hive off to your own space. We highly recommend this BnB to couples like ourselves.
Sam
2016-09-28T00:00:00Z
We took the lovely room overlooking the beach/ocean and stayed a week. We rented a car for day trips and were pleased there was always parking. The house was well Maintained. Lots of great restaurants and about 20 minutes or so to downtown or Old City Valencia. We had a wonderful stay and enjoyed getting to know our fellow guests, one a chef from Holland who cooked us all dinner one night! Thank you Thomas!
Kathy
2016-09-26T00:00:00Z
La casa está genial. Es tal y como se ve en las fotos, con la playa en frente!!! Además hay bastantes líneas de autobuses cerca para ir al centro. Pasamos unos días muy buenos en Valencia!
Cristina
2016-08-15T00:00:00Z
Thomas and Ana were great, friendly and welcoming hosts who did not fail to impress us with their listing. Right in front of the beach, with really easy access to the city by bus or tram. Awesome location, very relaxed, always something to do. The real hero however is Chico, who was the helper while Thomas and Ana were at work, or were busy. He made our stay great. He's a great guy who walked with us at 2 am to the clubs when we didn't know the directions, he helped us with everything we asked for when we needed it, and he even caught the bus with us and gave me his train cars to use for our trip to the airport. Even though he couldn't speak English, and my Spanish was really broken, he helped us the best he could. I'm glad to call him my friend, and I hope to see him again! Awesome stay in Valencia. I can't recommend highly enough to those looking for a relaxing, fun stay in Valencia.
Dillon
2016-09-03T00:00:00Z
Me and my girlfriend went for 5 days to Valencia in August. Thomas and Anna were really nice and the location was perfect for us. It almost felt like home.
Ludo
2016-08-07T00:00:00Z
Tipe Kamar
Kamar pribadi
---
Tipe Properti
Rumah
---
Mengakomodasi
2
---
Kamar tidur
València, Comunidad Valenciana, Spanyol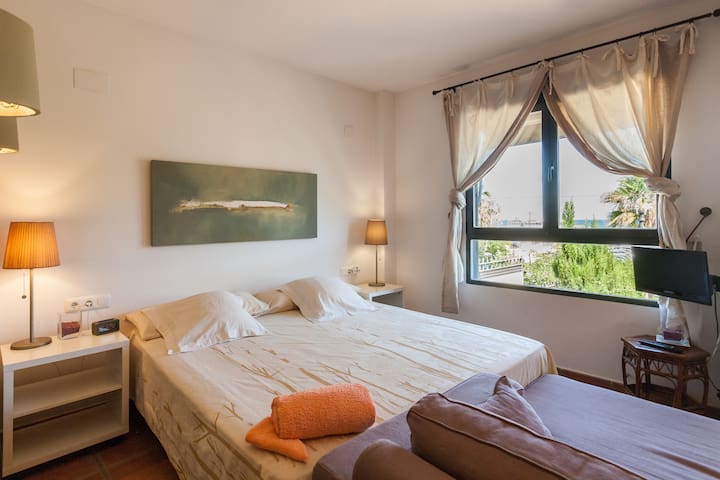 Precioso ático de diseño con terraza de 30m2. Dispone de 2 habitaciones (una de matrimonio y una individual), 2 baños y un sofá-cama en el comedor para 2 personas. La cocina dispone de todos los elementos básicos: frigorífico, lavadora, horno, lavavajillas, microondas y todo el menaje necesario. Tranquilo y acogedor. A cinco minutos de la playa. Zona con restaurantes, todos los servicios y bien comunicado. Incluye plaza de garaje.
Es un espacio ideal para disfrutar de Valencia, de la playa y descansar en una magnífica terraza de 30m2 rodeada de plantas y sol. El ático es amplio y muy acogedor, para sentirte como en casa!
La Malvarrosa es un barrio tranquilo, que dispone de todos los servicios. En la avenida de la Malvarrosa, en la calle paralela, se encuentra el supermercado de Mercadona y todo tipo de comercios. A cinco minutos del alojamiento se encuentra el paseo marítimo, la playa de arena fina y dorada y todo tipo de restaurantes y bares a primera línea de playa en los que degustar la horchata valenciana. La Patacona es la playa que sigue a la Malvarrosa hacia el norte y se encuentra muy cerca del ático. Es una zona muy tranquila y poco masificada, con agua muy limpia. Es perfecta para practicar deportes acuáticos. Hay muchos restaurantes y sitios de nivel como La más bonita, donde tomar un buen desayuno o merienda frente al mar, Spaguetti&Blues con su propia cerveza artesanal y pizzas muy ricas y otros sitios donde degustar la buena cocina mediterránea como Casa Patacona o Can Lucca. El templo de la paella valenciana lo podéis encontrar en Casa Carmela. Dispone de un amplio paseo marítimo que la comunica con la playa de la Malvarrosa para patinar y montar en bici. A 15 minutos a pie se encuentra el barrio del Cabanyal, antiguo barrio de pescadores y uno de los más pintorescos de la ciudad. Hay muchos negocios pequeños, donde se puede encontrar alimentos típicos de la zona, como la clochina valenciana (similar al mejillón). Dispone además de un teatro y un mercado bullicioso y de gran variedad de alimentos autóctonos de la huerta valenciana. Es un lugar a visitar y disfrutar de la Semana Santa Marinera, de interés turístico. Las Arenas es la playa del Cabanyal, al sur de la Malvarrosa y en la que se pueden encontrar infinidad de bares y restaurantes al final del paseo marítimo, en el que destacar El Balandret, La Pepica o La Marcelina donde disfrutar de un buen arroz. Recomendar La Marina Beach Club en el que tomar unas copas enfrente del mar sentado en unas camas balinesas o el restaurante Panorama situado sobre el mar. Al oeste del ático se encuentra la huerta valenciana para disfrutar de un buen paseo y en el que comer una buena paella a leña en la casa restaurante El Famós.
Helena nos ha atendido de 10, amable, atenta y ofreciéndonos siempre una solución. La casa está fenomenal, muy limpia, acogedora y muy espaciosa. La terraza es un gran acierto. Dispone de todo lo necesario para sentirte como en casa. La ubicación es el único pero que le ponemos. Si bien es cierto que esta a tres calles del paseo marítimo, la zona o barrio no nos ha gustado mucho. Lo recomendamos!
Victor
2017-04-12T00:00:00Z
La estancia ha sido estupenda, desde que contactamos con Helena hasta la salida, la experiencia ha sido como si estuviéramos en casa.La casa es incluso más bonita que en las fotos.Cerca de la playa y de transporte público.Para repetir y 100% recomendable
Jesus
2017-03-30T00:00:00Z
Tipe Kamar
Seluruh rumah/apartemen
---
Tipe Properti
Apartemen
---
Mengakomodasi
5
---
Kamar tidur
València, Comunidad Valenciana, Spanyol
El piso está a un pequeño paseo de la playa y al lado de la parada de tranvía que te conecta con el centro en 12 minutos. Uso de lavadora gratuito Sábanas y toallas incluidas Café, infusiones y productos básicos Plancha, secador de pelo y todo el menaje de cocina disponibles Limpieza frecuente de todas las zonas comunes
Hola y Bienvenidos :) Lo que ofrezco: - Alquilo amplia habitación para una persona (con una cama de 90cm). - Además de usar la habitación, está permitido el uso de la cocina, baño y comedor. Puedo facilitaros todos los útiles (platos, sartenes, ollas, etc.) que hacen falta para cocinar - Está permitido el uso de la lavadora sin cargo adicional Sobre el precio: - Una gran habitación cerca de la playa de la Malvarrosa a un precio inmejorable.
- La playa está a 500 metros de distancia. - Hay varios restaurantes situados en la misma calle así como supermercados a 5 minutos andando
For me it is the perfect place to stay in Valencia if you don't want to or can't afford to spend much money on your trip. You got a well-appointed kitchen here to cook and it's a short walk to the beach ! What else could you want?! Besides that you have really sweet and helping people to welcome you and inform you about anything you might need or want to know
Candy
2017-02-10T00:00:00Z
Agradable
Haydee
2016-04-29T00:00:00Z
Melissa war eine ganz tolle Gastgeberin! Sie hatte Informationen rund um Valencia bereitgestellt (Stadtplan, Umgebungsinfos, Touristenattraktionen, Infos zu öffentlichen Verkehrsmitteln etc.) und war jederzeit erreichbar für Fragen. Es gab es pro Zimmer ein eigenes Fach im Kühlschrank bzw. in den Küchenschränken und Grundnahrungsmittel wie Trinkwasser, Milch, Gewürze, Kekse etc. wurden kostenfrei zur Verfügung gestellt. Die auf Airbnb gemachten Angaben entsprachen voll und ganz den Tatsachen. Die Sauberkeit der gemeinschaftlich genutzten Räumen liegt nicht in der Verantwortlichkeit der Gastgeber sondern hängt von den jeweiligen "Mitbewohnern" ab und kann daher variieren. Ich war insgesamt sehr zufrieden und würde jederzeit wieder eine Unterkunft bei Melissa buchen!
Ariane
2016-09-04T00:00:00Z
Great experience it was flawless
Gohar
2016-07-10T00:00:00Z
Muy bueno! Todo ordenado y sobre todo limpio!
jonatan
2016-06-18T00:00:00Z
Guillermo und Irene waren tolle Gastgeber. Sie waren stets freundlich, aufgeschlossen und hilfsbereit und immer zu erreichen, wenn man Fragen hatte. Die An- und Abreise verlief problemlos und der Check-Out ist flexibel, was sehr praktisch ist. Die Unterkunft befindet sich in einem großen Wohnblock nicht weit vom Strand, den man fußläufig in 15 Gehminuten erreichen kann. Die Anbindungen zu öffentlichen Verkehrsmittel sind super ! Die Wohnung war stets aufgeräumt und wurde jeden Tag sauber gemacht. Wer Lust hat, sich mit weiteren Menschen eine Wohnung zu teilen und neue Leute aus aller Welt kennenlernen möchte, der ist hier genau richtig. Eine tolle Erfahrung !!!
Christina
2016-10-19T00:00:00Z
El apartamento es bonita y cercita de la playa Malvarrosa, que me gustaba muchísimo. Había desayuno gratis, y gel de ducha, champú. Les recomiendo mucho, y además es fácil caminar or tomar el metro/bus al centro, al Cabanyal, y otros barrios que son bonitas tambien.
Abida
2016-02-21T00:00:00Z
Brilliant apartment that is accurately described. The room is suitable for your stay in Valencia, although it is further away from the city. Guillermo is welcoming and everything you expect from a host. Overall a pleasant stay and highly recommended for someone who wants a simple yet efficient stay.
megan
2016-05-10T00:00:00Z
Tipe Kamar
Kamar pribadi
---
Tipe Properti
Apartemen
---
Mengakomodasi
1
---
Kamar tidur
València, Comunidad Valenciana, Spanyol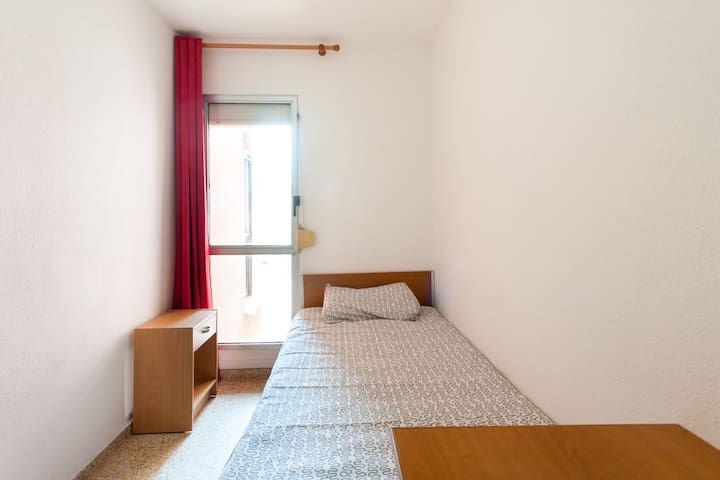 2 개의 침실과 2 개의 욕실로이 밝고 넓은 새 아파트를 즐길 수 있습니다. 플랫 (1 km 거리 만 해당) 발렌시아에 아주 가까운 도시입니다 알 보라 야에 위치해 있습니다. 해변은 3km 거리에 있으며, 지하철 역은 10 분에서 25 분에 공항에 발렌시아의 시내 중심으로 이동 3 분 거리에있다.
발렌시아 해변, 잘 지하철로 연결하고 주차하기 쉬운에 가까운 새 아파트입니다.
조용한 동네, 밤 동안 시끄러운 당신은 단지 2 분 거리 필요 eveyrthing 구입하는 대형 슈퍼마켓 없습니다.
Accueil très chaleureux par la maman de Javier (étant en congés). L'appartement est conforme aux photos, très bien agencé, beau, très spacieux, confortable, et fonctionnel. Il est bien placé pour faire les différentes visites (15 à 20 mn) de la cité des arts et sciences et de la plages en voiture.
Dominique
2016-08-16T00:00:00Z
Very nice house! отличная современная квартира. Все было чисто и убрано, Javier очень доброжелателен. фотографии отражают реальность. рекомендую.
Danila
2016-09-07T00:00:00Z
Das Appartement hat eine tolle Aufteilung: ein Schlafzimmer mit dazugehörigem Badezimmer, (Whirlpool in der Badewanne) und kleinen Flur mit Einbauschrank. Diesen Bereich kann man durch eine Tür abtrennen, so dass man nach hinten heraus ungestört ist. Im vorderen Bereich ist ein weiteres Schlafzimmer mit Badezimmer, welches neben dem Wohnzimmer liegt. Die offene Küche ist super. Alles in allem sehr zu empfehlen, relativ nah zum Strand und auch nah zur nächsten Metrostation. Es sind nur 6 Stationen bis zur Altstadt. In unmittelbarer Nähe ist eine großes Lebensmittelgeschäft, das lange offen hat. Ganz prima und easy.
Babette
2015-08-25T00:00:00Z
房子很好干净整洁,唯一不太好的就是同时开暖气和厨房的炉子就容易跳闸
宇
2016-12-09T00:00:00Z
Javier was very welcoming, Our GPS decided to take us to another house, so when we finally arrived Javier was out the front welcoming us. The apartment is lovely and modern, with beautiful bathrooms, kitchen and comfortable beds. The location is great, 10 minutes in to the city on the metro which is an easy 3 minute walk from the apartment. Definitely recommended if you want to stay close to the city in Valencia, but also have nice quiet accommodation.
Nathan
2015-10-26T00:00:00Z
Soggiorno magnifico! Javier è stato disponibile e gentile, corretto e molto paziente. L'appartamento è magnifico! Spazioso ordinato pulito e arredato con gusto. La cucina con tutti gli elettrodomestici moderni e funzionali la sala molto bella, le camere da letto davvero comode, la vasca e la doccia con idromassaggio sono state il top! Inoltre la posizione è tranquilla e la gente molto cordiale. Valencia è una città meravigliosa e la nostra vacanza, grazie al fantastico Javier, è stata favolosa! Consigliato!
Antonio
2016-08-09T00:00:00Z
El piso era acogedor y muy limpio.Trato amable por parte Javier
ISIDRO
2016-07-12T00:00:00Z
Casa acogedora y cómoda. Todo muy bonito y acorde con las fotos de anuncio.
Antoni&lola
2016-11-04T00:00:00Z
Tipe Kamar
Seluruh rumah/apartemen
---
Tipe Properti
Apartemen
---
Mengakomodasi
4
---
Kamar tidur
Alboraia, Comunidad Valenciana, Spanyol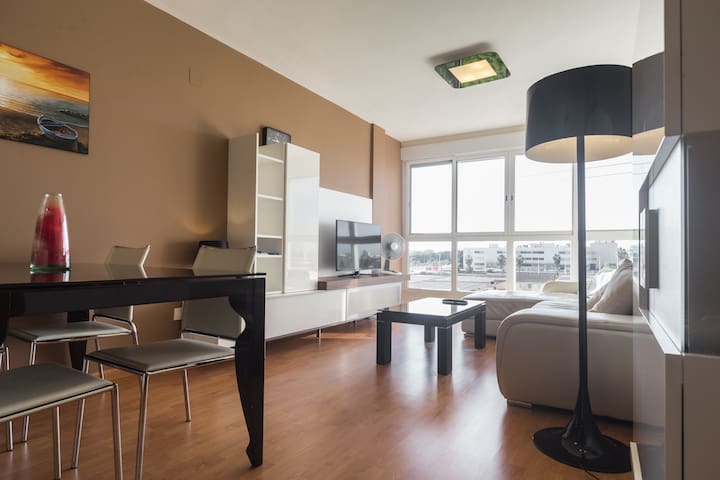 Ático en 1a línea de playa muy luminoso con dos alturas. Planta principal: 2 habitaciones dobles, 2 baños completos, salón-comedor con terraza y cocina independiente, todo con aire acondicionado y calefacción. La 2a planta es una terraza. Dispone de plaza de parking para el uso de los huéspedes en la misma finca. El apartamento está registrado como Vivienda Turística con número VT-35641-V, según la normativa de la Generalitat Valenciana.
El ático se encuentra en la zona sur de Por Saplaya y está en primera línea de playa. Dispone de aire acondicionado y calefacción en toda la casa. Tiene dos habitaciones con camas dobles y dos baños completos, ambos con bañera. La cocina es independiente y el salón comedor dispone de TV. El ático tiene dos terrazas, una en la planta principal y otra terraza en la segunda planta. El ático cuenta con conexión WiFi propia.
El ático está situado en la zona sur de la urbanización Port Saplaya (Alboraya), a 10 minutos de Valencia en coche.
Lola's apartment is perfect for a beach holiday. You have a good selection of bars and restaurants nearby, and the beautiful marina is a stones throw away. The hypermarket over the road makes self catering very simple, and allows you to decide how much time / money you wish to spend in restaurants. The apartment is well equiped and has some fantastic views of both the sea and marina. I would say that the sleeping arrangements are best suited to 2 couples or 3-4 close friends rather than a family with a couple of small children. I don't mean that as a bad criticism, but with 2 double beds and spiral stairs leading to a small sleeping area by the terrace can prove to be slightly impractical depending on the group numbers. That said, my family enjoyed a fantastic holiday and can't wait to return.
Paul
2016-05-30T00:00:00Z
Apartamento equipadísimo junto a la playa, con piscina y toda clase de servicios cercanos era todo lo que necesitábamos y lo cumplía ......además de una estupenda conexión wifi, PERFECTO LOLA!
silvia
2016-08-04T00:00:00Z
Hemos ido con la familia a ver las Fallas. El piso está muy bien equipado, no hemos echado nada en falta. Es grande y esta cerca del centro de Valencia (10 minutos en coche). Lola y Fernando son muy buenos anfitriones. Han estado en contacto en todo momento con nosotros y nos han facilitado toda la información que hemos necesitado.
Cristina
2016-03-20T00:00:00Z
Un alojamiento estupendo!. Muy recomendable, espacioso y con todos los detalles imaginables. La anfitriona muy atenta a todo lo que puedas necesitar.
Silvia
2016-07-25T00:00:00Z
Lola fue muy agradable en todo momento y la casa estupenda todo como sale en las fotos además nos dejo algunos detalles de bienvenida todo muy bien
olga
2016-05-17T00:00:00Z
Un estupendo fin de semana largo en casa de Lola en Port Saplaya. La ubicación es genial para ir con niños, a un paso del centro de Valencia y en primera línea de playa. La casa muy agradable y completa. Por poner un pero, yo sustituiría la cama de matrimonio del dormitorio "pequeño" de abajo por dos camas. (siempre se pueden juntar y en caso de ir niños es mas cómoda) , pero es totalmente secundario. Esperamos volver pronto. Gracias a los dos.
Alvaro
2016-06-20T00:00:00Z
Great appartment, wonderful view, good location and very nice owner :) I recommend it with all my heart!
Natalia
2017-03-20T00:00:00Z
Lola's apartment was spacious, to say the least! Very large master bedroom with ensuite and a large living room - in addition to the large terrace upstairs looking over the area. Lola came to meet us within seconds of me sending her a text that we had arrived, and brought us inside to show the apartment. A nice touch was the tasty bar of chocolate and bowl of fresh fruit she presented us with in the living room. Everything was as described and the apartment was fully equipped. Although we spent nearly the whole time on the beach one minute's walk away, there was a veritable library of films, CDs, books and even board games to keep guests entertained until kingdom come! If the wifi hadn't been enough to keep my girlfriend's daughter occupied while we were indoors, the film collection certainly was. Lola was always quick to respond to any communication, and was immensely helpful when we were arranging to check out. Muchas gracias Lola, you helped to make it a lovely stay :)
Edar
2016-08-30T00:00:00Z
Tipe Kamar
Seluruh rumah/apartemen
---
Tipe Properti
Apartemen
---
Mengakomodasi
6
---
Kamar tidur
Port Saplaya, Comunidad Valenciana, Spanyol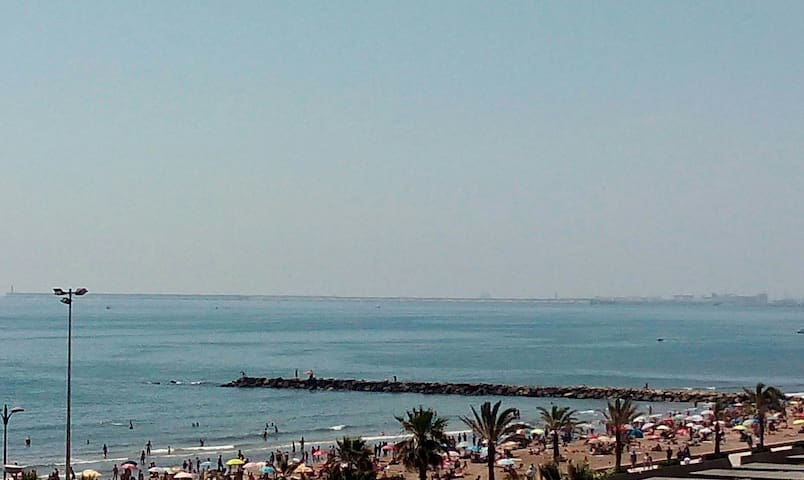 El apartamento está en el barrio de la Malvarrosa, situado a escasos metros de la playa. Hay una gran oferta gastronómica con establecimientos de gran calidad en los que poder disfrutar de la gastronomía Valenciana a los pies del mar. Está comunicado con el centro por autobuses, tranvía y metro. Se trata de un apartamento muy espacioso con tres dormitorios, cocina totalmente equipada y un comedor espacioso con TV y aire acondicionado donde descansar tras un día de playa o de visita a la ciudad.
El apartamento se encuentra en una de las zonas de playa más características de Valencia y en uno de los barrios con más historia de Valencia. Se trata de un apartamento espacioso y tranquilo donde poder pasar unos días maravillosos visitando la ciudad y disfrutando de la zona de playa y del paseo marítimo de la Malvarrosa.
El apartamento se encuentra junto a la playa y junto al paseo marítimo de la Malvarrosa. A escasos 200 metros del apartamento se encuentra la zona de la Patacona, en la que hay una amplia oferta gastronómica donde poder disfrutar de la gastronomía Valenciana. Desde el apartamento se puede ir andando a través del Paseo Marítimo hasta la zona del Cabanyal y hasta el Puerto de Valencia donde se puede disfrutar de las instalaciones del Veles e Vents, de los famosos restaurantes de la zona y de la vida nocturna del Puerto en la que hay numerosos locales donde salir de fiesta y tomar una copa.
Esta muy bien situado, muy cerca de la playa y con establecimientos para abastecer las necesidades diarias, supermercado, tiendas de comida fruterías... El apartamento es muy cómodo y limpio, 100% recomendable.
pedro
2016-11-02T00:00:00Z
Se trata de una vivienda acogedora, muy próxima a la zona de playa. El anfitrión se porto a las mil maravillas, facilitando tanto la entrada como la salida. Una buena opción para conocer la ciudad y disfrutar de sus playas.
Suso
2016-11-22T00:00:00Z
Christopher y Cristina fueron unos anfitriones perfectos, muy antentos y muy amables. La casa estaba genial y muy bien situada. Volvería sin dudarlo.
Alejandro
2017-03-20T00:00:00Z
Tipe Kamar
Seluruh rumah/apartemen
---
Tipe Properti
Lainnya
---
Mengakomodasi
5
---
Kamar tidur
València, Comunidad Valenciana, Spanyol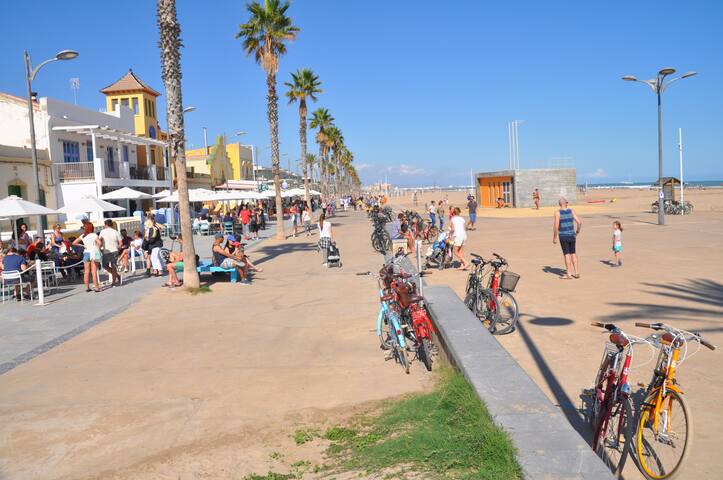 Attractions: BEACHFRONT five meters, public transportation, three buses going downtown, parks, restaurants, supermarkets and shops varias.Hay large rooms with bathrooms and a large terrace with pergola furnished provided with fantastic sea views . Kitchen with appliances and washing machine. The farm has direct access to the beach and garage in the basement with elevator exit. There storeroom where we can hold luggage (if need be if some other hours).
The host is very welcoming. They dealt with my bad spanish with all smiles and said what they could in english. They are very kind. The place is beautiful. Nice, clean, right on the beach. The parking is safe, secure and roomy. The apartment is huge. The beach is great and easily accessed. Very large and bright apartment. Great appliances. Nice building, great hosts. Careful if using a GPS, there is a one way loop leading to the apartment that has reversed direction recently. The road that the address is on will get you to the apartment even though a gps may tell you its a wrong way one way, it isn't.
Brendan
2016-09-02T00:00:00Z
A la hora q se indica en la publicación recogimos las llaves. La casa estaba limpia y ordenada. Perfecta para 4 personas y con acceso directo a la playa. En general muy bien.
Joaquin
2016-10-02T00:00:00Z
We have spend a great time in Eliantes appartment. It was clean and Eliante is an really helpful host. The location is perfect as well for beach holiday as for a citytrip.
Natasa
2016-09-06T00:00:00Z
Una estancia perfecta en todos los sentidos 100% recomendable para todos y el trato espectacular y el apartamento aún más
Jose Antonio
2016-11-14T00:00:00Z
Un excellent séjour dans l'appartement d'Eliante. Très grand et très propre. Au bord de la mer, et à quelques minutes des buses pour visiter Valence. Eliante est très sympathique et flexible pour les horaires. Je recommande à 100% !!!
Laetitia
2016-09-21T00:00:00Z
Gracias a nuestra anfitriona por su flexibilidad ante los cambios de ultima hora!! Perfecta ubicación, tanto familia como parejas, en primera línea de playa y con restauracion variada a pie. El aparcamiento lo hace muy comodo el acceso a la casa y terraza amplia para disfrutar.
Miguel A
2016-12-04T00:00:00Z
Beautiful apartment on the beach. Silent , big and comfortable . Good neighborhood. Eliante was kind enough to wait for us almost until 10 pm for our arrival. The place is clean and is located at a walking distance to several bars and restaurants. We would like to return for a longer stay. Thanks
medardo
2016-09-15T00:00:00Z
Amazing apartment lovely ans clean and massive. Perfect for the beach. The host is very helpful and would reccomend to all
P
2016-07-28T00:00:00Z
Tipe Kamar
Seluruh rumah/apartemen
---
Tipe Properti
Kondominium
---
Mengakomodasi
4
---
Kamar tidur
Alboraia, Comunidad Valenciana, Spanyol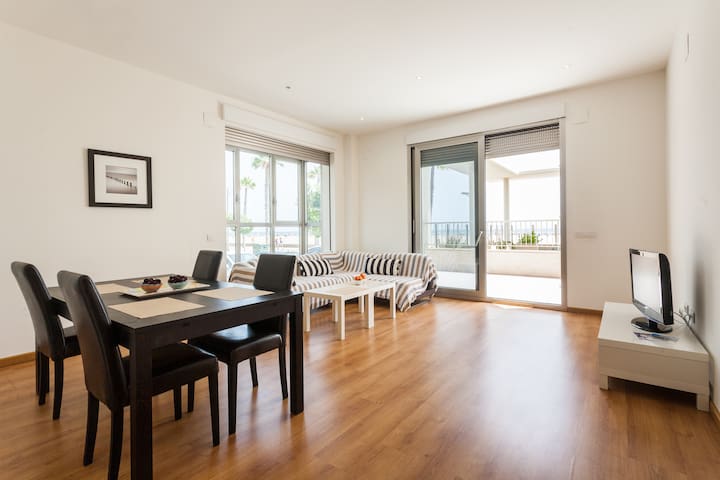 Ideale Wohnung am Strand in Alboraya, Patacona Strand. Moderne, ideal für 2/4 Personen, 20 Minuten vom Zentrum von Valencia mit den öffentlichen Verkehrsmitteln und eine breite Palette von Dienstleistungen und Restaurants in einem Schritt.
Die Lage, mit Blick aufs Meer, ist die Stärke der Unterkunft, sowie die moderne Ausstattung und Komfort der Innenausstattung.
Patacona, Alboraya Strand, neben dem Malvarrosa, beliebten Strand in Valencia. Ruhige Nachbarschaft mit vielen Restaurants und andere Orte der Unterhaltung.
right on the public beach with all the activities like surfing paddle-board etc. in the middle of the city of Valencia. that is unique!
bruno
2016-11-23T00:00:00Z
wir haben das erste Mal über Airbnb Urlaub gemacht. Wir waren sehr zufrieden und alle Erwartungen wurden mehr als übertroffen. Wir werden auf jeden Fall wieder mit Airbnb buchen. Die Wohnung ist in punkto Lage Ausstattung und Sauberkeit super. Besonders hat uns der Balkon mit dem fantastischen Meerblick gefallen. Um Valencia zu entdecken, liegt die Wohnung ideal.wir kommen auf jeden Fall wieder.
Birgit
2016-10-28T00:00:00Z
Our host came to open the apartment for us and we enjoyed getting to know one another
Jay
2016-10-17T00:00:00Z
Stayed during Fallas and we still slept well! This ideal location by the ocean was so good it was perfect! You could even choose to have your car parked underground on a car elevator! Very clean and everything you need. Anabel was an excellent host and helped us in so many ways. Highly recommended!
Mark
2017-03-20T00:00:00Z
Elegí el apartamento de Tono por su ubicación justo al lado de la playa y por la calidad del apartamento que se apreciaba en las fotos. Después de mi estancia allí puedo asegurar que ha sido sin lugar a dudas la mejor decisión posible. El apartamento estaba súper limpio, muy acogedor y muy equipado para sentirte como en casa. El edificio en el mismo estilo que el apartamento. Muy elegante, muy tranquilo y la zona inmejorable. Para finalizar mi evaluación destacar la amabilidad del anfitrión en todo momento. Ha sido un placer conocer a Tono. Lo recomiendo 100%
Silvia
2016-05-02T00:00:00Z
Tono is the very best host, we enjoyed every minute of the view we had at the balcony also in this very comfortable Apartment which is soooo wonderful, everything was perfect, we're happy to meet such a nice Person like Tono, he gave us insider Tipps which we're very helpful. We like to come back soonest as possible. Tono thank you again, Hope to See you again!!!
Annekatrin
2016-04-26T00:00:00Z
The experience was marvelous. We have spend there 4 days. The appartment is really super located in the first line on the beach, clean, nicelly equiped, with bus station 50m and restaurance on the beachfront nearby. The description fully fits with the reality. Tono as host is very friendly and communicative, all arangmenets fits very well with him. He gave us a drive from the place nearby airport to the city and to the appartment after which save us taxi money. He recomended restaurants and places to go and gave us the map. I can fully recomend the stay.
Jiří
2016-06-20T00:00:00Z
La ubicación del apartamento es perfecta, en primerísima línea de playa. El mobiliario muy cuidado y la atención de los anfitriones perfecta. Únicamente echamos en falta un microondas. Repetiremos seguro
Monica
2016-03-28T00:00:00Z
Tipe Kamar
Seluruh rumah/apartemen
---
Tipe Properti
Apartemen
---
Mengakomodasi
4
---
Kamar tidur
Alboraia, Comunidad Valenciana, Spanyol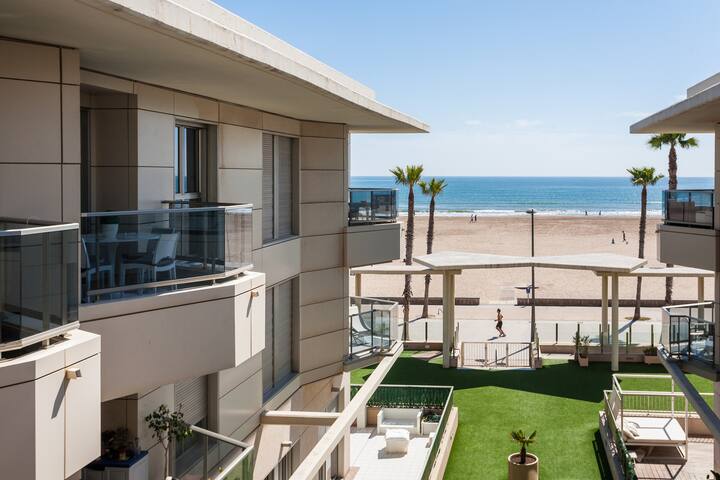 (URL HIDDEN)The kitchen is FULLY EQUIPPED. - There's a washer-dryer machine and a place to hang your clothes outside (terrace) - Shower gel, shampoo, bed clothes, towels and a hair dryer will be available
- Quiet neighborhood. Several Supermarkets, restaurants, shops and pharmacies, hospital, all within a 5 minutes walk. - 150 m to the beach. - 200 m to the closest Valenbisi bikes' station. - The tram is 700m away, and it connects with the subway. - There are several bus stops around, including the night bus N1. You can get to the center in 20 minutes. - 1 hour from the airport: subway + tram + walking (700m)
Quiet neighborhood. several Supermarkets, and restaurants, pharmacies, hospitals, all within a 5 minutes walk. - 150 m to the beach. - 200 m to the closest Valenbisi bikes' station.
This Appartment is very well located and looks creative !!!! With this two bad room is perfect for 4 people. Easy to reach by public transport .
.
2016-10-28T00:00:00Z
L'appartamento non ha deluso le nostre aspettative,tutto perfetto,la casa è molto confortevole in zona molto (URL HIDDEN) proprietario è molto disponibile e presente in caso di necessitá.Lo consigliamo e ringraziamo ancora per l'ospitalitá.Grazie
Stefano
2016-08-28T00:00:00Z
Location was ideal! Only a five minute walk from the beach. Spacious loft with a nice view overlooking the city.
Heidi
2016-10-11T00:00:00Z
Recomendable 100%. Javier fue muy atento con nosotras y el apartamento estaba genial, muy bonito y limpio. Si volvemos a Valencia seguro repetiremos.
Alicia
2015-05-10T00:00:00Z
Appartement sympa et bien situé. Je recommande.
kevin
2017-04-12T00:00:00Z
We booked the apartment just for a couple of days but certainly did not regret this! The location is perfect in 3 minutes your on the beach. The apartment is even better than presented on the pictures. It is spacious (it even has two bathrooms!) and it was very clean. Javier is an excellent host with a warm personality and a good sense of humor which made us feel very welcome. Two thumbs up for Javier and his apartment!
Karin
2015-05-08T00:00:00Z
We stayed in the apartment for a weekend. It's really big, has two bathrooms, two bedrooms and a kitchen equipped with everything needed for a long stay, is close to the beach as well. It would be very suitable for a family with kids with an easy to reach public beach, supermarkets nearby, good public transport connections to the city centre (bus L19), lovely beach bars and restaurants. Javier was easy to reach and communicate, though we did not meet in person and once in the apartment we got instructed by the cleaning lady who did not speak English. That was more or less OK for us since we speak a little bit of Spanish but still may be a problem for those who do not speak any, since the apartment has a number of facilities that needs clarification (we could not figure out how the ventilation system functions or how to use the oven i.e.). It's the only drawback probably. All the rest was very good and left us with good memories.
Dasha
2015-07-19T00:00:00Z
The apartment is perfect for a beach stay in Valencia and well appointed. What I appreciated the most was the host kept in touch leading up to the stay and made it so easy to get the keys early the day I arrived, showing flexibility where some exists.
Tim
2016-07-29T00:00:00Z
Tipe Kamar
Seluruh rumah/apartemen
---
Tipe Properti
Apartemen
---
Mengakomodasi
4
---
Kamar tidur
València, Comunidad Valenciana, Spanyol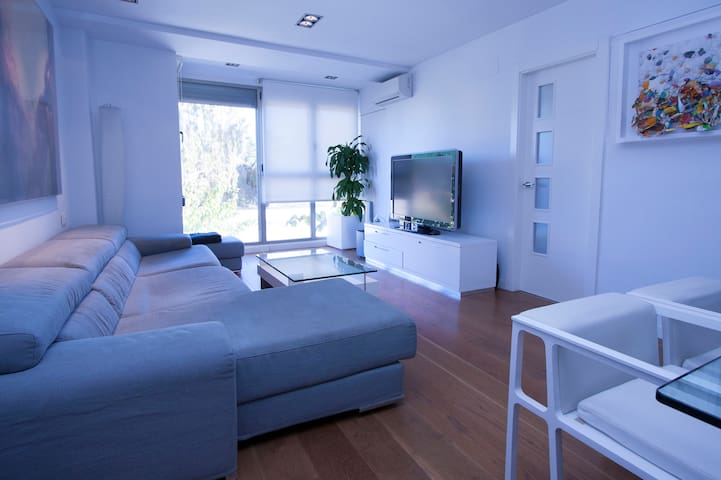 Precioso apartamento recién reestructurado(2016), situado en zona céntrica, a100m Del Río, del parque de viveros y de la estación de tranvía y autobus. En la misma calle todos los servicios que te puedas imaginar(supermercado, farmacia, hospital, estanco etc). En sus cuatro habitaciones puede hospedar cómodamente hasta ocho personas más dos en el sofá cama que se encuentra en un amplio salón open-space. Cocina completa con acceso a la terraza. Disponemos, bajo previo aviso, de cuna de viaje y accesorios para el cuidado del bebe.
Integramente reestructurado en 2016 y decorado con estilo moderno y sobrio. En total hay 4 habitaciones; dos habitaciones de matrimonio completas de armarios, una Habitación triple completa de armario con cama de matrimonio + una cama de90, una Habitación de cama de 90 con mesa de despacho. En una habitación y en el salón hay aire acondicionado frío-calor, en todas las demás hay ventiladores de techo. En la entrada hay una mesa extensible que puede sentar hasta 8 personas, el salón es open space y tiene un amplio sofá cama. Desde la cocina se accede a la terraza. televisión WIFI aire acondicionado frío-calor Lavadora Horno Microondas Acesorios para bebes (Bajo demanda)
La zona es inmejorable, justo fuera del centro, pero con fácil acceso, a un paso de los mejores parques de Valencia como el Río y los jardines del Rey (viveros). El Barrio esta muy bien, se puede disfrutar de un bonito paseo.
The stay was simply great! The apartment is as it is described! It is large and very modern furnished. It's all up to date and plenty of space for several people. In the city center you are within 10-15min walk. Right at the apartment borders a beautiful park. This invites you to rest and jog. The area is also rather quiet and pleasant. A few meters away is a supermarket "Consum" and other shopping possibilities. All in all, just perfect. Giorgia is genial as a hostess. If one had a question, she was on the spot. Within minutes she wrote back and helped. She showed us on the map, where we could find everything and always gave us information about other questions. Even with the arrival time she was very flexible. All in all, she gave us a pleasant and very relaxed stay. The price performance ratio is excellent. I would recommend this apartment and Giorgia as a host. The price performance ratio is excellent. I would recommend this apartment and Giorgia as a host. Dasselbe in Deutsch: Der Aufenthalt war schlicht und einfach super! Die Wohnung ist so wie es beschrieben wird! Es ist groß und sehr modern eingerichtet. Es ist alles auf dem neuesten Stand und genügend Platz für mehrere Leute. In der Stadtmitte ist man innerhalb von 10-15min zu Fuß. Direkt an der Wohnung grenzt ein wunderschöner Park. Dieser lädt zum Ausruhen und zum Joggen ein. Die Gegend ist auch eher ruhig und angenehm. Ein paar Meter weiter befindet sich ein Supermarkt "Consum" und weitere Einkaufsmöglichkeiten. Alles in allem einfach perfekt. Giorgia ist als Gastgeberin echt genial. Hatte man eine Frage, war sie gleich zur Stelle. Innerhalb weniger Minuten schrieb sie zurück und half weiter. Sie zeigte uns auf der Karte, wo wir alles finden konnten und gab uns immer wieder Auskunft über sonstige Fragen. Selbst mit der Ankunftszeit war sie sehr flexibel. Alles in allem hat sie uns einen angenehmen und sehr lockeren Aufenthalt geschenkt. Das Preis Leistungsverhältnis ist hervorragend. Ich kann jedem diese Wohnung und Giorgia als Gastgeberin empfehlen.
Patrick
2017-01-05T00:00:00Z
Hemos tenido una estancia magnífica. Gracias a la anfitriona que es de 10. Volveremos
Alexander
2017-03-06T00:00:00Z
Very beautiful appartment, near the center of the city and the best host ever!
Mihaela
2017-02-27T00:00:00Z
La casa di Giorgia è davvero molto confortevole e pulita ed in una posizione fantastica per visitare Valencia sia a piedi che con i mezzi. Noi eravamo due famiglie per un totale di 4 adulti e 5 bambini e siamo stati molto bene. Dalla casa si arriva in brevissimo tempo al parco del Turia ed in centro. Sotto casa ci sono davvero tutti i servizi...supermercato, bar, panetterie, farmacia ed anche la fermata dei taxi! Giorgia è stata molto gentile e disponibile e ci ha aiutato in ogni cosa, non potevamo chiedere davvero di meglio. Grazie mille
luisa
2017-04-04T00:00:00Z
Tipe Kamar
Seluruh rumah/apartemen
---
Tipe Properti
Apartemen
---
Mengakomodasi
10
---
Kamar tidur
València, Comunidad Valenciana, Spanyol
1

–

18

dari

300+ Sewa Tempat
Masukkan tanggal untuk melihat harga lengkap. Biaya tambahan berlaku. Mungkin dikenakan pajak.