My place is close to art and culture, restaurants and dining, family-friendly activities, great views, Silverwood Theme park, and the beach. You'll love my place because of the outdoors space, the neighborhood, and the comfy bed.
We had a great stay! Beautiful location and wonderful host!
Emily
2017-04-09T00:00:00Z
Joy Anne is an amazing host and made me feel welcome from beginning to end. From muffins, yogurt, greeting me late and a very comfortable room it was a great stay overall.
Paul
2017-02-19T00:00:00Z
We were lucky to be Joy Anne's first air bnb guests. We were originally attracted by the reasonable accommodation price, then were glad we choose Joy's house. She was super sweet and accommodating. She even cooked us gluten free biscuits in the mooring and sent us on our way with a little care package! The room was nice and as advertised. Bed comfortable and everything clean. Staying here was fun in that you had your own space but could feel like part of the family if you wanted to. Joy is naturally nurturing and makes your feel well cared for.
Dina
2016-12-23T00:00:00Z
Very clean and cozy home. I felt very welcome and loved soaking in a hot tub at the backyard.
Turkka
2017-03-03T00:00:00Z
Our stay with Joy was more than accommodating! They were so friendly, warm, and inviting. We felt safe and it was a comfortable night's stay. We enjoyed their spa and their welcomed hospitality!
Kyra
2017-03-05T00:00:00Z
Our stay at Joy Anne's place was pleasant and comfortable. She was a great host, flexible with our late check-in, and home in the morning to wish us a great rest of our trip. Parking was easy and the home was quiet for easy sleeping. We will certainly be back if we are in the area again!
Kyle
2016-12-30T00:00:00Z
Good stay.
Hunter
2017-02-08T00:00:00Z
Good place for a quick sleep stopover between long drives.
Michelle
2017-03-09T00:00:00Z
Tipe Kamar
Kamar pribadi
---
Tipe Properti
Rumah
---
Mengakomodasi
2
---
Kamar tidur
Rathdrum, Idaho, Amerika Serikat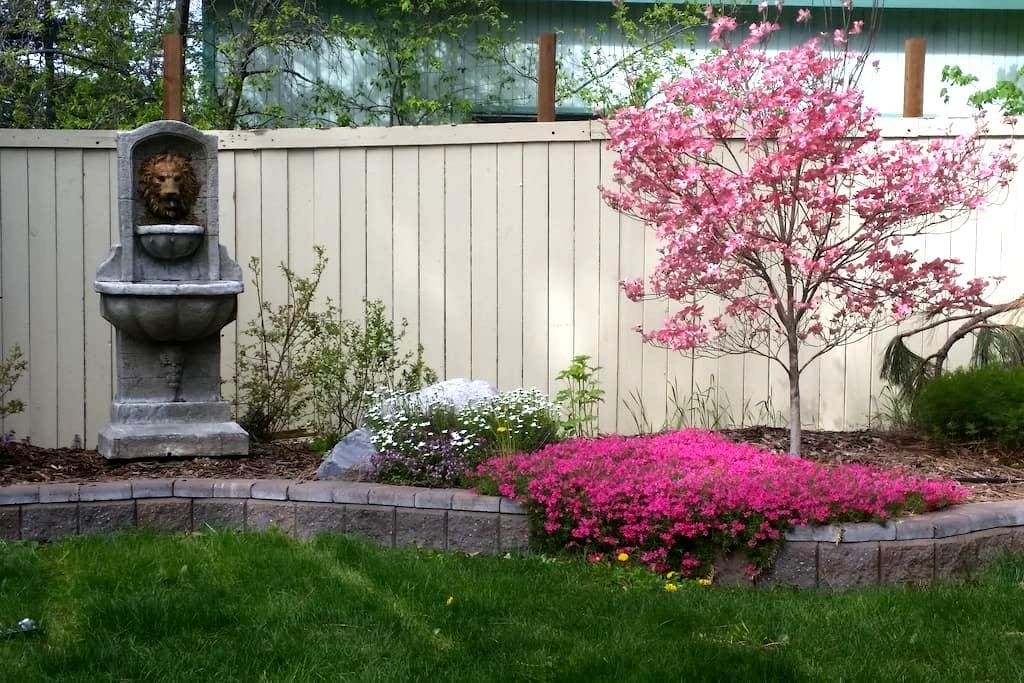 This charming bungalow in the woods is a great little getaway in North Idaho located on 1.5 wooded acres. The 2 bedroom, 1 bath home has knotty pine throughout with a fully stocked kitchen and pantry and a full sized washer/dryer in the laundry room. Some of the best features are the outdoor living spaces - covered porch with gas BBQ, fire pit area with hammocks, horseshoes, and vegetable and herb garden when in season. Silverwood 11 miles, Sandpoint 35 miles, nearest golf course 4.6 miles.
This a a charming 2 bedroom home with plenty of indoor and outdoor living space
This home is in a rural setting. It is a 5 minute drive to the nearest golf course and restaurant.
Tipe Kamar
Seluruh rumah/apartemen
---
Tipe Properti
Rumah
---
Mengakomodasi
6
---
Kamar tidur
Rathdrum, Idaho, Amerika Serikat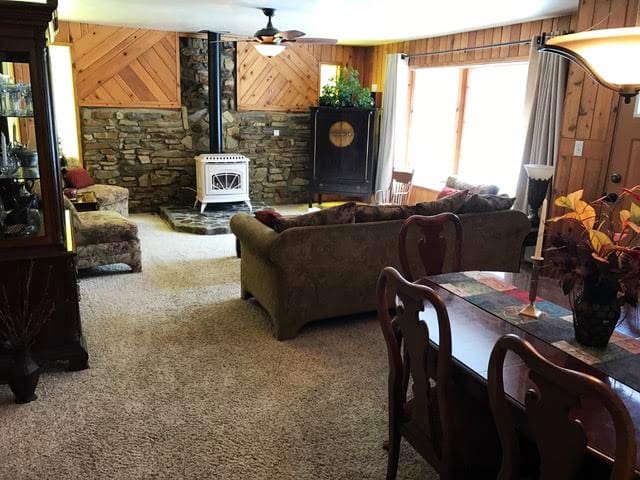 New home on the water in exclusive Radiant Lake private gated community. We have it available for the entire Thanksgiving week. Perfect for a family retreat and only 15 minutes to Coeur d'Alene and a few more to Spokane Valley and Spokane.
The house is 2700sq feet with daylight basement where you walk out to water. We have three usable bedrooms that can sleep 6-8 comfortably. We can supply arrow bed upon request to make it even more. We also have three full bathrooms. There are two 50 inch hdTvs with Direc TV. Downstairs has Xbox One with about six games. A ping pong table in our bonus room that can be used. A decent sized deck overlooking the water with a gas Bbq as well. In addition a fire pit to cook s'mores and hog dogs in our backyard. Again, no disappointment here.
We love how it's so peaceful and yet incredible for families in this community.
We had a great stay at Dan's. We don't really have anything bad to say. Everything went pretty smoothly and we'd stay there again if it's available next year when we're on vacation.
Robin
2016-08-11T00:00:00Z
House was well prepared for guests and kid friendly. Everything was clean and as described.
Karen
2016-08-07T00:00:00Z
The area, the neighborhood, the home, the lake behind the home, the view of the sunset over the lake....all of it, is beautiful! The location is quiet, the inside of the home was very clean and tidy. During one very rainy morning, the kids played for hours on the ping pong table and with the large selection of games in the game closet. Dan sent detailed info before we arrived so that checking in and out, using the amenities, and feeling comfortable, were achieved with ease. It was just what we needed! Thank you!
Heidi
2016-11-26T00:00:00Z
Tipe Kamar
Seluruh rumah/apartemen
---
Tipe Properti
Rumah
---
Mengakomodasi
7
---
Kamar tidur
Rathdrum, Idaho, Amerika Serikat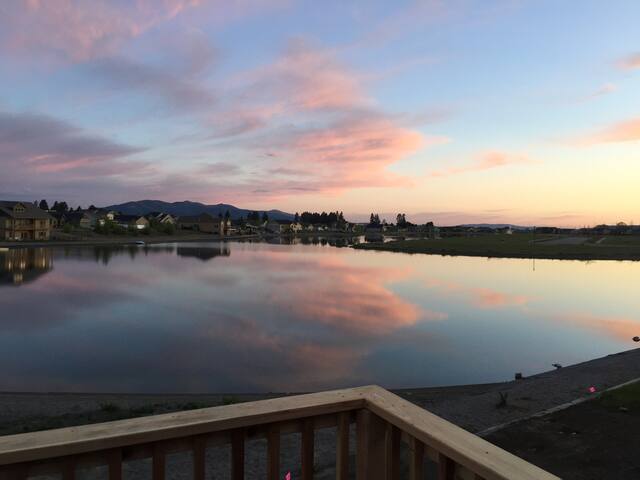 This resting spot is just the start! You can always start with the extra closet and drawers and comfortable bed;the wifi and large entertainment room or the hot tub in the back to relax in.The city lights or mountain air is all within an hours drive.
The house community The privacy The spa, wifi, close attractions any way
Supportive and kind and aware. Great neighborhood by restaurants.
Tipe Kamar
Kamar pribadi
---
Tipe Properti
Rumah
---
Mengakomodasi
2
---
Kamar tidur
Rathdrum, Idaho, Amerika Serikat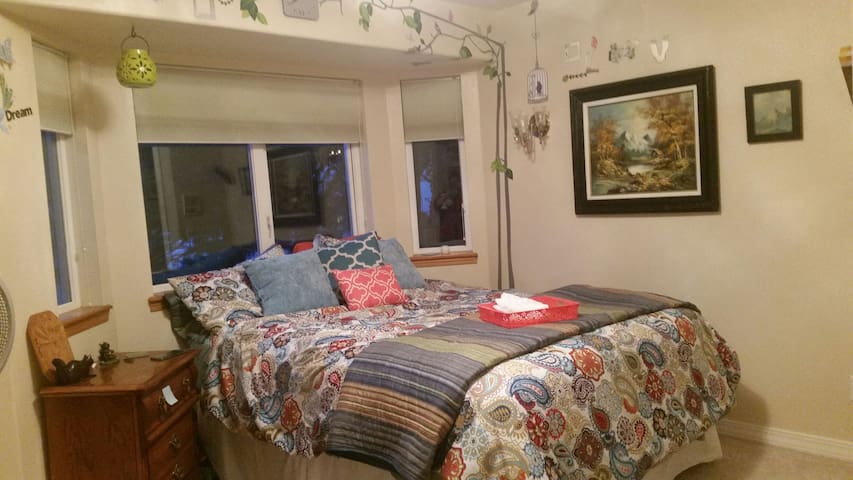 Hickory Hideaway, secluded luxury just one block from the lake.
Welcome to Hickory Hideaway, a beautiful large home on an expansive private lot just a block from the lake and the boat launch. Twin Lakes offers excellent water sports, from fishing to swimming. Bring your boat, kayaks, paddle-boards and fishing gear for the best lake vacation ever.
Secluded, peaceful location on 10 acres
House was amazing!! Highly recommend
Roger
2016-06-14T00:00:00Z
Tipe Kamar
Seluruh rumah/apartemen
---
Tipe Properti
Rumah
---
Mengakomodasi
10
---
Kamar tidur
Rathdrum, Idaho, Amerika Serikat
Newly renovated bedroom with fresh paint, full bed with new bedding, small fireplace, and a kitchenette including a mini fridge, water cooler, coffee maker, and microwave. Family friendly neighborhood close to parks, athletic club, and downtown CDA.
Comfortable space with a full size bed and new bedding, great decor, TV with local channels, and a DVD/Blu-ray player with a selection of movies.
Quiet family friendly neighborhood close to downtown, grocery shopping, cinema, and just a short 10 minute walk to the Kroc center which has 2 indoor pools, and full fitness center.
Robbie's room was enjoyable stay in. As other reviewers have mentioned, he provided many nice amenities to make the guest feel at home. Having access to the upstairs kitchen was nice as well. The bathroom was clean and was always available when I needed it. We just stayed one night, but have another three nights booked at the end of the month and look forward to going back.
Allison
2016-06-17T00:00:00Z
Robbie is a gracious host and has the room dialed in for travelers. He was even kind enough to let us store some things for a couple days after we left. The room is best for early risers because you can hear their morning routine around 7am.
Keith
2016-10-18T00:00:00Z
Robbie's room has all the amenities that you could need, and I love the way it's decorated! It definitely made me feel at home, and I would not have minded staying longer if I weren't just passing through. The other people in the house are super kind and respectable, and the neighborhood is quiet.
Andrew
2016-03-25T00:00:00Z
5 stars stay, the room was sooo spacious and so comfortable, the room has everything you might want, I felt like I was in a hotel with how much Robbie gone above and beyond to make the room this good. So glad to have stayed there and would recommend this stay to everyone going to this beautiful city
Ahmed
2016-09-01T00:00:00Z
Robbie was responsive and easy to work with. The room was nice and comfortable. They have a sweet dog. Bottled water in the fridge was nice to have. I came and went as I needed to and there was no pressure to interact (I was there to visit family and didn't need to be shown around). One note: this room is not for light sleepers. It is in the basement and you can hear EVERYTHING above you, and the water heater is noisy as well. And there is no climate control other than opening or closing the window.
Bethany
2016-07-20T00:00:00Z
Robbie was friendly, informative. He let me know when he would be out. the room was as listed, it was quiet, clean, the bath done the hall was likewise clean and convenient. I would stay with Robbie again.
S Robert
2016-04-06T00:00:00Z
Such a nice space to stay in, and such a nice chap =) Highly recommended, especially if you like big cuddly dogs! Thanks Robbie and co, for your warmth and friendliness.
James
2016-07-11T00:00:00Z
Robbie's space is warm and inviting, with many thoughtful amenities. Robbie himself is kind and responsive, and Bailey the dog is a wonderful greeter. The downstairs bathroom has two entrances. Around bedtime I discovered that the bathroom door accessible to guests was locked with no one inside. As it was around midnight, I texted Robbie for a response but he had already gone to bed. Ultimately I was forced to drive an unfamiliar city in the middle of the night in search of 24 hour facilities, and was unable to take a shower or brush my teeth. Robbie was mortified the next morning, and offered both a discount and a heartfelt apology. He proved himself a thoughtful and considerate host. I suspect this was merely an unfortunate accident in an otherwise reliable record of excellent hosting. I would gladly stay with Robbie again, but I would confirm that bathroom access is guaranteed. I likewise discovered that heavy snoring from elsewhere penetrates the guest room walls. Bring earplugs if you're sensitive to noise. I'm sad to leave a less than perfect review, but the issue I experienced was fundamental to hospitality and needs to be fixed so that it doesn't happen to anyone else.
Zachary
2016-09-29T00:00:00Z
Tipe Kamar
Kamar pribadi
---
Tipe Properti
Rumah
---
Mengakomodasi
2
---
Kamar tidur
Coeur d'Alene, Idaho, Amerika Serikat
Our place is overlooking beautiful Hayden Lake and very close to Coeur D'Alene proper. We are close to restaurants and dining, water sports on Hayden Lake and Lake Coeur D'Alene in the summer and close to winter skiing. You'll love our place because of the neighborhood, the peacefulness and serenity as deer pass by, starlit skies, lake view, and park like back yard. Our place is good for couples, solo adventurers, business travel.
You will have the privacy of a completely furnished downstairs with private entrance. There is a full sized refrigerator, coffee maker, microwave, glasses, coffee mugs, silverware. Bagels or muffins, coffee, tea, juices will be at your disposal. Also, all bathroom products including a hair dryer.
Mountain type neighborhood with many pines and foliage. Neighborhood deer throughout. Honeysuckle Beach is very close along with trailhead to hike Canfield Mountain. Various eateries including the Beach House on Hayden Lake. An easy and quick drive to downtown Coeur D'Alene.
I have stayed in several AirBnB's and must say that Adrienne and Larry rank the highest!!!! Prior to our trip, I was contacted by her to see how she could accommodate us. Since we traveled there in January, she kept me informed of the weather conditions prior to us arriving. They greeted us as we arrived and made us feel like we have known them for a lifetime. The house is beautiful and exceeded our expectations. The views were breathtaking. Both her and her husband recommended places to eat and things to do that kept us busy. The best place they recommended - The Snake Pit. I loved visiting with them (they do respect your space) and truly enjoyed our time there. I will definitely return and take my family. Having to say goodbye was bittersweet but I do feel as though we made lifetime friends. You will not be disappointed....
Lynette
2017-01-17T00:00:00Z
Adrienne and Larry (and Barney the dog) were very friendly and accommodating. Vastly experienced travelers, their downstairs apartment is VERY roomy and comfortable. The view of the woods, lake and wildlife belie the modern luxury of their large basement suite. Highly recommended. A great price and even better people!
satchel b.
2017-02-15T00:00:00Z
Fantastic place overlooking a very nice lake. Very accommodating houses and can't do enough for you. Thanks
Rich
2017-02-18T00:00:00Z
Adrienne was the perfect host; she was available and accommodating to our needs while also respectful of our privacy. The house was very clean, had all the necessary amenities, and had more than enough space. The private location was scenic and peaceful. I will definitely recommend her place to others.
Benjamin
2017-02-19T00:00:00Z
I'm new to Airbnb so I'm not sure what to expect when I make a reservation, even when the photos look inviting. Well, Adrienne and Larry's place is even more than the photos on their listing would indicate. It is the whole bottom story of their home, has a private entrance and is very spacious (two bedrooms) and beautifully appointed, yay! I'm on a business trip and appreciated being in such a scenic and quiet neighborhood up above Hayden Lake, and having room to spread out my computer and paperwork. Adrienne and Larry are super welcoming and do everything they can to make your stay comfortable. You will even find snacks in the refrigerator, coffee and tea and a microwave. But the big bonus (for me, anyway) was their adorable Yellow Lab, Barney! If you are not a dog person, that's not a problem, you never have to make contact with him and he isn't allowed in the guest quarters so no worries there, either. But if you are down for some puppy love, he's your boy! All in all, a great place to get away from the bustle of downtown and have some peace and quiet. I will definitely be returning.
Lisa
2017-02-12T00:00:00Z
My wife and I enjoyed our brief time here. Adrienne and Larry were very friendly and accommodating. The place was very clean and had everything we needed. The extra treats were great and much appreciated. We hope to visit again when we have longer to stay.
Colby
2017-02-24T00:00:00Z
Tipe Kamar
Seluruh rumah/apartemen
---
Tipe Properti
Rumah
---
Mengakomodasi
3
---
Kamar tidur
Coeur d'Alene, Idaho, Amerika Serikat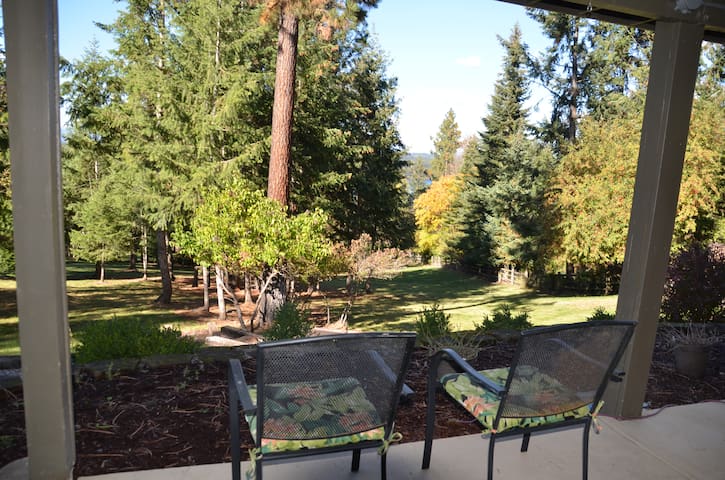 Peaceful location on beautiful Twin Lakes, perfect for boating, watersports and swimming. This is the ideal location for fun days and relaxing evenings right on clear lake waters of north Idaho.
Living Room Ceiling Fans Easy access to Deck Kitchen Open to living room and dining room Snack bar Breakfast table Fully stocked with dishes and cookware Dining Room Table for 6 Wrap-around windows Trundle bed Patio access Bedrooms Bedroom #1 Queen Bed (private bath) Bedroom #2 Queen Bed (private bath) Bedroom #3 2 Twin Beds Bathrooms Bathroom #1 Full Bathroom #2 Full Bathroom #3 Full Outdoors BBQ Large Deck Private Deck access from the Master Suite, and bedroom #3 Fire Pit Private waterfront with clean pebble floor, sorry no sand, just crystal clear waters. Private boat dock Lawn to the water Outdoor Seating on the Deck Parking for cars and boat trailer
Tipe Kamar
Seluruh rumah/apartemen
---
Tipe Properti
Rumah
---
Mengakomodasi
8
---
Kamar tidur
Rathdrum , Idaho, Amerika Serikat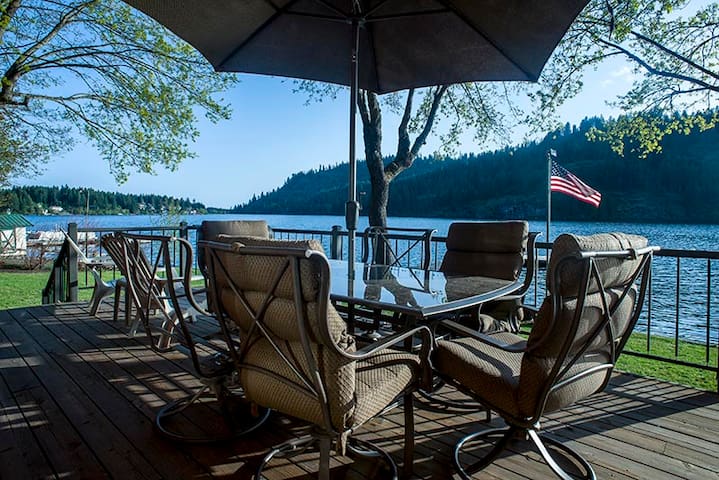 Sunroom deck, fenced yard, ceiling fans, central air/heat, wood burning fireplace, WiFi/cable, two flat screen televisions, garage, easy access to downtown and Hwy 90/Spokane airport. Close to Kroc Center gym, with indoor pools, the city golf course, running trails, Iron Man starting point, and downtown. The beautiful Lake Coeur d'Alene is near, too, with lots of summer fun. The University of Idaho is close, as well. Alarm code available upon request and garage door opener.
Children and small dogs are welcome. Beautiful walking/running trails that lead to Lake Coeur d'Alene and downtown. Less than a ten minute drive to downtown. The home is across the street and up the hill on North Woods Lane from the City Golf Course and up the hill on Fairway Drive from the Kroc Center, a total environment community center with full gym, pools, rock climbing wall, baseball and soccer fields.
Lovely and quiet, like living in the woods of Northern Idaho, while being in town. If you like running or cycling, just down the hill from the house you can find the trails to downtown, around parts of the lake ...... and back. The Kroc center has updated trail maps. Maps for sites/parks/recreation can be found online and at the Chamber of Commerce. There are brochures and maps in the drawers of the hutch in the dining area. We like the Breakfast Nook and the Dockside at the Resort serves a nice menu with a view. There are actually a multitude of good eateries in Coeur d'Alene for such a small burg. Also, be sure to try the huckleberry shakes at Zippy's. Yummy! If you're there during the months when the Farmer's Markets are open, you will be in for a treat.
Stay was just fine, house had everything we needed
Jack
2016-09-06T00:00:00Z
What a great experience! This is such a beautiful and comfortable home with everything you could imagine needing for your stay. The pictures don't do it justice. We hope to stay here every year for our family reunion. It is close to lots of things to do, but nestled in a quiet and pretty neighborhood. Communication with Jan was quick and easy. So many extra touches that make this a special place!!
Stacy
2016-10-09T00:00:00Z
We very much enjoyed staying at Janelle's house in Coeur d'Alene. The house was clean and organized, and it had all the things we needed - extra blankets were nice to have for relaxing in the living room. We even found a deck of cards. The neighborhood was nice and quiet, and it was very close to the golf course where all the "boys" had their fun on Friday morning. We also loved being so close to the Kroc Center where our daughter Natalie was performing as Ariel in The Little Mermaid. This was our family's first experience with Air B&B, and it was a great way to start!
Carol
2016-08-14T00:00:00Z
Best house ever for a great stay in CDA. Clean, and well stocked with anything and everything you might need. Our host Janelle, was very responsive to any questions we had. The house is in a quiet neighborhood, very close to several grocery stores, shopping, eateries, movie theater, parks. We found Hayden Lake to the North on of course the beautiful CDA Lake just minutes from the house. Silverwood Theme Park is just 20-25 minutes up the highway. Great house, great location, and a wonderful host. I highly recommend a stay in this family home.
Pamela
2016-07-19T00:00:00Z
It was a lovely homey atmosphere! My husband and daughter and son in law and 3 grandkids had a wonderful time. Such a beautiful atmosphere with the yards and the home was so clean and very much accommodating for all of us. The pics of her family and grandkids were nice so much like my own home, Janelle thought of everything as a host we did not have a need for anything!! The location is perfect and such beautiful scenery u don't want to leave!!We loved our stay and will return from Texas
Jackie
2016-07-29T00:00:00Z
What a great house! We were in town to go to Silverwood and it was so nice to be able to use this as our comfy home base after a long, action-packed day. It was clean, spacious, quiet, well-appointed and everything was in working order. Since we were traveling with another family, it was really nice to have two master suites, too. No need to flip a coin. Beds were comfy, and stocked pantry and keurig machine with Starbucks Coffee were nice surprises. We would stay there again in a heartbeat! Thank you, Nana Janelle!
Sunshine
2016-07-09T00:00:00Z
We enjoyed staying here very much. Was a great location and accessible to everything we came see and do. My grandkids want a yearly reunion! Thank you Janelle!
Penny
2016-08-22T00:00:00Z
All the comforts of home!
Marci
2017-03-31T00:00:00Z
Tipe Kamar
Seluruh rumah/apartemen
---
Tipe Properti
Rumah
---
Mengakomodasi
8
---
Kamar tidur
Coeur d'Alene, Idaho, Amerika Serikat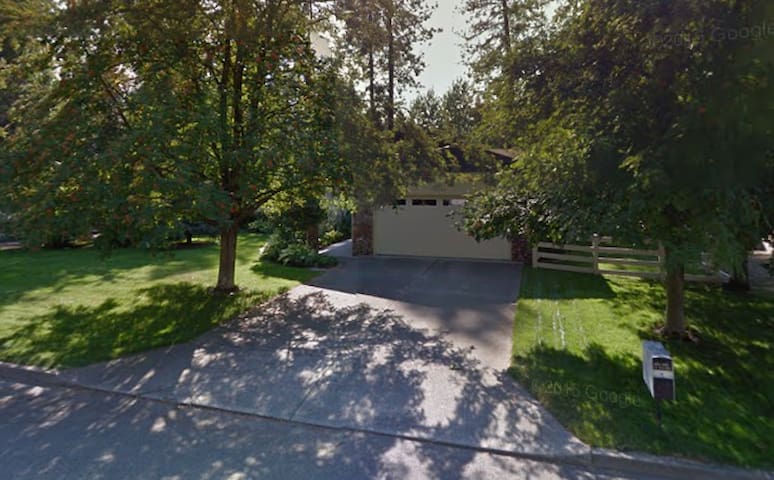 Cozy bedroom with double bed and access to private bathroom on first floor of attractive frame house, nestled on 13 acres of wooded and rocky mountainside within minutes of downtown Coeur d'Alene. We call it the Moose Room due to its decor.
Our home is located on 13 undeveloped acres, perched on the side of Blossum Mountain with 360 degree views of mountains, trees, and the Spokane River. We are an animal habitat and crossing site, so it is common to see deer, the occasional elk or moose, our resident yellow-bellied marmot, and countless songbirds, hummingbirds, and quail. The animals are gracious about allowing us to share their space!
Our home is 6.4 miles (or 12 minutes) from downtown Coeur d'Alene. Therefore, we have easy access to shopping, restaurants, parks, recreation areas. To us, we have the best of both worlds -- the beauty and quiet of living on the side of a mountain, with "civilization" and all of its amenities only a few minutes away.
Kristen and Bruce are absolutely, hands down, THE BEST hosts you can find in the Coeur d'Alene. The are very friendly, polite, and professional. Both enjoy the others' company, and they will go "the extra mile" to make sure your stay is the best possible. We have stayed with them for two days in June for the Ironman race, and they were so accommodating to the point that they woke up on the race day (about 4am) and made us breakfast. And this was only one of many perks we received during our stay. The house is super nice, on a beautiful lot, very close to CDA, plenty of parking...If you are cyclists, bring a bike, the road they live on just asks to be ridden on - it's so nice. HIGHLY RECOMMENDED! DON'T THINK TWICE ABOUT THE PRICE OR DISTANCES TO YOUR DESTINATION - THINK ABOUT THE BEST POSSIBLE SERVICE YOU WILL RECEIVE!
Przemek
2014-06-30T00:00:00Z
I am looking forward to staying here again. The location was excellent and the view is beautiful. Kristen and Bruce are great hosts. The short drive into Coeur D'Alene is also scenic. They were great in accommodating my needs. Thanks so much! Hope to see you again soon.
Mary
2014-08-06T00:00:00Z
Kristen & Bruce were fantastic hosts and we had the best experience staying in their beautiful home. Both of them were so welcoming and friendly, answering all of our questions about the area and making us feel right at home. We stayed in the "moose room" which had everything we needed and a very comfortable bed. The bathroom was wonderful as well; really a perfect set up. Each morning Bruce would cook us some delicious breakfast that made us wish our stay with them was permanent :) We don't have enough nice things to say about them and their amazing hospitality. Thank you Kristen and Bruce!
Ashley
2014-07-19T00:00:00Z
Kristen and Bruce are exceptionally hospitable people. Before I had even arrived they had invited me to join them at an evening 'art walk' in downtown Coeur d'Alene, after which we had pizza and beer together at the excellent Fire, accompanied by lively chat. Their house is beautiful, comfortable and clean, with great views over the Spokane River. Their extensive land plays host to deer, elk, hummingbirds, moose and a resident marmot, which, if you're lucky, you will see from one of the three terraces. Bruce, a patissier by training, prepares an extraordinary breakfast, and was even kind enough to recycle my leftovers into a fine sandwich for my onward travels. I cannot recommend them and their house highly enough. Stay here!
Katie
2014-07-13T00:00:00Z
Excellent in all aspects. Great hosts who are welcoming in all aspects. Great room and space.
James
2015-07-13T00:00:00Z
If you would like to stay in a lovely home with a beautiful views, and lots of wildlife, birds and trees around, only minutes to town, then this is the place. Unfortunately, I did not get to meet Bruce. But Kristen was awesome. Very kind, easy to talk to and very relaxed. My room and bathroom were so nice and the house is set up perfectly for guests. Couldn't of asked for anything more. Thanks!!
kelly
2014-08-04T00:00:00Z
Wow, what an exceptional stay! The views were truly magnificent, and I loved sitting on the side porch with all the birds flittering around. Kristen had really thought about what activities and sights she could recommend, and my visit truly benefitted from her knowledge. The hosts have clearly thought through their visitors' needs, and I can say that Kristin really bent over backwards to make sure that I was more than satisfied. It is a few minutes' drive into town, but it's worth it to stay here.
Karen
2014-07-22T00:00:00Z
Really enjoyed our stay. Hosts are very welcoming. House is beautiful, clean and cozy. Breakfast was a real treat. Thanks so much for sharing your home with us. Would definitely recommend.
candice
2014-08-31T00:00:00Z
Tipe Kamar
Kamar pribadi
---
Tipe Properti
Rumah
---
Mengakomodasi
1
---
Kamar tidur
Coeur d'Alene, Idaho, Amerika Serikat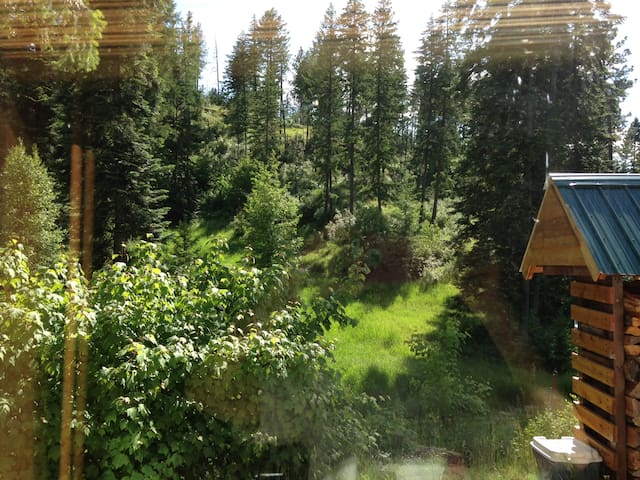 Beautiful home on the Spokane river. Private entrance to entire lower level. Two bedrooms. One bath. Full Kitchen. Fireplace. Family room with Big screen TV. Washer & Dryer. WIFi. Private dock. Slip available, Bring your boat or kayak. Swim or relax in the river. Patio space available with BBQ.
One King bed - With full size Futon/Couch. Room will sleep 3 or 4. Second bedroom - One Queen bed.
Quite neighborhood. Six miles from Downtown CDA. 3 miles to beach park and trail head in Post Falls. We have some menus and local attraction information available in the apartment and happy to recommend places to visit.
Our hosts were great and very welcoming. We loved they views and the apartment was spacious and have everything we needed. Would love to visit again.
Kari
2016-03-20T00:00:00Z
What a perfect setting! We felt far from home, but we're still close to all the services we needed. We had so much fun playing in he water & boating! The kids were thoroughly worn out while the adults had space to relax. Joan & Phil were awesome hosts and did so much to make us feel at home. Thanks so much!
Bridget
2016-08-02T00:00:00Z
Such a beautiful, comfortable and well appointed guesthouse. We've stayed many places, but have never had breakfast goodies waiting for us. Joan thinks of everything! A real gem of a place -- we hope to return next year! Thank you Joan and Phil.
Eileen
2016-08-28T00:00:00Z
Joan has a great little get away here. We came up for a soccer tournament and had 4 girls with us. They all loved playing down on the dock or swinging in the hammock. This is a great place to relax, they have many spots outside to just sit and watch the water. Joan was very helpful with anything we needed. Thank you so much for your hospitality and sharing your home with us.
Deborah
2016-05-09T00:00:00Z
This is such a lovely place with welcoming hosts. Waking up to a beautiful view of the river every morning was so relaxing and the sunsets were amazing too! Loved it!
Jess
2017-04-02T00:00:00Z
We had a great time at Joan and Phil's river place. She left us Bagels, fruit for breakfast and a cinnamon bread that was a nice sweet treat after dinner. We highly recommend staying here. It's quiet and cozy. Perfect place for relaxing or playing on the river.
Kathy
2016-08-05T00:00:00Z
We absolutely loved this place! It's all a lakeside vacation could be and more. We weren't expecting food and goodies. The apartment was immaculate. We were permitted to use the kayaks and paddle boat. The host/hostess chatted just enough with us, while letting us have vacation privacy. They were "at the ready" when we had problems or questions. We felt so relaxed. It's already on our list to visit again!
Cindi
2016-09-06T00:00:00Z
Everything...from the moment we arrived to the moment we left...was perfect! Joan and Phil were so welcoming, and made us feel right at home! Their home and property are spectacular - and the views - incredible. We must have taken 50 pictures of the sunset alone last night. The accommodations were exactly as described -- we could not have asked for a better experience. Joan and Phil recommended spots to consider for dinner, and provided decadent pastries for breakfast, and we enjoyed eating them on the private patio this morning. Our only regret is that we couldn't stay longer! Thank you Joan and Phil, we hope to see you again!
Kelly
2015-07-04T00:00:00Z
Tipe Kamar
Seluruh rumah/apartemen
---
Tipe Properti
Rumah
---
Mengakomodasi
6
---
Kamar tidur
Coeur d'Alene, Idaho, Amerika Serikat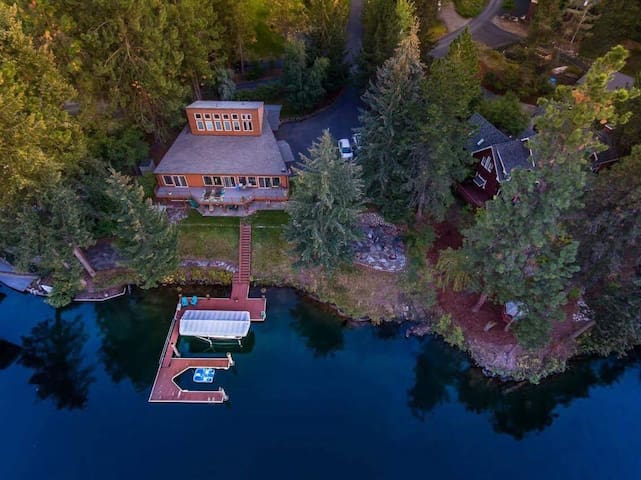 This quiet family friendly basement suite has a private bedroom with a king-size bed or two XL twin beds if desired, a kitchenette with a refrigerator, breakfast station (including a coffee pot, griddle and toaster oven), microwave, a private bathroom, and a living room with cable TV, internet, and Wii with day bed and cot for children if desired. No pets, except for small hypoallergenic dogs upon approval and deposit.
As a certified family home we put in extra insulation in the basement for sound dampening. One can feel the cares of the world wash away upon entering this serene suite. It feels like the world's noises disappear. This is a great place to stay for families with children on the autism spectrum.
Quiet street in a middle class neighborhood
Our experience with Michelle's place was great! She had it all set up for us, we came in very late after a function and she had lovely notes for us! We would definitely stay with them again!
Amanda
2017-04-09T00:00:00Z
Tipe Kamar
Kamar pribadi
---
Tipe Properti
Rumah
---
Mengakomodasi
4
---
Kamar tidur
Post Falls, Idaho, Amerika Serikat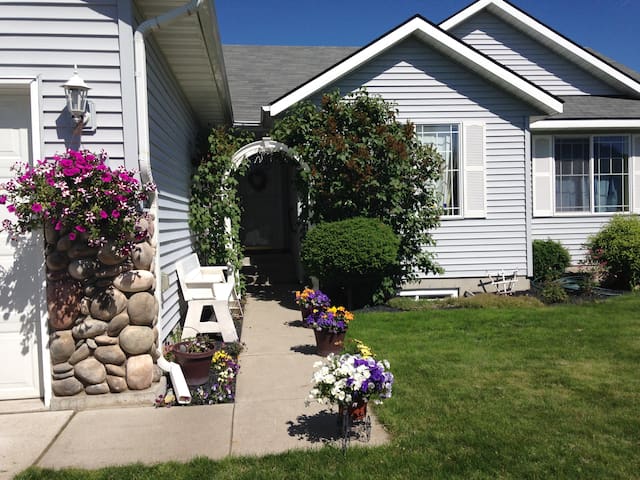 Come stay in the 2nd-floor guest room(s) of our brand new house! Each bedroom is clean with a full-size bed and you will have your own private bathroom. Kitchen and fridge space are available for your use. We have a very friendly dog.
The guest room(s) and bathroom are upstairs and the kitchen and living room are downstairs. Each guest room has a full-size bed and a twin air mattress, if needed. If there are more than 3 guests, a second bedroom will be made available for your use. There is an extra fee for each guest more than 2.
Our neighborhood is brand new and doesn't show up on Apple Maps yet. Please make sure you use (SENSITIVE CONTENTS HIDDEN) Maps to locate our address. There is a nice park about 1/2 a mile away with a walking path, frisbee golf course, tennis courts, and a kids' water play area. There is another walking/bicycle riding path nearby that goes the entire way to downtown.
Tye was easy to reach and really friendly! The room was super neat, bright, and clean, and I felt completely comfortable and safe. This was the perfect place to stop for a relaxed night in Coeur d'Alene.
Elena
2016-07-30T00:00:00Z
From our first communication Tye was professional and pleasant. I was arriving after midnight and he made sure to make my arrival as trouble-free as possible. The house was beautiful and clean, and Tye was always cordial and friendly. When I arrived, there was a letter describing everything I needed to know about my stay including the Wi-Fi info. The bed was comfortable, the kitchen was clean, and their border Collie, McConney, became my new buddy.
Maurice
2016-07-11T00:00:00Z
Both Tye and Cambria are top hosts. Very nice people with a beautiful home. Very accomodating and interesting to talk to. Highly recommended!
Tim
2016-08-03T00:00:00Z
Our stay at Tye's house was fantastic, his house was nice and clean. Everything was great and we definitely recommend staying here if you're in the area!
Jenny
2016-07-05T00:00:00Z
The house was clean and new. I will stay again if I visit CDA or Spokane.
Alisher
2016-07-18T00:00:00Z
Super friendly hosts, nice new residential development, fantastic house and comfortable memory-foam topped bed!
Christopher
2016-03-14T00:00:00Z
Très belle chambre avec salle de bain très propre. Quartier residentiel très calme.
Sabrina and Jo
2016-09-04T00:00:00Z
Tye and his wife were great hosts! They greeted us upon check in and showed us around. We had a private bed and bath, which were both clean and comfortable. The neighborhood was very safe, and we parked our car out front without any issues. Laundry is a $5 extra charge. Although we only stayed one night, we had a great time and would definitely recommend this room to other travelers!
Kelly
2016-07-26T00:00:00Z
Tipe Kamar
Kamar pribadi
---
Tipe Properti
Rumah
---
Mengakomodasi
6
---
Kamar tidur
Coeur d'Alene, Idaho, Amerika Serikat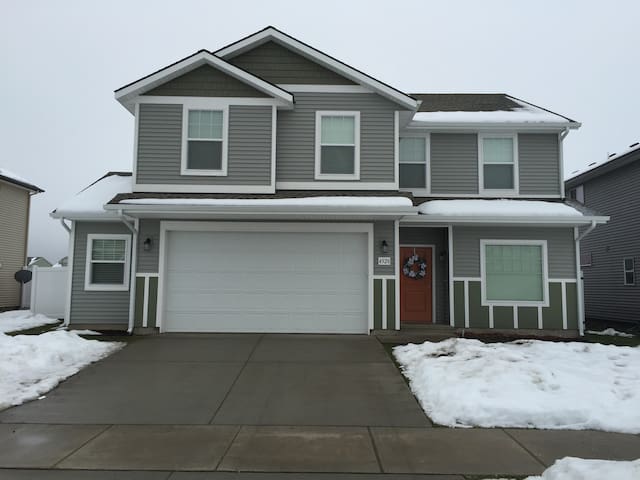 This beautifully decorated home provides ample outdoor space to play, a block away from paddle boarding(provided) on the river, is 15 minutes to downtown CDA and 35 minutes from Silverwood.
Driftwood Cottage by the River is an absolute delight to stay in. With all brand new beds, Pottery Barn linens and fun and unique decor, you will feel right at home. If you have 5th and 6th graders this year check out (URL HIDDEN) and get 3 free days of skiing at select ski resorts! We are a great location for skiing at a fraction of the cost of staying on the mountain. Within 1 block there is a very private, but public, park that gives you unrestricted access to the beautiful Spokane River. In the summer, we provide a wagon with ice chest, chairs, and towels to make your beach time more enjoyable. Make sure you bring your life jackets and sand toys so you can enjoy countless hours at the water. The large yard, both in the front and back, offer grassy fields for children to play on and we provide a few games and balls for your convenience. A BBQ and table for 8 on the back deck make for great family dinners. NEW this summer - we're offering a LAKE PACKAGE. For $75 hour we'll take you out on Liberty Lake (20 minutes from the Cottage) on either our Surf Boat or Pontoon Boat. The surf boat is outfitted for fun at any age or ability. We have surfing, wake boarding, water skiing and tubing available. The Pontoon Boat is set up for more relaxing cruising and comes complete with appetizers and drinks of your choosing. Or mix it up and do both - the price is the same. I'll be your host and take you and your group for a morning, afternoon or evening of true vacation adventure. (We don't rent out our boat - but we're happy to host.) Availability is limited so book your stay and play adventure at the Driftwood Cottage early!
Greens ferry District of Coeur d' Alene is a quiet and beautiful section of the upper Spokane River. Many people purchase homes here so they can enjoy the endless water activities and be on permanent vacation. We are located 5 minutes East of Post Falls and 15 minutes West of downtown Coeur d' Alene. If you haven't been to CDA, as the locals call it, it's worth a trip. Concerts, a walkable shopping district, fantastic beach front parks and tons of people watching, make downtown a favorite for many. For food we would suggest going to Timber in Post Falls, Angelo's & Crafted in CDA. They're our current favorites.
We were fortunate enough to find Judy's place on our way back to Seattle. It is fully stocked, very well kept and Judy was great in answering my questions (which weren't a whole lot as it was very detailed). My son (toddler) had a great time with all the board games and bunk bed. We didn't get a chance to hang out in the beautiful backyard, maybe next time.
Amit
2016-10-01T00:00:00Z
Judy was an excellent host! We would certainly stay there again.
Melina
2016-09-17T00:00:00Z
We had a great few days in Judy's home. The cottage was perfect, had everything we needed and is in a lovely location. Our daughter absolutely fell in love with the swing in the front yard and made full use of it! I wouldn't hesitate to recommend.
Anna
2016-06-08T00:00:00Z
The house was so quaint and cozy! Loved that Judy made sure we packed our rain gear for our adventure and let us know when the unit was available. It was a great experience for our first Airbnb; will definitely be doing this again!!!!
Tyra
2016-10-16T00:00:00Z
Absolutely loved staying here. It was cutest home that made you feel right at home, and there were so many different activities available. Highly recommend and would come back in a heart beat.
Tori
2016-04-18T00:00:00Z
Delightful cottage! Comfortable beds, lovely linens, cottage appears fairly new or recently remodeled. Big windows give lots of daylight. Nice kitchen, had everything we needed and more. We enjoyed using both the front deck and back deck. Ate breakfasts and dinner on the back deck. Little yellow plums on the tree are ripening and tasty. We launched our kayaks at the nearby public beach access. Very convenient!Recommend that small, human-powered boats go out early before all of the fast power boats get on the water and make a lot of wake. We went out to dinner one night at Angelo's Ristorante in Coeur de'Alene - it was incredible, delicious and authentic old style Italian. We highly recommend the Driftwood Cottage! Thank you Judy!
Nancy
2016-08-14T00:00:00Z
This was a great experience. Inviting, tastefully decorated, clean, lots of extras (games, cooking supplies, lots of linens), and a nice location with river just six doors down and several local beaches. We really enjoyed it. The fenced yard was really nice for our grandsons to play in.
Dwayne
2016-08-02T00:00:00Z
We had a wonderfully comfortable stay at Driftwood cottage. Judy was amazing to work with. Our family of 6 played in the backyard, enjoyed family meals and enjoyed perfect nights' sleep. Husband and 17 yr old even went out on the river this morning. We are so thankful.
Royale
2016-07-18T00:00:00Z
Tipe Kamar
Seluruh rumah/apartemen
---
Tipe Properti
Rumah
---
Mengakomodasi
8
---
Kamar tidur
Coeur d'Alene, Idaho, Amerika Serikat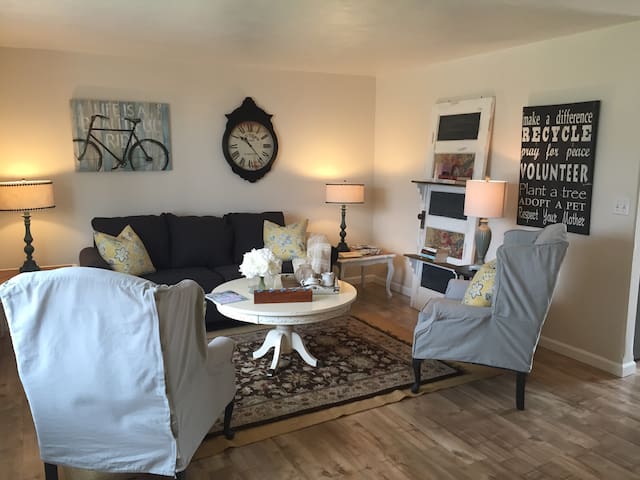 Coeur D'alene Place whole basement with bath and kitchen. We are close to a dedicated Bike Trail separate from the road going straight to downtown and lakeside. We have 3 bikes you can borrow. There is also public transport and a nice park in walking distance.
There's a TV in the bedroom with local channels. There's a projector in the basement living room with a blu-ray player, Netflix and local channels.
There's a large park right in the center of the neighborhood with trails heading to it.
Tipe Kamar
Kamar pribadi
---
Tipe Properti
Rumah
---
Mengakomodasi
4
---
Kamar tidur
Coeur d'Alene, Idaho, Amerika Serikat
We invite you to stay in our cozy home with our loving dog & 2 cats! The room includes a queen bed and a private bathroom. For other amenities and attractions near us take a look at their respective sections! Any questions feel free to ask!!
We are 2 blocks from a park with a splash pad. We are in the middle of it all! minutes from many attractions including the mall, lake, and amusement park. You can head north to Silverwood Theme Park, South to Resort downtown, East to Montana, or West to Spokane! Post Falls is 5 minutes away Spokane is 15 minutes away Hayden is 5 minutes away Half an hour from Montana
A very quiet neighborhood. We are in the middle of it all, between four of the largest cities in North Idaho. We really love where we live. We are close to everything and minutes to get anywhere in town!
Location was clean, easy to find and very comfortable. Their cats are wonderfully well behaved and adorable, and they have a large fenced back yard that they let our dogs play in.
Joseph 'Barbacoa'
2015-09-04T00:00:00Z
Amazing place to stay! So accommodating and cozy! It felt like we were at home. 10/10 would recommend.
Raya
2016-11-08T00:00:00Z
Mike and Jess are awesome. This is my second time staying there and I can't wait until the next time.
Josh
2015-06-30T00:00:00Z
We had a nice and relaxing time at Michael's place. He welcomed us when we arrived and made us feel at home. The room was comfortable and the bathroom very well appointed. He also gave us lots of good tips for visiting the area and catching some of it's highlights.
Eric and Erika
2014-08-15T00:00:00Z
Michael and Jess were great hosts. They were flexible, pleasant, and easy to communicate with.
Sean
2016-08-26T00:00:00Z
I was a first time user of Airbnb and Michael made it very easy and trusting. They were wonderful hosts and everything is just as described. Their pets are wonderful and well behaved. There were several nights that Michael and I stayed up talking after I came in. They respect your privacy, and he asked me if it was ok if used my bathroom one night, I was very impressed by the respect shown by that simple act. I would definitely recommend these wonderful people as hosts and will be back if they have me.
Ray
2015-07-09T00:00:00Z
My stay with Michael & Jess was awesome. They were both very friendly and I had a great time conversing with Michael. The neighborhood was quiet and safe. The house was clean, organized, and had a great feel to it. I would definitely stay here again if I am ever in the Coeur D'Alene area. Thanks for having me, guys!
Hector
2014-12-31T00:00:00Z
Mike & Jess were great hosts. They were helpful with our dog getting used to their animals and chatted with us. I really liked staying there plus you can't beat their price compared to hotels in that area.
Jordan
2014-09-29T00:00:00Z
Tipe Kamar
Kamar pribadi
---
Tipe Properti
Rumah
---
Mengakomodasi
2
---
Kamar tidur
Coeur d'Alene, Idaho, Amerika Serikat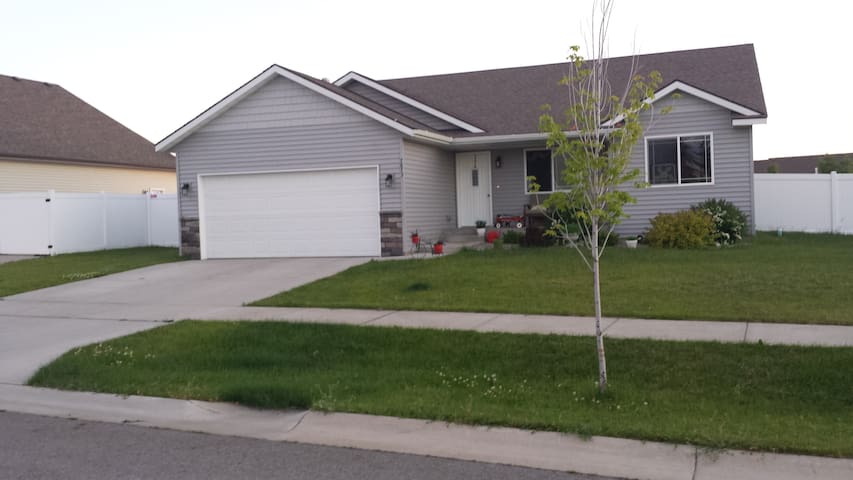 Fully furnished with master suite, guest bed and two full bathrooms. Sectional couch in living room, garage, full kitchen and back deck w/ bbq. Easy access to bike trail to ride to downtown CDA or 10 min drive to the lake! Quite suburban neighborhood
Quiet neighborhood to be well rested for the race!
Tipe Kamar
Seluruh rumah/apartemen
---
Tipe Properti
Rumah
---
Mengakomodasi
4
---
Kamar tidur
Coeur d'Alene, Idaho, Amerika Serikat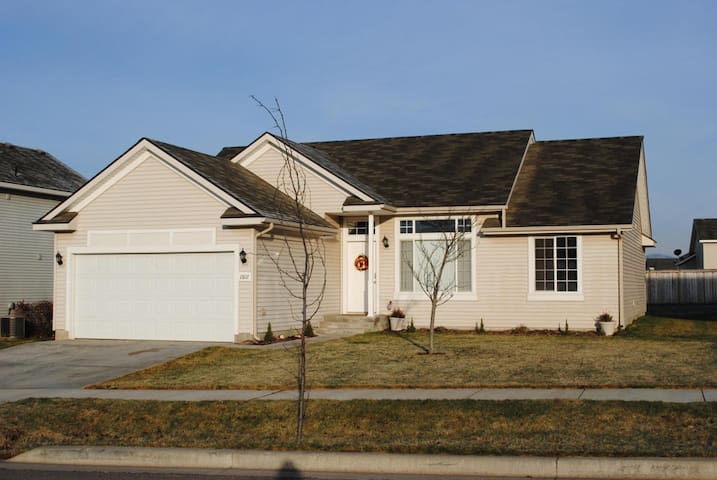 My place is close to the airport and parks. You'll love my place because of the coziness, the views, the location, and the people. My place is good for couples, solo adventurers, and business travelers.
One full bedroom with a queen sized bed and bathroom upstairs. BBQ available on the deck. You can sit out on the deck and enjoy the views or sit down on the lawn area under the trees. You may use the kitchen and washer and dryer if needed. We have a television in the family room that runs from an antenna. We also have Netflix. The bedroom has a ceiling fan.
Our neighborhood is unique because it is out of the way, and very quiet. You feel like you are away from the hustle and bustle of city life but close enough to get to it if you want it. Easy access to interstate 90. If you are lucky, you may also get to see the wildlife that frequently pass through our yard.
We had a very lovely stay with Wendy and John. The house is in a beautiful location and the room is well-equipped. You'll have everything you need. The bathroom was perfect and conveniently right next to the bedroom. We had a great time chatting with our hosts who are just lovely and kind people. We were greeted with a light breakfast in the morning that was helpful in getting on the road to continue on our trip and included delicious fresh apples from their tree. Thanks for letting us stay! We highly recommend Wendy and John's place and would definitely stay there again!
Sarah
2016-09-18T00:00:00Z
Wendy and John were great hosts, friendly and helpful! Communication was perfect, Wendy answered all my messages within 1 minute. The room and the bathroom were clean! The bed and everything else was so comfortable that we decided within a few minutes to stay there instead of the expected one night. The view of the lake in the bedroom is amazing! Wendy and John recommended the pizza place embers,just 5 minutes away from their house and we had a wonderful evening there! Wendy and John made our visit the best air bnb experience we had and we've already made many really good experiences! We absolutely recommend a stay there! You will love it!
Simone
2016-10-02T00:00:00Z
Wendy and John greeted us at their front door and twenty seconds later we were friends for life. Wendy and John are warm and welcoming people. They showed us to our room with a magnificent vista of beautiful wilderness garden, mountains, lake and sky. The room was fresh and inviting, making it feel like your own home, complete with Thomas Kinkade features. The location is as wonderful as John and Wendy.
Lh
2016-08-12T00:00:00Z
Wendy and Don are awesome. Beautiful lake house, very quiet neighborhood, comfortable room. Would love to stay again!
Charles
2016-08-23T00:00:00Z
Wow! Everything about my weekend here was amazing! Wendy and her husband John are extremely welcoming people! Their home is beautiful and the view is fantastic: you cannot beat a remote lakeside bedroom! As hosts they are talkative and friendly and all my necessities as a guest were met without incident. I honestly couldn't say a bad thing about them if I tried. The area is a bit secluded and cell phone reception is not the best, but with a view like that it's a crime to be on the phone. Bed is nice and firm too! I'm looking forward to seeing them again, maybe regularly.
Maggie
2016-07-24T00:00:00Z
Don and Wendy were great people. They are super friendly and they have an very nice house. The setting was stupendous as was the room. We even got to see wild turkey driving up to their house. If they were not already booked, we would have stayed again.
Gary
2016-08-17T00:00:00Z
Friendly folks. Even made a light breakfast for Me. I was very last minute but no issue for John and Wendy
mike
2016-09-09T00:00:00Z
Wendy and John were absolutely wonderful to stay with! They stayed up to see us in and we ended up having a great conversation! Their home is lovely and nestled in a wonderful part of Hauser. The view is awesome! Would recommend to anyone looking for a friendly, clean, welcoming place to stay while on their travels!
Alicia
2016-08-14T00:00:00Z
Tipe Kamar
Kamar pribadi
---
Tipe Properti
Rumah
---
Mengakomodasi
2
---
Kamar tidur
Hauser, Idaho, Amerika Serikat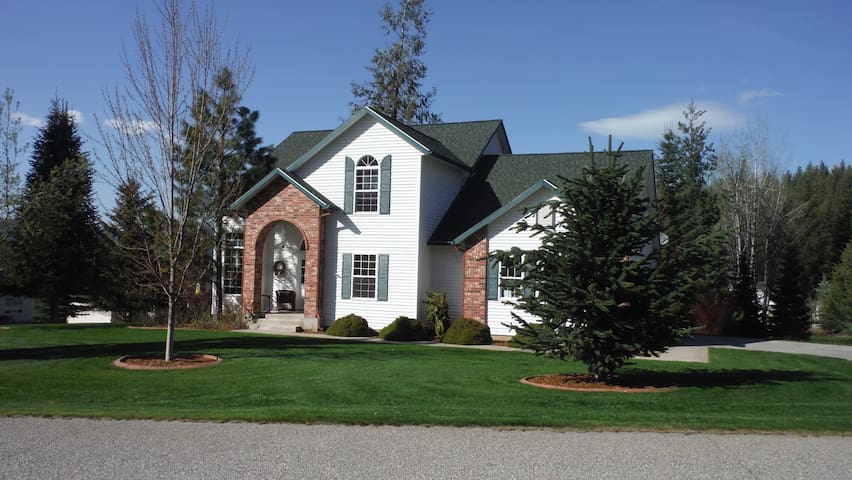 1

–

18

dari

71 Sewa Rumah
Masukkan tanggal untuk melihat harga lengkap. Biaya tambahan berlaku. Mungkin dikenakan pajak.