Hamptons House is on the ocean on Tasmania's Great Eastern Drive just one and three quarter hours from Hobart and Launceston and 10 minutes south of Swansea. The House is perched on thirty metre cliffs with spectacular views over Great Oyster Bay.
A spectacular property taking full advantage of the Freycinet peninsula views. Chris was on hand whenever we needed anything. A great place to relax and unwind to the sound of the ocean, or collect shells with the family on your own private beach!
Joe
2016-03-15T00:00:00Z
We had the perfect family holiday at the beautiful house at Hamptons on the Bay. The view is amazing and we had a great time relaxing at the house. The house is very clean and modern and has all the facilities you need. There is a really nice outdoor fire pit overlooking the bay. There are lots of nearby beautiful hiking trails and good fishing spots. The host made us feel very welcome from beginning to end. We highly recommend this house!
Sarah
2016-04-13T00:00:00Z
Beautiful, large home at the ocean's edge about 10 min drive from the next small village and ca. 1 h easy drive to the National Park. Amazing views. Peaceful, quiet and spotlessly clean. We had a fantastic stay!
Anna
2017-01-22T00:00:00Z
We had a wonderful stay. The photos can not do justice to this wonderful location and the incredible hosts. The house is beautiful and there is nothing you could possibly need that has not been provided for.
Jane
2016-09-29T00:00:00Z
Host had on-site manager - Chris meet and familiarize us with the house and surrounds - very well done! Despite the other cabins on the property being ~50 meters away the house itself was still very private and has spectacular interior rooms and exterior views across the bay to Freycinet. The other bonus is a short 10 minute walk to a completely private beach on the adjoining farmers property - just fantastic...
Peter
2016-02-27T00:00:00Z
An amazing place to have stayed in as a family of four adults. The house is big, with lots of space for both personal bedroom space as well as, a HUGE open kitchen, lounge, dining and day bed area which all look out to Freycinet National Park and the ocean. Kelvin was away during our trip but we were well looked after by Chris who had built/renovated the House. The care that was put into the home is obvious - with many appliances available for our use - from bread maker, coffee machine, slow cooker, pressure cooker, outdoor BBQ, and double ovens. There is a large verandah where it is absolutely tranquil to sit out on and listen the the waves rolling in. With a short walk of about 10 - 15 minutes leads to a private beach. Swansea is about 10 minutes away for groceries. An absolutely lovely place to stay, and would go back in a heartbeat.
Silvan
2017-01-26T00:00:00Z
We are a family of 6 from Singapore taking a round the island trip in Tasmania. After 6 days of traveling in different places, we checked into this heavenly property and was craving for Chinese food. The Host was extremely hospitable and cooked us a scrumptious dinner with roast pork, vegetables with mushroom and scallops, a pot of salted vegetable soup cooked with pork, and also bacon omelette specially for my son. This is the best accommodation that we have stayed in so far. The view was amazing and the house homely and comfy. Their attentions to details are evident in every corner of the house. This is truly a dream house for everyone. Highly recommended to those looking for a relaxing holiday at a hideaway with soothing surrounding.
Shiruh
2016-12-22T00:00:00Z
Tipe Kamar
Seluruh rumah/apartemen
---
Tipe Properti
Rumah
---
Mengakomodasi
6
---
Kamar tidur
Rocky Hills, Tasmania, Australia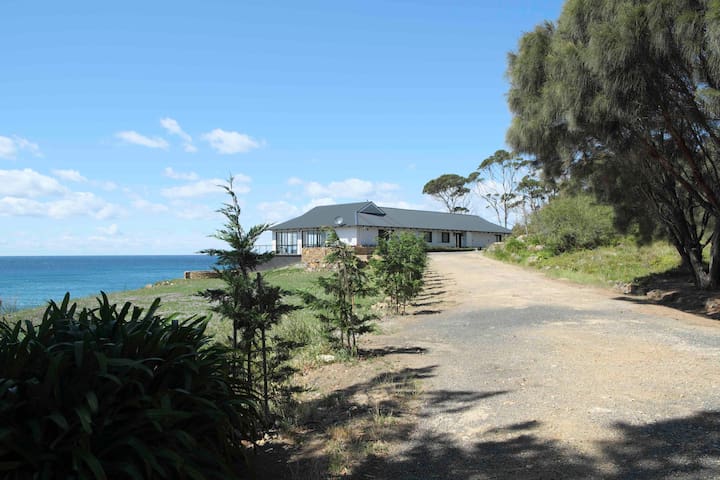 Dragonfly Lodge is a multi-award* winning luxury holiday home. Offering 3 beautifully appointed bedrooms, each with an ensuite and custom made linen and towels, Dragonfly Lodge can cater for up to six adults.
Tipe Kamar
Seluruh rumah/apartemen
---
Tipe Properti
Rumah
---
Mengakomodasi
6
---
Kamar tidur
Rocky Hills, Tasmania, Australia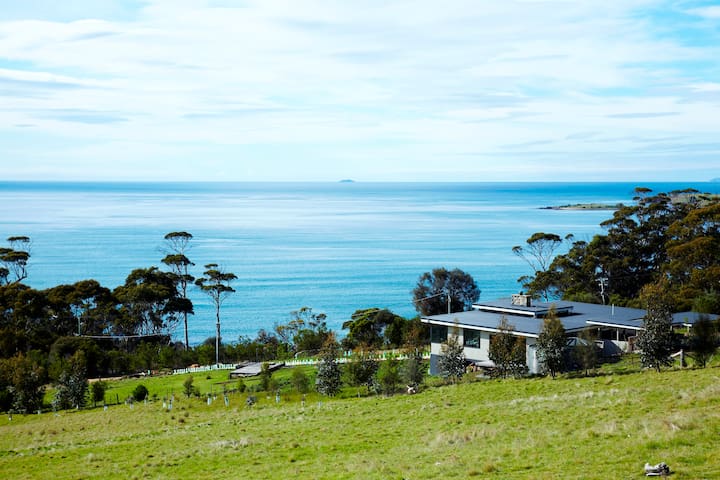 斯旺西海濱別墅是兩個完美的浪漫之旅或一個神話般的扎堆交會的家人和朋友。
Jill's house has a breathtaking ocean view. I cannot recommend enough to get up early and watch the sunrise over the Freycinet National Park, one of the highlight of our Tasmanian trip. The house is very comfortable and feels like home.
Denis
2017-03-09T00:00:00Z
Wonderful place, very relaxing.
Emily
2017-04-02T00:00:00Z
Fantastic location and great beach house
Anna
2017-03-30T00:00:00Z
We had a wonderful stay at Jill's house. The views were amazing and the house fabulous! Wished we had booked to stay for longer.
Liz
2017-03-24T00:00:00Z
Very nice house ! AMAZING VIEW !!
Morgane
2017-03-27T00:00:00Z
Swansea Beach House was truly wonderful. Thank you so much for having us Jill. Jill was amazing with communication and always answered our queries. The house is in a FABULOUS location and so much has been thought of to make your stay a special one. We truly hope to return one day.
Shannon
2017-03-25T00:00:00Z
We loved our weekend at Jill house in Swansea. It is sone comfortable and well equipped and the view from the living room is sensational. The beach is 1st note from the house and the kayaks were an unexpected bonus. Jill has thought of everything to make your stay really enjoyable.We would love to return and spend much longer. Thank you
Rosemary
2017-04-09T00:00:00Z
Stunning views and spacious house, got everything we needed, kids friendly too...our kids had so much fun playing with the in house board game and we did too. The house is so close to the beach, it's just like few steps away and won't forget the breathtaking views from the living room. Will definitely stay again in the near future when we visit Tasmania again!
Anita
2017-04-11T00:00:00Z
Tipe Kamar
Seluruh rumah/apartemen
---
Tipe Properti
Rumah
---
Mengakomodasi
6
---
Kamar tidur
Swansea, Tasmania, Australia
Schouten Cottage ist ein Haus mit 2 Schlafzimmern in einer privaten ländlichen Umgebung an Tasmaniens Ostküste. Voll ausgestattete Küche, Esszimmer, Queen-Size-Bett, Etagenbetten, stilvolles Badezimmer mit Badewanne und separater Dusche. Der perfekte Ort für einen ruhigen und erholsamen Urlaub.
Frisch, luftig, lichtdurchflutete Haus mit rustikalem Charme. Das Ferienhaus für 4 Personen bequem, da ein ausziehbares Matratze für den 5. Gast ist. A porta Kinderbett ist auf Anfrage ebenfalls verfügbar. Alle Bettwäsche und Handtücher werden gestellt. Das Haus ist von einem großen Holzofen erhitzt, ideal für die kalten Nächte. Sticks und Brennholz geliefert. Die Küche ist mit allem ausgestattet, was Sie brauchen, um Mahlzeiten zu kochen mit. Pontypool liegt zentral zwischen Swansea und Orford / Triabunna 15 Minuten Fahrt oder so mit Triabunna ist der Hafen auf die Maria Island Fähre entfernt. Attraktionen gehören: - Alinen Kulturerbe und Strände 5 Minuten fahren - Kleine Swanport Mündung (Australiens besten Bream Fischerei Mündung) 5mins - Kleine Swanport Bootsrampe (Tor zur Schouten Insel per Schiff) 5mins - Bolton Beach (Surfen, Angeln vom Strand und Blick auf Maria Island) 10 Minuten - Kelvedons Strand 10 Minuten - Rocky Hills Lagergelände und Strand 10 Minuten - Kates Berry Farm (Eis, Pfannkuchen und Schokolade) 13mins - Swansea (Restaurants, Tankstellen und Supermarkt) 15Minuten - Maria Island Ferry (Triabunna) 14mins - Orford (Restaurants, Tankstellen und Supermarkt) 15Minuten - Freycinet National Park (Weinglas Bay, Coles Bay, Friendly Beaches) 1 Stunde Plus viel, viel mehr
Pontypool liegt zentral zwischen Swansea und Orford entfernt, 15 Minuten oder so. Swansea, Orford und Triabunna sind die lokalen Gemeinden. Die jeweils IGA Lebensmittelgeschäfte, Öffnungszeiten sind zwischen 9.00 bis 17.30 Uhr. Unser Ferienhaus Lage ist perfekt für diejenigen, die eine Pause von der Innenstadt suburbia wollen. Pontypool ist ruhig, privat und nur 5 Minuten zu einigen Tasmaniens schönen unberührten Stränden fahren.
We loved this house, nice place for a quiet get away. Fireplace was great on cold nights and chocolates on arrival were much appreciated.
elise
2016-04-26T00:00:00Z
A clean, cute and cosy place to yourself with everything you need in the kitchen. Quiet, secluded place but only 15-20min drive to either Swansea or Triabunna. Bring fly spray for the mozzies!
Clint
2017-03-03T00:00:00Z
Schouten cottage was the perfect place for a quiet and relaxing weekend enjoying the east coast. The cottage is lovely; minimal but comfortable fit out, views of Freycinet, and fresh mulberries from the tree in the yard - and the diagonal weatherboards inside made me think that maybe El Lissitzky would have felt right at home here! Levi and Louise made everything very clear and easy to find, and the notes describing nearby beaches (thoroughly recommend Saltworks!) and amenities was really helpful. They also let us borrow a child carrier backpack for our 2 year old, which was fantastic. Ps. Don't forget to pack the aerogard.
Andy
2016-02-09T00:00:00Z
Schouten Cottage was a nice quiet, clean cottage to spend a couple of nights. We used this as a base to explore another corner of Tasmania, and found some great places we hadnt been before thanks to Louise and Levi's directions. Correspondence with Louise and Levi was quick and easy - thanks for making your place available!
Mark
2016-06-14T00:00:00Z
Cottage is entirely clean & cosy. Kitchen well-equipped so we could cook ourselves breakfasts & dinners (likely necessary as the house is a distance away from surrounding townships). The fireplace had kept us snug and toasty. Communicating with Louise had been quick and pleasant. Altogether a lovely stay!
TingXuan
2016-12-11T00:00:00Z
Although the location is slightly bit remote, the quality of accommodation is amazing. The price is very competitive among the area. A good place for people or family to improve and underpin their relationship as no TV and no WIFI. Vodafone users may find out a little bit bored in the night as no reception in the East Coast.
Jian
2016-03-27T00:00:00Z
A really comfirtable cottage in a very quiet and relaxing rural setting. Had a wonderful time exploring all the beaches nearby.
Susan
2017-01-01T00:00:00Z
Great cotton, tidy and spacious. Perfect if you want to get a peaceful getaway. Communication with Levi & Louise went easy and well. Only thing you need to be aware of is the proper handling (close doors, windows etc before dusk) regarding the mosquitos in the countryside.
Björn
2016-02-11T00:00:00Z
Tipe Kamar
Seluruh rumah/apartemen
---
Tipe Properti
Rumah
---
Mengakomodasi
5
---
Kamar tidur
Pontypool , Tasmania, Australia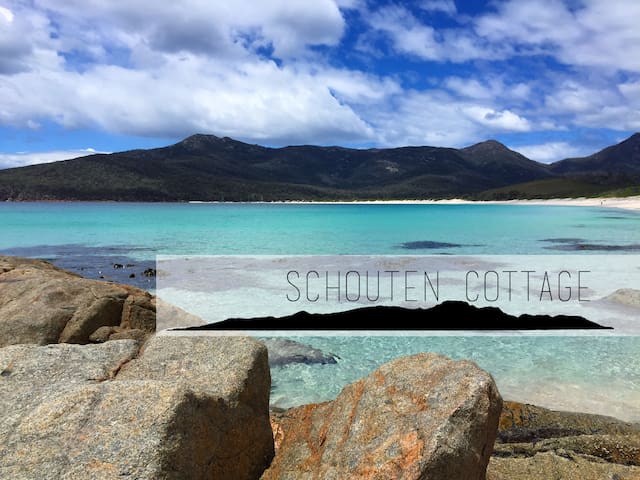 My place is close to - Little Swanport Rivermouth (public boat ramp/jetty & heritage site) - East Coast wineries - Local Beaches (Boltons Beach, Cressy Beach and Kelvedon Beach) - Local attractions (Kate's Berry Farm & Wine Glass Bay) - Orford - Triabunna - Swansea - Freycinet You'll love my place because of The rural yet geographically convenient location & waterfront setting. My place is good for couples, solo adventurers, families (with kids), big groups, & furry friends (pets).
The space is basic and cosy with the dwelling situated down by the waters edge.
The photos imply a romantic getaway, the potential of the property is great, the location and views are great .. However, we feel that this place does not currently live up to the photos or the romance implied.
Peter
2017-03-23T00:00:00Z
Long driveway, be prepared for a few bumps. Modern decor and serene setting , great deck over looking lovely views.
Danielle
2017-03-31T00:00:00Z
Thank you for a great stay - everything inside was new and clean, the check in and out was easy and convenient, the hosts were friendly and generous and flexible and made us feel welcomed to enjoy a relaxed stay. The property is lovely and the sunrise gorgeous. Thank you
Kate
2017-03-12T00:00:00Z
Calm and quiet place. Good place to see stars at night. Is a perfect location if you prefer to stay away from city. Be prepared to drive 25mins to do your groceries shopping. Robert is very helpful. He replied to emails very promptly and rendered his assistance whenever we needed him. Thank you for the stay.
Janet
2017-04-03T00:00:00Z
Tipe Kamar
Seluruh rumah/apartemen
---
Tipe Properti
Rumah
---
Mengakomodasi
4
---
Kamar tidur
Pontypool, Tasmania, Australia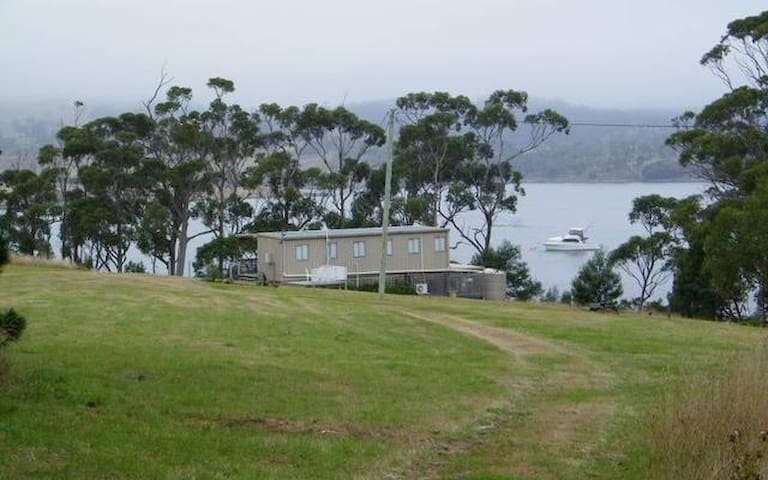 My place is close to the beautiful beaches of Tasmania's East Coast, wineries and rural landscapes. You'll love my place because of its unique building, history and decor. A great place for couples, solo adventurers, and business travellers.
A unique space to relax in.
The East Coast of Tassie is unique and has some of the most beautiful beaches in the world..
Beautiful and spacious with modern kitchen and bathroom and a loft bedroom. We loved it!
Nicola
2017-01-05T00:00:00Z
The Little School house is just lovely. The renovation is very well done and Carolyn's decorative taste is fantastic; eclectic, interesting and colourful. The school house has everything you need. Just be sure to get a detailed description of the address, (SENSITIVE CONTENTS HIDDEN) maps sent us on a 40 minute detour when we clicked on Get directions...grrr. The property is about 15 mins out of Swansea, which we got our morning coffee and supplies from. Close to all the famous beaches and wineries we wanted to see. Carolyn was very accomodating and takes real pride in her lovely property. We would highly recommend.
Renee
2016-12-28T00:00:00Z
What a beautiful, spacious and comfortable home! It was very well appointed with so many delightful and tastefully artistic touches throughout. We wish we could have stay for much longer. Carolyn was very helpful, quick to respond and flexible.
ron
2017-03-07T00:00:00Z
Beautifully renovated chapel in quiet location. Excellent amenities and host.
Leanne
2017-01-12T00:00:00Z
We loved every minute of our stay! The chapel has been renovated beautifully and has a very homely feel. Carolyn made us feel so welcome and the stars at night are just breathtakingly bright! We will definitely be back!!
Theo
2017-01-27T00:00:00Z
We had no trouble finding the place, GPS took us directly to it. Great accommodation in a beautiful part of Tassie.
Phil
2017-01-22T00:00:00Z
A unique & interesting place to stay and a good base for exploring the East Coast. Comfortable accommodation & the bathroom in particular was great.
Jackie
2017-01-11T00:00:00Z
A charming and peaceful location, with lovely kitchen and new bathroom. The addition of breakfast was really nice with farm fresh eggs from the chickens. Highly recommended.
Jennine
2017-03-21T00:00:00Z
Tipe Kamar
Seluruh rumah/apartemen
---
Tipe Properti
Lainnya
---
Mengakomodasi
4
---
Kamar tidur
Little Swanport, Tasmania, Australia
El escondite es una propiedad única frente a la playa que se sienta en un acantilado rocoso en el municipio histórico de Swansea en la magnífica costa este de Tasmania. Escuchar las olas rompiendo en la playa. Hipnotizado por las vistas de 180 °. Relajarse.
El escondite es un lugar para relajarse mientras disfruta de las magníficas vistas a Gran Oyster Bay. La década de 1970 casa de diseño arquitectónico fue construido con comodidad y simplicidad en mente. La decoración es una mezcla de moderno y 70s. La casa mira hacia el norte y se calienta a medida que el sol se levanta sobre la Península de Freycinet. Leer el periódico con un café o paseo a lo largo de nueve millas de la playa (que está literalmente en la puerta). Explorar la histórica y pintoresca rodea de Swansea durante el día. Ponga los pies en alto y descansar en el sofá de cuero frente a la chimenea en la noche. Cualquier cosa que hagas, relajarse y disfrutar.
Swansea está situado a convertirse en su base para explorar la costa de Tasmania Medio. Es menos de 2 horas a tanto Launceston y Hobart. Se encuentra a 45 minutos en coche al Parque Nacional de Freycinet o para el ferry a Maria Island National Park. Swansea es bien conocido para el canotaje, kayak y pesca. En la zona hay oportunidades para caminatas, ciclismo de montaña, surf y buceo.
We had a fantastic time at the Hideaway. So quiet and peaceful. The fireplace was an absolute gem! Great place, clean, spacious and close to amenities. Very happy and pleasant stay.
Emma
2016-10-24T00:00:00Z
Our experience at the Hideaway was wonderful! The view is stunning, and the location was great - close proximity to Swansea, but still hidden enough to feel like a secluded getaway. I would definitely recommend the Hideaway as accommodation to other friends or family visiting the area.
Diane
2016-02-27T00:00:00Z
The place was private, peaceful and a great escape from city life. The house had beautiful open windows and we happily fell asleep to the waves and wind crashing on the shore. The kitchen and bathroom are very basic but fine for a few nights. We really enjoyed our time here!
Ivy
2016-02-19T00:00:00Z
We loved our stay! You are even closer to the ocean than it looks in the pictures - you are about 10 metres from the beach, and you can hear the sound of the waves all the time. The house is bright and clean and well-equipped. Wish we could have stayed longer!
Kristy
2017-03-01T00:00:00Z
Spacious, cozy, wonderful sea view. Fully equipped with all the things you need for a pleasant stay. Close to the beach. Beautiful sunset we can see every day. Andrew is also a nice guy and help you immediately if you need help...thanks. Highly recommended for those who wants to stay around Swansea.
Pik Wan
2016-12-23T00:00:00Z
We have stayed at a few places around Tasmania in the last 10 days, all of them good, some excellent. This one takes first prize. For location, comfort, view, amenity and just plain awesomeness. Would highly recommend more than one night if you can. Ps we want to move in. Permanently.
Nick
2017-01-12T00:00:00Z
I don't know where to start. It was just amazing. Hpuse is sitting on little hill over looking private beach so it has magnificent view of the ocean and Freycinet natinal park. Two rooms out of three are facing water and have an amazing view. And of couse it is very spacious and clean. When we entered the house, it felt like we were walking into a hotel rooms since everythong were setup so professionally. Even the fire place was conveniently setup. The house even has a private access to a private beach where we spent our most of time fishing and collecting mussels. I will definitely recommend to our friends and come back and stay for our next visit.
Sora
2017-01-29T00:00:00Z
What a great "Hideaway"! A little rough here and there... but that's part of the charm. The views are quite inspiring !
Bevan
2017-03-28T00:00:00Z
Tipe Kamar
Seluruh rumah/apartemen
---
Tipe Properti
Rumah
---
Mengakomodasi
7
---
Kamar tidur
Swansea, Tasmania, Australia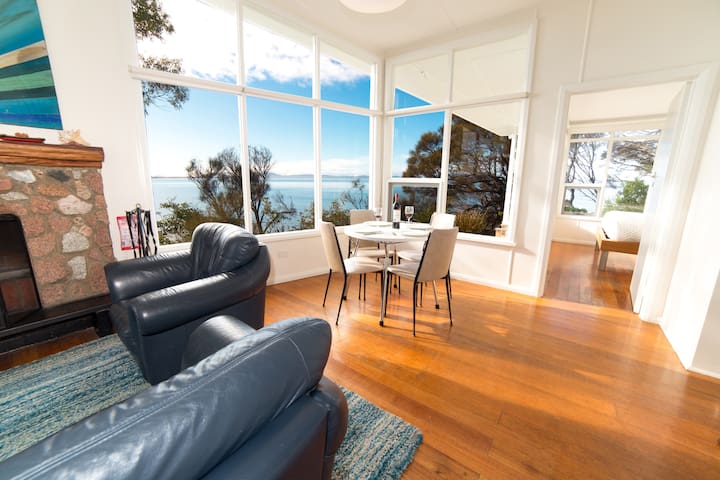 In Swansea - zentral zu allen Sehenswürdigkeiten der Ostküste, in ruhiger Lage - eine Minute zu Fuß zum Strand. 2 Schlafzimmer, Königin und zwei Einzelbetten, Haustiere erlaubt (aber nicht nach innen), schöne Aussicht. Kinder sichere Deck auf die Bucht suchen. Parken abseits der Straße. Kein WLAN.
Das Haus bietet Platz für vier Personen leicht. Es gibt schöne Aussicht auf die Bucht von dem Haus und dem großen, eingezäunten Deck, sehr geeignet für kleine Kinder. Ein portacot zur Verfügung steht. Ruhige Lage, aber mit viel Zeit zu besetzen. Strandspaziergänge, Golf, Angeln, Radfahren, Schwimmen, Vogelbeobachtung, Schnorcheln, Historisches Museum, Pinguin Betrachten und Restaurants sind nur einige der Möglichkeiten, hier, und natürlich die ikonische Freycinet National Park beinhaltet Weinglas Bay besuchen und Friendly Beaches. Vergessen Sie nicht, Cape Tourville Leuchtturm, Sleepy Bay und die erstaunliche kurze Wanderung entlang der Küste auf den Klippen zu besuchen. Im Süden ist Maria Island einen Besuch wert. Es gibt einen Grill zur Verfügung. Wenn Sie diese verwenden möchten, geben Sie bitte Ihre Gastgeber bei der Ankunft informieren. Die Holz-Heizung verfügt über einen Ventilator Schalter für zusätzliche Wärme. Wenn Sie Hilfe benötigen bitten, das Feuer zu bitte. Die Betten haben keine Heizdecken, aber heißes Wasser Flaschen und Deckel können im Badezimmerschrank gefunden werden. Es gibt eine Kaffeemaschine für Ihre Bequemlichkeit. Sie bringen Ihre Lieblingsmischung. Strandtücher, Fahrräder und Boogie Boards auf Anfrage. Kein WiFi, aber Sie können es in der Stadtmitte Zugang im Besucherzentrum und in zahlreichen Betrieben und bei der Online-Access Center an der örtlichen Schule. S
Wir tun eine Nacht Aufenthalte akzeptieren, wenn eine einzige Nacht zwischen anderen Buchungen vorhanden ist. Unsere Unterkunft befindet sich in einer ruhigen Gegend, in einer Sackgasse mit einer Reihe von ständigen Wohnsitz entfernt. Wir respektieren die Rechte der Nachbarn zu Frieden und Ruhe. Wir hoffen, dass Sie auch. Das Haus ist ein 20 Minuten zu Fuß von den örtlichen Geschäften oder zwei Minuten Fahrt. Es ist zu beachten, dass die lokalen Supermarkt, IGA bei 07.00 schließt. Wenn Sie später ankommen, wäre es klug, Lieferungen in Hobart oder Launceston zu sammeln, oder auf dem Weg Sorell (Süd) oder Campbell Town (Norden). Swansea hat eine kleine Anzahl von Restaurants zur Auswahl, eine Apotheke, ein Gesundheitszentrum mit Ärzten zur Verfügung, ein historisches Museum und Reisebüro, in dem Touren und Fähren gebucht werden können. Golfer können eine Runde auf dem 9-Loch-Swansea Kurs befindet sich auf Waterloo-Point genießen. Die Kosten sind $ 15 für eine Runde mit Golfclubs enthalten. Kostenloses WLAN ist in der Stadt an zahlreichen Standorten in den Online-Zugang Zentrum, für 40 Minuten zur Verfügung, und diese Zeit kann verlängert werden, wenn Sie etwas lokal auf den Wert von $ 3 kaufen. Sie erhalten dann einen Gutschein.
Alison and Rod's house is a gem! A very comfortable two bedroom residence with a good view of the Great Oyster Bay. We would recommend this property to anyone staying near the Swansea area!
Steve
2015-02-01T00:00:00Z
We had a good nights sleep in Alison and Rods nice house. Alison gave us a good tip about Friendly Beach. Beautiful place!
Martin
2017-04-02T00:00:00Z
A lovely home in a beautiful setting, close to all amenities while remaining a stone's throw from a quiet beach, which is the start of a gorgeous walk around Swansea that offers stunning views of the Freycinet Peninsula. Alison and Rod are excellent hosts: friendly, responsive and actively managing the place while not intruding. For those who are self-catering, the kitchen is a delight to cook in, with the full set of spices a bonus. Thanks again for making our stay so wonderful!
Selena
2016-01-05T00:00:00Z
Beautiful clean,spacious and comfy beds.The well equpiped kitchen was great.Even slippers at the front door and fresh flowers on the table.Would definitely stay here again.
Liz
2016-12-01T00:00:00Z
Nice and clean, ample size and beautiful garden. Loved the flower inside. Easy to walk to the beach and easy drive to Frecenet National Park.
Rob
2016-12-10T00:00:00Z
Rod and Alison were great hosts. The house was immaculate and had such a great warm atmosphere. Staying here made our holiday great I recommend it
Michelle
2016-04-02T00:00:00Z
Alison and Rod were great hosts and made sure we were comfortable and had everything we needed. The view was fantastic, I wouldn't mind waking to that every morning. The cottage was clean and comfortable (mattresses in particular) and just a short drive to the local shops. Great decking area utilising the view. I would recommend staying here again.
Jacinta
2016-11-02T00:00:00Z
Lovely place, especially the wood-burning fireplace - such an experience for a city-dweller like me. Minor setback is that the area is only covered by Telstra, but that only added to the tranquility of our stay. Highly recommended.
Jon
2014-05-07T00:00:00Z
Tipe Kamar
Seluruh rumah/apartemen
---
Tipe Properti
Rumah
---
Mengakomodasi
4
---
Kamar tidur
Swansea, Tasmania, Australia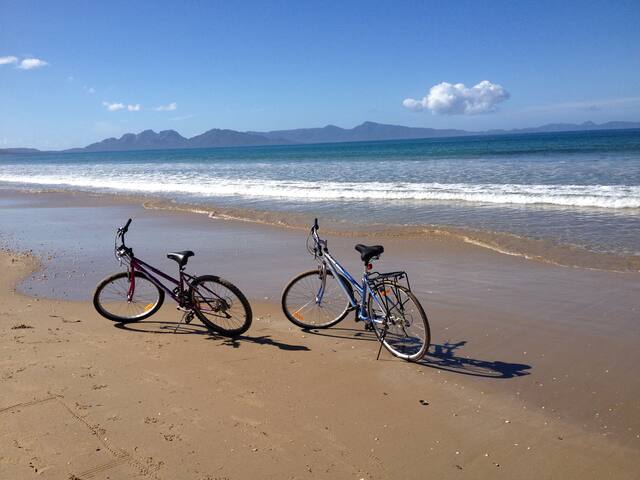 The Gregan Retreat's located on a farm called Lisdillon Estate. The house comfortably fits two (more with a tent outside) and overlooks the vineyard and Lisdillon Rivulet which flows down to Lisdillon's private beach, only a five minute stroll away.
The house has a large balcony to relax and enjoy the view of the vineyard and Lisdillon Rivulet. It has a fireplace to keep you toasty warm through those winter nights (however as we don't tend to do as many firewood runs in summer there is a chance there will be no firewood in that season). We offer a relaxed stay on a farm. We have a private beach which is so untouched a lot of rare birds nest there. We also have a private river which is brimming with a variety of fish if you enjoy fishing (strictly catch and release). Bring your kayaks and float down the rivulet to the beach. If you have a boat you can take it out to the sea and fish in front of our property (a list of species you can catch is available below). The house comfortably fits two people and possibly a child (we have a fold-up bed available). Unfortunately we cannot offer camping anymore. The property is situated 21 kilometres outside of the nearest town of Swansea, and an hour and a half from Hobart. Swansea and its surroundings have some well-known gourmet restaurants, the closest of which, Piermont, is only a ten minute drive away if guests wish to indulge themselves. It is a fifty minute drive to Coles Bay, and the world famous Freycinet National Park. Several vineyards set amidst the stunning scenery of the east coast of Tasmania, are within easy driving distance. Taste the high quality wine of Milton and Springvale at their cellar doors. Perfect for a relaxed weekend away, and you may even get to try some of Lisdillon's delicious pinot noir. For the fishermen guests, the sea out the front of our property offers: - bay flathead - king flathead - cod - trumpeter - trevally - salmon - perch - squid - crayfish The Lisdillon Rivulet has: - bream - oysters - trevally mullet - Australian salmon - brown trout - native galaxia -occasionally flathead - eels - grayling, aka cucumber herring
Close to swansea with its gourmet restaurants. It is also near many cellar doors where you can taste some delicious local wine.
A gorgeous little house with all that you need for a cozy night in this breathtakingly beautiful landscape. We woke to a frozen river and spent our time exploring Freycinet and surrounds from this charming property. A great find, we'll be back. Try the pinot noir.
Alison
2015-06-24T00:00:00Z
The sunny deck has comfortable seats and table for outdoor dinners. The privacy was perfect for our honeymoon. Nearby beaches are stunning!
Simon
2017-02-01T00:00:00Z
Everything was ready for us when we arrived. This was a great place to recharge our batteries before starting a very busy year The location was magical Nick
Nick
2017-01-07T00:00:00Z
Such a lovely place of you want to get away for a quiet couple of nights away!
Aisling
2017-04-10T00:00:00Z
Despite very bad weather, we had a marvelous time in Katherine's cottage. A very cozy place in a stuning environment. Katherine took great care of us and made us feel warmly welcomed. A true gem!
Nico
2016-02-02T00:00:00Z
Highly recommend this cottage!!! What a beautiful place. It's the perfect spot for a relaxing get away. We spent some time laid back on the deck taking in the surroundings, fishing for some Bream in the river right in front of the cottage ( we caught lots!! And all released for the next lucky angler ), and night walk out to the river mouth and along the beach which was amazing with a full moon!! We will be back for sure. Jason & Ebonee
Jason
2016-09-18T00:00:00Z
Lisdillon was a beautiful place to stay for a few days, very quiet and it was amazing to look up at the stars at night, they shine so bright when all is dark around you! It was lovely to have a wood fire to warm us at night and Katherine came by to restock our firewood supply without us even needing to ask. Wonderful hosts, stunning location = relaxing few days! :)
Maggie
2014-10-15T00:00:00Z
This place is a little piece of heaven on earth, the sort of place to go and just sit, relax and unwind....and be entertained by the resident sheep which come to visit at various times of the day. This is a very well appointed cottage with all rhat you could possibly need for a relaxing retreat.
Janette
2017-01-21T00:00:00Z
Tipe Kamar
Seluruh rumah/apartemen
---
Tipe Properti
Rumah
---
Mengakomodasi
2
---
Kamar tidur
Little Swanport, Tasmania, Australia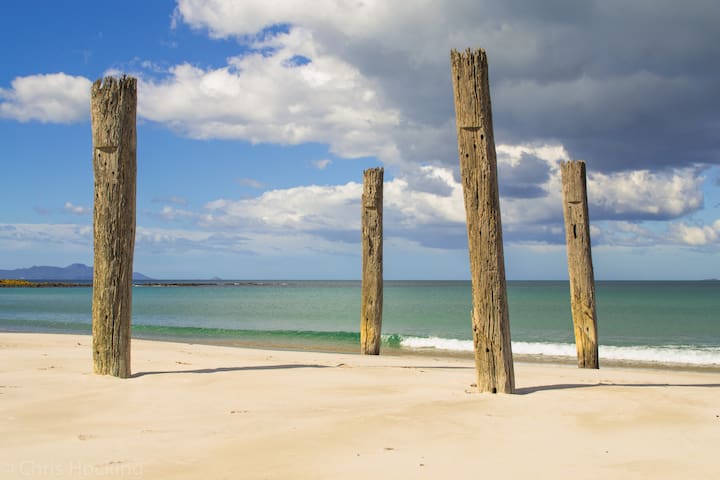 历史斯旺西是放松和湛蓝的海水,一个质朴而轻松的双层窝棚是that.Enjoy的水景从阳台只是做一个完美的地方,完美的目的地,漫步到海边或只是放松,并采取在和平与安静其中包括一个大型,可带宠物院子,前后甲板,烧烤,台球桌和可容纳多达10位客人的财产。
短短的车程海豚金沙,30M驱动器菲欣纳国家公园(这是家世界著名的酒杯湾),1.5小时取出朗塞斯顿东,1.5小时霍巴特北
spacious, beautiful town in good location for exploring Freycinet
Sarah
2017-01-10T00:00:00Z
Nice little get away
Samantha
2016-11-13T00:00:00Z
The house is good for families and big groups. Kitchen was well equiped and we were suprised to find nice book shelves, pool, piano, board games, Wii, TV and everyone could find something to have fun and enjoy the time at Danny's place. Future guests should consider, there is no wifi. Thank you Danny for great hosting. We look forward to coming back soon.
Nino
2016-12-19T00:00:00Z
The House is really lovely and the location is very close to the IGA and the Beach.
Emma
2016-12-08T00:00:00Z
This is a good value and uniquely charming property. Great for family time together.
Susan
2017-03-18T00:00:00Z
Thank your for the lovely stay. Fully equipped with all one needs. Especially books, games and DVD's. Loved the duvet on my bed. So good!! Very quirky seaside old decor. Close to the beach and even has a view from upstairs!
Brichelle
2017-03-11T00:00:00Z
Danny's house is not new or in modern style, but it is comfort and big enough with 5 bedrooms and whole kitchen equipment! The house let my friend's family and mine have a good rest and great relaxation in Swansea! Thank you Danny!
颖
2017-01-03T00:00:00Z
This is a comfy, relaxed and spacious house, perfect for a large family or group of friends. Great views. Kitchen well equipped. Our teenage kids loved the pool table!
Antje
2017-01-08T00:00:00Z
Tipe Kamar
Seluruh rumah/apartemen
---
Tipe Properti
Rumah
---
Mengakomodasi
10
---
Kamar tidur
Swansea, Tasmania, Australia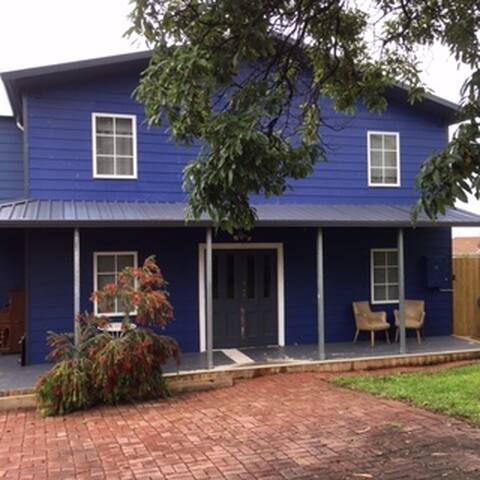 Thalia Haven diatur pada 130-acre berhutan semenanjung pribadi yang dikelilingi oleh air kristal-biru besar Oyster Bay. Lima km dari garis pantai termasuk eksklusif pantai pasir emas Anda sendiri. Akomodasi di 4 cottage kuno-batu di tepi laut.
Thalia adalah sebuah karya belum menyenangkan berani kemandirian: semua Anda air, listrik, dan kehangatan yang berasal dari tanah Thalia, angin dan sinar matahari. Pedesaan, ya, tapi jangan takut: semua kenyamanan yang Anda akan perlu untuk bersantai, bersantai dan menjelajahi berada di tangan.
Thalia terletak satu jam dari bandara Hobart. Pertengahan jalan antara Swansea dan Orford, banyak kesenangan Pantai Timur ini (Wineglass Bay, Maria, Douglas-Apsley, penguin di Bicheno) menyenangkan hari perjalanan dari Thalia.
We had an absolute ball at Thalia, would highly recommend staying there for a few days we were lucky enough to stay for 3 nights, we had 2 friends join us for a night and they were so sad to have to leave and head back into Hobart. You could easily fit 6+ people we barely touched many rooms! Susan was a delight to work with, her directions to the house were essential! Ensure you have a FWD to go off track road with when you get off the Tasman highway to reach Thalia itself. The kitchen is very well equipped, I loved finding a new experience of the steam oven. We loved having the luxury of a wood fire so much, it was a hit! The bath is everything you expect it to be and more, despite being the middle of winter the bath was so warm and relaxing. Absolute heaven, we will be back!
Natalie
2016-07-17T00:00:00Z
Thalia house was very peaceful for us. Loved using the sauna and outdoor bath and having a lovely woodfire of an evening. We recommend to anyone in need of some quiet, rejuvenation, peace, privacy and luxury. Thankyou for a relaxing time!!
Lauren
2015-12-05T00:00:00Z
Thalia was absolutely amazing. It was everything advertised and more. Susan was incredibly helpful and provided much additional information on the local area. We'll be back!
Jill
2016-03-30T00:00:00Z
Thalia was absolutely amazing. This place is THE place for anyone looking to truly getaway from it all and completely relax. Susan was very helpful with clear directions and recommendations in Tasmania. She kept in touch with us leading up to the trip and was a fantastic host. Can't say enough about Thalia!
Natasha
2016-02-18T00:00:00Z
这是我在airbnb上收藏的第一个房子,此次澳洲之行特意查询了房子的位置,也因此邂逅了塔斯马尼亚:)在这里,我和家人度过了完美的假期时光,房东提供的位置说明非常清晰,而房子和周边的风景令人难忘!
Sissi
2017-02-20T00:00:00Z
Thalia is heaven. There is so much beauty it requires a week to explore from the woods to the beach. Not to mention the building and rooms are amazing, 5 star quality. Thalia is the best advertisement for everything Tasmania!
Kevin
2015-11-03T00:00:00Z
We had a fantastic stay at Thalia. Breathtaking views and very well set up house with everything required. Photos do not do the views justice. Susan our host was prompt with all communication.
Mark
2016-01-01T00:00:00Z
Myself and four of my best friends decided to celebrate our 50th year in Tasmania and we were looking for something special. Thalia was it!! Our stay at Thalia was absolutely divine! We could not have asked for a more perfect spot to celebrate turning 50! The house is beautiful – its that simple! It allows for personal space but the big table in the kitchen is perfect for congregating around for breakfast, lunch, dinner, drinking wine, staring out to sea, board games, conversations, staring into the fire, discussing what is out there, wondering if you should go for a walk, talking about life……….the list goes on. The kitchen is very well stocked and so all you really need to take is food. Our host Susan was delightful to deal with, responded quickly and her instructions about how to get there and what to buy on the way were spot on. I would thoroughly recommend Thalia as a special destination for any and all hallmark celebrations with friends and/or family.
Geoffrey
2016-10-22T00:00:00Z
Tipe Kamar
Seluruh rumah/apartemen
---
Tipe Properti
Rumah
---
Mengakomodasi
8
---
Kamar tidur
Swansea, Tasmania, Australia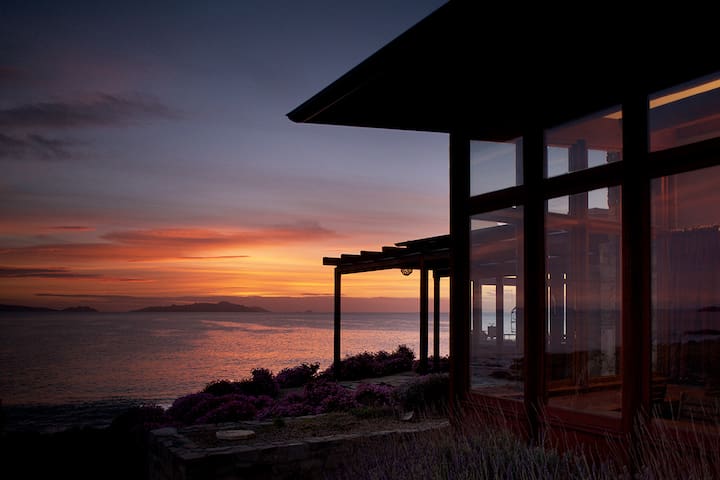 What a fantastic place in a fantastic location. Only stay here if you are prepared to take in magnificent views and get some serious relaxation done, though that's not to say that there is little to do because there is so much to do in this part of Tassie as well with wineries and world class bush walks not far away. The house was modern and clean with a great bath over-looking the stunning view. Comfy day bed for afternoon rest and the bed was very comfortable. We will be back!
Tony
2017-03-31T00:00:00Z
Tipe Kamar
Seluruh rumah/apartemen
---
Tipe Properti
Rumah
---
Mengakomodasi
8
---
Kamar tidur
Swansea, Tasmania, Australia
佩蒂特山寨是一個可愛的3間臥室的平房坐落在斯旺西的心臟。酒店地理位置優越,海灘,商店,博物館,兒童遊樂區和當地餐館的步行距離內。它是完全獨立的,並設有停車場。
That was a perfect experience for our little 4-days, 4-generations (Great grandma, grandma, us, and our little one) get-away! What separates great accommodation from merely good ones is the attention to little details and in this case it was beyond our expectation. We were greeted by a tidy, well kept property that felt totally homely. The kitchen was fully equipped with just about everything you'd find in your typical home; the bathrooms came with soap and lotion and it's the good stuff too - the same specialty product we use at home for our little one because of her dry skin; in the storage we found toys and books and a bath tub for her... everything very well considered! Communication with the host prior to arrival was great. We got to meet her in person on the last day just before we left. Pat, thanks for the port and Easter eggs! Overall a rare, completely positive experience for us.
Cedric
2016-03-30T00:00:00Z
The cottage was a lovely place to stay, as was Swansea and provided everything we needed for a peaceful few days.
isabelle
2017-01-07T00:00:00Z
Lots of little extras to make for a comfortable stay.
Sandra
2017-01-26T00:00:00Z
Staying in Freycinet was the highlight of our trip around tassie, so many great wineries and the landscape is just amazing! Our stay at Pettit Cottage was so much more than just a place to sleep, it feels like your home as soon as you walk in. Everything is just as well equipped as a normal house would be, plus complimentary port and peaches. The cottage is very clean and well decorated, and despite the cold weather our time there was quite cosy because of the fireplace. The garden is also great to look out into (and be in) gives it that country feeling even though your on the main street - can't hear the traffic though. Plenty of space as well, especially since it was just the two of us. We had such a great stay and Pat is such a lovely host, we'll definitely be stopping back here again next year when we pass through the Freycinet coast! :-)
Ed & Phoebe
2016-02-21T00:00:00Z
Lovely cottage. A handy base for visiting Freycinet National Park. The complimentary port was a lovely treat.
Adrian
2016-03-24T00:00:00Z
Pat's cottage was perfect for my escape from the city! Upon arrival Pat left complimentary port, walnuts and homemade biscuits. The fire place was set up and only required a light of a match. This was such a thoughtful, warm & delightful welcoming for my stay. Swansea is a perfect location if you're traveling the east coast or making trips to Freycinet National Park (50km away). Pat's communication throughout the whole process was very responsive. Overall it was a joyful, peaceful stay at a clean & homely cottage.
Emma
2016-05-30T00:00:00Z
We had a lovely stay in Swansea. The cottage is in a great location and was clean. Pat is a great host. Would definitely stay again!
Jeremy
2017-01-24T00:00:00Z
Pettit Cottage is a super location for exploring the surrounding area. It is a reasonably short drive to Mt. Freycinet National Park for day hikes and to Bicheno at dusk to see the adorable Little Blue Penguins. Our arrival at the cottage was met with fresh berries from Pat's garden, fresh walnuts off the tree and port for sipping. The cottage is well-equipped and has very comfy beds. These were well appreciated after our day of hiking! This charming cottage worked very well for our 3-generation family. Thanks, Pat, for your Tassie hospitality.
Beth
2017-01-19T00:00:00Z
Tipe Kamar
Seluruh rumah/apartemen
---
Tipe Properti
Rumah
---
Mengakomodasi
6
---
Kamar tidur
Swansea, Tasmania, Australia
Fiona is a very good owner, her house is new & huge, good for big group of peoples to stay! No need to worry the kid will bored, as Fiona keep all the electronics games & books for them, they loving it! Also wonderful sea view , highly recommended!
Winnie
2016-12-24T00:00:00Z
Great house, clean, spacious, modern and very well equipped. Perfect for 2 families or 2 couples as you can be self contained in each half of the house. Location is good for access to Freycinet and local stores. Wineries in area are good for a trip, recommend Devils Door.
Sarah
2017-01-17T00:00:00Z
The house is fantastic. Spacious and modern, with great water views. Very quiet location and a short walk down to the water. Restaurants, cafes and supermarket are a 2 minute drive away.
Gary
2017-02-25T00:00:00Z
I thoroughly recommend this property. It is spacious and comfortable with a spectacular view. The beach is just steps away and we had it to ourselves whenever we went. Fiona went to great effort to make our stay as easy and pleasant as possible. She knows the area well and gave fantastic advice on what to see. If we are ever back in Swansea we would love to stay here again.
Becky
2016-12-16T00:00:00Z
If you want to stay in Swansea then this is perfect place to stay because modern house with great view, very clean & friendly host.
Jimit
2017-01-19T00:00:00Z
Check in was a breeze and the place is superbly clean! We had everything we needed for a very comfortable stay and had no issues locating the place.
Huifang
2017-04-01T00:00:00Z
Wonderful house, beautiful and secluded surroundings
Claire
2017-01-08T00:00:00Z
Fiona's place is very comfortable and the kitchen is fully equipped. Beautiful ocean view and the place is quiet but yet close to everything that the Great Eastern Drive offers.
Amelia
2017-03-12T00:00:00Z
Tipe Kamar
Seluruh rumah/apartemen
---
Tipe Properti
Rumah
---
Mengakomodasi
11
---
Kamar tidur
Swansea, Tasmania, Australia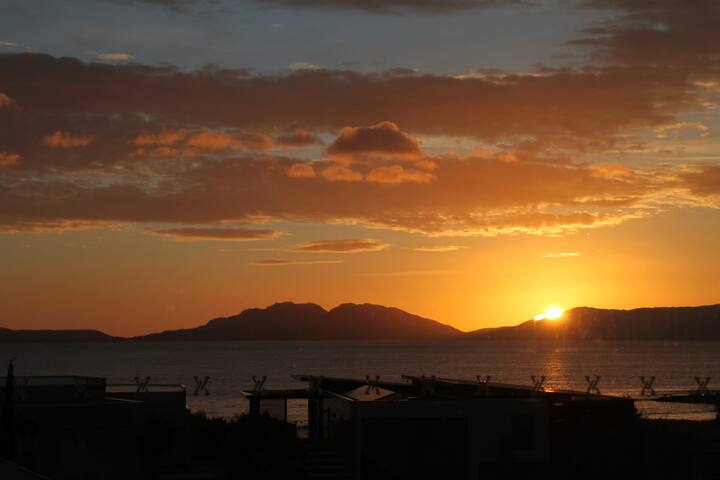 Great house in a fantastic location, with a deck looking out to sea. Nice and clean, plenty of space and amenities. Was well set up for children with the toys and highchair etc.
James
2015-02-21T00:00:00Z
Our stay in Swansea House turned out to be the perfect family escape we were hoping for. It is a beautiful house - even better than expected, very comfortable and clean and well appointed with ample culinary facilities, a lovely fireplace (temps can get a bit low at times in Tas) and a spacious airy feeling that comes with the views across the balcony - views across town and the surrounding farmland. Perfect for a relaxed family evening, reading together, enjoying a glass of red... Catherine was always very nice to deal with and the whole arrangement could not have been smoother. Swansea itself is a lovely town a bit over an hour from Hobart and a short drive to Wineglass Bay, Bicheno and other great places to visit. We ate at a few of the local restaurants and always had good food and enjoyable experiences. So for a country escape from the city and all its traffic and noise, Swansea House was perfect and we are happy to give it a high recommendation.
Dave
2015-12-10T00:00:00Z
The location is AMAZING. The place is so close to the water and the town itself is so well located too. A drive up to the freycinet national park is a must. The place itself is lovely. Has a big balcony and plenty of space inside. Catherine was great as well. The checking in was variable as was the checking out, so coming up from Hobart meant we had flexibility with out schedule. If you want a getaway on the east coast of Tasmanian, you'd be hard pressed to find a better location and place.
Krishna
2016-02-16T00:00:00Z
Catherine's house at Swansea was clean, comfortable and quiet. It was well situated in town and near the beach. There was plenty of room for 4 of us, as we explored the coast. The sun deck was very pleasant for reading or having breakfast.
Greg
2016-04-14T00:00:00Z
This review is written by Laurie's husband, Mike, who stayed at Swansea house with his mother, Barbara. What a lovely spot! Swansea House is ideally located, up at the higher end of Noyes Street, from where we could see Great Oyster Bay from the large back deck as well as some of the town. Swansea House is an older home (1940s perhaps) that is tastefully decorated (very comfortable beds, and warm bedrooms courtesy of small space heaters), with a fireplace in the family room. Large windows in the family room allow welcome breezes inside. The kitchen, while small, is very functional (microwave, large fridge), but the charm comes from the airiness and views from the family room and the back deck, from where we could see sheep and some darting rabbits. Catherine is a fine host: the instructions on arrival were clear, and Catherine provided a well-stocked folder of information about staying in Swansea House and about the town of Swansea, and surrounding areas including the Freycinet Peninsula. A lovely spot. We'll be back.
Laurie
2014-11-20T00:00:00Z
The house was as described, and Swansea is a very pleasant seaside town, with charm and character. The light and spacious living room was a pleasure to be in.
Peter
2015-12-24T00:00:00Z
Lovely beach house. Very close to the town and beach. Great for a family holiday on the east coast of tasmania.
Laura
2017-02-16T00:00:00Z
Catherine's Swansea Cottage is a dream. It is really all you can wish for. Full of character, Great Location, clean, spacious, beautiful furnishings & exquisitely decorated. I would stay no where else.
Alejandra
2015-12-28T00:00:00Z
Tipe Kamar
Seluruh rumah/apartemen
---
Tipe Properti
Rumah
---
Mengakomodasi
8
---
Kamar tidur
Swansea, Tasmania, Australia
The Coach House is located on a farm called Lisdillon. Built by the convicts in the 1800s, with a big garden and views of the Freycinet hazards. A private beach is only a two minute stroll away.
The historic Coach House is a rubble stone building located on the East Coast of Tasmania dating back to the mid-1800s and is set amongst the historic sheep farm and vineyard, Lisdillon. Featuring three double bedrooms and a large open plan living, kitchen and dining, including cosy open wood fire, the Coach House is surrounded by charming cottage gardens, sunny sitting areas and stunning country and ocean views. The main section of the house has been recently renovated and includes ground floor spacious kitchen, living and dining, two large upstairs bedrooms and bathroom. Downstairs, a third bedroom, additional bathroom (including bath), laundry and additional sitting room can be opened for a higher rate. The house features: •Two or three double bedrooms •three single bed fold out ottomans (note: one ottoman is located in each of the upstairs bedrooms and another on the upstairs landing) •Large open-plan kitchen, dining and living •Open wood fire •Modern kitchen including three oven electric cooker, induction stove top, microwave and dishwasher •Under floor heating and double glazed windows •Double-storey sliding doors, opening to sunny outdoor sitting area and cottage garden •Shady and paved BBQ and outdoor dining area •Private beach and river 2 minutes' walk away •Spectacular views across the farm, Freycinet Peninsula and Maria Island •Solar garden shower Located 21 kilometres from Swansea and set amongst farm land and vineyards, the Coach House is the perfect setting for family holidays and cosy weekends away. Enjoy leisurely walks on the beach, try your luck fishing at the river or simply relax in the sun with a book, breathing in the fresh country air. Alternatively, take advantage of nearby attractions including East Coast wineries, Coles Bay and Freycinet National Park (1hr drive) and Maria Island ferry (25min drive). Please note that though locals drink the water (it is clean), we do advise that guests bring their own drinking water. Perfect for a relaxed weekend away, and you may even get to try some of Lisdillon's delicious pinot noir or sauvginon blanc. For the fishermen guests, the sea out the front of our property offers: - bay flathead - king flathead - cod - trumpeter - trevally - salmon - perch - squid - crayfish The Lisdillon Rivulet has: - bream - oysters - trevally mullet - Australian salmon - brown trout - native galaxia -occasionally flathead - eels - grayling, aka cucumber herring
Close to swansea with its gourmet restaurants. It is also near many cellar doors where you can taste some delicious local wine. Easy drive to Freycinet and Maria Island.
A great stay! Such a stunning property and the scenery is breathtaking! Very relaxing stay :)
Liz
2016-02-20T00:00:00Z
I had taken a risk when I first booked this place as it was still undergoing renovations at that time and there were no pictures available. But I am so glad that I did. The house was large and spacious and had everything that you need. An added bonus was the almost private beach that you had access to a short walk from the property. While Katherine wasn't there during our stay, she was always in touch and her family was there to welcome us when we arrived and helped us with anything that came up during our stay. Loved this place and would highly recommend it.
Aloysius
2015-12-21T00:00:00Z
This is a lovely house, set within a small community on a farm, with wonderful views and a very short walk to the sea. It is also a great place from which to explore Tasmania's wonderful east coast.
Richard
2016-03-10T00:00:00Z
We stayed for four nights in January with a larger group. The farmhouse accommodation was perfect. Recently renovated everything was practically new and the place had a real homely feel about it. There's so much to explore and do just on the property itself, only a short walk down to your very own private beach. If the weather in Tasmania is less than perfect there were plenty of board games, puzzles and colouring in supplies to keep you occupied in doors. Hosts were friendly and very accommodating. Only problem, no washing machine, but we assumed that was because of the water restrictions due to drought. Could not have been happier with our stay at this beautiful farmhouse. Hope to be back one day.
Karen
2016-01-11T00:00:00Z
A beautiful house in a beautiful location. We really enjoyed our stay here with great views from the bedrooms on to our private beach. Had everything we needed for a pleasant stay.
Cadel
2016-10-09T00:00:00Z
The Coach House is marvellous. The 'old girl' has been tastefully renovated and truly feels like a home, away from home. We enjoyed learning about the history behind Lisdillon and surrounds. Our children enjoyed catching and releasing their first bream on lures and had a blast at the beach, swimming and generally running amok. Highlights here were finding some red-capped plover eggs, including freshly hatched chicks. Our intention was to find an elusive cowrie shell too, which we achieved! The unseasonal low-front and subsequent chilly winds and rain squalls kept us from venturing too far, but we will explore further next time. While the main house and selected outbuildings are tenanted, not once did we feel that our privacy had been encroached. Whether a couple seeking a romantic getaway or a small family looking to make their own fun, I would recommend this to many. We're off to book our next mission!
Brendan
2016-10-19T00:00:00Z
We had a group of 7 of us at Katherine's place and it accommodated us wonderfully. The location is amazing, nice and quiet and the private beach is just magic. The house is very well appointed and the beds and bedding is exceptionally comfortable. Highly recommended for a getaway in Tassie!
James
2016-02-22T00:00:00Z
We just had 2 nights but had a good stay. Beautiful coast line. Kids 8&4 had a good time down by the river, we took a kayak down and it was out of the wind, quite a bit of glass but the river though so be careful. Beach was lovely, 5mins walk. The open stairs and fire were difficult with a crawling baby, but so is everywhere!
Peter
2016-11-11T00:00:00Z
Tipe Kamar
Seluruh rumah/apartemen
---
Tipe Properti
Rumah
---
Mengakomodasi
9
---
Kamar tidur
Little Swanport, Tasmania, Australia
斯旺西上湧
Tipe Kamar
Seluruh rumah/apartemen
---
Tipe Properti
Rumah
---
Mengakomodasi
8
---
Kamar tidur
Swansea, Tasmania, Australia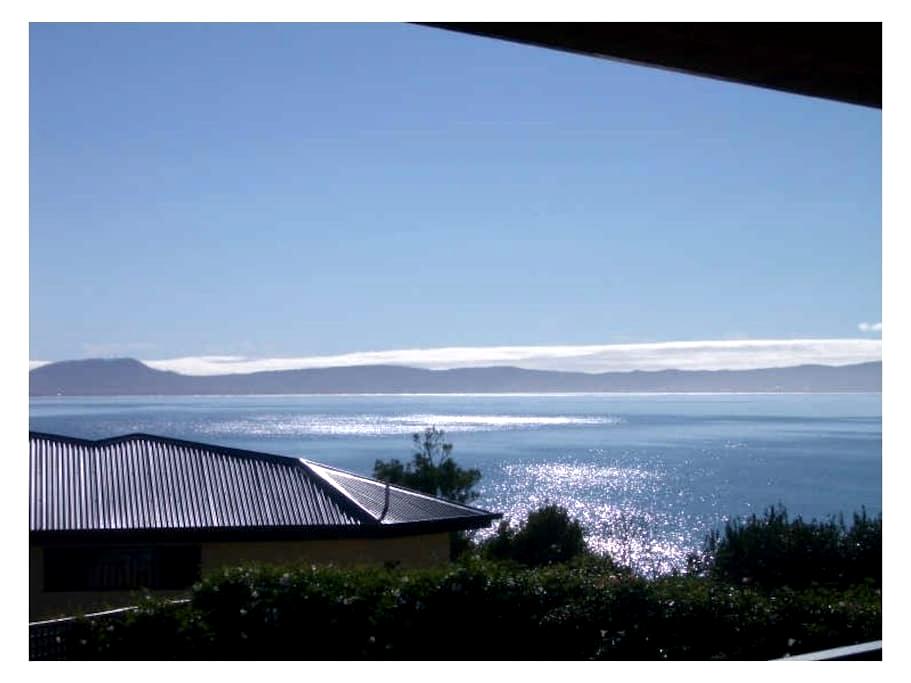 Nuestra casa está situada en 10 acres 500 metros de la calle principal de Swansea y la playa principal. Un montón de espacio para jugar y disfrutar. Tenemos un patio cercado seguro para niños y mascotas. Nuestra casa sería adecuado para parejas, familias y grupos pequeños.
Swansea es una ciudad histórica en la hermosa costa este de Tassie. Varios cafés, restaurantes y bodegas, 2 supermercados, golf, tenis, petanca, pesca y corta distancia de Freycinet Peninsula.
Kim has a beautiful home that catered to all 12 of us staying. We loved the space both inside, outside and the games room off to the house was put to good use. The home is close to the beach, supermarket and all the things you need and is set on a large piece of land that renders any neighbouring homes, soundless. It felt like a bush retreat right in the heart of Swansea. We all had a fantastic weekend, thank you.
Josh
2017-03-04T00:00:00Z
Fantastic location, easy walk to the shops and beach. Amenities are amazing, so much to do! Modern and clean bathroom and toilet with great water pressure and plenty of hot water :) books and games galore for the kids to chill with in the evenings. We loved it!
Janaya
2017-01-08T00:00:00Z
We loved the cottage, the facilities and the location. Everyone thoroughly enjoyed the stay and made our family reunion memorable. The location is convenient and a great base to explore the Freycinet Peninsula and the east coast. We recommend this place for larger groups if they visit this beautiful part of Tasmania.
Tassie
2016-09-29T00:00:00Z
This is such a gorgeous space. After several days of camping this was a total surprise. The photos on the website do not give the main space justice - it is a very spacious lovely lit area to share with loved ones or friends. We enjoyed the character of this place. The barn outside was great with a ping pong table and a place where kids can hang out. Daily trips to Freycinet NP are not an issue, 50 mins drive is all that it takes. Would recommend this place to all.
Mariusz
2017-01-12T00:00:00Z
Tipe Kamar
Seluruh rumah/apartemen
---
Tipe Properti
Rumah
---
Mengakomodasi
12
---
Kamar tidur
Swansea, Tasmania, Australia
Masukkan tanggal untuk melihat harga lengkap. Biaya tambahan berlaku. Mungkin dikenakan pajak.