This home is located in Canberra Street, Oxley Park. It is very clean with beautiful gardens and has a huge covered outdoor area. For larger groups/families, we now have our 'Granny Flat' available that can sleep an extra 4 people and provides an additional living room. The flat can be opened up for groups of more than 5 guests. Now with unlimited Wifi internet. Base price is for 2 guests. Extra guests are charged $25/person. "plenty of space,everything was clean & comfortable" - Nicole
The home is perfect for small and larger groups. There is now an additional living area available that can be opened up for groups of more than 5 guests.
The home is well located as a gateway to the Blue Mountains and for enjoying numerous sporting and active pursuits. Very close to The International Regatta Centre, the Cable Water Skiing park and the White Water Rafting Stadium in Penrith. We are also near to the Eastern Creek Raceway and 20 minutes to the Sydney International Equestrian Centre. For work or commercial needs, the home is also close to several business parks.
Bernadette made us feel very welcome! We arrived much later than our check in time, which was not a problem at all! The house was lovely, clean, neat and exactly as described. We were staying as athletes for a major rowing competition and we were very grateful for the smooth, no stress transition. The host was even able to tell me exactly how long it would take to arrive at the regatta venue in peak hour etc. before i booked. I can highly recommend this home!
Sarah
2016-03-22T00:00:00Z
The house is perfect for a family. The rooms are spacious with clean big closets and laundered bed linen. The kitchen was equipped with all the basic amenities and groceries. The neighbourhood was quiet and safe. The train station is nearby where you can find grocery stores. We really enjoyed the stay and recommend it to all.
amruta
2016-01-03T00:00:00Z
This home is perfect for couples and families alike. There was plenty of space and everything was clean and comfortable. Plenty of room for parking and two toilets - which would assist a family. Bed in the main bedroom was warm and comfortable. Bernadette was a fantastic host, helping me out straight away when she'd heard I'd locked myself out of the house. I'd highly recommend this home to anyone. Will be booking again for sure.
Nicole
2016-07-23T00:00:00Z
This house was beautiful and perfect for me and my family. It had everything we needed and was close to public transport and also within walking distance to where we needed to go. Bernadette was great and emailed me often to see if i needed any help in organising my trip. I would highly reccomend this house to anyone wanting a holiday and i will definately be staying there again. Thankyou so much. Kristy
Kristy
2016-09-06T00:00:00Z
Immaculate place to stay, very comfortable - highly recommended!
Ilya
2016-11-13T00:00:00Z
We chose the property for its affordability but the property exceeded our expectations. Bernadette was a great host and that reflected in the way the house was presented to us. The house was very tidy and equipped with every amenity.
Mukul
2016-06-26T00:00:00Z
Bernadette's home is exactly as the pictures appear. Very cosy, comfortable and family friendly. Home away from home. Would definitely recommend and rebook if ever back in NSW.
Alice
2016-11-19T00:00:00Z
Our host Bernadette, provide us with a beautiful, well appointed 3 bedroom house, that was thoughtfully fitted out with things you would expect to find in your average house, a big spacious backyard, well thought out gardens with plenty of room if you have children, large outdoor covered living area, the neighborhood proved to be very quiet with our stay covering 2 weekends. Some supplies (milk,juice, tea, coffee some fruit) were provided so you were able to relax before you needed to find the supermarket (approx 3km away). A list of things to do places to see was also provide with addresses for places you might need, supermarkets, cinemas, closest pub, Thank you Bernadette your house was ideal for our stay in the penrith area, Grant
Grant
2016-01-26T00:00:00Z
Tipe Kamar
Seluruh rumah/apartemen
---
Tipe Properti
Rumah
---
Mengakomodasi
9
---
Kamar tidur
Oxley Park, New South Wales, Australia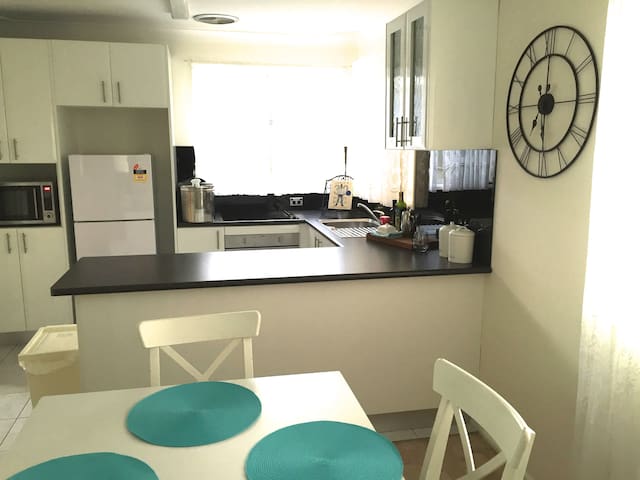 Comfortable space. Bed, bathroom, large living spaces, close to public transport and places to shop and dine.
A quiet neighbourhood, close to public transport, shopping centres, major roads and full of lovely people.
Very accommodating hosts! Thanks for facilitating a late arrival. The place is a quick 10 mins walk from the train station, which makes it an easily accessible location. However, the street lights were more or less all out during that distance which made it a very dark walk.
Teryn
2017-03-27T00:00:00Z
love the stay. everything from washer to central air was provided in the house. great place Laura, well done
Serena
2016-09-30T00:00:00Z
Staying at Laura's was a great experience. She was really close to featherdale wildlife reserve which was awesome! The house was clean and they were very accommodating. Thank you again for a great first day in Sydney.
Jessica
2016-11-21T00:00:00Z
Laura was amazing James & Serina were wonderful Very friendly easy going people who will have a good chat, give advice & make you feel extremely welcome. Must stay place
Aimée
2016-11-14T00:00:00Z
Loved our stay at Laura's! Lovelu house, everything you could possibly need and Laura couldn't do enough for you! Private bathroom area so it's really great! Highly recommended!
Steffi
2017-01-05T00:00:00Z
We didn't meet Laura, but despite my uncertainty about arrival time she arranged for us to be let in and given a key. The house is clean and comfortable and fine as a stop off when travelling through.
alan
2017-03-26T00:00:00Z
Great and nice room
Michelle
2016-11-17T00:00:00Z
Really enjoyed my stay, Laura was really welcoming & helpful with everything. The house is less than 10 minute walk to the station & local shops & then it's 40-50mins to Central. Or 10-15 mins to Parramatta mall. It looks far away on the map, but the journey time into the city is comparable to other places physically closer I would say. Great place to stay!
George
2016-10-09T00:00:00Z
Tipe Kamar
Kamar pribadi
---
Tipe Properti
Rumah
---
Mengakomodasi
3
---
Kamar tidur
Rooty Hill, New South Wales, Australia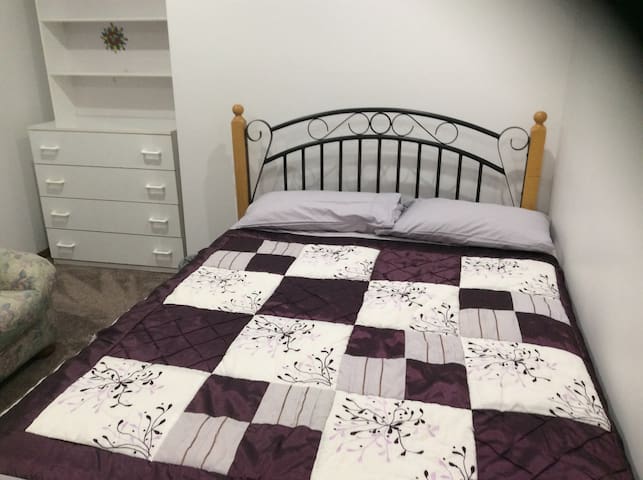 2 storey modern cottage house with 5 bedrooms, 3 full bathroom, 3 family/entertainment area. It is a walking distance to the bus station and 5 mins drive to the train station. My place is located in a very quiet and safe place surrounded by beautiful homes and huge nursing home. Public transport is very accessible. Point of interest close to my place are: 1. Sydney Wet'n'Wild (10 mins drive) biggest water park in the world. 2. Blue Mountains (1hr 10mins drive) 3. Sydney CBD (40 mins drive) 4. Parramatta CBD (20 mins drive) 5. Sydney Olympic Park (25 mins drive) I offer the following services: light breakfast, internet and for a fee of $10 for laundry. Experience fresh mountain air as you rise above Sydney and enter the spectacular Blue Mountains region. The Blue Mountains is perfect for exploring the best that NSW has to offer. The Three Sisters at Echo Point, bushwalking, galleries, dining, shopping, day spas, golf, and numerous attractions. The Blue Mountains is the ideal destination for that romantic getaway or family escape. The Blue Mountains is situated within a World Heritage area offering a unique, relaxing environment for that perfect lifestyle. The region features a thriving diverse professional business community offering a standard of excellence enjoyed by locals and visitors to the region. Many Blue Mountains businesses supply products and services distributed across Sydney, nationally and around the world. It is easy to feel part of the Blue Mountains community. Each village is unique offering a laid back welcoming atmosphere. The many festivals and events organised by business and community volunteers unite the community and provide unique experiences for visitors to the region. There are numerous activities, clubs and associations throughout the region. The region also features numerous government and private schools, churches and sporting activities.
Larrie and Malou were very kind hosts. They made our short stay in Sydney very comfortable. We wished we could have stayed longer with them. The house was very neat and very nice; our hosts help us chose special places to go. Overall, our Sydney experience was great! We definitely recommend Malou's place. (A big thank you to Larrie and Malou for their warm hospitality.)
alma
2012-10-02T00:00:00Z
Very welcoming and friendly host. The accommodation was very comfortable and clean and the background music was very entertaining!
Brian
2015-11-07T00:00:00Z
Clean room & bathroom in a wonderful big house with use of other amenities including kitchen. Why stay anywhere else?
Greg
2017-03-26T00:00:00Z
Very comfortable and clean home in a fantastic location. The residence hosts; Malou and Larry, are very friendly and make you feel welcome from the moment you arrive. Correspondence with Malou was prompt with emails being answered in a very short time frame. This was my first experience with a B&B, and I can say is that was a thoroughly positive experience. If the opportunity arrises in the future I will certainly be hoping that Malou and Larrie have a room available for me to stay in again, thanks guys I really enjoyed my stay!
Michael
2014-05-10T00:00:00Z
This was our first experience with AirBnB and it was GREAT! They are a beautiful family and they made us feel like like part of it. We also had a really good BBQ all together!!!!!!!! Malou is such a beautiful WOMAN....and Larrie helped us on evry single doubt that we had with his positivity! It a wonderful Host Family and yes i ll suggest them to anyone at anytime. Thank you for everything.
Gabriele
2013-10-09T00:00:00Z
Malou (we call her Tita Malou) is a warm, gentle, loving, generous and thoughtful host. She always wears a smile on her face even after a long day at work and sees to it that we're enjoying our stay. Malou and Larrie have been so helpful, sincere and proactive with our needs during our entire stay in Sydney. Thus, it is so easy to inform them about any concerns that they might be of help. Their house in general is tidy and well-maintained, as per our room as a couple it was basically complete of what we need, since it was winter, the heater inside the room added comfort for us to get a restful sleep. There was also an easy access to the toilet & bath in our room. We were initially booked to stay for 7 days for the Hillsong Conference and planned to transfer in CBD after but we opted to extend our stay for 10 days instead because of the family atmosphere that we felt & to save ourselves some time to transfer to another accommodation. Tita Malou & Larrie became our parents in their sweet, humble & beautiful home in Sydney. For us, their home is way better than what a hotel could probably offer. We will absolutely recommend to our friends or to anyone to stay in their home. If it's God will for us to come back in Sydney, we will certainly love and not hesitate to stay in their home once again. Thank you so much, Tita Malou & Larrie for making our stay in Sydney the best that it can be! Til we meet again! God bless, Jeff & Edz
Jeff
2012-07-08T00:00:00Z
It was great. Quiet and comfortable. Very nice house!
Ben
2016-05-07T00:00:00Z
Malou's house is beautiful. It is well-kept, clean, spacious and the neighbourhood is gorgeous. Malou is very friendly and kind and she has been a wonderful host to us. Her husband is one funny guy who never fails to lighten our moods. We really enjoyed our stay at Malou's house and would definitely recommend anyone who drives to stay there. It is near Blue Mountains and about half an hour from the city. Accessible by car with plenty of good places to eat and shop around!
Aisyah
2013-03-23T00:00:00Z
Tipe Kamar
Kamar pribadi
---
Tipe Properti
Rumah
---
Mengakomodasi
7
---
Kamar tidur
Rooty Hill, New South Wales, Australia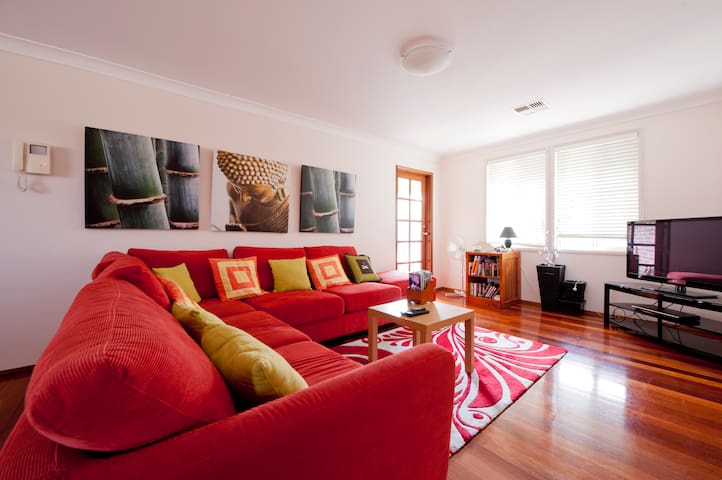 My place is close to the train station (1.2km), Westpoint shopping centre (1.4km), Western Sydney University (4km), Blacktown Hospital (2km), Showground Park (500m), lakes (100m), city centre (1km), St Andrews College (2km), IKEA (10min), new Cosco (10min). It's a brand new, well designed house in the heart of new Fairwater Estate covering 10 hectares of lakes and parks. Walking distance to the city centre and train station. My place is good for couples and solo adventurers & students.
This is a beautiful home and the room is just lovely. A very well-appointed, spacious room with heaps of cupboard space, a (virtual) en-suite bathroom, privacy, and the most charming hosts.Lukas and Jane were most (URL HIDDEN) stay was perfect with a few great conversations. Perfect stay, Homely feeling , Host has made all the arrangements to make stay as comfortable as I needed. The area is very safe with friendly neighbours and Blacktown station is just two bus stops away. Will definitely stay again.
Muhammad
2017-03-26T00:00:00Z
Tipe Kamar
Kamar pribadi
---
Tipe Properti
Rumah
---
Mengakomodasi
1
---
Kamar tidur
Blacktown, New South Wales, Australia
We welcome you to our lovely home in Blacktown. Recently renovated, the home is modern and clean with an open living space to ensure for a friendly stay. 3 Double Bedrooms, 1.5 bathrooms and a large deck to entertain guests and enjoy an Aussie BBQ!
Once again your house was our saviour, a home away from home & looking forward to staying once again in the future
Phill
2016-10-06T00:00:00Z
The host made us feel very welcome, with useful information provided. The accommodation was exactly as we expected from what we saw online. The area had good shopping for our needs and we were very pleased with our stay overall.
David
2016-07-10T00:00:00Z
Very comfortable, clean house in a quiet area. Easy communication with hosts.
Murray
2016-07-24T00:00:00Z
Nice stay with all facilities available great experience will catch up some other time for sure
Kiran
2016-07-22T00:00:00Z
Thank you for letting us into your home. We have had a wonderful stay and would love to stay again in the future. Erika was only a message away and was very prompt in replying to any additional queries. We found the property was perfectly located for our purposes.
Geeta
2016-10-02T00:00:00Z
The property is lovely little house perfect for families or friends. There were five us living in the house and we thought it was perfect for us. It is very close to amenities and close to the railway station. The only downside was that the heating in the lounge area was not working properly. Erika was in constant touch with us and usually responded within a few hours of me sending her a message. We would definitely stay here again
Priyanka
2016-07-22T00:00:00Z
Erika was a wonderful host answered any question promptly, the house was as described neat and tidy and met our needs very well.
Cate
2016-04-17T00:00:00Z
I spent three weeks in Australia and couldn't have chosen a better place to stay. The house was perfect for us and the location was accessible to everything we needed. It was clean, nicely furnished and had a great back yard for the kids. Erika was fantastic from start to finish and I couldn't have asked for a better host. We will definitely be back. Thank you again.
Trevor
2016-07-01T00:00:00Z
Tipe Kamar
Seluruh rumah/apartemen
---
Tipe Properti
Rumah
---
Mengakomodasi
6
---
Kamar tidur
Blacktown, New South Wales, Australia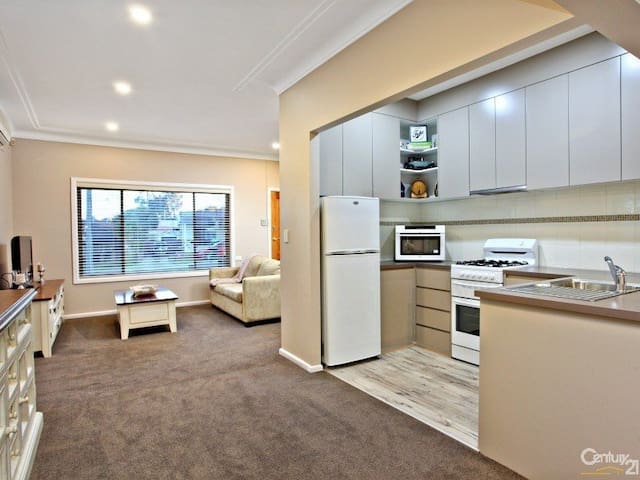 Large room in a renovated shared house; walking distance to Blacktown Station; Shared Facilities; Friendly owner-host; Wifi
Easy walk to Blacktown Station; Close to Blacktown International Stadium; Blue Mountains; Eastern Creek Raceway; Fast Trains to City (45 mins)
Easy access to transport; Kukaburras in the old gum tree
Barry's home is dog friendly and I took my little dog to stay and he got on well with Barry's little dogs. Barry is a great host, made sure he was there when I arrived and showed me where everything was including the large fridge where I could keep my food. He also showed me the best way to get to the Blacktown sports park where I had to go each day. The room was clean and comfortable with it's own TV, and I also enjoyed watching TV at night with Barry and his housemate in the lounge area. It was great to be close (3 mins drive) to the large shopping mall at Blacktown Shopping centre where there was a cinema and good cheap eateries. I recommend Barry's place to stay if you want a warm friendly atmosphere where you can come and go as you please and have some sweet little doggies for company while you kick back and relax in front of the big TV at night - or stay in your room and watch your own TV if you prefer.
Carrie
2017-01-07T00:00:00Z
The host canceled this reservation 39 days before arrival. This is an automated posting.
Sarah
2016-10-28T00:00:00Z
Tipe Kamar
Kamar pribadi
---
Tipe Properti
Rumah
---
Mengakomodasi
2
---
Kamar tidur
Blacktown, New South Wales, Australia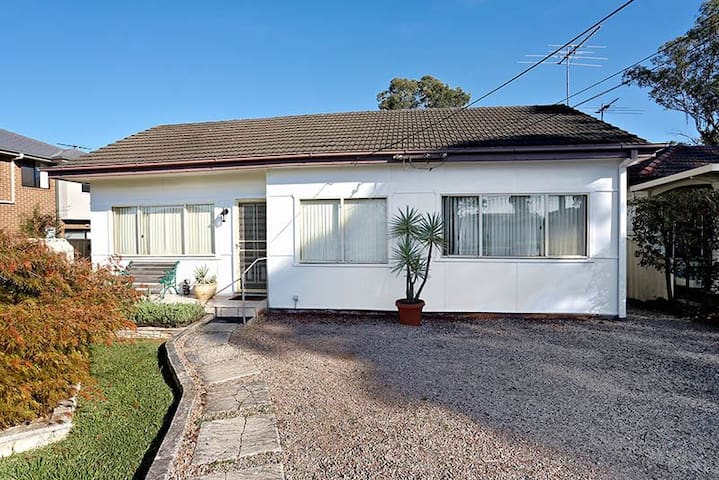 A private room with a queen size bed. You can use the living area, Kitchen and bathroom.
My boyfriend & I loved staying with Nav & his family! They were so accommodating & flexible with our schedule, as we booked the room spontaneously & also had to check in late due to work. The room was large & spacious & the bed was firm but still quite comfortable for us. The next morning we had to leave early but Nav's wife offered us fruit to take with us since we couldn't stay for breakfast, otherwise she would've cooked for us, which is so kind of her! We highly recommend this place, we enjoyed every moment we were there.
Kriselle
2016-03-04T00:00:00Z
Nav and his wife are very friendly. Nav worried that we don't know how to arrive Blacktown. He even asked her wife to pick us! We refuse with thanks. Nav gave many advices to guide us to find our target. For example, he told us which park can touch kangaroo most easily. His wife is a very nice lady. She made some tasty toast and Indian tea for us which are very delicious. Hope that we can visit Nav's family again next time we go to Sydney.
Tammy
2016-07-23T00:00:00Z
Navi was a lovely host. Highly recommended
Nathan
2016-05-11T00:00:00Z
Nav and his family made me feel very welcome. The room and bathroom were very clean and tidy. It was a quick stay but a very pleasant stay.
Laura
2016-06-19T00:00:00Z
Nav and his family were very warm and welcoming. The house was quiet and even though the bed was very firm we managed to sleep and wake up with minimal back and shoulder pain. The room was clean however the bathroom needed a bit of attention. The best thing about the stay was how welcoming Nav and his family were.
Kristie
2016-08-17T00:00:00Z
Diana and me, we really loved our stay in the beautiful location of Nivs house. A clean and comfortable home, not far away from the Westpoint Shopping Center and the Blacktown Train Station. We enjoyed every single moment of our stay. Everytime Niv and his family were nice, solicitous and very lovely to us. They took care of all our needs and we often had nice conversations. It was a great experience and we would definitely stay at this nice place again. Thank you for everything. Sergej & Diana
Sergej
2016-04-05T00:00:00Z
Tipe Kamar
Kamar pribadi
---
Tipe Properti
Rumah
---
Mengakomodasi
2
---
Kamar tidur
Blacktown, New South Wales, Australia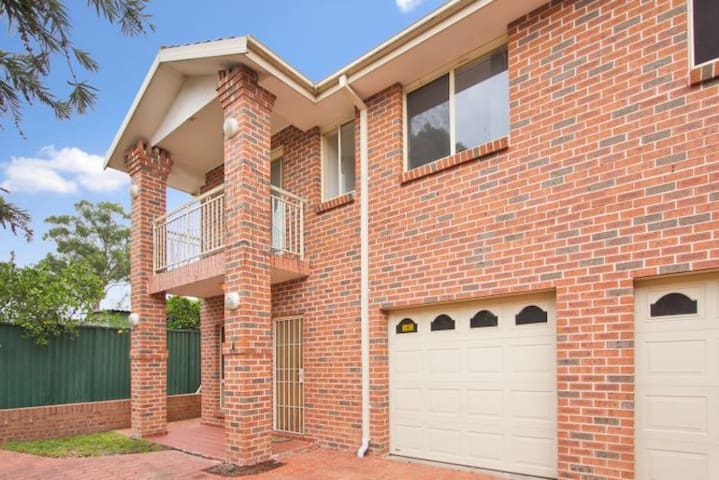 My place is close to public transport, bus at front door.
The host canceled this reservation 16 days before arrival. This is an automated posting.
Pia
2016-09-12T00:00:00Z
Benjamin was not any ordinary host. In short time he was friendly, forthcoming with help and advice. Since I moved to Sydney permanently, he took me around to the shopping centres, various local clubs and showed me good places to eat etc. He even accompanied me to take over my permanent accommodation. You will love Carmel and Benjamin's hospitality.
Suresh
2016-07-13T00:00:00Z
The host canceled this reservation 33 days before arrival. This is an automated posting.
Nick
2016-10-24T00:00:00Z
Tipe Kamar
Kamar pribadi
---
Tipe Properti
Rumah
---
Mengakomodasi
2
---
Kamar tidur
Blacktown, New South Wales, Australia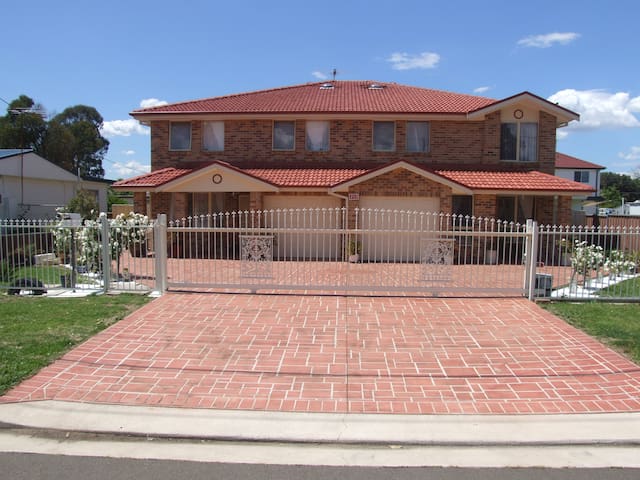 This quaint 2 bedroom home is located in Oxley Park and is only a 45 min drive (43KMS) from the CBD SYDNEY on the M4 freeway, or 1 hour (64kms) from The Three Sisters in THE BLUE MOUNTAINS, 10 mins to WET 'N WILD Sydney, 15 minutes to PENRITH, 20 minutes to the major business district PARRAMATTA, 13 mins to Blacktown where you can check out a movie at Sydney's only DRIVE-IN (remember those!). Bring ya panel van!! Inc. WIFI and FETCH TV!
The home is a open plan brand new 2 bedroom sunny house with tile floors, lounge room, kitchen with island bench top. Both sun lit bedrooms include mirrored built in wardrobes. The home is surrounded by well kept proud home owners. The home is ideal for couples, families or a group of 6, looking for an place to stay. The house is classified as a granny flat, and is 60 sq metres in size. The layout of the house is open plan, so feels quite spacious. Please ensure that after 10pm on a weekend and 8pm on a week night that this is kept minimum levels.
Oxley Park is situated close to:- CBD SYDNEY (via the M4) - 45mins. THE THREE SISTERS - KATOOMBA (Blue Mountains) 1 hour's drive. SYDNEY'S WET'n'WILD water park - 15 minute drive. BLACKTOWN DRIVE-IN (remember those!) – Event Cinemas showing mainstream and independent movies - 13 minute. BLACKTOWN MARKETS – pick up a bargain on a Sunday – 7am to 2pm. old and new, food and entertainment, collectables, vintage and all kinds of pre loved items. SYDNEY OLYMPIC PARK – 27 minute drive where you can enjoy outdoor movies, the Aquatic Centre, Monster Skate Park, sporting events, live entertainment, PENRITH PANTHERS - located on 82 hectares of landscaped grounds at the foothills of the Blue Mountains. 22 minute drive. PANTHERS has a wide range or restaurants, live entertainment, gaming, bars, accommodation and outdoor leisure. PENRITH'S WHITE WATER STADIUM – was the competition venue for the canoe/kayak slalom events during the Sydney 2000 Olympic Games. SYDNEY'S INTERNATIONAL REGATTA CENTRE – Penrith is a great outdoor entertainment and recreation centre both on or off water. The park has the one of the best rowing and sprint kayak courses in the world, The Centre also has 5km walking and cycling paths for the public's recreational use on non event days, launch pontoons for water access. EASTERN CREEK RACEWAY - SYDNEY'S MOTOR SPORT PARK - a motor sport circuit located in Eastern Creek. NEPEAN RIVER – take a walk or cycle along the river "The great river walk" or cruise the beautiful Nepean River onboard the Majestic Nepean Belle Paddlewheeler. BLUE MOUNTAINS FISHING at Penrith Lakes – throw a line in and try your luck catching some fish. CABLES WAKE PARK – PENRITH PANTHERS - Central to the park complex is the 2 main cable lakes where people of all ability levels can waterski, wakeboard or kneeboard. And for the little ones, the park also includes a great playground area and jumping pillow. There is an Aqua Park on the water, which consists of a series of inflatable slides, trampolines and obstacles. GAME AND ENTERTAINMENT CENTRES – Penrith – includes IFLY Downunder, Aqua Golf, Unreal Mini-Golf. FLIPOUT TRAMPOLINE ARENA – AMP BOWLING at Penrith 737 JET – Penrith – for a flying experience. THE CLIMBING CENTRE – Penrith – all day indoor rock climbing. KAOS FAMILY FUN – Mt Pritchard, WESTFIELD Shopping Centre with Hoyts theatre. Getting around The property is located in a area which would be more suitable for someone with a car, however public transport is an option. There is a bus stop approximately 5 mins walk from the house. From Sydney's Central Station, it takes approximately 50 minutes on the train, then about 10 minutes on a bus. The train leaves about every 1/2 hour. From 12am to 4am there are night rider buses that run every hour to Mt Druitt station. This bus ride takes approximately 1.21 hours. From there you could catch a taxi to the house.
Marian's place was good, matched the photos and description. It is very new so everything was in good condition. It was a very convenient location for going to the International Regatta Centre at Penrith.
Pauline
2017-04-02T00:00:00Z
The house was neat, clean and comfortable and Marian was always very helpful and easy to deal with!
Steven
2017-03-17T00:00:00Z
Lovely place to stay! Marian is awesome and really helpfull. Definitely, we would stay here again!!
Anton
2017-01-30T00:00:00Z
Great place fresh and modern, Marian was helpful and friendly. Perfect for what we needed.
Daniel
2017-03-24T00:00:00Z
Tipe Kamar
Seluruh rumah/apartemen
---
Tipe Properti
Rumah
---
Mengakomodasi
6
---
Kamar tidur
Oxley Park, New South Wales, Australia
A Modern house, close to train station and Shopping Mall. The room has a double bed and fully furnished. The location is suitable for people who want to enjoy Featherdale zoo,wet and wild water park or on the way to blue mountain.
We are only 1 minutes walk from the bus stop and 15 minutes walk to the shopping centre and train station that runs every 10 minutes!! Your room is fully furnished and comes with all linen, towels, desk, comfortable double bed, heating and built-in wardrobe. There is also some washing powder in the laundry and shampoo and conditioner in the bathroom if needed. All amenities are provided (i.e. toilet paper, dish washing liquid etc). Fully stocked modern kitchen with dishwasher and modern oven.
We were late getting in but host had stayed up. Was nice!
Cathy
2016-04-16T00:00:00Z
Linda and her parents are very kind and hospitable, her Mum is so nice and always has big smiles. The house is very clean, tidy and welcoming, I stayed here for four consecutive weeks due to my project in Blacktown Sydney. The first three weeks, I had a room upstairs which had all facilities that I needed with average sized room. However, the last week of my stay, I moved to another room in downstairs which is very spacious with cupboard, chest draw, coffee & side table and computer desk. The place is only 20 min walk to Blacktown train station and Westfield Shopping Centre and also my temporary office which I took the opportunities to walk to work and walk back home every day as my daily exercises. I would have no hesitation in recommending this place to anyone, once again, thank you for having me in your place Linda, it feels very much like home.
Firouz
2016-05-28T00:00:00Z
Absolutely delightful people in every way. Room clean... huge bathroom with all possible facilities in house. quiet & safe surroundings. Own control of air con in bedroom. Well organised and easy & clear communication.
Renee & Anton
2016-01-18T00:00:00Z
I have stayed here several times, its a favourite of mine for cleanliness, flexibility, location, nice hosts etc.
Sean
2016-02-18T00:00:00Z
Perfect location for me. Beautifully clean room. Nice bathroom. Friendly host
shane
2017-02-16T00:00:00Z
All good
mark
2017-03-24T00:00:00Z
The accommodation was very clean and comfortable. My son and I felt welcome and enjoyed our stay. We would stay here in the future. Also the location was close to bus stop.
Andrew
2016-06-18T00:00:00Z
This family is so kind. I think I want to visit here. I cannot speak English well, but they hear my talk again and again. They tell me a lot of things. It's too fun for me to stay here.
Yumiko
2016-09-11T00:00:00Z
Tipe Kamar
Kamar pribadi
---
Tipe Properti
Rumah
---
Mengakomodasi
2
---
Kamar tidur
Blacktown, New South Wales, Australia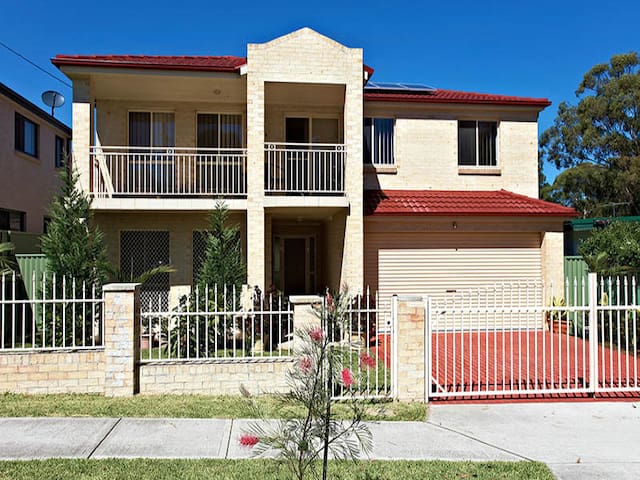 My place is close to Kmart , public transport, the city centre, the airport, parks, art and culture, train station, shopping mall. You'll love my place because of Location, the light, kitchen, Ease of transport. My place is good for couples, solo adventurers, business travellers, families (with kids), and big groups. House is close to kmart and 1 min walk to bus stop and only 7-8 min walk to train station. its on peaceful street and you can enjoy the beautiful suburb of blacktown. Only 45 min
A wonderful very big room is available for the guest. With access to kitchen and Dining hall and entertainment space.
Neighbourhood is quite and peaceful with lots of space and a garden nearby with facilities like Tennis Cort and Bascatball court ( need permission and fees to access that area)
Welcoming & friendly hosts. Easy and smooth stay. Close to everything you'd need (shops, transport, etc). Great for an older house. Full access to the house. Easy parking. Would come back again :)
Nicolle
2017-03-12T00:00:00Z
Great Value and Location
Ben
2017-01-14T00:00:00Z
Deepak and his partner and courteous and helpful. The property is basic and in a suburban area of Sydney (50 minutes train ride to the Sydney); the room, bathroom and kitchen are kept clean and tidy. Public transport (bus and train) is an easy 15 minute walk away, the neighbourhood is very multicultural, on the main st there are fruit shops, small grocers and a variety of restaurants and take aways. There's a well serviced library. You can also easily get to the Blue Mountains train line from here. Provided that you're happy to commute via train (or perhaps you have a hire car), this is a comfortable, convenient and economical place to stay. I wouldn't hesitate to stay here again should I need accommodation in Greater Sydney.
Damien
2017-02-12T00:00:00Z
Deepak's place is close to everything. Blacktown wespoint is a stone throw away. Deepak and his wife we're also very understanding when we need to check in early because my partner wasn't feeling well. Definitely recommended to the community. Thanks Deepak!
Ric
2017-02-27T00:00:00Z
The host canceled this reservation 2 days before arrival. This is an automated posting.
Sarah
2016-11-28T00:00:00Z
Tipe Kamar
Kamar pribadi
---
Tipe Properti
Rumah
---
Mengakomodasi
2
---
Kamar tidur
Blacktown, New South Wales, Australia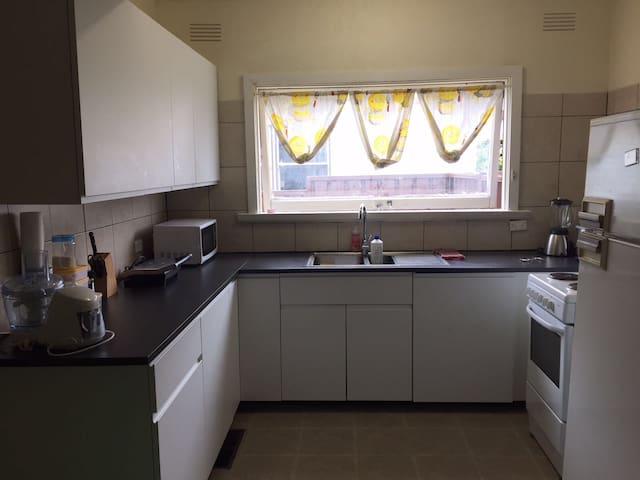 Spacious 4 bedroom home near the Blue Mountains, Wet n' Wild, Feathderdale, Penrith Lakes and other great tourist destinations. Stay with the locals and gather all the local knowledge and tips you wouldn't get in a hotel to make your trip unforgettable! ***Receive a free local website guide with all my favourite spots and links to booking tickets etc where needed as well as local eats, nature spots and unique and fun things to do in the area.
Stay in the heart of western Sydney in a spacious 4 bedroom home with two lovely room mates and a furry dog who loves people. Be greeted by his little smile and cuddle with him on cold nights. You will have your own room with a soft double bed, access to a large modern bathroom, spacious kitchen and living space as well as a pool for the warmer months. Although the kitchen is still being renovated, the house is very inviting and we will make you feel welcome as a friend rather than a hotel guest. My house mate and I have very busy lifestyles however we will try and help you where possible but this means you will have access to a quiet home most days.
St Clair is a very quiet suburb and we've never had any issues. Recommended to take standard safety precautions and don't go wandering around a night in dark alleys as per any other city :) Local fresh and healthy cafe option, walking distance from my house as well as groceries, fruit & veg shop, post office, bottle shop and great wood fired pizza!
Tipe Kamar
Kamar pribadi
---
Tipe Properti
Rumah
---
Mengakomodasi
2
---
Kamar tidur
Saint Clair, New South Wales, Australia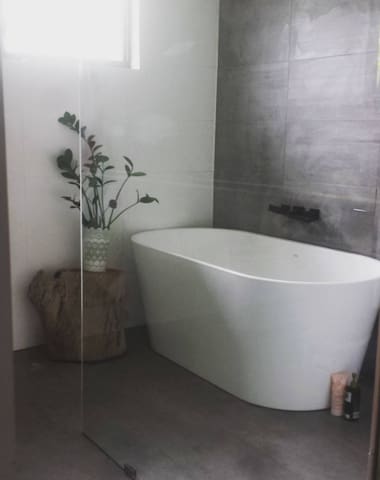 15min walk to the train station. 1 min walk to the bus station. Plenty of street parking. Friendly and helpful host. All brand new furnitures and appliances.
Tipe Kamar
Kamar pribadi
---
Tipe Properti
Rumah
---
Mengakomodasi
2
---
Kamar tidur
Kings Park, New South Wales, Australia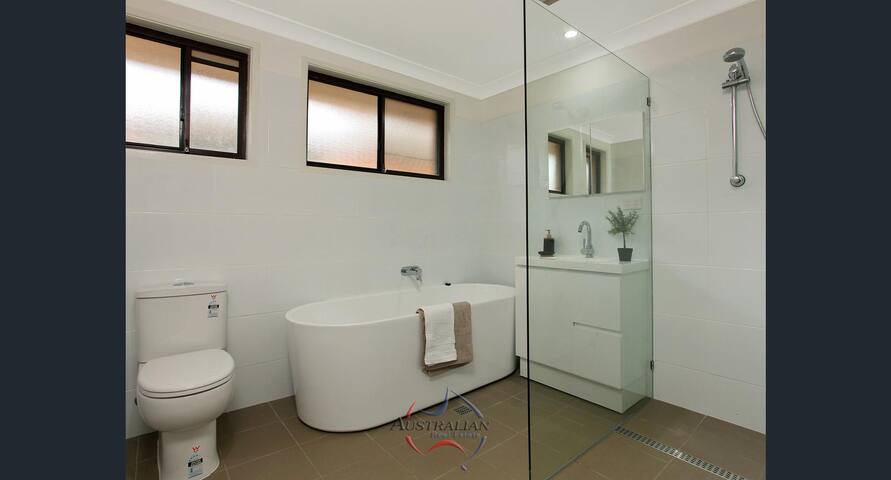 Brand new house in a new community, beautiful parkland, good choice for walk and cycling lovers. Walk to bus station (728, between Blacktown shopping center and Mount Druitt) and 20 minutes walk to Doonside Station(URL HIDDEN)mins drive to shopping village and Petrol station. 10 minutes drive to Blacktown Station, Shopping center, IKEA, M4, M7....
Brand new house Nice new community in parkland Good location Convenient for traveling Walk to bus and train station Near shopping village and petrol station
Plenty of facilities for exercise Playgrounds for kids Good views
Tipe Kamar
Kamar pribadi
---
Tipe Properti
Rumah
---
Mengakomodasi
2
---
Kamar tidur
Bungarribee, New South Wales, Australia
Mi casa es tu casa! A perfect comfy rest for couples, business travellers, families (with kids), and furry friends (pets). If needed two double rooms. Quiet with secure parking and only a stones throw away from Wet 'n' Wild, Featherdale Park and Westpoint shopping centre and restaurants.
15 minute drive to Wet and Wild and a 5 minute drive to Featherdale Park.
Thanks Sarah, good host accommodative, clean perfect for short and long stay.
Satish
2016-08-16T00:00:00Z
Sarah's place was beyond expectations. Very clean, tidy, spacious and her hospitality in welcoming us and treating us during the whole stay was just made us feel like home. I would love to stay with her every time i am in sydney. Highly Recommended!!!
Ikram
2016-07-31T00:00:00Z
Awesome stay. I got there really late and Sarah was very accommodating. Would definately stay again if I came down to Sydney :)
Jake
2017-01-19T00:00:00Z
Sarah was a wonderful host, it was everything I expected and more. She made you feel very welcome and nothing was to much trouble. I would definitely stay again.
Justin
2016-10-01T00:00:00Z
We are so blessed to stay in Sarah's house, everything we experienced excelled our expectation, especially breakfasts provided. Even her little cute son is also a very welcoming host too. We felt so freely and comfortable, just like in our own house. The value of staying in Sarah's house is much better than staying in a Hotel. We thank God for choosing Sarah from such heaps of options!
ken
2016-09-12T00:00:00Z
Sarah was a great host very friendly and hospitable to the three nights I was there.Very clean and tidy I must say its better then most Hotel I stayed and pay the bomb for it.It was my first accomodation with Airbnb and I will do it again.I will be staying at Sarah's when ever I go to Sydney from now on. Thank you Sarah.
Faapoi
2016-08-04T00:00:00Z
Sarah is lovely and gave us warm welcome. We loved our stay. The property is clean, spacious and well maintained. Location is convenient as well.m and we would like to stay again with family
Murali
2016-10-01T00:00:00Z
Sarah was a lovely host. She put a lot of thought into the little details that made us feel welcome. The room was very clean and inviting.
Robyn
2016-12-04T00:00:00Z
Tipe Kamar
Kamar pribadi
---
Tipe Properti
Rumah
---
Mengakomodasi
2
---
Kamar tidur
Marayong, New South Wales, Australia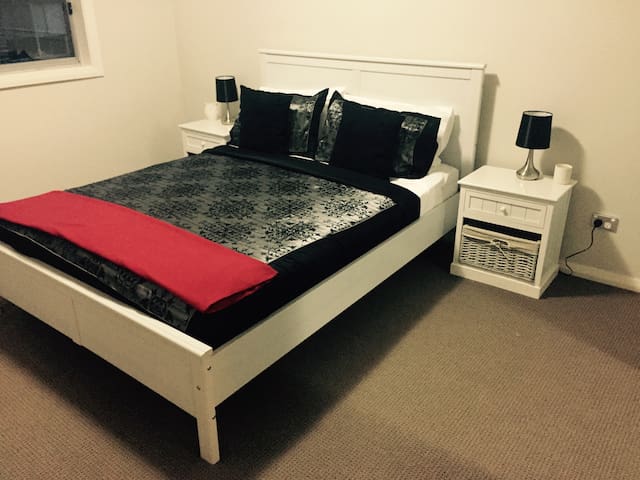 Looking for tidy female occupant, in a house with a couple and toddler. My wife is more comfortable with a female guest. About 20 minutes walk to the nearest supermarket or catch a train to the nearest shopping centre which is a train stop away. Electricity, water, internet connection included. We do not have a strict check-in, check-out times. Generally, before 7 am or after 5pm on weekdays and flexible on weekends/public holidays. Other than that, we can work something out.
Simple room, with double bed, wardrobe, desk, bedside drawers.
Hilly neighbourhood. Mainly quiet. A quiet hill top reserve at the back of the house. View of the neighbourhood, Blacktown centre, and Blue Mountains. We get beautiful sunsets sometimes. Some birds(our favourite is Frogmouth) and occasional blue tongue lizards.
You are quite a bit out of the city, but the price and what you get are worth it. Home is lovely, and host and their son are as well. Would stay again.
Tahmia
2017-02-10T00:00:00Z
Rudie and his family are lovely, with the most adorable little boy, Jacob. They were incredibly helpful from the get go and went out of their way to make sure I had all I needed. Alla even took me to the local chemist the evening I arrived (thank you very much :) It is very much a family space, and you will be a part of it as the rooms are close by, (early starts) but you still get plenty of space to be by yourself if you wish, or to engage and partake in some tv watching or dinner time conversation. They are wonderful people and very kind. I had a car so getting around the place was not a problem for me. I want to say thank you both for being so accommodating, and hello to little Jacob ;)
Katie
2016-07-14T00:00:00Z
I travel a lot and the stay with Rudie is one of the best so far. He is very accomodating - he allows me and my boyfriend to stay over together at his place with the same price and even agreed to add one more single bed to the room for another of my friend when requested and we offered to pay a small amount of fee for that too:) The photos are not quite doing the place justice as the place are really really nice, cosy, comfortable and classy in real life, no joke. Rudie, his wife and his son are all very nice people and made us feel very at home too!:) definitely recommend this lovely bungalow. :)
Arianne
2016-05-22T00:00:00Z
第一次住airbnb 感觉非常棒。第一天入住和离开时房东都开车送我去附近火车站。家里干净 整洁 第一天晚上到达还提供了晚餐。家庭氛围很好,房东和妻子都非常友好 耐心 儿子很可爱很懂事。第一次的体验非常棒!性价比很高。感谢Rudie 和Alla !下次去悉尼或者有朋友来一定还会推荐的噢。
Emily
2016-11-09T00:00:00Z
Very nice family. Rudie parked on the street so I could park my motorbike in the carport which was very kind. Comfortable bed. Nice house. Cute little boy. Had everything I needed, bar fridge, internet etc. Nice area. Easy to navigate for out of towners. Would definitely recommend. Thank you Rudie.
Sarah
2016-09-27T00:00:00Z
Really easy stay... very welcoming family. Stayed up late to welcome me when my plans was delayed. Thanks Rudie!
James
2016-10-02T00:00:00Z
Lovely family, always enjoy staying there
Bart
2017-02-14T00:00:00Z
I had a wonderful stay with the most lovely family during a stressful time making my worries less so and adding cheer to my days. Thankyou both so much. I HIGHLY recommend Rudie and his lovely wife for anyone needing to stay west of Sydney.
noni
2017-03-03T00:00:00Z
Tipe Kamar
Kamar pribadi
---
Tipe Properti
Rumah
---
Mengakomodasi
1
---
Kamar tidur
Marayong, New South Wales, Australia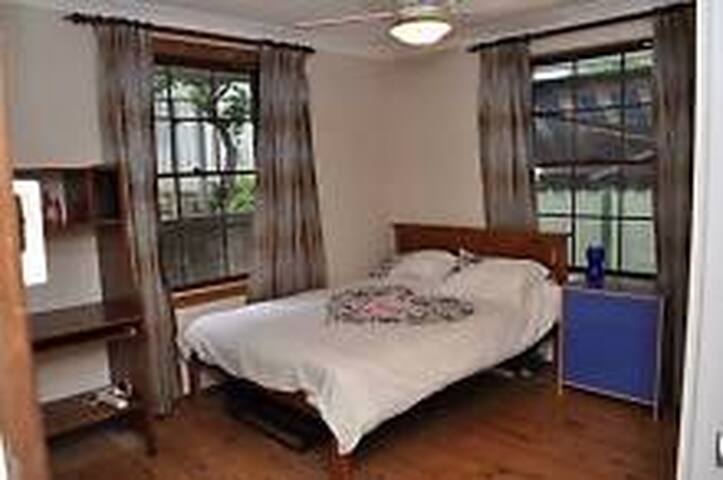 Modern Home.Beautiful Large Bedroom, bathroom, shower, and large living spaces (en suit) Our home is close to public transport. Ideal for couples,small family, solo adventurers .This is a great location for business travelers as well.Close to Norwest, Bella Vista, Marsden Park and Blacktown business parks. The neighborhood A quiet neighborhood, close to public transport, shopping centers, major roads and full of lovely people. Getting around Bus and train nearby or taxi
You will have your own comfortable private room with en suit (ample space for luggage) Common shared areas are lounge, kitchen.You can use upstairs living area as well.There is a nice deck so you can relax :)
Great, very quite neighborhood.About 50 minutes to one hour drive to beautiful Blue mountains,Less than 10 minutes drive to Nurragingy Reserve (Nurragingy Reserve is a great place to relax and have a good time.This 63 hectare, tranquil location is located in Doonside and attracts more than 1million people per year. It offers the following attractions and facilities: picnic and BBQ areas (wood supplied) children's playgrounds bush walking tracks formal garden areas, planted as International Gardens quiet shaded areas and pavillions a waterfall natural bushland ideal for nature studies toilets wedding garden areas the Colebee Center
Wondering place and very comfy. Sus and his wife are the wonderful host ever. The right decision to stay in their place for our honeymoon trip. Thank you so much for letting to stay and all the best for everything.
Edith
2017-01-02T00:00:00Z
Tipe Kamar
Kamar pribadi
---
Tipe Properti
Rumah
---
Mengakomodasi
2
---
Kamar tidur
Woodcroft, New South Wales, Australia
Master bedroom in large brick home located in quite culdersac walk to train station shops and restaurants.
Robert's accommodation in Doonside is extremely convenient to the train station and very central to the area. Robert was extremely welcoming and also very flexible. The accommodation was clean and comfortable and excellent value for the money.
Patrick
2016-02-08T00:00:00Z
the room was adequate and clean enough but the rest of the house was a mess and the family occupying the other bedroom have also occupied the rest of the house
derek
2017-03-26T00:00:00Z
Tipe Kamar
Kamar pribadi
---
Tipe Properti
Rumah
---
Mengakomodasi
2
---
Kamar tidur
Doonside, New South Wales, Australia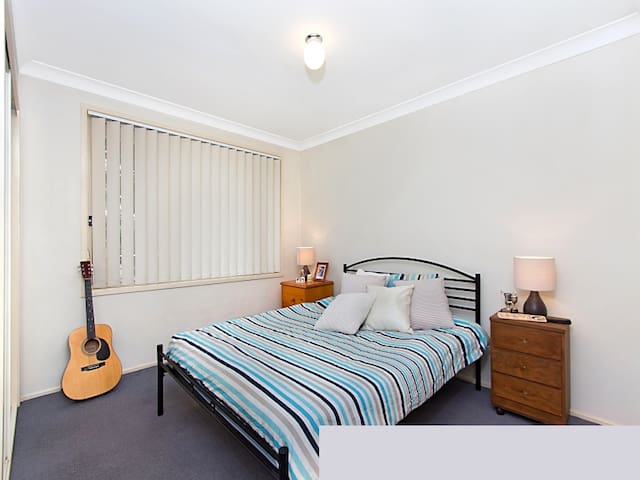 1

–

18

dari

54 Sewa Rumah
Masukkan tanggal untuk melihat harga lengkap. Biaya tambahan berlaku. Mungkin dikenakan pajak.