The accommodation is equipped with everything needed for cooking. BBQ stove is available even in winter. It is located on a large covered gallery.
The host canceled this reservation 5 days before arrival. This is an automated posting.
Marie et Luc
2017-01-22T00:00:00Z
Tipe Kamar
Seluruh rumah/apartemen
---
Tipe Properti
Apartemen
---
Mengakomodasi
4
---
Kamar tidur
Saint-Donat-de-Montcalm, Québec, Kanada
Está situado muy cerca de la preciosa ciudad de Val David y todas sus actividades: Hay varias rutas de esquí de fondo, muchas estaciones de esquí alpino, raquetas de nieve, senderos para bicicletas, las lacas y ríos. Le encantará el apartamento privado en la montaña con su punto de vista (sólo hay 3 otras casas) y la bañera de hidromasaje. El patio de 2 acres es hermosa para disfrutar en el verano con mesas de picnic, un mirador, hamacas y un pozo de fuego. Incluso puede disfrutar de yoga, los masajes y la hidroterapia en el sitio en Le Temple D'O.
Relajación en su mejor momento: Usted puede disfrutar de su propio apartamento privado bien equipado con servicios de spa en el lugar para ti. Está en un hermoso duplex chalet suizo en un entorno tranquilo de montaña en el corazón de los Laurentides. Val David es, con mucho, el mejor pueblo de la zona y está a sólo una unidad rápida al ashram en Val Morin, a 20 minutos a St-Sauveur y 30 a Mont Tremblant. También puede hacer que el masaje, yoga y terapia de agua en el sitio de Le Temple D'O.
Val David es un lindo pueblo artesanal en el centro de los Laurentides. Es conocido por sus artistas y bonitos restaurantes y diversas actividades al aire libre. Le Petit Train de Nord ofrece increíbles pistas de esquí en el invierno y ciclismo en el verano. Su hermoso hacer kayak o canoas en el río. También hay un hermoso mercado local todos los sábados de los meses de verano y una vez al mes durante el invierno.
Super séjour chez Jodie à Val David, très bon accueil et Jodie est très à l'écoute. La maison est vraiment bien située et les équipements sont juste ce qu'il faut. Le spa est merveilleux! On recommande!
Laudine
2017-03-05T00:00:00Z
Nice stay lovely fireplace.
Kerry
2017-04-08T00:00:00Z
We absolutely loved our stay at Jodie's cozy apartment in Val-David! Jodie was an excellent hostess - she responded very quickly to all our questions and had great suggestions our entire time on where to go and where to eat etc. She was extremely nice and helpful our entire stay. The apartment was very clean and comfortable. The bed was great to sleep in and the kitchen has everything you would need. There is also a washer and dryer in the apartment. The house and yard are beautiful and the outdoor hot-tub was probably the best we've ever been in. Jodie and her son live in the house upstairs, and although you can occasionally hear footsteps they were very quiet. We stayed in the winter and drove each day to Mont Tremblant or other local mountains for skiing. The road up to Jodie's house looked a little intimidating in the snow when we first arrived, but our small car (2-wheel drive, no snow tires) had no problems getting there. All in all our stay was extremely pleasant and comfortable. Although we had never met Jodie and her son before we immediately felt like we were staying with close friends - we hope to return again in the future! We'd definitely highly recommend Jodie and her apartment to anyone looking for a place to stay in the area.
Kristina
2017-02-20T00:00:00Z
Jodie est attentive a ces invités. Le jacuzzi est le bienvenu malgré qu'il soit couvert. L'appartement manque de charme mais l'essentiel est la.
Romane et Thibault
2017-03-12T00:00:00Z
Good place to stay if you have activities in the area up North, although we found it was a bit pricy. Jodie was an excellent host and she is keeping her apartment very clean and tidy. Not a good place for those who absolutely cannot survive without a TV set, and although the noise was not that bad. Keep in mind that Jodie and her children are living upstairs, so although the noise was not excessive nor ongoing, do not expect a complete noise-free environment. And finally, also take note that Rang 10 Road to get to the apartment is pretty steep and the road conditions must be a bit more difficult when it snow or when it is icy(URL HIDDEN)
Serge
2017-01-15T00:00:00Z
Impecc.
véronique
2017-03-15T00:00:00Z
Superbe petit lieu avec son poel à bois et son entrée indépendante. Tout le confort et La propriétaire est aux petits soins pour que le séjour se passe au mieux.
Harmonie
2017-02-23T00:00:00Z
Jodie fut une hôte excellente. Elle est si attachante et tiens énormément a votre bien-être. Ce bel emplacement en campagne sans même s'éloigner de la ville nous a permis de relaxer profondément pendant notre séjour (surtout le massage de Jodie, wow! Si vous avez la chance de prendre un massage avec elle, arrêtez de hésiter et faites le pas. Ca en vaut la peine.) Son petit appartement est tres bien adapté avec une cuisine équipée, laveuse, sécheuse, grande chambre, etc. Si vous tenez à vous relaxer, c'est l'endroit idéal.
Rebecca
2017-02-27T00:00:00Z
Tipe Kamar
Seluruh rumah/apartemen
---
Tipe Properti
Apartemen
---
Mengakomodasi
2
---
Kamar tidur
Val-David, Québec, Kanada
Tipe Kamar
Seluruh rumah/apartemen
---
Tipe Properti
Apartemen
---
Mengakomodasi
6
---
Kamar tidur
Val-David, Québec, Kanada
Benvenuti nella nostra accogliente, caldo ed elegante suite di rustico. Bellissimo appartamento stile loft, bagno completo, camino, cucina attrezzata in una bella minuti ambiente privato dal villaggio e le numerose attività della zona ha da offrire. Sciare Raquette Camminata nella natura Ciclismo Ristoranti boutiques Spettacoli mercati Nuoto Canoa & Kayak Pesca Parchi e altro ancora ....
Accogliente elegante loft rustico, con ingresso indipendente, caminetto, bagno completo, cucina attrezzata, parcheggio gratuito, lavatrice e asciugatrice su richiesta. Ci sono bellissimi sentieri forestali e piste ciclabili per scoprire a portata di mano. Vicino a molte attività che la zona ha da offrire! Sci, neve mostrando percorsi per mountain bike, escursioni, ristoranti, boutique e molto altro ancora !!! Siamo a 1 km dal centro del paese, il che lo rende accessibile a piedi e in bicicletta. 20 minuti di auto da St-Sauveur e 25 min. da Mont-Tremblant. Anche 10 min. da St-Agathe dove è possibile trovare tutto il necessario durante il vostro soggiorno! Accesso ospite La nostra casa ha 2 livelli che possono essere affittate insieme o separatamente ed è stato costruito con alta qualità insonorizzazione. La suite comprende una camera da letto con letto matrimoniale, bagno, cucina completa, salone con camino e divano letto, ingresso indipendente e l'accesso a una lavatrice e asciugatrice e sauna.
Grande quartiere, tranquilla in un ambiente naturale, vicino a tutta la zona ha da offrire.
Notre séjour fut impeccable. À seulement quelques km du centre-ville de Val-David, nous avons bien profité de la neige, du ski de fond et de la tranquillité des lieux. Merci Anika !
Christine
2016-01-30T00:00:00Z
Anik's suite is a great election to stay at Val David. Location is quiet and beatiful, closed to the village in a short walking. Suite is cozy and with great details decoratives. All is as the pictures. Bathroom is better than the picture. She offers convenient amenities.The communication with Anika, Rafaelle or Suzanne was perfect and helpful.Thank you, Suzanne, for your interest in us. We recommend chic rustic suite. Sure we would return.
Pablo
2016-10-14T00:00:00Z
Endroit chaleureux et agréable ! Merci !!
Catherine
2016-09-14T00:00:00Z
The place is really cute. A lot of effort has gone in to decorating the place. Plenty of room for two people to enjoy themselves comfortably. Best parts were the excellent location of Val David, the wood stove and the lovely hosts. We went in winter but I imagine it would be great in summer too.
Megan
2016-02-16T00:00:00Z
My husband and I had a very enjoyable few days in Val David and area. We liked this suite and being able to have a fire in the efficient wood stove in the evening.
Janice
2016-03-05T00:00:00Z
Great place! Clean comfortable quiet. All as described even better I'd say. We had very nice relaxing week.
Kirill
2016-10-22T00:00:00Z
Trés bon accueil d'Anika malgré son absence. Elle s'était organisée pour qu'une personne m'accueille. Bel appartement au calme.
Marie
2016-10-02T00:00:00Z
C'est un endroit vraiment sympathique, chaleureux et confortable à tous points de vue. Je n'avais qu'à descendre la côte avec mes skis pour rejoindre le réseau du parc Dufresne. Je recommande cette place à tous ceux qui apprécient les qualités d'un vrai chalet et ne veulent pas la formule condo au "goût du jour". Chez Anika, je me suis sentie bien dès le premier jour. Merci pour tout!
Marie
2017-01-15T00:00:00Z
Tipe Kamar
Seluruh rumah/apartemen
---
Tipe Properti
Apartemen
---
Mengakomodasi
2
---
Kamar tidur
Val-David, Québec, Kanada
Ma place est près de la plage (accès à Golden Lake) Activités de la famille. Vous allez adorer ma place à cause de l'emplacement, l'ambiance, et les vues. Ma place est bonne pour les couples, les aventuriers solo, les familles (avec enfants) et amis à fourrure (animaux de compagnie). Courte distance de Val-David village, qui offre une grande variété de boutiques, de restaurants et une épicerie.
Tipe Kamar
Seluruh rumah/apartemen
---
Tipe Properti
Apartemen
---
Mengakomodasi
6
---
Kamar tidur
Val-David, Québec, Kanada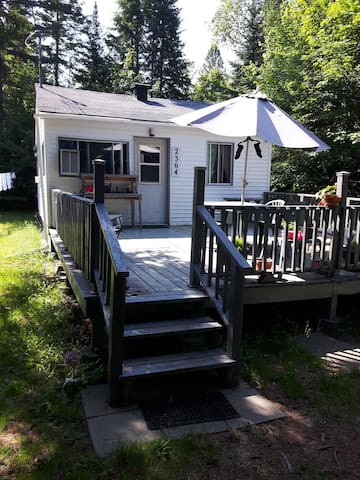 Tipe Kamar
Seluruh rumah/apartemen
---
Tipe Properti
Apartemen
---
Mengakomodasi
4
---
Kamar tidur
Val-David, Québec, Kanada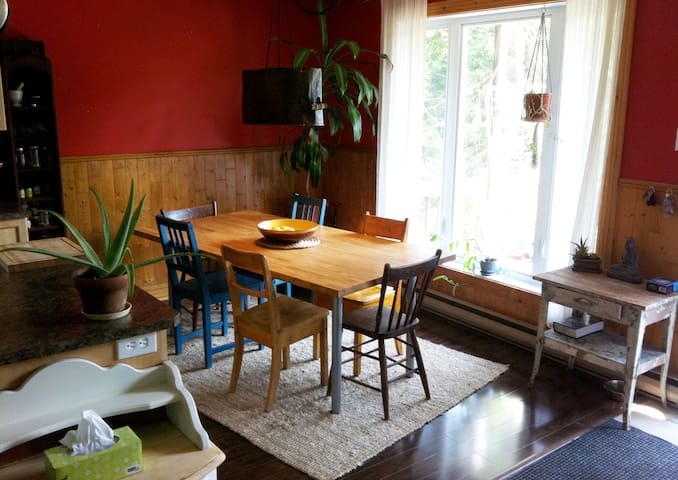 Our property is unique since there is an option to rent the basement appartment at an additional charge.There is a separate entrance and an inside access to the upstairs too.
The host canceled this reservation 12 days before arrival. This is an automated posting.
Luke
2017-02-06T00:00:00Z
Tipe Kamar
Seluruh rumah/apartemen
---
Tipe Properti
Apartemen
---
Mengakomodasi
2
---
Kamar tidur
Val-david, Québec, Kanada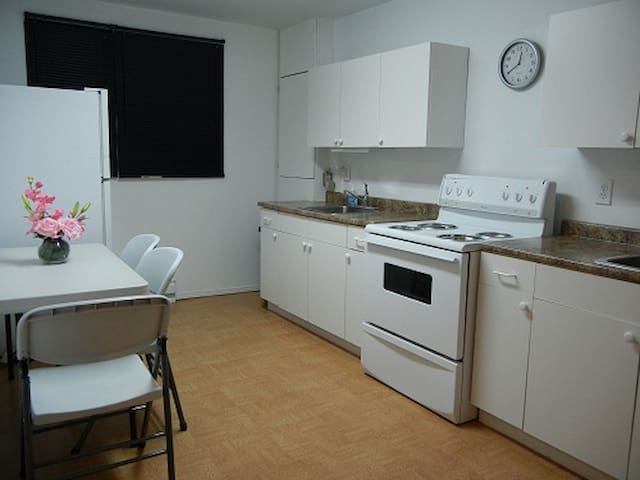 This was our second year in a row. We love coming here so much that we hope to make it a yearly tradition. We stayed in the Davos this time, which was clean, cozy, very relaxing, and even comes with a basket of knitted slippers to use. It was heaven and hard to leave. We definitely recommend using the complimentary snowshoe passes and hitting the trails right outside the cabins. Diana is a fabulous host - very prompt and easy to communicate with. And we really appreciate the dog-friendly cabin options. Thank you Diana for a wonderful stay!
Ranae
2016-01-07T00:00:00Z
We had an absolutely lovely stay at Le Village Suisse. It was an ideal location for a family with a toddler. Le Zermatt, the chalet where we stayed, felt almost completely renovated, bright, fresh, spacious, and clean. It was about 15 feet from the lake front. We ate almost all of our meals at the picnic table on the patio, and used the grill daily. The rainstorms on the lake were as beautiful to witness as the sunny days and sunsets. It was really practical for us to feel immersed in nature but to be a five minute walk from downtown, where a large grocery store, bakeries, cafés and a pharmacy could be found. There is so much to do: check out the artistic and culinary offerings of Val-David, swim in the pool, soak in the hot tub, rent a bike, boat, fish, hike the P'tit Train du Nord or the Parc Dufresne, or take your kids to a local amusement park. We loved tasting Québécoise cuisine Au Petit Poucet. It was so quiet and relaxing, and there were so many things to that our child will grow into, that we can definitely imagine coming back to stay here next summer.
Adria
2013-07-21T00:00:00Z
I requested some information about this listing and Diana responded promptly with a more convenient offer at one of her other chalets. We ended up staying at le Neuchatel chalet at le Village Suisse and it was perfect for myself, my husband, 3 year old son and 3 month old daughter. We spent the days in the pool with my son and evenings by the campfire and in the hot tub after the kids were asleep because our baby monitor signal was able to reach there. The property was not fancy but kept in good shape and we didn't have a single complaint. Very nice family getaway for a reasonable price.
Kathryn
2015-09-07T00:00:00Z
This was our second year in a row staying in Le Zermatt, and I dare say we loved it even more this time around! We were very comfortable there. The indoor-outdoor living can't be beat, what with the great patio, grill, super easy access to the lake, pedal boats and the playground. Our son was in heaven all week long thanks to the boats, walking Le P'tit Train du Nord, seeing the waterfall, and eating fresh bread delivered to our door. It is just such a relaxing, special place to vacation. The communication with the hosts was great and we definitely felt like we had everything we needed.
Adria
2014-07-20T00:00:00Z
Diana's place was excellent for our family holiday - three adults and one baby. Although the pool wasn't open for the summer season, the play park, and the BBQ were excellent for keeping everyone entertained and to be within walking distance of Val David and the cycle path was a major plus!
Anna
2013-05-04T00:00:00Z
Tipe Kamar
Seluruh rumah/apartemen
---
Tipe Properti
Apartemen
---
Mengakomodasi
6
---
Kamar tidur
Val-David, Quebec, Kanada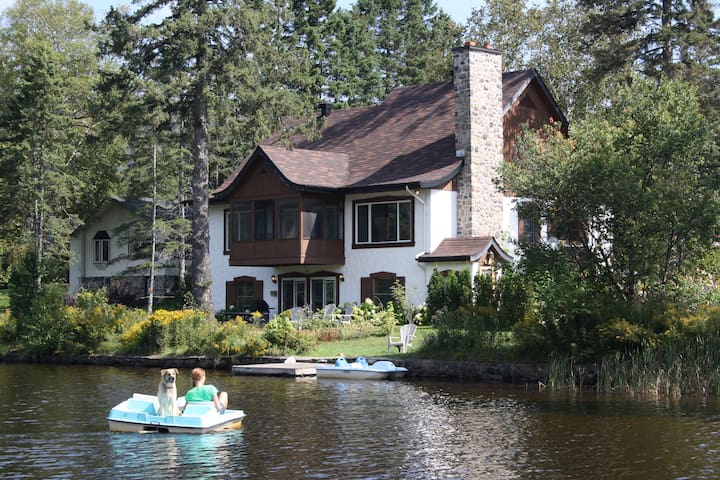 House Floor lived as a sacred place, 10 minutes walk from the village, the little train of the north, a ski resort. 2 rooms. Room wonderful bath. Super bright, comfortable, high ceiling. Spirit of recollection. Ideal to relax and settle.
this property is comfortable for 1 or 2. If you are 3 or 4, you can find the place, even though you may be cramped. in the small back room, a camping mattress can troubleshoot the possibility to also use the sofa bed in the lounge.
Foot to access the train from the North and the village. Scroll down to the avenue right, cross the 117 and down the street of the island which is just to your left. After crossing the bridge of lovers. Enjoy. Hop. Climb up the dirt road or snow, the North train.
Tipe Kamar
Seluruh rumah/apartemen
---
Tipe Properti
Apartemen
---
Mengakomodasi
2
---
Kamar tidur
Val-David, Québec, Kanada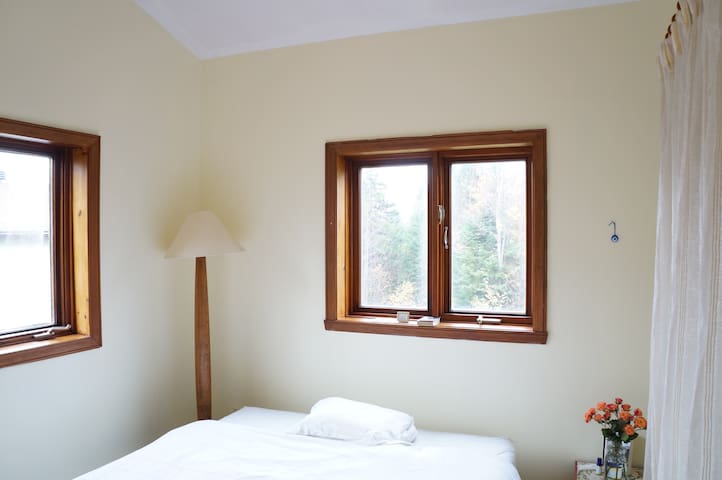 Appartement entièrement rénovée avec 1 chambre fermée , foyer, cuisine entièrement équipée, piscine , laveuse sécheuse, à 5 minutes du centre ville où vous y trouverez un cinéma, un bowling, 2 terrains de golf,une plage publique, des magasins d'alimentation et des restos . au pied d'une pente de ski environnement paisible .
Coquet, Propre et dans un environnement de rêve
Quartier tranquille et en pleine nature
We had the chance to spend the week-end at Diane's condo. Small, but stylish, nothing is missing to enjoy a great time in the Laurentian's. Everything you need is a stone's throw away (nature, lake, town, grocery). Definitely nice enough to book it again!
Martin
2015-09-28T00:00:00Z
Nous avons passé un merveilleux séjour chez Diane. L'appartement est un vrai cocon pour se ressourcer dans les Laurentides, tout était parfait, nous n'avons manqué de rien.Le quartier est très calme et il y a plusieurs activités à faire dans les alentours. Diane est vraiment charmante et accueillante. Nous recommandons fortement d'y faire un petit séjour. :)
Evelyne
2015-10-13T00:00:00Z
Nous avons été très bien reçu par Diane. tout était prêt à notre arrivée. Logement très propre et Diane a pensé à tout afin que l on se sente à l aise.
Heidi
2016-08-09T00:00:00Z
First, I would like to thank you Diane for the amazing vacation I had. me and my kids in the Laurentians. Her condo is situated in a magnificent place, you really feel like you are in the woods. Everything was I expected, very clean and a a pleasant ambiance. Thank you
Otto
2016-08-07T00:00:00Z
Tipe Kamar
Seluruh rumah/apartemen
---
Tipe Properti
Apartemen
---
Mengakomodasi
4
---
Kamar tidur
Sainte-Adèle, Quebec, Kanada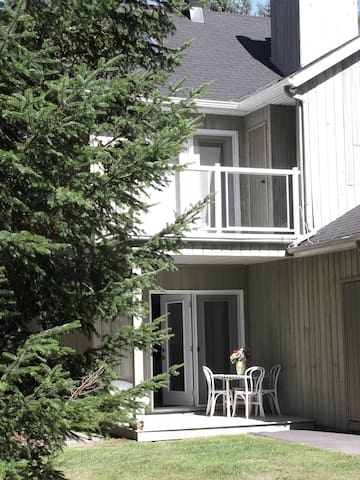 Bedroom on a mezzanine, condo in Sainte-Adèle. Patio, fireplace, dishwasher, washer and drier, oven, space in fridge and freezer. Lots of green plants, books, board games, etc. I have animals : two well-mannered cats and two degus in a vivarium. It is located 5 minutes drive from the village, the 117 and the 15, yet it is very quiet, in the woods by a river and many hiking paths. Near two lakes, ski station, golf course, etc. All outdoor activities for summer and winter.
Amazing river, with little waterfalls and quiet places to swim, tons of walking trails, smell of the forest, birds. A very sunny, bright and lively house with charming neighbors.
Toutes les activités de plein air sont disponibles dans la région : équitation, canot-kayak, baignade (plusieurs plages), golf, ski alpin, ski de fond, patin, glissade, etc.
I had a great stay and enjoyed it very much. It was warm and comfortable. There's a fireplace and very nice ambience. The area is beautiful and picturesque. It's close to stores and amenities. It's close to the major routes. Karine was always available for questions and knows the area well. I would recommend it.
Josh
2017-01-02T00:00:00Z
hôte très sympathique qui nous a accueilli au pied levé et nous a fait entièrement confiance pour quitter l'appartement sans vérification. cependant la qualité du ménage était limite même si nous sommes bien conscientes d'avoir réservé au dernier moment. la chambre étant une mezzanine ouverte, il ne faut pas être géné par les allées et venues des chats
Marie
2017-03-09T00:00:00Z
Karine est très sympathique et fut flexible tout au long du séjours. Elle se fait discrète et le condo est charmant. L'emplacement est parfait pour le ski et les activités en plein air.
S Boom Boom
2016-12-31T00:00:00Z
Le condo était superbe, confortable et bien aménagé, très près du village et dans un merveilleux coin. Karine était très accueillante, quand nous sommes arrivées elle avait créé une ambiance féérique et confortable, feu dans la cheminée, musique jazz, lumières tamisées, etc. L'endroit était merveilleux et nous avons adoré notre séjour !
Christine
2016-03-04T00:00:00Z
Karine,elle est vraiement gentille,sa maison est tres belle. tout est beau.
Nathan
2015-12-29T00:00:00Z
Tipe Kamar
Kamar pribadi
---
Tipe Properti
Apartemen
---
Mengakomodasi
2
---
Kamar tidur
Sainte-Adèle, Québec, Kanada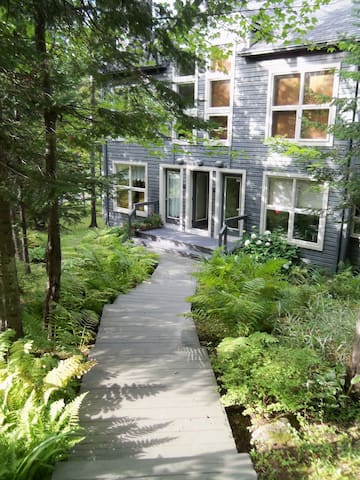 Petit appartement 3 1/2 au rez de chaussée d'un triplex face au magnifique lac des Sables à Ste-Agathe-des Monts. Tout équipé pour cuisiner. Non fumeur. Un atout spécial, la location de l'appartement inclus également l'accès aux spas et piscine de l'Hôtel Spa Watel située à 3 minutes de marche. Prendre note qu'en basse saison, les installations ferment plus tôt. Vue remarquable. Situé à 4 minutes de marche des sentiers de ski de fond et de raquettes du Parc des Campeurs de Ste-Agathe.
Le logement possède une chambre fermée avec possibilité de faire une autre chambre pour des enfants en bas âge avec matelas au sol. Le logement peut accommoder deux adultes et 1 ou 2 enfants en bas âge. Une rue sépare l'appartement du lac, ce n'est donc pas un bord de l'eau...mais quelle vue !!
L'appartement est à deux minutes en auto de la rue principale de Ste-Agathe, avec tout ces attraits comme la randonnée, la raquette et le ski de fond au Parc des Campeurs, les descentes en tyroliennes au Tyroparc, épiceries restos et boutiques ! Vous serez au centre d'un rayon de trente minutes de tout ce que les Laurentides peuvent vous offrir de Tremblant à St-Sauveur.
Nicolas was a great host! One of the best. Instructions were clear, plenty of parking. He gave us recommendations for food and fun. Apartment was clear and the location was wonderful! Right on the lake with mountains all around. Nicholas and his family were accommodating and friendly! Great, quaint little mountain town to visit! We plan to return for summer.
Lauren
2017-03-14T00:00:00Z
Logement à distance idéale des commodités et activités diverses (raquettes, spa à l'hôtel spa Watel). Mon copain et moi retiendrons le confort et la vue époustouflante de ce logement, nous vous le recommandons. Merci à Nicolas et Cynthia de nous avoir permis de séjourner dans votre charmant hébergement
Lilly
2017-03-05T00:00:00Z
I had a great time with my gf. Nice , relaxing, so clean, amazing view and great for a gateway from the daily life routine. I do recommend it if you are looking for a place to chill. Thank you Nicholas for having us!!
Elie
2017-02-05T00:00:00Z
Nicolas is a fantastic host! One of the best. We booked the room the night before our stay and there was no delay in Nicolas accepting our request. The instructions were thorough and clear, easy to navigate. Plenty of space to park and a truly beautiful home. The views from the apartment were phenomenal! Overlooking the lake and mountains. It is a quaint little mountain town, very friendly and scenic! We plan to come back in the summer!
Lauren
2017-03-13T00:00:00Z
Hôtes extrêmement accueillants. Ils nous ont donné toutes l'informations nécessaires sur les activités à faire dans les alentours et se sont assurés de notre confort. Le logement est idéal pour un couple.
Victor
2016-12-29T00:00:00Z
.
Melanie
2017-02-14T00:00:00Z
We had an amazing time at Nicolas' place. The apartment was very cozy with huge windows facing the lake. The place was very clean and the host gave us all the instructions before we got there and he also added a note with all the infos we might need during our stay. We had access to the pool/jaccuzi/sauna in the hotel that is located 3 mins away. All we had to do was show the receptionist at the hotel the key of the apartment. I recommend this place to couples that would like to have a nice relaxing getaway. Thank you Nicolas!
perla
2017-01-01T00:00:00Z
This place has one of the best view you could hope for. I definitely recommend a visit if you're looking for peace and quiet in the country!
Camerin
2017-01-29T00:00:00Z
Tipe Kamar
Seluruh rumah/apartemen
---
Tipe Properti
Apartemen
---
Mengakomodasi
3
---
Kamar tidur
Sainte-Agathe-des-Monts, Québec, Kanada
Pour amateurs de ski ou de la nature!! Joli condo confortable, salle à manger et salon à aire ouverte, porte patio donnant sur une vaste terrasse privée.SKI-IN/SKI-OUT!!! À voir absolument!!! Voici un joli condo qui comblera vos attentes!!
Tipe Kamar
Seluruh rumah/apartemen
---
Tipe Properti
Apartemen
---
Mengakomodasi
6
---
Kamar tidur
Sainte-Adèle, Québec, Kanada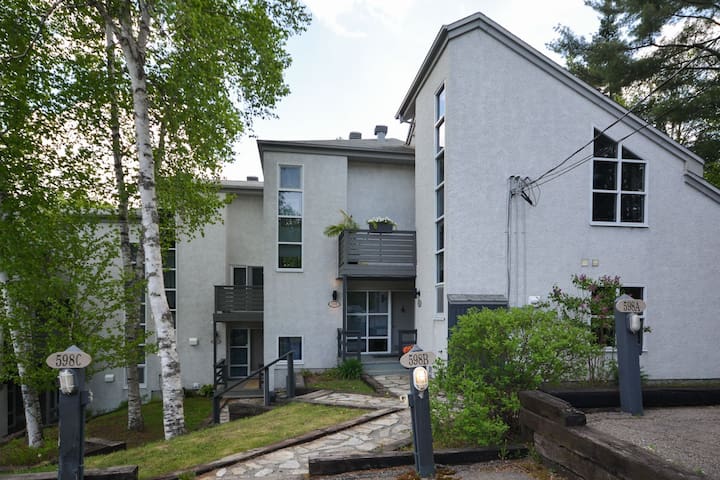 Beautiful studio very well located in the heart of Pays d'en Haut 1 hour drive from Montreal! A 5-minute walk will take you to the cinema, the lake, the restaurant or the grocery store. Furthermore, you will be close to the main alpine ski resorts. The apartment is perfect for one or two people. The building is very quiet and safe. Probably the best quality / price in the area. Visitors from all over welcome! Non-smoking apartment and pets are not allowed.
Cable TV and Wifi available
Great neighbourhood. The building is just side from a municipal park and in a rich neighborhood. Very safe!
Fabulous, quiet apartment in a residential neighbourhood, walking distance to grocery, restaurants, and the bus stop. Recently renovated, with many new fixtures, and very comfortable, with everything required in the kitchen to prepare your own meals. Free parking was good, and communicating with the host and the concierge was prompt and courteous. Highly recommend this apartment!
Rowan
2017-02-16T00:00:00Z
Tipe Kamar
Seluruh rumah/apartemen
---
Tipe Properti
Apartemen
---
Mengakomodasi
2
---
Kamar tidur
Sainte-Adèle, Québec, Kanada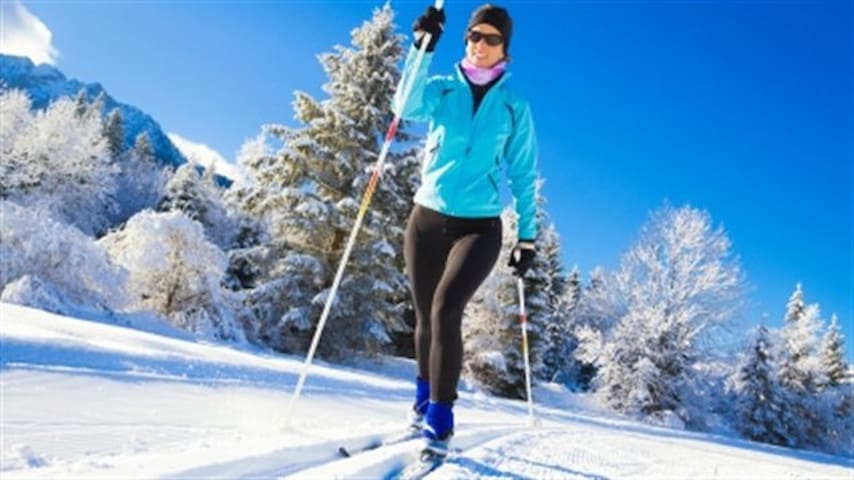 3 chambres privés pour vous et vos amis! Toute la splendeur des Laurentides à votre portée incluant les avantages et l'accessibilité d'être au centre ville!
Grand appartement situé au 2e étage d'un duplex. Beaucoup d'espace permettant à tous et chacun d'avoir son intimité. Petite et grande terrasse pour profiter du soleil et du BBQ
Commerces, bar et restos à proximités. Le magnifique lac des sables et le petit train du nord à distance de marche. Si vous cherchez un endroit pour prendre du bon temps, c'est l'endroit qu'il vous faut!
Jacynthe a été extrêmement accueillante et bienveillante. Nous sommes arrivés avec un peu de retard, mais Jacynthe s'est parfaitement adaptée pour pouvoir nous recevoir. L'espace laissé aux invités est immense, et très agréable. Très bien décoré, et fait même le bonheur des enfants qui y ont trouvé leur compte de jeux. Jacynthe nous a vraiment fait nous sentir chez nous. C'était un séjour très agréable. De plus, l'appartement est très bien situé. Un vrai plaisir, nous y retournerons certainement!
Sonia
2015-10-13T00:00:00Z
Jacynthe was super easy to deal with. She's a very laid-back host and made me feel very relaxed, with just the right balance of being social and giving me my space. She even offered to feed me! She also supplied me with little hotel-sized shampoo, conditioner, soap and a shower cap, which was a really lovely touch and I had my own private 2 piece bath which was a nice touch. Her place is great and absolutely huge and filled with all sorts of cool, vintage and re-purposed furnishings and stuff. Very airy and bright too. Her shower was amazing which was so so welcome after a nearly-60 km bike ride. The location is great too, not too far from Le Petit Train du Nord bike path and on the main street where there are a few little restos and a breakfast place and ice-cream parlor just at her door. I wouldn't hesitate to stay there again.
Tammy
2015-09-18T00:00:00Z
Parfait pour nous. Très propre, joliment décoré. Rien à redire.
Florence
2016-09-11T00:00:00Z
Jacynthe was well prepared for my arrival with a binder full of information on the house and surrounding areas. She was very helpful with me getting to know the area with travel tips and suggestions. We had a little bit of a language barrier but her English is very good (much better than my french). The house is incredibly well decorated and felt so homey and comfortable. There are many ski hills in the area, Tremblant only being 20 minutes away. Lastly, there's a great breakfast restaurant under her building that I highly recommend.
Josh
2016-01-07T00:00:00Z
I really enjoyed staying here. Jacynthe was very warm and accommodating. Her place is warm and inviting - artfully decorated and impeccably clean. I loved the shower! The location was perfect - on the main street in Ste. Agathe des Monts, with quaint little shops, cafes and restaurants. Highly recommended!
Debbie
2016-10-16T00:00:00Z
Great place for several people.
Véronique
2017-03-21T00:00:00Z
Top. Rien à dire! :) Merci Jacynthe pour le séjour, c'était parfait.
Simon
2016-10-20T00:00:00Z
Appartement chaleureux. Proche commodité. Très bonne accueil. On ce sent chez soi
Alexis
2015-09-23T00:00:00Z
Tipe Kamar
Kamar pribadi
---
Tipe Properti
Apartemen
---
Mengakomodasi
6
---
Kamar tidur
Sainte-Agathe-des-Monts, Québec, Kanada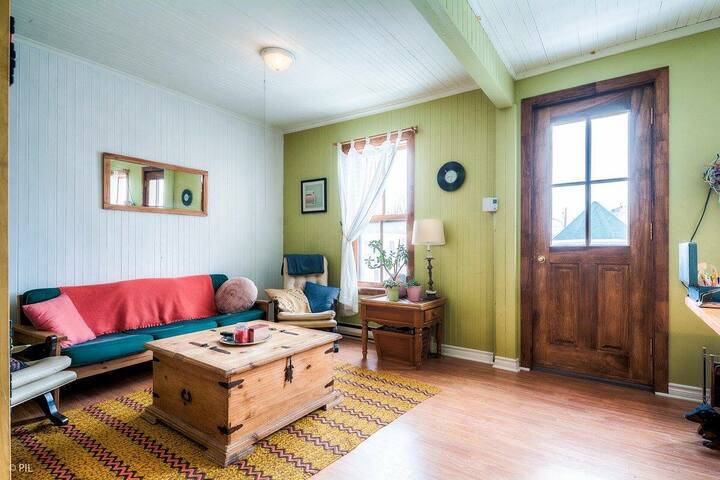 Very nice apartment in the semi-basement of a log home at the top of a ski hill. Well equipped, very bright, and easy access (less than 2 km from the highway), large parking, washer & dryer. Kitchen with dishwasher, full size stove and refrigerator, coffee maker and others. Ideal for a family of 4. There is a room with a double bed and a hide-a-bed and a futon in the living room. Near many golf courses, Mont-Tremblant National Park, Tremblant station and the Petit Train du Nord cycling path.
De plein pied, ce logement est extrèmement agréable et très confortable. On a beaucoup apprécié l'environnement "nature", la qualité de construction et les équipements de la maison. Michel est très disponible et accueillant, donnant de bons conseils de balades etc....On a vraiment passé un excellent séjour, dans une région magnifique.
Hervé
2015-07-29T00:00:00Z
Bonjour, Michel est un hôte formidable. Il a tenu à nous montrer les lieux, nous indiquer les pistes pour des amateurs de randonnée comme nous. Le cadre est enchanteur, calme et en pleine nature. Pas très loin cependant des centres pour de l'épicerie. Nous avons adoré et nous y retournerons certainement.
Eliane
2015-06-29T00:00:00Z
super appartement notre hôte n était pas sur place mais a été disponible très bonne expérience très bonne adresse
Aline
2016-10-16T00:00:00Z
This cottage is very peacefull, quiet and is exactely what someone would like for a short or long stay away of holiday. It has a lot of basic things that will help anyone staying there for a few days. For example, there was some salt and pepper, some sugar and some coffee ready available and that is of great value in any situation. The flat is big enough for 4 persons. The owner has good knowledge of the surroundings and deliver good tips for anything we asked him. On the top the cottage is easily accessible from the highway.
Jani
2013-10-04T00:00:00Z
Michel à encore une fois rendu l'appartement disponible pour notre séjour de 3 jours au calme. Environnement très chaleureux et propice au ressourcement. Nous recommandons chaudement. Eliane &Jacques.
Eliane
2015-11-12T00:00:00Z
Le Chalet est très bien situé dans les bois et très tranquille. Il se trouve pas loin de beaucoup d'activités comme le Parc National ou le village de Tremblant et de beaucoup de commerces. L'intérieur est très confortable, grand et bien équipé. Rien à redire si ce n'est peut-être l'extérieur de la maison qui n'est pas très idéal pour en profiter l'été. En effet, le logement est situé en bas du logement sans le balcon. Cependant pour le prix, l'emplacement et le confort intérieur, c'est tout à fait acceptable et je le recommande. Michel est très agréable aussi et d'une grande gentillesse et disponibilité.
Frederic
2014-06-30T00:00:00Z
Le logement était parfait! Très grand, propre. Parfait pour passer une journée au Mont-Tremblant. Michel est très sympathique. Je recommande.
Jeanne
2016-08-11T00:00:00Z
Nous avons passé une agréable fin de semaine chez Michel malgré que nous avons eu une journée de pluie !!! Le chalet situé en pleine nature et pourtant à proximité d'une zone commerciale pour les courses (IGA, Maxi, Super C, Canadian Tires...) et des pistes de ski pour l'hiver !!! Nous étions à 30 minutes de Mont Tremblant le village. Il y avait des tas d'activités à y faire et pleins de petits restau bien sympathiques. Nous avons trouvé le chalet très confortable, tout y était pour cuisiner, nous nous y sommes sentis comme si nous étions chez nous ! nous aurons plaisir à y retourner bientôt.
Véronique
2014-09-15T00:00:00Z
Tipe Kamar
Seluruh rumah/apartemen
---
Tipe Properti
Apartemen
---
Mengakomodasi
5
---
Kamar tidur
Saint-Faustin-Lac-Carré, Quebec, Kanada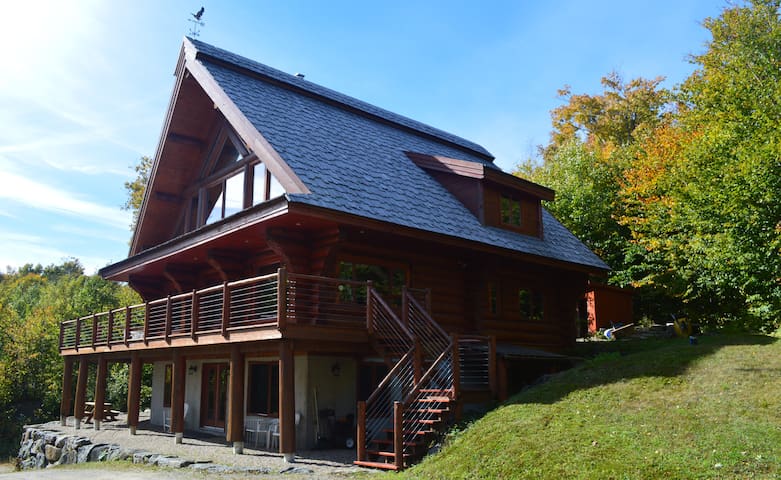 美麗的一間臥室的公寓,坐落在的蘇必利爾湖5分鐘蒙特朗布朗和Mont-Tremblant的自然公園的北側邊緣。機會,幾個暑期活動獨特的位置! 2晚的最低,也歡迎所有的運動員。理想的培訓。
我們的套房,可也為整個賽季。滑雪,越野,滑冰 和雪鞋可能。和Moore 6個月加TX,電力和COGECO 7,200.00 $。
Nous avons passés deux nuits ici et le séjour était formidable! Dans l'appartement, rien n'est laissé au hasard. Toute la décoration est la pour créer une atmosphère moderne et chaleureuse permettant à n'importe qui de se ressourcer en laissant les problèmes a la porte d'entrée! Nous allons surement revenir pour pouvoir cette fois ci se réveiller le matin et voir le lac non glacé!
Josephine
2015-04-06T00:00:00Z
Nous avons passé un debut de semaine mémorable, merci Danielle pour le bel endroit xx
amelie
2016-03-03T00:00:00Z
We LOVED our stay at the condo! Gorgeous lake-side setting, kayaks and a gas BBQ grill available. Hosts are friendly, accessible, and check in is seamless. This has been my best airbnb experience so far! And again... I can't state enough how incredibly tranquil the setting is! If you're ready to get away from the hustle and bustle, and immerse yourself in a natural, relaxing place, this condo is a gem!
Amy
2016-08-23T00:00:00Z
Très belle suite à la fois moderne et rustique. Impeccable!
François
2015-02-23T00:00:00Z
Clean with a gorgeous view. The apartment is situated on one of the most beautiful lakes in the area, lac superior. The lake is actually only a few steps away from this property as reflected in the photos. A well stocked mini market is right at the end of the street for simple grocery supplies.
Ryan
2015-08-19T00:00:00Z
My husband and I spent a couple nights here for a quick ski/spa getaway and loved this space and the area. Would definitely recommend it and imagine it would be very nice in the summer too.
Katlyn
2016-02-14T00:00:00Z
Nous avons été très bien accueillis par nos hôtes qui nous ont donné de très bon conseils en terme de promenades et de restauration. Le cadre est magnifique , l'appartement exceptionnel encore mieux que sur les photos présentées dans le site. Un grand merci à Danielle et Michel
Sylvie
2016-09-19T00:00:00Z
Danielle's condo is extremely clean. It's simple, comfortable and stylish. German architect Mies van der Rohe said "Less is more". Danielle's condo is exactly showing this style. She offered everything we need. This condo is perfect for a couple who want to escape from city, work or kids. We really enjoy the peace, the quietness and her beautiful collection of CD. Definitely we'll come back in summer. Thank you Danielle
nancy
2015-03-09T00:00:00Z
Tipe Kamar
Seluruh rumah/apartemen
---
Tipe Properti
Apartemen
---
Mengakomodasi
2
---
Kamar tidur
Lac-Supérieur, Québec, Kanada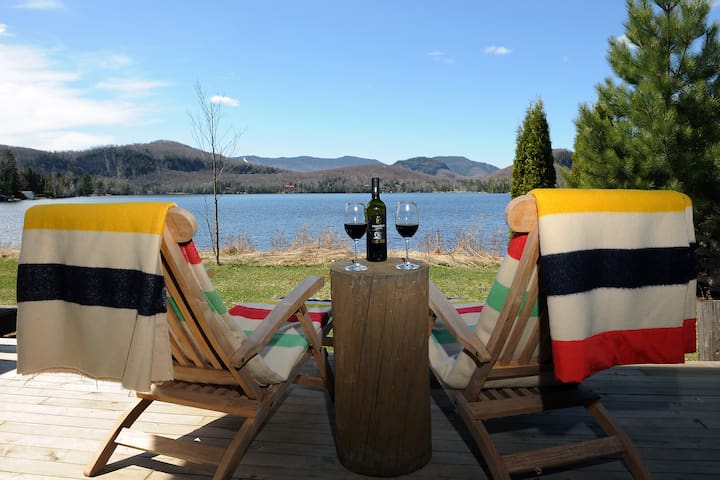 Settle in the comfort of this 2 bedroom condo, glass of wine in hand, looking forward to a break filled with as much relaxation or activity as you desire. This beautifully decorated sun-filled condo offers two bedrooms and two bathrooms, plenty of room for a family or two couples. We welcome guests from all backgrounds into our home. ~Ce condo magnifiquement décoré et ensoleillé comporte deux chambres et deux salles de bain, parfait pour une famille ou deux couples.
Desirable features of the condo include: -quiet, upper floor unit with no neighbours above -high vaulted ceilings, create a spacious feel -cozy wood burning fireplace -large sectional sofa for game nights -large wood table to serve a dinners family style -fully equipped kitchen -terrace with barbecue grill for use in the summer -king sized bed in an oversized master bedroom upstairs, with ensuite bathroom -two single beds in main floor bedroom, next to a 3-piece bathroom -10 min walk to pedestrian village; free shuttle available between village and resort with a stop outside the condo's door -includes a free parking space ~ Les plus: -Appartement calme et situe au dernier étage, sans voisins au-dessus. -De hauts plafonds, offrant un séjour spacieux. -Un grand salon pour les soirées autour du feu -Une grande table pour réunir tout le monde autour d'un diner familial -Une cuisine toute équipée -Une terrasse avec un barbecue pour l'été -Un lit king size dans la chambre principale à l'étage avec salle de bain privée -Deux lits simples dans la chambre au rez de chaussée à proximité d'une salle de bain. -10 min a pied du village; navette gratuite entre le village et la station avec un arrêt en bas de l'appartement. -Une place de parking incluse
Located in the desirable resort "Les Eaux", a unique mountainside community offering spa-type amenities year round on the property grounds. During the cooler months the clubhouse has both a sauna and steam room, as well as lockers and showers. Outdoors there is one hot tub that is functional at all times. During the summer an additional hot tub is open along with both a lap pool and community pool. The condo backs onto Le Geant Golf Course, offering a peaceful green space as a backyard. ~ Situé dans la station " Les eaux", une station balnéaire de montagne unique proposant des équipements de spa toute l'année. Durant la saison hivernale, le clubhouse propose un sauna et un hammam, ainsi que des vestiaires avec casiers. A l'extérieur, un jacuzzi accessible tout le temps. En été, un jacuzzi supplémentaire est ouvert ainsi que deux bassins pour faire des longueurs ou pour l'ensemble de la famille. Situe le long du parcours de golf Le Géant, l'appartement dispose d'un espace vert paisible comme jardin.
Tipe Kamar
Seluruh rumah/apartemen
---
Tipe Properti
Apartemen
---
Mengakomodasi
6
---
Kamar tidur
Mont-Tremblant, Québec, Kanada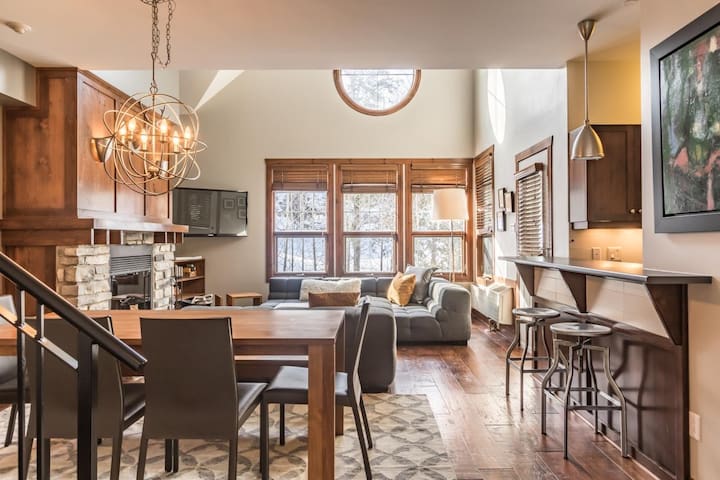 Saint-Donat-de-Montcalm - Airbnb
:
Rata-rata

4.96

dari

5

bintang dari semua

224

ulasan tamu
1

–

18

dari

209 Sewa Apartemen
Masukkan tanggal untuk melihat harga lengkap. Biaya tambahan berlaku. Mungkin dikenakan pajak.