Ravenswood is perfectly based overlooking the sea in the heart of the delightful village of Sandsend, providing stunning panoramic views from Sandsend Nab all the way to the WhitbyAbbey. Perfect for couples wanting a romantic break on this stunning coastline for long walks on the beach to Whitby, before sitting around the fire in the comfy window seats at Ravenswood with a gin & tonic watching the waves roll in. This special apartment is available all year round for short breaks or longer stays.
Sandsend is situated two miles North of Whitby, North Yorkshire and has a sweeping sandy beach. The village has two pubs, several tea shops, excellent restaurants and a well stocked village pub.
Tipe Kamar
Seluruh rumah/apartemen
---
Tipe Properti
Apartemen
---
Mengakomodasi
2
---
Kamar tidur
Sandsend, England, Inggris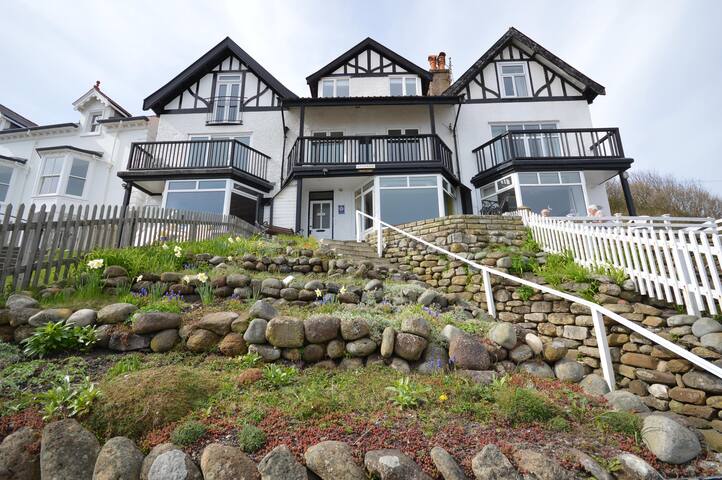 This stunning apartment is a hidden gem on the seafront in Sandsend, a small village along the coast from Whitby. With its stunning views this place is an ideal getaway for a relaxing break. As a newly refurbished property this cottage has everything you could need to make your stay relaxing.
Tipe Kamar
Seluruh rumah/apartemen
---
Tipe Properti
Apartemen
---
Mengakomodasi
2
---
Kamar tidur
Sandsend, England, Inggris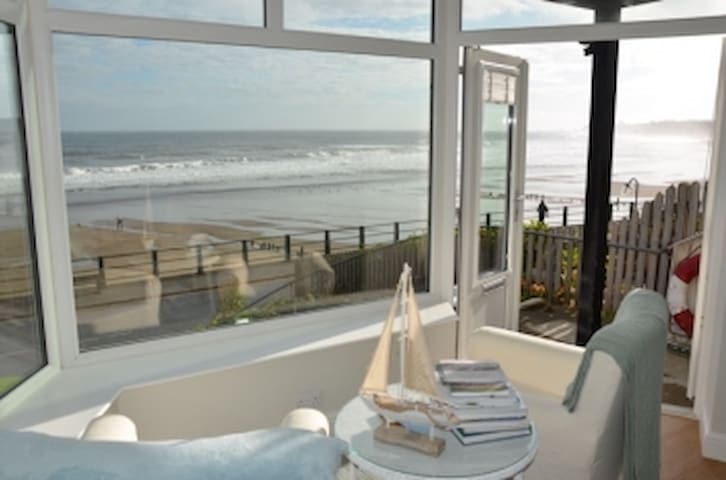 Pebble is a lovely one bedroom apartment, with fabulous seaviews from all the windows. A private entrance leading into a delightful sitting room with bay window and large cosy sofa. Flat screen TV & DVD. Kitchen with dining area. Dishwasher & Sea views. Free WIFI. Free parking directly outside the apartment. Welcome!
Pebble is a lovely completely self contained one bedroom apartment, having fabulous sea views from all the windows. It is in the valley at Sandsend. The accommodation comprises: A private entrance hall with under floor heating leading into a delightful sitting room with a large L- shaped sofa. A flat screen TV with a Freesat Package and DVD Player. There is a 'sit-in' bay window. A Fully equipped kitchen with oven and hob, dishwasher, fridge, washer / dryer and filtered boiling/cold water tap. There is a dining area for 2 in the kitchen with high leather stools facing directly out to sea. A Lovely bedroom with a king size bed and direct sea and valley views from the bay window. A fabulous, contemporary en-suite shower room, heated towel rail and spacious shower enclosure. Private parking on site. Free WIFI. GOLF COURSE - 3 minute drive. WHITBY - 2 miles walk on the beach or 10 minutes by car. BEACH - 150 m (max) GROCERY SHOP & NEWSPAPERS - 5 min walk by the sea CAFES,RESTAURANTS & PUBS - within a two minute walk. ART GALLERY & GIFT SHOP - 5 minute walk BEAUTIFUL WALKS - on the doorstep
The beach, the valley, the walks, the restaurants, pubs & cafe bars. The local shops in the village. Actually everything!
The apartment was very clean and well looked after. Bed was so comfy! Comfier than home! Easy to navigate to sandsend from there (down the hill). One straight road to Whitby (South) with loads to do. Parking great, and the hosts let us borrow a coat as we had forgot to pack them! Hope to visit again soon.
Sarah
2015-09-01T00:00:00Z
Totally relaxing and all you need to switch off for a few days. Spot on.
Neil
2016-11-07T00:00:00Z
The apartment is exactly as described. There is everything you need for a stay and the quality of all the equipment is of good quality. Sandsend is lovely and has everything you need. Would recommend it definitely.
Sj
2016-09-09T00:00:00Z
What a wonderful place to stay! The photos don't really do it justice as the flat is beautifully presented and in a brilliant spot with views of the sea when having breakfast. Even though it was in the midst of February drizzle we enjoyed it immensely and hope to be back soon for a bit longer. Thanks June for all your helpful info and the great map of sandsend! :)
Victoria
2015-02-16T00:00:00Z
Very comfortable and cosy accommodation in a superb location. We stayed over Christmas & New Year and it was a nice touch that the hosts had put up Christmas decorations. The lounge is a good size with comfortable furnishings, the bedroom is a good size with a lovely comfortable bed. The bathroom was fantastic with a superb power shower - all very tasteful. The only disappointment for us was the lack of a dining table and chairs where you could eat an evening meal, which was a real shame because there was a beautiful well equiped kitchen just crying out to be used! The breakfast bar is ok for snacks and breakfast. Sandsend itself is a beautiful location retaining its old world charm and personality without going overly commercial. It's beach is wonderful and there are several lovely walks within easy reach. All in all this is a super destination and the property is in a brilliant loaction offering great views. All in all we really loved our stay and will cherish the many happy memories at Pebble and Sandsend.
Peter
2015-01-02T00:00:00Z
Me and my girlfriend stayed for two nights. The cottage is warm and cosy, the sofa is a touch lumpy however. Lovey views from all the window and very close to the beach and pub. Value for money wise I'd say it's a touch expensive and would maybe expect a bit more for the price paid i.e. More tea bags better quality coffee and maybe even some cooking basics like oil. Nonetheless a very pleasant stay.
Joe
2016-10-28T00:00:00Z
Wonderful views of the sea - this was a picturesque setting for a few days away. Sandsend is a lovely village. The cottage was clean and comfortable with all the mod-cons. Would definitely recommend!
Lee
2016-05-03T00:00:00Z
Tipe Kamar
Seluruh rumah/apartemen
---
Tipe Properti
Apartemen
---
Mengakomodasi
2
---
Kamar tidur
Sandsend, Inggris
Delightfully light and bright second floor apartment overlooking the beach with panoramic views from Kettleness to Whitby. Conveniently positioned for excellent local shop, cafes, restaurants and pub. Newly refurbished with double glazing and gas central heating. Unrestricted parking in front of the house on first come first-served basis. No smoking please. One of the great beach locations!
Everything great. Great location, great views and flat was nice, practical and clean. There is a small shop, two pubs and some restaurants and a café in the village so generally a good place to stay.
Aaron
2016-08-25T00:00:00Z
A small, cosy flat with a beautiful location.
janet
2016-10-29T00:00:00Z
Tipe Kamar
Seluruh rumah/apartemen
---
Tipe Properti
Apartemen
---
Mengakomodasi
4
---
Kamar tidur
Sandsend, England, Inggris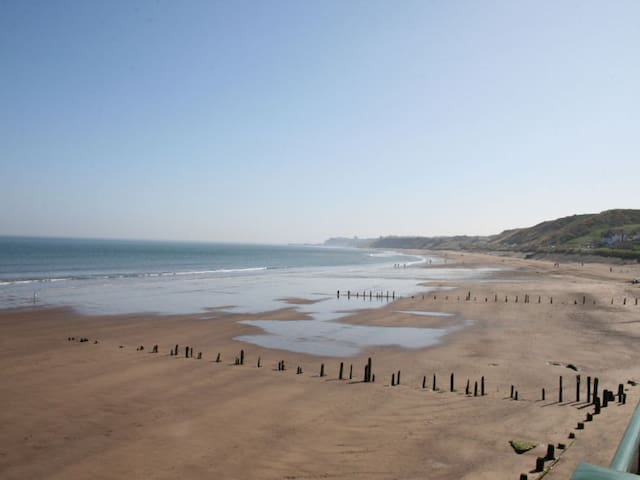 Das Hotel liegt im Stadtzentrum und in unmittelbarer Nähe zum Hafen und Abtei, ist Bumble Bee Studio warm, komfortabel und gemütlich. Es gibt eine kleine Küche (mit Wasserkocher, Toaster, Grill, Mikrowelle, Spüle und einen kleinen Kühlschrank) und ein Bad mit Dusche. Ich kann fast immer einen Parkplatz bieten direkt vor dem Grundstück oder in der Nähe (die großen Veranstaltungen der Stadt kann die Ausnahme sein). Das Studio ist eine perfekte Basis für Singles oder Paare, die diese schöne Küste zu erkunden. Begrenzte Kopfhöhe (6 '4' ').
Whitby ist ein einzigartiges und äußerst beliebten Küstenstadt, die für ihre seefahrenden Erbe berühmt, Whitby Jet, Dracula, der Goth Bewegung und, natürlich, seine spektakulären Küste. Nur 5 Meilen südlich ist das berühmte Dorf von Robin Hoods Bay und die herbe Schönheit der North York Moors liegt nur etwa 3 Meilen westlich. Die Stadt selbst ist die Heimat von einigen ausgezeichneten Restaurants und Cafés. Meeresfrüchte ist, natürlich, eine Spezialität.
great location and well equipped for a short break in whitby
Kim
2017-03-12T00:00:00Z
We loved our stay in this gorgeous little seaside apartment. It was clean, cosy and relaxing. I would highly recommend this as a place to stay.
Dawn
2017-04-09T00:00:00Z
Excellent accommodation, lovely furnishings and good value for money. Location was excellent and the owner was helpful and friendly.
Kirsty
2017-03-09T00:00:00Z
Julie is a fantastic host. Her place is in a fantastic location and is a great place to stay.
Clint
2017-03-29T00:00:00Z
Good private room with handy kitchenette area, could use a little tlc but would definitely revisit if in area
Rebecca
2017-04-04T00:00:00Z
Great value, comfortable, centrally located accommodation. Would highly recommend to others.
Lindsay
2017-04-02T00:00:00Z
Excellent little place, right in the centre of Whitby. Would recommend to anyone looking for long weekend or few nights away.
Tom
2017-04-13T00:00:00Z
My wife and I made a very last minute booking to Bumble Bee cottage and Julie was very accomodating in letting us book in earlier than planned. The cottage is beautifully decorated and had everything we needed. The greatest benefit is that the cottage is located very close to Whitby Train & Bus Station and close to all the shops and restaurants, so no driving needed. Julie has been renting out the cottage for 15 years and is a really good host. Will definately make use of Bumble Bee cottage if we are ever in Whitby area again.
Johan
2017-03-05T00:00:00Z
Tipe Kamar
Seluruh rumah/apartemen
---
Tipe Properti
Apartemen
---
Mengakomodasi
2
---
Kamar tidur
Whitby, England, Inggris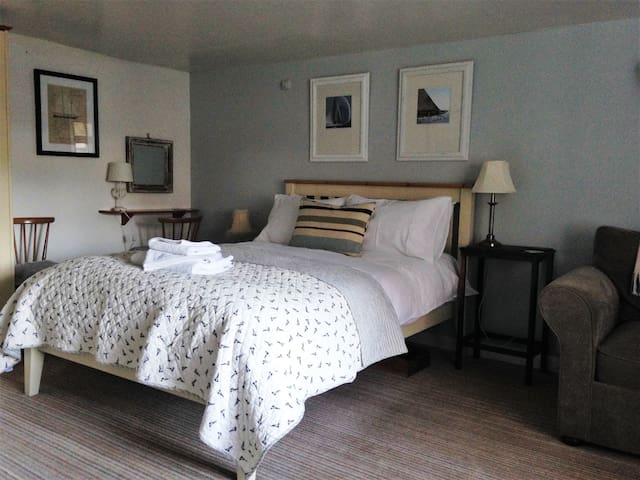 业主的房子内的精心翻新自助式公寓。 免费停车场。在商店,酒吧,餐馆,公共汽车/火车站,海滩短的步行距离。 由浴室的卧室和双下铺的房间,都与电视。家庭浴室。设备齐全的厨房,包括洗碗机,和洗衣机。放宽电视/ DVD休息室。 卓越品质的床上用品和毛巾。 免费茶水/咖啡和饼干欢迎您的到来。
靠近美丽Pannett公园与它的儿童游乐区和城市博物馆。 咖啡馆,酒吧和餐馆和海滩不到15分钟步行路程。 所有当地设施近在咫尺让你放弃你的车有免费停车场,享受一个完全无应力的假期!
The apartment is spacious and immaculately clean. Brian was a great host and communication was fast and easy and he was always willing to help with any questions we had. We really enjoyed our stay here.
Karen
2017-03-26T00:00:00Z
Good location for a nice walk into Whitby and really well designed and comfortable apartment. Brian is the perfect host with prompt communication when needed. Highly recommend.
Russell
2017-04-09T00:00:00Z
Spotlessly clean and beautifully presented apartment with all the amenities you need. Great for a small family. A short 10 min walk to down hill to the centre of Whitby and a 10 min drive to the lovely Robin's Hood Bay. Would definitely recommend to others.
Darryn
2017-03-19T00:00:00Z
Tipe Kamar
Seluruh rumah/apartemen
---
Tipe Properti
Apartemen
---
Mengakomodasi
4
---
Kamar tidur
Whitby, England, Inggris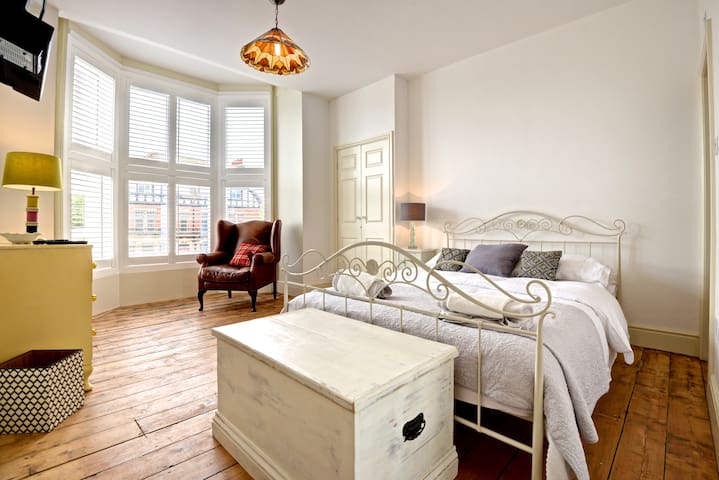 Das idyllische Dorf Sandsend ist zwei Meilen nördlich von Whitby, North Yorkshire gelegen. Eingebettet unter Lythe Bank und Mulgrave Woods, Sandsend bietet nicht nur einen wunderschönen Sandstrand mit fossilreichen Felsbecken, stripey Windschutzen und einem beliebten Strand zu Fuß nach Whitby, sondern auch ein hübsches Tal, wo Sie Enten im beck finden und Ziegen gefesselte auf dem Gras. Das Dorf hat mehrere Teestuben, ausgezeichnete Restaurants, zwei Bars und ein gutes Geschäft. Whitby mit all seiner Geschichte ist ein Spaziergang, Bus, Auto oder Taxi entfernt. Sehen Sie, wo Captain Cook setzt die Segel aus, die engen, gepflasterten Straßen zu gehen, schauen oder etwas Whitby Jet Schmuck kaufen oder einfach nur eine Mahlzeit oder ein Getränk an vielen der Bars oder Restaurants.
The Porthole has a wonderful location with fantastic sea views. Extremely comfortable with everything you need for a home from home stay. An extremely comfortable bed with views of the sea. The walk to Whitby along the beach is delightful. The walk back even better...knowing that The Hart Inn is so welcoming with the roaring open fire and that the Porthole is just a few more strides away. A very peaceful wonderful break in a beautiful location. It should be said that Helen is a great host, providing great local knowledge and tips and a super breakfast. Would definitely recommend and hope to visit again.
Jon
2017-01-02T00:00:00Z
We would highly recommend this accommodation. The view was beautiful and the accommodation absolutely perfect. Helements was a thoughtful and enthusiastic host who made our stay all the more enjoyable. The Porthole is a little piece of magic, many thanks.
Mary
2017-03-19T00:00:00Z
Lovely accommodation with stunning sea view. Very cosy and a perfect way to spend a few days exploring the Yorkshire coast.
charles
2017-02-24T00:00:00Z
Perfect stay, thank you so much for all your help Helen my mum had an awesome time xxx
Hannah
2017-01-25T00:00:00Z
Stunning views, set on a beautiful bit of coastline. Decent pub nearby and a couple of great places to eat right on the door step. Would love to return in the summer as the beach looks great too.
Robert
2017-02-18T00:00:00Z
This stay was perfect. The location is ideal with stunning views and comfortable surroundings. We went for two nights for a romantic Christmas break. We wanted a quiet getaway which was exactly what we got. Sandsend is a small coastal location which is not commercialized. There are stunning walks and places to eat. (Booking ahead is a good idea) A walk down the beach to Whitby gives you a busier place to visit with shops and restaurants a plenty. Helen was a terrific host giving us information about the area, a warm welcome and very friendly open invite to seek her help if needed. We plan to go back again and have recommended this place to friends and family we know will also like such a lovely break as we had. The sky at night was even amazing having never seen so many starts in the sky, even seeing a shooting star which was magical. With just a kitchenette it would be difficult to stay for longer that a few days, but there was a fridge and facilities that allow making of snacks. Helen advised us she had a second property on the same site that could sleep up to 7. You would not be disappointed staying here.
Debra
2016-12-29T00:00:00Z
Tipe Kamar
Seluruh rumah/apartemen
---
Tipe Properti
Apartemen
---
Mengakomodasi
2
---
Kamar tidur
Whitby, England, Inggris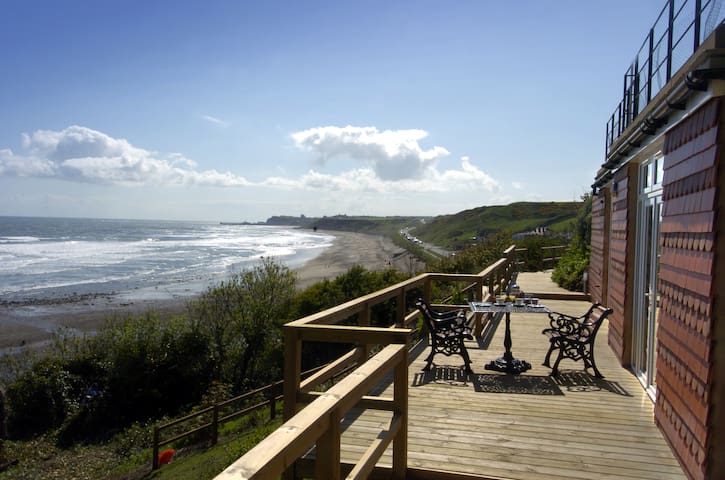 Mi lugar está cerca de arte y cultura, restaurantes y restaurantes, y la playa. Te va a encantar mi lugar debido a la comodidad y la ubicación. Mi lugar es bueno para parejas, viajeros de negocios, familias (con niños), y amigos peludos (mascotas). La jerarquía de la gaviota es parte de una antigua casa de los capitanes de mar, que fue construido en 1708. Por lo tanto, tiene algunas características peculiares y suelos poco firmes, pero también tiene todas las comodidades modernas que debe requerir.
La jerarquía de la gaviota es un apartamento que tiene una superficie que comprende una cocina, comedor y sala de estar en el primer piso. Para la segunda planta se encuentran el dormitorio 1 cama king size y 1 dormitorio que puede ser un gemelo o de matrimonio. Hay un moderno cuarto de baño precioso con bañera y ducha.
Tenemos la suerte de estar en el centro de Whitby. Justo al lado de Flowergate, por lo que idealmente situado para los bares y restaurantes ya sólo 5 minutos a pie de las playas.
We had a wonderful time at the gull's nest in Whitby. Sarah is easy to communicate with and very accommodating. The decor is beautifully done to a high standard and very tasteful, the facilities were all new and easy to use and we were very comfortable for the week we were there. It's very central in the town and very close to shops and the harbour. We will definitely return.
meriel
2016-07-31T00:00:00Z
Lovely flat right in the town centre. Fantastic location. Sarah met us and was lovely and very helpful. Flat is spacious and well equipped and a quirky period building with all modern mod cons you need.
Antony
2016-08-07T00:00:00Z
Beautiful Apartment with everything you need and really Central we loved it. Sarah was an amazing host and so helpful and friendly x
Sallie
2016-12-04T00:00:00Z
I bought my parents a weekend away here as a present and they loved it! The place was immaculate and Sarah was a great host. Close to everything once they found it - it was a little tricky for them to find but Sarah was so kind staying around to welcome them! Great stay and I think they definitely want to go back. Thanks Sarah!
Olivia
2017-03-19T00:00:00Z
This is a lovely place and we recommend it highly. It's beatifully restored with all home comforts --and great attention to detail. And so handy for all that Whitby offers. Thankyou Sarah!
Christine
2016-10-23T00:00:00Z
Friendly welcome with useful local information. Great space, exactly as described, perfect base for exploring local area.
Mark
2016-09-19T00:00:00Z
Sarah's place is extremely nice. It's an older building, as most in Whitby, but with a modern feel. The kitchen's got all of amenities you could need, including an espresso machine! The bathroom is great, with good water pressure in the shower. It's located in the middle of town centre. Walking out of the door deposits you onto bustling Flowergate road. Sarah also went out of her way, on our check-in day, to get us wifi. It was awesome of her. The only thing I'd add is a clothes washer. All in all, the entire experience was excellent. I'd definitely stay again and recommend it to anyone.
Derek
2016-08-26T00:00:00Z
A lovely place to stay, in the heart of Whitby. The apartment includes all the creature comforts of home and is well kept. A very good place to stay and at a reasonable price.
Andrew
2016-07-24T00:00:00Z
Tipe Kamar
Seluruh rumah/apartemen
---
Tipe Properti
Apartemen
---
Mengakomodasi
4
---
Kamar tidur
Whitby, Inggris
Schön eingerichtet, moderne, neu renoviert, 1. Stock 2-Zimmer-Wohnung, die Teil eines großen viktorianischen Haus ist günstig gelegen in unmittelbarer Nähe zum Strand und schönen West Cliff Spaziergänge. Nur einen Steinwurf vom Zentrum von Whitby Geschäften, Bars, Restaurants und Sehenswürdigkeiten entfernt.
Die Wohnung besteht aus einem geräumigen offenen Wohn-, Ess- und Küchenbereich, unten einen Flur zu zwei Schlafzimmer (1 Doppelbett & 1 Zugang Queen-Bett nur von 1 Seite), die 4 Schlafplätze und ist zu einem hohen Standard eingerichtet. Vom Flur Sie zwei Schritte zu einem schönen modernen Badezimmer mit einer begehbaren Dusche gehen. Unsere Wohnung ist das ganze Jahr über mit einer Zentralheizung in allen Zimmern. Die Küche ist gut ausgestattet mit Geschirrspüler, Kühlschrank mit Gefrierfach, Mikrowelle und großem Herd und Backofen ausgestattet. Das Wohnzimmer bietet ein TV mit freier Sicht und DVD-Player, gibt es auch eine Anlegestelle für Ihr i-Telefon. Leider nicht geeignet für Haustiere.
Unsere Wohnung befindet sich in einem sehr schönen, ruhigen Gegend am West Cliff Side of Whitby, nahe dem schönen Strand und die Spaziergänge an der Küste, aber sehr leicht zu Fuß zum Zentrum von Whitby entfernt.
Absolutely stunning apartment. Modern, spacious, clean.. It was truly lovely. Perfect location only a 5 minute walk into town. Will definatley return soon.
Rachael
2017-04-11T00:00:00Z
Tipe Kamar
Seluruh rumah/apartemen
---
Tipe Properti
Apartemen
---
Mengakomodasi
4
---
Kamar tidur
Whitby, England, Inggris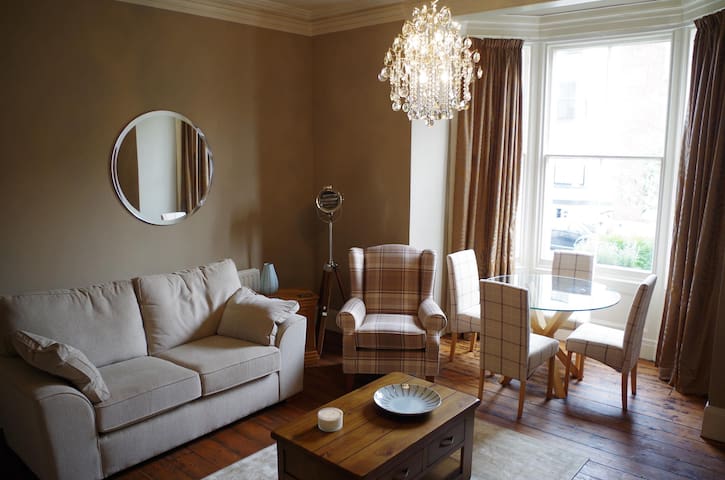 Consta de sala de estar con comedor y cocina. cocina moderna con horno compacto, microondas, fidge congelador. En la 3ª planta (techos inclinados en los bordes). moderno cuarto de baño con bañera y ducha de mano terminado. Gran habitación doble.
Lovely stay.Cosy well situated .Shower a little awkward to use .Bed a little hard and small for our liking
Brian
2016-10-25T00:00:00Z
The apartment was great for a short stay with our dog, it was really clean and as advertised. It's in a lovely neighbourhood with free parking nearby, only a short walk from the main part of Whitby. The apartment was easy to find and access thanks to the detailed instructions Carol sent in the week leading up to our stay. We would definitely come back here, or to one of Carol's other apartments in the building (all look lovely!), for a short break.
Rebecca
2016-09-10T00:00:00Z
I stayed at Cook's Cabin with my partner and our 2 year old child. The flat was as it was described. Carol very kindly provided us with a stairgate as there are some very steep stairs leading up to the apartment. We had a lovely time and would stay again. Thank you.
roseanna
2016-09-06T00:00:00Z
A short walk from the centre of Whitby in a lovely and quiet setting. Appartment was clean and very warm (we had all the windows open in February) Has everything you need and a nice comfortable bed.
Helen
2017-02-05T00:00:00Z
Lovely little guest house, not too far from the centre of Whitby. We enjoyed our stay in the top floor apartment, cooks cabin. Thanks guys.
Rob
2016-04-09T00:00:00Z
Lovely little apartment, 15 mins walk from town centre. Well set up for 1 or 2 people with everything you need for a comfy stay.
Helen
2016-04-05T00:00:00Z
Compact accommodation but perfectly adequate for a couple of nights.
Dave
2016-06-27T00:00:00Z
We had a wonderful week in Whitby. Cook's Cabin was so close to the centre of Whitby it was easy to access everything on foot. The apartment was clean, cosy and all we needed. We loved wandering around the town and up to the old Abbey. There was plenty to see and do and we were glad to collapse back at Cook's cabin after a busy day!
Hannah
2016-09-30T00:00:00Z
Tipe Kamar
Seluruh rumah/apartemen
---
Tipe Properti
Apartemen
---
Mengakomodasi
2
---
Kamar tidur
Whitby, North Yorkshire, Inggris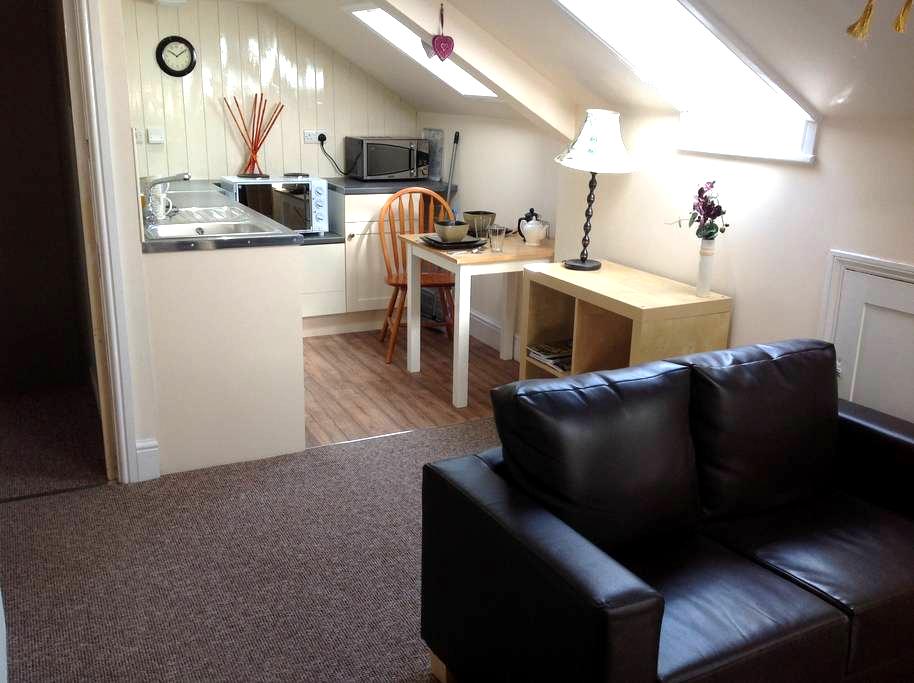 圣希尔达公寓有你需要的惠特一个完美破解的一切。 这是盛大的,宽敞明亮,现代,(一车)自己的停车位和壮观的景色! ST是位于市中心的惠特最负盛名的街道之一希尔达的,可俯瞰公园Pannett与对面惠特比港和北约克郡荒原的壮丽景色。它是完全定位为一个轻松的住宿,不到5分钟到商店和餐馆,10分钟到海滩。该公寓是在一楼。 睡眠:两个套间房给出了4人的睡眠空间 - 一间双人房,一个大的双人房(带梳妆台/工作空间)。提供床上用品。 饮食:厨房设备齐全,你应该需要的一切。要领(微波炉,电饭煲,水壶和烤面包机),以及一个充分大小fridgefreezer和洗碗机,为您提供多种选择,如果你打算在您入住期间做饭。有一个在厨房2座表,并在客厅的大餐桌。 浴室/的ensuites:双人卧室有带强力淋浴,洗手盆和马桶淋浴的卫浴步行路程。双卧室里有水疗浴缸,在浴缸,水槽和厕所电动淋浴的浴室。提供香皂,浴巾(每人一个)和毛巾。请自备沙滩巾和洗浴用品。 工作和娱乐:虽然我们希望你会出采取在美丽的周围,如果你需要工作或学习有免费WIFI加上在大型双卧室的工作空间。有一个电视(带'你看'赶上电视和Freeview),并在客厅的DVD播放机。还有一个在主卧室的电视。 通用:该公寓有中央供暖。 免费的私人停车场一辆汽车是在公共停车场使用。 **可供预订超过5天折扣 - 请与我联系价格。 ** 请注意: - 属性不适合4岁,谁爬楼梯有困难的人岁以下儿童由于物业的布局。 - 对不起,不吸烟,也没有宠物。
公寓俯瞰小镇的Pannett公园和位于市中心的位置。这是步行到海港和海滩5分钟。
A superb apartment, just a short walk into town and to the beach. Lots of light, lots of space and immaculate in its presentation. This is a tremendous space for anyone visiting Whitby. The owners communication was expedient and accurate and it has been a real joy to deal with them and to stay here. #greatvalueformoney
Lee
2017-02-20T00:00:00Z
A lovely spacious apartment that felt like a well-loved home. All the essentials were already there and the hosts had left us some lovely local beer and biscuits, which was a nice touch. My daughter took to calling it our "little home" for the week, which felt like a good description. Private parking was really useful for us as Whitby is a bit tight and the location between the park, beach and town was perfect. It was also close to some excellent coffee shops and breakfast/lunch places (e.g. Beckett's). Would definitely stay again. Thanks for a lovely week.
David
2017-04-06T00:00:00Z
This place is FAB! Spotlessly clean and very comfortable with anything you could possibly need. Lovely panoramic view and just about everything you need in Whitby is nearby (provided you don't have a mobility problem - lots of steep streets and steps to be negotiated). Helpful hosts make everything easy - excellent directions and communications and lots of local information in a helpful folder. We'll be back!
Lizzie
2017-03-30T00:00:00Z
If you are going to stay in Whitby then this is the place you want to stay. It's a lovely apartment with everything that you will need. It's less than a 5 minute walk to the centre of town, but far enough away so it's quiet with scenic views of the whole of Whitby.
Mike
2017-02-12T00:00:00Z
Gorgeous property and so close to Whitby's main attractions. Look forward to staying again!
Laura Jane
2017-03-26T00:00:00Z
We had a great stay at St Hilda's apartment. The location is excellent, just a short walk to the centre or the beach. The apartment itself is amazing with great views out over Whitby.
Lars
2017-01-22T00:00:00Z
This place is PERFECT! The flat is spacious, spotlessly clean and beautifully decorated: great kitchen, good bedrooms with comfy beds and excellent ensuite in each. The whole air of the place is of quality and taste. Perfect location: close enough to Whitby to walk in easily but in a quiet area of the town. I would highly recommend this apartment and would definitely book again with these excellent hosts. Top marks.
Shelagh
2017-03-04T00:00:00Z
Great weekend, lovely place. Bath/jacuzzi was a bonus :)
Richard
2017-03-12T00:00:00Z
Tipe Kamar
Seluruh rumah/apartemen
---
Tipe Properti
Apartemen
---
Mengakomodasi
4
---
Kamar tidur
Whitby, England, Inggris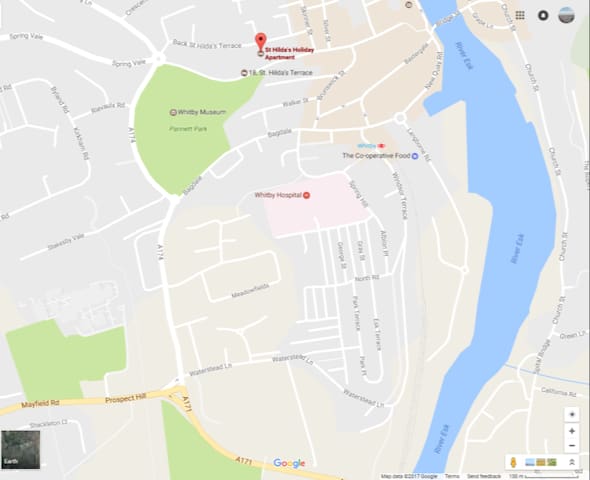 Un hermoso apartamento, con cocina en el centro de la ciudad, junto al Parque Pannett ..... A sólo 2 minutos de las tiendas, bares, restaurantes, autobuses / estación de tren, a 5 minutos a pie de la playa, sin embargo, en un lugar muy tranquilo . Que consta de dormitorio en suite, preciosa sala de desayunos con techo de cristal (proporcionamos pan local, té, café, leche, zumo, tostadora -aunque NO COCINA). La habitación da a un patio excelente dentro de nuestro jardín de estilo georgiano tranquilo ...... perfecto para tomar una bebida relajante después de un día ocupado!
Un dormitorio con un doble y una cama individual puede estar disponible a petición.
Estamos situados en el centro de la ciudad, en West Cliff al final de una calle muy tranquila sin salida, al lado del hermoso Parque Pannett con su zona de juegos infantiles y museo municipal. Cafeterías, bares y restaurantes se encuentran a 2 minutos a pie. La playa también está a tan sólo 5 minutos a pie. La proximidad de todos los servicios locales le permite abandonar su coche en el garaje privado y disfrutar de una tensión completamente libre de las vacaciones! Tenga en cuenta - En caso de que en lugar aparcar en la calle en vez de en el garaje, lo podemos arreglar a un costo de £ 5 por día, a pagar en efectivo a la llegada .... pero, por supuesto, el garaje es más seguro y gratis!
We had a wonderful weekend here, the apartment was even nicer than the pictures. Lots of lovely touches made it very homely, and the garden was beautiful. Having the use of the garage was excellent. We would love to stay here again!
Katherine
2017-04-02T00:00:00Z
Very hospitable and helpful . Extremely convenient location . Really appreciated homely touches , and use of owners garage .
Emma
2017-04-13T00:00:00Z
Great pre-arrival information meant we found the apartment and got in easily. The whole place was a real delight, so many thoughtful, personal touches made us feel right at home. A true hidden gem in a quiet neighbourhood, that's walking distance from the beach.
Donna
2016-09-20T00:00:00Z
Marie Louise kept in contact with us before our visit to make sure that all our queries were answered. We were unable to meet her as she was away the weekend we visited, but left contact details in case we needed them. The apartment was a real find in the bustle of (URL HIDDEN) peaceful and relaxing. We visited in November so were not able to make full use of the lovely garden but would like to return in the summer to see it at its best and to meet Marie Louise. Many thanks for the mince pies!!
pauline
2016-11-13T00:00:00Z
A delightful place to stay, warm and helpful hosts who went to extra trouble. Great position in an interesting little seaside town. Summer house and garden a high point!
Marg
2016-10-15T00:00:00Z
The accommodation was lovely and we had our own space but Marie-Louise was helpful and friendly when we saw her. Arrival was easy and there were some delicious mince pies waiting for us. All in all it's a great location and a brilliant place to explore Whitby from.
Chris
2016-12-17T00:00:00Z
The accommodation was exactly as described, it is certainly a well presented property. We were allowed and encouraged to use the outside space which was a bonus, as was the attention to detail such as fresh floral arrangements and plants throughout the apartment. Our hosts Marie-Louise and her husband Jim were extremely pleasant and we feel that nothing would have been too much trouble IF we had experienced any problems which of course we didn't. An added bonus is the parking facility, for anybody who knows Whitby this is a godsend. We most certainly will stay here again in the future and will recommend it to our family and friends.
JOYCE
2016-10-09T00:00:00Z
Excellent location and parking, lovely place, fantastic communication, will definitely be staying again in the future - highly recommended!!!!!
Geoffrey
2016-11-21T00:00:00Z
Tipe Kamar
Kamar pribadi
---
Tipe Properti
Apartemen
---
Mengakomodasi
2
---
Kamar tidur
Whitby, Inggris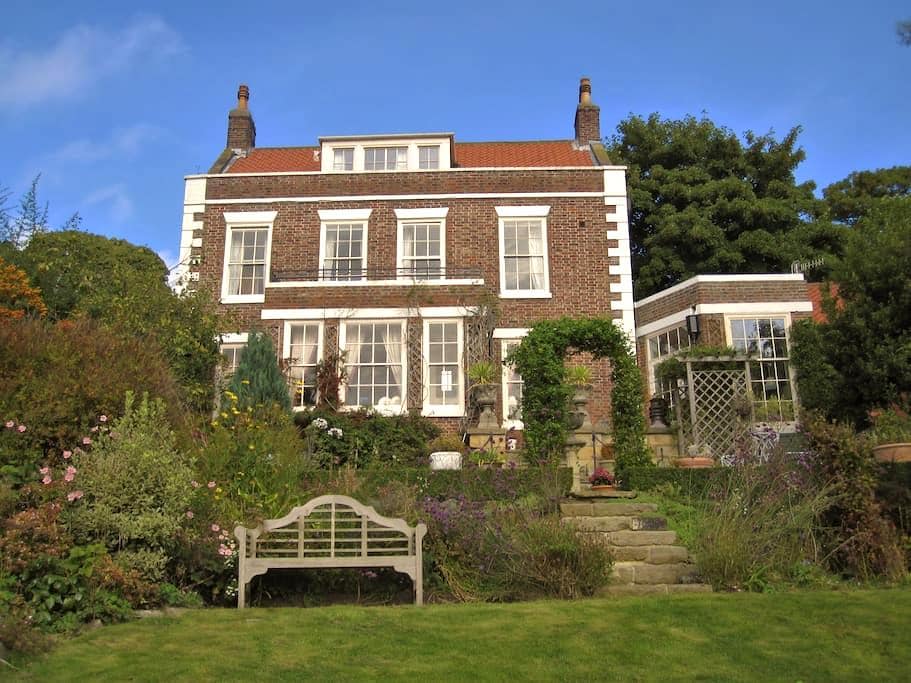 We had a lovely stay and after the mad drive there through the rain it was a warm welcome and lovely little flat, great location and walk to everything, lovely little place and great communication. Would happily stay again.
melanie
2016-11-24T00:00:00Z
Lovely cottage in a lovely town. Perfect!
tom
2017-02-15T00:00:00Z
The cottage was cosy and full of character and in a great location in the centre of Whitby. Maureen was friendly, welcoming and helpful and offered a unique experience in this fully contained apartment. We had a very special time there. Thank you Maureen. You do a great job! Raine & Joe
Raine
2017-03-17T00:00:00Z
In a great position in white horse yard just off church street.
Steven
2016-12-12T00:00:00Z
Kika's cottage is a lovely place, ideally situated in a quiet courtyard adjacent to a lovey busy little Street leading to the abbey. It is very cozy and clean. We adored it.
Babs
2016-09-22T00:00:00Z
This is a cosy flat that was perfect for a couple and dog! Everything we could ask for in the flat and a brilliant location just off one of the main quaint old streets in Whitby. Easy booking, easy arrival and attentive hosting - thanks!
Luke
2017-03-20T00:00:00Z
great location, quaint little cottage enjoyed our stay
Kay
2017-02-20T00:00:00Z
Fantastic little cottage. Perfect for a break away.
Liam
2017-04-13T00:00:00Z
Tipe Kamar
Seluruh rumah/apartemen
---
Tipe Properti
Apartemen
---
Mengakomodasi
3
---
Kamar tidur
Whitby, Inggris
Mi propiedad está justo en el corazón de Whitby, 3mins a pie de la estación de autobuses y de tren, a 5 minutos a pie del puente de oscilación, he recientemente renovado, así que todo es nuevo y limpio y muy cómodo. Hay un montón de bares y restaurante de en Whitby si no te gusta el cambio en el horno. El pabellón en Whitby tiene un montón de eventos, música, teatro, artes durante todo el año, así que hay mucho para ver y hacer !!
Toda la plana, que tiene un plan de cocina / sala de estar abierta, Arriba está el dormitorio / baño.
La ubicación es perfecta para el centro de la ciudad de Whitby y las estaciones de autobús y tren, lejos apenas de minutos
Well located & well equipped. Suited our needs for our very short stay in Whitby. I thought the car parking may be a problem but there were several options nearby using the parking permit provided by Carol.
Ashok
2016-09-28T00:00:00Z
We had a lovely stay at Cadame. The place was really well done out and we felt very at home. It is perfectly located for Whitby town centre and great for a weekend away. Carol was a wonderful host, she had thought of everything and made us feel very welcome.
tiffany
2015-09-21T00:00:00Z
Arrival straightforward with all necessary information provided. Enjoyed our stay in Whitby, great fresh fish and chips! Apartment as described with everything supplied for a comfortable stay.
Graham
2016-08-04T00:00:00Z
Cadame is a lovely apartment in a great location. My partner and I stayed for a long weekend and found it to be very well equipped, comfortable and warm. We travelled by train and the Cadame is just around the corner from the station. We arrived / departed outside the stated checkin/out times and Carol was very accommodating with letting us leave bags as no other guests. Carol was also responsive to messages. Whitby is an interesting town with lots to see. Art Gallery in Parnnett Park, 5 min walk away, is well worth a visit. All in all a very relaxing trip!
Caroline
2015-12-07T00:00:00Z
The apartment was nice, in a good location in Whitby and had everything we needed for our stay. The host was easy to deal with and made it really easy to gain access. Though there was no parking at the apartment, we found it quite easy to find somewhere to park about 5 mins away at the top of the hill.
Sarah
2016-10-01T00:00:00Z
Carol's home was exactly as shown in the photograph, it was spotlessly clean and instructions for every appliance was available. There were DVDs, CDs, games and cards and an extensive range of channels on the tv. She had left tea, coffee, sugar, milk and nibbles which is very considerate. The home is ideally situated for anyone who has not got a car.
Ann
2016-06-04T00:00:00Z
Great location, lovely aparment. We couldn't have asked for anything nicer. Parked in the harbour long stay perfect at £7.50 for 24 hour. When we return to Whitby we will definately look to stay at Cadame again. Thank you Carol
Steve
2016-05-15T00:00:00Z
The flat is really lovely, living room has some nice lovely CDs, the kitchen is fully stuffed, clean and tidy, the bedroom is really lovely, beddings are clean and fresh. The car park is really close to the flat, just about 5mins walk.
Ranyue
2016-07-15T00:00:00Z
Tipe Kamar
Seluruh rumah/apartemen
---
Tipe Properti
Apartemen
---
Mengakomodasi
2
---
Kamar tidur
Whitby, North Yorkshire, Inggris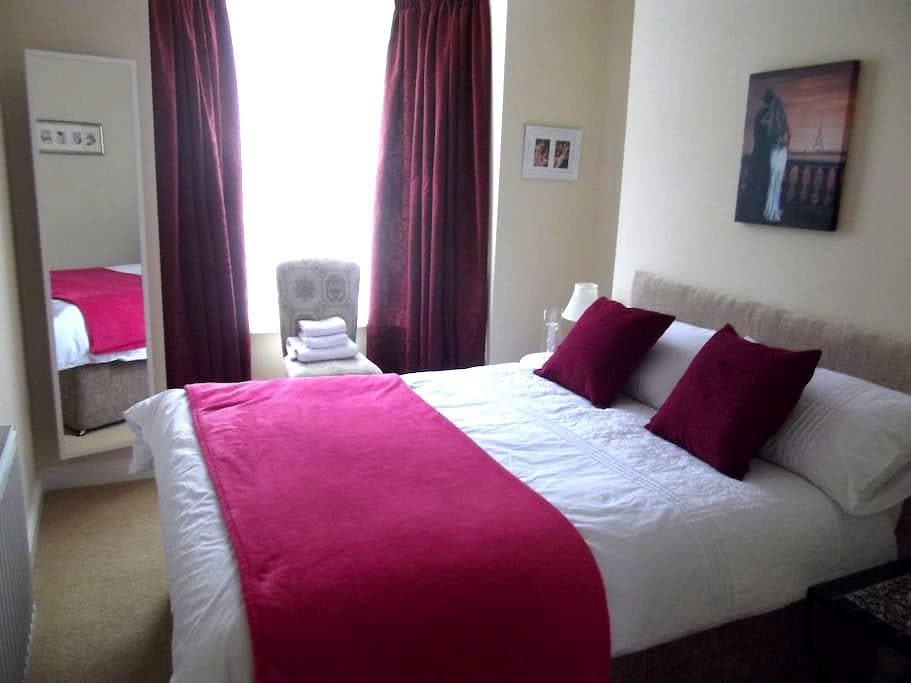 Te encantará mi lugar debido a la maravillosa vista al mar, es simplemente impresionante lo que el tiempo !! Situado en el encantador pueblo de Sandsend, dos millas al norte de Whitby con una magnífica playa de arena y un bar del pueblo precioso, fabuloso restaurante, cafés y restaurante de alta cocina.
sala de estar con cómodos asientos con vistas al mar. Cocina con estilo Smeg nevera, cafetera Nespresso y lavavajillas. TV, DVD y conexión Wi-Fi barra de sonido Bose. acogedor dormitorio con rollo de baño bañera con zapatilla. Ducha. Terraza con vistas al mar y un patio trasero.
A great stay, will definitely repeat if we can get up to Yorkshire again.
Eugene
2017-02-16T00:00:00Z
The apartment is breathtakingly beautiful, the views, decor and location are amazing! Would definitely stay again, can't thank Davina enough for the opportunity to stay!
Paige
2017-04-09T00:00:00Z
Stunning place, can't wait to come back and stay again. Beautiful views and Davina was lovely!
Rebecca
2017-02-26T00:00:00Z
Fantastic stay at a beautifully appointed property. Could sit and watch the water all day! And the most comfortable bed too...
Robin
2017-03-22T00:00:00Z
Absolutely lovely apartment and Davina was very helpful and responsive. I look forward to returning. Thanks Davina!
Malcolm
2016-12-12T00:00:00Z
Chic and beautiful apartment with amazing views
Diane
2017-02-19T00:00:00Z
Tipe Kamar
Seluruh rumah/apartemen
---
Tipe Properti
Apartemen
---
Mengakomodasi
2
---
Kamar tidur
North Yorkshire, England, Inggris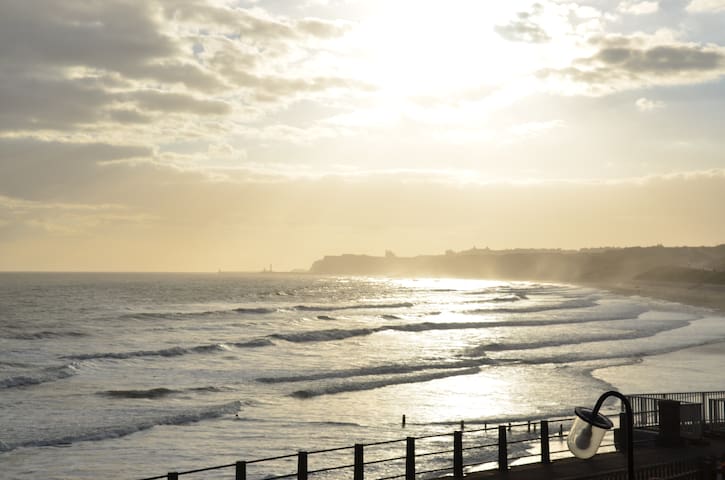 L'appartement est idéalement situé et endroit idéal pour explorer la ville balnéaire historique populaire de Whitby avec toutes ses commodités à portée de main. Harbour et Centre de Whitby avec des magasins, pubs et restaurants sont à seulement quelques minutes à pied de l'appartement
À distance du port et du centre à pied avec ses 199 marches à Whitby Abbey et les belles plages de Whitby à Sandsend. En face Pannet Park et son Art Gallery and Museum, un lieu idéal pour le Festival Goth, Tour de Yorkshire et Scooter Rally. Vous trouverez de nombreux endroits pour manger et boire à proximité. Un endroit idéal pour accéder à tout ce dont vous avez besoin pour un merveilleux séjour à Whitby et la région environnante. Accès à tous les autres lieux d'intérêt est facile, Scarborough, Parc national de North Yorkshire Moors, Heartbeat Goathland, Chemin de fer North Yorkshire Steam et Robin Hoods Bay.
Well equipped flat with lovely view of the park and very handy.
Fiona
2017-03-21T00:00:00Z
Tipe Kamar
Seluruh rumah/apartemen
---
Tipe Properti
Apartemen
---
Mengakomodasi
4
---
Kamar tidur
Whitby, England, Inggris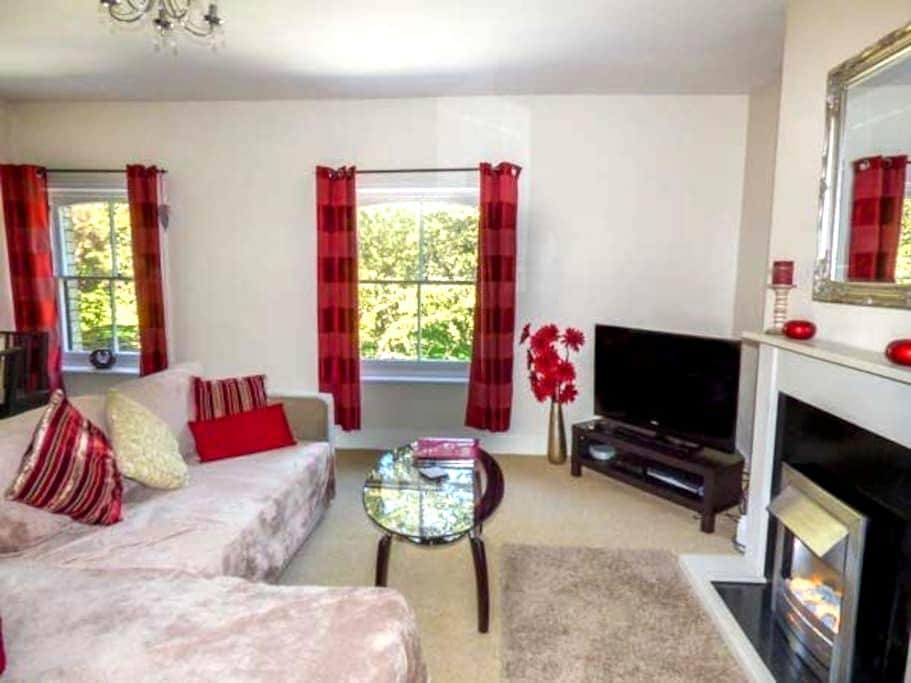 A newly refurbished apartment close to the beach and with great seaside villages to explore. Everything you'll need including a light, airy lounge, fully equipped kitchen and bedrooms sleeping four in comfort. You'll have access to a shared garden with seating area. The beautiful beach is a short walk away with a selection of pubs and hotels within walking distance.
The apartment includes a large lounge with TV, DVD, Internet connection and a dining area seating up to six people. A separate kitchen contains everything you'll need and this is where we'll leave a welcome pack of tea, coffee, wine, milk and biscuits. The master bedroom can be set up as either a king bed or as two singles. The second bedroom contain a double bed and wardrobe space. A well appointed bathroom, great storage space and access to enclosed gardens complete the specification.
A beautyful appartment in a breathtaking area. From the moment you enter you feel welcome. Not only because of the lovely welcomepacket but also because of every small detail. The house is decorated not only with style and convenience but also with care. Alisdair and Dianne really thought of everything. They also were very helpful when we couldn't figure out how to make the heaters work. I would really recommend this place and hope to return myself.
Eveline
2016-10-22T00:00:00Z
They have managed to achieve the rare feat of providing a flat that is suitable for adults that is also very child (toddler!!) friendly. The attention to detail was very impressive including a welcome pack for tired and thirsty travellers - all in a very nice location.
Linda
2016-08-27T00:00:00Z
We were so impressed by the apartment! It was really spacious and clean with tons of storage space. The kitchen was really well-equipped. We really appreciated all the little touches that were left for us like tea, coffee, magazines. Great to have a parking space right outside too. Thank you for a lovely stay!
Amy
2016-08-19T00:00:00Z
This is a really nice little place outside of the main part of Runswick. The flat is clean,tidy and comfortable. The welcome pack inc a bottle of wine as well as tea & coffee etc and there was a plentiful supply of soft towells and pillows! We would highly recomend Sea u Soon and hope you enjoy your stay in Runswick as much as we did.
Richard
2017-01-02T00:00:00Z
We had a perfect stay at the see-u-soon apartment. Clean, light, had everything we needed. Was fantastically place, with only a short walk to the beach and our host was on hand for anything we needed. Would definitely recommend to anyone looking to stay in Runswick.
Rebecca
2016-07-23T00:00:00Z
Tipe Kamar
Seluruh rumah/apartemen
---
Tipe Properti
Apartemen
---
Mengakomodasi
4
---
Kamar tidur
Runswick Bay, Inggris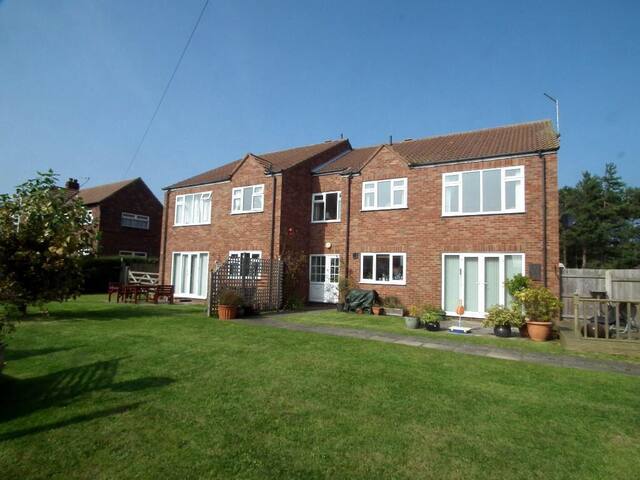 Coded entry, helpful instructions, comfortable, bright and airy.
Claire
2016-08-30T00:00:00Z
This is a must stay... won't find better anywhere
Ian
2017-02-06T00:00:00Z
Great place. Clean, well equipped and good location. It is way more spacious than the photos make it look, really high ceilings, big rooms, really nice place to chill if the weather is bad. Thanks Joanne!
Andrew
2017-02-02T00:00:00Z
Fantastic apartment. Top quality throughout and great attention to detail. Very comfy and cosy. Great location.
Mandy
2016-06-04T00:00:00Z
Beautiful spacious apartment in a good location, pictures and description do not do it justice. We would definitely stay again.
Andrew
2016-04-26T00:00:00Z
The apartment was very spacious & lovely (much bigger than the photos led us to believe!). It was really nice to be able to put everything away & relax in uncluttered surroundings! The location was ideal & only a short walk to the Abbey, pier, shops & train station. Joanne was an excellent host & came to our rescue when we needed it...!
Rach
2016-07-22T00:00:00Z
A fantastic luxurious apartment of a very high standard. Loved being there and would definitely stay again!
Karen
2016-03-25T00:00:00Z
Tipe Kamar
Seluruh rumah/apartemen
---
Tipe Properti
Apartemen
---
Mengakomodasi
4
---
Kamar tidur
Whitby, N Yorkshire, Inggris