Es tracta d'un àtic sense ascensor en una finca molt antiga al centre del poble. Disposa d'una terrassa amb unes vista molt boniques de la zona, només a 30/40 minuts de Barcelona en cotxe i 50 minuts en transport públic.
Sant Feliu de Codines és un poble de muntanya que té 4000 habitants. Es poden fer excursions a peu des de la casa, ia menys de 10 tens santuari amb salts d'aigua naturals a Sant Miquel del Fai, Termes Naturals, o nombroses excursions a peu i bicicleta.
Tipe Kamar
Kamar pribadi
---
Tipe Properti
Rumah
---
Mengakomodasi
1
---
Kamar tidur
Sant Feliu de Codines, Catalunya, Spanyol
Attractions: Parks, Sant Miquel del fai sanctuary with waterfall and a road with spectacular views. A 35 km from Barcelona and 25 km from the beaches of the city, 1,15 m from the Costa Brava, 1 hour from the Costa Dorada, Sitges and 1.30 m Port Aventura theme park. Regional food, very good calidad.Espectaculo of eagles in the same locality. Golf course 15 m paint ball and laser guns ..
Tipe Kamar
Seluruh rumah/apartemen
---
Tipe Properti
Rumah
---
Mengakomodasi
16
---
Kamar tidur
Sant Feliu de Codines, Catalunya, Spanyol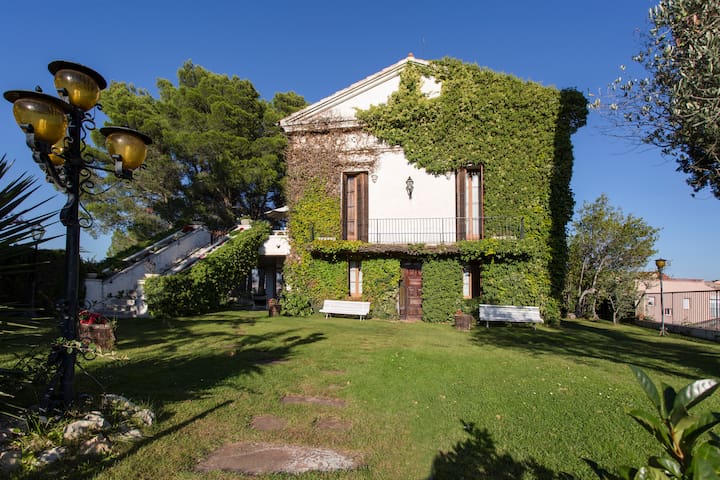 Romandre en l'obra mestra única Coderch construït el 1972 per la impressionant casa de 35 'camp lluny de Barcelona. (URL HIDDEN)
Obra mestra de l'arquitecte JA Coderch de 400 m2 de casa en planta baixa. amb 8 habitacions cadascuna amb el seu bany. Tota la casa està a dalt d'un turó on té una vista espectacular. A les zones comunes té 2 sales amb dues xemeneies. Un menjador per a 12 persones. També un gran porxo amb una taula rodona per a unes 10 comensals. Hab 1: llit de matrimoni amb un bany complet Hab 2:
Tipe Kamar
Seluruh rumah/apartemen
---
Tipe Properti
Rumah
---
Mengakomodasi
14
---
Kamar tidur
Sant Feliu de Codines, Catalunya, Spanyol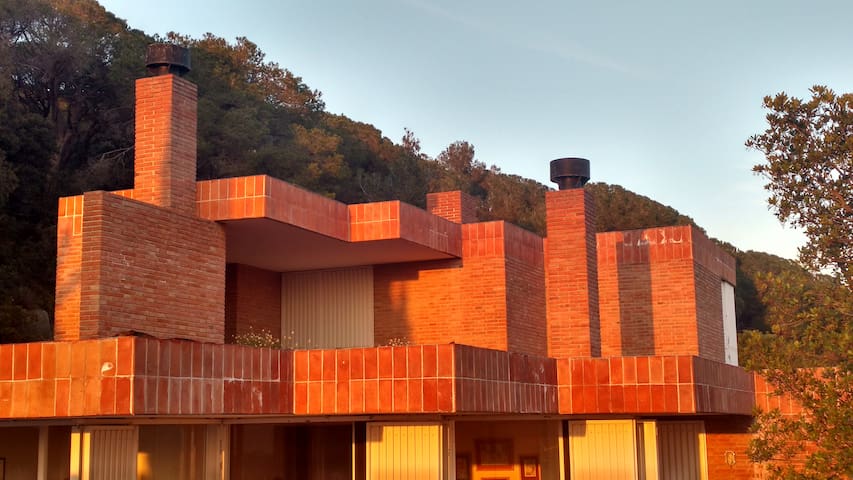 Casa en el medio del pueblo de rieles del haz, con unas vistas espectaculares cara sur mirando las montañas de roca roja que van desde San Feliu de Codines, pasan por Sant Miquel del Fai y hasta el turo de las Once Ores, haciendo así toda la risco del Berti.
Las vistas espectaculares
Es un pueblo muy tranquilo, a 35 minutos de barcelona, a 20 minutos del CIRCUITO DE CATALUÑA también a 35-40 minutos a pie de SAN MIGUEL DEL FAI, con muchas rutas pedo andar y el río Tenes que nos acompaña desde San Miguel hasta el final del pueblo, restaurantes donde se come muy bien, los tomates de Riells, las monjetes del ganchillo .... y muchas cosas mas
Hemos estado como en nuestra propia casa, atención de Josep ha sido impecable. La casa es preciosa, equipada con todo necesario, limpia, luminosa, moderna. ¡Cuanto disfrutamos el desayuno en el patio con entorno magnífico, tranquilo, silencioso y rodeado de naturaleza! Las vistas de postal. El pueblo es muy bonito, con una iglesia, un par de bares y restaurantes, y un mercado artesanal cada primer domingo del mes. Está muy bien situado si lo que buscas es tranquilidad, naturaleza y montaña.
Anna
2016-10-02T00:00:00Z
Tipe Kamar
Seluruh rumah/apartemen
---
Tipe Properti
Rumah
---
Mengakomodasi
4
---
Kamar tidur
Riells del fai, Barcelona, Spanyol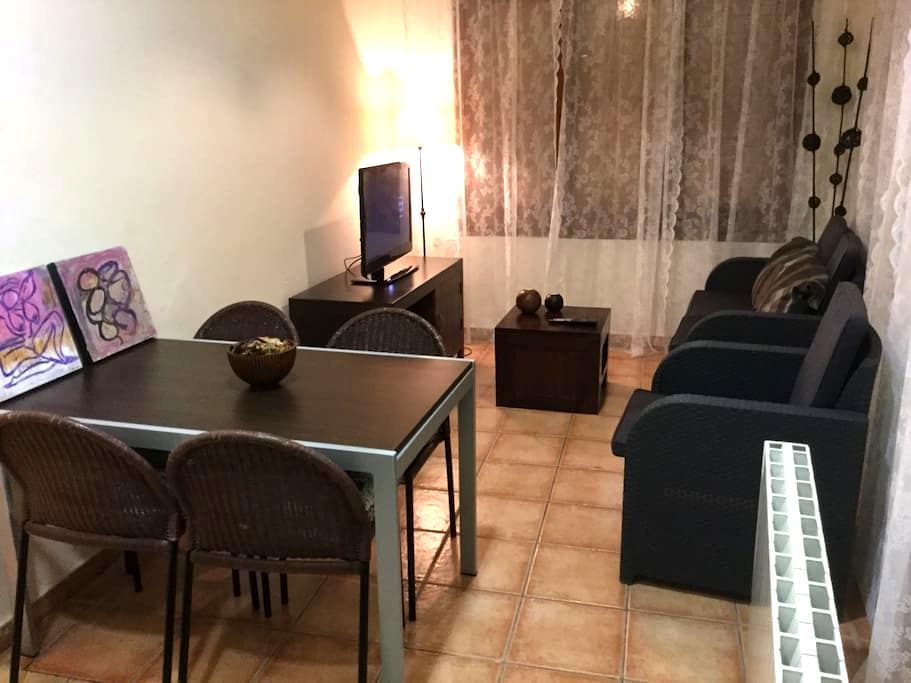 Can Feliuà is a listed farmhouse in a splendid estate in a privileged environment of Vallès Oriental. On the farm holds an agro-ecological project trying to achieve self-sufficiency in food, energy and economic level.
The farmhouse is divided into two floors with facilities biomass, solar thermal and photovoltaic to supply virtually all energy needs of the farm. Four bedrooms, two doubles with double bed, one suite with whirlpool and two doubles with four beds each (two extra). Upstairs there is also a spacious living room and a bathroom. Below it is the fully equipped and with a capacity for kitchen workshop type activities. Lounge and spacious and bright with good sofas and a plasma TV with DVD room. Outdoor swimming pool, barbecue, wood oven and an area of mulberry trees for meals or meetings outdoors. A cozy place to spend a pleasant stay with friends or family. Silence and tranquility: On the farm there own and traveling to the conservation and maintenance of biodiversity and the environment (chickens, rabbits, sheep, cats, dogs and horses) animals. It is very important to respect their space and tranquility.
Wonderful setting in the countryside, with magnificent views.
Todo fue estupendo tal y como esperábamos. Joan Lluís nos recibió junto con Diana y Eva, los 3 muy atentos y pendientes de nosotros en todo momento para que no nos faltara de nada. La ubicación genial, aislada de núcleo urbano, una masia estupenda, reformada con todas las comodidades, muy bien decorada, espaciosa dentro y fuera. Seguro que repetiremos en alguna otra ocasión!!!!. Por cierto Eva y Diana hacen un pan buen(PHONE NUMBER HIDDEN)simo.!!!!!! Gracias a los 3!!!!
Clara
2016-07-04T00:00:00Z
Nuestra estancia ha sido un gustazo. Solo hemos estado un fin de semana pero hemos estado muy bien, disfrutando de la casa, todo muy limpio y ordenado, y del entorno, muy cuidado. Un enclave precioso. Tanto el anfitrión como los masoveros han estado muy atentos en cualquier cosa que hemos necesitado y han sido muy amables. Recomendable.
Olga
2016-06-13T00:00:00Z
TODO GENIAL! la casa enorme y mucha tranquilidad repetiremos seguro!! trato estupendo!! :)
Esther
2016-08-22T00:00:00Z
Ha estat un cap de setmana perfecte. La casa es preciosa i el que l´envolta també.
Raquel
2016-06-27T00:00:00Z
Nuestra estancia en la masia de Can Feliua fue perfecta. Las estancias son muy amplias y espaciosas. Estuvimos casi todo el día en el exterior de la casa disfrutando de la barbacoa, la piscina y la zona exterior con sombra para comer. Añadir que Joan Lluis nos explicó antes de ir todo por teléfono y nos puso en contacto con Eva, la chica que nos iba a recibir en la casa. Eva fue muy atenta con nosotros y nos ayudó en todo lo necesario. Sin duda volveremos a repetir.
Marina
2016-08-01T00:00:00Z
Nuestra instancia fue realmente muy agradable. La casa cumple con todos los criterios que teníamos para pasar un estupendo finde entre amigos. Muy tranquila, grande, bien equipada. El contacto tanto con Juan Luis que con Eva y Marcel que cuidan la finca fue siempre muy fácil, nos aconsejaron sobre la zona: Excursión a Sant Miquel del Fai, caminatas etc. Muy aconsejable!
Julian
2017-02-19T00:00:00Z
Todo positivo, repetiremos. Buen trato y atención. Un sitio tranquilo y confortable para pasar en familia.
Home and Photo 88 S.L.
2016-06-30T00:00:00Z
Fantastica casa per passar uns dies de relax o fent activitats amb amics! La Eva i el Marçel son encantadors i 100% disponibles per tot. La casa preciosa, neta i acollidora amb tot de detalls que la fan inmillorable. Paisatges exclusius a qualsevol hora del dia. I molta tranquil.litat! Recomanable 100%!
nuria
2017-03-05T00:00:00Z
Tipe Kamar
Seluruh rumah/apartemen
---
Tipe Properti
Rumah
---
Mengakomodasi
14
---
Kamar tidur
Bigues i Riells, Catalunya, Spanyol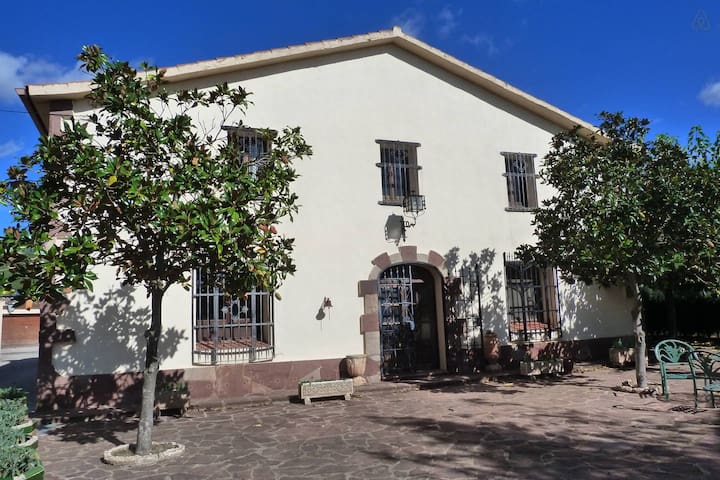 House 1653 in the midst of the people of RAILS THE FAI relexants with spectacular views and only 40 minutes from Barcelona and 40 minutes walk from Sant Miquel del Fai and many more routes to the cliffs OF BERTI II to the river Tenes
The superb location in the center of the village with the best views, with a porch to be as cool with a patio and a barbecue for a good grilled meat.
The situation in the village at the same time facing the mountains
Hemos pasado unos días fantásticos en familia. El anfitrión encantador y muy acogedor, disponible para lo que necesitáramos. Lo que más hemos disfrutado de la casa ha sido el porche y el patio con unas vistas preciosas. Lugar ideal para pasar un día en Sant Miquel de Fai si te gusta la naturaleza. Tiene muy cerca la plaza con dos bares donde también nos han tratado estupendamente. Y hemos encontrado la tranquilidad que buscábamos, así que genial! Muy agradecidos!
Gema
2016-06-27T00:00:00Z
Tipe Kamar
Seluruh rumah/apartemen
---
Tipe Properti
Rumah
---
Mengakomodasi
9
---
Kamar tidur
Riells del fai , Barcelona, Spanyol
Habitación individual con baño de uso privado. Vivienda en la primera planta de una casa aislada. Yo vivo en la misma casa, aunque trabajo fuera todo el día. Alquiler para días, semanas o meses.
La casa fue constrïda a mediados de los años 40 por mi abuelo y me reformar completamente hace 10 años, al instalar a él. Tiene una amplia terraza assoleida.
Ha sigut un plaer poder estar a casa l'Anna. Una persona oberta i amb ganes de conversar de qualsevol tema. La casa estava perfecte i el tracte immillorable.
Romà
2016-04-15T00:00:00Z
Anna fue muy sympatica conmigo, se ha preocupado para que todo esté bien. Me ha dado muchos consejos. Me sentí como en mi casa. Para venir estuve perdida, ha hecho todo para que no esté estresada. La casa está muy bien con todo lo que podéis necesitar para vivir bien. Recomiendo esta casa :)
charlotte
2016-06-06T00:00:00Z
Anna contacted me a few times before my visit and the day before made sure I had a map so I knew where I was going. She also gave me her telephone number to contact when i arrived. She was very accommodating and the house was lovely, very clean and tidy. There was good parking and very close for my needs.
Gill
2016-02-27T00:00:00Z
Anna tiene mucha energía, es muy natural y extrovertida y te acoge en su casa así, con cercanía. Se preocupa porque todo este bien y tengas lo que necesites, todo en buen equilibrio con la independencia y el espacio propio. Es muy fácil sentirse como en casa, Anna da la confianza para hacerlo. Para mí ha sido muy cómodo, tranquilo y con una agradable compañía. La habitación es tal y como se describe y se ve en las fotos, con cama individual un buen espacio y con armario mas que suficiente además del baño propio. La casa en general, es espaciosa, muy bonita y cuidada (con olor a leña siempre!) y, en particular la cocina, que no falta de nada! Ah! y que no se me olvide la terraza, dónde da el sol todo el día. Está en un buen sitio para recorrer la naturaleza de alrededor, con lugares interesantes cerca. Además de estar muy bien comunicado con Barcelona, con autobus cada media hora o una hora durante todo el día. En definitiva, tranquilidad, sencillez, naturalidad y comodidad, podría ser un buen resumen.
Rocío
2016-02-22T00:00:00Z
The host canceled this reservation 3 days before arrival. This is an automated posting.
Alejandro
2015-05-26T00:00:00Z
Ha sigut breu pero positiva, he pogut descansar, i m ha agradat la confiança i la ajuda rebuda
Ana
2016-09-04T00:00:00Z
Todo perfecto. Ana es muy amable y me ha dejado total libertad para que me podia sentir como a casa. He hecho una excelente elecion
Claudio
2015-10-09T00:00:00Z
L'Anna és una persona encantadora, que em va fer sentir com a casa. L'habitació i el bany son funcionals i molt nets... La meva primera experiencia en aquest típus d'allotjament ha estat molt satisfactoria. Repetiré.
Jaume
2015-09-18T00:00:00Z
Tipe Kamar
Kamar pribadi
---
Tipe Properti
Rumah
---
Mengakomodasi
1
---
Kamar tidur
Bigues i Riells, Catalunya, Spanyol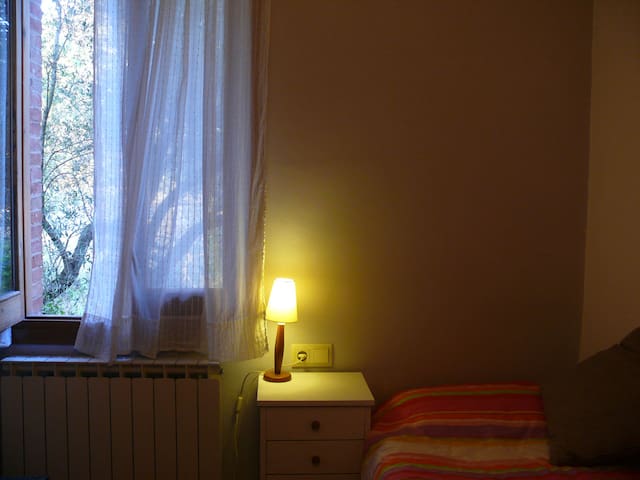 A menos de 20 minutos del Cirduit de Cataluña - Barcelona. Habitación para dos personas con baño de uso exclusivo, en casa habitada.
Habitación con una cama doble, con posibilidad de añadir un supletorio. con ventana al exterior y baño de uso privado.
Anna muchas gracias. Cordial y simpática. Estuvimos muy a gusto.
Pepe
2016-08-23T00:00:00Z
We had trouble finding the place, but Anna worked very hard to help us find it. She was a great host.
Dale
2016-09-13T00:00:00Z
Tipe Kamar
Kamar pribadi
---
Tipe Properti
Rumah
---
Mengakomodasi
2
---
Kamar tidur
Bigues i Riells, Catalunya, Spanyol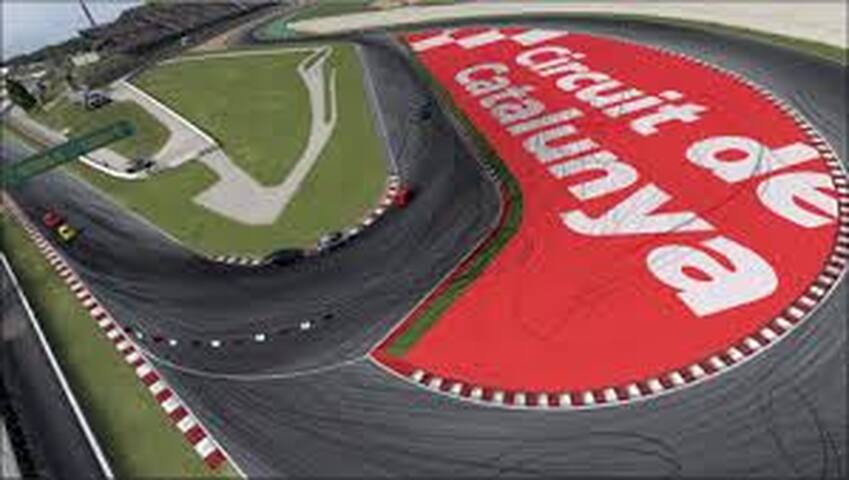 Excelente casa de piedra totalmente reformada con baños en todas las habitaciones rodeada por un bonito jardín dentro de un paisaje típicamente mediterráneo y a poco más de media hora de Barcelona.
Casa típica catalana con cuartos de baño en todas las habitaciones y servicio de sábanas y toallas. Cocina completamente equipada.
Endroit parfait pour se retrouver au calme. En particulier pour une retraite spirituelle. Belle maison du 18ième siècle. Chaque chambre a sa propre douche ce qui est vraiment très appréciable. Léo est un hôte sensationnel.
Christophe
2016-08-11T00:00:00Z
Casa de 10! Cumplió las expectativas.
Jaume
2016-08-01T00:00:00Z
Casa genial. Muy bonita por fuera y espectacular por dentro. Muy bien reformada manteniendo la esencia de una casa rural. Tiene todo lo necesario para poder estar un grupo grande. La zona es excelente, con sitio para aparcar, con muchos sitios donde poder desconectar y vivir la naturaleza en estado puro. El trato del propietario es inigualable. Vale la pena ir a disfrutar de este lugar único.
Jordi
2016-07-10T00:00:00Z
En general regular. En la parte de abajo de la casa hacía bastante frío. En las habitaciones se estaba bastante bien. Todas las habitaciones están muy bien y muy cómodas y muy calentitas. El fallo está en las zonas comunes. En La Cocina no había radiador. Si ponías la chimenea se llenaba bastante de humo. Si todos nos duchábamos los últimos se quedaban sin agua caliente. No es una casa cómoda para ir con niños pequeños muchas escaleras y la zona de estar muchos muebles, no hay un sitio en la casa amplio para que los niños jueguen libremente, si hace frío y no pueden salir a fuera. Los dueños viven en una casa contigua, y no hay ninguna división y los niños se mueven por toda la zona metiéndose en la parte de los dueños, nos llamaron la atención por este motivo. Pero es muy difícil hacer entender a niños de dos años que en una parte del césped no pueden ir. A mi entender si no quieren que los huéspedes se metan en la zona de los dueños que pongan una valla de separación. En cuanto a la limpieza, la zona de habitaciones y baños muy bien. Pero la parte de abajo salón y cocina, regular. Deberían cambiar la fregona, está muy vieja y sucia. Imagino que en verano está casa sería más agradable para parejas sin hijos, en invierno y con hijos pequeños no es recomendable.
Yolihr
2016-11-20T00:00:00Z
Tipe Kamar
Seluruh rumah/apartemen
---
Tipe Properti
Rumah
---
Mengakomodasi
14
---
Kamar tidur
Caldes de Montbui, Barcelona, Spanyol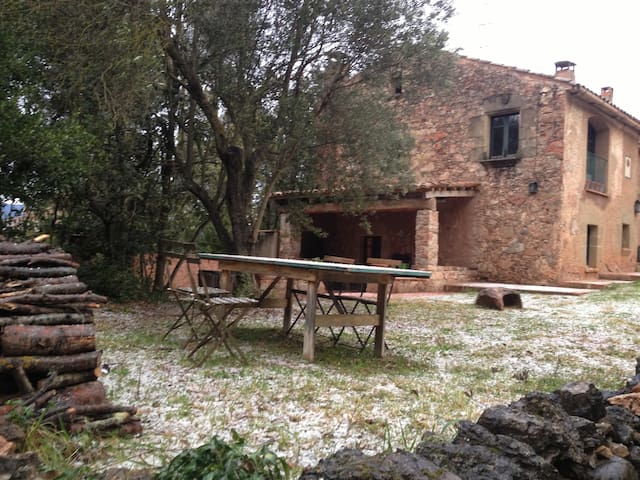 Two floors house, 7 bedrooms ( 6dbl & 1 ind ), 3 bathrooms, spacious living room and kitchen. Renewed old style house, 3000 sqm garden with a large 20mts swimmingpool. Ideally for famylies and groups. Nature, activities & calm at 30min from BCN
Formidable renewed old style house with lots of garden and big swimming pool. Private villa to enjoy the calm of the nature on your holidays. At only 30 min from Barcelona, very well connected with the north and interior of Catalunya.
La casa es ideal para desconectar del ruido y del estrés. Está bien equipada y tiene todo lo necesario para pasar unos días. La piscina es muy bonita aunque no había tumbonas. Muy buena experiencia. Seguro que repetiremos.
beatriz
2015-07-13T00:00:00Z
Our week-end at La Ronsana was great! The house was even better than on the photos: it's spacious, nicely decorated, and has everything you'll need (toaster, coffee maker, oven...). Our host was available for any of our question and we instantaneity felt welcome. We went there as co-workers for a team building week-end and it was the perfect place. Also great for families.
Sophie
2015-10-05T00:00:00Z
Magnifique maison, encore plus belle que sur les photos. Très propre, bien entretenue. Tout confort, la maison est hyper bien équipée (il y a TOUT). Une personne s'occupe régulièrement du nettoyage de la piscine et de l'entretien du jardin. Nous reviendrons c'est sûr!
Carole
2016-08-14T00:00:00Z
propreté, la beauté, l'accueil et la disponibilité, super équipée, superbe piscine bien entretenue le top en tout. un superbe séjour, on s'est sentis à la maison merci, j'espère y retourner un jour .
Dominique
2016-09-25T00:00:00Z
Casa muy acogedora y con muchos detalles. La casa se ve muy nueva y tiene todo lo necesario (tanto a nivel de espacio como de menaje). Pasamos unos días de Navidad fantásticos. Lástima que por las fechas no pudimos aprovechar para darnos un chapuzón en la piscina. Salimos todos muy contentos y con ganas de repetir. 100% recomendable.
Mimi
2015-12-28T00:00:00Z
Nous avons passés 6 nuits dans cette merveilleuse maison. La piscine est très bien entretenue. La maison est très bien située à 40 km de Barcelone et à 5 minutes d'un supermarché et d'une pompe à essence. Les petits comme les grands se sont régalés dans cette somptueuse maison à la propreté irréprochable. La vue de la maison est magnifique. Le seul inconvénient a été de se repérer à nôtre arrivée car le gps ne reconnaissait pas la ruelle. Merci pour tout.
Touria
2015-07-26T00:00:00Z
Les photos sont parfaitement fiables, c'est encore plus beau en vrai ! la maison apporte le calme idéal après les tumultes de Barcelone. En voiture, les commodités sont proches. les propriétaires sont très réactifs, très sympatiques et à l'écoute. L'ordre et la propreté sont maîtres mot. Une de mes plus belle expérience Airbnb !!!
Virginie
2016-08-27T00:00:00Z
Accueil parfait, maison magnifique à ne plus vouloir repartir. Certaine de revenir tellement j'ai apprécié !
Chloé
2016-05-17T00:00:00Z
Tipe Kamar
Seluruh rumah/apartemen
---
Tipe Properti
Rumah
---
Mengakomodasi
13
---
Kamar tidur
Santa Eulàlia de Ronçana, Catalunya, Spanyol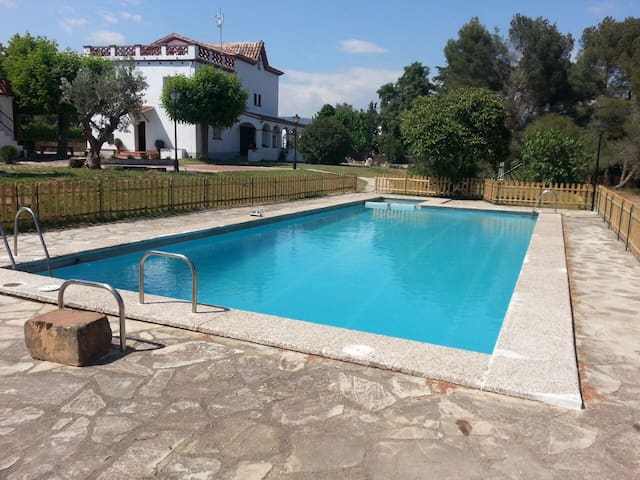 Old house recently renovated, in a rural zone. The good views and the geographic location do our cottage a perfect site to relax and connect with the nature at the same time that you can discover Barcelona, the beaches and the mountains of Catalonia. We have garden, chickens, sheeps ... and a relaxing atmosphere to rest from your trip. --- From the cottage: Barcelona (30 min.) Beach (40 min.) Circuit de Catalunya (F1, MotoGP) (15 min.) Pyrenees (1 h.)
The cottage is an isolated house in the middle of little fields of olive trees.
Tipe Kamar
Kamar pribadi
---
Tipe Properti
Rumah
---
Mengakomodasi
2
---
Kamar tidur
Santa Eulàlia de Ronçana, Catalunya, Spanyol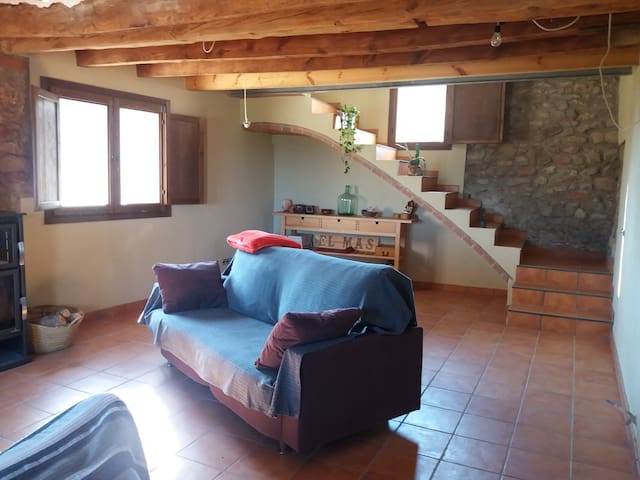 Casa de pueblo del 1862 totalmente reformada en el año 2015. Situada en el casco antiguo del pueblo termal de Caldes de Montbui, a 20 minutos en coche de Barcelona. Capacidad para 5 personas. Decoracion moderna con todas las comodidades. Wi fi.
Casa del 1886 reformada de forma integral al 2015. Situada al bell mig del casc antic de Caldes de Montbui al costat de les termes romanes i la placa font del Lleo . Casa de poble de 80m2 distribuïda en 3 plantes. A la planta baixa trobem la sala d'estar i menjador i la cuina totalment equipada amb nevera cambi, Disposa de 2 habitacions i 1 bany totalment nous . Climatització amb aire calent i fred .
Gemma was ready for any request we made and welcomed us at the house at the time we wished. The house is simply excellent. Cosy and modern, well organized, it can host 5 persons very comfortably. We enjoyed having 2 TV sets so that kids could watch something different. The bluetooth audio set was a plus and allowed our teenage girls to play their music at all times. Caldes is a pleasant town, with lots of history, nice bars and shops, and close enough to Barcelona. I also liked to go hiking near the house, in particular I climbed to the "gorgos d'en pelacs" which is a beautiful spot in the mountains. Overall, a great experience which we will repeat.
Constan
2016-01-02T00:00:00Z
Fantastic place to stay lovely apartment very central in a beautiful part of the town. Definitely a great place to stay would highly recommend it. Newly refurbished looks stunning.
Justin
2016-03-25T00:00:00Z
Gemma a tout fait pourque notre sejour se passe de la meilleure facon.Malheureusement on n'a pas pu la rencontrer bien que sa secretaire etait tres aimable. Le village etait beau,agreable,calme neanmoins, bien que proche de Barcelone,il etait assez loin de la Costa Brava et de sa province ce que Gemma nous l'avait explique auparavant. L'appartement etait exactement comme sur les photos:propre,en tres bon etat,confortable,tres bien equipe et tres spacieux pour une famille de 4 .
Bassem
2016-07-08T00:00:00Z
The house is spacious, beautifully renovated and immaculate with everything we needed to make our stay comfortable, enjoyable and memorable. Thank you Gemma.
Jonathan
2016-08-22T00:00:00Z
Rent och snyggt boende med tre våningar och de husliga bekvämligheter som behövs. Läget är bra då det är gångavstånd till alla centrala delar av staden, men något längre till större mataffärer eftersom dessa ligger i utkanten. Parkeringsmöjligheterna var bra, ca. 3 minuters gångavstånd till närmsta gratisparkering. Värden skötte allt bra trots att vi som gäster anlände före utsatt tid.
Philip
2016-12-27T00:00:00Z
Gemma was a terrific host, offering us lots of suggestions on where to eat and places to visit. The house was stunning, very comfortable and right in the heart of the historic part of Caldes de Montbui which was a lovely town. We would highly recommend Gemma and her home to anyone looking for a nice place to stay outside of the hussle and bussle of central Barcelona.
Stephen
2016-05-13T00:00:00Z
La maison est superbe telle que dans la description. Village très sympa et calme et des environs au top. Gemma est très serviable. On reviendra ☺
Steve
2016-08-07T00:00:00Z
Gemma nous a accueillie très gentiment , son appartement est très charmant exactement comme dans la description. Situé à proximité du centre ville de Caldes. Très agréable séjour.
FABIENNE
2016-06-06T00:00:00Z
Tipe Kamar
Seluruh rumah/apartemen
---
Tipe Properti
Rumah
---
Mengakomodasi
5
---
Kamar tidur
Caldes de Montbui, Catalunya, Spanyol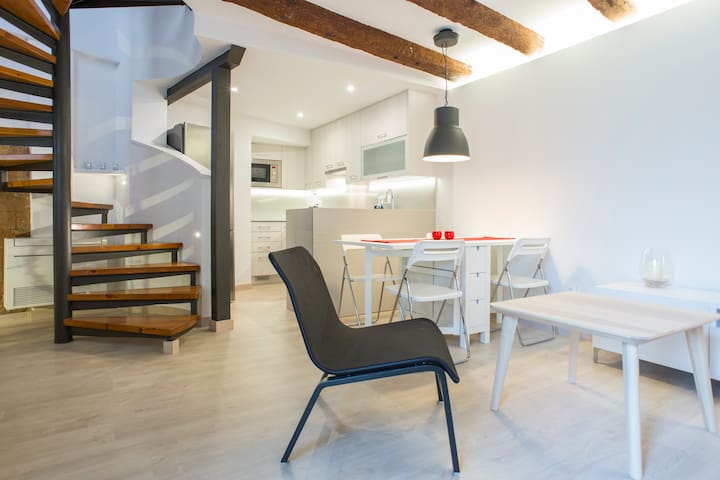 Our charming house in the heart of this delightful town is warm, inviting and newly restored. Close to all amenities including the famous thermals. An ideal romantic getaway!
roof terrace, lovely double suite with double shower and bath, brand new kitchen and bathrooms, feature property, bar breakfast available if required and access to thermals.
Caldes is a beautiful, historic town close to Barcelona but quiet and easy to access. Famous for its thermal waters it is a delight to visit and full of surprises. Lovely shopping, spas and treatments, good bus access to Barcelona centre it is a friendly and welcoming town with super restaurants!
The House in Caldes De Montbui is a most exciting renovation . It is situated in the historic square and there is a very nice social scene right outside the balcony. We went to Mass at the incredible Catholic church 10 steps away. . The town is a hot springs healing place! The shops and eateries are superior. We found the place generous, friendly, very clean and fun. Loved it all.
Sherry
2016-08-17T00:00:00Z
Very nice house in caldis . Clean , quiet .but still near shops and restaurants . 20 minute drive from barcelona subway (metrostop via julia ) Quick response by tarma .
Kristof
2017-03-03T00:00:00Z
Lovely spacious and clean flat, plenty of room, great location in the middle of the pueblo. Get all the gossip from the cafe and let world walk by
Dennis
2016-06-06T00:00:00Z
The place is beautiful and quiet. The place was clean. We were well receveid. We felt at home. In some room, there is no shutters so you wake up with the sun.
Fred
2016-05-17T00:00:00Z
Tipe Kamar
Seluruh rumah/apartemen
---
Tipe Properti
Rumah
---
Mengakomodasi
6
---
Kamar tidur
Caldes de Montbui, Catalunya, Spanyol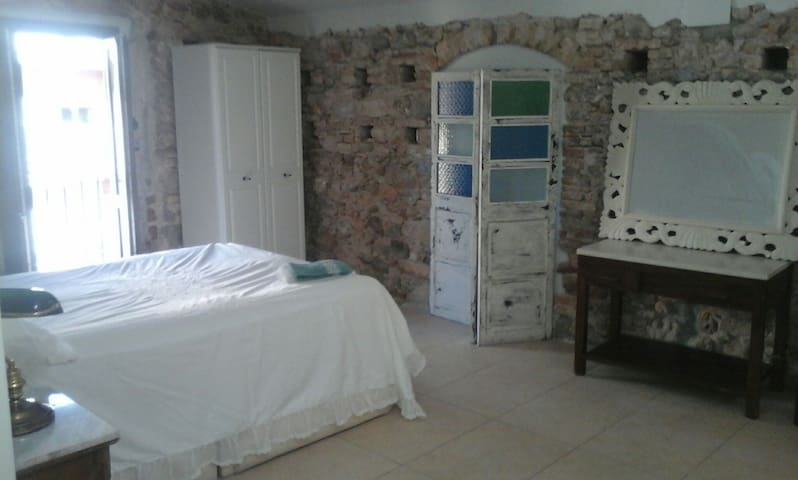 Room for a family with one child, bathroom with tub
Tipe Kamar
Kamar pribadi
---
Tipe Properti
Rumah
---
Mengakomodasi
3
---
Kamar tidur
Sant Martí de Centelles, Catalunya, Spanyol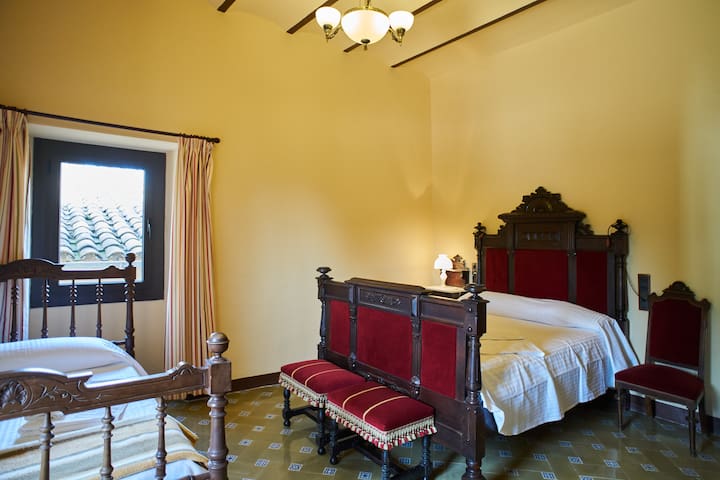 Accommodation located in the former home of the farm home. On two floors. On the first floor is the entrance. A spacious living room with fireplace and TV. A dining room. A kitchen with hob, oven, dishwasher and refrigerator. It also has a washing machine and central heating. Two steps lead us to the ground floor where we find 4hab .: two double bed, one with twin beds and a single bed. Two bathrooms with bath. PB-474
Tipe Kamar
Seluruh rumah/apartemen
---
Tipe Properti
Rumah
---
Mengakomodasi
7
---
Kamar tidur
Castellterçol, Catalunya, Spanyol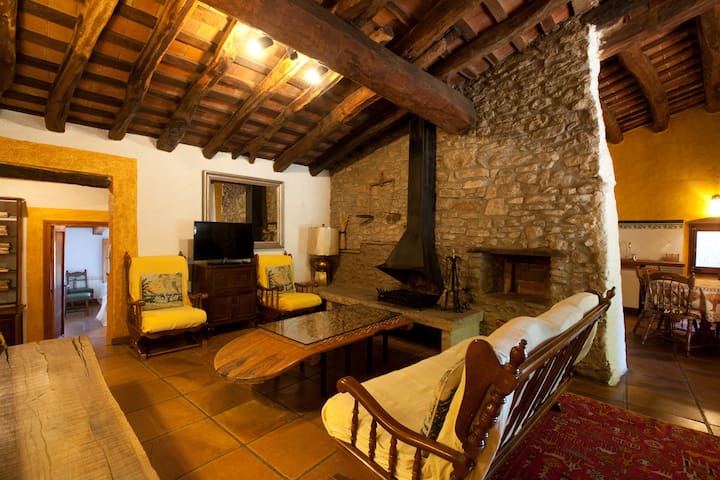 Mas Vendrell is an attractive restored 15th century Catalan Masia (country house villa) located in the charming town of Santa Eulàlia de Ronçana (Barcelona). The villa and its surrounding woods, horses and landscapes form an idyllic setting, within 25 minutes of Barcelona. The villa is also 1 hour away from Figueras, the Dali Museum and the lovely beaches and towns of Costa Brava. Horseriding: inside the property Tennis/Golf: 3 min Housekeeping/Maintenance/Laundry: 4 hours per day
Tipe Kamar
Seluruh rumah/apartemen
---
Tipe Properti
Rumah
---
Mengakomodasi
8
---
Kamar tidur
Santa Eulàlia de Ronçana, Catalunya, Spanyol
Holiday house in a spa town near Barcelona for 6 people. It has three bedroom . Two bedrooms with a 150 cm bed plus another bedroom with 2 single beds (90x190cm). There is one full equipped kitchen, a big livingroom with tv and dvd, and 1 bathroom with showe. There is a nice garden with a barbecue and a dining aera under the shadow of the trees, and a summer swimming pool just for the guests.
We are in a quiet spa town with nice hot water , close to Barcelona by car.
As a frequent traveller for both work and leisure, I have stayed in quite a few airbnb properties and have had both good and bad experiences. This house was definitely the best one I have ever stayed in and would recommend to anyone! :) The house was clean and well furnished with a pretty garden/outdoor area. The 3 bedrooms are all good sizes, the air conditioning was great, the wi-fi signal was perfect, the parking nearby was adequate - everything was fantastic really! (My only negative comment was that the pillows were a bit hard but that's my personal preference.) Gemma was extremely helpful and friendly, always responding quickly by email or (SENSITIVE CONTENTS HIDDEN) and giving us whatever we needed. I would definitely recommend and stay here again! Thanks a lot Gemma! :)
Mark
2016-09-01T00:00:00Z
Merci à Gemma pour sa gentillesse, sa disponibilité, et ses conseils. Sa location est parfaite, très, propre, bien équipée, et à proximité des commerces. Nous avons pu profiter du calme de sa location après des journées bien remplies, la proximité de Barcelone est un plus. Merci à elle. Nous y reviendrons avec plaisir.
Aude
2016-08-14T00:00:00Z
Sinceridad, claridad en la comunicación trato excepcional.
Ferran
2016-12-23T00:00:00Z
Tipe Kamar
Seluruh rumah/apartemen
---
Tipe Properti
Rumah
---
Mengakomodasi
6
---
Kamar tidur
Caldes de Montbui, CT, Spanyol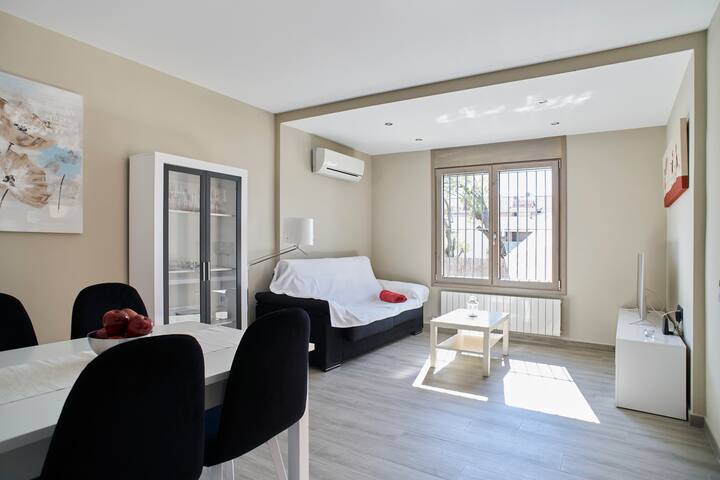 Indépendant, maison confortable avec jardin et piscine. Situé dans une urbanisation calme et spacieux à L'Ametlla del Vallès, une demi-heure de Barcelone et des plages.
Habitation indépendante, avec jardin, piscine nd barbaque. Situé dans l'urbanisation spacieuse et très, très calme, parking facile juste en face de la maison. Parfait pour se détendre, nager dans l'été ou faire un feu dans la cheminée en hiver. Un lecteur demi-heure de la ville de Barcelone et des plages. Près de la montagne "Montseny" et en direction des Pyrénées catalanes. La maison dispose de 180 mètres carrés. Rez-de-chaussée (avec accès au jardin): 4 chambres: Chambre 1: lit double Chambre 2: individuel Chambre 3: deux lits individuels Chambre 4: individuel et un lit superposé Au rez-de-chaussée, vous trouverez ces 4 chambres et deux salles de bains avec douche. L'une des salles de bains fait une "suite" avec la "chambre double", l'autre est destiné aux 3 autres chambres. Au sommet sont le salon (avec cheminée) et salle à manger et cuisine (four, micro-ondes, réfrigérateur, lave-vaisselle), la courtoisie et chambre de service avec lave-linge et congélateur. Nous vous recommandons de profiter de la maison si vous avez une voiture. Parce que toute cette région est très agréable à conduire (connexions rapides à Barcelone, plages, C-17 à Puigcerdà, autoroute à Girona / France), tandis que les transports publics ne sont pas bonnes. La gare la plus proche est La Garriga. A 5 minutes en voiture il y a un Carrefour, Aldi, Mercadona, Dia, Lidl et Eroski / Caprabo. marché de l'épicerie de Nice à La Garriga le samedi. Et le dimanche à proximité Granollers / Canovelles. Dans le jardin il y a aussi un trampoline.
Marchez ou court haute en voiture au sommet "Puiggraciós". De là, vous avez une belle vue sur les villages nachfliegenden. Par temps clair, à Barcelone.
Kohde oli sellainen kuin luvattiin. Ainoa häiritsevä tekijä oli naapurin koira joka haukkui öisin.
Jesse
2016-06-27T00:00:00Z
Overall, a good value for exploring the area in and around Barcelona. A car is essential for exploring, as the nearest train station is a 30 minute walk according to (SENSITIVE CONTENTS HIDDEN) (I did not try it). But you can easily drive to the city or one of the nearby beaches in under an hour (traffic permitting of course). The home comes complete, with a full kitchen, bedding, and towels in all two and a half bathrooms. The patio and pool areas are spacious. The neighborhood was quiet and tranquil. It was a little too cold to enjoy the pool, but it was ready and a number of water toys were available. The pool house also had a built in grill and sink – sure to be a hit for those looking to feast pool side. The owner Lucia always responded quickly to messages, in German or English (and probably Spanish as well, but I did not try that one).
Gerald
2015-04-11T00:00:00Z
Très bon séjour, maison très fonctionnelle, piscine très agréable. Lucia et Gina sont adorables.
ALEXIA
2016-07-30T00:00:00Z
Super séjour dans une super maison!! La maison est très agréable et accueillante. Lucia et Gina sont disponibles pour toutes questions. Tout est fait pour que l'hôte se sente bien. La piscine est réjouissante après avoir passé une journée dans Barcelone (qui est à environ 40 minutes en train). Nous avons passé un super séjour. Bref, je recommande vivement !
Aurèle
2013-07-19T00:00:00Z
Lucía es una anfitriona excepcional, súper amable y muy servicial. Estuvimos muy bien. La casa de Lucía es amplia, cómoda y equipada en todo lo necesario, tanto para preparar un simple desayuno como una comida o cena. La casa está situada en un sitio privilegiado, silencioso alejado de ruido urbano. L'Ametlla del Vallés como el pueblo es pequeño pero pintoresco. Encontraréis aquí varios restaurantes con una comida exquisita. Recomendó el lugar para la gente que viaja en coche. Nos ha dado mucha pena tener, que abandonar la casa de Lucía tan rápido. Los siete días de vacaciones se nos pasaron volando. Os recomiendo a todos este lugar. Gracias Lucía! :)
Agnes
2013-07-16T00:00:00Z
The house was perfect, had all the necessary equipment for a flawless stay. We stayed here 4 days, and were very-very satisfied. Also very close to the highway, Barcelona is only 30 minutes away. Host was super helpful, would reccomend it to everyone.
Adam
2015-03-02T00:00:00Z
Fin de semana genial en la fantástica casa de Lucía. Grande, espaciosa, perfectamente equipada, muy bonita, con un enorme patio y piscina que es una pasada. Baños, cocina, mesa y habitaciones para todos sin nada que echar de menos. Se está como en casa propia (pero de lujo!). Además ella una buena anfitriona para contactar y hablar del alojamiento/escapada. Se la recomiendo a todos. Gracias por darnos oportunidad de pasar tiempo en un sitio así.
Barbara
2013-07-08T00:00:00Z
Tout était parfaitement conforme aux photos, il y avait tout ce qu'il fallait dans la maison, très jolie, située non loin de Barcelone mais au calme. Nous avons passé quelques jours très agréables et, par la chaleur, la piscine était appréciable ! Les nombreux moustiques ont été le seul point négatif.
Sophie
2015-07-06T00:00:00Z
Tipe Kamar
Seluruh rumah/apartemen
---
Tipe Properti
Rumah
---
Mengakomodasi
6
---
Kamar tidur
L'Ametlla del Vallès, Catalonia, Spanyol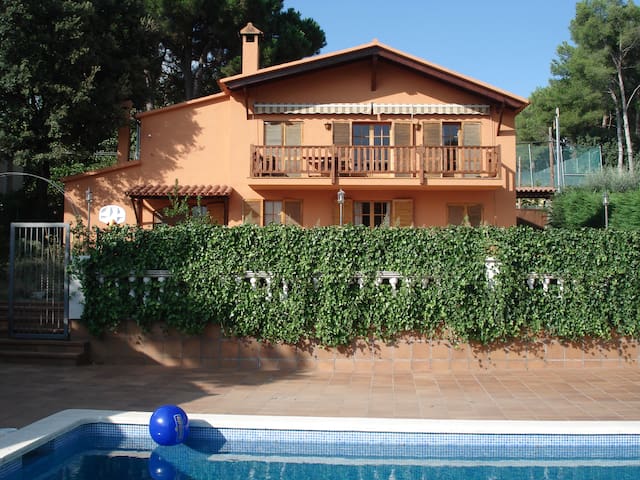 Sant Feliu de Codines - Airbnb
:
Rata-rata

4.49

dari

5

bintang dari semua

99

ulasan tamu
1

–

18

dari

25 Sewa Rumah
Masukkan tanggal untuk melihat harga lengkap. Biaya tambahan berlaku. Mungkin dikenakan pajak.