Nice 4.5-room upstairs apartment with large terrace to rent for holidays or temporary stay.
Seengen is situated on the north end of Lake Hallwil, in a beautiful and partially-protected landscape with a view of the Alps. Despite its rural character, it offers visitors numerous shops and excellent restaurants. Seengen is a hub of diverse recreational activities in the local area. With its central location and access to the highway and public transportation systems, day trips can be readily made to tourist attractions and major cities in german-speaking Switzerland.
Wir wurden bei Stacey sehr herzlich aufgenommen und fühlten uns rundum gut aufgehoben. Zur Begrüßung gab es sogar eine kleine Überraschung, danke nochmal. Die Wohnung ist ausreichend ausgestattet, sauber und bietet sehr viel Platz. Das Highlight ist eine große Dachterasse mit Ausblick auf den See. Ich kann die Wohnung und die Gastgeberin definitiv weiter empfehlen!
Daniel
2016-03-19T00:00:00Z
Stacey ist eine tolle Gastgeberin und hat uns sogar ein Willkommensgetränk in den Kühlschrank gestellt. Die Wohnung hat alles was man braucht und noch mehr. Sogar ein Grill steht auf der Terrasse bereit und man kann den super Ausblick beim grillen genießen.
Frank
2016-04-30T00:00:00Z
Very Nice people and a very Nice house with a wonderfull view. I recommend it !
matthieu
2016-06-06T00:00:00Z
Wir wohnten drei Wochen in der wunderschönen Wohnung in Seengen mit zwei kleinen Kindern. Die Wohnung ist ideal für Familien, es hat einen Spielplatz gleich in der Überbauung und es ist nicht weit ins Dorf, wo es auch Spielplätze und den nahen See gibt. Die Wohnung selbst ist mit allem ausgestattet was man sich wünschen kann und die Gastgeber sind super nett, hilfsbereit und unkompliziert. Der Ausblick aus der Stube oder der Terrasse ist einfach atemberaubend, man will gar nicht mehr weg! Gerne kommen wir wieder nach Seengen und freuen uns auch die Gastgeber wieder zu sehen.
Mirjam
2016-05-23T00:00:00Z
Stacey and her husband have made our stay wonderful. As soon as we arrived they show us in a Seengen map where to find the main shops, restaurants, pharmacies and some places to visit around. The house is fully equipped (dishwasher, towels, linen, barbecue in the terrace, kitchen, frigde, parking space) and it has amazing views to the lake and town. We really recommend this place if you are looking for a nice, green and quiet environment. Seengen is well connected by road to other cities and lovely towns (It takes 45 min to get Zurich). Stacey and This are great host and their house is very confortable, clean and well mainteined; as well you will have your own space and independence to enjoy your holiday. I hope you enjoy your stay with them as much as we did it :)
Silvia
2016-07-24T00:00:00Z
Stacey und This sind sehr unkompliziert und hilfsbereit. Wir haben sehr gute fünf Wochen in Seengen verbracht. Die Wohnung ist mit einer gelungenen Mischung aus modern und rustikal eingerichtet. Einen Kleiderschrank mehr wäre super. Die Mitbenutzung von Waschmaschine und Trockner ist hilfreich. Positiv ist, dass es eine Photovoltaikanlage für die Stromproduktion hat. Die Dachterrasse ist genial und die Aussicht fantastisch. Es ist schön ruhig im Quartier und an die Kirchenglocken gewöhnt man sich schnell. Es hat sogar eine eigene Garage für das Auto. Der See und Einkaufsmöglichkeiten sind nahe und auch zu den Autobahnen kommt man in wenigen Minuten. Fazit: Sehr empfehlenswert!
Daniel
2016-09-11T00:00:00Z
Alles war zu unserer vollsten Zufriedenheit.
Wibbelt GmbH
2017-01-31T00:00:00Z
I've booked Stacey's place for some colleagues of mine. Her home is clean and cosy. She is a very good host, and left them some drinks into the fridge! They felt as good as at home, Thank you Stacey!
Anna
2016-12-15T00:00:00Z
Tipe Kamar
Seluruh rumah/apartemen
---
Tipe Properti
Apartemen
---
Mengakomodasi
5
---
Kamar tidur
Seengen, Aargau, Swiss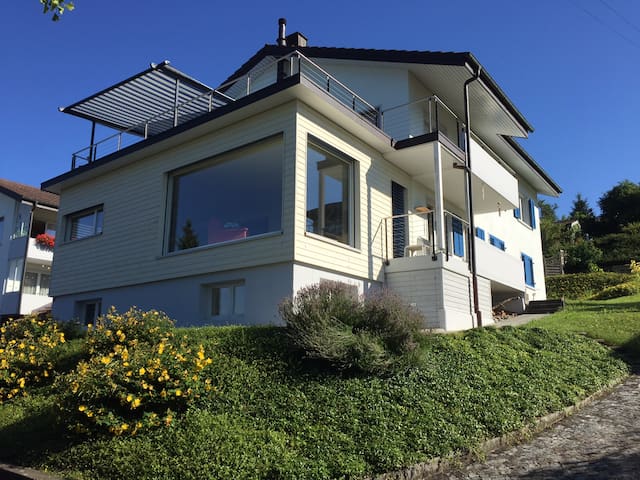 beautiful, bright and spacious penthouse with views of the mountains. • near the bus station, Coop and Badi • about 7 minutes by car from the motorway (Lenzburg) • about 30 minutes by car or train to Zurich city • about 10 minutes by car to the Hallwilersee • Size approx 90m² / (bedrooms: 35m²) • outside parking and cellar case Take it go well in the beautiful Aargau with the perfectly located apartment!
Tipe Kamar
Seluruh rumah/apartemen
---
Tipe Properti
Apartemen
---
Mengakomodasi
2
---
Kamar tidur
Villmergen, Aargau, Swiss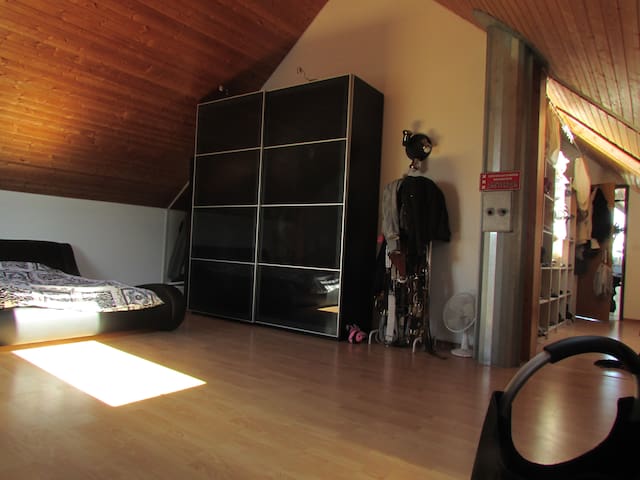 Modern new built apartment in Boniswil close to the lake of hallwil. Spend some cosy nights during winter with your family onle one hour from the ski area. Celebrate christmas in Switzerland.
No Pets allowed in this Apartement Building
Lake of Hallwil is a good spot for a walk, there are nice restaurants around the lake. There is a nice pizza restaurant only one block away. Aarau, the capital of Aargau, is a nice place to have a drink or go out for dinner. If you have a car make sure you go skiing in the close ski areas.
Roland and his familly are really nice people, who are ready to help you with youre stay. Apartment is great and clean.
Ines
2017-03-18T00:00:00Z
Everything great, we extend our staying.
Ines
2017-03-31T00:00:00Z
Tipe Kamar
Seluruh rumah/apartemen
---
Tipe Properti
Apartemen
---
Mengakomodasi
4
---
Kamar tidur
Hallwil, Aargau, Swiss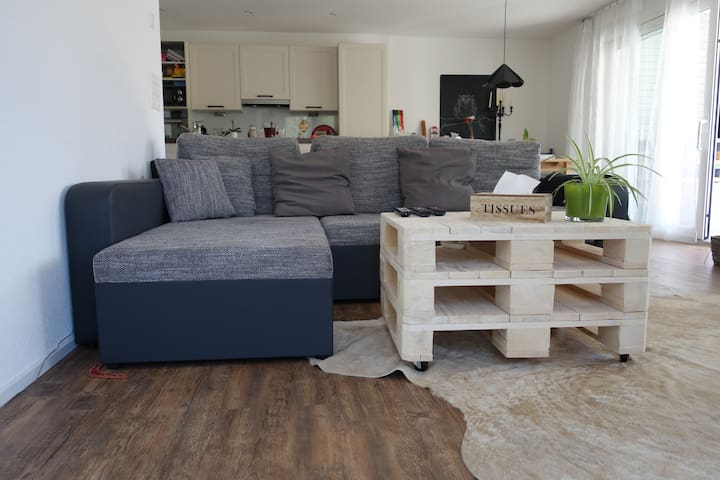 Idéalement situé entre Zurich et Lucerne (40 min). Ce bel appartement confortable et spacieux se trouve au-dessus d'un lac limpide. Je vis et travaille à proximité afin que je puisse faire: Airport pick up, vous donner des conseils, Stock le réfrigérateur et aider avec toutes les questions que vous avez.
S'il vous plaît écrivez-moi directement comme je l'ai eu des problèmes avec ce site. (EMAIL HIDDEN)
Très pittoresque et tranquille. Grands restaurants à proximité et près de la gare / bus local.
Tipe Kamar
Seluruh rumah/apartemen
---
Tipe Properti
Apartemen
---
Mengakomodasi
4
---
Kamar tidur
Birrwil, Aargau, Swiss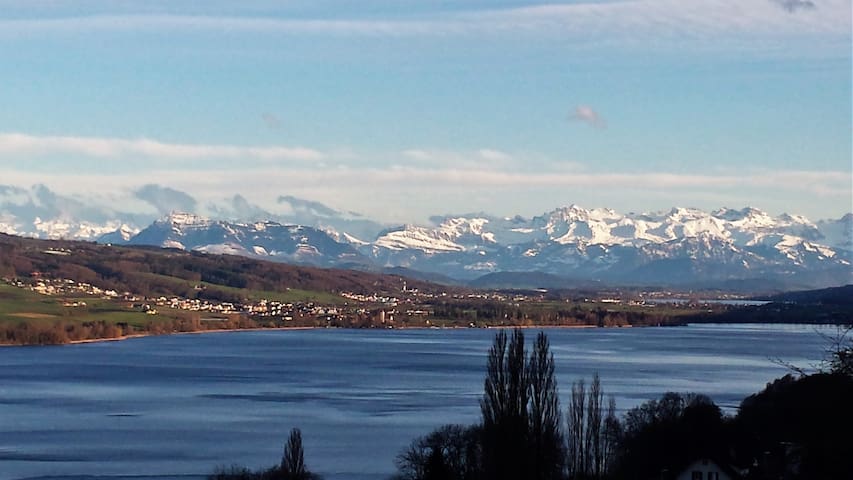 Perfect connections to Lucerne, Berne, Basel, Zurich etc. either by train or by car. Train station is in a 3 minutes walking distance from my house. I also offer my guests a ride from and to Zurich with my private car ... you are welcome!
My apartment is on the 4th floor and is an oasis for conversation, relaxation, rest and sleep ... The lake can be reached in 5 minutes on foot and nearby are very good restaurants you are welcome
Lake Restaurant's Ship Train Mountains
Ich war mit Ihm und mit der Unterkunft sehr zufrieden. Das Zimmer war schön und das Bett war sehr bequem. Die beste, was für mich gefallen hat, war das Ansicht auf dem See aus mein Zimmer. Ich könnte meine zwei Katzen mitbringen, er war sehr freundlich zu den Katzen, deshalb bin ich sehr dankbar. Wenn jemand in der Nähe Unterkunft braucht, nehmen Sie den Kontakt mit ihm auf, ich kann diese Unterkunft nur empfehlen. Er war sehr hilfsbereit, korrekt und freundlich. Ich freue mich, dass ich ihm und seine Familie kennenlernen könnte.
Zsuzsanna
2015-12-30T00:00:00Z
The room is perfect with amazing view. everything in the apartment clean and organized. The area is quite with very beautiful (URL HIDDEN) very easy to reach it by public transportation. Ronny he is the best Airbnb host i met very friendly and helpful . I enjoyed to stay in his apartment. If you lucky will met his sun Noah and you will have delicious pan cake breakfast with German coffee☺ المنطقة جميلة جدا والشقة تطل على منظر جميل جدا للبحيرة، الشقة نظيفة جدا ومنظمة كل شيئ مرتب وفي مكانه، بسهولة يمكن الوصل إليها من زيورخ عن طريق القطار ، انا فعلا سعدت بالإقامة في شقة روني ، الرجل خدوم ويرد على كل استفساراتك في اي وقت ويكون دائما على تواصل معك. أصبح لي صديق في سويسرا شكرا يا روني على الوقت الجميل وشكرا على الكتاب.
Abdulrhman
2016-09-17T00:00:00Z
Sono stato accolto con molta cordialità Puntuale all'incontro ... Come anche ottimo il caffe alla tedesca che cordialmente mi ha preparato La casa e pulitissima ....e la vista della camera e stupenda... Per me il soggiorno è stato di solo un giorno Ma Ronny ...e super
Antonio
2016-05-28T00:00:00Z
Really nice place, beautiful view and incredible host. Thank you Ronny for your kindness and hospitality! See you next time in Switzerland or in Brussels. Oly
Olivier
2016-08-01T00:00:00Z
Although did not get much time to chat with him, Ronny was very sweet person because he was waiting for me at the train station. The bed is super comfy and feel like being home. The location is super convenient only 2 minutes from the train station. Zurich Airport is hour away which was not bad. Definitely recommend to others.
Ya Jun
2016-10-10T00:00:00Z
Ronny is the best host I ever met! Thank you again! He is smart, and so thoughtful & helpful & warm person, who makes me feel really like an old best friend, although I just booked a night!!... And the flat is so clean, comfortable, and definitely better than the pics! Moreover, my coming day was a raining eve., Ronny came to help carry my luggages back & next day drove me to catch up flight!!... Furthermore, I had a wonderful bath & his food after few busy trips! Ronny makes my trips in Switzerland 300% worth and enjoyable! Strongly Recommended!! And will come back very soon...
Isa
2016-04-18T00:00:00Z
Un lugar super agradablem miy limpiomy ordenado y ronny es muy agradable hicimos buena amistad.
anacarsis
2016-01-26T00:00:00Z
Ronny ist ein guter Gastgeber und sehr sympathisch. Habe mich sehr wohl gefühlt und empfehle ihn zu 100 Prozent weiter(URL HIDDEN) Ronny jest dobrym gospodarzem i bardzo ujmujący. Czułem się bardzo komfortowo i uznanie go na 100 procent.
MK
2017-03-19T00:00:00Z
Tipe Kamar
Kamar pribadi
---
Tipe Properti
Apartemen
---
Mengakomodasi
2
---
Kamar tidur
Birrwil, Aargau, Swiss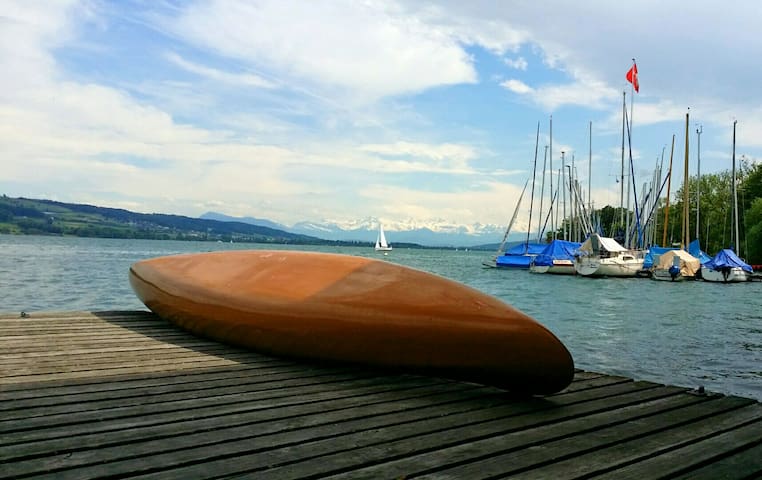 Nice apartment, for a perfect stay for your holidays or business trip. Seengen is near from Zurich, Basel, Luzern. (URL HIDDEN) Wonderful Apartment is furnished with designer furniture. Very nice view to Hallwilersee and Innerschweizer alpes. Closed to a restaurant with local menu.
El apartamento estaba perfecto, con todo lo indispensable para vivir una família de 4. Limpio, cómodo, super nuevo... El entorno espectacular, con vistas al lago de Seengen y con un parque para los niños del que no querían salir! Muy recomendable para una familia con niños, sin duda. Katharina muy amable y servicial, localizable y pendiente en todo momento.
Alba
2016-08-16T00:00:00Z
Lovely clean apartment
Doug
2017-04-03T00:00:00Z
Tipe Kamar
Seluruh rumah/apartemen
---
Tipe Properti
Apartemen
---
Mengakomodasi
4
---
Kamar tidur
Seengen, Aargau, Swiss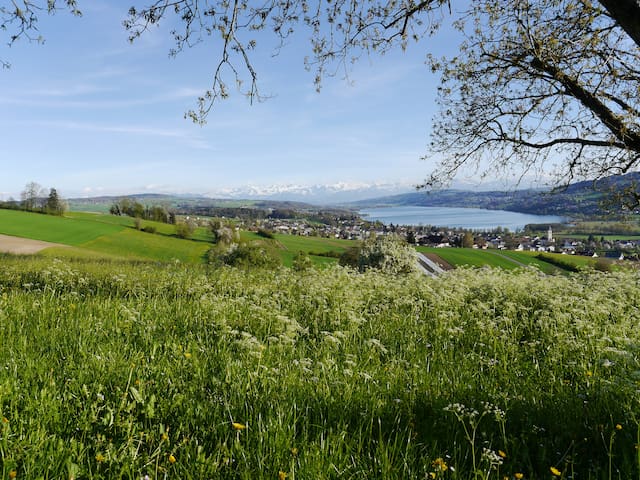 Sehr grosser Wohn/schlafraum (54 m2), 2 Doppelbetten, Tisch ausziehbar (16Pers.), neu gebaut, wunderbare Bergsicht, mit eigenem Bad, gut eingerichtete eigene Küche, Chemineofen, Wohnung: Total 80 m2, Schwimmteich und Park, gr. Trampolin,Tischtennis, Garten , genügend Parkplätze, (Sauna /Aufpreis)
Sehr ruhig gelegen , mit schöner Aussicht auf See und Berge. Ttrampolin und Schwimmteich zur freien Benützung
Ist ruhig und feundlich
Appartement neuf magnifique avec terrasse et vue sur le lac, café offert à l'arrivée pour toute la famille en discussion franco-allemande, trop sympathique !! Nous n'avons passé que la nuit sur place donc pas réellement pu profiter de l'environnement très joli de cette maison.
crystelle
2015-08-31T00:00:00Z
Urs has a nice house. Big enough for 4 persons. The view is spectacular. Very quiet. Urs always ready for us if we need anything.
Joe
2016-05-23T00:00:00Z
Really great place! The hosts were very helpful and welcoming. Clean and comfortable. Fully equipped kitchen.
Jason
2015-11-02T00:00:00Z
Urs' flat is very clean and quiet. He is pleasant and helpful.
zhe
2015-09-30T00:00:00Z
Alles ist perfekt!
Innjae
2017-01-02T00:00:00Z
Nice house fine people, great for the kids they could swimm
Dieter
2016-07-23T00:00:00Z
Ottimo soggiorno e grande ospitalità!! Appartamento molto bello, nuovo e con una vista meravigliosa...da tornare!!! Grazie Urs
sonia
2015-08-22T00:00:00Z
Wir hatten einen sehr angenehmen Aufenthalt in Aesch. Alles war so wie Beschrieben.
Isabelle
2016-12-30T00:00:00Z
Tipe Kamar
Kamar pribadi
---
Tipe Properti
Apartemen
---
Mengakomodasi
4
---
Kamar tidur
Aesch, Luzern, Swiss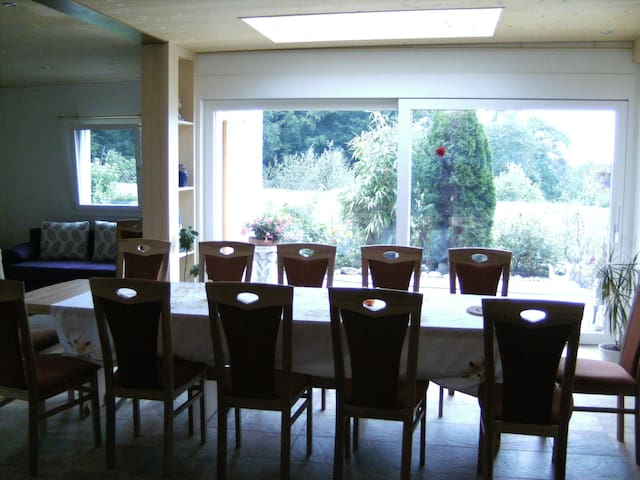 We rent out the comfortable and cozy apartement on the third floor of our multi-familiy house in Hallwil. The apartement can sleep up to 4 people, but is ideal for 2. The village Hallwil is close to the Lake Hallwil and easily accessible by train or car (free parking).
The apartement is divided in three rooms: - The sleeping and living room with a 140cm double bed and one single mattress which also serves as a lounge. - The entrance room with a working desk, lots of storage space and a extra bed if needed. - The kitchen with a small dining table, fridge, dish washer, microwave/oven and a coffee machine. - The bathroom with toilet and shower. Be aware that the apartement is directly under the roof. This could be a problem for very tall people.
Hallwil is very small and unfortunately not directly at the Lake Hallwil. But you can reach the lake in 5min by car, 10min by bike or it takes you about 20min to walk there. There is one shop in Hallwil that sells some groceries like milk, bread, vegetables. Within 1 - 2km you can reach several supermarkets in the neighbouring villages. Be aware that this appartement is in a countryside village neighbourhood, so shops/restaurants are not just around the corner, but nature is ;-)
Everything was perfect.
Isabel
2017-01-31T00:00:00Z
Sehr nette Leute; alles in einem eine super Unterkunft. Immer wieder gern...
Tibor
2016-08-28T00:00:00Z
Angela was very friendly, and responded reasonably fast. Unless you have a car to move around, it would be a little difficult to move around, say to visit the nearby lake, or to have a meal outside. As we drove to the place, it was not a problem for us. Hence our stay was good.
Kiok Lam
2016-09-21T00:00:00Z
war super, kleine feine dachwohnung...genau wie auf den bildern!! gastgeber waren sehr unkompliziert und bemüht....wenn ich wieder mal in der gegend bin, gerne wieder!!!!
Mathias
2016-08-28T00:00:00Z
Wir sind nun zum zweiten Mal in dieser Wohnung, weil Preis /Leistung einfach top ist. Wir sind dieses Mal sehr kurzfristig gekommen und sind ohne Weiteres freundlich empfangen worden. Wir werden diese Unterkunft gerne wieder aufsuchen, wenn es uns in diese Gegend verschlägt.
Markus
2016-08-20T00:00:00Z
Tipe Kamar
Seluruh rumah/apartemen
---
Tipe Properti
Apartemen
---
Mengakomodasi
4
---
Kamar tidur
Hallwil, Aargau, Swiss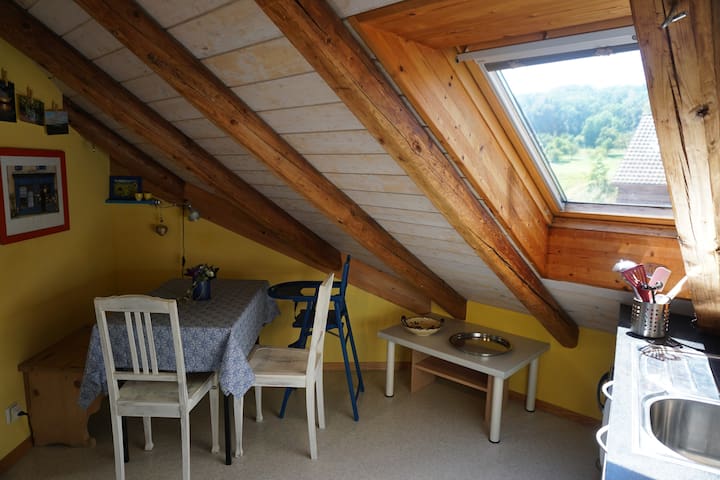 The charming HITrental chapel bridge apartments offer an astounding view of the river Reuss and the world famous chapel bridge. It's an unique and amazing opportunity to wake up and be able to see one of the most photographed locations of Switzerland
Saturn II. Look down and you see the sparkling, clean glacier water of the Reuss river flow by. Located in a historic building in the heart of the city this accommodation offers sleeping places for 4 persons and includes a fully-equipped kitchen as well as comfortable living area and 47m2. Of course the apartment is equipped with a fully functional bathroom and free WIFI and a flat screen TV and even a Nespresso coffee maker. Additionally, there are washing facilities located on the second floor of the building which are also free of charge. Finally you are provided with towels and bed linen, which are not changed during your stay. Against a small fee you can even book an extra cleaning service In short, the apartment boast an excellent price-performance ratio which offers everything – from a unique location to a stunning view – to make you feel "en route at home". The beautiful and bright HITrental chapel bridge apartments offer a stunning view on the river Reuss and the world famous chapel bridge as well as the architectural interesting Jesuitenkirche across the river. Have a look at the sparkling, clean glacier water flowing by in the Reuss river in front of your accommodation. Located in the heart of the historic town Lucerne, many sightseeing highlights as the old town itself are within walking distance. The world famous chapel bridge is just right outside the building and even the Gletschergarten and the Löwendenkmal are less than a ten-minute walk away. The same holds for the lake – including the station for the public lake cruise boats – which you can reach in 2 minutes on foot. Also the train station is within walking distance (550m) and from there you have hourly connections to cities such as Zurich, Interlaken or Engelberg. Also the Pilatus can be reached in an hour by public transportation. As a special highlight there is a traditional market right outside the house every Saturday. Finally, there are many shopping facilities nearby, starting with groceries – Migros, Manor or Coop – and ending with high end brands like Cartier or Svarowski or Bucherer Uhren, where all the famous Swiss watches can be bought. In short, the surroundings offer everything for you to enjoy life in the heart of the beautiful city of Lucerne.
Tipe Kamar
Seluruh rumah/apartemen
---
Tipe Properti
Apartemen
---
Mengakomodasi
4
---
Kamar tidur
Luzern, Luzern, Swiss
The apartment has been furnished with lots of charm and high quality. The kitchen has everything you need for cooking, baking and serving. In addition, all important kitchen appliances such as toaster, water cooker, Raclette, SmoothyMixer, ...) are there. Always available are spices, olive oil, tea, Nespresso. Bicycles (also for children) and standup paddle can be rented.
1 - 5 people (1x King size bed & 1xSofa double bed in the large tower room, 1x Sofa-Singlebed in the living area, 1x Babybed - if desired). Living area 54m2, bathroom, kitchen, living and dining area on the ground floor, bedroom on the first floor, own terrace with grill, own cellar 20m2 with laundry, spacious garage plus parking.
Shopping possibilites like Volg are open 365 days (until 8pm) and offer a good selection of food and daily needs.
fabienne and her husband were a great host, very welcoming and accommodating. The location was ideal and I had fabulous time! Thanks for everything, I can recommend it!
Amir
2016-08-16T00:00:00Z
The house is located at a very beautiful location. The rooms are small but very cozy. Fabienne was very helpful and went out of the way to help us.
VIJAIKUMAR
2016-09-11T00:00:00Z
The host is friendly, the house near lake, good for cycling and running.
曉梅
2016-09-07T00:00:00Z
Wir haben selten so unkomplizierte und freundlich, aufgeschlossene Gastgeber erlebt wie (URL HIDDEN) wurde sogar vorab ein Tisch für uns in einem Restaurant reserviert in dem man nur sehr schwer Plätze bekommt.. danke das wir uns so wohl fühlen durften - die Unterkunft ist liebevoll und mit besonderem Charme eingerichtet..(wir haben schon überlegt wie wir den schnuckeligen Tisch ins Auto bringen...:) ) absolut zweckmäßig - es fehlt an nichts... Fabienne ist jederzeit ansprechbar und hilfsbereit.. Das Häuschen ist in einer (eigentlich) ruhigen Gegend, allerdings sind derzeit gegenüber mehrere Baustellen was uns allerdings nicht gestört hat... die Terasse ist wunderbar windgeschützt und gemütlich zu sitzen.. wir waren mit unseren beiden Kindern (13/11) dort und hatten ausreichend Platz zum Schlafen, Essen und Wohnen... wir würden auf jeden Fall wieder kommen!
Silvia
2016-09-06T00:00:00Z
We like the beautifully furnished small house. The location is other aspect of the house. Clear view of clean and beautiful lake can be seen. Few kilometres away from Mount Pilatus and Lucern city, on the way driving can observe the beautiful views of villages and farms .
Upahar
2016-08-20T00:00:00Z
Very nice and clean place with interesting decor
Mario
2016-08-08T00:00:00Z
She's so friendly and helpful.everything was great .. She provided us with our needs
Esmail
2016-08-05T00:00:00Z
Fabienne was friendly and great. The house is very easy to find. Just for the amenities as it is mentioned on amenities that breakfast is provided but only coffee and tea are available. The house has technically 1 bedroom and 1 living room that the host considered as a bedroom.
Raymond
2016-08-01T00:00:00Z
Tipe Kamar
Seluruh rumah/apartemen
---
Tipe Properti
Apartemen
---
Mengakomodasi
5
---
Kamar tidur
Beinwil am See, Aargau, Swiss
The apartment is located in Beinwil am See above the lake Hallwilersee between Zürich and Luzern. In about 7 minutes you reach the train station in the town from here. You just need about 50 minutes to Luzern and 1 hour to Zürich. The region is rural with much of fields ond forests and two lakes. . Meine Unterkunft ist gut für paare.
The house is large and is placed in a very quiet neighborhood. It contains everything is needed, and Thomas is very helpful
Alessio
2017-01-31T00:00:00Z
Tipe Kamar
Seluruh rumah/apartemen
---
Tipe Properti
Apartemen
---
Mengakomodasi
2
---
Kamar tidur
Beinwil am See, Aargau, Swiss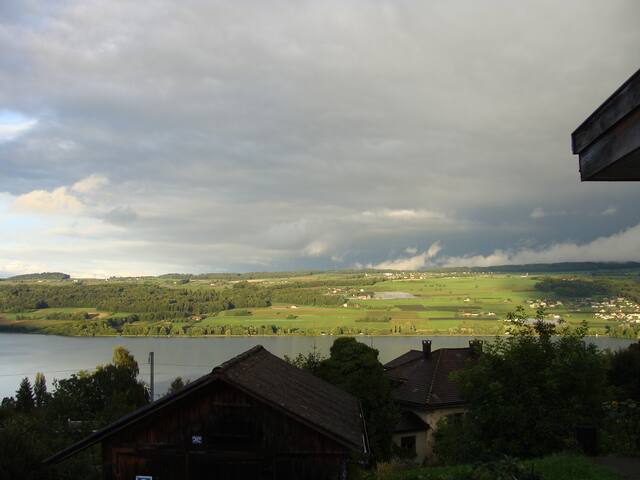 My house is near the old town Bremgarten, in 30 minutes you are in Zurich. Forest, river, and nature are just around the corner. Many different shops within walking distance. The studio features a kitchenette with microwave, toaster, kettle, coffee maker, sink. (Without oven).
Tipe Kamar
Seluruh rumah/apartemen
---
Tipe Properti
Apartemen
---
Mengakomodasi
3
---
Kamar tidur
Bremgarten, Aargau, Swiss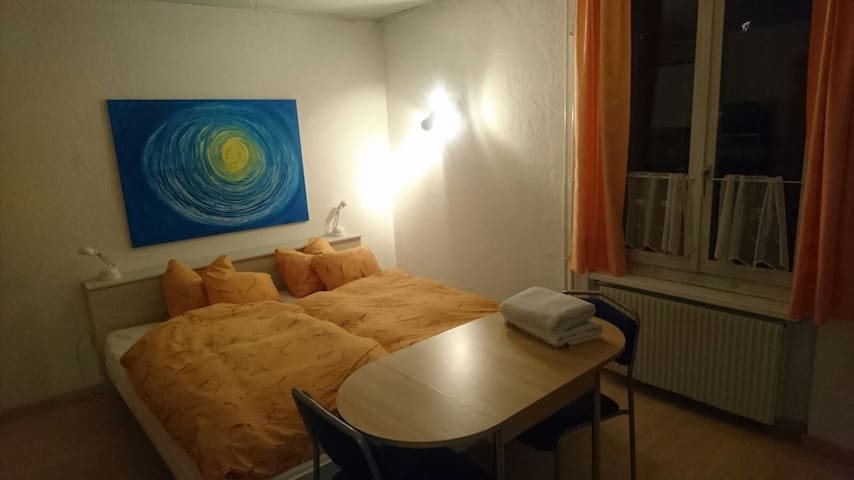 Meine Unterkunft ... ...ist in der Nähe vom Hallwilersee, Nachtleben, öffentlicher Verkehr. Du wirst meine Unterkunft lieben wegen der Gemütlichkeit, hohe Decken und die zentrale Lage. Meine Unterkunft ist gut für Paare, Alleinreisende, Abenteurer und Geschäftsreisende. Nostalgie vereint mit modernstem Standard -> und Wellness inklusive ! Lass dich überraschen !!
Denkmalgeschütztes Liebhaberpbjekt mit superluxus Ausstattung
Ruhig und malerisch trotzdem sehr zentral ! Schnell am See und in fünf verschiedenen Städten , Luzern, Aarau , Lenzburg, Baden und Zürich
Zwar hat man nur ein Zimmer in dieser Wohnung und somit keine eigene Unterkunft, aber es ist sehr, sehr großzügig. Man hat ein eigenes Bad und wenn man will auch ein eigenes Wohnzimmer. Auf dem überdachten Balkon kann man rauchen. Mir hat besonders gut die Kombination von modernem Ambiente und historischem Gebäude gefallen. Christiane und Patrick sind sehr gute Gastgeber - bereit zum Plaudern oder auch rücksichtsvoll, wenn man arbeiten muss und keine Störung braucht. Sie sind offen und bereit, sich auf persönliche Wünsche und Bedürfnisse einzustellen. Ich komme gerne wieder!
Tatjana
2017-01-27T00:00:00Z
Alles gut, bin wieder gekommen.
Tatjana
2017-02-16T00:00:00Z
Tipe Kamar
Kamar pribadi
---
Tipe Properti
Apartemen
---
Mengakomodasi
3
---
Kamar tidur
Seon, Aargau, Swiss
It's located on the Aargauer Seetal. Near the train station and Buss (3 minutes on foot). Ideal for Wanderfögel or bikers! Close to nature and still fast in the city. Equipped with a beautiful balcony with a great view, it is a cozy place to linger.
El piso es tal y como sale en las fotos.
Manu
2016-09-06T00:00:00Z
Le séjour s'est très bien passé.
Marilou
2016-10-31T00:00:00Z
it's far from Luzern train station,and the host's phone can not be reached at first, so I have to find another hotel to stay. That is to say,ihaven't even managed to arrive to this place.
shao
2016-02-13T00:00:00Z
Christian is a friendly host.
Jennie
2016-03-08T00:00:00Z
Second worst experience of my Europe tour. He doesn't know English. His place is all upside down. Bed wasn't even made. I had to ask for linen.
DEVEN
2014-05-09T00:00:00Z
非常热心的房东,甚至帮我停车,可惜没有更多时间聊一下,旅行中能遇到他非常幸运
xinbo
2015-09-16T00:00:00Z
I stayed with Christian for 3 days and found him to be kind and accommodating. I would definitely recommend him.
Leané
2016-03-16T00:00:00Z
Very pleasant stay, the apartment is comfortable and Christian is a very friendly host! I'm looking coming back soon :)
Giulia
2016-04-10T00:00:00Z
Tipe Kamar
Kamar pribadi
---
Tipe Properti
Apartemen
---
Mengakomodasi
2
---
Kamar tidur
5703 Seon, Aargau, Swiss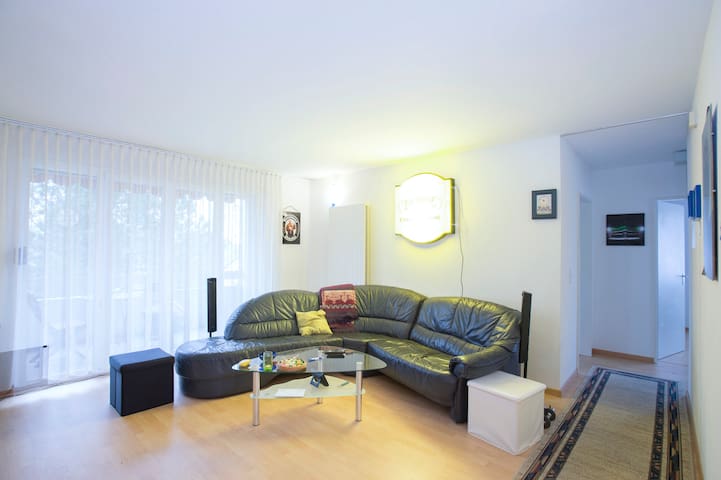 Light flooded rooms. Centrally located. After Zurich, Aarau, train and Lucerne in about 30 minutes.
A large and bright room with a double bed awaits you here. You are given for the sole use a modern bathroom with toilet. They may share the use of the living room and the large balcony. The apartment gives you easy access with elevator. The apartment is also wheelchair accessible. If you come by car, it has a parking space for you. You live in a quiet area in the countryside in 5630 Muri AG. Near the center. there are about 15 minutes walk to the train station. Shopping nearby. Muri is a rural area. You can go walking, cycling ect. extremly interesting is the monastery and the monastery museum. Muri-culture with concerts, exhibitions, theater ect. Swimming pool, sports court ect. From Zurich, Aarau, Lucerne, train we are approximately 30 min. Away.
Thank you very much for the warm reception. Modern and beautiful housing
Abdullah
2015-09-29T00:00:00Z
Es war bei Rita wieder sehr angenehm,ruhig und sehr relaxed,sauber und zentrale gelegen.Rita ist sympatisch und interesiert,komme sehr gerne wieder.Frank
Frank
2014-10-27T00:00:00Z
Wunderbare, modern eingerichtete Wohnung in ruhigen Quartier in Muri. Sehr empfehlenswert.
Martin
2015-08-23T00:00:00Z
Schönes Zimmer mit super Parkplatz in der Tiefgarage. 5min Fussweg zum Kloster. Unkomplizierte Gastgeberin.
Not-Curdin
2014-08-18T00:00:00Z
It was a beautiful luxurious place to stay. A practical home for a wheelchair user. The private bathroom was ideal. Rita thanks for the nice days!
Bertina
2016-09-24T00:00:00Z
Ich habe mich direkt wie zu Hause bei Rita gefühlt, das Zimmer, die Wohnung und die riesige Terrasse sind einfach ein Traum! Und ich bin fast jeden Abend mit leckerem Essen verwöhnt worden. Perfekter konnte mein Aufenthalt in Muri nicht sein. Danke!
Astrid
2015-06-26T00:00:00Z
My friend and I had one-day night at Rita's home. if you have a car, I surely recommend to stay at her home for days. It is definitely better than any other hostels. Since it is located in the middle of Zurich and Lucerne, it is comfortable to travel those two cities.
Daeyoung
2014-08-10T00:00:00Z
After a long train journey, all the way from the Netherlands, I got a warm welcome from Rita and her dog. My first impression of Müri, the house and offcourse my room were really good. The house looks really new and is very clean. Nice view of the Alps. Müri is a cozy village, but it's also nice to see bigger places like Luzern and Zürich. Rita is a helpfull and nice person. I even could improve my German! Thank you for everything!
Kimberley
2014-01-09T00:00:00Z
Tipe Kamar
Kamar pribadi
---
Tipe Properti
Apartemen
---
Mengakomodasi
2
---
Kamar tidur
Muri, Aargau, Swiss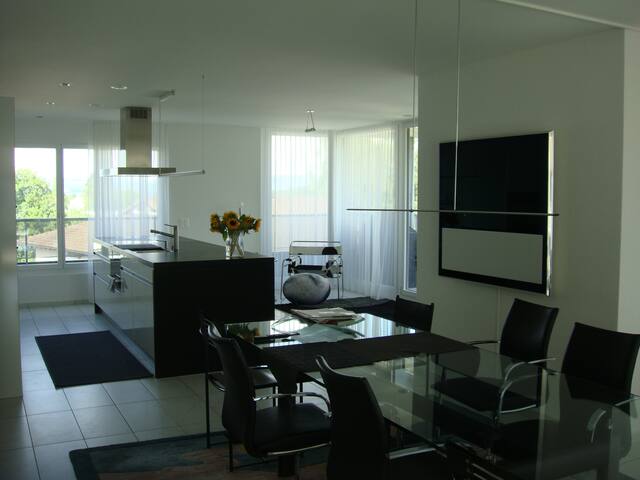 My house is near the city center Bremgarten.
Tipe Kamar
Kamar pribadi
---
Tipe Properti
Apartemen
---
Mengakomodasi
1
---
Kamar tidur
Bremgarten, Aargau, Swiss
Bedroom in the near of Lucerne (50min with the Train) and Zurich (40min with the Train)
Tipe Kamar
Kamar pribadi
---
Tipe Properti
Apartemen
---
Mengakomodasi
2
---
Kamar tidur
Boniswil, Aargau, Swiss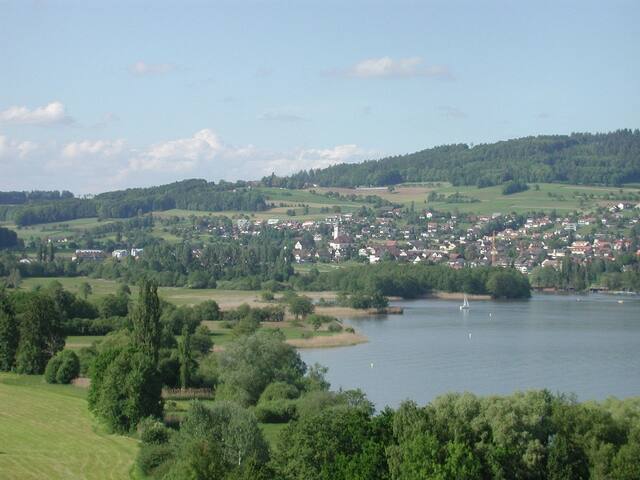 Diese geräumige Wohnung (90 m2) in Villmergen ist 200 Meter von der Dottikon-Dintikon Bahnhof und 2 km von Lenzburg. Es verfügt über einen Balkon und bietet kostenloses WLAN und eine kostenfreie Tiefgarage. Die Wohnung verfügt über 2 Schlafzimmer, eine Küchenzeile mit Essbereich, ein Badezimmer und einen geräumigen Wohnbereich.
Moderne Wohnung mit einem Balkon und eine komplett ausgestattete Küche, können bis zu 5 Personen beherbergen. Eine Bushaltestelle ist 100 Meter entfernt, und das nächste Restaurant und Geschäfte befinden sich im Umkreis von 200 Metern. Es ist 18 km von Aarau und 30 km nach Zürich. Transfer vom und zum Flughafen Zürich sind auf Anfrage und gegen Aufpreis zur Verfügung. Die natürliche und Thermalbad Aquarena ist 15 km entfernt und verfügt über einen 600 m² großen Wellnessbereich mit heißen Thermalquellen, Dampfsauna, Innen- und Außenpools, ein Solarium und einen großzügigen Ruheraum mit Wintergarten und ein Restaurant.
Sehr ruhige Lage. Die günstige Lage für den Zugriff auf leicht Zürich, Aargau, Basel, Luzern und Zug.
Andrey's house was very nice and clean and we stayed really comfortably. Everything went good. Thanks Andrey!
Laura Quagliuolo
2014-01-18T00:00:00Z
Andrey is a great host!!! The apartment is very spacious, clean and comfy. We really enjoy the neighborhood and we walk to the supermarket...a great excercise breathing a wonderful air. The apartment is inside of a quiet condo so you can hear the crikets outside. We hope to come back soon!!!
Loreto
2015-09-11T00:00:00Z
Andrey was a wonderful host, very helpful. The place was exactly as described, very clean and well appointed.
Julianne
2014-09-29T00:00:00Z
The reservation was canceled 4 days before arrival. This is an automated posting.
Sylvia
2014-05-31T00:00:00Z
The apartment was exactly as described, and a perfect accommodation for our stay. We couldn't have asked for a better situation, given that my mother-in-law is in a town just a few kilometers away.
Marla
2014-12-29T00:00:00Z
Tipe Kamar
Seluruh rumah/apartemen
---
Tipe Properti
Apartemen
---
Mengakomodasi
5
---
Kamar tidur
Villmergen, Aargau, Swiss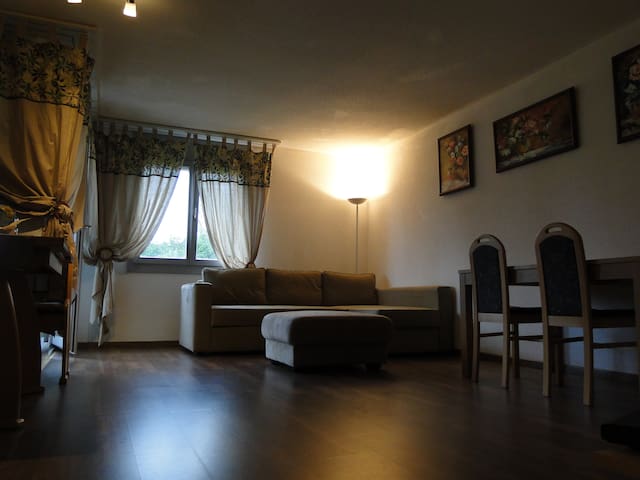 1

–

18

dari

20 Sewa Apartemen
Masukkan tanggal untuk melihat harga lengkap. Biaya tambahan berlaku. Mungkin dikenakan pajak.