Tipe Kamar
Seluruh rumah/apartemen
---
Tipe Properti
Apartemen
---
Mengakomodasi
2
---
Kamar tidur
Scarborough, Tobago, Trinidad dan Tobago
Beautiful retreat away from the bustle nestled in the hills above Scarborough. Spent 2 nights here just relaxing and enjoying the bird song and view from the poolside. Stayed in Captain Morgan's which was ample space for 1, easily for 2, and even 3 with a single bed available in downstairs kitchen. Would not hesitate to stay here again. Thank you Sven for making it all work so well. All best from UK
Nick
2016-09-26T00:00:00Z
Sven, thank you for very much for your prompt response, airport pickup, help with booking car rental & expedition, and your overall friendliness. We really enjoyed our stay and I genuinely believe that you guys going above and beyond had a huge role to play in that! Also, please pass along a warm thank you to Akilah who was very patient at the airport when our flight was delayed and was very hospitable throughout the stay. Sven was the perfect host. Prompt responses, accurate information and friendly interaction are descriptors I'd use for Sven and this listing. Not only did Sven arrange airport pickup for us (which was very helpful) but Sven also volunteered to help us book a car rental as well as a lovely boat expedition that was quite enjoyable. Akilah (the house manager) was extremely patient and waited for us at the airport when our flight was delayed for an hour. She was extremely friendly and hospitable. The listing was exactly as described. Clean, spacious and with a lovely view from the balcony.I truly think that Sven& Akilah went above and beyond the expectations of an air bnb listing and I believe that picking this listing was a huge part of why we enjoyed our stay in Tobago as much as we did. Would definitely book again.
Baha
2017-03-05T00:00:00Z
Our stay was lovely. We had a car rented so it was very easy for us to get to the very secluded house. On our first trip into the guest house, Akilah, the phone manager, and Goeffrey, the care taker, were giving us turn by turn directions over the phone even though we had to arrive very late into the evening due to last minute flight changes. The view from our apartment was breath taking and the beautiful infinity pool was a lovely amenity. Geoffrey and Akilah took great care to give us good advice on where to visit and what to check out and were always on call in general with anything at all that we needed. It was a great stay and when we return, we will definitely be staying here again.
Fidan
2017-01-17T00:00:00Z
Secluded up in the hills of Scarborough, about 20-25mins from the airport, you'll find Chelsea's. It's a group of accommodations, all conjoined: technically I suppose there are four spaces (Captain Morgan, Gang Gang Sarah, Jack Sparrow, and Sir Walter Raleigh) but as far as we could tell, the middle two were optional additions to the last while Captain Morgan was its own separate unit. Raleigh is a bit larger & nicer, even without the additions, but Morgan was just fine. It's not very convenient to the island's best beaches, but it's central enough to make nearly everything accessible by a drive of an hour or less. Our host, Geoff, took great care of us: even though our flight arrived over two hours late, he met us at the airport so we could follow him back to the place (extremely helpful, otherwise we'd likely have never found it). He was around much of the time for chats, drinks, recommendations on activities and restaurants (the latter of which were in short supply around the island - not his fault, but worth noting). The bedroom was air conditioned on the nights when it was a bit too warm to leave the balcony doors open. That was a huge plus. The bathroom and kitchen were a bit simple, but adequate for the week. One downside: the house internet was down for our entire visit. Geof told us that he had complained multiple times to the provider and that they would be fixing it, but it did not happen. Not sure what the issue was. Maybe no internet is good for truly relaxing and detaching, but it would have helped in other regards. All communication prior to our arrival in Tobago was through Sven. He was quick to respond to all messages. He coordinated our car rental. We were originally going to get a Suzuki Jimmy but that became unavailable shortly before our arrival and we agreed to switch over to something more conventional. Considering the roads of Tobago, the Jimmy's Jeep-like build would have probably been considerably better. I wasn't even certain the Mitsubishi could make it up the driveway to the house when we first arrived. Overall, very relaxing & great for a getaway vacation.
Jon
2017-02-19T00:00:00Z
Had a fantastic stay here! Great location, superb guesthouse and friendly host. Sven was very responsive leading up to the trip, and made sure our check in was smooth. Chelsea's House itself is a bit hidden however, it has the most gorgeous view overlooking Tobago. We stayed at the Captain Morgan House, and it was incredibly spacious for the price we paid. The bottom floor has access to the gorgeous infinity pool, and features a kitchen with your basic essentials and daybed. Upstairs, you have access to a balcony that has the same great view overlooking the pool. The upstairs room has a bathroom, satellite TV, AC, bed & spacious closet. Highly recommend if you're looking for a private villa experience – fantastic price and overall fantastic experience.
Vanessa
2016-10-06T00:00:00Z
Akilah and Jeff went out of their way to make my stay there a relaxing and comfortable one. I had a few issues such as location - the place is very far away from main attractions and you absolutely need a vehicle if you plan on going anywhere. However, Jeff went out of his way and gave me a lift to a few places, which I highly appreciated. Akilah is an absolute darling - a genuine and honest soul who also made sure I was comfortable. Though the views (and the pool) from the place were amazing, those two were certainly the highlight of my trip. I thank them very much!
Shelly
2016-11-20T00:00:00Z
Perfect place for your stay in Tobago. There's a lovely brise (we didn't need the ac) and a lush surrounding. You can overlook Scarborough and the port. The pool is so delightful. The apartment is clean and well equiped. We didn't meet Sven, but Jeff (the owner) and Akilah (the manager) did a great job. Especially Akilah was so helpful and helped to organize the rental car and other issues. Thank you!
Nicola
2016-03-02T00:00:00Z
We had a fantastic week staying in Chelsea's House in the Captain Morgan apartment. The location is great, close to Scarborough but set back from the road so quiet and peaceful. The whole place was spotlessly clean and the outdoor area with the pool was lovely. Sven was so helpful. He arranged a car for us before we arrived, sorted a driver when we wanted to go out for a drink one night and even got up at 5am to help us get the ferry the day we left. Everything was great and we'd definitely recommend staying here when you are in Tobago.
Carina
2016-04-09T00:00:00Z
Tipe Kamar
Seluruh rumah/apartemen
---
Tipe Properti
Apartemen
---
Mengakomodasi
2
---
Kamar tidur
Scarborough, Western Tobago, Trinidad dan Tobago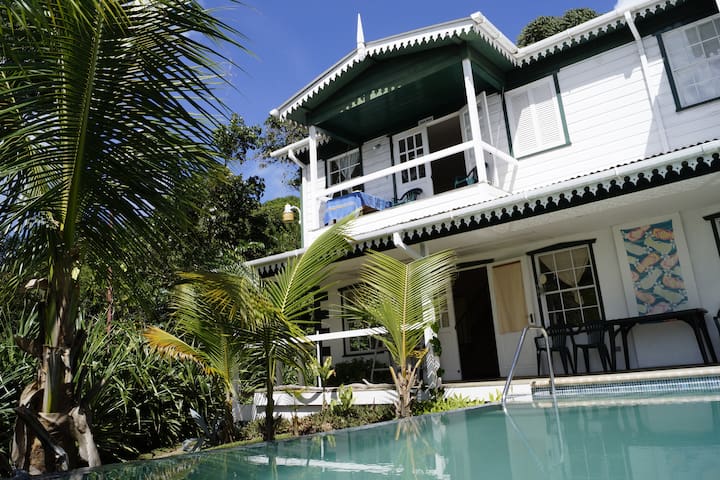 Unsere Ein-Zimmer-Wohnung befindet sich unterhalb Bacolet Haus auf Pool-Ebene in einer ruhigen Wohngegend in einem Obst gefüllt tropischen Garten eingebettet. Es wurde vor kurzem eingerichtet und verfügt über viele handgearbeitete Details von der ansässigen Keramikkünstler.
Wir befinden uns in einer ruhigen Wohngegend.
Place was beautiful and quiet, and my host was very friendly, location was only a few minutes from shops and beaches, my family and I had a wonderful time.
Duane
2016-12-23T00:00:00Z
We stayed in Bacolet House for eight days and really enjoyed our time there. Veronika was a great host and provided us with (more than) everything we needed. We recommend this place to everyone who enjoys private atmosphere in a peaceful place.
Ruth
2017-04-09T00:00:00Z
Veronika was amazing! Very friendly, approachable , easy going, communication was very easy. Finding her place and parking was easy. Place was very safe and clean. Easy to rent a car in Tobago and get around. I highly recommend her place due to location which was central to many beaches. Along with the fact that it was well equipped kitchen. The pool and the view was gorgeous. Thank you Veronika look forward to staying again with you!
Ivonne
2017-03-03T00:00:00Z
Hallo Zusammen :-) Meine Frau und Ich haben unsere Flitterwochen auf Trinidat -Tobago verbracht, hatten 4 super Wochen in Helens Haus. Ihre Mutter Veronika ist eine sehr nette und liebe Gastgeberin die uns sehr bei allem mögliche geholfen hat. Mann hat einen schönen blick aufs Meer. Der Pool am Haus ist zur jeder Zeit eine gute Gelegenheit sich abzukühlen . Die Wohnung ist mit allem was man braucht ausgestattet bis auf einen Fernseher den wir aber nicht so sehr vermisst haben. Wir hatten viele nette Stunden zusammen ob beim BBQ das wir gemeinsam machten oder einfach am Abend auf der großen Veranda die Veronika gerne mit uns geteilt hat. Wir durften sogar Freunde mitbringen die mit uns Gegrillt haben . Die Zwei Hunde von Veronika sind uns sehr ans Hertz gewachsen und Wir vermisse sehr wie sie am Großen Eingangstor auf uns warteten wenn wir von unseren Tagestouren zurück gekommen sind.. Wir haben uns die ganze Zeit willkommen und wie Zuhause gefühlt besser kann es nicht sein. Danke Veronika für die schöne Zeit und wenn wir dürfen kommen wir gerne wieder. Bei allem positiven muss Ich Fairerweise sagen das man ohne Auto sehr abhängig ist da es schon zum einkaufen von Lebensmitteln ein gutes Stück ist ! Aber zum Abschluss können wir nur sagen es war eine schöne Zeit auf Tobago . Danke :-) Lin & Mari(URL HIDDEN)
Mario
2017-02-20T00:00:00Z
Fantastic, quiet location with all amenities. Very private and self contained. Hosts were gracious and very helpful with good communication.
Sunita
2017-01-01T00:00:00Z
I went to Tobago one night and I stayed in Bacolet House Apartment. The place is beautiful and it has a very good location. Also everything works perfect (Hot/Cold water, kitchen appliances, internet, swimming pool, and AC). Moreover, the host is always friendly and open to help. I totally recommend this place!
Javier
2016-05-23T00:00:00Z
Tipe Kamar
Seluruh rumah/apartemen
---
Tipe Properti
Apartemen
---
Mengakomodasi
4
---
Kamar tidur
Scarborough, Western Tobago, Trinidad dan Tobago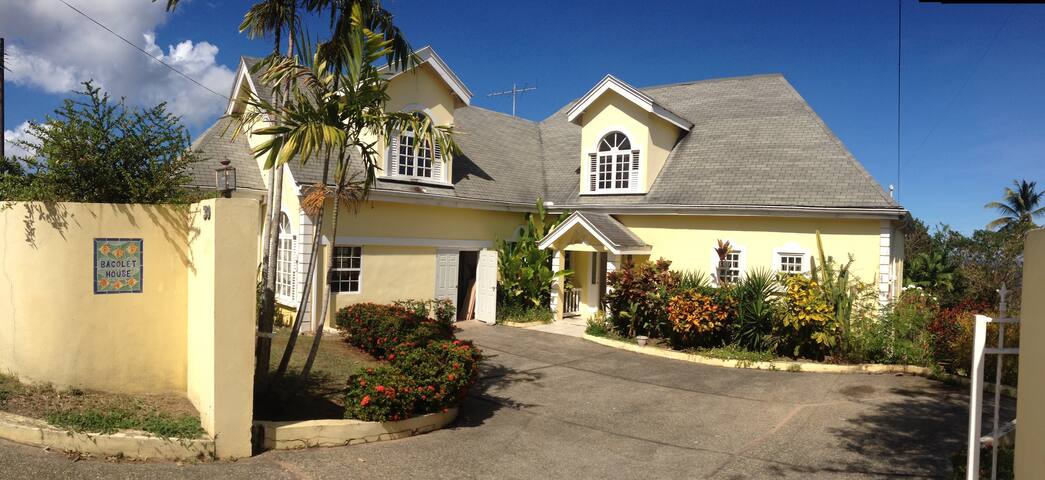 The decoration is based on "beach house" will love. This in front of the sea. Nearby is a mini market, a bar and is only 3 min Scarborough
Tipe Kamar
Seluruh rumah/apartemen
---
Tipe Properti
Apartemen
---
Mengakomodasi
4
---
Kamar tidur
Scarborough, Trinidad dan Tobago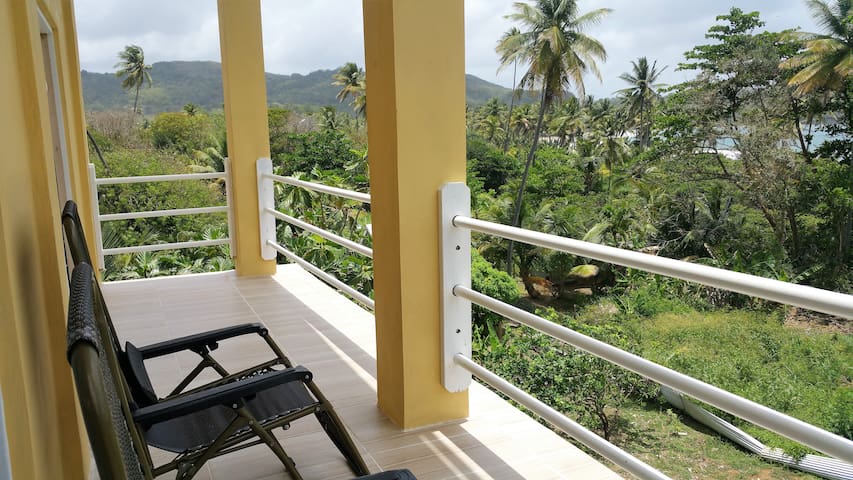 Moje miejsce jest dobre dla par, awanturników solowych, osób podróżujących służbowo, rodzin (z dziećmi) i dużych grup.
Dexter and Stacey were great hosts and very accommodating. Their place is a great neighborhood overlooking the ocean. I would recommend this place to anyone looking for a quiet getaway and some R&R. If you want to explore more of the island I strongly recommend renting car or asking Stacey to assist you hiring a driver. I enjoyed my stay and would stay here again next time I am in Tobago.
Greta
2016-12-31T00:00:00Z
Dexter and Stacey nothing but genuine love when i arrived! Dexter assistance of picking me me from the airport was a big help. Stacey was awesome answering an questions about island. They both helped in creating ideas for things to do and were easy access to talk. I have nothing but love and respect for both of them. I highly recommend anyone to stay with them if you're ever visiting Tobago!
Edward
2016-11-04T00:00:00Z
Tipe Kamar
Seluruh rumah/apartemen
---
Tipe Properti
Apartemen
---
Mengakomodasi
2
---
Kamar tidur
Scarborough, Western Tobago, Trinidad dan Tobago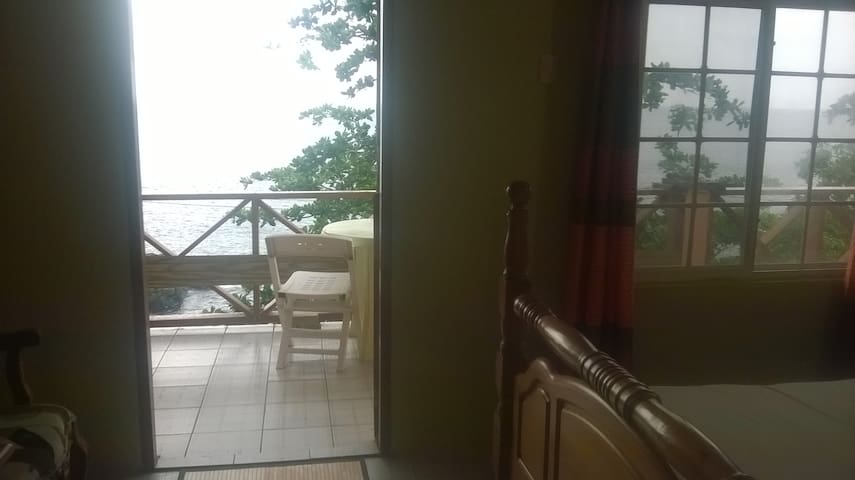 Attaché à un style de plantation Carivbbean 'pain d'épice' maison assis au sommet d'une colline, le studio est situé dans un jardin de forêt tropicale avec friuts tropicales en saison. Ceci est un bois 'board' maison typique des Caraïbes à l'intérieur avec tout le nécessaire pour cuisiner, plus la télévision par câble et accès WIFI .. Il ouvre sur une allée de la piscine, petit bassin et une terrasse avec vue sur Scarborough, la capitale de Tobago et à l'extérieur à la mer. Fun pour regarder les ferries de Trinidad vont et viennent! En zone rurale, à seulement 5 minutes en voiture de la ville et à 15 minutes à plusieurs des meilleures plages de Tobago. Idéalement situé pour explorer l'île. Entendre et voir des perroquets, mot words, colibris, bleu Jjans, tous de la plate-forme. La maison principale est gérée comme B & B, le propriétaire est un professeur de yoga et propose des séances et peut organiser des massages pour les clients, tous dans le joli studio sur place. Expérimenté, amical et hôtes knowledgable, Glnny (UK) et son mari Kelly, Tobagonien, pouvez-vous dire comment obtenir le meilleur de Tobago avec des conseils pour la section locale «chaulage» taches et journal d'événements comme le Carnaval en Février, Goat & Crab Courses à Pâques, Jazz Expérience en Avril, Heritage festival en Juillet, festival du Vent, et bien plus encore. Il y a toujours quelque chose à Tobago! .. Pour une petite île, il y a beaucoup à explorer et beaucoup à faire. avec VTT, plongée sous-marine, nage avec les chevaux, la danse (Tobago aime faire la fête!) cascade randonnées pique-nique plage / barbecue, tennis, deux terrains de golf ou tout simplement se détendre dans un hamac avec un punch !. Vous pouvez faire autant ou aussi peu que vous le souhaitez. Notez s'il vous plaît; la maison principale est disponible pour la location aussi, soit des chambres sur une base de B & B ou tout l'espace pour un minimum de deux semaines.
The Good: Excellent view of Scarborough town and the ocean. Studio is very clean and spacious. Nice deck and small soaking pool. Pretty flowers close to house and then natural tropical forest vegetation. Nice size room and kitchen with great counter space. The Bad: No telephone in room; host says main house telephone is available but we found it was more often not due to no one at home when we needed to use it. No clock in room – none! Bring something with an alarm so you don't stress about waking times. Kitchen is poorly stocked – 1 very small fry pan that would cook only 1 egg at a time and 1 larger pot with lid, all "sharp" knives so dull it was hard to cut through a tomato skin and the only serrated knife was broken at the handle – basically it looked like cast offs from the main house that were no longer wanted. No screens on windows so lots of mosquito bites since the netting provided over bed was not large enough to adequately cover without gaps. Some helpful notes to future guests: 1. grocery store down hill just before you turn off of Wilson onto Idylwild has as good a selection of staples as in town; however, do not buy fruit nor vegetables here. Cross Wilson and look downhill about one block for a good fruit/vege stand on sidewalk whose hours seem about same as store. 2. Some island tours say they cover transport costs however we found they would not cover taxi to Ginny's nor would they discount for us having to private pay. 3. We found the "guides" in the rain forest were not well informed and only provided a very canned tour. If you are really interested hire a guide prior to going who has education credentials. The forest is fascinating but we were disappointed with the time we spent there; we would have done just as well to do a hike on our own. Also, early morning and late evening provide wildlife sightings; midday is very disappointing. 3. Snorkeling via Island Girl sailing catamaran is excellent. We say gar, cuttle fish, barracuda, and lots of reef fish. If you have sailing experience, and hint strongly to the captain, he will allow you to take the helm for much of the return trip while under sail. The vessel is a bit of a cow with the wheel very loose but by the end of the first tack you will get the feel and then the cat is rather fun especially in a following sea. I was able to surf the cat a couple of times. 4. Buy a simple prepaid cell phone to use while on the island. 5. If you use a hire care ask Ginny for Brian's phone # - he was exceptional. Traffic on the island is scary both because they drive on the right (opposite from the US system) and also because the drivers are extremely aggressive!...
David
2013-02-20T00:00:00Z
We had a wonderful month long stay with Ginny and Kelly. They were both incredibly hospitable, helpful and caring. Ginny had plenty of advice on places to visit and eat, and activities about the island. She also offered yoga classes in her on-site studio - we recommend! The studio was a lovely space to come back to. It was very quiet and felt safe. The kitchen was adequately equipped for preparing simple meals. The addition of the deck area with pool made the place feel very spacious and homely. We would recommend a hire car for a stay on Tobago. It is worth noting, wifi is available, but just in the main house. We would definitely recommend staying with Ginny and Kelly when on Tobago!
Bronwyn
2016-01-30T00:00:00Z
Ginny was a great hostess, knowledgable, friendly. Place was well kept, awesome view, peaceful, great pool and deck. We really valued our conversation with her. It helped us to get to know Tobago.
Kristin
2015-02-19T00:00:00Z
Ginny and her studio were amazing! The studio was beautiful, spacious and quiet with a great view of the harbor. The tropical flowers and trees around the house attracted hummingbirds, mot mots, cocoricos, and many other birds. It was a private little piece of heaven tucked into the hills of Scarborough! Ginny was very responsive from start to finish. By far our best host on the island. She had a lot of great recommendations for tours and places to visit around the island. She also arranged to have a rental car delivered to the house! I would strongly recommend this space to anyone looking to stay in Tobago. I will definitely be coming back to stay with Ginny!!
Tabatha
2015-01-12T00:00:00Z
The host was great, no complaints there. Did not realize when I booked that I would not have easier 24/7 access to Wifi (probably my fault for taking this for granted), inconvenient for me for catching up on emails and looking up info especially at night after settling down. Also location was far for me from main streets, too far from beaches for my taste, and away from everything. Not accustomed to parking on really steep hills so I did not want to venture out after returning in the late afternoon...too much work!!! I made the most of the stay, the host gave me really good information about local spots and driving around island which I appreciated very much! But vacation is vacation so next time I will choose to be closer to the beaches: Bacolet Beach I will return to or perhaps Buccoo or near Pigeon Point.
Jemma and Larry
2015-06-13T00:00:00Z
Ginny was a great host and helped us out with recommendations, reservations, and anything else we needed. The studio is extremely spacious and perfect for a couple. We really enjoyed our stay. Only thing we would recommend is to make sure you have a 4 wheel drive vehicle if you're not from Trinidad/Tobago, as the house is on a steep hill so would have been hard if we didn't have an SUV. Thank you Ginny for a wonderful stay and being such a sweet host!
Downtown Luxury Suites
2015-04-23T00:00:00Z
We highly recommend staying at Ginny's place. It is an absolutely beautiful and relaxing home situated in a quiet residential neighborhood, with stunning views over the valley and into the Atlantic Ocean. The amenities include excellent internet connection, ample kitchen supplies, a spacious room, a relaxing deck with a pool, and much more. Ginny is a gracious host, always available to answer any questions you may have, give you local knowledge and tips, and willing to accommodate you upon arrival (We arrived at 2:30 a.m. and she greeted us with the key with a smile on her face). We look forward to our return.
Robert
2017-01-16T00:00:00Z
The host canceled this reservation 25 days before arrival. This is an automated posting.
Adriano
2017-02-05T00:00:00Z
Tipe Kamar
Kamar pribadi
---
Tipe Properti
Apartemen
---
Mengakomodasi
2
---
Kamar tidur
Scarborough, Tobago, Trinidad dan Tobago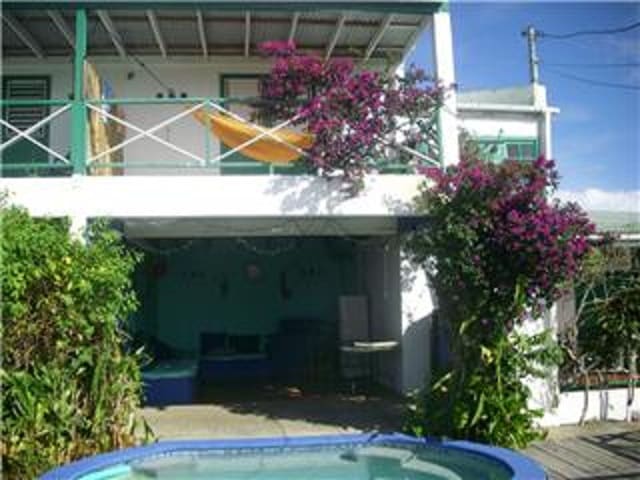 Questo splendidamente decorate appartamento con 1 camera da letto offre una vista mozzafiato sull'oceano su una spiaggia di sabbia situata su una ex piantagione di cocco. Sarete in grado di accedere alla spiaggia dalla nostra proprietà a 2 minuti a piedi. L'appartamento si trova al piano superiore in un'ala separata della villa principale. Esso offre privacy assoluta ed è ideale per coppie in cerca di un rifugio tranquillo. Wifi veloce ed affidabile
Location, location, location ... e che va con la vista mozzafiato! Siamo sulla spiaggia con vista sulla baia. È possibile ascoltare le onde. Inoltre abbiamo un sacco di piante tropicali nel nostro giardino, il che significa splendidi uccelli intorno alla casa. Guardate voi stessi! Le doppie porte di vetro si connettono l'ampia zona cucina-soggiorno ad un avvolgente balcone / terrazzo, dal quale si ha la propria splendida vista sull'oceano. L'appartamento è completamente attrezzata con tutti i principali elettrodomestici da cucina e utensili (frigorifero, fornello elettrico, forno a microonde, tostapane, frullatore, macchina da caffè, piatti, posate, ecc). La camera da letto è dotata di un letto queen-size e l'appartamento ha il proprio bagno privato.
Bacolet è una tranquilla zona residenziale, che si trova al di fuori della capitale dell'isola. La nostra struttura è di fronte alla spiaggia e solo 2 minuti a piedi dalla spiaggia su un sentiero che conduce attraverso una vecchia piantagione di cocco.
Tipe Kamar
Seluruh rumah/apartemen
---
Tipe Properti
Apartemen
---
Mengakomodasi
2
---
Kamar tidur
Scarborough, Western Tobago, Trinidad dan Tobago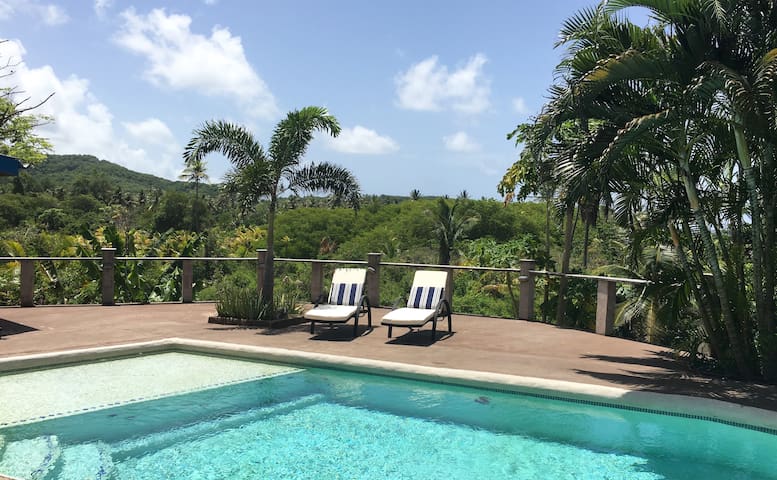 Tipe Kamar
Seluruh rumah/apartemen
---
Tipe Properti
Apartemen
---
Mengakomodasi
2
---
Kamar tidur
Scarborough, Western Tobago, Trinidad dan Tobago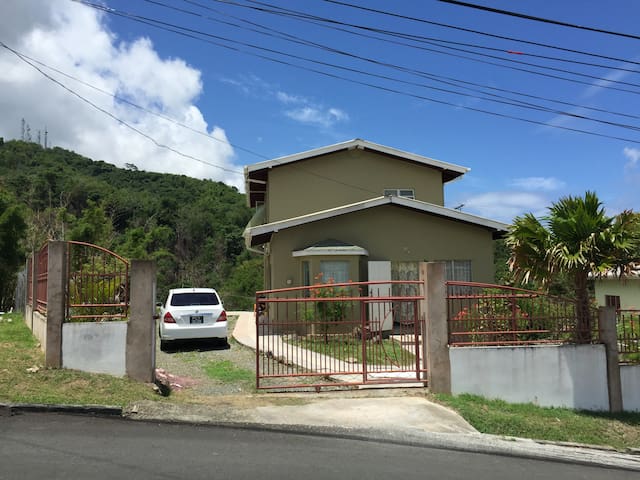 Tipe Kamar
Seluruh rumah/apartemen
---
Tipe Properti
Apartemen
---
Mengakomodasi
2
---
Kamar tidur
Scarborough, Western Tobago, Trinidad dan Tobago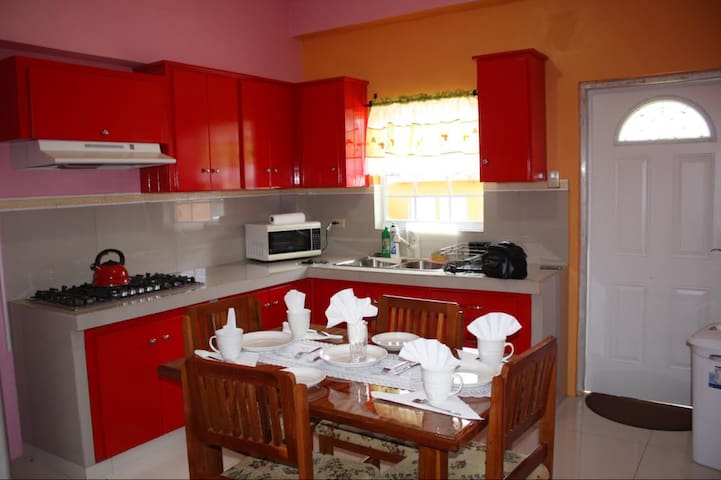 We had a fantastic stay at Dexter and Stacey's place. The apartment was clean, the view fantastic with the sea just below the balcony. They are both very nice and helpful. We will stay there again!
Julien
2017-02-19T00:00:00Z
Extremely scenic location with a fantastic view. The sounds of the waves crashing against the rocks below is soothing. You would regret booking this tropical paradise.
Wesley
2016-12-30T00:00:00Z
Tipe Kamar
Seluruh rumah/apartemen
---
Tipe Properti
Apartemen
---
Mengakomodasi
4
---
Kamar tidur
Scarborough, Western Tobago, Trinidad dan Tobago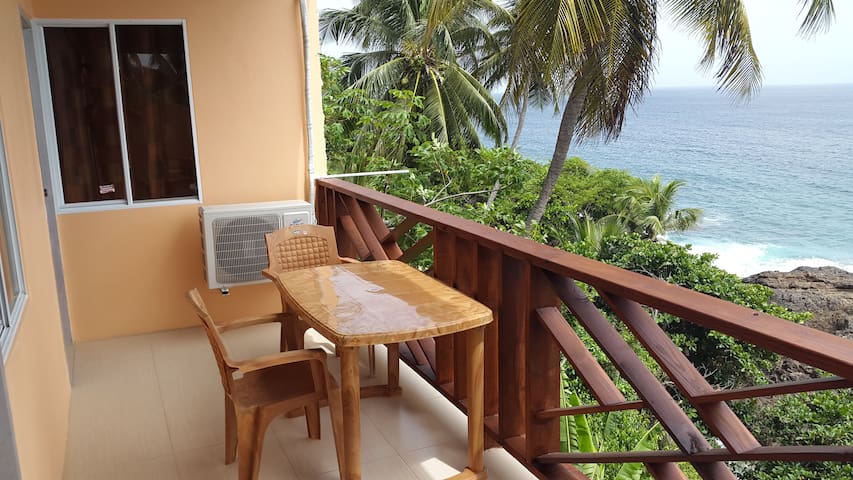 Éclectique, pittoresque, coloré, chaleureux, grand studio avec une vue imprenable! Asseyez-vous sur votre terrasse privée donnant sur le sanctuaire d'oiseaux Grafton, et la mer des Caraïbes incroyable au-delà. Situé dans les collines verdoyantes sur le village de BlackRock, sur la côte ouest de Tobago. Ce studio au charme rustique est situé en bas de la villa principale occupée par le propriétaire, et est très calme, très calme. A 7 minutes en voiture de la plage la plus proche, avec un choix de 5 belles étendues de sable doré (pensez natation, la plongée, le surf) dans les 15 minutes en voiture de base de votre maison paisible. Situé dans un magnifique jardin tropical avec les colibris et les papillons, et les chiens (oui, les chiens ...). Vingt-cinq minutes de l'aéroport Crown Point International. Entièrement équipée: lit queen, draps et serviettes, salle de bains privée, TV et Internet sans fil, kitchenette avec réfrigérateur, cuisinière, micro-ondes, grille-pain, etc etc Ménage inclus une fois par semaine pour les séjours de 14 nuits ou plus, sinon peuvent être organisées à un petit supplément. vélo Trail et kayak disponibles à la location si vous vous sentez aventureux! Simple, mais tout simplement charmant.
Tipe Kamar
Kamar pribadi
---
Tipe Properti
Apartemen
---
Mengakomodasi
2
---
Kamar tidur
Scarborough, Western Tobago, Trinidad dan Tobago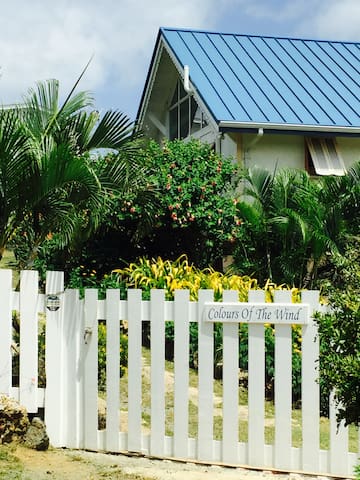 Tipe Kamar
Seluruh rumah/apartemen
---
Tipe Properti
Apartemen
---
Mengakomodasi
8
---
Kamar tidur
Scarborough, Western Tobago, Trinidad dan Tobago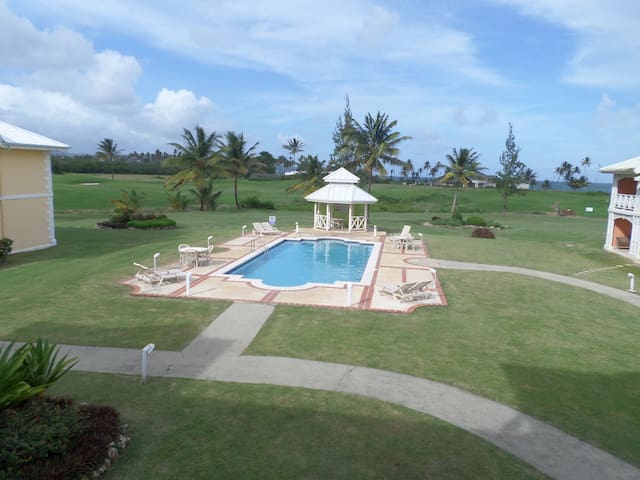 Located on the beautiful Island of Tobago in Black Rock. This air conditioned apartment offer a lovely garden, free wi fi and private parking is available on site. Suelynda's Place also includes a terrace. 5 mins. walk from the beach. The nearest airport is Tobago airport, 9km from the property.
Studio apartment. Air condition. Patio with furniture Full bed / Sofa bed (extra linen and pillow provided) TV 32 " flat screen Cable free Wi Fi Full bathroom (hot/cold shower, sink - toilet tissue) Closet with hangers Towels Kitchenette (Fridge, -microwave, toaster - dinner ware & cutlery cooking utensils) Weekly apartment cleaning. It is good for couples, business travellers, single traveller, and families (with kids under 12 stay free) Private entrance Outdoor shower and foot wash for rinsing off sand.
we have beautiful beaches in this neighbourhood.we are also surrounded by friendly neighbors.
Fantastic location right by our favourite beach (Storehaven bay) with beautiful sunsets and amazing waters for swimming. Lovely place, welcoming family. Nice little terrace. Cosy and clean flat with A/C, TV, sofa area, basic kitchen, bathroom and comfy beds. Friendly, safe nabourhood of Black Rock. Would recommend Suelyndas Place to anyone. Little shops fulfilling basic needs nearby. Right by community centre where you can buy cheap bus tickets to Scarborough. 15 mins walk away from Pleasant Prospect with lots of affordable eating opportunities, incl a fruit stand, breakfast shacks and lovely local dinners (Joanna's was great for a take-away dinner on our terrace). Thanks again!
Marie-Louise
2017-02-17T00:00:00Z
Tipe Kamar
Kamar pribadi
---
Tipe Properti
Apartemen
---
Mengakomodasi
2
---
Kamar tidur
Black Rock, Western Tobago, Trinidad dan Tobago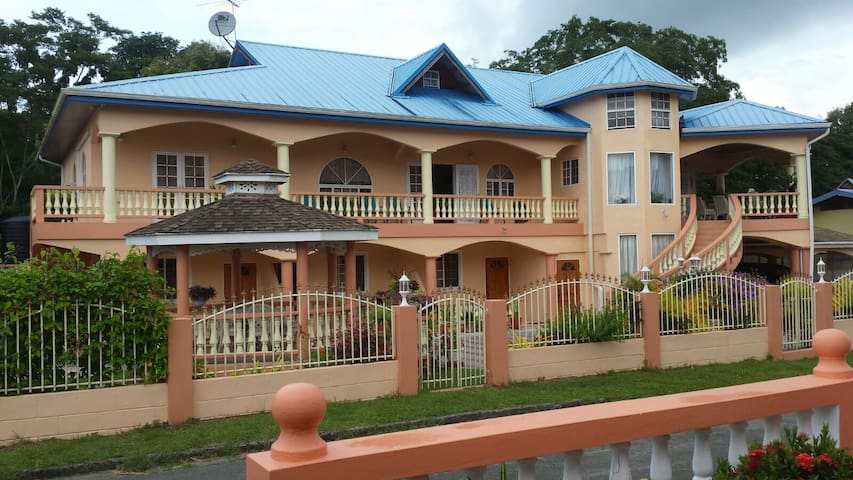 This is Cabana 3 at Top O' Tobago. It is one of 3 cabanas located on the side of a hill overlooking Tobago's SW coast. At the crest of the hill is a main villa, and a swimming pool which is accessible to all the residents. The buildings are set among 6 acres of tropical gardens with numerous walking paths. One of the best snorkeling beaches on the island is a 5 minute walk away. The cabana can accommodate 2 adults and 2 children. Our manager, Silja lives onsite and is available to help you.
The quality of Top O' Tobago's surroundings.... the views, the gardens, and the birds have all been noted by our guests. It has resulted in our receipt of a Trip Advisor Certificate of Excellence for the last 4 years Each cabana is a studio apartment with an attached dining gazebo in an outdoor garden. There is a king sized bed which can be divided into 2 singles, and 2 sofa beds which are convertible to single beds in a sitting area. There is also a fully equipped kitchenette and bathroom.
From Top O' Tobago, you can walk to Arnos Vale Bay, one of the best snorkeling beaches on the island in 7 minutes. In a few minutes, you can also walk to the start of the Mot Mot Trail, a 10 km unpaved road that goes close to the western coastline. Top O' Tobago is also within a 10 to 20 minute drive of the numerous beaches, restaurants, shopping facilities and other tourist amenities of Southern Tobago.You can also walk to the town of Plymouth in 15 minutes. Here you can get basic groceries and there are a few local restaurants.
Silja was very helpful from the moment we had confirmed our stay at Top o Tobago. She offered to pick us up from the airport and assisted with many things throughout our stay and made us feel very welcome. Top o Tobago was just as nice as it was in the pictures with very beautiful surroundings in a peaceful area at the top of a hill (five minute drive from the town of Plymouth). We stayed in a Cabana for a week and there were two other couples staying in other Cabanas that week. We rented a car to see the island as the location is quite remote and you can't really walk anywhere in the evening from Top o Tobago. Silja gave us access to everything we needed including a huge selection of DVDs for us to watch at nights if we wanted, access to the BBQ, spare towels and gave us lots of advice on where to go. The only slight drawbacks are the lighting on the road up to Top o Tobago. It is quite remote and more lights would definitely help when driving up there late at night and help make us feel a bit more secure. Also, we found the beach near the villa - Arnos Vale - a little creepy. Of course, this isn't a fault of Top o Tobago or Silja in any way but we felt quite uneasy walking down to the reef there which feels very excluded. There was a man loitering around there and later heard reports of several thefts at that beach which no longer has the hotel open beside it. We decided to trust out instinct and not go to the beach again. There wasn't any need with the lovely swimming pool at Top o Tobabo and more visitor-friendly beaches within 10-15 minute drive from the villa. We did hear, however, that snorkelling at Arnos Vale beach is supposed to be the best on the island but we didn't want to risk leaving our bags on the beach unattended. Oh, and we miss lovely Bella - the beautiful dog that belongs to Silja's daughter! Thanks again to Silja for a wonderful stay at Top o Tobago(URL HIDDEN)
Rachel
2014-10-27T00:00:00Z
Cabana and top of tobago was gorgeous. So romantic and serene. Felt like we were on top of the world. Amazing views, pool was so luxurious & owners were so friendly! Absolutely would stay again if we visit tobago in the future!! Loved it.
Aileen
2014-12-28T00:00:00Z
It was fine, it was a bit pricey for what you got. The pictures seem to show a bigger room. And the pool was being shared by other guests and the host family. I never actually got to enjoy the pool, because the host family always seem to be around the pool :(. For the price I figure there would be AC, it wasn't provided. I got bitten too many times by mosquitos, no nets. She was nice to bring pick us up from the airport. Which was very nice of her, especially at the time we arrived. I would probably not recommend the place, truthfully. I could get a room at a hotel--the Magdalena for example for about the same price, with a lot more amenities. It was my fault, I didn't have a lot of time to search, even outside of airbnb.
Arielle
2015-10-19T00:00:00Z
Silja the onsite manager and the staff were as welcoming and personable as we expected, you see we had stayed there before. We found that air conditioning was installed in the rooms and this was welcome as the island was quite humid during this stay. Moreover, despite the national concern over mosquitoes, we experienced none, despite being nestled within a 2 acre fruit orchard. The wired screens that are skillfully and seamlessly built into windows and doors easily kept out unwanted six legged pests. We enjoyed and loved the peace, tranquility and relaxation afforded to guests by the beautiful hilltop location overlooking the Caribbean Sea.
Edward L
2016-09-07T00:00:00Z
Silja is a wonderful and helpful host. Top of Tobago is s true paradise.
Tara
2015-04-10T00:00:00Z
A beautiful stay in a beautiful location. The property owners were warm, welcoming, and unfailingly helpful. You can't beat the views from the poolside patio. And the snorkeling at the beach just a short walk from the villa was out of this world. I wish we were able to stay longer. If you've got a rental car, the drive to Pigeon Point/Store Bay isn't far, but I could just as easily imagine skipping the rental car and staying the whole time at the villa, bringing groceries, snorkeling during each morning, reading by the pool in the afternoon, and drinking wine on the patio in the evenings.
Martine
2015-01-03T00:00:00Z
The ultimate retreat! Silja greeted me with a warm welcome and gladly answered any questions that I had. The cabana was fully equipped with everything I may have needed, and it truly was a peaceful and relaxing retreat! Would definitely recommend!
Deven
2015-04-21T00:00:00Z
I booked this place at the very last minute, and I'm very glad I did. The place is extremely beautiful and very relaxing. It all started when the lovely Silja met me at the airport. I had no idea the airport pick up was part of the deal, and I'm glad it was. When I arrived, the place is on top of a hill, surrounded by flowers and trees. It's truly a breathtaking view! The beach is a 5 minute walk from the place - but be aware the hill getting down to the main road is pretty steep. Plus, you have to be mindful of the small path that leads to the beach. And be careful because it can be muddy after a rain storm. The villa itself was clean. There was a kitchen with a very cold freezer that kept ice and adult beverage cool. There are pots, pans, plates, and silverware, so you can cook if you choose. Plus Silja was kind enough to drive us to the market to get groceries and food. Oddly enough, it is very cool at night with the breeze. There are many fans throughout the place, so it was never uncomfortably hot at night. The place also has snorkeling equipment, DVDs, books, and bikes. So there is plenty to keep you busy if you ever get bored. Silja was the best hostess, and the place was exactly what I needed to relax!
Bryan
2014-10-03T00:00:00Z
Tipe Kamar
Seluruh rumah/apartemen
---
Tipe Properti
Apartemen
---
Mengakomodasi
4
---
Kamar tidur
Black Rock, Tobago, Trinidad dan Tobago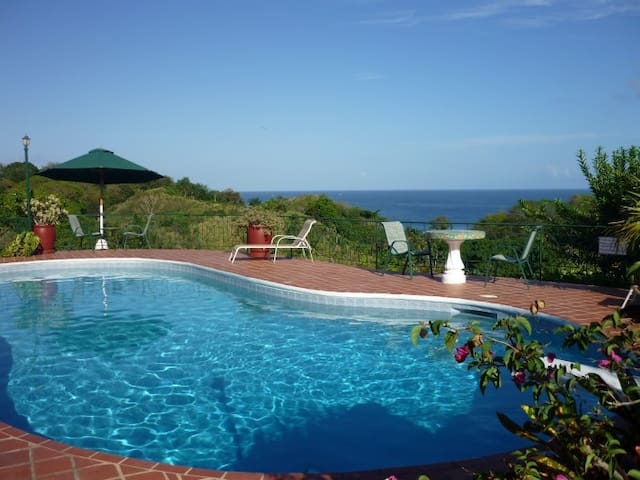 Tobago bedeutet Karibik und Erholung pur! Hier finden Sie was das alltagsgestresste Herzbegehrt, nur keine Bettenburgen, Touristenschwärme und organisierte Massenbelustigung. Auf Grund unserer Lage bekommen Sie schnell Kontakt zur freundlichen Bevölkerung und verbringen Ihren Urlaub nicht als isolierter Tourist. TOBAGO erfüllt ihre karibischen Träume !
Wir haben kurzfristig bei Sonja gebucht, sie hat uns herzlich und unkompliziert empfangen und in einem ihrer hübschen Bungalows untergebracht. Die Unterkunft war sehr gemütlich, sauber, gute Betten, Moskitonetz, in einem schönen Garten und ruhig gelegen. Zum Strand sind es nur ein paar wenige Gehminuten. Wir waren nur 4 Nächte könnten uns gut mal einen längeren Aufenthalt gut vorstellen. Bei Sonja kann man einen schönen Urlaub verbringen. Wenn man noch ein Mietauto hat ist alles perfekt.
Donat
2017-03-23T00:00:00Z
Wonderful host and accommodations in a very peaceful and beautiful place. Loved it!
Rachel
2017-02-08T00:00:00Z
Gute Lage in ruhigem Wohnviertel, kurzer Fußweg zu Stränden und Fort Bennet (schön für Sonnenuntergang), sehr schön gestalteter Garten. Die beiden sechseckigen Apartmenthäuser liegen rückwärtig im Garten, man geht zum Holztor des Grundstücks am Haus der Gastgeberin vorbei. Gutes WLAN.
Helmut
2017-03-19T00:00:00Z
Sonja was fantastic! She drove to meet me right off the ferry, and provided continuous contact as I missed the ferry I was supposed to take! The bungalow was a two minute walk to an absolutely beautiful beach. It was near a restaurant, a store and had really everything you need for a relaxing vacation. HIGHLY recommended.
Leanne
2017-03-06T00:00:00Z
Sonja was an amazing host! The place is very close to a beautiful beach and central to everything. I would highly recommend staying here!
John
2017-03-15T00:00:00Z
While not listed as a 5-star accommodation, it was 5-star to me and very comfortable. The garden is beautiful and peaceful and a short walk to the beach. Sonya is a wonderful and friendly host. I would definitely book with her again.
Robert
2017-02-25T00:00:00Z
Tipe Kamar
Seluruh rumah/apartemen
---
Tipe Properti
Apartemen
---
Mengakomodasi
3
---
Kamar tidur
Black Rock, Western Tobago, Trinidad dan Tobago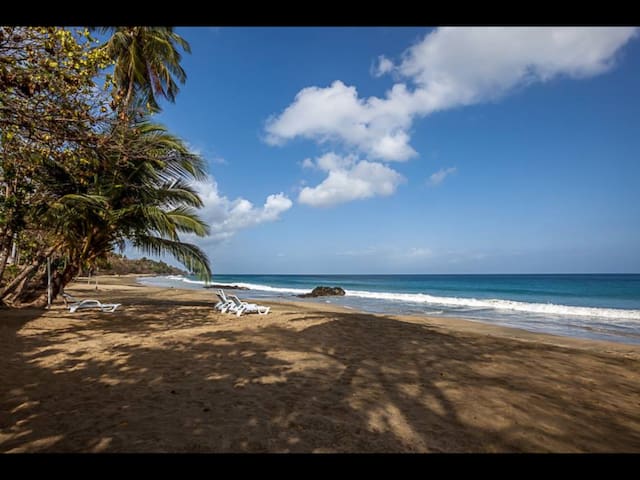 Mein Platz ist in der Nähe der Grafton Beach und Mt. Irvine Strand und Surf Break (weniger als 10 Minuten zu Fuß). Das Dorfzentrum ist nur über die Straße mit Geschäften, Bars, Restaurants, Imbissständen und ATM. . Sie werden meinen Platz wegen der fantastischen Meerblick, Privatsphäre, geräumige Wohnung über unsere Familie zu Hause lieben. Mein Platz ist gut für Paare, Familien (mit Kindern) und große Gruppen.
We had a great stay with Dexter and Stacey they are so accommodating and brilliant hosts. The apartment was in a great location, close to the beach, airport, shops and restaurants. If we went back to Tobago we definitely know were we would stay! As we (including our 2.5 year old son) made some great friends; Stacey gave great local advice and Dexter's coconut bake were to die for!
Emilia
2017-01-27T00:00:00Z
Stacey and Dexter are absolutely lovely. They are as relaxed and pleasant as you would expect. The place was nicer than we expected and the view is underrated! It was fantastic! They were very very kind and accommodating. Would definitely stay here again. They allowed us to use the room to store luggage and have showers long after checkout time with no fuss whatsoever. Our only difficulty was that we could not reach Stacey when we arrived and I think foreigners would need some more detailed directions as to the location of the apartment. However, Dexter works nearby and they live downstairs so things were quickly sorted out. Really enjoyed our stay. Thank you Dexter and Stacey!
Anushka
2016-08-22T00:00:00Z
Tipe Kamar
Seluruh rumah/apartemen
---
Tipe Properti
Apartemen
---
Mengakomodasi
4
---
Kamar tidur
Scarborough, Western Tobago, Trinidad dan Tobago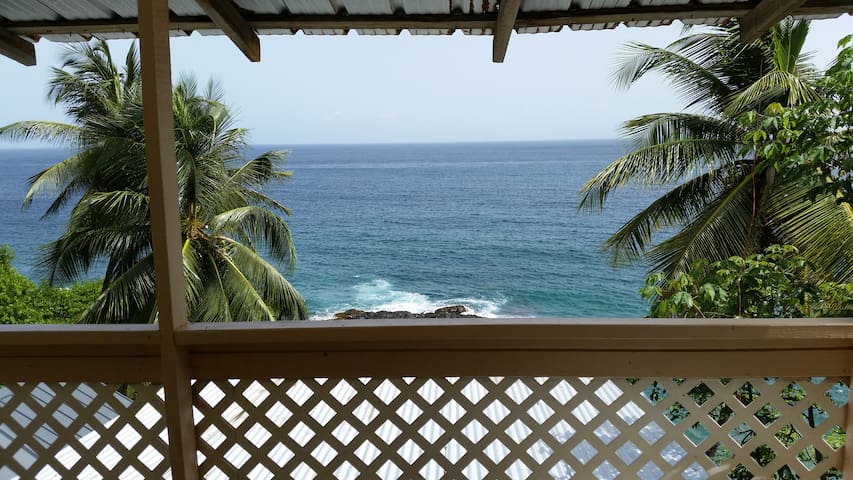 At Robbie's Place, there are two prestigious apartments in our home, each privately and luxuriously decorated to ensure your comfort – an executive one bedroom that sleeps three (3) persons maximum and a deluxe two bedroom that sleeps four (4)persons
Tipe Kamar
Seluruh rumah/apartemen
---
Tipe Properti
Apartemen
---
Mengakomodasi
2
---
Kamar tidur
Black Rock, Western Tobago, Trinidad dan Tobago
Birdie's Nest Apt#3 is one of my favourite apartment from Birdie's Nest. It's situated around a lush green garden where you hear the birds chirps with cool calm sea breeze on the back drop as the house is located directly on the beach of Courland.
The apartment is very spacious. The bed room contains two bed. A large cabinet, with lots of space to walk between the two beds and around the room, it also have reading lamp stand with books and also lamps. The kitchen as well have lots of room flowing over into the living room and dinning area. a large bath room plus a out door veranda which can be used to dine.
Birdie's Nest holiday apartments are a gem, tucked away beside the beach on the Caribbean coast of Tobago, at Great Courland Bay. Located at the end of a country lane, our apartment house is quiet and secluded, but not remote. Far away enough away from the village to hear just the sound of the birds and the ocean, yet near enough to enjoy the village steelband, a Carib beer at the local "rum shop", or church on Sunday! This is the real West Indies. The real Tobago. This is Birdie's Nest.
Me and my friends stayed at birdies nest for five nights and we are very happy with our stay and the apartment. Prince did everything to make us have a nice time in black rock and gave us a lot of tips! The apartment was nice and clean, and the pool was really nice! The only problem we had was that after 3 days we got a lot of flies in the apartment. We dont know why, we kept all the food in the fridge, didnt leave anything out and took out the trash regularly. We did have the AC on as well. But other than that we are really happy! Thank you Prince!
Maja
2017-01-07T00:00:00Z
By far the best Airbnb experience I have had over the course of years and in multiple countries! Prince is the best host! He was so helpful and gave me great travel advice (saved me hours by recommending flying over taking the ferry from Trinidad) when I was planning my trip and was even better in person. He is NOT a random person who has a spare room and decides to throw it on Airbnb. Prince is a professional and his business is hospitality and tourism. And he excels at it. The apartment was large, very clean, had a fully stocked kitchen, outdoor grill available, private porch, and amazing infinity pool all overlooking the beach. The property is beautifully landscaped and well maintained. From the backyard you can't even see the neighbors' houses. It's like you're in your own paradise. We rented a car from him for the day and he gave us a GPS and cell phone to use (a necessity if you don't know where you're going as there aren't many street signs). He spent time going over a map and giving us personalized recommendations for what to see on the island with clear directions. He arranged transportation from the airport and then drove us back himself. The apartment is walking distances from multiple beaches, restaurants, and tiny markets. I only wish we had more time there. I will definitely be heading back to Birdie's Nest! Prince goes above and beyond for his guests and I couldn't have asked for anything better.
Eileen
2016-10-01T00:00:00Z
Tipe Kamar
Seluruh rumah/apartemen
---
Tipe Properti
Apartemen
---
Mengakomodasi
3
---
Kamar tidur
Black Rock, Western Tobago, Trinidad dan Tobago
1

–

18

dari

81 Sewa Apartemen
Masukkan tanggal untuk melihat harga lengkap. Biaya tambahan berlaku. Mungkin dikenakan pajak.