Masukkan tanggal check in Anda dalam format hh-bb-tttt
Masukkan tanggal check out Anda dalam format hh-bb-tttt
Tempat yang bisa Anda pesan tanpa perlu menanti persetujuan dari tuan rumah.
Masukkan tanggal untuk melihat harga lengkap. Biaya tambahan berlaku. Mungkin dikenakan pajak.
Juli dan Agustus ini, Anda dapat mencoba menginap di salah satu dari 100 rumah berperingkat tertinggi, pada semua rentang harga, dan nikmatilah sudut pandang warga lokal di Sonoma. Fitur check-in 24 jam, Pemesanan Instan, serta anggur dan camilan lokal membuat Anda dapat bersantai dan menikmati perjalanan.
Traditional wooden shepherd hut in beautiful location with wood burner, cosy blankets and double bed.
Beautiful hand built shepherd hut with traditional iron rolling carriage. Cosy interior with wood burner and cosy blankets. Double bed with feather duvet and pillows. The hut is fully insulated to keep you cosy with the wood burner lit. Electricity in the hut with tea and coffee making facilities. There is a fire pit for the use of guests but you may wish to bring charcoal if you want to barbecue. Oh and don't forget the marshmallows for toasting. Skewers provided!! Guests have access to shared shower and toilet in main house at all times. Off road parking. I am usually around or easily contactable.
Our hut has been featured in The Sunday Times and on to. We are very close to M50. Surrounded by beautiful woodland famous for the Dymock wild daffodils. The Three Choirs Vineyard with it's award winning wines and restaurant is a mile away. Market town Ledbury has lovely independent shops a black and white market house and beautiful cobbled streets, Ross on Wye with great restaurants and the Malvern Hills are all within 15miles. Eastnor Castle is close by and a short distance away is Hampton Court with it's beautiful gardens, river walks and Orangery restaurant. . Tawney's has a Perry pear orchard with a very rare variety of pear and is of specific interest. Within easy distance of Gloucester Historic Docks, Forest of Dean and the River Wye. There are also great cycle routes signposted and there are stretches of newly opened canals restored by Gloucester Canal Trust in close by villages. We are within 5 minutes of junction 3 of M50. Public transport is very limited although taxi collection from the train or coach at Ledbury or Newent/Gloucester can be arranged with plenty of notice if required. Coffee and tea (provided) making facilities in the hut. Towels and bedding provided. Wood is provided for the burner and fire pit but if you want to barbecue for your supper we advise bringing a bag of charcoal.
This is a lovely little place, really cosy, clean and well organised. We did not spend long as we were visiting my daughter at college and had to leave early in the morning but the time we spent there was comfortable and a lovely breakfast was provided together with tea, coffee and marshmallows in the hut. The wood burner was ready to light which was nice when we came in late and were cold and there was a good supply of wood.
Maggie
October 2016
We had a lovely stay at Jules' shepherds hut for one night and enjoyed it immensely. Jules made us feel very welcome and comfortable, the hut was furnished with great taste and attention. Would definitely recommend!
Aine
September 2016
Wonderful location & a great, secluded and unique experience! Comfortable, clean with a superb attention to the little details, Jules was very friendly & welcoming & full of advice on where to eat & visit locally - which was much appreciated. We didn't use the firepit (as a local Gurkha run pub does great Indian takeaways), but if you bring food, I should imagine Barbies & an evening by the fire would be simply sublime.
Steve
August 2016
We loved this place! It was a great value and we had an amazing time. Perfect weather, fire pit roaring and extremely comfy bed! Lola the dog was so friendly. Joules attention to detail and decor was perfect. Thanks
Cindy
July 2016
We had a lovely one night stay in the Shpeherds hut. Very cosy indeed and we loved being able to sit out and use the fire pit in the evening. Breakfast was also great, lovely warm croissants! Very friendly and welcoming hosts. Would also very much recommend the nearby Kilcot Inn for food. Thanks very much Jules!
David
August 2016
Beautiful stay at Jules shepherd's hut! Warmly welcomed and the shepherds hut was light, airy and beautiful. We really enjoyed using the BBQ and fire pit to toast marshmallows. The accommodation is clean, tidy and well presents with sweet added touches. The shepherds hut is a sweet and romantic get away. The tea and coffee making facilities were great and cater for all people. Not just your standard tea and coffee but hot chocolate, Redbush and earl grey tea too! Not to forget the mini marshmallows to put on top of the hot chocolates! The breakfast was lovely! A basket filled with warm pastries, homemade jam and a selection of cereals in jars with fresh milk delivered to our door by Jules! Jules made us feel at home and at ease and was a brilliant host! I would defiantly return in the future and would defiantly recommend! Thank you very much!
Sophie
August 2016
The Shepherds hut is absolutely beautiful. It is well equipped with cooking utensils, plates etc and we spent a wonderful evening cooking on the fire pit in beautiful surroundings. Jules was a great host before & during our stay. Highly recommended
Kate
May 2016
Gorgeous little hut, decorated so beautifully. We had everything we needed. The bed was so comfy. We were toasty warm all night due to the woodburner. Breakfast was a lovely surprise. Jules is a great host and made us feel very welcome.
Natalie
October 2016
Tipe kamar
Kamar pribadi
---
Tipe properti
---
Mengakomodasi
2
---
Kamar tidur
1
Newent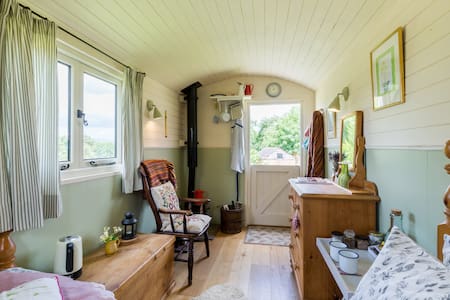 The Coach House is a self contained, well equipped place to relax and explore extensive local amenities and activities in Forest Of Dean, Malvern Hills, Cotswolds and SE Wales. This is the place to unwind and enjoy the peace and tranquility of a beautiful garden. Ideal for children with so much to do close by. The Coach House is fully self contained with all the amenities you require including a dishwasher. The Coach House is let on a self catering basis, you need to bring food and drink.
Set in beautiful rural location, easy access to Forest of Dean with many amusements. Plenty of car parking space The Coach House is fully equipped with everything needed for domestic needs
Full range of shops in Newent (1 1/2 miles) or Ross on Wye (7 miles)
Tim and his wife are really nice and helpful,my daughters and I had a really nice stay with them.
Ashley
July 2016
Rural, peaceful and gorgeous Coach House - perfect for our 4 day break. Beautiful gardens & very active wildlife to be seen & heard. Excellently equipped and presented throughout. Had everything we needed and more. Tim was extremely helpful and informative about the area.
Marina
June 2016
An absolute hidden gem, the Coach House is set in a peaceful rural location, in a private garden neighbouring Tim's property. Good size bedroom and lovely bathroom, with excellent quality suite. The open plan lounge, kitchen, diner had everything we needed (the kitchen being really well equipped) and the whole house being on one level was a bonus as our climbing toddler had no stairs to fall down. Our only regret was due to some traffic issues on the M5 we only had a short time the following day to really appreciate the incredible garden. The little touches really made a big difference from the delicious cakes on arrival to the extra baby plates, bowls and spoons Tim thoughtfully left out for us. Would highly recommend to anyone wanting a bit of peace and quiet. Thanks Tim and Jane, for a lovely weekend.
Andrew
July 2016
Tim and his wife were lovely to meet. The house itself was great with everything you might need during your stay. The location is beautiful and very quiet. The off road parking had space for 3 cars and gardens were great for the dog. Plenty of good pubs and restaurants a short drive away. I would stay here again on my next trip to Hereford. Thank you for a nice relaxing weekend.
Andrew
July 2016
Made us feel so welcome. Gorgeous place, quiet, peaceful but close to transport links. Accommodation had everything we needed, would definitely stay again
Pete
March 2016
Thank you so much, you made us feel so welcome! We had a wonderful weekend. The Coach House was immaculate with everything you need plus lovely little touches like home made biscuits on arrival. It is a great location to visit the area and with a table and chairs and lovely garden you could relax in the sunshine too. We definitely hope to be back soon and really recommend a stay in the Coach House- thank you!
Chris
May 2016
The Coach House was fantastic. Very well equipped with everything we needed, beautifully quiet - a great setting for our short holiday away near the Forest of Dean.
Ffion
March 2016
The Coach house has a lovely modern interior, it is in the country, peaceful and quiet. Off the road with its own drive and gates. Would be very happy to come back next time I am working in the area. Tim was the perfect host - Thank you.
Des
May 2016
Tipe kamar
Seluruh rumah/apartemen
---
Tipe properti
---
Mengakomodasi
4
---
Kamar tidur
1
Newent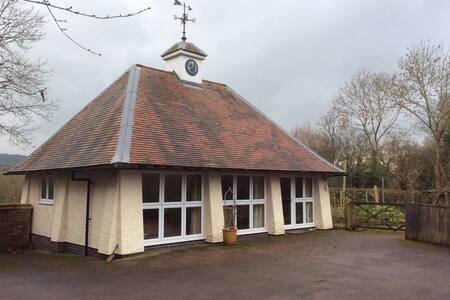 A lovely double room in a gorgeous, quiet rural village. If you are looking for a peaceful break, then this is the place to be. We have wifi, (although it is slow), front and back gardens with stunning views, and a local woods to explore just up the lane.
The room is a lovely double room with far reaching views over the countryside. You will have a standard double bed, bedside table and desk as well as the use of a wardrobe with some draw space also. The room has a good large radiator in it for cold winter nights as well as housing the airing cupboard, so its extra warm. The bed will be made up with a double fitted sheet, double duvet and pillows and an extra blanket if needed. I will provide one bath towel and one medium sized towel for each guest. There is a towel rail in your room to hang your towels on after use to dry. There is a lamp on your bedside table and another on the shelf opposite the bed as well as the over head main light. Your room is right next door to the bathroom and it has a shower over the bath, sink and toilet in this room. Please feel free to use the hand soap, shower gel and shampoo that are in the dispensers in the bathroom. There are no street lights etc shining into your room at night as you are facing over our back garden. It is really quite dark in the winter and often the stars can be seen clearly when its clear. You may use the lounge, dining room and kitchen as well as your bedroom and the bathroom. The garden is also available to use but please be aware our dog lives in the garden. She's very lovable and once she has been introduced to you by us she will look forward to giving you her ball to throw...and again, and again and again!! We love interacting with guests but if you prefer to be on your own, that is fine too and we will respect that.
We are 5 minutes walk from some beautiful woods and 10 minutes drive to the nearest town. The local town is small market town with cafes, shops, library, supermarkets and a beautiful lake. About 1 mile (gorgeous to walk it) from our home is St Mary's Church. It has the oldest wall paintings preserved on the walls. It's a lovely little church to visit. Our village is also famous for wild daffodils and every spring hundreds of people come to walk through the miles of footpaths to view the thousands of wild daffodils growing around the village and surrounding area. We are about 5 minutes drive from junction 3a on the M50. So we are easily accessible without being spoilt by motorways on our doorstep. Birmingham, Worcester, Wales, Malvern and Gloucester are all reached by car very quickly. There are many places of interest in the surrounding area. Symonds Yat, Eastnor Castle, the Malvern Hills, Ledbury, Gloucester Docks/Quays, Chepstow Castle, Hereford Cathedral, Ross-on-Wye and many more places are with in 1 & 1/2 hours and less drive away. There are many lovely eating places around the area including a fantastic pub (Roadmaker) just 2 miles away that serve the best curry about. It's run by some ex Gurkhas. Definitely one to try. In Ledbury there are a couple of curry houses, chip shops and a lovely Italian place too (The Olive Tree) as well as a pizza place and other eateries. If you love walking or cycling then you can literally step outside our front door and set off. You will be spoilt for choice of places to go. Finally, if you're attending a wedding nearby (Homme House, The Feathers Hotel, Eastnor Castle, Wilton Castle, The Royal Hotel, St Batholomews, etc to name the obvious ones) then we are between 10 and 20 minutes drive away and could possibly help 'taxi' you, just make sure you ask when you make the booking. You do NEED a car to access our home as we are 2 or 3 miles from the nearest bus stop and the buses are not very regular. There is a train station in Ledbury but again thats over 7 miles from our home. If you have bikes that you want to bring we are on a lovely cycle route (a new feature in our village) and there are many many lovely areas to ride around that are near to us. Breakfast will be a bowl of cereal (with milk), toast, (butter & spreads), fruit juice and tea or coffee. I cannot guarantee I will be about every morning and therefore I hope you will be happy to help yourself to these items. I will put everything you need on the dining room table for you with the exception of the toaster which will be plugged in in the kitchen. You will have use of off road parking, free wifi (although incredibly slow) and are welcome to relax in the garden. The bathroom is shared with our family (3 of us) and at extra costs you are welcome to join us for a family meal in the evening. We love having different people to stay with us and have successfully hosted at least a dozen students over the past 7 years.
Due to logistical reasons beyond my control I didn't actually end up staying the night despite having a booking but Jenne was great for organising this at short notice, quick responses to emails and extremely helpful. Recommended!
William
September 2015
The hostess, Jenne and her husband, Kevin made me feel very welcome on arrival. The upstairs room and bathroom were very clean and presentable. The view from the window was certainly very beautiful. Although no formal breakfast was served, bread for toast, a selection of cereals, fruit juice and jams and preserves, tea or coffee were available on a "help yourself" basis. Unfortunately, for private reasons, I had to curtail my two night visit to one night only but this was no reflection on the quality of accommodation offered.
Ian
August 2016
We had a lovely time. Hosts are very welcoming and friendly. Room was clean and comfortable and the views are spectacular as stated. Would very happily repeat the visit if in the area again. Our first airbnb and a very good start thank you.
Frances
October 2015
Fab and friendly in a beautiful location. Great value - thanks
Neil
February 2016
I had left my accommodation to the last minute and Jenne saved my bacon! I got a nice warm welcome with a great family and one the comfiest beds I have ever slept in. Thankyou.
Tony
June 2016
My sister and I had a great experience with Jenne and her family, they really made us feel like at home, they were very nice with us and helped a lot! We would certenly recomend to stay at her house. And if you are heading to a wedding in Much Marcle thats definetly your place!
Fiona
September 2014
Jenne and her daughter were simply lovely and so sweetly stayed up late to let us in. They were also very lovely letting our dog stay too which we really appreciated. Highly recommended! Lovely bathroom and view from the room in the morning!
Samantha
July 2014
This was our first Airbnb, and what a lovely host Jenne was! We were visiting the area for a wedding, to which we were even offered lifts to and from. Stellar service! Room was clean and comfy. Lovely view. Peaceful night's sleep with windows open, middle of nowhere in a great way! :) Description was wholly accurate, other reviews were bang on. Thanks for a lovely stay, Jenne & family!
Rob
June 2016
Tipe kamar
Kamar pribadi
---
Tipe properti
---
Mengakomodasi
2
---
Kamar tidur
1
Kempley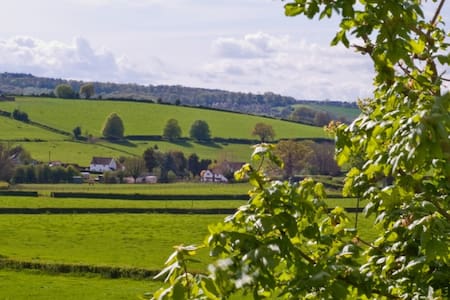 Our converted barn, with all mod cons, is on the edge of the Forest of Dean, 4 miles out of Ross On Wye. A peaceful location in easy reach of the beautiful Wye valley and various other attractions. NB* - Strictly NON-SMOKING, No children. No Dogs.
Its a recently converted barn ( completed Oct 2013), and is therefore in great condition. The original barn is 200 years old. Theres a comfy seating area and well equipped kitchen downstairs, and a cute double bedroom and shower room upstairs. Fresh bed linen and towels are provided weekly at no extra cost. Central heating / hot water included. Free WiFi is included Freeview TV and DVD player provided. Well equipped kitchen provided. New power shower. There is a patio/BBQ area just outside the Barn. You also have exclusive use of a private area within our garden, with great views of the surrounding countryside. There is also a covered outdoor space. We live in the attached cottage. William will be around to welcome you and show you around. However we will not be bothering guests unless they ask for something.
Its a peaceful country area, close to the Wye Valley, which is an 'Area of Outstanding Natural Beauty'. But there are plenty of places to visit and things to do. We are on the very edge of the Royal Forest of Dean ( theres a boundary marker right outside the front door). You will need your own transport. A bus goes past ONCE A WEEK. We are 4 miles from the historic town of Ross On Wye, with many shops. There is a village shop and pub about a mile away. There are many attractions in the local area, ranging from hire of mountain bikes and canoes, through to castles and country homes to visit. There are also plenty of great walks in the forest and surrounding areas.
We were greeted by a very friendly William who showed us around the cottage. The hosts were incredibly welcoming and even provided additional extras with some homemade jam and flapjack along with local cider. The cottage is beautiful and set back in a tranquil country environment. It's perfectly situated and not far from lots of local activities. If you're looking in the area, I would definitely book here!
Kara
October 2015
Joan and William were very welcoming, especially with their lovely welcome gifts of Cava, homemade flap jacks and chocolates. We stayed just the weekend and attended a local pottery, where we did an intensive pottery throwing weekend. Found the cottage very inspiring with Joan's home made plates and cups, the garden was also full of her sculptures. Hooks Barn was the perfect place to stay- cosy, clean and beautiful.
hannah
August 2014
Great welcome, lovely surroundings, good restaurant advice from William. Feel asleep on the first day as it's so tranquil. Thanks very much.
Jamie
May 2015
We had a lovely time at hooks barn. William and Joan were very friendly and let us have a late checkout on Sunday. The barn was as described and in great condition. Would recommend to anyone.
Andy
January 2016
We had a lovely stay at Hooks Barn. The barn has everything we needed for a cozy New Years night, perfect size for a couple with excellent facilities. There are lots of good walks nearby, we did Joyce's walk which we really enjoyed. Good communication from William, really recommend a stay and we hope to return.
Rebecca
January 2016
Absolutely loved it. William welcomed us with homemade flapjacks, jam and cider, and gave us good tips for local pubs and walks. Bonus point: no need to spend lots of time on (SENSITIVE CONTENTS HIDDEN) researching which walks to do - the instructions in the house are perfect! Will definitely come back.
Denise
November 2016
We were welcomed by william who was looking out for us as we arrived in the dark. A little welcome package of local cider and homemade flapjacks was a lovelly touch. The cottage was clean and to a very high standard. We were especially greatful for the effort that was put into the welcome pack with clear walking route directions with little snippets of history in there too. Thoroughly enjoyed our stay and will for sure be back soon. I recommend this to everyone.
Georgina
December 2016
We had a very peaceful and stress free time at hooks. Thank you to the hosts for putting up with our muddy feet & parking for our van.
Emily
March 2015
Tipe kamar
Seluruh rumah/apartemen
---
Tipe properti
---
Mengakomodasi
2
---
Kamar tidur
1
Ross-on-Wye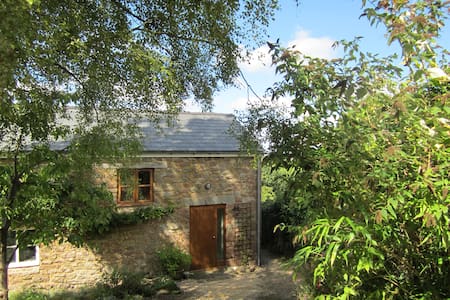 Bright and spacious studio in Linton near Ross on Wye. Funky kitchenette, large bathroom, sofa bed and cot bed for children, Wifi, pets welcome, beautiful views towards the Malvern Hills, village location with pub, great walks, courtyard garden... Just a few steps up from a quiet country lane...
The Studio 'Miss Muffet' at Tuffets is self contained and private, but attached to our cottage with private access via french doors from the large garden. It is located in a new cedar clad extension, built into the hill to maximize the views. The apartment has vaulted ceilings and a cozy but modern feel. The studio is completely self contained, however I have a large heated dog room in the main house where your dogs are welcome to stay with my 2 canines for £10 per dog per night. This room also has a washing machine, dryer and space for wellies etc. I am an experienced host, therefor I know that different guests have different ideas for their stay... If you need me to help or advise you about the area I am around and very happy to do so. But I will not disturb your peaceful holiday and accept my guests' need of privacy. English, German and French spoken...
Our village Linton is a true village with a good community, great pub and fantastic walks. Located on a ridge between the Malvern Hills and Black Mountains in Wales it is ideally located for those who enjoy beautiful views and the great outdoors. Own transport is essential The nearest town Newent is 2 miles away, whilst Ross on Wye is located about 5 miles from Linton. Own transport is therefor essential. The Alma Inn in the village is about 5 minutes on foot and serves great food and local beverages. Linton is ideally located for exploring the Wye Valley, Malvern Hills, Forest of Dean and the Black Mountains in Wales.
We were for a local event in Linton and were lucky to find this little gem of holiday accommodation. We went in particular for this one as we also could bring our dog. The apartment is very spacious and light, well equipped with a big comfy bed, kitchenette, massive bathroom and a lovely outside space with great views over the countryside. Our dog was well looked after by our host Katrin and was very happy to stay with her dogs in the doggy room over night. It's probably worth mentioning that there are other dogs but you really can't hear them and I had the most quiet night in a long time. Our host Katrin is amazing, she made us really welcome but gave us all the privacy we possibly could have wished for. We will come back, hopefully soon and then with our kids because there is enough space to accommodate them and they will just love it. (And Katrin offered to babysit whilst we head of to the local pub..
Andrea
May 2016
We had a lovely stay in Linton, we only stayed the one night as we were travelling to Cornwall but katrins studio was great! there's a nice pub a short stroll away. I would definitely recommend this place.
Rachel
July 2016
We very much enjoyed our short stay in Katrin's pretty and comfortable studio. Katrin was very welcoming and the studio was exactly as described. The large modern bathroom and little new kitchen were particular plus points for us. Outside there is a patio with a table and chairs and a wonderful view. A splendid place to eat eggs straight from Katrin's hens! The local pub is very friendly and has a good choice of food. For those with more time, the local area is very pretty. There are plenty of walks and places to visit close by.
Gill
July 2016
A lovely stay in a nice location, very welcoming hosts and a good selection of amenities for a self catering stay. I would highly recommend this place for anyone looking to stay here.
Pete
August 2016
Katrin was great at letting us know directions and allowing us flexibility with our arrival time. Miss Muffet's is a delightful place to stay; clean, quiet and in a great location. The local pub was good for dinner and it is close to the Forest of Dean so we enjoyed a wonderful trip to the Sculpture Trail. Breakfast in the sun outside was a highlight.
Katherine
October 2016
A lovely apartment with stunning views from the little patio. It has everything you need in a very idyllic and peaceful location. The apartment is clean and very well decorated. It is just a short walk from the local pub, which offers a good choice of tasty food. Katrin is a wonderful host, everything was just perfect. Thank you!
Heike
August 2016
Everything was as described in listing and the views are stunning, nice place to stay and the pub close by is nice too with descent food.
Caroline
August 2016
Amazing property! Perfect for a getaway and has everything you could need. With beautiful views and lovely walks for our dog, it was a peaceful and enjoyable stay. Extremely welcoming host who helped out in locating various local sites (including the all important pub) it was just a shame we couldn't spend more time there - we will most definitely be back!
David
July 2016
Tipe kamar
Seluruh rumah/apartemen
---
Tipe properti
---
Mengakomodasi
2
---
Kamar tidur
0
Linton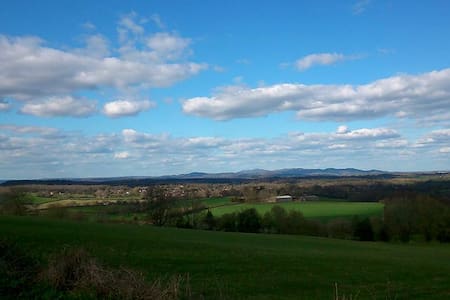 The barn is perfectly located on May hill, a national trust landmark between Ross on Wye and Gloucester. Take a picnic to the summit from a footpath outside your door to see wild ponies or relax in total privacy. The private room is in a converted 300 year old stone threshing barn with an ultramodern natural stone and oak open plan interior. Private entrance to a light and airy ground floor room with en-suite shower room. Enjoy a fully cooked breakfast from locally sourced produce (included
The room has arm chairs and a television, with coffee and tea making facilities, so can be used throughout the stay. The double bed has a deep mattress, feather duvet and pillows and luxury linen. A wardrobe and drawers provide plenty of space for clothing. Breakfast is served in the barn kitchen/dining room and the private walled garden can be accessed on sunny days. Guests will have a private entrance and access to their room at all times. The spacious car park is nearby and May Hill can be accessed from the farm via public footpaths that cross it. Should guests not be arriving by car, lifts to and from the railway station can be provided. A late arrival can be arranged should it be needed. Myself and my husband live in the barn and are happy to share some of our home with guests to introduce people to this wonderful area. Although we have only lived here for four years we have gained lots of knowledge exploring the area and can recommend pubs and eating places, visits and walks and the many activities in the local area. Four local pub/restaurants with award winning food are very near by, some walk-able, and a micro-brewery with tours, tastings and events also within walking distance. A warm welcome is extended to guests. Should guests just want peace and quiet, there is only the two of us so privacy is guaranteed. Unfortunately we are only English speaker but I have many phrase books and will try to converse in most languages.
May Hill is a local landmark with a small hamlet and scattered dwellings. Our son and his wife and two children live in the farm house but other than them our nearest neighbour in two hundred yards up the hill. The footpath to the village of Longhope in the next valley, and the artisan bakery and coffee shop, is across the road from the farm. Gloucester railway station connects to London, the Midlands and the South West and South Wales. The hourly bus service runs from Cheltenham to Hereford past our gates. Gloucester is less than an hour from Bristol, Birmingham and Cardiff, all of which have airports. Numerous bridle ways cross the hill and local valleys, with stable for hiring horse nearby, and the forest has a thriving cycle hire service. Picnics can be purchased as long as booked in advance. The Forest of Dean is the perfect place for those who like active holidays. Horse riding, Go Ape, cycle hire and much more. The Malvern HIlls, the Brecon Beacons and the Cotswold plateau are all less than an hours drive. Guests can paddle down the Wye in canoes or watch Peregrine Falcons on their nest at Symonds Yat.
We had a wonderful stay - the room was great. Linda was a superb hostess and made a great breakfast - wish we had stayed longer!
Alison
October 2016
Very positive experience. Room spotlessly clean added bonus being own entry to the room. Host warm and friendly..... with a great breakfast. Good location for forest of Dean, as well as Gloucestershire, cotswolds and herefordshire/ wye valley. Had a lovely stay
Alison
October 2016
Gorgeous room with everything you need. Lovely host. Fabulous breakfast!
Esther
November 2016
We were warmly greeted and made to feel instantly at home. The comfortable and well appointed room is very much part of the owner's house, but is private. We had our own entrance and adjacent parking. Great local knowledge and English breakfast, plus a tour of the whole property. Linda is a lovely host.
Dean
October 2016
Tipe kamar
Kamar pribadi
---
Tipe properti
---
Mengakomodasi
2
---
Kamar tidur
1
Gloucestershire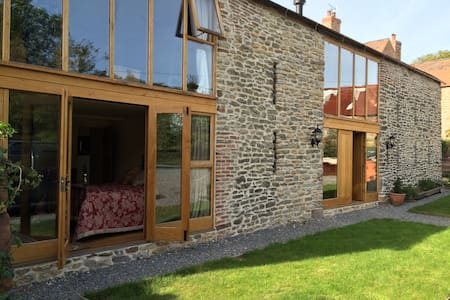 Elgar overlooks open countryside with simply stunning views. A great cottage because it has so much space and a bright, comfortable interior. Enjoy the walled garden, furnished glasshouse and parkland. Elgar is perfect for couples, solo guests or business travellers. Fully equipped kitchen, WiFi and Smart TV everything for a special break. Breakfast goodies provided on arrival along with milk, tea and coffee. Egyptian cotton bed linen and white towels provided. Elgar is not suitable for pets.
Great location in the Wye Valley, 3 miles from Ross on Wye and adjacent to the Forest of Dean. Perfect holiday cottage for all seasons with Cheltenham, Worcester, Hereford, Bristol, Birmingham and Cardiff only an hours drive away. Walking, cycling, canoeing, kayaking, body boarding, Go Ape etc., lots of activities to choose from locally. Return to this fabulous cottage and relax in cosy comfort. Level allocated parking with easy access to the cottage. Walled garden with ponds and fountains. Furnished glasshouse and 13 acres of parkland. Welcoming owners on hand. Happy to help with local info or advice on itinerary, this is a great area to explore.
Our neighbours are farmers, we are surrounded by arable farmland along with grazing sheep. If during your stay you would like to go without driving there is a bus that runs during the day. In one direction to Ross on Wye and Hereford and in the other to Gloucester and Cheltenham. We aim to offer a home from home with everything you need except for food (although we do have a freezer menu including vegetarian options) Comfortable bed with Egyptian cotton bed linen, sumptuous duvets and white towels.
Tipe kamar
Seluruh rumah/apartemen
---
Tipe properti
---
Mengakomodasi
2
---
Kamar tidur
1
Ross-on-Wye
16th century former coach house, with lots of original (email hidden)t near to the market town of Ross on Wye, Lea house is a perfect location for exploring the natural beauty of the area. Private large garden, excellent freshly prepared breakfast .
Lovely old building and fabulous breakfast. Peaceful as needed. Thank you.
Des
July 2016
Andy was very accommodating with late check in. Everything well thought out, fluffy bathrobes and beautiful bath products. Great breakfast
Eugenie
August 2016
Tipe kamar
Seluruh rumah/apartemen
---
Tipe properti
---
Mengakomodasi
2
---
Kamar tidur
1
Lea
Daisie Cottage is a beautifully furnished 4 star rural retreat at May Hill, near Newent, with great views. It is light and airy but cosy - perfect for relaxing. Good for couples, solo adventurers, business travellers, and families (with kids), there are wonderful walks and trails right on the doorstep. The market towns of Ledbury and Ross-on-Wye are an easy drive away, with Cheltenham, Gloucester, Malvern and the Forest of Dean also close by. There are plenty of wonderful local pubs too!
Daisie Cottage is a lovely detached, 2 bedroom holiday cottage, situated next to the owner's house. It is private, quiet, airy and comfortable. With oak flooring and thumb latched doors throughout, is has the feel of a modern country cottage. All furnishings and fittings are of a very high quality. There is parking in front of the cottage, for up to 2 cars. Guests have sole use of the cottage and private, gravelled garden. I live next door to Daisie Cottage so I am on hand to help with any queries. I am always contactable by phone or email.
Daisie Cottage is rurally situated at May Hill near Newent. There are wonderful walks right on the doorstep. Beautiful scenery and only half an hour's drive from The Cotswolds, The Forest of Dean, The Malverns and all they have to offer. Cheltenham for racing, and other festivals is approx 40 minutes away. Due to the rural location of the property, a car is necessary although a regular bus route does run from the centre of Newent, 1m away. The nearest train station is Ledbury, 8m away and Gloucester, 12m away. There is parking for up to two cars outside the cottage. Free wifi, parking in front of the cottage for up to 2 cars. A car is necessary although a regular bus route runs from 1m away.
Daisie Cottage is a lovely, comfortable homely cottage and we very much enjoyed staying there. Hazel made us feel very welcome with a generous welcome pack and heaps of info about the local area. The views from the cottage are beautiful and it's a very peaceful place to stay. I highly recommend it!
Alice
June 2016
Daisie Cottage is well appointed, comfortable, clean, and located in a beautiful spot with great views out across the countryside. Hazel was very friendly and welcoming, and left us some breakfast treats. A perfect place to stay while exploring the area!
Kymmene
August 2016
The host canceled this reservation 13 days before arrival. This is an automated posting.
Mark
Tipe kamar
Seluruh rumah/apartemen
---
Tipe properti
---
Mengakomodasi
4
---
Kamar tidur
2
Gloucestershire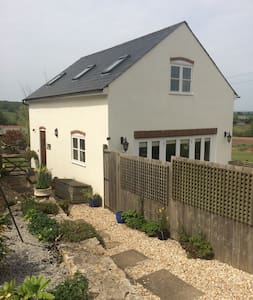 You'll love my place because of the outdoors space, beautiful Gloucestershire open countryside with views to Mayhill. Walking distance to the little market town of Newent and close by to several attractive country pubs. Easy access to the M50 and motorway network.. My place is good for couples, solo adventurers, and business travellers.
2 rooms available in attractive country house, both with lovely views of the surrounding countryside and Mayhill. Very quiet with no road noise. Both rooms en suite, with tv's, storage and tea/coffee making facilities. The property is accessed via country lanes, and parking is in a private drive way. The hosts Clare and Alex will be available throughout your stay and will be able to help you regarding the area and anything else you may require. Clare lives in the main house with her husband Doug and Alex lives with his wife and 2 children in the cottage next door.
public transport, buses etc can be caught from Newent which is about 1.5 miles from the house. Gateway to the Forest Of Dean and Wye Valley with easy access to and from the M50 and M5, and about an hours drive from Cardiff, Birmingham or Bristol.
We had two nights accommodation here and it was lovely, beautiful house surronded by beautiful views the host was very attentive and made us feel very welcome the house and our rooms were beautifully decorated clean and tidy and contained everything we needed plus more, we'll definetly be returning again. Highly recommended, the house is literal 5 minuets from the town of Newent and just around the corner is the Kilcock arms Alex recommended it to us and we had a beautiful evening meal here.
Emma-Louise
November 2016
This was a peaceful, relaxing one night stay, very cosy and welcoming. Very accommodating and I would definitely visit again! Thank you both:)
Caron
October 2016
Had a short but lovely stay here. Hosts were absolutely wonderful and accommodating, making us lots of cups of tea. The house was beautiful, the beds ridiculously comfortable, and the views of the surrounding countryside are stunning. Would definitely recommend, it's a shame we couldn't stay longer!
Megan
November 2016
Tipe kamar
Kamar pribadi
---
Tipe properti
---
Mengakomodasi
4
---
Kamar tidur
1
Gloucestershire
Pet friendly luxury 5* cottage, interior designed with every comfort. Fully equipped holiday home for up to 3 guests. Master bedroom with super-king sized bed and comfy sofa, single bedroom and bathroom. Sitting room with fab views, dining area leading to bright kitchen. Great garden and countryside views. Own walled courtyard garden, use of glasshouse, walled garden+ parkland. Adjacent Forest of Dean perfect for exploring the glorious Wye Valley. Short stays. Dog £25 per stay.
It's great to welcome guests from all over the world. This beautiful unspoilt area is really popular with guests who appreciate open countryside, gardens, walking, cycling, kayaking and numerous outdoor activities. Wharton Lodge Cottages are a great base, see our TripAdvisor and Upfront Reviews,,, not to mention our Visitor Books. Own walled courtyard garden with table and chairs for al fresco dining, large walled garden with ponds and fountains, furnished glasshouse and 12 acres of parkland Friendly, welcoming owners always happy to help...
We are not in the village but about 1 mile from Lea where there is a shop, pub, post office and petrol station. Ross on Wye is about 3 miles away. We have about half a dozen pubs/restaurants in the area that we recommend, most are dog friendly. There is a bus that runs during the day. It heads to Ross on Wye and onto Hereford and in the other direction to Gloucester where a connection may be made to Cheltenham. It's a great area so allow enough time to explore... we have repeat guests who have not been/seen all there is to see and do in this special area....
Tipe kamar
Seluruh rumah/apartemen
---
Tipe properti
---
Mengakomodasi
3
---
Kamar tidur
2
Ross-on-Wye
16th century former coach house, with lots of original (email hidden)t near to the market town of Ross on Wye, Lea house is a perfect location for exploring the natural beauty of the area. Private large garden, excellent freshly prepared breakfast .
Access all areas apart from private quarters Hosts available throughout
In the village is a shop, pub, with Indian restaurant and a post office. Bus stop to Hereford and Gloucester outside premises
Tipe kamar
Seluruh rumah/apartemen
---
Tipe properti
---
Mengakomodasi
2
---
Kamar tidur
1
Lea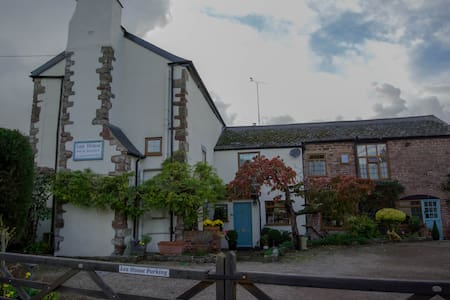 Harewood is a beautifully furnished, comfortable, fully equipped dog friendly cottage. Guests love the open plan downstairs and comfortable bedrooms plus gardens, parkland and outdoors space. Harewood is great for couples, small groups or guests who like separate bedrooms The Forest of Dean and Wye Valley are beautiful areas to visit and this cottage is a perfect base. Allocated parking, welcome hamper, fresh flowers, white towels, Egyptian cotton bed linen. Your comfort is important to us....
Perfect location. Peace, tranquility and comfort. Gardens, parkland and open countryside. In addition to its own walled courtyard garden - perfect for al fresco dining, guests may use the main walled garden, furnished glasshouse and 14 acres of parkland. Welcoming owners on hand with a wealth of local knowledge.
The cottage is surrounded by countryside. There is a bus during the day, Monday to Saturday. Heading for Ross on Wye and Hereford or Gloucester and Cheltenham. Harewood is dog friendly. One canine companion is welcome by prior arrangement at £25.00 per stay. We provide a dog bowl, dog towel and information about local dog friendly venues and pubs.
Tipe kamar
Seluruh rumah/apartemen
---
Tipe properti
---
Mengakomodasi
4
---
Kamar tidur
2
Weston under Penyard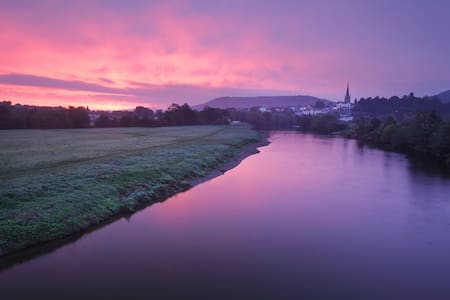 16th century former coach house, with lots of original (email hidden)t near to the market town of Ross on Wye, Lea house is a perfect location for exploring the natural beauty of the area. Private large garden, excellent freshly prepared breakfast .
All areas, apart from private quarters Andy and Sophie are available throughout your stay.
Quiet local pub just down the road, and also a Indian restaurant Bus stop to Ross on Wye/Hereford/Gloucester nearby
Excellent.
Marcus
September 2016
Having arrived to meet with work colleagues for a meeting, this place was a welcomed meeting point. The house is warm and inviting and the hosts were top notch. Nothing was too much. Would I stay again? I wouldn't even have to think twice. Lovely location, lovely home and lovely hosts (ps. breakfast was pretty good too!)
Nicola
February 2016
Tipe kamar
Kamar pribadi
---
Tipe properti
---
Mengakomodasi
4
---
Kamar tidur
1
Ross on Wye