Cozy one bedroom apartment with stunning views of the Langhe hills Heritage
Apartment with beautiful views of the Langhe. strategic position to reach other typical villages such as Barolo (7.5 km), Verduno (2.5 km), Cherasco (8 km), Bra (13 Km) or Alba (14 km) capital of the Langhe and home and fine wines truffle. In nearby La Morra there are wine bars, restaurants and shops (grocery, pharmacy, tobacco etc ..) to meet all needs, without the need to travel by car. Also lovers of trekking and mountain biking from La Morra will enjoy a network of paths through 7 throughout the city, passing through the woods and the great Barolo vineyards, for about fifty kilometers. Parking in enclosed courtyard with electric gate. Common garden with barbecue. We are available to advise you and give you all the information you need in order to make your stay pleasant and relaxing. A "CASA NINI" you will not find the TV. It 'was a choice, because the LANGA hills are a sight to enjoy fully. No TV show could match the. Been back and relax.
Though we had a few mishaps like the boiler going out and blowing a circuit having the stove and electric heater on at the same time, the apartment was as nice as advertised. Great view to Alps and short drive to center of town for dining and walking. Hosts were very accommodating and we would stay there again.
Tom
2014-12-14T00:00:00Z
Appartamento delizioso, ospitalità squisita, vista mozzafiato
cristian
2014-07-22T00:00:00Z
Casa Nini a La Morra è un bell'appartamento, nuovo e molto curato. La posizione è ottima per spostarsi tra le diverse località senza impazzire per il parcheggio. I padroni di casa sono il vero punto di forza: gentilissimi ed estremamente disponibili. Federico ci è venuto a prendere in centro per accompagnarci fino a casa, ci ha mostrato tutto e si è preoccupato che ci trovassimo a nostro agio. Noi ci siamo fermati due notti e ci siamo trovati benissimo; lo consigliamo a chi vuole esplorare le Langhe senza fretta.
luca
2014-11-03T00:00:00Z
Een heerlijk en sfeervol appartement als basis om de prachtige omgeving te bezoeken. Van alle gemakken voorzien, inclusief een uitgebreid pakket eerste levensmiddelen. Frederico en Barbara waren zeer vriendelijk en behulpzaam. Het centrum, met veel leuke eetgelegenheden, is op loopafstand (ongeveer 15-20 minuten). Het uitzicht van het balkon is prachtig, zij het dat het 's middags te warm kan zijn.
Kees
2015-07-26T00:00:00Z
Amazing hospitality! I was at business trip and felt like at home. Ferderico and Barbara are very friebdly and helped us with everything we needed to know. Thanx.
Jirka
2014-07-01T00:00:00Z
ospitalità bellissima, casa deliziosa e con una vista stupenda! mi hanno anche prestato dei calzini per andare ad un matrimonio...persone stupende! consigliatissimo! :)
Paolo
2014-07-07T00:00:00Z
Bon petit appartement, tout confort, belle terrasse, bien agencé...rien à redire. Très bien. Bon accueil!
wesley
2014-08-22T00:00:00Z
Für uns war alles Bestens und es hat Alles wunderbar geklappt. Da wir schon das 4x im Piemont waren und auch die Sprache beherrschen, haben wir die Gastgeber nicht gebraucht, die uns aber ihre Hilfe angeboten haben und auch Tipps für die Umgebung in der Wohnung aufliegen.
Christa
2016-09-25T00:00:00Z
Tipe Kamar
Seluruh rumah/apartemen
---
Tipe Properti
Apartemen
---
Mengakomodasi
2
---
Kamar tidur
Simane, Piemonte, Italia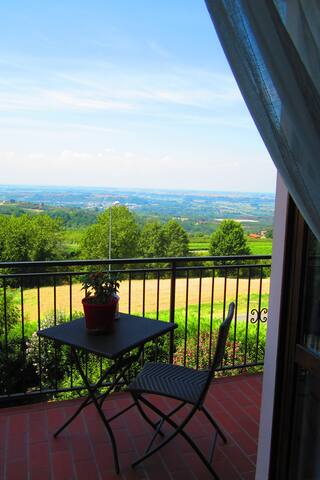 Camera doppia con letto alla francese (140x190 cm), leggermente più piccola della "sorella" Fragola. Nel cuore di La Morra, uno spazio moderno, funzionale e accogliente. Camera doppia, con bagno e balcone privati. A due passi dal Belvedere da cui si gode di un affaccio privilegiato sui migliori cru di Barolo, patrimonio dell' Unesco.
Il mirtillo è un frutto da scoprire, non si ritrova sulla strada in maniera sfacciata, ma tra gli arbusti, spostando il fogliame attorno. All'esterno si presenta in maniera semplice, essenziale, quasi umile; ma se si arriva ad assaporarlo, difficilmente lo si dimentica. Un'esplosione delicata e rinfrescante all'inizio prima di incontrare la moltitudine intensa e variegata di note calde e fresche allo stesso tempo, audaci e accoglienti, note all'avanguardia: un'esperienza. Blueberry rooms porta in sé le particolarità di questo frutto: un bouquet di camere nel cuore di La Morra, dai colori pastello insieme a quelli dei frutti rossi, che danno il nome ad ogni camera: Lampone, Fragola, Ciliegia, Mora, Mirtillo e Ribes. L'arredamento è un incontro tra il classico ed il creativo e la possibilità di mettere insieme le origini del luogo con la freschezza delle ultime generazioni, che intravedono nuovi orizzonti nel cambiamento di prospettiva. Pensando alla progettazione di Blueberry, Fabio non si accontenta di un dentro: per percepire la magia di La Morra si deve incontrare anche il fuori: i suoi panorami, i suoi inimitabili colori, i suoi profumi, i suoi misteri pregni di tradizione, origini, riti, cultura, fiducia nella bellezza. Per questo in ogni camera c'è un balcone che ti permette di vivere questa esperienza: come una poltrona in un museo, ti dà la possibilità di sederti e godere dello spettacolo che lo sguardo e tutti i sensi riconoscono in quella natura che ha fatto di La Morra uno dei primari siti del Patrimonio dell'Unesco. Nella stagione più fredda, quando l'inverno fa tenere le finestre più chiuse del solito, ci si può scaldare una volta in camera prima di coricarsi, con una tisana calda e dei deliziosi biscottini, qualcosa di dolce e di tipico, perfetti sia per addormentarsi lievemente la sera che per colmare i primi desideri da sgranocchiare al risveglio mattutino.
Rommet vi ble tildelt var helt i henhold til forventningene ut i fra annonsen. Rolig, rent og pent, og veldig sentralt. Stor offentlig parkering var like ved, og vi lot bilen stå hele oppholdet etter at vi fikk hjelp av Fabio til leie av el-sykler. Dette må være det beste fremkomstmiddelet i Piemonte!! Fabio anbefalte oss 3 ulike restauranter, og vi besøkte dem alle og var veldig fornøyd med dem alle sammen. Pizzarestauranten like ved siden av hadde fantastiske spesialiteter, og supermarkedet lå vegg i vegg med Blueberry. Perfekt lokasjoner sentralt i La Morra. Alt i alt var vi kjempe fornøyd med oppholdet vårt, og kan virkelig anbefale dette videre.
Siri
2016-09-25T00:00:00Z
Bra.
Jon Terje
2016-10-25T00:00:00Z
L'accoglienza di Fabio è stata impeccabile! Stanza molto accogliente e pulita, dotata di tutti i comfort, e posizione centralissima in un piccolo angolo di paradiso. Altamente consigliato, tornerò!!
FEDERICA
2017-03-09T00:00:00Z
Un ringraziamento a Fabio per la sua gentilezza, camera accogliente e confortevole, ubicata in ottima posizione. Torneremo sicuramente.
cristina
2017-04-02T00:00:00Z
Think of a mini hotel that is very well run, clean and in a good location. That's Fabio's place. If you're tired of sharing someone else's house then this is the place for you. Private rooms with en-suite. Lovely little balconies too and it is very clean. Excellent communication and a great location. You might not think the price is not cheap but it is very reasonable for this area.
luke
2017-03-28T00:00:00Z
Era la prima esperienza con Airbnb e Fabio si è dimostrato gentilissimo fin dalla telefonata... Persona squisita e disponibilissima! Ci ha consigliato dove andare a mangiare e devo dire che anche lì non ha sbagliato! La stanza piccolina ma pulita, ordinata e arredata con gusto. Grazie dell'ospitalità!
Alice
2016-06-26T00:00:00Z
BlueBerry is a great place to stay if you want to visit Langhe and La Morra region. The whole place is clean, esthetic and very good located, in the center of the village. The room was comfy and spacious. If you think about a perfect host, than Fabio is your guy:) A happy, sociable Italian, caring and understanding (we came veeery late, but he greeted us at the front door). If we visit Piedmont next time we will definitely aim for BlueBerry:)
Jakub
2015-12-04T00:00:00Z
We had a great stay in Blueberry Rooms, 100% suggested! The room was very nice, clean and fully equiped; we found the double bed incredibly comfortable! La Morra is a strategic place to discover all the Langhe, it offers an awesome Belvedere and some good restaurants. Fabio, the host, was simply the cherry on top: he is super kind and will give you a lot of suggestions!
Nicole
2016-10-16T00:00:00Z
Tipe Kamar
Kamar pribadi
---
Tipe Properti
Bed & Breakfast
---
Mengakomodasi
2
---
Kamar tidur
La Morra, Piemonte, Italia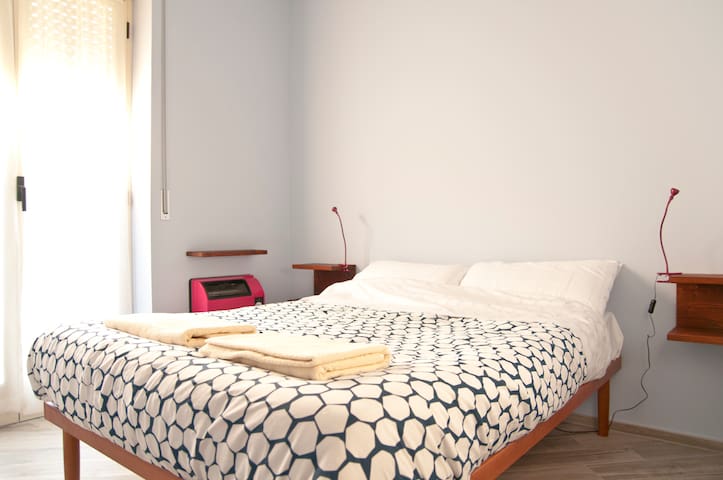 Questo spazioso alloggio recentemente ristrutturato, si trova nel centro storico del paese. La cucina è fornita di ogni utensile di cui potrete avere bisogno. L'appartamento è vicino ad innumerevoli ristoranti e locali. A due passi dall'appartamento è possibile godersi il panorama mozzafiato dal famoso belvedere. Nel paese vengono spesso organizzati eventi enogastronomici, non esitate a chiederci! L'appartamento è ideale per famiglie e gruppi di amici.
Amazing place- def recommend for staying in La Morra. Elena and her family were great hosts and super responsive whenever we had questions. Will def go back here again !
Dana
2016-11-16T00:00:00Z
Elena was unable to greet us however her parents came and met us and showed us where to park and helped carry our luggage. The apartment was lovely and the town of La Morra perfect! We had a brilliant time. Elena's family are winemakers and we had a tasting of their wines which were superb!
Maria
2016-06-24T00:00:00Z
Super séjour. Appartement tout confort, correspondant à l'annonce. Les contacts avec Elena ont été faciles.
PIERRE GUY
2016-07-12T00:00:00Z
Located in the center of La Morra, this apartment was a perfect way to experience living in a small village in Italy. We were serenaded hourly by church bells and everything you would want is within walking distance. The rooms were great and the apartment was bright. We were happy to find a washing machine and the wall heater was awesome. The kitchen was well equipped and we enjoyed cooking local pasta while enjoying a glass of Barolo. Prior to the trip we had a number of questions and Elena was gracious and responsive providing wonderful detailed answers. We had a couple of special requests and she was able to accommodate.
andrea
2016-10-17T00:00:00Z
Tipe Kamar
Seluruh rumah/apartemen
---
Tipe Properti
Apartemen
---
Mengakomodasi
6
---
Kamar tidur
La Morra, Piemonte, Italia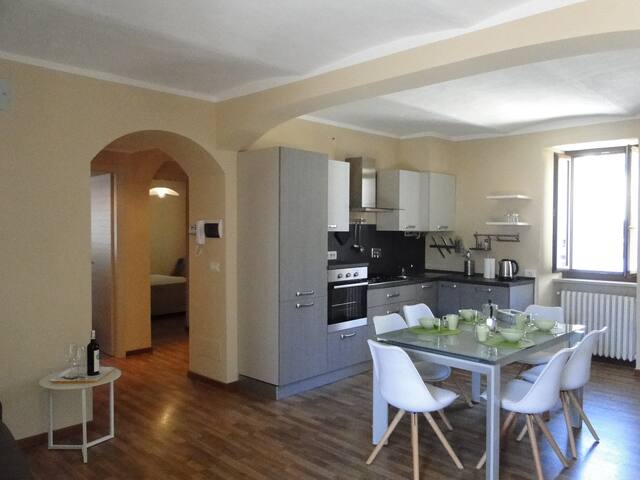 Your lovely, quirky house in the heart of La Morra, a peaceful retreat with all amenities within 5 minutes walking distance. If you are looking for a simple, real accomodation in the heart of the Langhe Wine Region my house could be your home away from home. I am actually overseas, studying Contemporary Art Curating and what I offer here for you to stay, is the house where I live in when I am in Northern Italy...the view is just wonderful and I am sure you will love it! You will stay on your own
You will stay in your own - mine :) - private house with big size master bedroom and big size kitchen/living room, the bathroom is pink and I am sure you will found the whole house a 'bit quirky! Please be aware that this house is not primarily intended as a touristic accomodation, it's my lovely, simple, clean, good vibes house..a place that I like to call home when in Italy. If you are looking for fancy stuff or magazine look alike spaces I frankly and friendly recommend you to look somewhere else as this may not be a place suitable for you and your needs. If you are looking for simplicity, proximity to some of the most beautiful cultural and natural areas and services, be totally immersed into the Unesco Wine area and looking for a peaceful place to recharge your batteries after the sightseeing, sipping wine or tea at sunset on your private terrace I am sure you will not be disappointed and my house could be your home away from home!!
In La Morra you'll have plenty of cafe' (Mange is the nearest cafe', 2 mins walk from the house, with so many yummy choiches and has also free wifi connection Yay!), restaurants within 5min walking distance from the house, there is also a bakery, a grocery mini-market, post office, bank, wine shops, ice-cream bar, a little book shop, and lot more!
Tipe Kamar
Seluruh rumah/apartemen
---
Tipe Properti
Rumah
---
Mengakomodasi
2
---
Kamar tidur
La Morra, Piemonte, Italia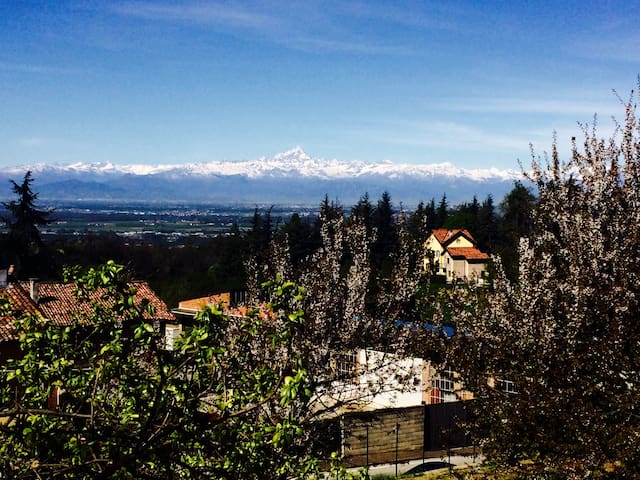 The apartment is situaded in La Morra's centre at the hightest point of the first village of Barolo Region. It borders with the San Rocco Church which was built in the 18th century.
You'll find the property in the historical centre, directly opposite the town hall and the impressive Barocca church dedicated to San Martin (the patron saint of the village). The famous CANTINA COMUNALE (see photo), the Gallo Wine Gallery, and the Barolo's wine Cellar are just a short walk from the residence.
L'alloggio si trova nella via principale del paese, ma ciò nonostante gode di una pace ed una tranquillità notturna senza eguali.
I have traveled a great amount in my 58 years and have met many people and stayed many places. My recent experience in La Morra, Italy has to rank in my top three places ever!!! Street View and Mariella were incredible. The apartment was immaculate. It was incredibly well furnished w everything you could possibly need. The best blow dryer and bed in all of my recent travels. The genuine spirit of Mariella was like having a new best friend! Please consider this apartment if going to the Piedmont area of Italy. You will love it!
Linda
2015-10-31T00:00:00Z
Mariella hat uns sehr herzlich empfangen und uns alles erklärt. Wir haben uns in der Wohnung sehr wohl gefühlt. Zum Supermarkt, Bäcker und Eishändler unseres Vertrauens war es nur ein Katzensprung. Die Wohnung und insbesondere die Küche sind sehr gut ausgestattet und es war alles noch fast neuwertig, teilweise unbenutzt, wie z.b der Backofen, den wir selbst auch nicht brauchten. Da wir mit einem Kleinkind unterwegs waren, möchten wir darauf hinweisen, dass man am Wochenende das Treiben der Weinstube unter dem Apartment wahrnimmt. Alles in allem können wir die Wohnung für ein paar entspannte Tage in den Weinbergen nur empfehlen.
Stefan
2015-08-30T00:00:00Z
We loved (EMAIL HIDDEN) is a cosy apartment in the centre of the historic village. Bars and Restaurants are on your doorstep. It was well equipped and the bed is super comfortable. Mariella is really friendly and has great advice about things to do and see. We hope to return one day.
Suzanne
2017-02-26T00:00:00Z
Mariella e suo marito Franco sono stati degli ospiti eccezionali! L'alloggio dal vivo è anche più bello che in foto, un piccolo appartamento con spazi perfettamente distribuiti e rifinito in ogni dettaglio, comodo e arredato con molto gusto, nel pieno centro storico di La Morra dove tutto è raggiungibile a piedi, compresi diversi ottimi ristoranti e bistrot e numerose enoteche. Mariella non ci ha fatto nulla, compresa una ricca selezione di prodotti per la nostra colazione con alcune prelibatezze preparate da lei. Tantissimi preziosi consigli su cosa visitare, dove mangiare e per i nostri acquisti gourmet hanno reso il nostro soggiorno nelle Langhe un'esperienza da ricordare. Torneremo senz'altro presto e consiglieremo a tutti i nostri amici che vorranno soggiornare nelle Langhe questo delizioso appartamento.
Barbara
2016-11-14T00:00:00Z
a long story short: we (2 friends) had a great time at mariellas apartment! but first things first: communication and responsiveness of mariella was extraordinary - she always replied very quickly, friendly and helpful! our arrival was seamless! The (SENSITIVE CONTENTS HIDDEN) maps location for the address is not accurate (use this one: (PHONE NUMBER HIDDEN)"E) but use the public parking around the town if you want to leave your car. For unloading and loading the car, we used a small place just next to the apartment - very convenient!!! Even though Mariella couldn't be there for our check-in, she organised a friend (Emanuela) who is also very kind to give us the keys, show us the apartment and answer all our questions - thank you again for that! The Apartment is as described and is very conveniently located, clean and modern. There is even a small room in the ground floor where we could safely store our road bikes and our newly acquired wines :-) That made really a difference for us as wine lovers and cyclists... The wifi is also reliable and convenient. The speed was about 2Mbit/s which even allowed us some low quality video streaming. We finally met Mariella on Saturday - we had a really nice chat and a cup of coffee at Mange (a great cafe you might need to check out). We wanted to stay longer, but when we had to leave the check-out was as easy as the check-in... dropping the keys in the mailbox and we were on our way home... This was my 5th stay in the region, but this was the best one and mostly because of the convenience of a accommodation in the centre of la morra where you can walk to all restaurants and wine bars in the evening. We'll be back!
Christian
2016-05-09T00:00:00Z
My husband and I had never been to Europe before and this trip to Italy was to be a trip of a lifetime. We were new to Airbnb, and Mariella's place, Street View, was one of two Airbnb experiences we had on this trip (the other experience was great too!) After we booked with Mariella, she promptly sent us email links about the town, complete with maps, suggested things to do, etc. She offered great advice and communicated immediately whenever we had questions, and this was off and on for at least 6 weeks prior to our trip! Indeed, we felt like we already knew Mariella before we even met her. When we did finally meet, we immediately warmed to her genuine charm and friendliness. She made sure we were checked in and knew about everything in the apartment and then she made sure we didn't miss the local wine tasting which would be ending in about an hour! Later, we even ran into her and her husband at another local festival, and they greeted us like old friends and showed us around the festival, making sure we tried the right foods and saw the best highlights. The next day, Mariella even met us for coffee and assisted us further by helping plan a strategy for our next 3 days and what were "must-see" destinations. She highlighted everything on the map and made sure we did things in a logical way for each day trip so that we weren't driving all over the place and wasting travel time- this was very efficient for us. Her advice was perfect. We ended up seeing and experiencing a lot of things we would have missed if Mariella hadn't pointed us in the right direction. We will definitely stay at Street View for our next trip to Italy, not only because of the fabulous location of her wonderful apartment Street View, but also because we just genuinely like Mariella! We hope some day we can host her in our home if she ever comes to Kentucky- that's just the kind of person she is- someone you want to get to know better. Grazie mille Mariella, from the bottoms of our hearts for your wonderful help and guidance as we negotiated our travel in Italy. Our time spent with you while we were staying at Street View will stand out as a highlight of our trip. What an over the top experience!
Martha
2016-10-18T00:00:00Z
Mariella's apartment in la Morra was a highlight in our Italy trip. Where to begin? The town is beautiful and safe, the apartment is perfectly located and tastefully decorated. We had everything we needed, including a great hairdryer and a super comfortable bed. The town of La Morra is so worth the visit that we are already planning our return. Thank you Mariella for providing us with a great experience.
Ines
2016-06-01T00:00:00Z
Fantastic apartment in the heart of La Morra! Can't wait to come back soon.
Sean
2016-03-28T00:00:00Z
Tipe Kamar
Seluruh rumah/apartemen
---
Tipe Properti
Apartemen
---
Mengakomodasi
3
---
Kamar tidur
La Morra, (CN), Italia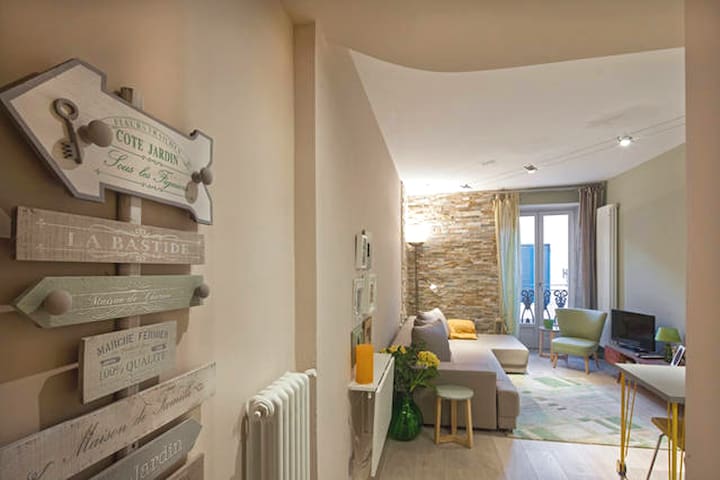 Vi diamo il benvenuto alla ROSA NEL BORGO.Nel centro storico di La Morra, dopo una lunga e sapiente ristrutturazione di una casa di fine '700, abbiamo dato vita a una casa vacanze.E' un'ottima soluzione per una piacevole vacanza nel paese di La Morra
L'alloggio dispone di camera da letto,bagno,cucina,terrazzo,parcheggio privato. Si trova a pochi metri dal centro storico di La Morra raggiungendo i migliori ristoranti e vinerie. L' alloggio può ospitare due persone con possibilità di usufruire di un divano-letto in salotto per la terza persona.
La Morra è un paese di circa 3.000 abitanti, si trova nelle Langhe, culla enogastronomica del Piemonte. Questa è la zona di produzione dei grandi vini piemontesi: Barolo, Nebbiolo, Dolcetto e Barbera, famosa in tutto il mondo anche per il pregiatissimo Tartufo Bianco d'Alba. Con una breve passeggiata si puo' raggiungere comodamente il centro del paese dove si trovano ottimi ristoranti e negosti enogastronomici. Il pane fresco, le torte, e dolci ci sono tutte le mattine dal panettiere che si trova subito sottostante. Dalla Rosa nel borgo, per gli amanti delle passeggiate e del verde, c'è la possibilità di fare molti sentieri, che conducono nei più famosi vigneti di Nebbiolo di La Morra.
Rosanna's place was fantastic. Perfectly situated in La Morra and the place was spotlessly clean and tidy. Rosanna was meticulous in her efforts to give me a smooth check-in and her recommendations for the area were spot on. I would definitely recommend her place to other guests. 5 stars
Calvin
2016-08-20T00:00:00Z
Sehr nette und hilfsbereite Gastgeber. Wir haben viele Tipps für Restaurants in der Umgebung erhalten. Die Unterkunft hält, was sie im Inserat verspricht. Die Matratze vom Bett war sehr gut und wir haben entsprechend gut geschlafen hier. Vielen Dank, wir haben uns rundum wohl gefühlt!
André
2015-11-02T00:00:00Z
We had a lovely relaxing time stay at Rosanna and Giorgio's apartment. We were unfortunately held up in Turin for 1 night but communication was easy and our check in process was great with Giorgio meeting us when we arrived. The apartment is comfortable and very spacious with parking which was good for us. The locals also made us feel very welcome. La Morra and the surrounds are just beautiful and we often ran into Giorgio and Rosanna in the town. Giorgio also very kindly hosted us for a tasting of his wines at his winery that was a wonderful experience. We would recommend staying here as you will really feel at home. Thank you Rosanna and Giorgio and hope to see you in Australia soon!
Katie & Josh
2016-09-02T00:00:00Z
Rosanna and her husband went above and beyond to make our visit to La Morra a wonderful experience - thank you for being such welcoming hosts! Make sure to try the wine from their winery nearby. We loved La Morra and it is a great base to explore the Barolo area - there are several restaurants and the town is the highest in the area so has excellent views. The apartment itself is walking distance to the centre of town, is spacious and comfortable, modern and clean. The fold out bed in the living area is also very comfortable. I have nothing bad to say - come here!!
Geoff
2016-08-17T00:00:00Z
Prima appartement. Zeer vriendelijke ontvangst met bruikbare uitleg over de omgeving. Prima ligging ten opzichte van centrum La Morra.
dorus
2015-10-19T00:00:00Z
Rosanna and her husband George are amazing hosts that supplied us with absolutely everything we needed: a spacious and beautifully renovated apartmemt, super nice and warm welcoming with some good advice/ reccomendations and privacy. What else do you need to spend a couple of lovely days in the gorgeous area of Barolo. Thanks you very much :)
Malgorzata
2016-09-05T00:00:00Z
This was a great apartment! Clean, cozy, great design and was right in the heart of La Morra. We loved staying here and will return again and again. We even ran into Georgio at a local restaurant and he came over to open the bottle of wine he had produced. Great experience!
julian
2015-12-22T00:00:00Z
Comfortable apartment in La Morra. Very spacious and easy access to nearby town and vineyards. We visited Rosanna in her vineyard cellar and her and her sons were very warm and accommodating. They also make great wine! For those driving, off-street parking is right behind the house.
Guil
2016-08-24T00:00:00Z
Tipe Kamar
Seluruh rumah/apartemen
---
Tipe Properti
Apartemen
---
Mengakomodasi
3
---
Kamar tidur
La Morra, Piemonte, Italia
Villa Adina is located in a spectacular position in La Morra in the centre of the single Barolo cru, Roccchetevino. From the house you have a breathtaking view off the Barolo villages; Verduno (Alba), Roddi, Diano d'Alba, Castiglione Falletto, Serralunga and Monforte. Villa Adina is the very best place for exploring the fantastic Barolo area, with over 40 restaurants and hundreds of wine producers within a radius off 1-10 minutes' drive. This is truly all wine and food lovers sweet spot. Enjoy
The house is 220 sq.m. on two floors. On the ground floor you find the spacious living room and open kitchen. The dining room is situated in an outside winter garden with wonderful view and a table for 12 people to sit comfortably. There is one bathroom, a laundry room and one big bedroom with a nice double bed and two bed chairs. On the second floor there is three bedrooms and two bathrooms, one bathroom unsuited to master bedroom with a bubble bath. All rooms in second floor have great view of the vineyards and a panoramic view of the Langhe valley.   Outside there is a nice dining area just outside the kitchen, and wooden patted sundeck with a total of 8 sunbeds. Swimming pool 7x3 m (not heated) + cleaning robot.   The house is facing east with a fantastic sunset and sun all day. And during the afternoon the dining area outside provides a nice shade.
Very private surrounding in the centre of a single wine crew, surrounded of Barolo grapes. A short walk to restaurant Bovio and walking distance to restaurants in Santa Maria and a numerous of great Barolo wine makers. 1,4 km to La Morra (a 15 minutes walk) Only 1-10 min drive to hundreds off additional winemakers and many restaurants.
The host canceled this reservation 239 days before arrival. This is an automated posting.
Alexandra
2016-12-15T00:00:00Z
Super house!
Marco
2016-11-13T00:00:00Z
Beautiful! Nothing beats the view first thing in the morning!! Amazing kitchen, and dining area, perfect for cooking and entertaining. Adina set us up with private chef Matteo who cooked us the most delicious 5 course meal of local dishes. Highly recommend. We thoroughly enjoyed our stay in this beautiful home at this gorgeous location. Would stay again.
Benny
2016-10-31T00:00:00Z
The villa was magnificent and situated in idyllic countryside. All the amenities were of top quality. Thank you.
Valerie
2016-10-24T00:00:00Z
Tipe Kamar
Seluruh rumah/apartemen
---
Tipe Properti
Vila
---
Mengakomodasi
8
---
Kamar tidur
La Morra, Piemonte, Italia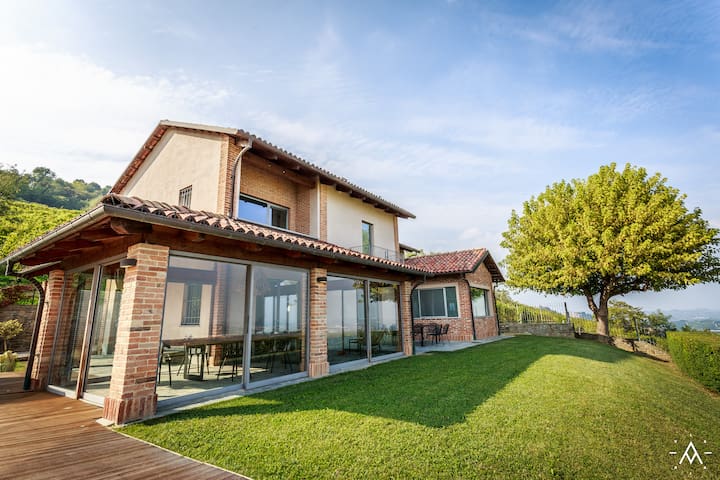 The Laura's Home: You'll be in one of the most popular contexts of these years, tourists from all over the world are discovering these areas. You will find everything you need for your family and friend to enjoy and regenerate. WIFI, TV, dishwasher, washing machine, oven and microwave available. For children folding cots and high chairs. The four-legged friends are welcome. All this in the center of La Morra! Come and relax here and you will understand that Slow Food stands for Slow Life!
The Laura's Home in La Morra, (Cuneo Province): Listed in "The Landscapes of Piedmont: Langhe - Roero and Monferrato" site and member of World Heritage Sites.
Direct in La Morra heart!
La casa è accogliente, spaziosa, pulita ed in ottima posizione. Host Claudia inimitabile per gentilezza e disponibilità! Grazie per averci concesso una vacanza rilassante e perfetta sotto ogni punto di vista. Speriamo a presto. Sara
Sara
2017-01-01T00:00:00Z
The house was really beautiful. Comfortable beds. The shower has no curtain, but we were the first to stay here, so that might be not true anymore. The host is really friendly and helpful. The house is in La Morra. You can find everything you need in La Morra, good restaurants, a supermarket, good pizza and wine. The car can be parked on the free parking three to five minutes away. And the views from the city are just marvelous. You can start hikes from here through the vineyards. I recommend La Morra and the house! We will come back next year.
Johanna
2016-09-27T00:00:00Z
房子真的非常棒。很大,非常温馨,在这里呆两天像家一样!位置也很好找,好停车,旁边就有一家很棒的小餐馆儿。离很多好酒庄都近!
振燕
2017-02-02T00:00:00Z
La casa di Claudia è davvero accogliente e corrisponde esattamente all'annuncio. È in centro al paese...dispone di un giardino e un bel terrazzo Lei è stata molto disponibile e precisa, il soggiorno davvero piacevole.
federico
2016-10-31T00:00:00Z
La casa é molto bella e spaziosa, silenziosa e tranquilla sia di giorno che di notte, c'è tutto l'indispensabile, oltre un bel giardino e un piccolo terrazzo, il parcheggio gratuito é a poche centinaia di metri, compromesso accettabile pur di soggiornare nel pieno centro storico di questo bellissimo paese, la signora Laura é stata molto gentile e ci ha aspettato anche se siamo arrivati dopo le ore 20. Consiglio vivamente
Alessandro
2016-10-16T00:00:00Z
Tipe Kamar
Seluruh rumah/apartemen
---
Tipe Properti
Rumah
---
Mengakomodasi
8
---
Kamar tidur
La Morra, Piemonte, Italia
Located in a quiet area in this beautiful portion of villa apartment it has 2 bedrooms and a large bathroom equipped kitchen accommodates up to 5 persons, is equipped with all amenities and has private parking, large terrace solarium.ottima position to walk into the nature the vineyards of the Langhe.
The space !!! great for those with children !!! in an accommodation of over 75 m you will find everything you need to pass in serenity vs the holiday. Children under 3 are free is available to them an additional bed to be placed in the parents' room, the high chair and plastic kitchenware, the kitchen is fully equipped for cooking with various appliances, oven, microwave, coffee machine with waffles offered, (URL HIDDEN) the yard for children's play area and swimming pool, equipped with deck chairs, umbrellas and games for children.
In my area I love the silence and the contact with nature, for those who come in spring is magic birds singing in the woods at dawn and dusk !!! late summer, however, you live fully the harvest and collection of hazelnuts ! fantastic for walkers along the paths of the Langhe you will find the right atmosphere for a great holiday !!
Me and my friends had a very good stay at Silvia's house. She is very friendly and helpful person, and her place is fantastic cool and clean. She baked a apple cake for us and we really love it. We will definitely come back again in the future! Thanks Silvia !!!
LysEmily
2016-05-03T00:00:00Z
Abbiamo passato un ottima settimana. Silvia e la sua famiglia sono molto simpatici e gentili.
Nicola
2016-08-07T00:00:00Z
Silvia is the best host you can have. Discreet, helpful and kind. The place is very clean, and it has all you need for a quiet vacation. Fresh eggs from the chickens, figs from the garden and Silvias home made cookies is just some of the small things that made this stay perfect. The pool is great, and the view from the whole property is just stunning. Every night we spent out on the huge terrace looking at the wine-yards, Mont Blanc and the rest of the Alps. Just marvelous! We will come back for shure!
Siri
2016-07-17T00:00:00Z
Accoglienza calorosa, zona tranquilla immersa nelle Langhe con vista meravigliosa!
alessandro
2015-10-19T00:00:00Z
My two colleagues and I stayed with Silvia for two nights while visiting restaurants and wineries in the area. The apartment itself is gorgeous; very spacious and clean, and the balcony and pool bring the experience to a whole other level. Silvia was very helpful throughout our stay and we loved it so much that we would have stayed a third night, but unfortunately the apartment wasn't available. La Morra itself is a nice little town within a short drive of Alba, Bra, Monforte and many wineries and restaurants. I would definitely stay there again.
Zee
2016-09-30T00:00:00Z
The two bedroom apartment was ideally suited for my business associate and myself. The eat-in kitchen/den was equipped with appliances (espresso maker, microwave oven) and utensils for cooking and/or warming up meals. I always enjoy a washing machine. Our trips, business or vacation, are usually two plus weeks and a washing machine allows us to pack half the amount of clothes. There is a large wrap around deck with great views which would be great in the summertime We invited Silvia and Claudio for hors'doeuvres and wine from some of our wineries. It was most enjoyable and we were able to overcome the language barrier with their limited English and my limited Italian. I highly recommend Silvia's apartment and look forward to future visits to La Morra and the Barolo wine country.
Larry
2016-02-15T00:00:00Z
Nous avons passé un excellent séjour chez Silvia et sa famille! La maison est très agréable, spacieuse et joliment décorée. Nos petits garçons ont pu jouer dans la cour avec les voitures et les balançoires. C'est également un point de départ parfait pour découvrir les Langhe. La torta di mele di Silvia è deliziosa! Grazie per tutto!
EMILIE & MOHAMED
2016-01-03T00:00:00Z
Me and my father stayed at Silvias place for 2 nights. The place is absolutely magic. The apartment has large rooms which all have a door out to the surrounding balcony. From the balcony you can enjoy stunning view over langhe and eat your dinner and lunch. We spent one entire day sunbathing and cooling down in the fresh water of the pool in the yard. 10 min walk to La Morra where you find great restaurants. I really recomend this place, and whould definitely come back.
David
2016-09-23T00:00:00Z
Tipe Kamar
Seluruh rumah/apartemen
---
Tipe Properti
Apartemen
---
Mengakomodasi
5
---
Kamar tidur
La Morra,Alba, Piemonte, Italia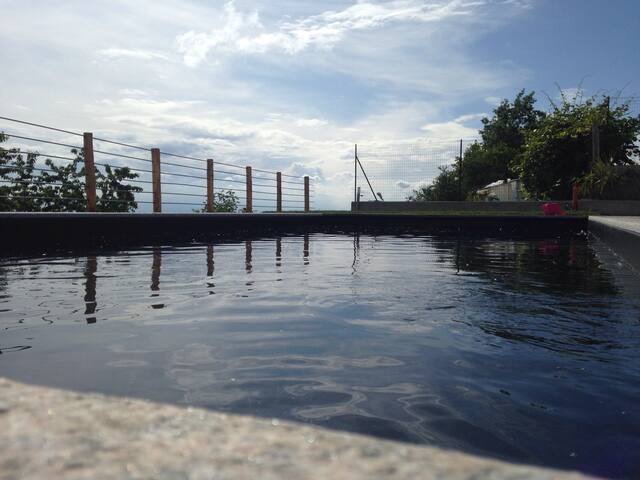 Situato nel centro storico , zona Borgo di La Morra . Particolare alloggio con i soffitti in mattone antico. Può ospitare 4 persone . A pochi passi dal centro storico e dalla meravigliosa passeggiata verso Cerequio , Brunate . Accanto il molino di La Morra . Godetevi il vostro soggiorno nelle meravigliose Langhe !
L'alloggio e' ampio , spazioso e centralissimo.
Il Borgo adiacente al centro offre bellissima vista verso le Langhe , il Molino storico biologico . Punto di partenza e arrivo di meravigliose passeggiate nelle più famose vigne di Nebbiolo da Barolo . Il forno per in pane caldo dalla prima mattina .
Casa dolce casa nel Borgo is a beautiful, comfortable, and very peaceful home. We loved our stay and felt extremely welcome! Maria Cristina goes above and beyond- the kitchen was full of ripe peaches and tomatoes, freshly baked cake, fig compote, and other foods. The location is perfect in the lovely town of La Morra situated in the heart of Cuneo- and Barolo wine country. There are walking routes through the region, fabulous restaurants, and wineries! I would highly recommend staying and I look forward to returning!!
Rory
2016-09-22T00:00:00Z
Ottima esperienza! Maria Cristina è stata un'accogliente e premurosa padrona di casa: pulizia, ordine e generi di conforto eccellenti!! Siamo state molto soddisfatte. La casa è molto bella e confortevole e dotata di un ottimo parcheggio. Unica miglioria che suggeriamo riguarda il divano letto che non è particolarmente adatto per due persone adulte.
Laura
2016-07-18T00:00:00Z
guter Plan der Ortschaft und Umgebung.
Erich
2016-11-08T00:00:00Z
Accueil très chaleureux, gentillesse, disponibilité, envie de faire partager le patrimoine culturel, gastronomique local, Christina parle un Français honorable et est de très bon conseil. La location est très cosy, confortable et les mets laissés à notre attention de très bonne qualité.
Damien
2016-07-30T00:00:00Z
Tutto come descritto, se non addirittura meglio!!!
Antonio Alessandro
2016-05-30T00:00:00Z
Very nice apartment, great location! Maria Christina was very welcoming and a very good host! Would defiantly want to come back here!
Oda
2016-07-17T00:00:00Z
Bellissimo appartamento e ottima accoglienza tanto che per le mie bimbe la cosa preferita delle Langhe era tornare in appartamento. Senza nulla togliere alle langhe
Gianpietro
2016-08-27T00:00:00Z
Accoglienza puntualissima, Maria Cristina ci ha dato tante informazioni utili per visitare i dintorni della Morra. Il centro del paese è vicinissimo. La casa è molto accogliente e spaziosa, curata nei dettagli. La colazione offerta era ricca e varia, con ottimi dolcetti e marmellate casalinghe! La consiglio davvero! Inoltre dalla casa partono due dei sette percorsi a piedi de La Morra che consiglio di provare.
Silvia
2016-09-10T00:00:00Z
Tipe Kamar
Seluruh rumah/apartemen
---
Tipe Properti
Apartemen
---
Mengakomodasi
4
---
Kamar tidur
La Morra, Piemonte, Italia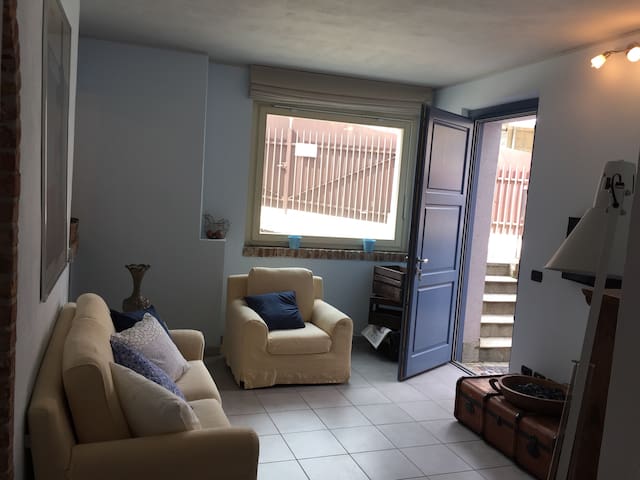 L'appartamento si trova a La Morra, in un piccolo edificio splendidamente ristrutturato, in una zona tranquilla, arredato con oggetti vintage e di design italiano. La cucina è completamente attrezzata e funzionale. La zona giorno si affaccia sul paesaggio Langhe grazie ad una grande finestra che rende la stanza molto luminosa e da cui si può accedere alla veranda. L'appartamento è immerso nella Langa, vicino a cantine, negozi tipici, ristoranti e ai sentieri del Barolo.
The apartment was very nice and Emanuela was very accommodating.
Oda
2016-08-30T00:00:00Z
Très beau séjour dans un appartement joliment rénové et plein de charme... La petite terrasse avec une belle vue sur les collines des Langhe est superbe ! Très bon accueil de la propriétaire qui sait vous mettre à l'aise et vous conseiller des restaurants ou des endroits à visiter aux alentours... Bref, un endroit où nous reviendrons j'espère !
Mathieu
2016-08-15T00:00:00Z
Tipe Kamar
Seluruh rumah/apartemen
---
Tipe Properti
Apartemen
---
Mengakomodasi
4
---
Kamar tidur
La Morra, Piemonte, Italia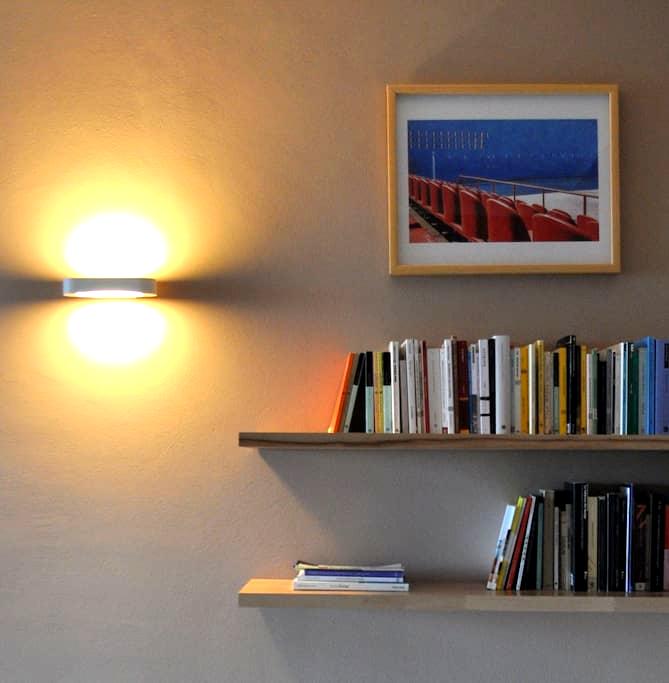 Apartment in eco-friendly home. In the quiet hamlet Annunziata of La Morra, La Notte apartment is the ideal accommodation to enjoy the silent atmosphere of the countryside.
Located on the second floor of a green building house, the apartment is fully furnished and can accommodate up to 5 guests. You'll be greeted with a terrace overlooking the Langhe and Roero hills. The great panorama will make your stay unforgettable! Completely independent apartment with separate entrance. Inside: living area with fully stocked kitchen (you are welcome to cook), one bedroom with double bed, opportunity to put up to three single beds in the private part of the living room, which can be closed, bathroom. The house is equipped with a natural cooling system. Private garden with plays for children and parking. •Terrace, overlooking the hills, furnished with table and chairs •Completely stocked kitchen (hob, microwave, dishwasher, coffee makers, coffeepot, tools, cookwares) •Wi-fi internet connectivity •Natural cooling system. No air conditioning, because it's an eco-friendly house. •Camping bed for free •Safe •Private garden with plays for children •Parking •Expenses included •Prices vary depending on the number of guests •Located within walking distance of two restaurants The apartment, partly surrounded by vineyards, is very quiet.. to enjoy nature in relax and autonomy!
La Morra, capital of the Barolo area, from its Belvedere offers an unmissable view overlooking the hills planted with vines. Renowned for its food and wine and the many wineries, La Morra offers a number of walking routes to the country lanes. Passing through the small roads that wind through the vineyards, you can breathe the charm of these hills, in direct contact with nature. Do not miss the Chapel of Barolo and the centuries-old cedar of Lebanon, which can be seen also from the apartment! Renowned food and wine area, the langa boasts excellent farms and restaurants of high (URL HIDDEN) La Morra you will find more than sixty winemakers, many restaurants and taverns. Among the most famous wines of the area's famous Barolo. Numerous local products, cheeses, hazelnuts, fine ingrendient of regional sweets. Suitable area for nature lovers, in Langa is no shortage of walks through the vineyards and trails.on the hills majestic medieval castles, among which that of Barolo, home to the brand new Wine Museum. Important cities for history and culture, Alba, Bra, Pollenzo and Cherasco, a true pearl of the Langa of Barolo. Just an hour's drive to Turin, a city rich in history and art, which is worth a visit.
Atmosfera di charme a La Morra, in un ambiente di design e molto funzionale ! Vista mozzafiato sulle colline e sulle vigne! Un luogo magico ! Chiara ottima padrona di casa , informatissima sul territorio , sa aiutare gli ospiti dando un sacco di suggerimenti e "chicche" Da scoprire !
Chiara
2015-12-03T00:00:00Z
What to say about La Notte; I can't wait to go back. As pictured it is bright, clean and modern. Equipped with everything we needed for a 3 night stay. Breakfast on the sunny terrace is not to be missed. Chiara was a wonderful host and the location is perfect for exploring the Langhe.
Kevin
2015-04-23T00:00:00Z
Lovely apartment nestled in the Barolo-Alba-Barbaresco region. Bright with natural light, spacious, modern, well equipped, and very clean. Plus Chiara and her father were wonderful hosts.
Jeff
2015-03-04T00:00:00Z
A beautiful apartment with the best view in all of Europe. Stunning place to visit. Chiara is a fantastic host. Our only disappointment was that we should have stayed longer.
Mick
2015-06-19T00:00:00Z
Chiara was very gracious and made our stay very enjoyable. First of all the apartment was very modern and comfortable with great amenities- reliable wifi, tv great shower, easy parking etc. However the best part was the stunning view of the beautiful Italian country side from the terrace. Chiara also made local maps and tourist info readily available as well. We hope to be able to visit again soon!!
Peter
2015-03-31T00:00:00Z
Incredible apartment with stunning view from the terrace. Chiara is a wonderful host, very friendly and reachable but allowed us our space to relax and enjoy it. The apartment stays cool, even in August heat due to their natural cooling system and everything is to a great standard. As a great bonus the kitchen is well equipped and a good size to cook in. Annunziata is a lovely village, and super convenient for so many great hilltop towns, Alba and even Torino and beyond. We'd absolutely love to return - it felt like a home away from home.
John
2016-08-14T00:00:00Z
Our only regret about this lovely apartment is that we didn't stay longer. The apartment is spacious, and we especially enjoyed the beautiful terrace, with lovely views both day and night. Although we didn't do much cooking during our stay, the kitchen was very well-equipped. Instructions are posted throughout the apartment, and there is plenty of available information about exploring the area. The bed was very comfortable, and the bathroom is wonderful and quite large by European standards. There is also a fantastic restaurant, L'Osteria Veglio, just down the street. Chiara is very friendly and readily available if needed. We would return in a heartbeat.
Lisa
2016-09-25T00:00:00Z
Very happy with la notte apartment. Chiara was a great host with great restaurant recommendations. She was very timely in getting back to all my emails prior to my stay and even arranged all my winery visits!! I will definitely come back to la notte when I return to the barolo area. The apartment was beautifully equipped and very modern in a quiet neighborhood between la Morra and barolo which is perfect. Easily can access all areas of the region and very close to the barolo alba road
Raphael
2014-11-18T00:00:00Z
Tipe Kamar
Seluruh rumah/apartemen
---
Tipe Properti
Apartemen
---
Mengakomodasi
4
---
Kamar tidur
Annunziata, Piemonte, Italia
Regalatevi un soggiorno di incanto e poesia presso "La casa del Morè". Lasciatevi trasportare dal fruscìo delle fronde del gelso, mentre vi rilassate sull'ampio terrazzo della casa, ammirando il meraviglioso paesaggio che solo le colline delle Langhe sanno offrire. Durante i mesi più caldi, poi, potrete rinfrescarvi nell'incantevole piscina esterna, circondata da vigneti e noccioleti, in una continua coccola per i sensi. Spend a stay of enchantment and poetry at "La casa del Morè".
Classica borgata delle langa.A pochi minuti di auto si raggiungono buona parte dei paesi che fanno parte del patrimonio unesco
Tipe Kamar
Seluruh rumah/apartemen
---
Tipe Properti
Rumah
---
Mengakomodasi
7
---
Kamar tidur
Onorati, Piemonte, Italia
Splendido ed accogliente appartamento di 100 mq. affacciato sulla piazza Del Belvedere di La Morra. Un Belvedere tra i più belli al mondo, nel cuore del sito Unesco Langhe-Roero-Monferrato. Arredato con mobili antichi può ospitare comodamente 4 - 6 persone, è dotato di 2 bagni. Ampio soggiorno che guarda il Belvedere con cucina ottimamente attrezzata.
Tipe Kamar
Seluruh rumah/apartemen
---
Tipe Properti
Apartemen
---
Mengakomodasi
4
---
Kamar tidur
La Morra, Piemonte, Italia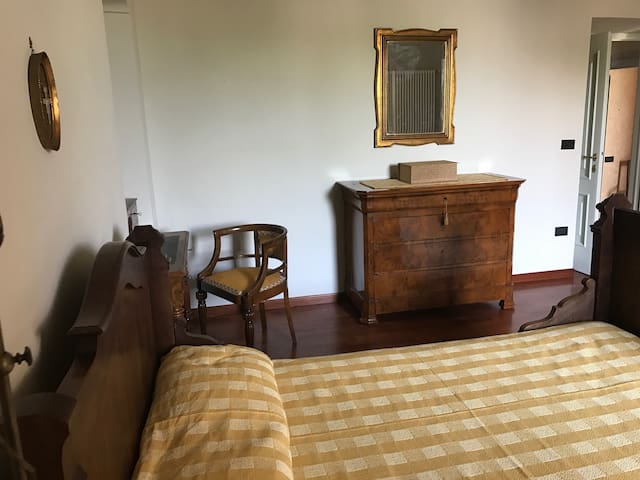 Ingressi indipendenti per le 3 suite disponibili con servizio b&b Cascina antica situata alla Morra , di fronte al Barolo , rinnovata con materiali preggiati offre un ampia camera suite indipendente , con bagno privato e doccia . Vista mozzafiato sulle Langhe, ed il tramonto . Breakfast con i nostri prodotti biologici , servita nel area living dalle (PHONE NUMBER HIDDEN) Inoltre potete visitarci online per visualizzare i nostri filmati e la nostra intera struttura.
Ingresso indipendente Suite room con servizio b&b, stupenda vista sulle Langhe ed il tramonto, è stata ristrutturata quest'anno con materiali preggiati, la collazione e inclusa nel prezzo è viene preparata con prodotti nostrani, uova fresche e verdure del orto. Guardiano 24/24h. Parcheggio gratuito. Percorsi a piedi 800m alla Morra, magnifica cittadella delle Langhe, Cherasco ad 1,5 km città d'arte, Alba a 6km la Fiera internazionale del tartufo. Posto incantevole in mezzo alla natura mantenendo il confort ed il benessere. Sono disponibile alle vostre richieste e proposte per assicurarvi un soggiorno piacevole e confortevole ed inoltre potete visitarci online . Dori
La Cascina B&Barolo e stata costruita nel fine ottocento a poche centinaia di metri dalla La Morra , nel alto della collina che affaccia sulla meravigliosa cittadella di Cherasco,   un vero  presepe da ammirare tutte le sere  e con una vista spettacolare sul tramonto e sul  l'imponente  Monviso (3841 m)          Una posizione strategica nelle famose Langhe vicino al paese di  Barolo , a Monforte e soltanto a 12 km da Alba,  la citta rinomata per l'ambita  fiera del tartufo conosciuta in tutto il mondo.          Circondata da nocioletti e vigneti la Cascina offre un atmosfera di altri tempi, di relax e confort di vera campagna piemontese.. Gli unici rumori che contaminano il nostro  ambiente sono  i cinguettii degli uccellini ,  il rumore del camino accesso con della legna che arde , o pure il rumore della pioggia . 
Dori's place is simply fantastic. Set in a very quiet and green environment, the house is beautifully decorated, as the pix show. Dori is a super host too ! The room was perfect, like the breakfast and all the amenities. Ideally located to explore all what Langhe has to offer. We are already planning to go back there. We can only recommend it.
Bruno
2016-10-29T00:00:00Z
Tipe Kamar
Kamar pribadi
---
Tipe Properti
Rumah
---
Mengakomodasi
3
---
Kamar tidur
Cherasco, Piemonte, Italia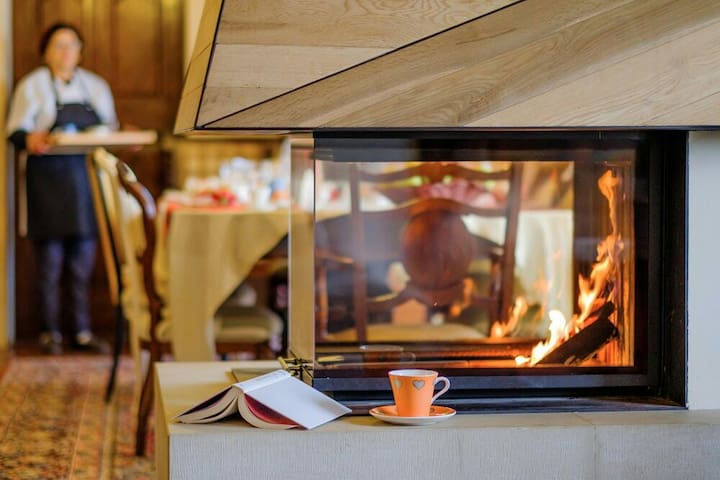 L'appartamento è un ampio bilocale situato nella piazza centrale di La Morra, posizione ideale per visitare le Langhe e il Roero. La casa è composta da un ampio salone con cucina, camera con letto matrimoniale, bagno e balcone. Fornito di biancheria, stoviglie, asciugacapelli. Di fronte all'appartamento è possibile trovare parcheggio gratuito nel grande piazzale sottostante.
Simona and her father were very kind and helpfull. The appartment is very good in a beautiful village.
Clarisse
2016-11-13T00:00:00Z
Tutto era perfetto: un appartamento pulito e completo di tutto il necessario per me e il mio compagno! Non indifferente il parcheggio gratuito proprio accanto casa
Giusy
2016-11-20T00:00:00Z
centrale, comodo, moderno, spazioso
elena
2016-12-07T00:00:00Z
Simona and her Mother were very helpful and welcoming. The apartment is very well located in the charming village of La Morra. It is simply decorated and equipped with all the basics one needs for a short stay. It was very clean and warm. When welcomed by Simona's mother I was offered any assistance if needed. I would definitely recommend Simona's apartment.
Lysiane
2017-02-16T00:00:00Z
A causa di impegni lavorativi siamo arrivati alle 23.30 invece che alle 21.30. Abbiamo comunicato la (non indifferente) variazione d'orario il giorno stesso del nostro arrivo. Simona, con grande gentilezza, ci ha detto che non c'era problema. È venuto ad aprirci Luciano, papà di Simona. Ci ha dato qualche dritta sulle località da visitare e ci ha mostrato l'appartamento mostrandoci dove tenevano la biancheria (asciugamani) e come alzare il termostato. L'appartamento è molto luminoso e con una splendida vista (si vedono le montagne e la valle) ; è situato all'ultimo piano di una bella palazzina ed è composto da sala/cucina abitabile con una finestra molto grande, camera da letto, disimpegno e bagno. Non è provvisto di Wi-Fi ma c'è la televisione. La casa è silenziosa ed appena fuori dal centro storico di La Morra, che è un paese davvero delizioso. La cucina è provvista di beni di prima necessità (sale, olio, zucchero) e anche tisane e caffè. Simona è riservata ma disponibile, insomma, la padrona di casa perfetta. Insomma...un rifugio perfetto per visitare le Langhe. Grazie
Margherita
2016-12-24T00:00:00Z
Clean and big flat. I thought there was only one room from photos, instead there were both living room and bedroom. It is in the middle of Langhe's area, so it's easy to reach every village around. A disadvantage is that there isn't wifi. We recommend, Marco and Sanja.
Marcoandrea
2016-11-02T00:00:00Z
simona and the parents were very helpful in accomodating me at the last minute. the apartment is brand new, clean and right in the heart of la morra so perfect location. the only thing is that there are no appliances (tv, washing machine, etc) but overall it was a pleasant stay.
Alice
2016-10-22T00:00:00Z
Siamo stati ospiti di Simona per il ponte del 1° Novembre. Simona è cordialissima ed è stata sempre molto disponibile sia per il check in che per il prosieguo del nostro soggiorno. L'appartamento è molto bello, pulito e in ordine. La location è perfetta per chi vuole girare il centro di La Morra, è vicinissima al centro e ha di fianco un grande parcheggio gratuito dove è possibile lasciare la propria auto. Consiglio agli altri utenti che vogliano andare a La Morra di prenotare questo alloggio.
Giovanni
2016-10-31T00:00:00Z
Tipe Kamar
Seluruh rumah/apartemen
---
Tipe Properti
Apartemen
---
Mengakomodasi
2
---
Kamar tidur
La Morra, Piemonte, Italia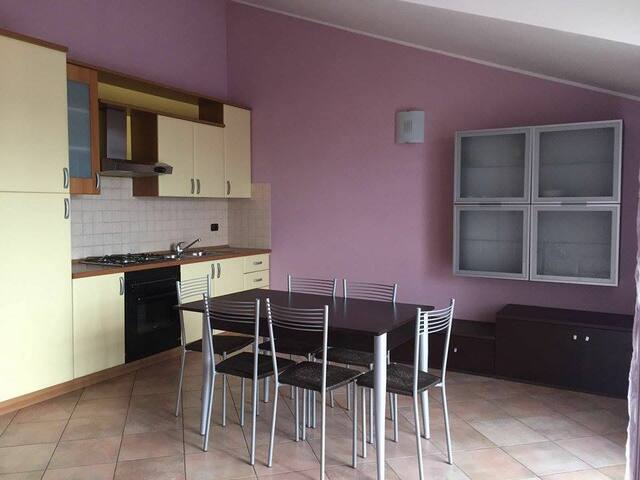 Il confortevole appartamento si trova in una delle vie principali che portano al piccolo centro che culmina sul "salotto" delle Langhe, il Belvedere, da cui si possono ammirare a tutto tondo le splendide colline che in autunno si colorano di tutte le sfumature che vanno dal verde al rosso più vivo.
L'alloggio si compone di un luminoso ed ampio soggiorno con doppio affaccio sul cortile e sulla via principale. Il cucinino è ricavato da una nicchia del salone. La camera da letto si trova adiacente al bagno, entrambi con affaccio sul balconcino.
semplicemente perfetto!!!! La casa veramente vicina al centro !!!!! Pulita e accogliente. C era tutto !!!!! Abbiamo passato 3 bellissimi giorni !!!!!! Grazie di tutto, della vostra disponibilità e accoglienza!!!!!!!
Antonella
2016-11-01T00:00:00Z
Tipe Kamar
Seluruh rumah/apartemen
---
Tipe Properti
Apartemen
---
Mengakomodasi
4
---
Kamar tidur
La Morra, Piemonte, Italia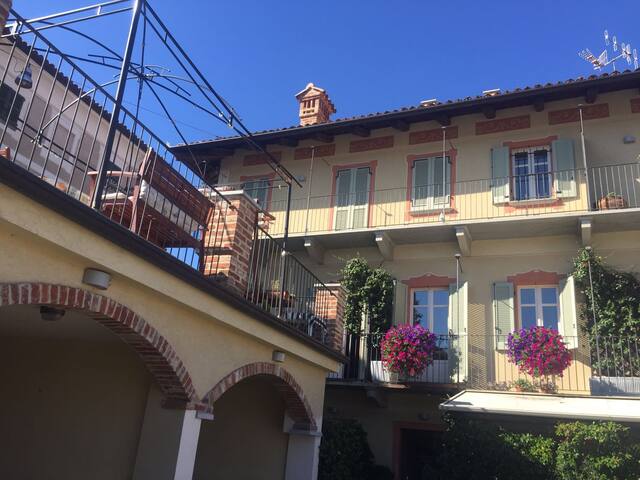 Il mio alloggio è nel centro della zona di produzione del vino BAROLO, a 2 km dal centro di Barolo, 5 km da La (URL HIDDEN) mio alloggio è circondato da vigneti e con ampi spazi esterni, giardino, barbecue. Cantina con produzione propria di vino Barolo, Barbera d'Alba, Nebbiolo e Favorita. Possibilità di visitare la cantina e assaggiare i vini, con vendita diretta dei nostri prodotti. Ti piacerà il mio alloggio per questi motivi: la tranquillità, gli spazi esterni, la posizione, l'atmosfera rurale.
Tipe Kamar
Kamar pribadi
---
Tipe Properti
Bed & Breakfast
---
Mengakomodasi
2
---
Kamar tidur
La Morra, Piemonte, Italia