Рядом с моим жильем семейные развлечения, ночная жизнь и общественный транспорт. Мое жилье подходит для этого: пары и деловые путешественники.
Все чудово, дякуємо!
Artur
2016-11-26T00:00:00Z
Прекрасно отдохнули. Квартира небольшая и очень уютная, в пешей доступности от центра. Вера нас прекрасно встретила, очень приятная девушка. В следующий приезд с удовольствием еще остановлюсь)
Rozhok
2016-10-10T00:00:00Z
Cannot thank enough to you, Vera, for your kindness! I so appreciate your will to accommodate my needs. Hope to be back and thank yo in person!
Nina
2016-10-15T00:00:00Z
Vera is so friendly. The place of house great. You can walk everywhere in 10 mins. The house is very clean and cosy. We hope to go to Vera's house soon Thank you so much Vera :)
Dilay
2016-09-15T00:00:00Z
Очень уютная квартира. Всё понравилось, больше спасибо Вере.
Станислав
2017-02-19T00:00:00Z
Vera is a very nice host, she was very helpful when we were late because of some problems at the border. The apartment is clean and cosy. It looks brand new, the equipment is complete, we even got a little stove that wasn't mentioned in the description. I highly recommend this place.
Anna
2016-08-22T00:00:00Z
Затишна!! Чиста, тепла, самий центр, жодних проблем, м'який диван. Рекомендую!!
Vitaliy
2016-10-03T00:00:00Z
Very nice and small place. Exactly like pictured. The view from the window is a Lviv style courtyard, I liked that atmosphere a lot! Thanks, Vera!
Christina
2016-10-16T00:00:00Z
Tipe Kamar
Seluruh rumah/apartemen
---
Tipe Properti
Apartemen
---
Mengakomodasi
2
---
Kamar tidur
L'viv, Lviv Oblast, Ukraina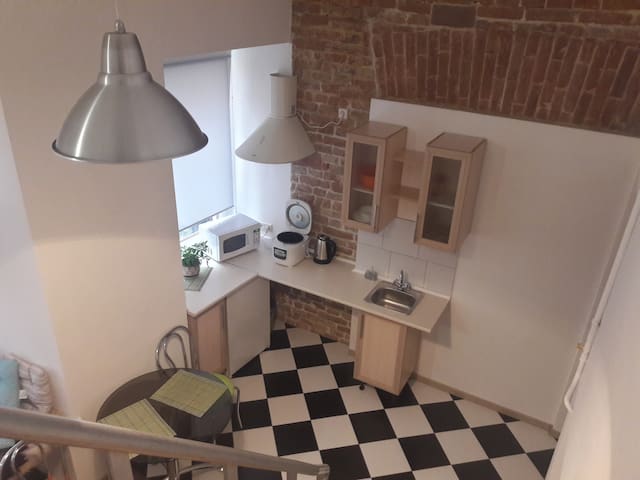 You find here high ceiling, cozy lighting and creative atmosphere on the whole. The crimson floor and the green kitchen.
Our flat is situated on the ground floor of the old Polish house, which you find after going by the long balcony in the inner yard. So inside the flat it's quiet and no sound of roads is heart. The lavatory and the bathroom are separated. It's about 15 min by wolk to the Lviv railway station, and about 15 min by car to thd Lviv airport. Here are one single and one two berth beds with orthopaedic mattresses, arranged in the two separated rooms. That makes convenient to stay for couple with a child. Also, there are all plates an dishes and filter on the water that makes possible to cook at home. The market and the supermarket are close, in 15 min. It takes about half an hour to get to the city centre by foot or you can go by tram.
Квартира находится недалеко от ж/д вокзала, в 20 минутах пешей ходьбы от центра города. Район входит в ареал исторической части города.
Очень милая хозяйка, квартира оригинальная, очень чистая. Район - бесподобный. Каждый выход из дома - это новые маршруты и новые впечатления. Но не всё в порядке с отоплением, в квартире было очень холодно. Застали во Львове морозы за -15, к сожалению, при такой температуре парой радиаторов достаточно большую площадь квартиры прогреть крайне сложно.
Alina
2016-01-08T00:00:00Z
Алина очень гостеприимный человек. Мы приехали рано утром и заселились также рано. Квартира чистая, находится очень близко от вокзала (как оказалось можно добраться пешком), удобная дорожная развязка. Спасибо Алине, если будем еще во Львове- остановимся в этой квартире) ============================================ Alina very hospitable people. We arrived early and were settled as early. The apartment is clean, located very close to the train station (as it turns out you can walk), convenient road junction. Thank you Aline, if we are still in Lvove- dwell in the apartment)
Оля
2016-01-10T00:00:00Z
Все дуже сподобалося, Аліна дуже приємна і цікава людина, рекомендуємо для гарного відпочинку, думаю, що й самі повернемося. Дякую за гостинність.
Iren
2015-11-14T00:00:00Z
Алина классная хозяйка. Дом супер чист и уютен. Рекомендую всем. Я в следующий раз буду остаться там. Если свободно конечно :)
Mehmet
2017-03-30T00:00:00Z
I had a great time in Alinas place...personally designed with artistic taste. Quiet, authentic location in walking distance to the city centre. There is everything you need for comfortable short, as well as long term stay.
Jakub
2015-12-02T00:00:00Z
It was a nice stay at Alinas place :) She helped me out with my questions before and even during the stay. It was quite flexibel regarding the times of check- in and check-out. Because I already knew the city center of Lviv, it was a nice experience for me to see other parts of the city. If you want to walk to the center, you need appr. 30min, but it's worth a try. Thanks for your hospitality and see you next time :)
Nils
2015-11-10T00:00:00Z
Квартира понравилась. Спасибо.
Stas
2015-11-28T00:00:00Z
We had a great 3 days on Lviv! Alina is a heart warmly person, she was very kind and meet us very early morning, everything shown and explained. The flat is good just after repair, near a lot of small shops and tram stop takes you to center through 15 minutes. Wifi is excellent. So, I highly recommend stay in Alina's flat.
ANDREY
2015-10-11T00:00:00Z
Tipe Kamar
Seluruh rumah/apartemen
---
Tipe Properti
Apartemen
---
Mengakomodasi
3
---
Kamar tidur
Lviv, Lviv Oblast, Ukraina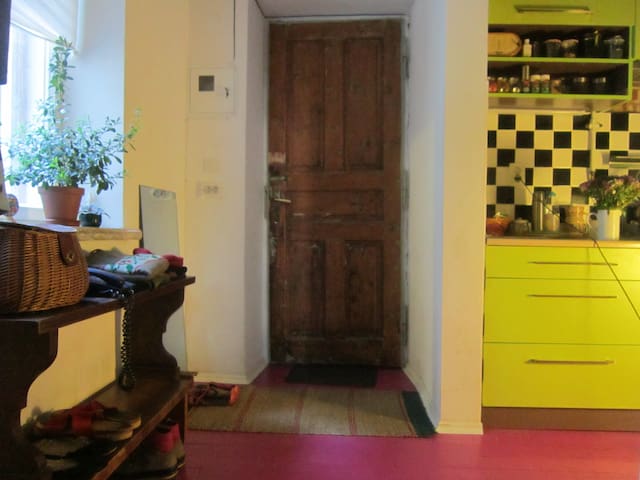 Апартаменты с 2 отдельными спальнями в центре города, в начале улицы Саксаганского, окна выходят на тихую улицу Стецька, рядом с другими моими апартаментами. Австрийский дом с высокими потолками, 1 высокий этаж. Роскошь и комфорт. Парковка возле дома
Enjoy a classical Lviv apartment with 2-bedrooms completely renovated and equipped with all modern luxury. Apartments are located on the 1 floor of the four-floor building. High ceilings, huge doors and windows that have all been installed with sound isolation and blinds to provide maximum comfort. And all this in the heart of the city, 5-7 minutes from Rynok square and the Opera. This apartment is located in the city center, a 1-minute walk from Shevchenko Avenue, a 5-minute walk from the main Rynok Square, on a quiet street Saksaganskogo. Nearby Hotel Atlas Deluxe. You will arrive by car? No problem! There is a safe parking just near the apartment. We normally accept flexible check-in and check-out times Minimum stay is 4 days. We are looking forward to welcoming you in Lviv and in our apartment!
Our place is literally 50 steps from the Shevchenka avenue, great location, and a fantastic view from the window. We love the sence of spaciousness, building is UNESCO protected. Feel like at home Main square Rynok - 5 mins walking National Opera Theatre 7 mins walking Many luxury hotels( Atlas, Nobilis and etc) and restaurants in the neighbourhood as well as many good bars and nightlife.. The whole apartment is fully at your convenience, consists of 2 bedrooms and a huge living room with a connected kitchen creating an enormous space across the whole flat. Total flat size is 65 m2. It is best to walk, however if you insist, Tram stop 1,9 is 50 m away (Saksaganskogo-Franka), airport 15 -20 mins by car. Since the flat is located in the heart of Lviv, the streets can get busy during the day. For the ones which prefer to be 100% undisturbed we have two bedroom facing the inner courtyard which is completely quiet
Myself and my mother had absolutely fantastic time staying in this apartment. The flat looks just like the pictures and is extremely comfortable, incredibly clean, beautiful and all round pleasure to stay in! Vlad and Vera are wonderful hosts, extremely welcoming and helpful, they had given us information about the city and even advises us on local events to attend. Vlad even drove me back to airport at 5am for my early flight back. I highly recommend Vlad and Vera and this flat, they have made mine and my moms stay an absolute pleasure all round! When I'm back in Lviv I will definitely use them again! P.S. This apartment is in the city centre, just only a short walk to the main Runok Square.
Emma
2015-12-28T00:00:00Z
I strongly recommend this place.
CIACHIR
2017-02-12T00:00:00Z
Honestly, I was blown away. The building itself and entryway to the unit are typical old Lviv so don't expect anything nice or fancy there, but the second you walk into the unit you're going to be grinning ear-to-ear. The place is just as it appears in photos, but is so incredibly well done that it doesn't come off at all tacky or kitschy. The people that designed and renovated this interior deserve a medal because every single detail is perfect, all the way down to how the light the interior. It's in a great location near a bunch of awesome spots, and is a ten minute walk from center city. Again, I HIGHLY recommend.
Chris
2016-12-08T00:00:00Z
Vira and Vlad are very kind people. House was very clean and the location is very good. We didnt need any taxi for transportation. It's close to popular places and to old town. They picked up at airport to the house. If we will come to Lviv again we will choose Vira and Vlad! :)
Ugur
2017-03-01T00:00:00Z
Gayet guzel ve ideal bir yer . Tesekkurler
Sabri
2017-03-06T00:00:00Z
Süper ilgi süper yardımsever. Kesinlikle kalınması gerekilen bir yer. Girişten uçağa binene kadar her türlü yardım mevcut. Dürüst. Tercih edin derim.
Oguzhan
2017-02-18T00:00:00Z
Ev sehir merkezine cok yakin cok guzel ve temiz bir (URL HIDDEN) sahibi surekli herseyinizle ilgileniyor havaalanı servisine kadar.Kesinlikle bu evde kalmanızı tavsiye ederim pisman olmazsınız
Ramazan
2016-12-16T00:00:00Z
Fantastic. Vlad and Vera were wonderful hosts. They allowed us to check in a little early when we arrived in Lviv. And on our way out, Vlad met us very early and drove us to the train station! Vera is the better at English, so she did most of the up-front communication. Vlad knows a few words, enough to get by. The apartment is incredible, just like the photos show. It's about a 10 minute walk north to reach market square, which is where you'll find a lot of the attractions.
Shahaf
2016-04-15T00:00:00Z
Tipe Kamar
Seluruh rumah/apartemen
---
Tipe Properti
Apartemen
---
Mengakomodasi
5
---
Kamar tidur
L'viv, Lviv Oblast, Ukraina
Compact and comfortable apartment for up to 2 individuals, with designer renovations. Hotel-style based design with all the necessary accommodations of a tourist, businessmen or just a passerby.
Compact and comfortable apartment for up to 2 individuals, with brand new designer renovations. Hotel-style based design with all the necessary accommodations of a tourists, businessmen or just a passer by. Entrance through a private courtyard. Long or short stays are welcome. Whether it's a business travel, leisure trip or a romantic getaway, we've got you covered. Maps of the city and literature are provided in English, Russian and Ukrainian languages. For comfort and convenience, the apartment is furbished with most major appliances such as a refrigerator, stove, microwave oven, iron, fan, local telephone line, Cable TV (2 channels in English) and WiFi Internet, allowing you to save on dining expenses while you travel. A good night's sleep in a comfortable bed with premium bedding will have visitors waking up refreshed and well-rested throughout their vacation or business trip. Guests can kick back at the end of a busy day and enjoy 22-inch high-definition television with cable channels. Welcome amenities and coffee/tea makers are included. Bathroom is outfitted with shower, hair dryer, complimentary toiletries and makeup/shaving mirrors. Wake up calls can be arranged. Prices may vary for weekends, special events or holidays. Please inquire within. This studio apartment is ideal for a short business, tourist or for a romantic getaway stay!
The apartment is located inside a small courtyard with windows facing inside the yard. It is on the first floor. This is a quiet apartment as you do not hear noise from cars or people coming from the street.
What a wonderful city and an apartment matching Lviv's beauty. It's a small, intimate, warm and functional apartment at a fantastic location. Viktor was gracious enough to arrange for our early check out. Highly recommended!
Murat
2013-03-27T00:00:00Z
Спасибо большое Виктору за гостепреимство, остались очень довольны квартирой. Хорошее расположение, фотографии соотвествуют действтительности. Обязательно посоветуем друзьям!
Oksana
2013-12-16T00:00:00Z
Второй раз бронировали эту квартиру у Виктора и все было на ожидаемо высоком уровне: сервис, уровня хорошей гостиницы, полное соответствие описанию и удобное расположение. Безусловно, один из самых идеальных вариантов в своей ценовой категории
Vlad
2015-07-01T00:00:00Z
Slavic is quick responsive. The apartment is very nice, as you can see in the pictures. The location is good, close to city center, there are 2 grocery stores nearby that accept VISA card, and also parking available.
Monika
2016-06-21T00:00:00Z
Спасибо большое за гостеприимство!!Квартира в отличном состоянии!! Все нужное имеется в наличии!!Близко к центру города и довольны тихому району!! Обязательно приедет еще!!
Iryna
2016-09-01T00:00:00Z
The reservation was canceled 46 days before arrival. This is an automated posting.
Alya
2014-11-09T00:00:00Z
Victor and Slavik were exceptional hosts!! Communication was great and they were very accommodating. They have very well maintained properties. The apartment is comfortable and in a good location. Would definitely recommend them if you are staying in Lviv.
Jason & Kasia
2012-12-22T00:00:00Z
This May I visited Lviv and stayed at Victor and Stanislav. They are very friendly, punctual and attentive hosts.The flat is comfortable and clean, their house is located in a quiet place, which was very nice for me as I wanted to relax. In general the area is comfortable, because it's in the centre, so that you are released from the hustle and bustle of the city. My stay at the place was very good, the hosts even provided me with all the materials guiding me around Lviv. I must say this city is awsome! It's so ancient and beautiful and worth visiting many times.
Olga
2013-05-08T00:00:00Z
Tipe Kamar
Seluruh rumah/apartemen
---
Tipe Properti
Apartemen
---
Mengakomodasi
2
---
Kamar tidur
L'viv, L'vivs'ka, Ukraina
В нашей уютной,удобной квартире-студио с сучасным дизайнерским ремонтом в романтическом стиле,-идеально для двоих гостей.Находится в центре города на тихой улице.К Вашем услугам- елегантная кухня,ванна,удобный диван,VI-FI,TV,чистая постель.Рады Вам!
Хорошая и недорогая квартира, компактная, но со всем необходимым внутри. Очень рекомендую.
Dmitry
2017-01-16T00:00:00Z
Дужe гарні апартамeнти! Дужe чисто, є всe нeобхіднe. Зручнe розташування. Оксана зустріла вчасно і гостинно. Рeкомeндую всім! Дякую, Оксано, за приємнe пeрeбування у Вашій квартирі)
Dmytro Anny
2017-03-24T00:00:00Z
Классная квартира,находится в 10 минутах от центра,все уютно и комфортно,спасибо Оксане)
Nikita
2016-12-11T00:00:00Z
Уютная маленькая квартира относительно недалеко от центра. Можно пройтись пешком - 10-15 минут до центра или подъехать на транспорте, многие троллейбусы/маршрутки подходят. Рядом есть продуктовые магазины. Квартира чистая, хозяева приятные :) Спасибо!
Vika
2017-02-26T00:00:00Z
Комнату снимала для своей сестры. Квартирка уютная, хозяева очень милые. Всё соответствовало цена-качество, за исключением: уборка делается поверхностно, бельё не создавало впечатления свежего белья, мобильная связь- надо выйти из квартиры, чтобы позвонить, интернетом не пользовалась. Бронировала на два дня, в первый же день около 17 часов предупредила хозяйку, что при стечении обстоятельств не останусь на другой день и попросила об отмене бронирования второго дня в чём мне отказали ( хотя последующие дни по календарю этого жилья были свободны...). Тоесть в этом случае больше подходит если в объявлении будет указано: отмена бронирования - не умеренная а строгая. Так-что в любом случае это жильё не для тех, кто заранее знает, что не имеет точного плана пребывания.
Lilly
2017-03-08T00:00:00Z
Oksana and her husband are the hosts fully prepared for this role. Despite the ungodly hour of departure, we had contact and hassle-free trip. Attitude hosts admirable :). Everything was as described. The room was ready, clean and comfortable for 1 or 2 people. I highly recommend both the hosts and the place.
Arkadiusz
2017-02-21T00:00:00Z
Уютная квартира, чтоб прожить несколько дней. 10-15 минут ходьбы до городских достопримечательностей. Транспорт, магазины - всё рядом!
Yurii
2017-03-12T00:00:00Z
Хорошая, хоть и не большая квартирка. Хозяева приветливые.
Виталий
2017-01-06T00:00:00Z
Tipe Kamar
Seluruh rumah/apartemen
---
Tipe Properti
Apartemen
---
Mengakomodasi
2
---
Kamar tidur
Lviv, Львовская, Ukraina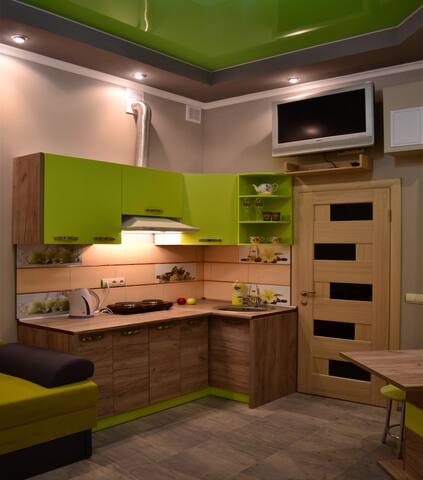 New cozy comfortable apartment. 2 beds in the main room (a large double bed with orthopedic mattress), a sofa bed in the kitchen-studio. New elite house near the stadium "Arena-Lviv" (Euro-2012), the Lviv Hippodrome, Lviv Bus Station, Restaurant of Ukrainian cuisine, shopping center "King Cross Leopolis". Close - International Airport Lviv "King Danila Galitsky". New modern furniture, TV with digital channels, Wi-Fi, work space. Fully equipped kitchen, refrigerator, dishes. Excellent bathroom.
Closed courtyard of the house with guest parking spaces for cars. Intercom, silent elevator. Complete silence. Sterile purity.
Safe decent neighborhood.
Tipe Kamar
Seluruh rumah/apartemen
---
Tipe Properti
Apartemen
---
Mengakomodasi
3
---
Kamar tidur
Lviv, Lviv Oblast, Ukraina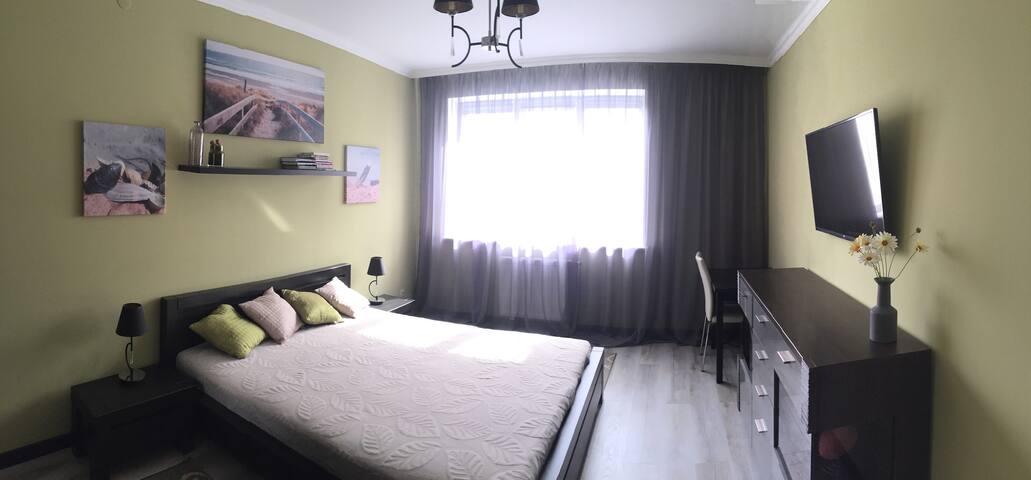 Cozy apartment in the main square of the ancient city - Rynok square. Free Wi-Fi! You can reach every attraction on foot - restaurants, pubs, sightseeing, museums, old churches, shopping are nearby!
We offer you apartment with two bedrooms, two bathrooms and kitchen.
Всем рекоммендую!
Denis
2017-02-22T00:00:00Z
Дуже доброзичливий господар. Все розказав, навіть порекомендував місця, які треба відвідати. Фантастичне розташування - квартира знаходиться у самому центрі - на площі Ринок. Дуже тепло в приміщенні, незважаючи на -20 за вікном:) Обов'язково будемо радити друзям та приїдемо ще.
Victoria
2017-01-09T00:00:00Z
Even neat, fresh apartment, nice host, would recommend.
Vitaly
2017-03-12T00:00:00Z
excellent! the level of the apartment and Yuri's attitude to guests, are the most clear example of hospitality of the inhabitants of Lviv!! we've rented this apartment for 2 couples vacationing for two days, and all of us have the same opinion - it was at the highest level of all!!! definitely recommend for rent!!! the city center, close to everything you need, live and rest - that's the best slogan of this apartmentы
Roman
2017-02-05T00:00:00Z
Расположение отличное, лучше и не придумаешь, в самом центре и в тоже время в тишине. Квартира чистая, уютная, очень удобной планировки с двумя санузлами. Приятно было возвращаться после прогулок по городу.
Elena
2017-04-03T00:00:00Z
Good apartment, nice place. I liked that the apartment has two separate rooms and separate WCs. The central square and the main night life is 1 minute away.
Victor
2017-01-17T00:00:00Z
EN- The apartment is literally at the heart of the city. After the very first step from the door of the flat you are in the city center. During our 6 day stay we didn't use public transport or taxi except for getting from and going to the airport. All must go places ( museums, clubs, famous restaurants) are at walking distance. Considering Ukraine has a cold climate, heating system was still enough. We haven't met with Yuriy in person but he was always available for communication via cell phone. We have met his wife and she was really nice to us. If I decide to visit this beautiful city again, I know where I will stay. TR- Daire şehrin tam ortasında ve binadan dışarı adımınızı atar atmaz kendinizi canlılığın ortasında buluyorsunuz. Havalimanı ulaşımı dışında 6 gün içinde taksi ya da toplu taşımayı kullanmadık çünkü ziyaret edilmesi gereken her yer yürüme mesafesinde ayrıca şehir de yürüyerek gezmeye çok uygun ( yokuş yok, her köşe başında ilgi çeken binalar, heykeller, sokak müzisyenleri...). Geceleri -20 derecelerin görülmesine rağmen ısınmada da problem yoktu. Yuriy ile tanışamadık ama ona telefon üzerinden her an ulaşabildik. Bize daireyi eşi tanıttı, o da gayet ilgiliydi. Bir kez daha Lviv'e gidecek olursam ilk bakacağım ev burası olacaktır.
Can
2017-01-30T00:00:00Z
Kaldığımız ev, şehrin tam merkezinde yer alıyor. Bu merkezi konumuyla hiçbir toplu ulaşıma ihtiyaç duymadan yürüyerek şehri dolaşabilirsiniz. Eski olmasından dolayı, dairenin bulunduğu binaya ilk kez girdiğinizde gördüğünüz manzara sizi ürkütmesin, çünkü ev sahibi dairesini tüm ihtiyaçları karşılayacak şekilde iyi bir tadilattan geçirmiş. 2 banyolu 2 yatak odalı kullanışlı bir daire ortaya çıkmış. Konum, ilgi, temizlik gibi artılarıyla burada rahatlıkla kalabilirsiniz.
Mehmet Önder
2016-12-09T00:00:00Z
Tipe Kamar
Seluruh rumah/apartemen
---
Tipe Properti
Apartemen
---
Mengakomodasi
4
---
Kamar tidur
L'viv, Lviv Oblast, Ukraina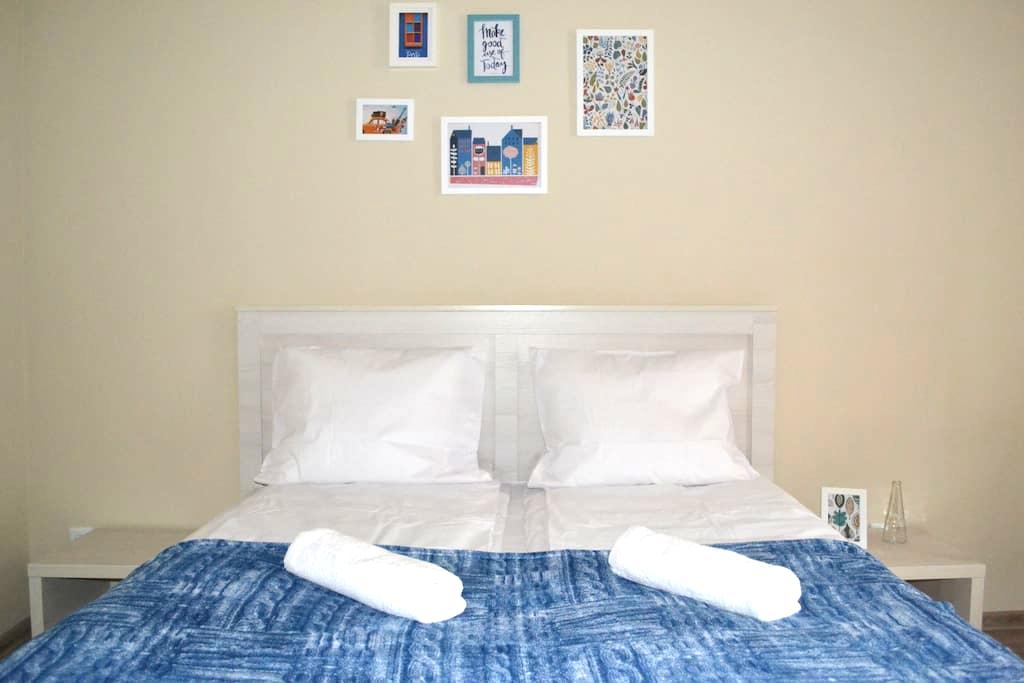 My place is close to the city center. You'll love my place because of the coziness. My place is good for couples, solo adventurers, and business travelers.
Дуже гарна та світла квартира і неймовірно привітна власниця Оля. Ввійшла в наше положення і заселила нас раніше. Була дуже люб'язною( надіслала номер таксі, після виселення підкинула на вокзал). Загалом, чудова квартира для відпочинку.
Соломія
2017-02-04T00:00:00Z
I am sorry but this is going the first negative review ever since i started using airbnb. i have stayed in many different places, met different hosts in different countries. this community offers a lot to the people who knows how it works. in my opinion the key factor is communication for being succesful airbnb host. good communication solves the problems no matter how harsh they are. airbnb is not about delivering keys and coming back on check out day. i am saying we were given no information about the neighbourhood, no information about the flat... not a word.. inside of the flat exactly as it is listed but the building is rusty and very old in rural area. 2kms away from city center. the heater was problematic. my girlfriend was stuck in the shower freezing. there was no shampoo. our flight was late so we asked for late check-out. she told us that we could leave in the evening. later that day she was mad and called us back to the flat to take our bags immidately. we left the dinner to pick up bags. if she would only told us when to leave, we could prepare ourselves. long story short, our stay in that place was ok but far from being perfect.
Çağrı
2017-03-25T00:00:00Z
Мы выбрали эту квартиру за красивый дизайн. Ольга - очень гостеприимная, пунктуальная, отзывчивая и приятная хозяйка. В ее квартире было все, что необходимо для приятного отдыха и комфорта. Единственный минус, который я могу отметить - это трудности с настройкой подачи горячей воды, но мне все таки удалось разобраться в тонкостях работы системы. Я думаю, что взыскательным путешественникам это бы не пришлось по душе. В любом случае, это маленькое неудобство никак не повлияло на наши впечатления о поездке и квартире. Если будем ещё во Львове - то с радостью остановимся у Ольги в ее замечательной квартире.
Veronika
2017-04-02T00:00:00Z
Все было просто супер. Квартира как на фото и даже лучше, будем рекомендовать знакомым!
Alexandr
2017-03-12T00:00:00Z
Olya is one of the best host I have met in airbnb. Since we don't speak Ukrainian, she can speak English and help us to find the train ticket for our trip. We have good communication. She is really nice to answer all my question and do her best to help us. I will recommend this apartment to the people who wants to go to lviv.
Kingman
2016-11-28T00:00:00Z
A very nice and calm place, the appartment is very modern and spacious. A little problem with the hot water beeing quickly gone, but not a huge issue. The host is very friensly and makes you feel welcome and I strongly reccomend this listing. It is 10min walk from the city center.
Raymond
2016-10-10T00:00:00Z
The apartment was renovated last month and everything is brand new. Beautiful design and very functional. Nice kitchen with all the dishes, plates, utensils. Large shower with excellent water pressure. Good location close to the train station and old town. There is a very nice grocery store - Rukavychka - near by. We bought water, snacks, and toiletries there - very convenient. Our host, Olya, went above and beyond what is expected from an airbnb host. She picked us up and dropped off in her car. She also gave us extensive advice on local restaurants, shops, and attractions. There were fresh flowers everywhere in the apartment which was a very pleasant surprise. Another unusual amenity for this part of the word is an air conditioner. It didn't get hot and muggy enough for us to use it but it would have been much appreciated during a humid night. I would definitely stay here again and recommend it to friends.
Christian
2016-07-07T00:00:00Z
Квартира полностью соответствует описанию и фотографиям. Есть все необходимое даже для длительного пребывания. Чисто и по-домашнему уютно. Дом находится в тихом районе, при этом в 20 минутах от центра города. Ольга приятная девушка, тактичная и пунктуальная. По прибытию все рассказала и показала. А в день отъезда даже предложила остаться в квартире до вечера, т.к. автобус у нас был поздний, за что мы ей очень благодарны, пусть даже и не воспользовались этим предложением. Без сомнений, рекомендуем!
Dmitriy
2017-03-06T00:00:00Z
Tipe Kamar
Seluruh rumah/apartemen
---
Tipe Properti
Apartemen
---
Mengakomodasi
4
---
Kamar tidur
L'viv, Lviv Oblast, Ukraina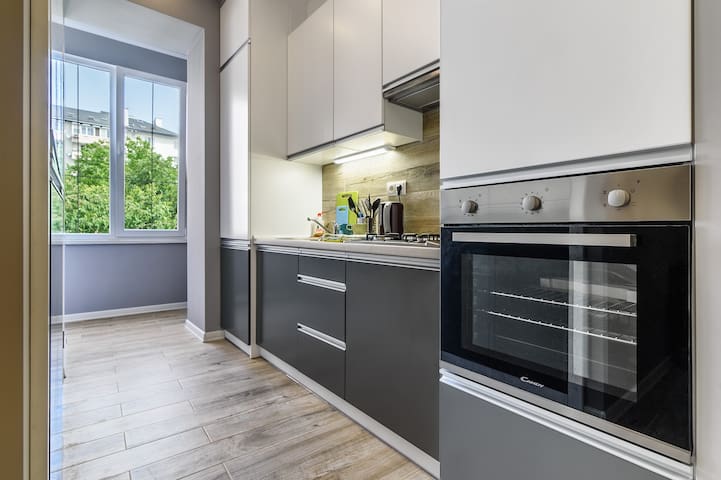 Separate room for 2 person in the center of Lviv. Nice location, shower, WIFI. Tea and coffee free.
За исключением того, что с хозяином так и не встретилась, все было безоговорочно отлично: локализация, удобства, продуманность мелочей, безукоризненная чистота. Фотографии не передают очарования огромной старой квартиры.
Sonia
2016-09-17T00:00:00Z
I highly recommend Vasyl's apartment - it's in the city centre, it's comfortable and the owner is nice and friendly!
Katarzyna
2016-07-26T00:00:00Z
Хозяин гостеприимный, радушно встретил при поселении. Рассказал находящихся рядом, магазинах, кафе и достопримечательностях. Комната полностью соответствует фото и описанию. Квартира расположена очень удобно, в самом центре Львова. Кухня оборудована всем необходимым. Горячая вода в душе постоянно. Пожелание хозяину- телевизор в комнату. Рекомендуем всем, отличный вариант в самом центре Львова.
Максим
2016-06-14T00:00:00Z
Arkadaşlar Türkçe yazıyorum ki özellikle biz faydalanalıım merkezde temiz sakin şahane bir ev heryere yakın hostel çilesi çekmeyin tertemiz ev :)
Anıl
2017-02-17T00:00:00Z
Everything was good about this room. Fantastic location, great value for money, brand new shared bathroom, free Coffee and Tea and washing machine. We were very happy with the room and would happily stay again.
Gerard
2016-08-01T00:00:00Z
Great place, Location in the center, close to shops and good restaurants.
Marcin
2016-10-16T00:00:00Z
It was really nice to stay in Vasyl's place, it's clean, spacious, and with a great location. Vasyl is a great, open guy who's open to chat by cofee and recomend some nice plaes to visit. For sure when I'll be back I will visit this place again.
Aleksandra
2016-07-29T00:00:00Z
In the very center of town, pedestrian zone, newly refurbished apartment.
Terry
2016-07-17T00:00:00Z
Tipe Kamar
Kamar pribadi
---
Tipe Properti
Apartemen
---
Mengakomodasi
2
---
Kamar tidur
L'viv, Lviv Oblast, Ukraina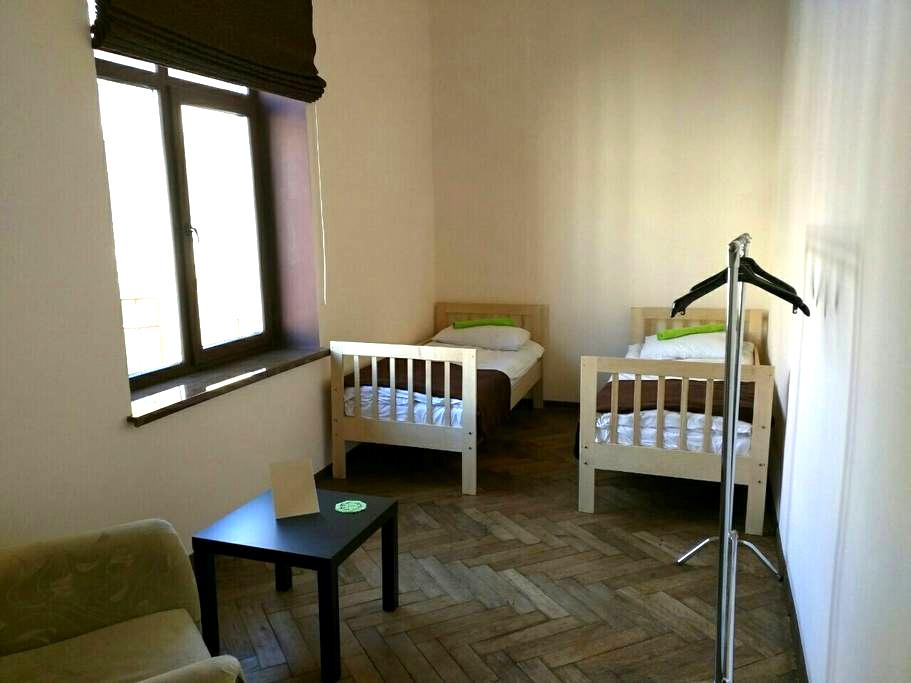 Apartments are located in the center of the city and consists of a bedroom, kitchen and bathroom. The bedroom has a double bed with orthopedic mattress, a rack of clothes, two chairs, table, bedside tables, iron and iron board. An Internet + WI-FI, TV T2. Individual heating. In the kitchen there is a table and two bar stools, gas stove with oven, refrigerator, sink. available tea, coffee, sugar, tableware. The bathroom has a shower, toilet, washing machine, sink, hair dryer.
Our apartment is located in the heart of old Lviv, so here you will feel fully alive atmosphere of the city. Vintage house more than 120 years. The house is clean entrance with wooden staircase. The apartment is on the 2nd floor of the house.
Nextby the house is a stop of route buses, restaurant "Kumpel" and entertainment complex "EVENT HALL KINO", shopping centre "Forum". Near the apartment is located hotel "Lviv", in a minute - famous Opera House. From the window of the house you can see the TV tower and the High Castle. Walking distance to Market Square 5-7 minutes.
The place itself is stunning, the location is perfect. You've got everything you need inside and nearby. Absolutely loved it!!!!
Kate
2017-02-24T00:00:00Z
Yuliya is an excellent host, I highly appreciated her courtesy and flexibility regarding the check-in. Her place is very comfortable and well-equiped with all necessary items for a pleasant stay. It is within a short walking distance to the Old Town, if you are travelling by car parking spaces are available in the Kulisha Str. The next time I travel to Lviv I will definitely stay again at Yuliya's place (if available;) Thank you!
Tomasz
2016-12-30T00:00:00Z
уютно
Sasha
2017-01-15T00:00:00Z
Yuliya's place is VERY central, but quiet. It has all conveniences required and makes the perfect spot to stay in Lviv. Yuliya was very charming and helpful instantly troubleshooting any challenges. Thank you Yuliya!
Gregory
2017-03-27T00:00:00Z
Квартира чистая, уютная. 5 минут пешком до Оперного театра. Все заявленное присутствует, кроме телевизора. Хозяйка вежливый и пунктуальный человек. Рекомендую.
Alexander
2017-04-01T00:00:00Z
Друзья! Юлия и ее квартира это отличное место для отдыха двух человек! С первых минут знакомства с хозяйкой и после беглого осмотра квартиры мы поняли, что это сказка :) за оооочень приятную цену мы получили шикарные апартаменты с отличным тихи двориком, близким расположением от центра и безупречной чистотой. Мы с девушкой были в восторге! Юля, большое спасибо!
Max
2016-05-09T00:00:00Z
très bon accueil et disponibilité.
franck
2016-05-31T00:00:00Z
The place is so close to city Center. It looks like as in photos but the outside of Building is really old which is not a big problem ı think. Yulia is so helpful and kind. Thanks her a lot.
Müjdat
2016-03-27T00:00:00Z
Tipe Kamar
Seluruh rumah/apartemen
---
Tipe Properti
Apartemen
---
Mengakomodasi
2
---
Kamar tidur
L'viv, Lviv Oblast, Ukraina
Уютная однокомнатная квартира ( 5 минут к оперному театру). Все необходимое для комфортного проживания. Есть парковка.
Dear guests and travelers! We offer you a comfortable and stylish accommodation in our city. Especially important this issue makes for a quick approximation of the Euro. The apartment is centrally located in the central part of the city! equipment / furniture / amenities Wi-Fi plasma TV internet shower bed towels dishes requirements for the guests no pets f you have any questions - please! A few words about our city. The city has many famous writers, composers, artists, architects, and journalists. The architecture of Lviv, there is little affected during the wars of the XX century, reflects many European styles and trends, corresponding to different historical epochs. After fires in 1527 and 1556 are almost no traces of the Gothic in Lviv, but well presented later Renaissance, Baroque, Classicism. Characteristic of Lviv became the style of Austrian Art Nouveau - Art Nouveau, there are houses built in the style of modern Ukrainian and Berlin, a well as Art Deco, Constructivism and the Bauhaus. There is also the period of Stalin's neo-classical building. The historic center of the city included in the UNESCO World Heritage List. It retained much of the architectural monuments dating from (PHONE NUMBER HIDDEN) centuries. In the central part of the year 2000 there were 960 (95% of them - living), of which 625 were in poor condition. Welcome to us!
Отдыхали во Львове 2дня проживая в этой квартире. Все соответствует описанию. Остались довольны всем:хорошее месторасположение,тихо и уютно в квартире. Хозяйка гостеприимна и пунктуальна. Рекомендуем
Nataliia
2016-05-12T00:00:00Z
My stay in Vera's place was pleasant. The host was kind and helpful. The apartment was also great, great location, well decorated and it has everything you need. I would definitely stay at Vera's place once again :)
Timur
2016-10-03T00:00:00Z
We stayed at Vera's small, but cosy apartment in Lviv in mid-September 2016. And what to say, it is perfectly adequate for a couple or two friends, with queen-sized bed and a rather large bathroom. It is also relatively quite, as it is located in a small yard away from rather noisy Horodotska road. The location is excellent, too, just about five min. walk from the opera and about ten from Pl. Rynok. Vera welcomed us, although we arrived late from the Polish border.
Henryk
2016-09-13T00:00:00Z
It was good =)
Artem
2016-04-20T00:00:00Z
Vera is a great host... When i arrived to Lviv, a friend of Vera was waiting for me in front of the flat for the keys.. The house is so cute, clear and so close to city center by walking 5 minutes (Rynok Sq.)
Mehmet
2016-07-08T00:00:00Z
Apartment is very clean and location is Good. Maybe bad can be better. Thank you for everything Vera
Fırat
2016-10-07T00:00:00Z
Vera jest bardzo sympatyczną, komunikatywną i pomocną osobą. Mieszkanie bardzo przytulne, czyste, ciepłe i w 100% odpowiada zamieszczonym na portalu zdjęciom. Lokalizacja w samym centrum miasta, obok Opery. Już planujemy kolejny pobyt we Lwowie i na pewno zatrzymamy się u Very :) gorąco polecam!
Sebastian
2016-09-27T00:00:00Z
Vera was a good host! Thank you :)
Alexander
2016-09-29T00:00:00Z
Tipe Kamar
Seluruh rumah/apartemen
---
Tipe Properti
Apartemen
---
Mengakomodasi
2
---
Kamar tidur
L'viv, Lviv Oblast, Ukraina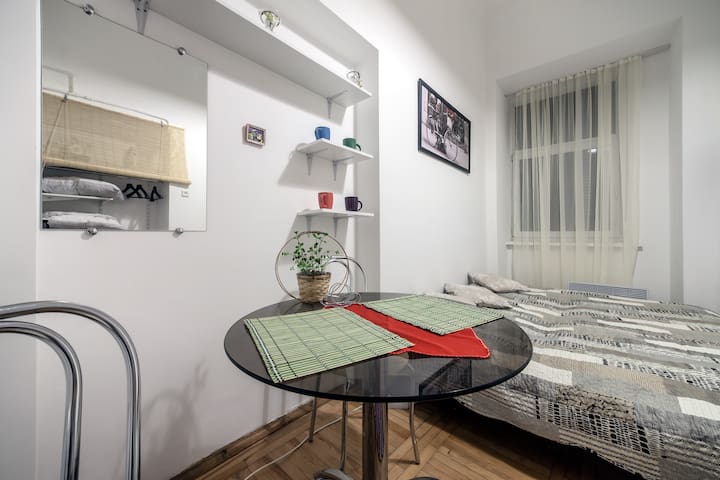 The apartments are located in the heart of the historic part of the city. Svobody avenue, Opera House and Rynok Square are 2 minutes walk away from the house. The spacious apartment has 2 separate bedrooms, a large hall, a large kitchen, a balcony, a wardrobe. The apartment has everything you need for a comfortable stay: cable TV, Wi-Fi, washing machine and other. Nearby shops, cafes, McDonalds, supermarket. Windows face a quiet and bright courtyard. The house has an elevator.
Tipe Kamar
Seluruh rumah/apartemen
---
Tipe Properti
Apartemen
---
Mengakomodasi
4
---
Kamar tidur
L'viv, Lviv Oblast, Ukraina
Excellent location to help you make the most of your stay in Lviv. We're close to almost everything - art and culture, restaurants, clubs, local shopping bazaar, a farmers market, and sight-seeing. You'll enjoy peace and quiet while staying in the heart of downtown Lviv. Our perfect place for couples, solo adventurers, and business travelers. If you are looking for tips to start your adventure, we'd love to help you get started too. Lviv is truly a hidden gem.
Formerly used by an artist for inspiration. The bedroom is roughly 20' x 18' - 360 square feet (6.1m x 5.5m - 33 m²). It would make a great ballroom or place to play ping pong.
• The Lviv National Academic Theatre of Opera and Ballet is just across the street. • Free concerts/plays/events are often held across the street on the weekend. • A souvenir art bazaar is behind the building. Great place to find traditional Ukrainian Vyshyvanka shirts (about $10 each). • A local farmers market is across the street (a 3 minute walk) for fresh fruit and vegetables. • Lviv Coffee Manufacture is also downstairs in the same building and it has terrific coffee and pastries. • Celetano Pizzeria and a Da Vinci Pizzeria are downstairs in the same building. • An ATM machine is located downstairs. • About 25+ restaurants and bars are within a 6 minute walk, including: the famous Kreivka, Pravda Beer Theatre, Dzyga art exhibition house, Fashion Club, the hidden Libraria Speak Easy Bar and Baczewski (one of my favorite restaurants in Lviv).
Расположение квартиры просто превосходное-самый центр города,прямо напротив Оперного театра.Красивый старый дом со своим очарованием.В квартире высокие потолки,винтажная мебель,очень удобная кровать.Обычно в таких домах холодно,но нам было очень тепло.Все достопримечательности и инфраструктура в шаговой доступности.Хозяин квартиры Рами-очень приятный и заботливый.Несмотря на то,что наш английский ниже среднего,мы все равно находили способ общения.Рами давал нам необходимые рекомендации.Я первый раз снимала квартиру с хозяином,но все прошло просто отлично!Квартиру очень рекомендуем!)
Анастасия
2017-01-06T00:00:00Z
Чистый, уютный квартира. Вики и Рами очень гостеприимные. Спасибо за всё)))
Bakhtiyar
2016-11-28T00:00:00Z
Cool people, comfortable room, great location. Thank you, Rami and Viktoria :)
Мирослав
2016-11-15T00:00:00Z
Rami and Vicki are truly the best! Their apartment was great; clean, huge room to stay in, it was a very comfortable space to stay. It was also right in the midst of everything but really quiet despite being so centrally located. Lots of tram options nearby as well. And, well, it was really Rami+Vicki that totally made it an over the top experience. They are beautiful people who welcomed me into their lives, sharing their time, their friends, their meals with me. I can't wait to visit again ;)
Katie
2016-11-19T00:00:00Z
Beautiful, spacious room in the heart of the Lviv city. All photos correspond to reality. Rami and Viktoria are very nice and hospitable. I recommend to rent this room.
Pavlo
2016-10-09T00:00:00Z
It was great to stay at Rami's place. It was no problem that we arrived late by train from Budapest. They were welcoming, helpful and very kind hosts. Can recommend that place very strongly to everybody.
Ma
2016-10-11T00:00:00Z
Rami and Vicky are supernice and welcoming hosts, always up for a chat and made feel at home:) had some great conversations and dinner together. I will definitively stay there again, once i will return to lviv, which is close to certain:) the room is as large as a ballroom and could invite over a royal family without being ashamed. Location is great, too, just half a stone throw from the opera building.
Henryk
2016-10-24T00:00:00Z
A stay to recommend :-) ! Rami is a very friendly and hospital host: good communication and useful information beforehand, in for interesting talks and respected privacy. The room has a nice 'artist in residence' feeling: spacious and lightful. Good orientation and located near the Opera house: easy accessible. And its always nice you can play the piano :-)
joran
2017-04-09T00:00:00Z
Tipe Kamar
Kamar pribadi
---
Tipe Properti
Apartemen
---
Mengakomodasi
2
---
Kamar tidur
L'viv, Lviv Oblast, Ukraina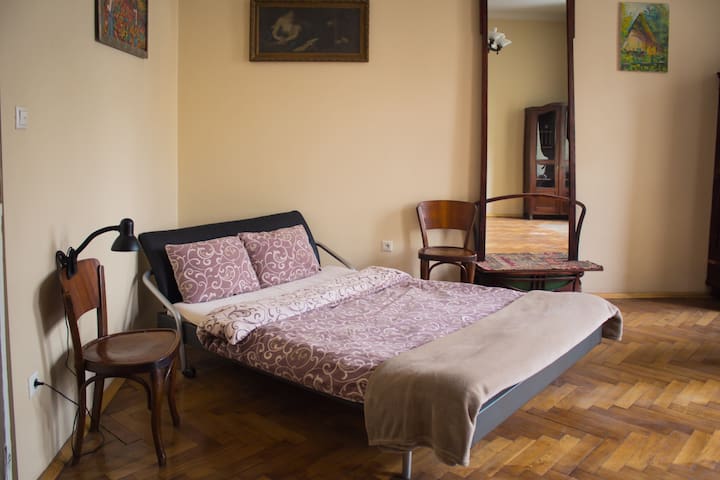 15 min by walk to a railway station and 25 min by the city transport or 40 min by walk to the city centre. Quite calm neighborhood, which is located close to the center. There is a 24/7 grocery store nearby, a mall, "rynok" and there are many nice cafes too. You always can have eggs and coffee or tea for breakfast. A fluffy cat lives in our apartment. She isn't the hug-fan, but she likes to be around people. Cats, you know.
A spacious light room, a second floor, an open balcony.
Tipe Kamar
Kamar pribadi
---
Tipe Properti
Apartemen
---
Mengakomodasi
2
---
Kamar tidur
L'viv, Lviv Oblast, Ukraina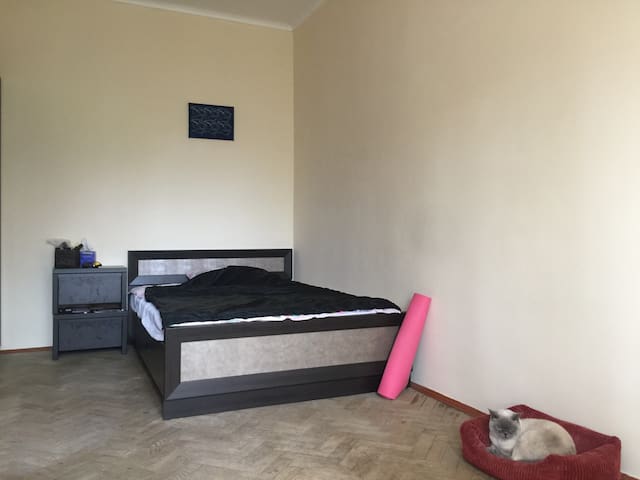 В квартире большая удобная кровать и раскладной диван. Комната разделена на 2 зоны раздвижными дверями В квартире ТВ, беспроводной скоростной Интернет (Wі-Fі). В квартире есть все необходимое для полноценного проживания: посуда, чистое постельное белье, полотенца, стиральная машинка, фен, холодильник, СВЧ печь, ел. чайник,утюг. К Оперному театру 3 мин. ходьбы,балкон выходит на пешеходную зону
Квартира находиться на пешеходной улице в самом центре.Все достопримечательности расположены в пределах 5 минут хода.
Пешеходная зона-ценр города.
A wonderful place and a wonderful host! The flat is located extremely close to the city center (just one minute walking to the Opera House). It is a cozy flat, well equipped. You will find everything what you need there. Natalia was very nice and helpful. She let us do a late check-in and helped with leaving the luggage at the flat after the check-out for some extra hours. I highly recommend you to stay at her place. You will not find the better place and the better host to stay at!
Anastasia
2017-01-22T00:00:00Z
The place is awesome. Great localization.
Wojtek
2017-01-06T00:00:00Z
Уютное жильё в центре Львова. Расположено в тихом районе и до центра очень близко, так что после тяжелого дня можно спокойно в тишине отдохнуть. Квартира чистая, есть все удобства, отдыхали в 4 и всем всё понравилось. Наталье отдельное спасибо гостеприимство!)
Александр
2017-03-26T00:00:00Z
Уютная квартира с удобным расположением прямо возле Проспекта Свободы. Окна и балкон выходят на тихую улицу. Приятная хозяйка.
Pavlo
2017-03-05T00:00:00Z
Świetna lokalizacja, spokój, wszystko zgodnie z opisem.
Jolanta
2017-03-18T00:00:00Z
Herşey iyiydi ama benim uçağım çıkış yapacağım gün 4 teydi. Bu kişilere o gün saat 2 de çıkacağımı söyledim kabul ettiler . Ama çıkış günü 12 de çıkarttılar
Mert
2017-02-10T00:00:00Z
Очень удобное расположение. Квартира находиться в самом центре, но в очень уютном и тихом раене.
Артем
2016-12-26T00:00:00Z
Natalia waited for us when we were stuck on the border, which was really great. Although it needs some renovation, flat is in the perfect location, everything is a walking distance.
Kristina
2017-04-02T00:00:00Z
Tipe Kamar
Seluruh rumah/apartemen
---
Tipe Properti
Apartemen
---
Mengakomodasi
4
---
Kamar tidur
L'viv, Lviv Oblast, Ukraina
Апартаменты с двумя спальнями в центре города, ул.Театральная 23. До Оперного театра – 70м; 3 мин. ходьбы до Пл.Рынок. Рядом находятся много достопримечательностей, но несмотря на это улица тихая и гости могут спокойно спать. Площадь квартиры 60м/2
Квартира находится в самом сердце города Львова, в старинном доме который в 1837 году построил граф Станислав Скарбек. При строительстве дома были привлечены лучшие архитекторы и высокие технологии того времени. Высота стен - более четырех метров, толщина стены - более одного метра. Благодаря этому в квартире зимой не холодно, а летом не жарко даже без кондиционера. Дом находится под защитой ЮНЕСКО. Достопримечательности: 50 метров до Оперного театра, рядом - музеи, театры, рестораны, сувенирные магазины, кафе, 3 мин. до Площади Рынок, 20 метров до рынка «Вернисаж» и «Добробут». Под окнами квартиры спокойная тихая улица, нет громких заведений. Гости могут спокойно отдохнуть. Квартира находится на втором этаже. Площадь квартиры 60 м2. Из кухни выходит красивый балкон в старинном стиле, где можно: выпить кофе, покурить и комфортно отдохнуть. В квартире индивидуальное отопление, вода круглосуточно, бесплатный Wi-Fi, спутниковое TV, стиральная машина, фен, в ванной комнате большая душевая кабина, полотенца. Ну и последнее, но самое важное - Чистота! Уборка происходит очень тщательно: ванная комната убирается и дезинфицируется после каждого гостя, постель и полотенца в лучшем состоянии. Также происходит влажная уборка мебели и пола качественными средствами. Чистоту и порядочность гарантируем! Приижайте к нам, наслаждайтесь приятным и комфортным отдыхом, а также незабываемыми впечатлениями от старинного города Львова!
В 1819 фото Станислава Скарбека получил разрешения от австрийской императорской власти построить здание, которое будет содержать театр и жилые апартаменты. Архитекторы Ян Зальцман и Людвиг Рих проектировали здание. Строительство началось в 1837 году. В 1842 году, когда здание было построено, оно считалось третьим по величине в Центральной Европе. Теперь это Национальный Театр Драмы им Заньковецкой.
Очень милая и уютная квартира в историческом центре Львова - то, что нужно, чтобы проникнуться необычной атмосферой этого города. Мы остались очень довольны - картинка соответствует реальности на 100%, чистая, аккуратная и солнечная квартира с отзывчивыми и приятными хозяевами, а до достопримечательностей города - рукой подать. Рекомендую!
Yulia
2016-08-27T00:00:00Z
The house is in a good location very close to everywhere in the city center. The house is a perfect Place ,perfect decoration and comfortable with everything the worst part is to check out at 10 am that's the worst part but we enjoy to stay
M .G
2016-03-16T00:00:00Z
Очень хорошая квартира. Качественный новый ремонт, есть все необходимое. До площади Рынок пара кварталов. Милый балкон с видом, на котором можно пить кофе по утрам. Хозяева очень приветливые и отзывчивые. рекомендую! Very comfortable and good equipped apartment. Good location, very responsive host. near a lot of place to visit. I recommend
Светлана
2016-05-16T00:00:00Z
Very nice and wellcoming. The location is perfectly situated to explore the historic city centre, the castle hill and surroundings. There is a street martket with matrioshkas in front of the house.
Alexej
2016-11-20T00:00:00Z
Michael is great host. The apartment was perfect.
Kamil
2017-02-22T00:00:00Z
I can't say enough good things about our hosts, our flight was so badly delayed and we arrived in the early hours, they were still available and very helpful. When we asked if we could stay a little longer it was no trouble (obviously covering the additional costs) They were very welcoming and helpful. The apartment was wonderful, very clean and beautifully finished. The city is wonderful and i would advise anyone thinking of travelling to L'viv to consider this apartment. The location is really good and central and I just had a fantastic time. Thank you very much for letting us stay it was a truly wonderful weekend.
Paul
2016-08-28T00:00:00Z
Very nice apartment, has everything that you need, super comfortable bed and pillows. Great location. Michael is so attentive, he was absolutely great host. We will definetly stay there again in our next trip to Lviv. Highly recommended!
Sergio
2016-04-08T00:00:00Z
The place was great! Situated near L'viv city center, it offers quick access to the city's main sights. The hosts were very friendly and hospitable and even waited for us for hours when we were delayed at the border. The apartment itself looks and feels very cosy and is neatly decorated. Highly recommended.
Matija
2016-08-18T00:00:00Z
Tipe Kamar
Seluruh rumah/apartemen
---
Tipe Properti
Apartemen
---
Mengakomodasi
4
---
Kamar tidur
L'viv, Lviv Oblast, Ukraina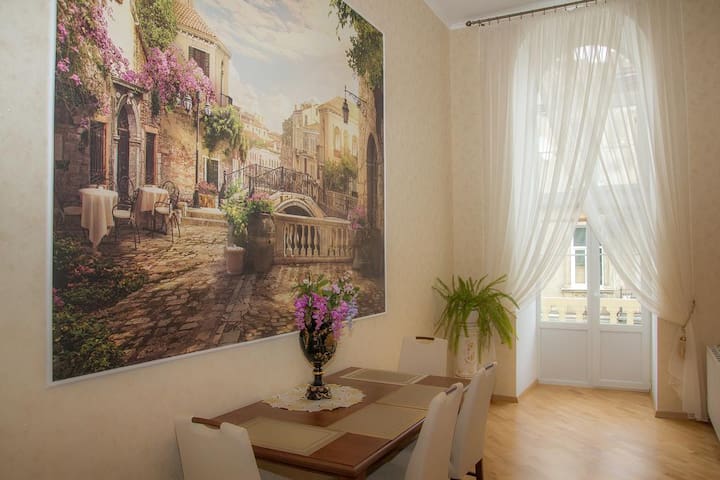 Рядом с моим жильем искусство и культура, рестораны и кафе и парки. Вам понравится, ведь в моем жилье есть расположение, люди, атмосферность, пространство у дома и виды. Мое жилье подходит для этого: пары, соло-путешественники, деловые путешественники и семьи (с детьми).
Tipe Kamar
Seluruh rumah/apartemen
---
Tipe Properti
Apartemen
---
Mengakomodasi
7
---
Kamar tidur
L'viv, Lviv Oblast, Ukraina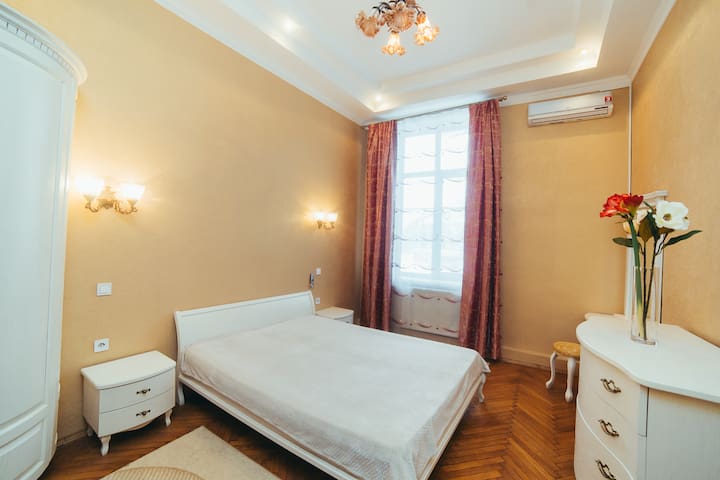 Предлагаю Вам хорошенькую, уютную квартиру. В квартире находится все для Вас необходимое, полотенце, постель, фен, посуда и т.д. Шикарный вид из окон на площадь Рынок . Квартира состоит из гостиной и спальни, двухспальная кровать в спальне и диван в гостиной.Душевая кабина находится отдельно от санузла, что так же удобно для моих гостей. Жить на площади Рынок- это уйти в историю на 350 лет назад, это самое красивое,историческое место во Львове, где слышно аромат кофе, пахнет Львовскими пляцками!
Tipe Kamar
Seluruh rumah/apartemen
---
Tipe Properti
Apartemen
---
Mengakomodasi
4
---
Kamar tidur
L'viv, Lviv Oblast, Ukraina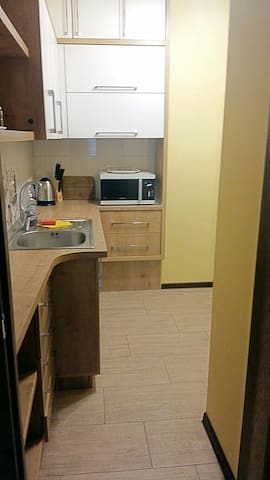 1

–

18

dari

300+ Sewa Tempat
Masukkan tanggal untuk melihat harga lengkap. Biaya tambahan berlaku. Mungkin dikenakan pajak.