Maison de charme atypique sur le toit de la Corse, au coeur de Speloncato, un petit village pittoresque de la Balagne. A 15km des plus belles plages de Corse et 5km de la montagne. Terrasse avec vue à couper le souffle sur la mer, à 600m d'altitude. Ma maison de village entièrement rénovée, située à flanc de falaise, vous enchantera par son calme, son cadre naturel et sa faune préservée. Déconnexion et romantisme garantis.
MAISON DE VILLAGE TYPIQUE CORSE DE 75M2 EN DUPLEX, A SPELONCATO (19KM D'ILE-ROUSSE ET 32KM DE CALVI). - 2 CHAMBRES AVEC GRAND LIT DOUBLE ET 1 LIT SINGLE (EN MERIDIENNE), - GRAND SEJOUR / SALLE A MANGER, CUISINE OUVERTE, SALLE DE BAIN, WC. - TERRASSE DE 20M2, A FLANC DE MONTAGNE, AVEC UNE VUE A COUPER LE SOUFFLE SUR LA BALAGNE, LA MER, LA MONTAGNE ET LA CAMPAGNE CORSE. EMPLACEMENT EXCEPTIONNEL, CALME AUCUN VIS A VIS ET EN PLEIN CŒUR DU VILLAGE. - INTERNET WIFI LOCATION DISPONIBLE: - PRINTEMPS ET AUTOMNE: 1 SEMAINE MINIMUM - JUILLET-AOUT: 2 SEMAINES MINIMUM ATTENTION, POUR DES RAISONS DE SECURITE, CETTE MAISON NE CONVIENT PAS AUX ENFANTS ET ADOS DE MOINS DE 13 ANS CAR LA TERRASSE EST PERCHEE A 300M DU VIDE A FLANC DE FALAISE.
SPELONCATO EST UN AUTHENTIQUE VILLAGE CORSE AU CŒUR DE LA BALAGNE PERCHE SUR UN NID D'AIGLE, DOMINANT CETTE SUPERBE REGION, QUI A SU PRESERVE SES VALEURS ET SA CULTURE CORSE. EN RETRAIT DES STATIONS BALNEAIRES TOUJOURS PLUS TOURISTIQUES, LE VILLAGE ET SES HABITANTS ONT SU PRIVILEGIER UN CADRE DE VIE AUTHENTIQUE ET UNE HOSPITALITE DE QUALITE. CE SEJOUR CONVIENDRA AUX AMOUREUX DE NATURE AIMANT LE CALME, LE DEPAYSEMENT, UNE BAIGNADE EN MER LE MATIN ET UNE RANDO EN MONTAGNE L'APRES-MIDI. PLAGE ACCESSIBLE A 15 KM (PLAGE DE LOZARI) ET LA MONTAGNE A 5KM. FAUNE ET FLORE EXCEPTIONNELLES (RAPACES, CORNEILLES, HIRONDELLES, BALBUZARS ETC..). ACTIVITES : RANDO EN MONTAGNE, BAIGNADE EN MER, NATATION EN PISCINE PANORAMIQUE, JET SKI, RANDOS EQUESTRE, GOLF, MINI CROISIERE JUSQU'A AJACCIO, EXCURSION DANS LA RESERVE NATURELLE DE SCANDOLA, PATRIMOINE UNESCO, VISITE DES MAGNIFIQUES VILLAGES DE LA BALAGNE ETC ETC... COMMODITES AU VILLAGE ; EPICERIE, PAIN, CAFES, BARS, RESTAURANTS, CAMION BOUTIQUE DU BOUCHER SUR LA PLACE DU VILLAGE. - L' EPICERIE DE PASCALE "A STRETTA" VOUS ACUEILLE TOUS LES JOURS DE 8H A MIDI ET EGALEMENT L'APRES MIDI .EN ETE. C'EST CHEZ ELLE QUE VOUS COMMANDEREZ VOTRE PAIN FRAIS POUR LE LENDEMAIN ET QUE VOUS TROUVEREZ DE BONS PRODUITS CORSES. - RESTAURANT SUR LA PLACE DU VILLAGE "LE GALLIENI" OUVERT TOUTE L'ANNEE ET NON STOP L'ETE, TENU PAR JEAN-MARC ET LUCIE. - RESTAURANT "U SECHJU" Â 100M DE LA MAISON. CUISINE SOIGNÉE ET LOCALE.
Olivier hat uns bei der Buchung bereits alle erforderlichen Wegbeschreibungen und Ansprechpartner vor Ort gemailt. Das Finden des Hauses in Speloncato war somit kein Problem. Das Haus ist ausgezeichnet ausgestattet und liegt in unserer Meinung nach schönsten Dorf der Balagne. Auch vier Personen sind dort großzügig untergebracht. Fantastischer Blick von der Terrasse, tolle Basis für Wanderungen im Umfeld. 2 min zum Dorfplatz. Wegen der winzigen Straßen ist das Haus nicht direkt anfahrbar.
markus
2016-10-04T00:00:00Z
Olivier is a perfect host. He made everything to support us from the beginning of our comunication until our leaving in Speloncato. The appartment is located on a beautiful place in the north of Corse in Speloncato, a nice small willage on the hill. The view from the terrasse is just a blast! It looks exact the way like on the picures. We hardly enjoyed seeing the sunset by having a glass of wine. Go to this brilliant place for a few days off...
Valentin
2016-08-28T00:00:00Z
Es hat alles super geklappt! Olivier hat uns herzlich empfangen und sich Zeit genommen um uns alles zu zeigen. Als Willkommensgeschenk hat er uns einen Wein kühl gestellt. Die Bilder stimmen genau mit der Wirklichkeit überein. Die Terrasse mit der wunderschönen Aussicht ist einfach traumhaft. Wer gerne abseits des Rummels ist und nicht direkt am Meer sein muss, dem empfehlen wir die Unterkunft sehr.
Patrick
2016-09-23T00:00:00Z
Wie im Paradies! In diesem sauberen, stilvoll eingerichteten Haus fühlten wir uns rundum wohl. Obwohl Olivier ortsabwesend war und wir ihn daher nicht persönlich kennen lernen konnten, hat er alles unternommen, damit wir uns in Speloncato wohl fühlen konnten. Wohl denen, die auch einmal einen Abend auf der wunderbaren Terrasse einen Sonnenuntergang erleben können! Herzlichen Dank an Olivier
kurt
2015-09-29T00:00:00Z
Excellent accueil. Maison ancienne de village très bien rénovée. Situation et vue sur la Balagne exceptionnelles. Speloncato est un très beau village et un point de départ idéal pour visiter les villages de Balagne, l'Ile Rousse et Calvi si l'on est motorisé. Olivier est resté très disponible et à l'écoute pendant tout notre séjour. Excellente expérience.
Bruno
2016-07-19T00:00:00Z
Tipe Kamar
Seluruh rumah/apartemen
---
Tipe Properti
Rumah
---
Mengakomodasi
4
---
Kamar tidur
Speloncato, Corse, Prancis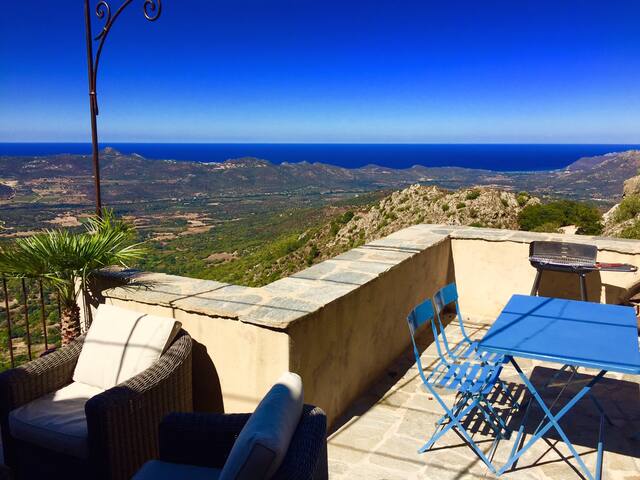 Villa située dans un petit hameau paisible à 10 mn d'Ile-Rousse et de la grande plage de Lozari. Cette maison construite en 2005 est actuellement en rénovation totale, les photos des pièces définitives seront disponibles à la mi-mai. La nouvelle décoration sera dans les tons blancs et beiges, tout le mobilier sera neuf. Vue montagne, beaux volumes avec un grand espace à vivre lumineux. A proximité : Gare, restaurant, golf, complexe sportif, livraison du pain tous les matins.
Tipe Kamar
Seluruh rumah/apartemen
---
Tipe Properti
Rumah
---
Mengakomodasi
6
---
Kamar tidur
Speloncato, Corse, Prancis
Maison les Calanches is a traditional granite built house set within the picturesque village of Speloncato. Spectacularly situated overlooking the Regino valley, Take your meals on the balcony or eat al fresco in the garden and enjoy outstanding views across the valley to the sea. The house has been recently refurbished to a high standard. The thick granite walls keep it cool in the summer and the wood burning stove keeps it warm and cosy in the cool of the winter evenings
The well equipped kitchen provides a fridge, washing machine, dishwasher and microwave, plenty of cupboard space and a wine rack. The spacious lounge/dining room is comfortably furnished with sofa, easy chairs, a traditional chestnut dining table and a wood burning stove. On the first floor there is a double bedroom with ensuite bathroom. The twin bedroom has adjoining shower room with toilet. To the side of the house is a terraced garden where one can eat al fresco, enjoy a glass of wine and watch the spectacular sunsets in the quiet of the evening. Winter lets: The property is available all the year round. The winter months may be of interest to intrepid walkers or those who just want to escape the rat race for a while. Some restaurants and bars close during the winter months but there are still many places open for the local people particularly in I'llle Rousse and Calvi. The weather is changeable. You could experience high winds, thunderous lightning storms and If you're lucky you may get snow. Extreme weather can be exciting in the mountains. The wood burning stove in the property creates a warm and cosy atmosphere and wood can be collected from the garden, locally or purchased in I'llle Rousse. The beauty of Corsica is that the island is not so much a tourist attraction as a visitors discovery.
Village Shops Speloncato has a small village shop – open mornings until midday. Here you will find essential foods including cheese, eggs, hams, butter, fresh vegetables and fruit. You can order bread from here to be collected each day except Tuesdays when the shop is closed. There are other village shops at Ochiatana, Villa di Paraso, Belgodere and Feliceto and a local butcher on the main road which bypasses Nessa. They will be closed between 12 noon and late afternoon. Other Shopping Facilities Petrol - Make sure you fill up with petrol on the coast road. The nearest main petrol stations are at L'Ille Rousse. Most of the villages have post offices with limited facilities (normally open mornings only, Mon - Fri) including Speloncato. There is a larger post office at L'Ille Rousse, as well as a good selection of banks, cashpoints, 2 supermarkets and a daily market at the main square. There are also several tabacs and cafes/restaurants and a tourist office. (A small train goes from L'Ile Rousse to Calvi, stopping at all the beaches in between, several times a day.) Most supermarkets are open all day, Monday to Saturday (closed Sunday) during July and August but watch out for the French/Corsican system of very long closures for lunch with other shops. Only restaurants are likely to be open between 12 noon and 3 p.m. There is a Spar supermarket and Boulangerie between Ostraconi Plage and Lozari Plage, just before the junction to Belgodere and Speloncato. Open 7am to 7pm every day of the week. Very useful. Excellent fresh vegetable and meat counter. Lovely steaks. Birdwatchers will be very interested in the number of Red Kites in our valley, a large proportion of all Kites resident in Corsica. As you sit on the balcony you will see the Kites flying above and below you. There are also Ravens and Buzzards, Eagles, Peregrines and other Raptors. You may be lucky to see a Blue Rock Thrush if you walk along the village path towards the rocks that overlook the valley. Jays and Greater Spotted Woodpeckers constantly fly from one side of the valley to the other and back again. Swifts, Swallows and Crag Martins indulge in a wonderful feeding frenzy in the early evenings. En route to the coast look out for Bee Eaters and Hoopoe. Rollers have been sighted in the Regino Valley. Ophean and Sardinian Warblers often find cover in the trees and hedges nearby. You may be pleased to know that there are no poisonous snakes in Corsica. The flowers and wildlife here are constantly fascinating, and you barely need move from your sun lounger to appreciate the sheer variety. Food and Drink:- Water Tap water is drinkable but it is your choice if you prefer to drink bottled water. We recommend you have a pack of bottled water for emergencies and for taking to the beach etc. Keep water in the car. Always take water with you when travelling or walking. Corsican Produce You'll enjoy trying the excellent Corsican produce (cheeses, olive oil, dried/smoked meat & sausages, Chestnut honey and wine etc.). Do try: Renucci wine (& olive oil) – shop on the left as you enter Feliceto. Olive oil from the shop on the left after the railway track at Regino. Corsican cheeses (beware, they can be very strong!). The hard cheeses are lovely with fig jam. Meat from the Boucherie on the main road below Nessa (local beef is very tasty, but buy fillet for tenderness). The pillared market at L'Ille Rousse is fun, fresh, but a bit more expensive than the supermarkets. Nicer for shopping though. They close up at 12midday. L'Eclerc Supermarket on top road out of L'Ille Rousse is big, easy parking, sells everything you need including very good fresh fish, Corsican produce, good cheeses etc and is cheaper than Casino. Casino is the small supermarket in L'Ille Rousse (Better veg than L'Eclerc but a bit more expensive) You can park free of charge under the plane trees alongside Casino/Welldoms (Bricolage). There is also a pay car park round the corner from Casino. Eating Out We like to eat out low-cost and often and enjoy the Bar/Brasserie du Port at L'Ille Rousse (very good value 'menu', best when there are no ferries in). For a more special lunch/dinner, our favourite is L'Escale in the road to the left of the covered market. In Calvi, we like Le Capuccino at the Marina. There are two bars at Speloncato and one Restaurant. There is also a bar Bar at Ville di Paraso (which often serves food, especially pizzas, in July and August). A Pastuella at Monticello has a good reputation. Auberge De Tessa (on the way to Lozari Beach through the valley) serves copious quantities of good Corsican food – set menu including all drinks too. As a general rule choose busy restaurants … there are many mediocre ones in Corsica. Your guide books may be useful, but could be out of date. SOME THINGS TO DO… Swim and have lunch (or an early dinner) at the café on the beach at Lozari Bay. Take a cold bottle of wine and some olives to the beach late in the day (after a siesta?) and swim as the sun sets on a (by then) nearly deserted beach. Climb up to our village square via the steps and enjoy an early evening drink in the square at one of the two bars before returning to the house for dinner on the balcony as you watch the sun go down behind the mountains and sea. Drive to the mountain pass above Speloncato for a walk along the paths of Monte Tollu, have a drink, lunch or a simple early dinner. There is a very good restaurant on the Coll and they are open for Sunday lunch. Drive on past the Coll to Olmi Capella or take the vermicular road to the Tartagine valley where you can swim in the mountain streams. Don't be put off by the narrow road. Just take it easy and enjoy the scenery. It's well worth the effort. There is an auberge at the end of your journey and you can park there too. There is also the Cirque de Bonifatu in the other direction towards Calvi where you can climb high into the mountains. Good paths, directions and cool mountain rivers. There is an Auberge at the start of the walks where one can park. Visit Calvi – walk round the Citadelle before it gets too hot, have lunch at one of the waterfront restaurants, swim on the way home – at the far end of the bay if it's crowded (children will love the gently shelving beach and the shade of the pine trees.) Or visit the chapel on the hill and look down on Calvi Bay. Take the little train from L'Ille Rousse to Calvi – past all the beaches – or even to Bastia for the day If it's not too hot, consider a day trip to St Florent, the old Port of Bastia, Erbalunga, or Corte Museum, an overnight stay at Centuri (Cap Corse) or Piana (Le Roche Rouges) or a couple of nights at Bonifacio. However, if you're in Corsica for just a week, don't be tempted to try to do too much, or overdose on bendy roads. It can be exhausting and you miss out on all the local experiences. You just have to come back again and again.
Tipe Kamar
Seluruh rumah/apartemen
---
Tipe Properti
Rumah
---
Mengakomodasi
4
---
Kamar tidur
Speloncato, Corsica, Prancis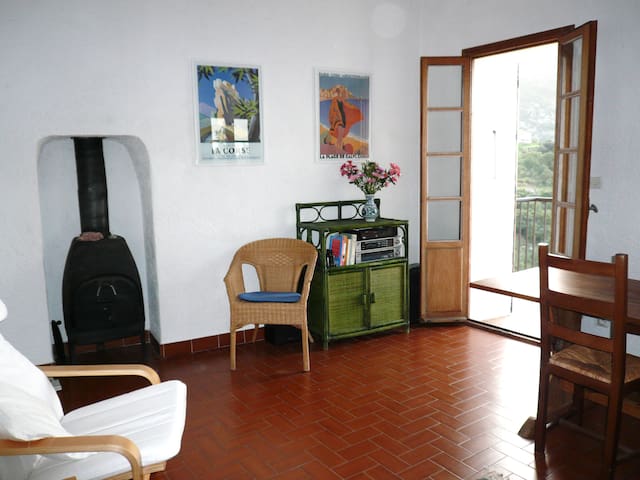 jolie maison de village dominant le village de speloncato et la plaine du regino. au calme avec terrasse et petit jardin arboré. accés par les ruelles, typique des villages de corse et de balagne. deux restaurants et café , la poste et une epicerie
la vie au cœur d'un vrai village corse...
Tipe Kamar
Seluruh rumah/apartemen
---
Tipe Properti
Rumah
---
Mengakomodasi
5
---
Kamar tidur
Speloncato, Corsica, Prancis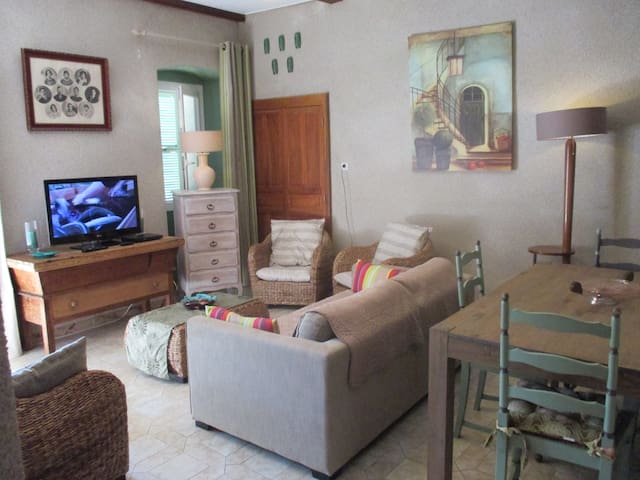 Loue maison en Haute-Corse située dans un très beau village de Balagne à 20 km de Ile-Rousse et de la mer. Terrasse avec vue panoramique superbe, cuisine, 3 chambres avec lits deux places et une chambre enfant.
Fabuleuse terrasse sur la merveilleuse Balagne! Super séjour!
marie
2016-07-17T00:00:00Z
Tipe Kamar
Seluruh rumah/apartemen
---
Tipe Properti
Rumah
---
Mengakomodasi
6
---
Kamar tidur
Speloncato, Corsica, Prancis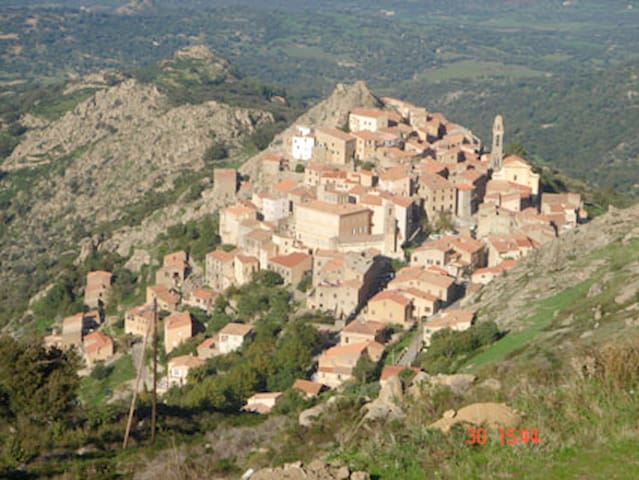 Stone house on 2 levels of 45 m2 in the village opposite the church classified St Thomas and 1-minute walk from the square. Very pleasant terrace you can enjoy throughout the day. Overlooking the plain of Regino and the sea.
Located on a rocky outcrop overlooking the sea, the village of Belgodère is a perfect choice for who wants to visit Balagne. Between sea and mountains, 10 minutes from the beautiful beach Lozari: white sand and turquoise blue water, and 30 minutes from the forest Tartagine, with its river, you can choose to organize your days, your walks. This small house is adjacent to my house. Enjoy the terrace for dining, very nice throughout the day. The atmosphere on site is very user friendly with its shops: bakery / pastry shop, 2 cafes / restaurants, an organic market on Saturday morning ... cultural events during the summer season. The house is on 2 levels (see the map), Ground floor, terrace of 30 m2 on 2 levels with a large table, chairs, barbecue and two sunsets. 2 rooms: bedroom 1 bed 2 people (140) 2 room 2 beds 1 person (90). Upstairs, a dining room, living room (tv), with a kitchenette and a small bathroom.
You are in the village you can take all your meals on the terrace and you will enjoy the lovely view being in private. The area is lively and you can reach the square with shops in 1 minute walk.
Es war einfach grandios in diesem doppelstöckigen kleinen Teil eines grossen, wunderschönen alten Hauses, mitten in einem ruhigen, authentischen korsischen Bergdorf. Trotzdem hat man von hier aus einen schönen Blick auf's Meer und ist in 10 Minuten an einem herrlichen Sandstrand. Marie-Antoinette beschrieb uns sehr gut die Anfahrt, empfing uns sehr freundlich, zeigte und erklärte uns alles Wichtige. Bei Fragen war sie immer erreichbar. Ich kann diese Unterkunft wärmstens empfehlen. Ein unvergesslicher Ort, eine perfekte Unterkunft und eine wunderbare Vermieterin!
Good
2016-10-06T00:00:00Z
Parfait pour laisser porter par l'ambiance du village, proche de la mer et des randonnées. Un vrai havre de paix dans une vieille maison pleine de charme! Marie-Antoinette est très accueillante et pleine de bons conseils!
Marion
2016-09-14T00:00:00Z
Nous avons passé un très agréable séjour dans le magnifique village de Belgodère. Le logement de Marie Antoinette dispose d'une vue extraordinaire sur la vallée et la mer avec une magnifique terrasse. Notre hôte nous a très gentiment accueillie.
Nathalie
2016-11-12T00:00:00Z
Très bien accueillis par Marie-Antoinette pour ces 3 nuits dans sa jolie maison de village tout à fait authentique et pleine de charme. La vue, le calme du village, les repas sur la terrasse face au panorama. Nous avons passé un très agréable séjour.
Gregory
2016-06-03T00:00:00Z
We've had a wonderful stay in Marie Antoinettes cosy flat. Especially enjoying breakfast and dinner at her terrace was a pleasure. Doing strenuous hikes in the backyard or going to the beach nearby we really enjoyed the week at her house. Don't miss the bakery in Belgodère with delicious croissants and baguettes every morning!
Nicolai
2016-10-01T00:00:00Z
Un grand merci à Marie-Antoinette pour son accueil et ses conseils. Nous avons passé un excellent séjour à Belgodère : le village est charmant, l'appartement est très bien situé et très agréable (avec une très jolie vue).
Adeline
2016-10-13T00:00:00Z
nous avons passé un séjour très agréable dans ce petit logement au coeur de ce village pittoresque très bien situé pour rayonner en haute corse. marie antoinette nous a réservé un bon accueil après nous avoir donné toutes les informations pour arriver sans problème. sur place elle nous a donné plein de conseils ballade, resto, etc...nous n'avons pas eu le temps de tous les essayer mais ça sera pour la prochaine fois!
Remy
2016-10-30T00:00:00Z
Une maison magnifique dans un beau village ! Doit être très agreable l'été avec les fortes chaleurs! Marie Antoinette est très présente et de bons conseils. Merci à elle.
Séverine
2017-04-08T00:00:00Z
Tipe Kamar
Seluruh rumah/apartemen
---
Tipe Properti
Rumah
---
Mengakomodasi
4
---
Kamar tidur
Belgodère, Corse, Prancis
Ssitué the heart of Belgodère, in a typical area, rental meets 3C: Setting Quiet, Comfort. It consists of a bedroom, a living room, a kitchen, a bathroom and an outdoor courtyard. Everything is made to enjoy and feel at home!
Monique n'étant pas sur place à notre arrivée, nous avons été accueillis très gentiment par sa voisine. Le village est très agréable et intéressant. Le logement est conforme à la description, très soigné. Monique est une hôte charmante qui nous a bien conseillés sur les visites à faire aux alentours ( la Balagne est magnifique !) Merci encore pour les petits gâteaux de la boulangerie !!
Henri
2016-09-24T00:00:00Z
très bon séjour. accueil chalereux de Monique. L'appartement est conforme à la description et fonctionnel.
Meagan
2016-11-02T00:00:00Z
Et bien voila une hôte(esse) bien sympathique. Nous avons généreusement été accueilli et avons passés une agréable séjour. Un super parking improvisé pour la moto. @+ Gene et Fabian
Fabian
2016-06-15T00:00:00Z
Belgodere is a beautiful little town with breathtaking views of the landscape. The house of Monique is beautiful and we found everything we were looking for! Thanks for letting us stay with you!
Laura
2016-07-31T00:00:00Z
This cozy little appartment is located in the old center of Belgodere and accessed through a beautiful private backyard. Our host, Monique, is a super nice and helpful lady and had plenty of tips for our short vacation on corsica. The place was clean and neat, with a great view out the windows and was fully equipped with everything we needed for our stay. This is a real recommendation if you're looking for an authentic corsican accomodation! We'd come back any time.
Henning
2016-06-05T00:00:00Z
I loved Monique's charming flat -- the location is perfect, as Belgodère is a lovely little village not too far from Ile Rousse that begs discovering. I prolonged my stay because it was just what I was looking for, and very much enjoyed walking in the village, reading in the courtyard, and exploring Ile Rousse. Monique is a wonderful and kind host. Highly recommend this place for those who want an authentic Corsican experience.
Rose
2016-09-28T00:00:00Z
Great location, cozy, safe, just a short walk to the Boulangerie and 2 local cafes. The place looks like a post card from the outside. Inside is arraigned as logical as possible considering the year it was built. The host is "very" present throughout the stay as she just lives on the opposite facing home. Monique is great and does everything to make your stay as pleasant as possible. When we got there she had local treats waiting for us. She also gave my kids an amazing collection of sea shells that they won't stop playing with. The unit could use an updated set of non-stick pots and pans and thats about it.
Rafael
2016-07-11T00:00:00Z
Très bon emplacement dans un village charmant. Accueil chaleureux.
Valentine
2016-10-01T00:00:00Z
Tipe Kamar
Seluruh rumah/apartemen
---
Tipe Properti
Rumah
---
Mengakomodasi
4
---
Kamar tidur
Belgodère, Corsica, Prancis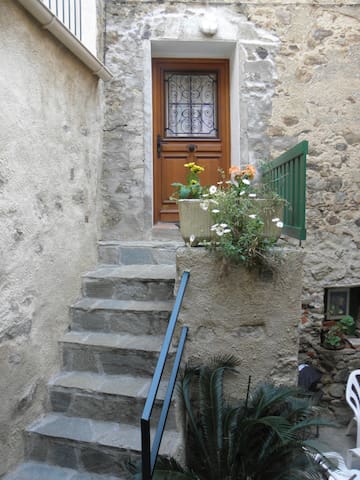 My accommodation is close to Ile Rousse - F2 no smoking - unobstructed view of Ile Rousse 10 minutes from the center of l'Ile Rousse and beaches. Enjoy my accommodation for its exceptional view. perfect location for couples, solo travelers and business travelers. includes: A room with 140 bed, TV and large closet The living room with sofa and big screen TV the kitchen with oven, microwave, dishwasher Beds made on arrival.
Terrace with views over 180 ° sea ... where you can breakfast and eat. Barbecue and 2 sun loungers
Superbe appartement avec une vue imprenable sur l'Ile Rousse. Appartement très bien équipé et décoré avec goût. Il se situe dans un endroit calme. L'accueil d'Agnès est agréable. Adresse à recommander!
Christian
2017-02-02T00:00:00Z
Hallo, die Wohnung ist auf dem neustem Stand (Klima ️ Flatscreen
Martin
2016-09-04T00:00:00Z
Un très bel endroit où Agnès et son mari vous accueillent de façon super. Le F2 est spacieux et très récent et il est équipé de tout ce que l'on peut souhaiter. A ne pas rater si vous comptez séjourner dans cette partie de la belle Corse.
michel
2016-12-30T00:00:00Z
Superbe appartement tout équipé, avec une magnifique vue sur l'île de la Pietra! Nous avons passés un excellent séjour et Agnes est très accueillante. On recommande sans hésiter en espérant revenir bientôt !
melinda
2016-10-05T00:00:00Z
j'ai séjourné 3j chez Agnès avec mes 2 enfants. nous avons été très bien accueillis, et nous nous sommes vraiment sentis très bien dans ce lieu, fonctionnel et très bien équipé. les hôtes sont très discrets et chaleureux. une très belle expérience.
Pierre
2016-10-22T00:00:00Z
Séjour très agréable chez Agnès. la vue depuis l'appartement est magnifique au soleil levant! L'appartement est bien équipé et très propre. Agnès est disponible et serviable (elle nous a fourni un lit parapluie pour chouquette!)
Xavier et Juliane
2016-11-02T00:00:00Z
Sublime vue de la terrasse. Appartement propre, fonctionnel et décoration récente. Agnès à été une hôte très accueillante. Nous recommandons son logement.
Julien
2016-10-02T00:00:00Z
great view, great apartment, all new and tidy. thank you agnes - bis bald
Matthias
2016-10-08T00:00:00Z
Tipe Kamar
Seluruh rumah/apartemen
---
Tipe Properti
Rumah
---
Mengakomodasi
3
---
Kamar tidur
Monticello, Corsica, Prancis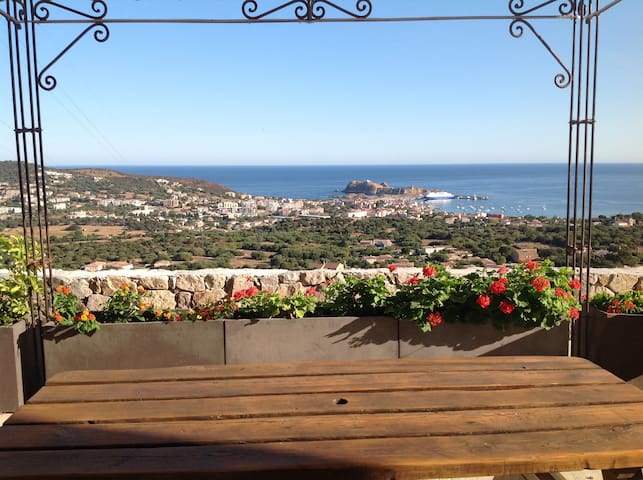 My property is located outside a village of Balagne between Ile Rousse and Calvi. Beautiful beaches are to be discovered nearby .. Enjoy Medlar chamber for outstanding sea side town side; shadow and light private terrace (20m2). The elegance and simplicity of Medlar are an invitation to small bubbles of happiness. Perfect for couples and solo travelers.
Turquoise waters nearby; rides in the desert Agriate via the coastal footpath are a must ... not to mention the roads around Corbara. Corbara is located on the road of the craftsmen (ceramics, lighting, jewelry, biscuits ...) without forgetting the typical Corsican restaurants. Catherine will share his "favorites" Balagne ...
Calm and serenity ...
Tipe Kamar
Kamar pribadi
---
Tipe Properti
Rumah
---
Mengakomodasi
2
---
Kamar tidur
Corbara, Corsica, Prancis
This pretty Corsican mini villa style barn studio in functional dependence with free parking, air conditioning, is 10 minutes from Calvi and the beaches at the entrance of the village of Calenzana at the foot of the Corsican mountains and from several hiking trails like GR20 .You appreciate its quiet away from the hustle and noise of the night next to the vegetable garden and olive trees will also find fruitiers.Vous terrace with garden furniture and barbecue
very functional accommodation equipped with a walk-in shower, hairdryer, air conditioning, TV, WiFi, a kitchen with a grill plus microwave oven and thawing, coffee maker, kettle, food, cooking background gas hob salt pepper, sugar, tea, detergent, towels and hand towels, a center island, a wardrobe. Bed linen and towels are provided as well as shampoo and soap small individual. You will find the bed made on arrival the sofa rapido lux offers sleeping 140cm mattress with 12cm of good quality thick. The terrace of a 20m2 area has a Weber barbecue ideal to take your outdoor dining facing the mounted grosso, the highest peak of the region.
The village has a supermarket, pharmacy, doctor, gas station, bakery, restaurants and others.
Annick nous a reçu avec un sourire radieux et beaucoup de gentillesse. La chambre -studio qu'elle propose est spacieuse et l'équipement haut de gamme. La situation indépendante, derrière la maison à côté du potager, est appréciable par son calme. Nos hôtes se sont montés très disponibles et toujours prêts à nous donner de bons conseils sur les ressources touristiques de la région.
patricia
2016-09-06T00:00:00Z
Hôte très agréable et accueillante , elle a anticipée nos demandes...
douce marie
2016-10-08T00:00:00Z
Personne très agréable et disponible ! On se sent à l'aise des l'arrivée ! Merci pour ce séjour ...
Emilie
2016-08-03T00:00:00Z
Nous avons passé une seule nuit ici, logement cosy, propre, fonctionnel. Annick très souriante. A environ 15 mn de Calvi centre donc bien situé mais au calme.
margaux
2016-09-20T00:00:00Z
Juste le minimum On en demandait pas plus. Un micro ondes serait un plus
fabien
2016-09-19T00:00:00Z
Annik's dépendance has been a great place to stay! Not far to Calvi, we spent 4 nights and we had a wonderful time. The fact that it's a big dépendance inside Annik's home is perfect to have your own privacy, and Annik and her husband are great hosts. Thank you very much for the hospitality
Matteo
2016-08-11T00:00:00Z
Accueil chaleureux et attentionné. Annick et son mari son soucieux du bien-être et du confort de leurs voyageurs. Ils aiment échanger et partager autour de leur région. Logement neuf, confortable et propre. Très bien situé au départ (ou à l'arrivée) du GR20. Excellent rapport qualité prix. Nous y reviendrons avec plaisir. A recommander.
Manon
2016-10-15T00:00:00Z
Bell'appartamento, nuovo, in zona tranquilla, per soggiornare a 10 minuti da Calvi. Annick e Guido sono stati gentili e disponibili. Grazie ancora per l'ospitalità.
Fabrizio
2016-08-05T00:00:00Z
Tipe Kamar
Seluruh rumah/apartemen
---
Tipe Properti
Rumah
---
Mengakomodasi
2
---
Kamar tidur
Calvi, Corse, Prancis
Pretty small stone house in a quiet below the village for 3 pers.Chemin hiking at the foot of the house beach 7 min voiture.Cuisine equipped.
2 pers .max.
Pretty village with a grocery store with bread. Municipal swimming pool, mini golf, tennis courts and hiking équestre..sentiers center nearby.
lovely home made jam and cookies
Karolien
2016-08-15T00:00:00Z
Anne Sophie war eine herzliche Gastgeberin. Es war sehr einfach mit ihr zu kommunizieren & bei unserer Ankunfts hat sie und gute Tipps gegeben (Resraurants/Ausflüge) Das Haus war sauber & hatte alles was wir gebraucht haben. Leider quietscht das Bett recht laut. Sonst war es aber super & empfehlen das Haus sicher weiter!
Laura
2016-09-28T00:00:00Z
Nous avons passé 3 nuits dans la petite maison d'Anne-Sophie. C'est une très jolie maison en pierre, bien agencée et meublée avec goût. Monticello est particulièrement bien placé. Nous avons pu ainsi visiter Saint-Florent, les agriates, l'Ile Rousse, Calvi mais aussi Corte, la vallée de la Restonica et les très jolis petits villages des alentours. Pour finir, nous avons été très bien accueillis par Anne-Sophie qui nous a offert un pot de confiture de figue "maison" et un paquet de délicieux canistrellis.
anais
2016-11-01T00:00:00Z
Séjour très agréable. Nous recommandons ce logement. Nous avons été très bien accueillis et très bien renseignés.
Christian
2016-09-09T00:00:00Z
Anne Sophie est une remarquable hôte. Nous avons été somptueusement accueilli et guidé dans notre séjour, cela a bien participé à rendre nos vacances encore plus agréable. Le logement coqué est conforme à la description avec un petit coin de vue sur la Méditerranée, bien tenu, soigné et confortable comme à la maison. Le lieu est au calme à 5mn à peine de la côte, suffisamment éloigné du tumulte touristique dans un village pittoresque de Corse. Anne Sophie a été très disponible et a partagé avec nous ses bonnes adresses pour nous indiquer ou nous restaurer, visiter et se baigner. Nous avons eu également droit à une dégustation de délicieuses confitures maison. Avec mon fils nous avons passé un agréable séjour, nous recommandons la Jolie maison en pierre d'Anne Sophie.
Eric
2016-08-23T00:00:00Z
Magnifique semaine dans l'appartement d'Anne-Sophie. L'appartement est conforme à la description mais surtout vous serez accueillis avec la plus grande des gentillesse, beaucoup d'attentions et les délicieux gâteaux et confitures d'Anne-Sophie ! Anne-Sophie a été aux petits soins et nous a guidé dans notre séjour par de magnifiques endroits à découvrir, aussi bien pour émerveiller nos yeux que nos papilles. Encore merci pour tout et à très bientôt !
Hélène
2016-08-29T00:00:00Z
Lieu ou nous ne retournerons pas
Jean-Claude
2016-10-20T00:00:00Z
Une super expérience à Montícello dans une petite maison en pierre super cosy... on recommande ! Et surtout une rencontre, Anne Sophie a été géniale. Elle nous a préparé des petits desserts et sa confiture maison est succulente ! On reviendra certainement dans ce petit coin !
Will
2016-09-22T00:00:00Z
Tipe Kamar
Seluruh rumah/apartemen
---
Tipe Properti
Rumah
---
Mengakomodasi
2
---
Kamar tidur
Monticello, Corse, Prancis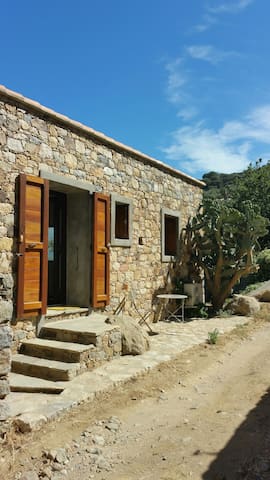 Kompletně zařízená studia s terasou Korsické vesnice 500 metrů převýšení Algajola beach 10 km; Sant-Ambroggio pláž 12 km Město (Ile-Rousse) 12 km (pláž, přístav, obchody) letiště Calvi s pronájem automobilů 20 km
Dva nebo tři lidé mohou používat tento studio. Ložní prádlo a ručníky nejsou k dispozici. Je nutné vyčistit studio před odjezdem.
Village sahá až do devátého století, stezky v kameni. Pláže: 10 km, letiště s půjčovna automobilů na 20 km.
Nous avons passé un excellent séjour dans ce studio au coeur du magnifique village de Sant Antonino. Marie-Hélène n'étant pas en Corse au moment de notre séjour, elle nous a communiqué toutes les informations utiles par email et nous avons été chaleureusement accueilli par Mireille qui nous a fait rentré dans le parking du village et laissé les clés de l'appartement. Celui-ci était parfaitement propre et bien équipé. Il ne faut pas avoir peur des escaliers un peu raide pour descendre dans l'appartement et monter sur la mezzanine, mais le studio est agréable et bénéficie d'une superbe terrasse. Il reste frais malgré les fortes chaleurs. Cependant, il a pour léger défaut d'être un peu humide surtout si on y cuisine et après les douches. Une ligne sur la terrasse permet tout de même de faire sécher le linge sans encombre. Nous recommandons donc ce studio où nous n'hésiterions pas à retourner.
David
2015-07-04T00:00:00Z
What a fantastic and unique place to stay! Fantastic location, very private with a wonderful balcony for watching the sunset. Great hosts as well. Very friendly and helpful. Thank you, we will stay again.
Edward
2016-08-22T00:00:00Z
Nous avons passé de très bonnes vacances. Pas de surprise, bon descriptif, et des bonus supplémentaires. Accueil exceptionnel, Marie-Hélène et sa famille sont très sympathiques et disponibles. Le lieu et la vue sont exceptionnels, cela nous a permis de faire un vrai break. Nous recommandons vivement la location, tant par le village que la sympathie de Marie-Hélène et s famille et l'aménagement du studio. C'est certain, nous y reviendrons d'autant que le tarif est raisonnable.
Bourdon
2015-07-18T00:00:00Z
Nous avons passé de très bonnes vacances. Le descriptif est conforme à la réalité, l'appartement très agréable à vivre et bien équipé et la vue de la terrasse effectivement magnifique. La famille de Marie Hélène nous a très bien accueillis et Marie Hélène a toujours répondu rapidement à nos mails. Les habitants et commerçants du village que nous avons rencontrés ont tous été très sympathiques et de bons conseils.
Baptiste
2015-09-07T00:00:00Z
L ´appartement est vraiment très agréable. Le village superbe, la vue de la terrasse époustouflante!! Nous sommes ressourcés pour toute l année. Nous avons passé un super séjour.
Adeline
2015-08-30T00:00:00Z
Wow!!! I can not recommend enough the host Marie-Helene and her wonderful Corsica studio. The location is stunning overlooking the balanian mountains and the sea, studio is modern, spacious for 2/3 and the terrass view leaves you speechless! To top it off, it is accompanied by a warm welcome and easy check in! Top value :-)
Christiane
2016-08-15T00:00:00Z
We had an amazing stay at Marie-Helene's place in Sant'Antonino! Sadly it was only for 1 week and we would have loved to have stayed longer. The apartment is so very comfortable with everything we needed and offered us the perfect base to explore the Balagne region, which we did every day. Marie-Helene thank you so much for all your advice before our trip about what to expect. Marie-Helene was attentive and responsive to our early emails and we are grateful to you for being such a fabulous host for our holiday. By the way, we absolutely loved the little U Spuntinu pizzeria just down the road. The wood fired pizza's come with vegetables grown in their own garden right next to the patio space. Marvelous!! Merci,
eric
2016-07-01T00:00:00Z
Sehr netter und unkomplizierter Kontakt. Wahnsinniger Ausblick von der Terrasse. Wir haben die Ruhe dort oben sehr genossen.
Alina
2016-09-14T00:00:00Z
Tipe Kamar
Seluruh rumah/apartemen
---
Tipe Properti
Rumah
---
Mengakomodasi
3
---
Kamar tidur
Sant'Antonino, Corsica, Prancis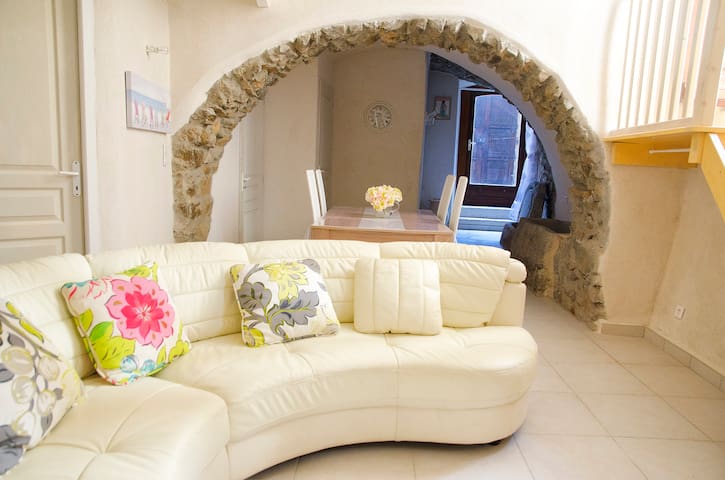 My home with exceptional views in a quiet area, 15 minutes from the beach. Many shops nearby (post doctor bakery cafes restaurant .... Enjoy my accommodation for the view and the friendly atmosphere. My home is perfect for couples with children. In high season we only rent by the week (price € 395) thank you for your understanding from Saturday to Saturday
HOUSING TYPICAL CORSE
picturesque and peaceful area
The host canceled this reservation 230 days before arrival. This is an automated posting.
Lestangt
2016-11-30T00:00:00Z
The host canceled this reservation 208 days before arrival. This is an automated posting.
Laurie
2017-02-07T00:00:00Z
The host canceled this reservation 250 days before arrival. This is an automated posting.
Anne
2016-12-02T00:00:00Z
Les propriétaires sont très disponibles et le logement authentique dans un village atypique.
Aline
2016-11-18T00:00:00Z
Très bonne accueille appartement très sympathique je recomande et je reviendrai avec plaisir
Thomas
2016-12-21T00:00:00Z
Un grand merci à Dominique et à Jean pour leur gentillesse et leur chaleureux accueil. Des corses au grand coeur.
Baptiste
2016-11-28T00:00:00Z
Tipe Kamar
Seluruh rumah/apartemen
---
Tipe Properti
Rumah
---
Mengakomodasi
3
---
Kamar tidur
Belgodère, Corse, Prancis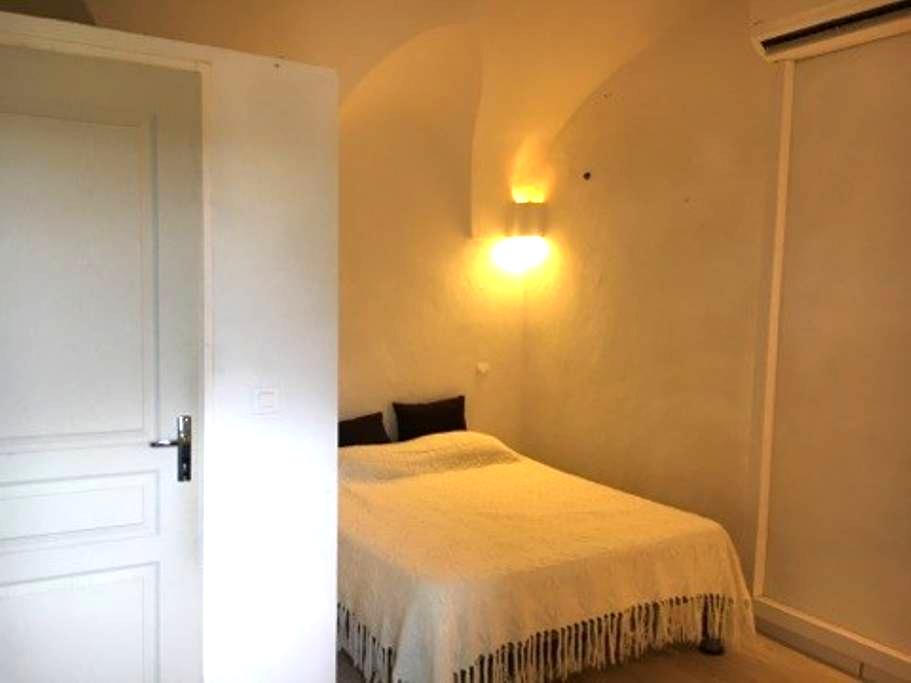 In the center of Ile Rousse 500m from Place Paoli. NEW 160X200 bed comfort, lounge, Wifi, bathroom stucco, toilet. Parking assured Centre and beach within walking distance. Ideal for touring the Balagne. Booking from 2 nights.
See photos!!!
The location of the rooms allows you to walk on Ile Rousse, Place Paoli and beach. If you move you car you are sure to find a parking space at the back, and that, in Ile Rousse it is priceless!
Hôte discret. Chambre et salle d'eau très agréables, confortables et modernes. 10minutes à pied de l'hyper centre (plage commerces) sont appréciables. Pas de petit dej mais il y a une bouilloire, un réfrigérateur et du thé.
Aymeric
2016-06-19T00:00:00Z
Excellent accueil de Patrick tres gentil, et à votre disposition pour de très bons conseils , hélas nous n'avons pas eu la chance de voir Isabelle. Le logement est très propre, tres bien agence, tres bonne literie , il y a un frigo c'est super pratique quand on arrive avec du frais , il y a du the, café, gâteaux à disposition , et possibilité de prendre le petit dejeuner le logement est bien situé on fait tout à pied Merci à Patrick pour ses conseils notamment la superbe plage paradisiaque A recommander
Fabienne
2016-09-12T00:00:00Z
L'accoglienza a casa di Pat ed Isabelle è stata impeccabile. Appena arrivati, Pat ci ha dato tutte le indicazioni necessarie per visitare la cittadina e le sue bellissime spiagge. In camera poi ci ha fatto trovare acqua fresca e dei buonissimi canistrelli (biscotti tipici artigianali). Ci volevano proprio dopo un po' di ore di viaggio! La camera è arredata con gusto ed ha un bagno nuovissimo. Si trova a piano terra della casa ma ha un accesso privato e un piccolo spazio all'aperto per uso comune. Il massimo della privacy! L'unico neo è stato il letto che abbiamo trovato alquanto scomodo. Non tanto per le dimensioni quanto per la qualità della rete e del materasso. Nel complesso però è un attimo alloggio per soggiornare a Isola Rossa.
Nunzia
2015-06-29T00:00:00Z
Chambre irréprochable et particulièrement confortable à deux pas du centre ville. Accueil chaleureux est très sympathique.
Matthieu
2015-09-23T00:00:00Z
Très belle chambre dans une villa proche de toutes les commodités ! Entrée indépendante avec belle terrasse et décoration contemporaine tres agréable ! petite attention particulièrement sympathique pour notre anniversaire de mariage à notre arrivée de la part d'Isabelle ! Merci beaucoup! Nous garderons un bon souvenir de ce séjour malgré les intempéries qui ont frappées la corse ! A bientôt Gaëlle et Didier
gaelle
2015-10-03T00:00:00Z
Proche du centre ville a pied,belle instalation,salle d'eau,dommage pour la literie (matelas)acceuil sympathique mais rapide!
eric
2015-06-05T00:00:00Z
Ne doutez pas, foncez ! Le logement est superbe, très propre et décoré avec goût. La literie est neuve et de bonne qualité. La petite terrasse est très agréable pour prendre le petit déjeuner. Le logement est également équipé d'un mini frigo dans lequel nous attendaient des bouteilles d'eau fraiche. Nous avons été accueilli par Patrick avec des gâteaux Corse. L'accueil est très chaleureux, les hôtes sont très sympathiques et de très bon conseils (restaurants, bar, etc...). Xavier & Marion
Xavier
2015-08-29T00:00:00Z
Chambre à proximité du centre ville de l'île Rousse (5min à pieds) donc génial, pas vraiment besoin de la voiture. Chambre avec tout le confort nécessaire, très cosie, douche à l'italienne, terrasse commune avec une autre chambre...par contre la literie est peu usée (le matelas fait un peu cuvette) et il manque un petit frigo. Concernant nos hôtes, nous nous sommes pas beaucoup croisés mais les rapports ont sympathiques. Nous recommandons.
DAVID
2015-06-03T00:00:00Z
Tipe Kamar
Kamar pribadi
---
Tipe Properti
Rumah
---
Mengakomodasi
2
---
Kamar tidur
L'Île-Rousse, Corsica, Prancis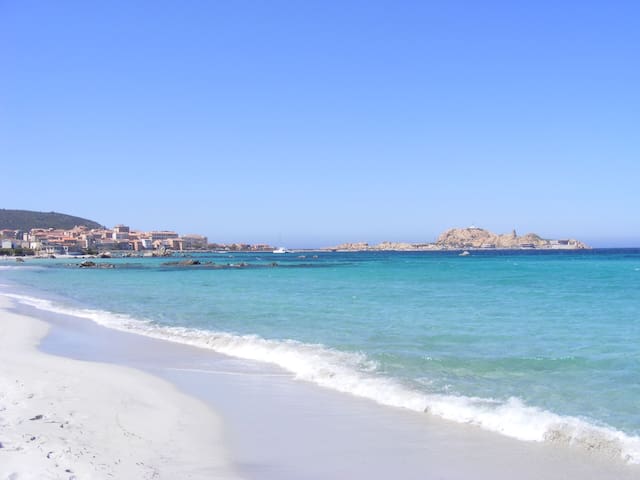 7 jours min de 65 à 80€/nuit ce 2 pieces avec sa terrasse vue mer, réhabilité dans l'ancienne remise de la maison des propriétaires, vous séduira par l' authenticité de sa salle voûtée et ses pierres apparentes qui ont étés conservées
Petit hameau de 50 habitants calme et très pittoresque avec une fontaine et un lavoir ou vous pourrez retirer une eau limpide et legere qui vient des montagnes les habitants sont trés sympathiques et vous serez tres vite, si vous le souhaitez, integrés. Le soir la fraicheur du muntese (vent leger d'altitude) descend et vient faire tomber les temperatures de la journée les gens du village se retrouvent alors sur la petite place de la chapelle pour échanger ou bien pour une partie de boules vous trouverez aussi sur place une petite auberge pour les soirs où vous ne voudrez pas cuisiner ou bien ramener chez vous une succulente pizza cuite au feu de bois
Maison très agréable, décorée avec gout, au cœur d'un hameau typique. Nous avons été très bien accueillis et conseillés sur les promenades possibles à proximité, pour une découverte de la Balagne.
Carlin
2015-08-24T00:00:00Z
Nous avons reçu un accueil très chaleureux, ponctué tout au long du séjour de petites attentions discrètes et très agréables. De bons conseils sur les sorties à faire dans les alentours. Nous avons particulièrement apprécié de logement, à la fois typique et cosy. Ça a été un coup de cœur pour nous.
Albin
2015-08-20T00:00:00Z
Superbe endroit , très calme, cosy , parfait pour découvrir la Balagne . Les nombreux commerces au village ( pizzerias, restaurants, épicerie, boucherie...) contribuent à la qualité du séjour ( pas besoin de faire ses courses à l'Ile Rousse)
Gilles
2016-08-07T00:00:00Z
Une très jolie petite maison de village décorée avec gout au calme à 6mn d'Ile Rousse seul les oiseaux se font chantants le matin et tant mieux. Une jolie vue sur la baie de la terrasse et dans la maison tout est là pour le confort. Dominique et sa maman sont des gens plus que charmants et de bon conseils pour les ballades et les jolies plages sans être omniprésentes. Petites attentions de bienvenue fort délicieuses. Bref que du bonheur... juste un peu triste de partir. Merci pour tout. A bientôt ... Eric et Marie
eric
2016-08-27T00:00:00Z
Sehr freundlicher Empfang von der Gastgeberin, der es sehr wichtig war, dass wir und wohlfühlten.
Maren
2016-07-02T00:00:00Z
Dominique came to our rescue to pick us up in L'ile Rousse to show us the way to the village. She and mom Nicole were great hosts. Nicole's knowledge of La Balagne lead us to discover areas we would not otherwise have found. Make sure to visit Pigna, a village a la Saint Paul de Vence, browse around in Dominique exquisite store Casa Savelli and load up with local wines and specialties. Nicole you are dear to my heart , too bad you had to attend to personal affairs. I will remember you always.
Suzel
2016-09-25T00:00:00Z
This was an amazing stay, filled with only the very best moments. Everything, starting from the welcoming and helpful advice before we got there, through to the charm of the hamlet and the apartment really left the best impressions. Waking up in the morning and going to bed at night to the beautiful view, having meals on the terrace as the start or finish of the day were priceless. And everything in the apartment was working perfectly, decorated with love and attention giving a feeling of home. But most of all, of course the warm welcome of both Dominique and Nicole always made us feel most looked after! Thank you!
Natalia
2016-08-12T00:00:00Z
Charmantes attentions durant notre séjour (biscuits, confitures, légumes ...). Hôtes bienveillants, disponibles, à notre disposition pour tous conseils et informations. Maison agréable, dans un village dans les hauteurs d'Ile rousse (davantage de fraîcheur le soir, très agréable durant la période estivale). Bien équipée, literie confortable, décoration soignée, avec une place de parking très proche de la maison.
Claire
2015-07-18T00:00:00Z
Tipe Kamar
Seluruh rumah/apartemen
---
Tipe Properti
Rumah
---
Mengakomodasi
2
---
Kamar tidur
Santa-Reparata-di-Balagna, Corse, Prancis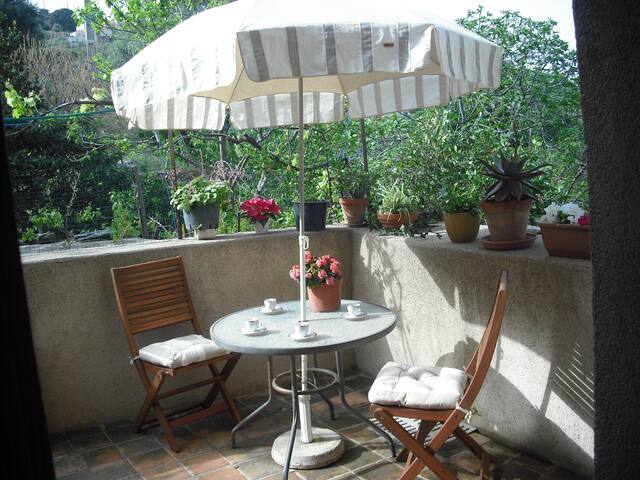 This building walls and stone vaults, is located on a classified Corsican site "remarkable" .vue sea and mountains Built on a plot of 2 ha with an olive grove, the fold of 3 centuries renovated overlooks the bay of Algajola. sea view, 5 minutes from all .Vue TF1 in the "on the side of you." The stone walls on the inside are the original raw state with cavities that sometimes cause dust to the ground despite regular cleaning and treatment of soil renovated polished concrete.
Corsican paghjaghju type of home. old barn converted into a house. stone walls; polished concrete. threshing floor. olive grove. parking areas.
The sea and mountain views .The sunset (URL HIDDEN) tranquility. located on a classified site "remarkable". bordered by a oliveraie.à close to everything, beaches, shops, villages.
Antoine si è resa molto disponibile per quanto riguarda il check-in essendo arrivati all'alba in nave, ci siamo organizzati fin da subito per le chiavi e abbiamo potuto usufruire della casa dal mattino prestissimo. La casa è molto caratteristica, dotata di ogni comfort con una vista stupenda. Ancora più bella che in foto. La posizione è perfetta essendo distante dai punti turistici più caotici, ma al tempo stesso comoda per raggiungere le spiagge più belle del nord. Comodissima anche per le escursioni a Fangu e la via degli artigiani. A qualche minuto in macchina c'è un supermercato fornitissimo. A 10 minuti c'è la città di Isola Rossa e a 15 minuti Calvi. Accanto casa ci sono due spiagge molto belle con ampio parcheggio e una bel sentiero costiero che arriva fino a Calvi. Io e Paolo consigliamo questa casa senza alcun dubbio! Grazie Antoine.
francesca
2016-09-11T00:00:00Z
Sehr schönes Haus mit toller Aussicht und Garten! Wir hatten kein Problem das Haus zu finden und der Kontakt mit Antoine war sehr einfach. Ich würde die Unterkunft jederzeit wieder buchen.
David
2015-08-03T00:00:00Z
Die tatsächlich gemietete Unterkunft war noch belegt, wir haben eine Altermative angeboten bekommen, die architektonisch nicht ganz so stilvoll ausgebaut, aber für unsere Bedürfnisse, durch ihre direkte Nähe zum Meer,sogar besser geeignet war... Das große, abgelegene Gelände entsprach komplett unseren Vorstellungen. Der Vermieter war sehr freundlich und hilfsbereit. Die Woche war ein wunderschönes Erlebnis und macht Lust auf mehr!
Angela
2015-08-30T00:00:00Z
Merci pour tous! C'était super! La maison est trés authentique et super belle! Il y a tous ce qu'il faut pour avoir un séjour extraordinaire! On a adoré la vue panoramique et le paysage Magnifique. Merci à vous, Antoine!
Catrin
2016-10-29T00:00:00Z
Sehr schönes Haus mit traumhaften Blick auf das Meer. Die Vermieterin war sehr freundlich und gastfreundlich. Von hier aus lässt sich die Gegend sehr gut erkunden, sehr zu empfehlen.
Hanne
2015-09-25T00:00:00Z
Et si le luxe c'était le calme et l'espace? Logement idéalement situé avec des vues imprenables sur la baie et la montagne, à la fois tranquille et proche de tout. Accueil très agréable et prévenant d'Antoine et Chistiane qui nous ont conseillé et éclairé sur l'histoire de la Corse. À recommander sans hésitation
Marc
2016-08-21T00:00:00Z
Séjour parfait dans cette belle bergerie. La vue est sublime, la situation géographique ideale et tous les équipements sont adaptés. Nous avons adoré et recommandons vivement cet endroit!
Camille
2016-06-24T00:00:00Z
Très bonne communication avec Antoine, hôte sympathique et attentionné. Bergerie très agréable et très bien située, particulièrement pour un séjour avec enfant (5 mn des plages; 40 mn Cap Corse...). La vue est magnifique : très belles vacances, à recommander!
Nicolas
2016-07-28T00:00:00Z
Tipe Kamar
Seluruh rumah/apartemen
---
Tipe Properti
Rumah
---
Mengakomodasi
4
---
Kamar tidur
Corbara, Corse, Prancis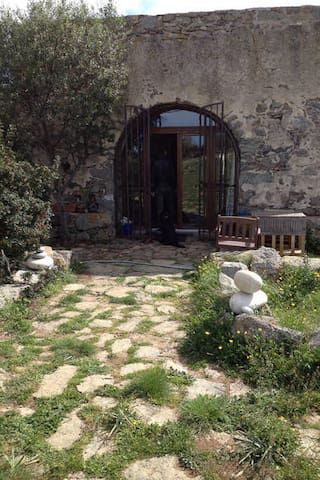 In my familly for the past 4 generations, restaured mill with authentics pieces of history. 3 bedrooms ( 2 double beds in 160 and 1 double bed in 140 + 1 kid bed and 1 baby bed) Perfect for people searching calm, nature and real things
mill from the 16 e century, used to make olive oil and flavour. All that you see in the pictures are originals, restaured with passion and know how in order to keep the spirit of the mill
Very small village, Ville di Paraso with a small grocery shop and a bar with great view
Superbe logement, au calme, en très bon état. Très confortable et bien fourni en équipement.
matthieu
2016-07-28T00:00:00Z
Giovanna et son mari ont été très accueillant. Leur très belle maison est étonnante dans un coin bien isolé. Sous un petit village avec petite épicerie. Très agréable malgré la bonne demi-heure de petite route (magnifique) pour aller se baigner et faire les courses. Ne manquez pas la plage d'Ostriconi et le coucher de soleil sur la route à la paillote la Liciola.
Justine
2016-08-07T00:00:00Z
Un logement vraiment atypique parfaitement rénové.
Stéphane
2016-09-11T00:00:00Z
Nous sommes arrivés dans ce havre de paix, tout était installé pour notre venue, nous avons été accueilli avec beaucoup de chaleur, le silence règne, la plénitude fait de ce lieu un endroit de ressource parfait. Nous y avons passé 4 nuits, les chambres sont magnifiques, le moulin est décoré avec beaucoup de goût, jusqu'au moindre détail. Chaque espace est fait pour en profiter un maximum, chaque terrasse est un endroit de repos, comme à la maison! Logé dans la montagne, la mer est à 10min, une vue imprenable, ce moulin est un véritable bijoux! Merci beaucoup à la propriétaire de nous avoir fait découvrir cet endroit où nous reviendront très certainement!
barbara
2014-08-24T00:00:00Z
Lovely, lovely place! Great host, any time again!
Jan-Christoph
2016-09-26T00:00:00Z
Le moulin a été très bien rénové avec des matériaux nobles. Son emplacement et sa disposition permet d'être à la fraîcheur les jours de grosses chaleurs. Que de bonnes surprises.
Edgar
2016-08-15T00:00:00Z
Tipe Kamar
Seluruh rumah/apartemen
---
Tipe Properti
Rumah
---
Mengakomodasi
6
---
Kamar tidur
Ville-di-Paraso, Corsica, Prancis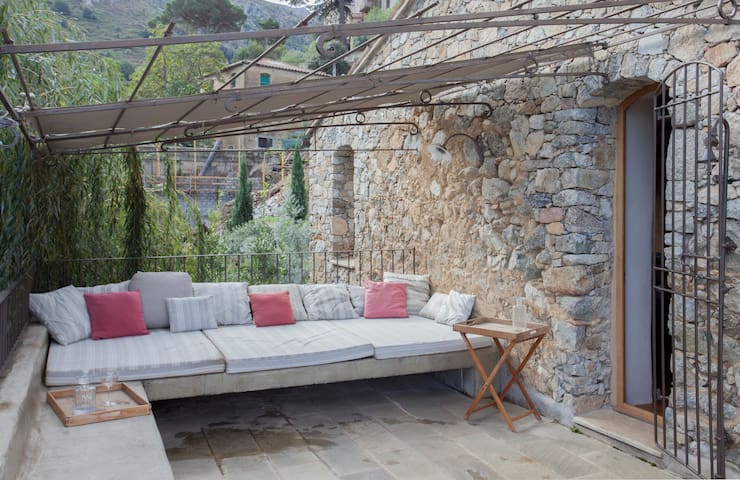 Inside a typical Corsican house, the first floor of the guest house, an old barn renovated into family room for parents and 2 children, or a group of friends.
Complete change of scenery in a "flea market" atmosphere. This room is 35 m2, large volume ceilings, boasts a large private terrace of 25 m2 overlooking the village. From the terrace, the view is twofold: a sea and a mountain side side. This room is on the first floor of the guest house, the bathroom carved in the rock and the toilet in interstage. It has no kitchen but has a fridge, kettle and coffee for breakfast.
The neighborhood is very quiet, above the village and the house has a beautiful view over the village and the magnificent Baroque church.
Grande chambre agréable avec une très belle terrasse. Le gîte se trouve tout en haut du village et la vue est magnifique! Merci pour votre accueil.
Isabelle
2015-08-11T00:00:00Z
Très agréable séjour chez Caroline, la chambre est spacieuse et donne sur une magnifique terrasse qui invite à la détente. A recommander vivement.
Catherine
2016-09-13T00:00:00Z
Nous avons passé une semaine très agréable chez Caroline. La maison est pleine de charme et la chambre spacieuse et confortable. Ce fut un plaisir de pouvoir prendre nos repas sur la terrasse dominant le village. Caroline est accueillante et discrète à la fois. Nous reviendrons avec plaisir !
Anne
2016-07-20T00:00:00Z
Chambre familiale atypique. Belle terrasse avec superbe vue sur le village et les montagnes. Le tout décoré avec goût
jean
2016-08-07T00:00:00Z
Nous avons passé une nuit dans cet appartement lors de notre traversée de la Corse, et celui-ci fut parfait pour cette utilisation ! Les photos ne rendent que peu honneur au lieu, qui est assez magique : situé dans une vieille maison Corse au sein d'un magnifique village en flanc de montagne, il est décoré avec goût et offre une vue imprenable sur la montagne. Caroline avait tout prévu pour nous accueillir : frigo rempli avec de quoi prendre le petit déjeuner, draps propres, serviettes. Ce fut une expérience parfaite que nous vous recommandons chaudement !
Robin
2015-08-22T00:00:00Z
Caroline ist eine schöne Verführung der Kunst des Wohnens. Perfektion des erholsamen, genießen sehr schöne Gegend. Sehr zu empfehlen.... Inspiration pur..... 100% Merci caro
thomas
2016-09-04T00:00:00Z
the room is nice and spacious and quite rustique...the terrace is beautiful and secluded. It was really hot at this time in July and the nights can be tough and sweaty without a fan. You have to love cats and dogs, which we do,because they share the space with you...if you don't lock them out actively. You have to somehow share a bathroom and the toilet with people staying in a room just opposite the toilet and you have to walk down the stairs (outside your room but inside the house) to get to the toilet. However we didn't mind that, but maybe other people will. Corbara is really pretty and off the beaten (URL HIDDEN) takes about 10-15min. with the car to the ocean.
Christoph
2015-07-26T00:00:00Z
Merci pour les petits présents. Avons bcp apprécié la terrasse avec vu sur le village, sûrement l'un des plus beaux de Balagne.
sylvie
2016-10-25T00:00:00Z
Tipe Kamar
Kamar pribadi
---
Tipe Properti
Rumah
---
Mengakomodasi
4
---
Kamar tidur
Corbara, Corse, Prancis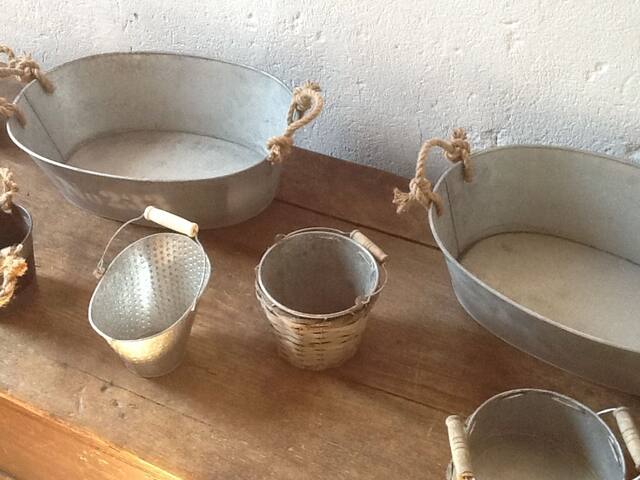 Speloncato - Airbnb
:
Rata-rata

4.7

dari

5

bintang dari semua

217

ulasan tamu
1

–

18

dari

300+ Sewa Rumah
Masukkan tanggal untuk melihat harga lengkap. Biaya tambahan berlaku. Mungkin dikenakan pajak.