Recently renovated with a large terrace and fully equipped kitchen apartment in a traditional house located at the center of Spetses town. Only 5 min walk from port, museums , restaurants, cafe, shops and beach.
Located in the heart of Spetses town, this fully furnished studio features one double bedroom , a futon and a fully equipped kitchen.
It's a down town neighborhood, with a lot of villas and houses, right next is located the Villa Christina hotel and right bellow the house is a mini market called "Mpakalogatos"
Wirklich nettes Apartment nur 5 min vom Hafen entfernt, das für den Preis wirklich außerordentlich gut ist. Das Zimmer war nett eingerichtet und sauber. Der mit 3 anderen Gästezimmern geteilte Balkon ist geräumig und ruhig. Ich würde definitiv zurückkommen. Die Gastgeber habe ich jedoch nie persönlich getroffen.
Peter
2016-09-24T00:00:00Z
This studio is a little gem . It is well located with plenty of shops bars and restaurants around. The apartment is extremely clean, well furnished and quiet. I would recommend this place to all my friends visiting Spetses. Filippos is a great host, he was able to accommodate us with a very early arrival and gave us recommendations of places to visit etc... A really amazing experience!
Katerina
2016-07-02T00:00:00Z
Los apartamentos de Stavros son fantásticos. Tienen todo lo necesario para disfrutar de la maravillosa isla de Spetses. Localización inmejorable, muy limpio y bonita decoración. Disfrutamos mucho de la terraza y está a un paso del puerto y los restaurantes. Alquilamos una moto, que es la mejor forma de descubrir la isla. También en barco. Stavros, el dueño, es un tipo fantástico nacido en la isla que ha recorrido medio mundo. El y su esposa hablan español y son un auténtico encanto. Volveremos seguro y lo recomendamos al 100%.
Noe
2016-07-27T00:00:00Z
Beautiful little studio; bright and airy and right in the centre of town!! The terrace was gorgeous in the Sunny. Filippos was very lovely and allowed us to check out late due to an unplanned change in our ferry times. Unfortunately the previous guest had closed the door so we had some trouble entering, but as soon as we contacted Filippos he was incredibly responsive and had someone come within 5 minutes to help us get in!! Would highly recommend this apartment if you are visiting beautiful Spetses :)
Sherini
2016-10-14T00:00:00Z
The host canceled this reservation 8 days before arrival. This is an automated posting.
Andreas
2016-08-07T00:00:00Z
Filippos and Mary's pad was conveniently placed at close distance from the main port . Communication and feedback was excellent prior and during our stay . The apartment itself is adequately furnished with all necessary equipment and facilities seen on the listing . Recommended !
despoina
2016-09-03T00:00:00Z
Excellent location, clean, and friendly hosts!
Annika
2016-07-11T00:00:00Z
"We Had a great stay at Filippos' & Mary's appartment, the room is clean and decorated with a nice style. Filippos was a great host with plenty of info on anything you might need. The house is perfectly located just 5 min walking from everything!"
Ioanna
2016-06-30T00:00:00Z
Tipe Kamar
Seluruh rumah/apartemen
---
Tipe Properti
Apartemen
---
Mengakomodasi
3
---
Kamar tidur
Spetses, Yunani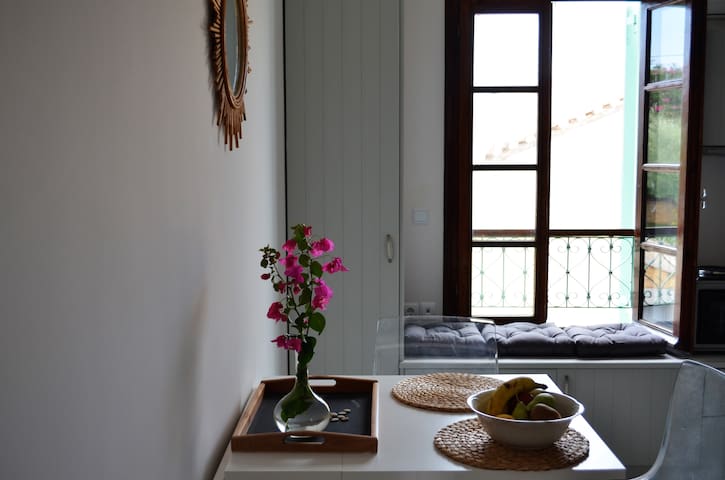 This house was built in 2004 and was first inhabited in 2005. It was designed by my friend, architect Manolis Klambatseas, while the paint jobs and some construction ideas were the input of the architect/painter Meletis Loukos. The house is located in the Agios Eleftherios area, but, if you are lost and want to find it, you can ask for "Mourati's house". Lefteris Mouratis, an old and well-known local, is our good old neighbour on the other side of the road, selling stuff for the horses.
Amazing place, in an ideal location, suitable for groups or families. The house was very clean and well equipped (There was even a Nespresso machine!) Upon our arrival, there were some goodies in the fridge and steel water! I will be more than happy to rent the same property in the future! Thank you Thanassis!
Vasilis
2016-06-21T00:00:00Z
We had an absolutely magical stay in Spetses at the Old Harbour apartment. From the moment we arrived we felt completely welcomed. Thanassis was wonderful throughout our stay. He kept checking up on us which was really appreciated. We also arrived to a fridge full of cold beers and treats. I'd recommend this apartment to anyone. It's got perfect location and views. About 10 walk from the beautiful paradise beach and a 10 min motor cycle to Verlos ect. The place was spotless and so well kept. There was only 4 of us but I would say you could comfortably fit 6/7. We will be coming next year for sure. What a beautiful place...and the WiFi and air con worked really well! Thanks you so much for having us. Josephine x
Jo
2016-06-10T00:00:00Z
Thanassis made us feel so welcome. The house felt like a home away from home and comfortably accommodated all of us with room to spare. It's about a 5 minute walk from the port and in a quiet area. We had everything we needed and more. Would highly recommend staying here!
Monica
2016-09-06T00:00:00Z
Εξαιρετική διαμονή! Το σπιτι ήταν πλήρως εξοπλισμένο, καθαρό και σε καλή κατάσταση! Η τοποθεσια του ήταν πολυ βολική· κοντα στο παλιό λιμάνι και κοντα στην Νταπια! Η θεα απο το μπαλκόνι και την ταράτσα ήταν υπέροχη! Ο ιδιοκτήτης φρόντισε να μας παρέχει ολες τις ανέσεις. Ήταν ευγενικός και φιλόξενος. Το συνιστώ σιγουρα σε εκείνους που θέλουν να περάσουν υπέροχες διακοπές με την οικογένεια τους ή την παρέα. Ευχαριστούμε και πάλι! Ολα ήταν υπέροχα!!
Emmanouela
2016-05-29T00:00:00Z
Thanassis was an incredible host. He gave us very detailed directions, information on the area, amenities and the island itself. He prepared the house beautifully for us and made everything very easy. The house was absolutely beautiful with an incredible view. The pictures don't do it justice. Would come back in a heart beat
Molly
2016-07-30T00:00:00Z
We had a wonderful time in this cozy, nicely renovated and spatious house! +++ clean +++ expands in 3 levels, allows for privacy within large groups +++ beautiful terrace +++ good location, Old Harbour & Dapia easily reachable on foot Thanassis was an awesome host, warm and friendly - there was wine, fruit and an extensive booklet he put together (both for the house, and for the island and its highlights) waiting for us. Our communication was remarkably good! We will definitely come back! Thank you!
Nefeli
2016-05-04T00:00:00Z
Superbe maison d'architecte tres situe a 10min a pieds du vieux port! Tres bien equipee egalement (clim, serviettes, frigo rempli,etc...), ideal pour une famille nombreuse ou un groupe d'amis! Nous reviendrons sans hesiter, merci Thanassis!
Alexandre
2016-07-04T00:00:00Z
The house was beautiful, clean and very well equipped! The view is amazing both from the balcony and the terrace! Comfortably accomodates 7 people. Great location, near everything! Thanassis was a great host, very helpful and responsive! Thank you for having us!
Carolina
2016-07-11T00:00:00Z
Tipe Kamar
Seluruh rumah/apartemen
---
Tipe Properti
Rumah
---
Mengakomodasi
7
---
Kamar tidur
Spetses, Attica, Yunani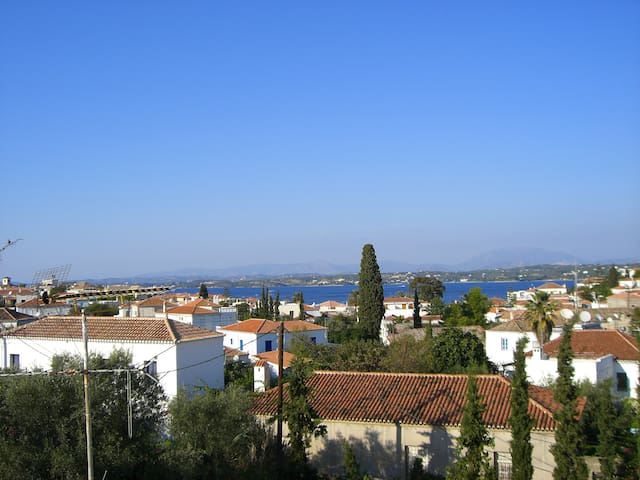 Charming apartment within short distance from center. Sea-view veranda. Well-equipped kitchen and backyard. Located in quiet street in a traditional island architecture neighborhood.
Quiet, friendly neighborhood
Great apartment! A lot better than it seems in the photos. Comfortable even for 6 people, big bedroom and living room, fully equipped kitchen. Irene is a great host!
Eirini
2017-03-28T00:00:00Z
Tipe Kamar
Seluruh rumah/apartemen
---
Tipe Properti
Apartemen
---
Mengakomodasi
4
---
Kamar tidur
Spetses, Attica region, Yunani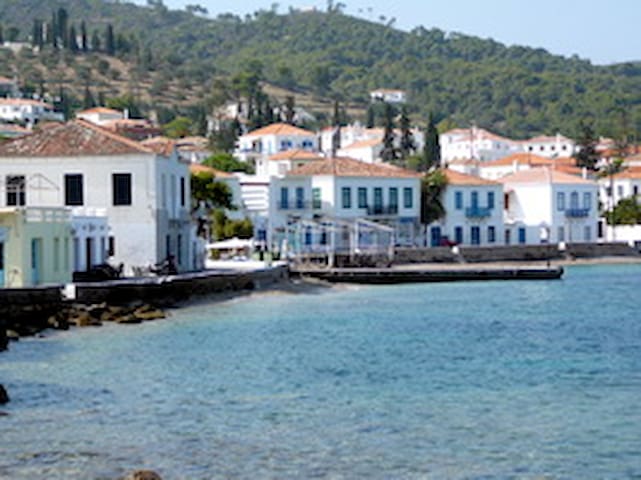 My place is close to art and culture, great views, restaurants and dining, the beach, family-friendly activities, center, super market, beach bars and more. You'll love my place because of the location, the people, the ambiance and it's very comfy. My place is good for couples, solo adventurers, business travelers, and families (with kids).
Tipe Kamar
Seluruh rumah/apartemen
---
Tipe Properti
Apartemen
---
Mengakomodasi
5
---
Kamar tidur
Spetses, Yunani
The apartment is minutes from Paradise beach and the picturesque old harbour with its many tavernas, restaurants and bars. Spetses town is a pleasant 15 minute stroll away. You'll love the apartment because of the excellent location, the quiet neighbourhood, the outdoor terraces. The apartment is great for couples, friends and families alike.
A beautiful and very spacious recently renovated apartment in the sought after area of Agia Marina / The Old Harbour. This 92 m2 apartment comfortably sleeps 6. There are two large L shaped sofas in the lounge which become double beds plus two double bedrooms. The kitchen is fully equipped with dishwasher, oven, ceramic hob and washing machine etc. There are air conditioning units in both bedrooms. The bathroom has a large walk in shower.
The apartment on a very quiet road in the Agia Marina area of the island boasting stunning view over the olive groves. Unlike a lot of properties in Spetses everything can be reached in an easy stroll with no steep hills to navigate! Although the house is in a quiet location it is only minutes away from the beautiful old harbour with its many restaurants, tavernas and bars, a two minute walk to Paradise beach or the quieter beach Garifalo and a short stroll into the main town of Spetses. Supermarket, bakery and motorbike/bike hire are minutes away.
This place is in a perfect, quiet location only minutes from Paradise beach by foot and a few steps from bike-rental, grocery store, etc. It is a really spacious apartment, the open kitchen is inviting to cook, and in the hot summer the place surely keeps nice and cool. The beds are really comfortable, and lots of pillows are provided :)))
Sara
2016-10-23T00:00:00Z
Super
Anais
2016-09-21T00:00:00Z
Jayne is an amazing host , she thought about each and every detail for the house and for your comfort. There is each and every equipment you might think of. The location is a little bit far from the port but with horse buggies it takes 10 euros to arrive. I will definetly recommend to rent a motorbike ( beside proton super market there is one rental shop). To warn you about the island is full of mosquitos, Jayne take all precautions but experiencing the island have some spreys to protect you. By the way although it is a little bit far from the center, "paradise beach " is 2 minutes away. The only improvement area might be the wifi, the signal is a little bit weak but common you are on an island :)
Kurt
2016-09-18T00:00:00Z
Ενα πολύ όμορφα διακοσμημένο και άνετο σπίτι, με όλα όσα θα μπορούσαμε να χρειαστούμε!!
Αθηνά
2016-08-16T00:00:00Z
My friends and me, 5 people in total, had a really great time in Spetses. The Olive Grove sure helped about it. It was equipped with pretty much everything we could have needed (from bath towels to a beach umbrella!). Jayne was really helpful and kind and answered every question we had, a great host. I would definitely recommend The Olive Grove to anyone visiting Spetses.
Akis
2016-08-06T00:00:00Z
Everything was amazing,the hospitality of Mrs jayne,the house is perfect,the position,the island.thanjs you very much for everything and hope to see you again
Andreas
2016-08-10T00:00:00Z
I had a fantastic stay with my friends in The Olive Grove. Even though the apartment has just been restored to be let the attention to detail was very impressive. It had everything we could possibly need from pick nick plates and containers to beach towels and paperbacks. On arrival Jayne met us at the port and arranged transportation by horse and cart (the islands taxi alternative) and as we arrived late she even left us a few goodies in the fridge to get us through the first night. The flat is on the outskirts of town but a short walk from the Old Port and Paradise Beach. The area is one of the more exclusive in Spetses town and the walk into town via the Old Port is just what we needed after lazing on the beach all day. I can't recommend this accommodation enough and now all I have to do is to work out the dates to come back next year.
Anna
2016-08-22T00:00:00Z
The Olive Grove exceeded our expectations. Jane was a wonderful hostess and from arrival she did everything possible to make our stay as comfortable as possible. The house itself felt like a 'home away from home'; no details were overlooked (or that we felt we could have added or needed). We thoroughly enjoyed our stay, the location was perfect and close to amenities (such as beaches, supermarket, bus stop and harbours/ town). We will certainly recommend The Olive Grove and will hopefully return again.
Alexa
2016-08-01T00:00:00Z
Tipe Kamar
Seluruh rumah/apartemen
---
Tipe Properti
Apartemen
---
Mengakomodasi
6
---
Kamar tidur
Spetses, Attica, Yunani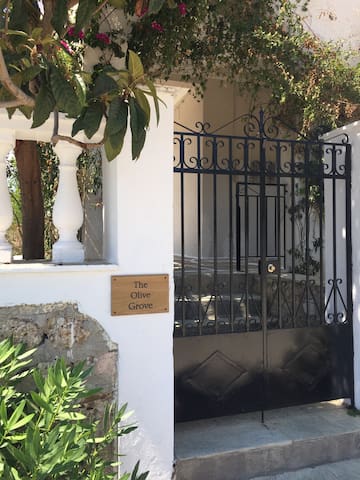 Sunny, recently renovated, with a large terrace apartment in a traditional house located at the center of Spetses town. Only 5 min walk from port, museums , restaurants, cafe, shops and beach.
Located in the heart of Spetses town, this fully furnished studio features one double bedroom , one sofa bed and a mini bar with kettle and all the basic cutlery to enjoy your breakfast inside or outside at the beautiful terrace.
It's a down town neighborhood, with a lot of villas and houses, right next is located the Villa Christina hotel and right bellow the house is a mini market called "Mpakalogatos"
Εξαιρετικά ποιοτική και οικονομική επιλογή για παρέα 3-4 ατόμων. Μείναμε απόλυτα ευχαριστημένοι από τις παροχές και την επικοινωνία με τους οικοδεσπότες
Yannis
2016-08-03T00:00:00Z
Jolie situation de la chambre au centre à deux pas du port. Cadre charmant et terrasse agréable. Deco intérieure sympa et accueil chaleureux
Aurore
2016-05-20T00:00:00Z
Filippos var mycket trevlig och svarade snabbt på frågor både innan och under vistelsen. Mysig liten lägenhet utan kök, men med tekokare och kylskåp. Den gemensamma terassen var fantastisk och "förlängde" lägenheten på kvällarna. En del mopedtrafik på Mbotasi-gatan utanför fönstret, men inget som störde nämnvärt. Rekommenderar lägenheten för den som vill ha en skön vistelse på vackra Spetses!
Frida
2016-07-19T00:00:00Z
We had a wonderful time in Filippos and Mary's apartment. Very clean, modern, and close to Spetses centre. Highly recommended.
Marta
2016-06-25T00:00:00Z
Ηταν η πρωτη φορά που επισκεφτήκαμε τις Σπετσες και περάσαμε πολυ όμορφα. Ειναι το κατάλληλο νησί για την απόδραση του Σαββατοκύριακου! Πολυ οργανωμένο και με ωραία φυσική ομορφιά. Δυστυχώς τον Φίλιππο δεν τον γνωρίσαμε αλλα ο κ. Σταύρος που μας έδωσε τα κλειδιά και μας καλωσόρισε, ηταν πολυ φιλικός. Το δωματιο ειναι πολυ όμορφα διαμορφωμένο, και ευρύχωρο. Οτι πρέπει για 2-3 άτομα. Το σπιτι είχε οτι χρειαστήκαμε για το 1 βράδυ που μείναμε. Ειναι πανω στον κεντρικό δρόμο της χώρας, κατι που το κάνει πολυ εύκολα προσβάσιμο, αλλα εχει φασαρία λόγω της κινητικότητας των μηχανών.
Giannis
2016-06-27T00:00:00Z
We loved the apartment , it's just like the photos if not better, really cosy and full of light .The patio in the front of the house is a great choice if you want to quietly enjoy the beautiful night sky . Great place located right in the heart of Spetses and nearby to a small market.
Christina
2016-05-31T00:00:00Z
We had a great stay at Filippo's room. We were welcomed by the owner, Mr Stavros, who was really friendly and explained everything we needed. The room was exactly as described, very clean, bright, comfortable and functional. There was also a shared terrace with a nice view. The location was very convenient, just walking distance to the closest beaches and the port. We really liked the stash with coffee and other goodies but would also appreciate some cooking appliance to prepare breakfast. We would definitely stay there again and would highly recommend it!
MARIA
2016-06-06T00:00:00Z
We had a lovely time on Spetses and this apartment provided the perfect base to explore, with the location only a few minutes walk from the main town. We were greeted by Mr. Stavros who was very accommodating, made us feel welcome and also provided us with great tips. The studio space is very simple and has everything you need for a great stay - the terrace is a lovely add on. Hope to return soon!
Sophia
2016-06-09T00:00:00Z
Tipe Kamar
Seluruh rumah/apartemen
---
Tipe Properti
Apartemen
---
Mengakomodasi
3
---
Kamar tidur
Spetses, Yunani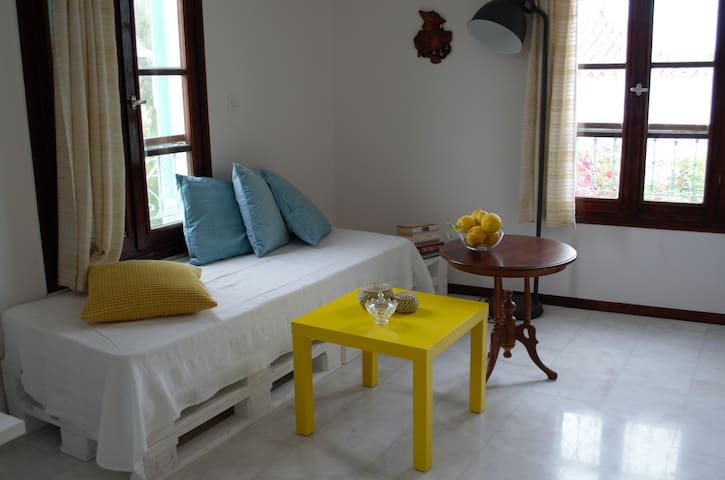 Brand new studio flat on the ground floor of a family house, with independent entrance and large terrace with view of the sea. See details in analytical description of the studio.
The island of Spetses is the ideal place to relax and enjoy swimming, cycling hiking, and recharging your batteries! Brand new studio flat on the ground floor of a family house, with independent entrance and large terrace with view of the sea. The studio features an open-plan kitchen and separate bathroom with shower. It is fully furnished with a double sofa bed, a fold-out optional single bed, a large wardrobe with floor-to-ceiling mirror, washing machine, and comes equipped with towels, bed-linen, and all other necessary household equipment. Air-conditioning, TV, and wi-fi are included. Two bicycles are available for an extra 3 euro/day each. The studio is located in a condominium on top of the hill above Ligoneri Beach, one of the most picturesque beaches on the island. Due to its hill-side location the studio boasts a spectacular view of the sea. The main town of the island, Dapia, is a 20-minute walk or a 10-minute bus ride away from the flat, with popular Kaiki Beach on the way. In Dapia you will find a large selection of restaurants catering to every taste, and the island's Old Harbour is an epicenter of Greek nightlife.
-
I've just spent 3 wonderful and relaxing days on Spetses in Marias studio flat with my 2 kids. Spetses is truly beautiful as are the beaches. Marias beautiful home is only a 10 min walk from the beach and as you walk, you really get to admire the beautiful nature on this Island. The studio flat is clean, beautifully decorated and very cozy. The terrace is very cozy as well, which is why we mostly spent our mornings and evenings there, enjoying the amazing view. Maria is a wonderful and very helpful host. From the moment I booked the studio flat, to the moment we were leaving, Maria was very helpful and made sure that we had everything we needed. Futhermore, she is a very pleasent person and very friendly to talk to. I will definitely come back again and look very much forward to it.
Katarina
2016-06-30T00:00:00Z
Maria war durchgängig eine sehr freundliche, hilfsbereite, offene, warmherzige, kontaktfreudige und empathische Gastgeberin. Appartement und Terrasse waren genau wie beschrieben und bis ins Detail sehr liebevoll gestaltet. Zur Begrüßung fanden wir sogar einige Grundnahrungsmittel , Obst und Süßigkeiten vor! Die Insel ist im September einfach traumhaft ruhig und schön! Wir können Marias Appartement wärmstens empfehlen ! Susanne und Wolfgang Osnabrück , Germany 13.-17.09.16
Susanne & Wolfgang
2016-09-18T00:00:00Z
Staying at María´s place was wonderful! Her flat is clean, beautiful, equipped with all the necessary things one would need and it is located in a beautiful area in the island. But certainly, the greatest thing about María´s place is her warmth and kindness. She made us feel special, cared for, like being at home. Thank you, María!
Carolina
2016-09-20T00:00:00Z
Και οι δύο ήταν πολύ φιλόξενη εξαιρετική τοποθεσια
δαυιδ
2016-06-13T00:00:00Z
Ο χώρος που έχει διαμορφώσει η Μαρία είναι κουκλίστικος. Σε λίγα τετραγωνικά, έχει καταφέρει να περιλάβει οτιδήποτε μπορεί να χρειαστεί κάποιος στις διακοπές του, και μάλιστα με πολύ γούστο και μεράκι. Η δε καθαριότητα είναι εξαιρετική. Η Μαρία είναι πολύ ζεστός άνθρωπος που καλωσορίζει τους ενοίκους σαν καλεσμένους της. Στεναχωριέται γνήσια αν οτιδήποτε δεν πάει καλά και κάνει ό,τι μπορεί για να τα διορθώσει. Μένει στον πάνω όροφο του ίδιου σπιτιού και είναι πάντα διαθέσιμη για οτιδήποτε χρειαστεί. Ακόμα και όταν της ζήτησα αιφνίδια να έρθει να μείνει και τρίτο άτομο στο δωμάτιο, με χαρά το δέχτηκε κι ετοίμασε το χώρο. Η βεράντα είναι εξαιρετική, με υπέροχη θέα. Το internet πάντα πολύ γρήγορο. Ο χώρος βρίσκεται στον οικισμό Λιγονέρι, 2-3 χιλιόμετρα από το λιμάνι, σε ένα λόφο μέσα στα πεύκα. Για μας ήταν τέλεια γιατί εκεί έχουμε παρέες. Κατά τη διάρκεια του καλοκαιριού έχει πολύ τακτικό λεωφορείο για το λιμάνι. Ούτως ή άλλως έχει 2 παραλίες σε 10-15 λεπτά απόσταση με τα πόδια (λίγη ανηφόρα στο γυρισμό...). Επίσης, το καλοκαίρι στον οικισμό (2 λεπτά από το σπίτι) λειτουργεί mini-market ου έχει ό,τι χρειαστείτε - συστήνεται ανεπιφύλακτα να δοκιμάσετε τα φαγητά που μαγειρεύουν κάθε μέρα!
ΕΥΑΓΓΕΛΙΑ
2016-08-29T00:00:00Z
Staying in Maria's beautiful studio absolutely made my trip to this underrated Greek island. Arriving on Spetses, Maria was kind enough to meet me at the port itself with her 4x4 and gave me a tour of the main town. The studio is about 2.5km away from Spetses, but it is along the main road and is a very scenic, enjoyable walk. The studio itself is equipped with everything you could need and even has a terrace, which was great for relaxing on the lounge and winding down in the evening. She and her husband Nickolas live upstairs but the studio itself is separate. They also kindly allowed me to use one of their bicycles to get around the island. There is easy access to the beautiful and quiet Ligoneri and busier kaiki beach (5-10 min walk). There is also a walking trail nearby that leads to the pine covered ridges that make up the heart of the island, and it is possible to navigate to the other side by an hour's walk. Mari was always there to chat to and was extremely accommodating. She took time to explain the history of the island and its sights which I found interesting and very much appreciated. When I had questions about renting a scooter or even on planning further legs of my journey she was able to provide helpful advice. Overall, I could not more highly recommend Maria as a host. I loved my time on Spetses and am looking forward to visiting again sometime in the future.
Lachlan
2016-05-23T00:00:00Z
I cannot thank Maria enough for playing such a huge part in my wonderful holiday in Greece. In the weeks running up to our stay she gave me great recommendations about what to do while in Athens and Spetses, places of interest, cultural events and how to get around. She answered all my questions very promptly and it has been an absolute pleasure to communicate with her. The studio is exactly as described, Maria has thought of all the little attentions that make a place a home and the kitchen is perfectly equipped. The bed is ever so comfortable and the terrace really has a fantastic view. Spetses is a beautiful and peaceful island, easy to get around by foot, bus or with a scooter. It is so lusciously green and the beaches are very secluded, perfect for a relaxing get away! There is everything you need in the main town, about a 15-20 minute walk away but there is also a small shop just seconds away from the studio. I must recommend staying with Maria, she is so kind, interesting and helpful, you will surely have a wonderful time!
Charlotte
2016-07-23T00:00:00Z
Maria was very welcoming and prior to our arrival had been in touch giving us helpful information about how to reach the property. The studio is absolutely lovely, very comfortable, clean and just a lovely space to be in! It has great views, was walkable to small beaches (and with a bit more walking, the larger ones and the town) Very close by is a mini market - the owners are extremely friendly and it had everything we needed. We thoroughly enjoyed our stay - Maria was delightful, making sure we had everything we needed. It was the most relaxing part of our trip!
Caroline
2016-07-31T00:00:00Z
Tipe Kamar
Seluruh rumah/apartemen
---
Tipe Properti
Rumah
---
Mengakomodasi
3
---
Kamar tidur
Spetses, Attica, Yunani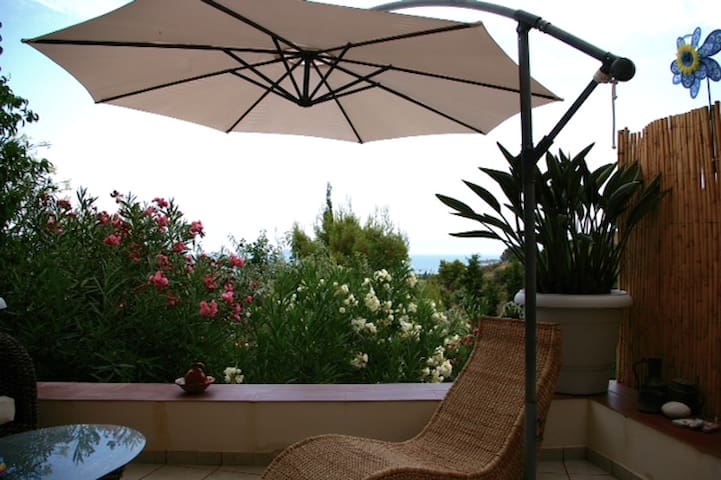 Our home is a 5 minute walk: Most popular beach of the island, lovely and popular restaurants and bars, marina for procuring water taxis, basketball court and football field available to the public. A 10 minute walk: seaside restaurants and bars, bakery, pharmacy, motorcycleand quad bike rentals. A 15 minute walk: Center of Spetses-Dapia (restaurants, bars, cafes, shops etc)..
The space is very homey and has a spectacular outside porch with stunning panoramic sea views and is furnished with a tasteful variety of antique furniture.
The house is a five minute walk from the most popular beach of the Spetses island: Kaiki Beach. Kaiki Beach features both a natural section with pine trees as well as another part with a large area with umbrellas, beach chairs, bar, restaurant and sports facilities. Additionally, situated right across from Kaiki Beach, is the historic Greek school "Anargyrios and Korgialenios School of Spetses". The school has a basketball court and a football field open to the public.
Καταπληκτικός οικοδεσπότης, πολυ καλο location, όμορφοι χώροι, ιδανικό για διακοπές
Sotiris
2016-09-04T00:00:00Z
The place is wonderful. Organization and accommodation was perfect, the house is close to the beach and also the center of Spetses. I gladly recommend the house.
Nikolay
2016-09-11T00:00:00Z
The house is very beautiful and the view from the terrace is great. The location is a bit outside town but calm and relaxed and so close to the Kaiki beach, which was great. Everyone in Spetses was so friendly and the whole island is big fun when traveling with a baby. Philipp was a not present during our stay. A friend of his awaited us at the port, but as he didn't speak a single word of English communication was difficult, to a point that we weren't even sure that he was the one waiting for us… We found towels difficult to find in the house and there were not enough blankets and no covers for the blanket at at. We had a great time in Spetses and the house was a big part if it. I recommend this house, but bring towels and a sleeping bag!
Bianca
2016-10-05T00:00:00Z
Un endroit agréable et bien situé (10 min à pied du port de Sperzes) Mais personne n'a été la pour nous accueillir. Nous avons tourné 20 min pour trouver là maison. Philip étant en Afrique du Sud nous avons eu sa mère de Athenes qui essayait de nous dicter le chemin... Un peu complique. Sinon rien a dire sur la propreté.
Julie
2016-09-07T00:00:00Z
Wir wurden von Janis am Hafen in Empfang genommen und sie hat uns Wissenswertes zu Spetses erzählt und uns die Wohnung gezeigt. Die Wohnung ist geräumig, mit zwei Schlafzimmern, und einem großen Wohnzimmer, das zur Küche offen ist. Außerdem gibt es eine Terrasse (mit tollem Blick aufs Meer) und drei Balkone, so dass man zu jeder Tageszeit die Wahl zwischen Sonne und Schatten hat. Die Wohnung ist sehr gut gelegen, sehr nah zum Strand und zu kleineren Einkaufsmöglichkeiten und einem guten Restaurant. Zum städtischen Zentrum ca. 12 Minuten zu Fuß, mit Fahrrädern, die uns auch zur Verfügung gestellt wurden, nur 5. Das Preis/Leistungs-Verhältnis ist sehr gut, ein Aufenthalt rundum zu empfehlen!
Guido
2016-09-22T00:00:00Z
Merci Phillip, very nice and large house. We enjoyed very much our stay in this beautifull island.
Eric
2016-12-16T00:00:00Z
Everything was fine, cosy appartment, close to the sea, beautiful view.
Nadezhda
2016-08-31T00:00:00Z
The apartment is amazing — everything is clean and cozy, you can find anything you need. It is bigger and brighter than on photos, 2 min walk to the beach and Famous School, 5 min walk to cafes and restaurants, 10 to port. Phillip is a cool host, helped us to find a way from Airport to Spetses (when there wasn't ferry), permanently ask if we need anything and was nice and sweet. I hope that I'll meet him in Russia and, of course, next year I'll come back to Spetses and this apartment, because it is a lovely place to feel the spirit of Greece and story of The Magus :) thanks a lot to Phillip and his uniq place for all my memories and friendly atmosphere
Olga
2016-09-26T00:00:00Z
Tipe Kamar
Seluruh rumah/apartemen
---
Tipe Properti
Apartemen
---
Mengakomodasi
4
---
Kamar tidur
Spetses, Yunani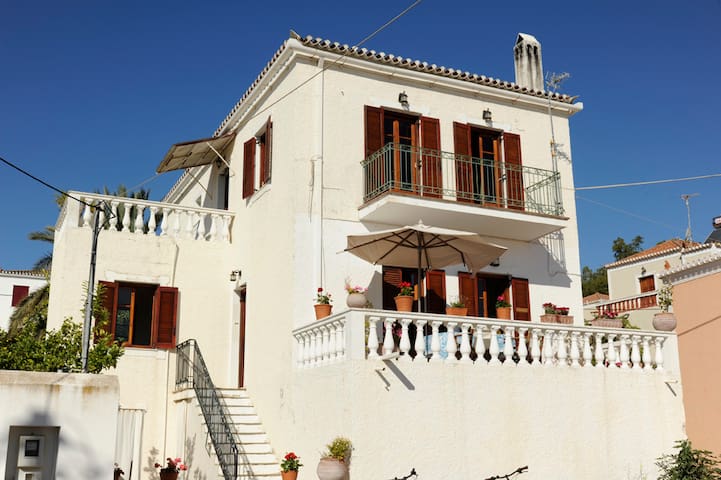 My place is close to art and culture, great views, restaurants and dining, the beach, family-friendly activities, center, super market, beach bars and more. You'll love my place because of the location, the people, the ambiance and it's very comfy. My place is good for couples, solo adventurers, business travelers, and families (with kids).
Οι φωτογραφιες το αδικουν το σπιτι. Στην πραγματικοτητα ειναι καλυτερο. Η γειτονια ειναι τελεια και ο οικοδεσποτης αψογος.
Anna
2016-09-28T00:00:00Z
It was better than expected and I'm happy we stayed here. Everything went smoothly. I would recommend this unit to any travelers.
Teresa
2016-08-06T00:00:00Z
Υπέροχη διαμονή.Το διαμέρισμα ήταν ακόμη καλύτερο απ ότι στις φωτογραφίες και η εξυπηρέτηση και η ευγένεια της οικοδέσποινας και της μητέρας της φανταστική .Το συστήνω ανεπιφύλακτα σε οποιον θελήσει να επισκεφτεί τις Σπετσες.Βρισκεται μόλις δυο λεπτά από το κέντρο και μας περίμεναν διάφορες λιχουδιές καθώς και αναψυκτικά .Ευχαριστουμε πολυ ΜαριαΣοφη
Sofia
2016-09-12T00:00:00Z
Logement très confortable et parfaitement situé par rapport au centre ville de Spetses (5 minutes à pied). Mariasofi a été arrangeante pour notre accueil malgré notre arrivée très matinale. Parfait pour un groupe de 4 personnes. A tester absolumment!!
Julian
2016-07-31T00:00:00Z
Sehr nette Gastgeberin, sehr gut ausgestattete Wohnung in zentraler Lage.
Roland
2016-10-10T00:00:00Z
Εξαιρετικό διαμέρισμα σε πόλυ ήσυχο σημείο και εύκολα προσβάσιμο από το λιμάνι. Άνετο, καθαρό με εξεραιτικούς οικοδεσπότες.
Θέμης
2016-08-18T00:00:00Z
Η διαμονη μας στο διαμερισμα ηταν τελεια. Παρα πολυ κοντα στο κεντρο της πολης (5 λεπτα περπατημα). Μας προσεφεραν διαφορα πραγματακια για πρωινο. Οι φωτογραφιες το αδικουν! Οι οικοδεσποτες παρα πολυ φιλικοι και διακριτικοι.
Themos
2016-07-19T00:00:00Z
Great hospitality. Very clean and beautiful apartment. It's close to the port and the city center. Overall excellent stay!
Dimi
2017-04-10T00:00:00Z
Tipe Kamar
Seluruh rumah/apartemen
---
Tipe Properti
Apartemen
---
Mengakomodasi
4
---
Kamar tidur
Spetses, Yunani
Unique and quiet room in a traditional house with garden and own terrace! Just 2 blocks from Spetses' port and 1 block from Bubulina's museum. It has its own *private* bathroom, fridge and A/C. It can accommodate up to 2 people and offers walking access to transportation (busses, taxis, boats), restaurants and shops.
Η διαμονή μας στο όμορφο σπίτι της κυρίας Γεωργίας ήταν μια πολύ ευχάριστη εμπειρία ! Η οικοδέσποινα μας έκανε να νιώθουμε σαν το σπίτι μας , ήταν πολύ φιλική και εξυπηρετική ! Το σπίτι ήταν καθαρό και όμορφο και η αυλή με το μπαλκονάκι καταπληκτικα ! Η τοποθεσία του σε πολύ καλό σημείο , πολύ κοντά στο κέντρο αλλα και πολυ ήσυχα ! Ευχαριστουμε πολύ την κυρία Γεωργία για όλα !
DIMITRA
2016-08-02T00:00:00Z
The room was great! It's pretty secluded. There was small refrigerator (with 2 large waters in there) and AC in the room, which was so great! The house is very close to the main harbor with shops and restaurants; a 4 minute walk, if that. Georgia was amazing. I changed my arrival time/plan a few times and she was so accommodating! Her son translated for messaging, but in person we communicated through broken English and hand gestures; it worked perfectly. She was so welcoming and willing to help with anything. I absolutely recommend staying here. Spetses is beautiful!
Karina
2016-06-28T00:00:00Z
Would HIGHLY recommend this place to stay, we were quite pleased! The host was very sweet and hospitable! The location was perfect, very close walk to the port and easy to find. The apt was cute and quaint and very clean! Would stay there again! Made our stay on the island very enjoyable!
Jessie
2016-08-19T00:00:00Z
Georgia was very welcome and genuinely hospitable. Everything was easy. The room was immaculate. The location is very convenient for the boat onto the island.
Rowland
2016-11-10T00:00:00Z
Everything was perfect. The house is situated at about 4 min from the harbour which is very comfortable. The room was perfect and very clean. Georgia was an awesome host, she provided everything we asked and helped as with useful tips about the island. Surely recommended.
Vasileios
2016-08-13T00:00:00Z
My stay at Georgia's house was an amazing experience! She (and her mother) were such wonderful hostesses, so warm, inviting, and friendly. The room was perfect for a few days to get away. The location was great in terms of getting to the main plaza, the "old harbor", and the area where the boats leave to take you to beaches on other areas of the island that are not walkable. Georgia and her mom were so helpful in answering my questions on how to get around the island and gave me recommendations on what to do/where to go. I sincerely enjoyed their company as well. I'd recommend anyone to stay with Georgia!
Maria
2016-09-07T00:00:00Z
We stayed in the apartment of Georgia for two nights, and really enjoyed it. During the booking the communication went via the son of Georgia, and upon arrival she was waiting for us to lead us to the house. This was quite welcome, since places are hard to find on this islands due to the lack of street names and house numbers! The location is close to the city center, the room is quite small but clean and has everything you need, and in the morning we received free coffee from Georgia, which was very nice. I would recommend the place!
Prisca
2015-09-15T00:00:00Z
Το παραδοσιακό σπίτι βρίσκεται σε μια ήσυχη γειτονιά πολύ κοντά στο λιμάνι. Είναι πολύ καθαρό και σωστά εξοπλισμένο. Η Γεωργία είναι ευγενέστατη και πολύ φιλόξενη. Προτείνεται ανεπιφύλακτα σε ζευγάρια που θέλουν ησυχία αλλά και να μπορούν να βρίσκονται σε 2 λεπτά στο κέντρο του νησιού.
Constantinos
2015-10-12T00:00:00Z
Tipe Kamar
Kamar pribadi
---
Tipe Properti
Rumah
---
Mengakomodasi
2
---
Kamar tidur
Spetses, Attica, Yunani
Welcome to Lemonia! Our two breezy and peaceful apartments are surrounded by beautiful citrus trees with a rose garden to the front and a herb garden to the rear. Set to the East side of the Island (Agios Nektarios) with a 5 min stroll to Paradise beach bar/restaurant
Come and unwind in one of our pretty garden apartments! Both apartments are brand new and designed in the style of a boutique hotel so you can feel relaxed in a clean, luxurious space. Set at the foot of the mountains above all residential areas we have an ideal, unobstructed view of the sea and cypress tree covered mountains. The sounds of birds and the gentle breeze flow through the apartments while the beautiful surrounding gardens provide the perfect setting. Our apartments are set to the East side of the island conveniently located 10 minutes equal-distant from town or the old harbor. We are near Agia Marina beach and next door to pretty Agia Katerina chapel; a stones throw from Agios Nektarios church. Apartment one has a landscape set-up with the living room and kitchen area opening out directly onto the veranda with beautiful open views of front garden and sunset. Apartment two has a portrait set-up with the veranda accessible through both bedrooms, set to the left. The sheltered veranda has views of the Cypress tree covered mountains surrounded by the citrus trees of our garden (there is also a bistro table in the hallway entrance where you can enjoy the sunset view). Apartment two benefits from a bath which is ideal if you have children or just like a good soak! Both apartments offer full self-catering, air conditioning, wifi and TV.
Our apartments are set away from any main roads or loud bars in a pretty neighborhood that is still a 5 min stroll to Paradise beach and 10 min walk to town or the Old Harbour. One of the first to be build our family home offers idyllic panoramic views of Cypress trees to the rear and sunset views to the front with a gorgeous Chapel next door that opens its doors once a year for the name day of Saint Catherine in November (no bells!). There is a supermarket and bakery 5 minutes away or a small, shanty-style petrol station down the road that opens in the morning and again after siesta till 5.
Wow! This really surpassed all our expectations and largely because of Michaelis, Eva's dad who lives on the top floor of this lovely villa. We arrived to find that `Spetses doesn't really do taxis, but a quick call to Michaelis led to a ride on the back of his scooter through the maze of pretty white houses to Lemonia, suitcases in his mate's van and the girls in a horse drawn cab. What a welcome! Over the two weeks, he introduced us to the best food on the island including dinner on his own terrace - he was head chef at his own restaurant in the old harbour for years, a fabulous boat trip around the island, stopping to swim at breathtaking beaches, and a scooter ride to forage for horta - the best weeds I've ever tasted. He and his wife Irena couldn't do enough for us. Spetses must be the most beautiful of the Greek islands, and their welcome made us feel like we really were living like locals in Paradise.
Gilly
2016-08-24T00:00:00Z
The house was lovely, clean and everything was as described in the listing and photos (the beds were also very comfortable),The location is very close to the old port and Agia Marina beach. Our host, Eva's father, was also great, very pleasant and friendly, he helped us with everything we needed and was always available! I would definitely go back.
Zafi
2016-08-09T00:00:00Z
The host's father, Mehaly, was an absolute love! The house was exactly as described, the neighborhood wonderful and very easy to reach Ag. Marina and the old port. We rented Quads for several days which made traveling around the island fun and very accessible. The only issue we had with the house was the lack of wifi access. Unfortunately, there were no instructions and Mehaly was unable to help with that...again, not a huge issue, but would have been nice to access email as expected. We would definitely return to the house. Very clean and beautiful garden that Mehaly works hard at maintaining.
Christina
2016-06-20T00:00:00Z
Εξαιρετική φιλοξενία από την ώρα της κράτησης κιόλας. Η Εύα επικοινωνούσε μαζί μας συστηματικά με όλες τις πληροφορίες που χρειαζόμασταν για τη μεταφορά από και προς το νησί από την ώρα της κράτησης κιόλας. Το σπίτι ήταν ακριβώς όπως στις φωτογραφίες, πολύ καθαρό και πλήρως εξοπλισμένο. Ο κήπος πανέμορφος και τα κρεβάτια πολύ άνετα. Ο μπαμπάς της Εύας γλυκύτατος μας έδειξε τη διαδρομή από και προς το λιμάνι και ήταν διαθέσιμος όποτε τον χρειαστήκαμε. Θα ξαναπήγαινα ευχαρίστως.
Valia
2016-07-11T00:00:00Z
We were 4 friends that visited Spetses for the weekend. 10 minutes walk from the old port. Eva was very helpful and she provided us all the necessary information. Her father lives just above and this is very careful in case you need anything. The place is very clean, spacious and can accomodate easily 4 people.
Miltos
2016-09-12T00:00:00Z
Very welcome people
Nikoletta
2016-09-08T00:00:00Z
Ήταν ολα πολυ όμορφα!το δωμάτια ήταν ακριβώς όπως στις φωτογραφίες!πολυ ωραια διαμονή και ο κύριος Μιχάλης υπέροχος!ευχαριστουμε για ολα!
Anastasia
2016-06-21T00:00:00Z
Great place on the edge of town. Very close to paradise beach. In excellent condition. The hosts were INCREDIBLE! Probably the best Airbnb I have ever stayed in.
Dylan
2016-05-30T00:00:00Z
Tipe Kamar
Seluruh rumah/apartemen
---
Tipe Properti
Apartemen
---
Mengakomodasi
6
---
Kamar tidur
Spetses, Attica, Yunani
A beautiful summer apartment with a great sea view in Spetses island. The apartment is fully furnished and sunny with a relaxing view and a big garden. Ideal for family or friends vacations as well as romantic getaways. Nepresso machine available.
It is a private two-storey summer holiday appartment of 50 sq.m., well maintained, with a double bedroom on the ground floor, and a living room-kitchen-bathroom on the upper floor. The upper floor space consists of: a living room with one single bed and a sofa-bed that can be converted to two single beds; an open plan kitchenette, fully equipped with fridge, two hot-plates for cooking, a microwave oven, a boiler, a toaster and all necessary kitchenware and cutlery; extra addition, a Nesspresso coffe machine (you have to bring your own capsules or buy compatible capsules for Nespresso machines at the island's supermarkets) a full bathroom with shower cabin(URL HIDDEN)The ground floor, where the entrance of the appartment, gives way to a beautifull patio, under the lemon trees, ideal and perfect setting for enjoying your breakfast or a cool drink during the evening, with an amazing view to the Saronic Sea and mainland Peloponese. (URL HIDDEN)The upper floor is equipped with a large veranda, also overlooking the same great view, where you can have your dinner. (URL HIDDEN)The appartment can thus host up to 5 persons (however it is ideal for 4); it is relatively cool during the summer months and additionally equipped with ceiling fans at both floors, in order to offer a fully ventilated cooling system for the hotest days of the summer, without the health problems of airconditioning.
The appartment is situated at the Ligoneri complex of about 200 small villas, on a hill in one of the island's most beautiful locations, only a 25 minutes walk from Dapia, which is the main port and town centre of Spetses island. (URL HIDDEN)Even though remote from the island's centre commotion, it is connected to the island's life by a regular bus service to Dapia and fro, which takes only 10-15 minutes and is operating from mid May to September and from 9:00 am to 12:00 pm, every hour or so. The same bus can also take you to some nearby organised beaches as the Kaiki Beach or Vrellos. (URL HIDDEN)The Ligoneri complex is not far from the beautiful beach of Ligoneri, surrounded with pine trees, which is only a 5 minutes walk from the appartment. (URL HIDDEN)One can also choose the Kaiki Beach, which is an organized beach, only a 10 minutes walk down the hill, offering a variety of water sports facilities, on a long beach with sun ubrellas and stretchers, a fully operational bar and even a good restaurant which has become a hot spot of the island over the last years. The beach also offers full wifi coverage for your laptops and tablets.
We had a really, really beautiful time here; John and his wife were very welcoming but also allowed us our independence, we had our very own wonderful view and the apartment was just the right size for the two of us. It is situated in the perfect place - near enough the town for eating and food shopping but also in its own bucolic idyll. I can't recommend staying here highly enough.
Kitty
2015-06-29T00:00:00Z
I really enjoyed my stay here. It was just as expected, clean and with a nice balcony with a sea view. John was very nice and helpful. Everything from finding the right boats, instructions of how to get there form Athens airport. Arrival and departure went smoothly. Always available for any questions we had. I would recommend anyone going to spetses to stay in John's apartment.
Daniel
2014-07-02T00:00:00Z
We had a wonderful few days on spetses at John's apartment which is exactly as described in the listing. John was ver helpful and easy to communicate with whenever we needed. The views from the balcony are wonderful: we even saw dolphins playing in the surf! We hired bicycles and had a good time cycling around the island which gave us freedom and some exercise. There are some hills so you need a certain level of fitness but not too difficult. Definitely recommended!
Joanna
2015-05-09T00:00:00Z
Thank you to John and michaela for our stay at your lovely apartment in spetses. Myself and my mother had a lovely time and found the apartment very clean and well equipped with lovely feel to it and lots of nice spaces to relax both inside and outside. The apartment was very quite and only a ten minute stroll to a beautiful secluded beach. A half hour stroll took us into the lovely town of spetses where there were loads of lovely places to eat. It was also very nice to meet you both during our stay and all the information provided on our arrival was helpful. We couldn't of felt more welcomed. John was also very helpful and quick to respond to queries prior to arrival. An absolutely lovely holiday I would highly recommend this property and host. Thanks again John and michaela Emily
emily
2015-06-21T00:00:00Z
What an awesome experience. A great apartment and John was extremely helpful with information about Spetses. We loved it here and it will be our first contact to stay when we return to the island.
Ben
2014-10-02T00:00:00Z
John's Apartement war hübsch, sauber und gut eingerichtet und mit allem Notwendigen und Nützlichen ausgerüstet. Die Kommunikation mit John verlief reibungslos und prompt und seine vielen Tipps waren hilfreich und lohnenswert. Wir waren sehr froh um Nikos Hilfe, der uns am Hafen abholte und ins Apartment brachte. Obwohl es Juli war, blieb es im Apartement stets angenehm kühl und wir mussten nachts nicht mal den Fan in Betrieb nehmen. Die Aussicht auf das Meer ist perfekt. Es lohnt sich ein Fahrzeug/Moped zu mieten, da das Zentrum doch 20 Minuten entfernt liegt und man so auch die Insel umrunden und an die wunderschönen und weniger bevölkerten Strände gelangen kann. Spetses ist definitiv eine Reise wert und wir können John's Apartement empfehlen. Vielen Dank, John!
Sibylle
2016-07-11T00:00:00Z
Notre séjour chez John a été formidable. John est très à l'écoute et toujours prêt à répondre aux questions et très prévenant. L'appartement est très agréable avec sa vue sur la mer et son calme. Il est très bien équipé et petit plus nous étions seuls dans l'immeuble en ce mois de juin! 2 plages sont à deux pas une sauvage et une avec transat et resto accessibles à pieds. Il y a une épicerie et des restos pas loin non plus. Nous avons loué des vélos, n'ayant pas le permis et avons beaucoup apprécié ce moyen de transport. Nous avons fait le tour de l'ile qui est idyllique. Le centre de spetses est très sympathique et familial avec tout ce qu'on peut rêver bar, resto, boutiques... Bref nous avons adoré et espérons revenir.
Céline
2015-06-15T00:00:00Z
Our stay in Spetses was wonderful! The apartment has a beautiful view of the water and is close to Katria and velos beach that we walked to one or the other each day. Although the weather was very hot (35 or more everyday) the walk into town wasn't bad for us, and we made it both days! John and Nikos were very helpful in organizing our stay and made getting to the apartment very easy. Everything was clean the apartment is just beautiful!
Chris
2016-07-30T00:00:00Z
Tipe Kamar
Seluruh rumah/apartemen
---
Tipe Properti
Apartemen
---
Mengakomodasi
4
---
Kamar tidur
Spetses, Attica, Yunani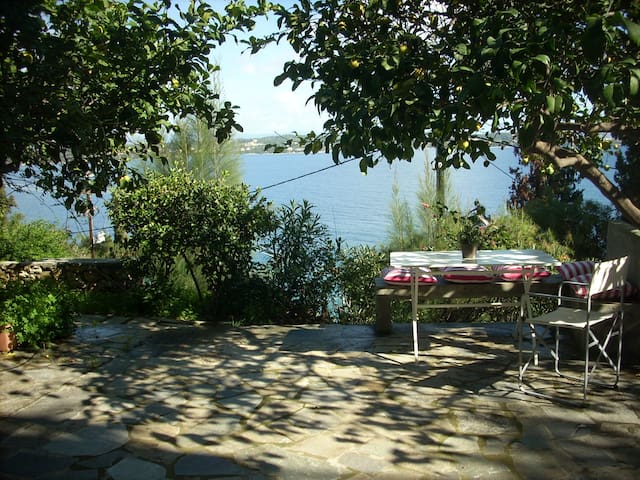 Sunny, recently renovated, with a large terrace apartment in a traditional house located at the center of Spetses town. Only 5 min walk from port, museums , restaurants, cafe, shops and beach.
Located in the heart of Spetses town, this fully furnished studio features one double bedroom , two sofa beds and a mini bar with kettle and all the basic cutlery to enjoy your breakfast inside or outside at the beautiful terrace. Also there is a desk to use for working space.
It's a down town neighborhood, with a lot of villas and houses, right next is located the Villa Christina hotel and right bellow the house is a mini market called "Mpakalogatos"
What a lovely spot! Great location in a quiet neighborhood close to the waterfront. Sweet hosts. Definitely worth renting bikes and biking around the island. A highlight for us!
Anne
2016-10-17T00:00:00Z
Ein wunderschön eingerichtetes, sehr zentral gelegenes Studio. Die Dachterrasse, die allerdings mit den anderen Ferienwohnungen geteilt wird, lädt ein, am Abend einen Retsina zu trinken und die Hitze zu genießen. Auch Spetses als Ort ist eine absolute Empfehlung für Urlauber, die Lust auf schöne, erschlossene Strände abseits des Massentourismus sind. Filippos als Gastgeber war sehr hilfsbereit und freundlich!
Malte C.
2016-08-26T00:00:00Z
Très bien accueillis par une amie de Filippos qui a néanmoins gardé le contact. Logement facile à trouver, proche du port, très spacieux pour deux et récemment rénové. Un plaisir!
Antoine
2016-10-31T00:00:00Z
Nous avons passé un très bon séjour à Spetses. L'appartement de Filippos, que nous tenons à remercier pour sa disponibilité, est parfaitement situé à seulement quelques minutes à pied du port. Spetses est une île magnifique. N'hésitez pas à louer un scooter sur place (seulement 20€/jour) pour faire le tour de l'île, profiter de toutes ses plages et petites criques (sans oublier la grotte de Bekiri)... Un vrai régal !
Benjamin
2016-08-11T00:00:00Z
Even though i never personally met him, filippos was a great host! i decided to book the room on the day itself and also had to leave earlier than expected - filippos was super available and helpful with all of it. the room itself is nice and quiet (you are quite safe from the noisy scooters racing around spetses), clean and the bed is comfortable. Very pleasant stay!
Veronika
2016-10-06T00:00:00Z
Me and my six year old had a great time. Although the appartement next to ours got redecorated when we were there we were fine as we are early birds and the work in progress was a nice distraction for my son. The rooms are realy Beautiful, the terras is nice and quite and town and restaurants with town beach are near. Mr Stavros and Filippos were really kind and warm people so I would definitly recommand it to any one!
Meeke
2016-06-11T00:00:00Z
Πολύ φιλόξενοι, πολύ καθαρό και άνετο το σπίτι. Φωτεινό με ιδανικές παροχές! Εξαιρετική επιλογή
Anna Maria
2016-08-09T00:00:00Z
Nice place, good location
Leonie
2016-07-16T00:00:00Z
Tipe Kamar
Seluruh rumah/apartemen
---
Tipe Properti
Apartemen
---
Mengakomodasi
4
---
Kamar tidur
Spetses, Yunani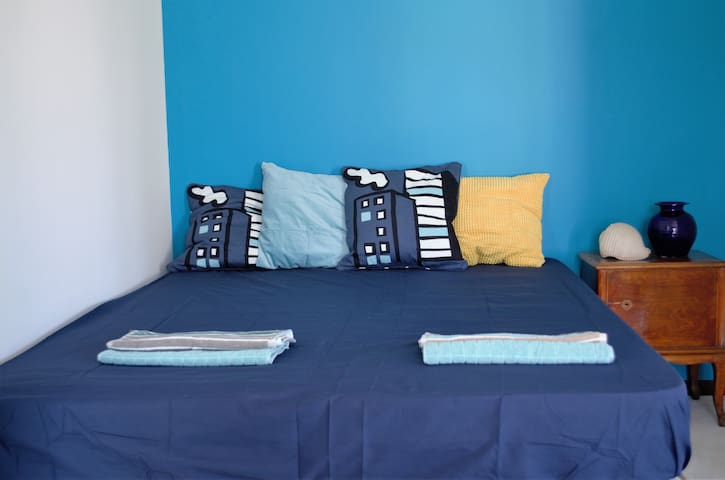 Cute, comfy studio with a huge balcony and amazing view at the cosmopolitan island of Spetses!
The studio is an independent part of a bigger house, located in the area of Ligoneri, about 3km (20 minutes walk) from Dapia -the town of Spetses. It accomodates 3 people and provides a fully equipped kitchen with fridge, bathroom with a shower and large closet. The terrace right in front of the studio offers an incredible view to the sea and outdoor seating.
The area of Ligoneri consists only of houses, therefore it is quiet and it is situated on a hill close to 2 beaches (10minute walk each) and with an incredible view of the Saronic gulf and the Peloponnese. There is a mini market 2-min walk away from the studio, where you can get any supplies.
ma rencontre avec maro a été fantastique, le studio est exactement comme décrit, une vue a couper le souffle, tout y est, préparé comme dans un hôtel, le wi-fi d'ailleurs marche mieux que dans un hôtel !! le quartier est calme, c'est comme dans un petit village tout le monde se connait d'ou l'ambiance sympathique. la petite epicerie a 5 minutes de marche, l'arrêt du bus tout est a portée de main pour un séjour agréable.( si vous n'êtes pas fan de scooter ou de quad vous ne serez pas bloqué le bus passe fréquemment et dessert les plages et le centre ville), je vous déconseille de prendre un vélo pour plusieurs jours d'affilée en pleine saison d'été, vous vous en servirez qu'en fin de journée et question rapport prix le tarif bus est inférieur au tarif de la location vélo. maro fait tout pour que vous vous sentiez chez vous, elle est toujours disponible pour répondre ou trouver pour vous les meilleures solutions. je vous conseil vivement de vivre cette expérience que j'espère moi même revivre très rapidement.
Carla
2016-08-22T00:00:00Z
Amazing experience in a great location, close to Athens and a very warm and welcoming host! We arrived at Spetses Island and Maro was kind enough to give us directions in advance for taxi transportation from the main port. She welcomed us at the Airbnb location and gave us not only a small tour and instructions for the apartment, but also the local attractions. The studio was exactly as presented and pictured in the website, very recently refurbished, with brand new paint job, furniture, mattresses, pillows and linen. Very clean, cosy and fresh, without the need to use the A/C. There is ample space for storage and a nice 2-door wardrobe with fitted full body length mirror. The kitchen was also equipped with everything needed for a nice Greek meal and the fridge was brand new as well. The water heater takes only a few minutes for hot water and the bathroom was fully renovated. WiFi connection was excellent and Internet speed was very fast, even to accommodate a VC! The balcony is covered with an electric tent and has a large table with comfy chairs and a fluffy sofa. The view was amazing; it was great waking up and going to bed to that. A unique experience, definitely worth it and will visit again! Many thanks and all the best Maro!
Zinet-Sofia
2016-06-21T00:00:00Z
Our stay with Maro was lovely. The studio is in an area out of the main town but is well connected by buses (that run frequently but renting your own mode of transport is best). It is also very close to a beautiful, quiet beach and a mini market. The view was great and the terrace made all the difference. Maro was very kind and helpful, we'd recommend this place!
Benedetta
2016-09-07T00:00:00Z
This is one of the top trips I had so far. Everything worked well. Spetses is a gem by itself. Beautiful island in every single aspect. Maro's apartment as well. Nicely decorated and well equiped. Tile floors, comfortable beds, lovely details, kitchenette with everything you would need. Terrace is spectacular. Friend and I are early birds so we watched the sunrise every morning. We rented a quad to get around. There is a store nearby with the basics owned by lovely family. They prepare pies for breakfast and cooked meals for lunch. Delicious and very affordable. And I could go on and on...Missing it already and looking forward to go back.
Vladimir
2016-07-24T00:00:00Z
An enchanting location with ample living space and all the amenities you could need. Amazing balcony overlooking spetses town and beaches. Great access to beautiful secluded coves and beaches. Great stay would recommend and return again.
William
2016-07-30T00:00:00Z
Accueil chaleureux de Maro ! Personne trés sympathique ! Maro vous fournit tous les détails que vous voulez ( mini market, plages etc...). Situation et vue du studio exceptionnelle, comme sur la photo, logement trés propre et moderne, wifi excellent. Un moyen de locomotion s'avère nécessaire pour se déplacer (centre ville, plages...) Nous avons aimer notre séjour au mois de septembre.
dominique
2016-09-21T00:00:00Z
Tipe Kamar
Seluruh rumah/apartemen
---
Tipe Properti
Apartemen
---
Mengakomodasi
3
---
Kamar tidur
Spetses, Attica, Yunani
Cozy small house with small kitchen, main bedroom and couch/bed area. Large outdoor area with balcony and dining table! professional basketball hoop with 1/4 court
There is a sitting are out side that can be used and a one basket court
I loved staying at Thanassi's home because it felt like a real cozy home. We stayed for three days, and it rained the whole time so I was a little cold at night. But he has a little heater in the room which was great to have and he provided an extra thin blanket. He always responded to my text and calls. My husband loved playing basket ball in the court yard, and my son scavenged the yard. Its in a location about a 15 minute walk to the center. Not too far but not too close. We enjoyed our walks. Kitchen is tiny but it had the essentials: fridge, sink, electric stove and some plates, bowls and silver ware with a dining table.
Sharon
2016-10-30T00:00:00Z
Place was nice! Accurate to photos and description, The little complex the apartment sits within is very pretty. There is a basketball pitch for you to shoot loads
Junnan
2016-08-08T00:00:00Z
I cannot express what a wonderfully enchanting experience it was to stay at Thanasi's home. The neighborhood was peaceful and quiet and 5 minutes walk from the old port (where the night life is) and 15 minutes from Ntapia. Thanasis was kind and helpful. Spetses quickly became one of my new favorite Greek islands and I look forward to visiting again, really soon! Without a doubt I would hope to stay in Thanasis's house again. p.s. the house is 10 times beautiful than you can see in the photos and there is a beautiful garden also Thanasi thanks again.
Nikoletta
2016-05-04T00:00:00Z
Thanassi is a nice and helpful host and the apartment is located in a very beautiful/green/quiet courtyard. This place is perfect for a couple. However, I don't recommend it for more than two guests as there is no separate bedroom and sofa beds are not comfy.
Bruno
2016-06-28T00:00:00Z
This is a lovely little place situated within sniffing distance of the great local bakery, above the old port. Great for exploring and walking. The cooking facilities are just two electic rings so you have to be creative! We went out of season and it was a bit cold but Thanassi sorted out extra heat very quickly.
Paul
2017-02-27T00:00:00Z
A wonderul flashback to a 90s summer. The guesthouse is tasteful, comfortable clean and charismatic. We had a wonderful time as a couple.. The location is very convenient. We rented a scooter and went around the whole island which i would definitely recommend! Thanassi was always fast to respond. I would definitely recommend this place.
banu
2016-07-07T00:00:00Z
Tipe Kamar
Seluruh rumah/apartemen
---
Tipe Properti
Rumah
---
Mengakomodasi
3
---
Kamar tidur
Spetses, Attica, Yunani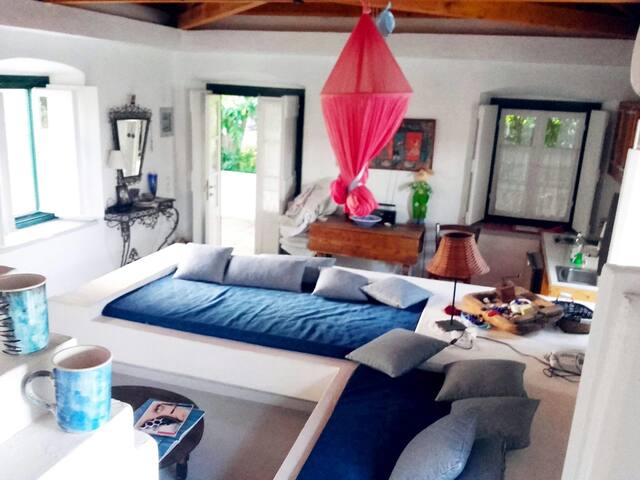 Recently renovated upstairs home - vaulted ceilings with fans. Air conditioning Verandah with unbelievable sea views. Main bedroom with 4poster bed - private balcony facing sea views. Second bedroom: 1 KSingle, 1double, 1single bunk above. Bathroom. Laundry facilities. Kitchen/meals area. 5min walk to Dapia town, close to Kaiki Beach. Kounoupitsa area.
Tastefully decorated, clean, airy with breathtaking views. All modern facilities with security entrance. In excellent condition and with air-conditioning throughout and WiFi. Two bedrooms, small fully equipped kitchen, laundry facilities, bathroom and two outdoor sitting areas with views to the sea.
Great friendly and family environment with amazing views. Close to main town and a good base to explore the island. A real Spetses island experience. Live like a local! Spetses has numerous annual events and things to do: Carnival (Apokries) in February. Fancy dress at this carnival, it is definitely an occasion that you will not forget in a hurry! Poseidonio Hotel in collaboration with Bike Museum's annual Tweed Run held in spring in March/April. Vintage bicycles with accompanying vintage tweed clothing of yesteryear. Classic, city and decorated bike runs are the order of the day, including vintage beauty pageant for both men and women as well as picnics and jazz! Spring Rally of classic and vintage cars dating back to 1920 awakening memories of another era at the Poseidonio Grand Hotel. Chrysler, Porshe, Mercedes, Chevrolet and Alpha Romeo making impressions with their grandeur. Spetsathlon (triathlon) takes place along the island's scenic routes where one can swim, bike, and run as well as be a part of the 25km bike race around the island. This is held in May and attracts Greek and international participants as one of Greece's largest sporting events. Greek Orthodox Easter - being the most significant religious holiday celebrated throughout Greece. For a truly island Greek Easter experience like no other! Not to be missed! Annual Yacht Regatta June/July established as one of the most important regattas in the Mediterranean. Annual MOS summer beach party at Kaiki Beach in August over the weekend that also celebrates the 15th of August, marks another important Greek Orthodox festival in honour of the Virgin Mary. Armata Festival in September commemorating the great naval battle of Spetses in 1822. Annual International Spetses Mini Marathon in October. (5km, 10km and 25km runs where participants can support an institution or charity of their choice)
Georginas apartment in the Kounoupitsa area, a short walk along the seafront from Dapia, was ideally located for us for our short stay in Spetses. The neighbourhood is friendly and relaxed, the views are lovely from the bedroom and terrace, and immediate welcome and help are on hand from K. Eleni. Georgina was very helpful with any requests for local information via email. A few steps down the hill is the seafront, the local bakery and notably the Akroyialia restaurant, with tables set out on the sand and the occasional rogue wave at your feet. Nicos serves the best local dishes we had on this trip, and it is a perfect spot to digest an ouzo and feel a welcome part of the island. The listing itself has 2 very well decorated bedrooms, one with a memorable sea view, a well equiped kitchen/dining, and an outdoor living/terrace space that looks across the sea. Someone has taken time to give careful attention to colour and detail and the effect is an upgrade of the space to a boutique hotel feel. Travel round the island beaches by bus and caique boat is easily reached by foot in 10 mins from the apartment. Overall we had a very relaxed few days on this very welcoming and friendly Greek island.
richard
2016-08-13T00:00:00Z
Georgina was very helpful and communicative from start to finish. We really liked the apartment, which had amazing terraces and good sized, stylish bedrooms. The kitchen was small but very well equipped. The location was also great - just a few minutes stroll from the main town and close to a beach. Georgina also provided lots of useful information about local bars, restaurants and things to do/places to visit.
sian
2016-10-28T00:00:00Z
Tipe Kamar
Seluruh rumah/apartemen
---
Tipe Properti
Rumah
---
Mengakomodasi
5
---
Kamar tidur
Spetses, Yunani
At the settlement of Ligoneri on the coast of Spetses island an independent self-catering studio appartement (40sq.m), fully equiped with kitchen, fridge and bathroom with shower. Accommodates up to 3 people. Ideall for a family of three.
An indipendent self-catering studio appartement at the settlement of Ligoneri on the coast of Spetses island. The studio is on a hill in one of the island's most beautiful locations. It is one of the two hundred small villas forming a completion of summer villas called "Ligoneri". Overlooking the Saronic sea, while the nearest beach is approximately 3minutes walk and the Ligoneri beach is approximately 200m away. Dapia the main town of Spetses is 4km away (25minute walk). There is a regular bus service that runs every hour, from Ligoneri to Dapia,(the main port) and it takes 15 minutes by bus or 25 minutes walk on foot, otherwise cycling or motorbikes is the only transportation mean at Spetses island. Independent self-catering studio (40sq.m), fully equiped with kitchen and fridge. Accommodates 3 people, a sofa bed with two single matreces. Ideally two adults and a child. Includes a bathroom with shower and air condition. There is a patio where you can rest or have your breakfast or dinner. Amenities: bathroom amenities (x1), shower (x1), kitchenware, refrigerator, linen and bath towels. Adult Mountain bikes(x2) with an extra charge of 3€ / day / bike (upon request and availability ). Internet access available via wifi, but i suggest that it would be a great opportunity to read a book instead or even better enjoy the beach ;-) . Spetses is a small island in the Saronic Gulf. It is a known for its rich vegetation and the many pine trees that it has. It has various wonderful sandy beaches and lovely secluded bays. Its villages are picturesque and authentic and the capital is a real architectural beauty full of two-storey neoclassical houses with wooden balconies, coloured walls, and narrow stone-paved alleys.
We spent a wonderfull time at Evgenia's house. The flat is well situated, not in the center so it's more quite and next to great and savage beaches. You need to be motorised to enjoy the Beauty of the island. The flat is a little bit old, but it worth the price. It was really easy to get the keys, Evgenia's brother, Giannis helped us nicely when we need informations about the flat or the Island. Thank You for everything. Margot
margot
2016-08-16T00:00:00Z
The location is in a beautiful area, quiet and with beautiful views, just some kilometers aways from the village. The apartment needs some renovation works and a confortable bed. But we enjoy a lot the island and Evgenia was a really good host and give us all the recomendations and facilities!
Leo
2016-06-14T00:00:00Z
Very nice appartment for a few days stay. Little and cosy, near to the best beach on Spetses - We didn't find another beach who looks better. Evgenia and her brother wasn't there but the communication was excellent and the checkin was perfectly organised. Even a Taxidriver was waiting for us at the ferry. At the End of the Season we noticed that the appartment is very well used within summer. We liked the nice little terrace for the evenings and the use of the bicycles, wich we found within the appartment.
Uwe
2016-10-05T00:00:00Z
Had an amazing stay at this studio in Spetses. Whilst not situated in the main town the push bikes provided were most welcome and allowed access to town and to other beaches around the island. The studio was clean, functional and the balcony was well used by us. Giannis, Evgenia's brother, was on hand to help out with any questions we had and made us feel really welcome. We'd definately return, thanks Evgenia and Giannis!
New
2015-06-17T00:00:00Z
Evgenia is a wonderful host, gave us lots of tips on what to do on Spetses, where to eat, which beaches to go to, etc. Also gave us a wifi key to have internet on the island, and the keys to her apartment upstairs to enjoy the view from her balcony. She arranged a taxi from the port to her place and was super friendly and helpful the entire time. Highly recommended, quaint island with lots of sunshine, good food, beautiful nature, etc!
Ellora
2012-09-19T00:00:00Z
Great cute studio, Evgenia and her brother did everything to accommodate us..... Spetses is a must see... Thx.....
P
2014-09-15T00:00:00Z
Studio très bien situé dans l'ile. Près de la plage. Confortable et fonctionnel. Giannis est une personne charmante et prevenante.
virginie
2015-08-08T00:00:00Z
Amazing little flat....would recommend to anyone visiting Spetses, especially someone who wants to live like the locals! Cute flat with all the amenities and has a very homely feel! Evgenia and her brother Giannis were extremely helpful and very friendly. Everything was explained in detail and the stay went smoothly!
Maria
2016-07-11T00:00:00Z
Tipe Kamar
Seluruh rumah/apartemen
---
Tipe Properti
Apartemen
---
Mengakomodasi
2
---
Kamar tidur
Spetses, Attica, Yunani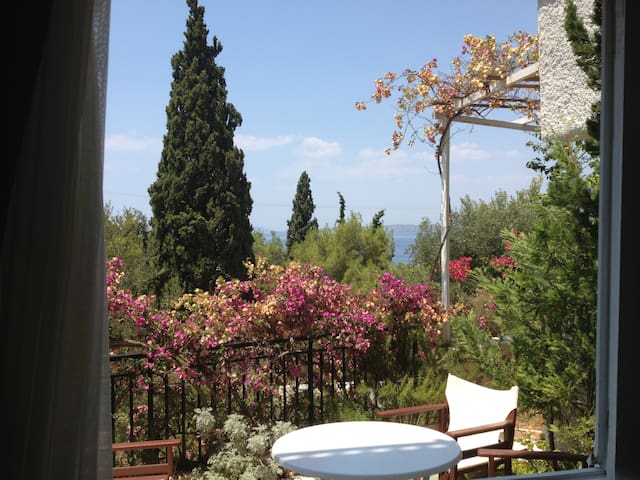 Συγκρότημα κατοικιών σε ιδανική και ησυχη γειτονιά στο κέντρο των Σπετσών, 150 μέτρα απο Ντάπια & 70 μέτρα απο παραλία . Ευρύχωρο μονόχωρο διαμέρισμα με ατομική βεράντα σε ήσυχο και καταπράσινο κήπο.
Quiet yet centrally placed, within walking distance from Dapia and restaurants. It is located behind Poseidonion Hotel and only 3 sandal friendly minutes away from the closest beach.
Θα το πρότεινα ανεπιφύλακτα. Ο χώρος του διαμερίσματος ειναι αρκέτα ευρύχωρος, λειτουργικός και το σημαντικότερο από όλα είναι ότι είναι καθαρός. Η τοποθεσία του είναι εξαίρετη αφού βρίσκεται στο κέντρο της Ντάπιας συνδυάζοντας παράλληλα οτι ανήκει σε μια ήσυχη γειτονιά. Αυτό όμως που το κάνει να ξεχωρίζει είναι η εγκάρδια υποδοχή του οικοδεσπότη και η υπέροχη φιλοξενία.
Margarita
2016-08-16T00:00:00Z
Το διαμέρισμα ήταν υπέροχο, άνετο και πεντακάθαρο με όμορφο μπαλκόνι και κήπο. Η γειτονιά ήσυχη και η τοποθεσία εξαιρετική, στο κέντρο της Ντάπιας. Οι οικοδεσπότες ήταν ευγενικοί και εξυπηρετικοί. Θα το διαλέγαμε ξανά για την επόμενη διαμονή μας στις Σπέτσες.
Maida
2016-06-21T00:00:00Z
It was a great experience staying here! Very clean and convinient, the host was very helpful! An overall good stay!
Athina
2016-08-19T00:00:00Z
Très bien placé Tres proche du port et pourtant très call Les parents de loannis était présent et à notre écouté Parfait
Francis
2016-09-20T00:00:00Z
Όλα ηταν τέλεια. Βρισκεται μονο μερικα μέτρα απο το λιμανι
Georgios
2016-08-02T00:00:00Z
The owner called me before our boat got there and was looking out for our late arrival. She met us there, walked us to our place and showed us around. She was very friendly and helpful and gave me her number in case I needed anything at all! The place was clean, quiet and even had a tiny kitchenette! On our checkout date she allowed us to leave our bags there until our boat departed and went above and beyond in serving us and accommodating our random schedule. Highly recommend this place!
Katerina
2016-08-08T00:00:00Z
Every think was better than expected, including the welcome cookies expecting us on the room dining table
Lorenzo
2016-08-27T00:00:00Z
Tipe Kamar
Seluruh rumah/apartemen
---
Tipe Properti
Kondominium
---
Mengakomodasi
2
---
Kamar tidur
Spetses, Yunani