Das Matterhorn und Zermatt ohne die Kosten für ein teures Hotel! Guter Zugang mit Bahn und Auto. Gut aufgestellt für See Thun (1 Stunde mit dem Zug) und Interlaken oder Bern (beide 80 Minuten mit dem Zug). Genfer See (90 Minuten mit dem Zug) - oder Kühlen nur in den Bergen
Eine Chance in der realen Schweiz, schöne Aussicht und nur das Rauschen des Flusses zu bleiben unterhalb Sie einzuschläfern
Landschaftlich sehr reizvoll und im Sommer warm und sonnig mit guter Anbindung an Zermatt und das Matterhorn. Schwimmen, laufen, besichtigen oder einfach nur entspannen und selfies nehmen. Liebhaber des Glacier Express kann tatsächlich auf dem Balkon sitzen und beobachten sie gehen durch!
eine tolle unterkunft! der ort ist sehr einladend, das chalet richtig geräumig und mit allem ausgestattet, was man so braucht. erika&robert sind ganz einladende und herzliche hosts und auch die kommunikation lief hervorragend gut. herzlichen dank für alles! ;-))
diana
2016-10-16T00:00:00Z
Erika and Robert are very, very warm. They are helpful, kind, and prompt with their responses. You will love everything about the cabin-like home. It's a bit of an adventure to get up to the house from the station--but why not? It's living like a local. I recommend this listing for anyone coming to the Zermatt/Matterhorn area. It isn't too far away and the train ride is scenic. The kitchen is well equipped to make your own meals and the living room has a tv, puzzles, and books. Everyone of all ages can find some sort of entertainment indoors. If there's something you are missing, the lovely couple will be willing to accommodate. I wish I can come back here!
Marie
2016-11-24T00:00:00Z
The setting is spectacular, perched over the deep ravine of the Saas River, and the chalet is clean and comfortable, highly recommended. We were met by Chris, Robert's father, with a motorized cart to bring our bags across the 15th century footbridge (although current manifestation a bit more recent). We had several pleasant chats with him about the region. For any academics, the Chalet is just downhill from Torbel, a Swiss mountain community written about in a classic 1981 ethnography by Robert Netting. A synthesis of the ethnography was the.n used by 2009 Nobel Prize winner in Economics, Elinor Ostrom in here 1990 book, Governing the Commons. My wife left a bag behind with important things in it, which we realized just 20 minutes out, and came back to get it, but Chris was preparing to take it to us at the Geneva airport! So it doesnt get much more helpful than that. Thanks Chris (and Robert and Erika), we hope to make it back for more time in the future
David
2016-10-27T00:00:00Z
We were a family of 5 with three kids ages between 11-16. There was plenty of space for us all and we found the place to be very clean and very comfortable. Only challenge is sharing a single bathroom and not letting the teenagers take up all the hot water. But that of course has nothing to do with the place itself. I thought I'd have to take a sitting bath but there's a rise in the ceiling just tall enough for myself (6ft 2in) to be able to stand up for a shower. So it worked out just fine. We even used the washer inside the bathroom to do laundry. It's compact so plan accordingly if you need to do lots of laundry. The views from the balcony are fantastic! Robert and Erika both greeted us with a warm welcome and made us feel very comfortable. My wife had a minor injury from skiing the previous day and we thought we'd need to cut our trip short a day to do something else since we planned on skiing the next day. I didn't communicate this very well and both Robert & Erika thought it was worse than it was. Erika met us at the parking area and had even brought a foot stool to help my wife sit down along the way in case she needed to. SUPER SWEET and thoughtful!! That's just the kind of people both Erika and Robert are. FANTASTIC! The parking was only $5 swiss francs/day and the walk up to the chalet was no problem. The bridge was in fact amazing to walk across! While we were spending our days up in Zermatt, we booked this place in Stalden because it was a good value for our family of 5. The drive up to Tasch where you pick up the train is about 25min. And then another 10-15min train ride. We did this twice and didn't feel like it was a big deal at all; very simple. We didn't really check out any of the restaurants or shops within Stalden because we were pressed for time being there only a couple of days. But from everything we saw, Stalden looked like another cute town in the Swiss Alps. So it doesn't get much better than that. We would definitely recommend this place to any other similar families and would love to stay here again!
Martin
2017-03-29T00:00:00Z
Thanks to Chris, Erika and Robert for their hospitality during our stay! Great house and environment! It's have great view, warm and sweet like home! We would love to stay here longer and for sure will come back again in future! Chris, Erika and Robert are so nice and friendly! Thanks again!
Anna
2017-03-27T00:00:00Z
Idyllische Lage, sauber und nett eingerichtete Wohnung, äusserst freundliche und hilfsbereite Gastgeber - kurzum sehr empfehlenswerte Wohnung
Ralf
2017-03-04T00:00:00Z
Erika and Robert are super helpful!The view from the house are fatastic, the house feels warm like your own (URL HIDDEN) night there is no supermarket nearby, so you better buy some food there, and you can cook there. 房子非常棒,很舒服像家一样,要过一座桥,感觉非常神奇,景色很美,就是比较陡峭有点累,建议买点食物去那里煮,意大利面什么,因为在山里,晚上是没有东西买的附近
Ying Ying
2016-10-23T00:00:00Z
This is a great location to stay a night if you're on your way to Zermatt where you can start your journey to the Matterhorn. We had a car which we were able to park across the bridge, which was less than a 5 minutes walk. I noticed that there was a rail station near which I'm sure takes you to and from Zermatt if you're traveling by train. The house was very clean and tidy and had everything we need including towels and a kitchenette.
Charles
2016-09-08T00:00:00Z
Tipe Kamar
Seluruh rumah/apartemen
---
Tipe Properti
Apartemen
---
Mengakomodasi
6
---
Kamar tidur
Stalden, Valais, Swiss
Visperterminen ist ab Visp mit ÖV oder Privatauto in ca. 20 Minuten erreichbar. Weltbekannte Orte wie Saas Fee, Zermatt, Crans Montana sind in ca. 1.5 Stunden erreichbar. Die Wohnung ist zentral gelegen. Entschleunigen Sie im Heidadorf und geniessen Sie in unserer 2015 teils neu eingerichteten Wohnung die Ruhe.
Die heimelige, modern ausgestattete Ferienwohnung "Zugmatte" im Heidadorf Visperterminen, mit herrlicher Sicht auf die Walliser Bergwelt bietet Platz für bis zu fünf Personen. Die Wohnung ist zentral gelegen und befindet sich in einem Zweifamilienhaus. (Die zweite Wohnung ist unbewohnt). Parkhaus, Busstation, Sesselbahn und Einkaufsmöglichkeiten sind in wenigen Gehminuten erreichbar. Die Wohnung verfügt über eine Küche, zwei Schlafzimmer mit zwei Doppelbetten und einem Einzelbett, ein Wohnzimmer sowie ein Bad/WC mit Badewanne. Die grosszügige Wohnküche ist ausgestattet mit Herd und Backofen, Kühlschrank mit Gefrierfach, Geschirr-Waschmaschine und einer Kaffeemaschine. Der Esstisch bietet Platz für bis zu sechs Personen. Geschirr, Töpfe, Gläser, Küchenhandtücher sowie Bettwäsche und Handtücher sind selbstverständlich in der Wohnungsausstattung enthalten. Zusätzlich stehen Ihnen Satelliten-TV und Radio sowie eine Waschmaschine zur Verfügung. Ein Abstellplatz für Ihre Skiausrüstung ist ebenfalls vorhanden. Wir freuen uns auf Ihren Besuch im sonnigen Bergdorf Visperterminen und heissen Sie herzlich willkommen.
Das Heidadorf Visperterminen ist 10 Km von Visp entfernt und bietet mit seiner guten Mischung aus Tradition und Neuzeit seinen Gästen im Sommer ein wunderschönes Wander- und Biker-Paradies, sowie im Winter ein familienfreundliches Skigebiet und ausgezeichnete Möglichkeiten zum Schneeschuh-Wandern. Visperterminen ist auch bekannt durch den höchsten Weinberg Europas mit seinen vielen Trockenmauern-Terrassen. Geniessen Sie in der St. Jodernkellerei den bekannten, echten Heidawein, der bereits mehrere hochdotierte Preise gewonnen hat. Hinweis: Ab Visp erreicht man in ca. 60 Minuten Zermatt mit dem weltbekannten Matterhorn.
Our host was helpful in guiding us to the apartment when the GPS was about 200m off. He greeted us and gave us great tips for the apartment and neighbourhood. He even booked our dinner for us on our late arrival. The town was a beautiful village not frequented by crowds of tourists. Overall we enjoyed our stay immensely and the apartment was very comfortable and spacious. It was very homely and gave us the swiss alps experience we were looking for.
Wayland
2016-10-09T00:00:00Z
Karl is the best host I've ever met. His house is spacious and clean. Every things were prepared and he even prepared a wine for us. I really love the bus route from Visp to his house. If I will visit swiss again, I will definitely stay at his house again!
Sylvia
2015-08-14T00:00:00Z
La casa de Thomas dispone de todas las comodidades necesarias para encontrarse a gusto, el equipamiento de la cocina es excelente y es la casa más limpia en la que he estado nunca. El contacto y la llegada fueron muy sencillos y el trato muy agradable. Visperterminen es un pueblo tranquilo y muy interesante. Alojamiento muy muy recomendable.
ÁNGEL
2016-07-06T00:00:00Z
Very nice place. Surroundings are wonderfull, appartment fully equipped (the raclette cooker was perfect to try the local cheese!) Perfect for our family with 3 children! Thanks Thomas!
Bernard
2016-08-07T00:00:00Z
Vielen Dank für den schönen Aufenthalt. Die Wohnung ist groß und sauber, mit gemütlichen Möbeln ausgestattet. Schlüsselübergabe und Abreise gestalteten sich sehr flexibel.
Jan
2016-07-17T00:00:00Z
Thomas was a great host. Love his apartment. Definitely I will stay at thomas apartment If i have the chance to go Switzerland again
Kenneth
2015-08-01T00:00:00Z
Hat alles super funktioniert! Ein schöner Ferienort und eine schmucke Wohnung. Danke für die tollen Tage, auch wenn das Wetter nicht so schön war.
Valeria
2016-10-20T00:00:00Z
Eine sehr schöne Wohnung in wunderschöner Lage! Es hat alles bestens geklappt und wir fühlten uns sehr wohl. Einen Aufenthalt dort kann ich nur empfehlen.
Maike Stern
2015-11-10T00:00:00Z
Tipe Kamar
Seluruh rumah/apartemen
---
Tipe Properti
Apartemen
---
Mengakomodasi
5
---
Kamar tidur
Visperterminen, Wallis, Swiss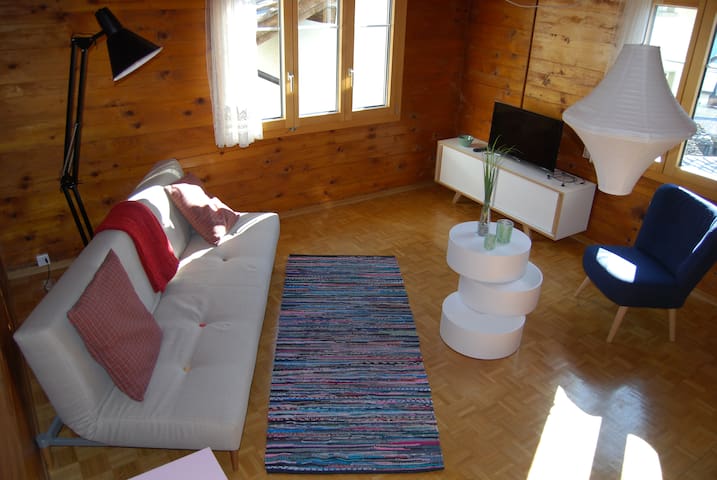 Our apartment is located above the parking lot of the restaurant Weisshorn. At the upper entrance is a wooden sign with the name Gabi. Rustic 3 room apartment on 2 floors with Gillsteinofen. The apartment can accommodate 1-4 people (possibly 2 people more because it has a fold-out sofa). Linen / towels can be rented for CHF 12.00 / person. Adults taxes CHF 2 .- / day, children CHF 1 .-- / day (Taxes Please enter the book and put the keys on the table)
The apartment will be open, the key is on the table. Please stay after the place the key back on the table. Woman Hosennen then cleans the apartment and closes subsequently from.
Eine ganz wunderbare Unterkunft, vor allem etwas für Menschen mit Sinn fürs Dörfliche und noch intakte Natur. Die Straße nach Törbel ist erst etwas atemberaubend, aber dann ganz prima zu meistern.
Ernst
2017-02-12T00:00:00Z
C'est une maison bien typique de la région, un mobilier ancien conforme aux photos, bien équipé, spacieux, une vue extraordinaire sur les 2 vallées. Merci pour l'accueil de la voisine, quelques difficultés pour se comprendre mais on a réussi avec le sourire. On recommande....
Jean-marc
2016-08-06T00:00:00Z
Wir hatten drei super Tage. Das Häuschen und auch das ganze Dorf ist typisch Wallis. Rustikal, klein und einfach schön. Und die Aussicht ist ein Traum. Kann man nur weiterempfehlen.
Marcel
2016-08-05T00:00:00Z
Die Wohnung ist sehr schön, gemütlich und ist gut ausgestaltet. Die Umgebung ist wunderschön. Diese Wohnung kann ich nur weiter empfehlen.
Natalie
2016-08-16T00:00:00Z
This is a perfect location for getting away from the fast pace of life. Nothing in Torbel happens very quickly! Beatrice was able to reply quickly keeping us informed about the procedure for booking the accommodation. (SENSITIVE CONTENTS HIDDEN) translator worked well as my German is limited to school boy level and that's how the transaction progressed to the successful conclusion. The house was very homely, even down to the detail of providing a good set of binoculars and books for young children. Thank you Beatrice fro allowing us to experience a very special part of Switzerland.
Linda
2016-08-11T00:00:00Z
Eine wirklich schöne herzig, urchige Unterkunft. Super ausgestattet, es hat an nichts gefehlt, nette Nachbarn, toller Ort. Kann man nur empfehlen.
Xenia
2016-07-30T00:00:00Z
Super Location, wer es gerne ruhig und heimelig mag. Die Wanderungen in der Gegend und der Ausblick auf die umliegende Bergwelt einfach famos. Es war genial in diesem alten und schönen Dorfteil von Törbel eine kurze Zeit gelebt zu haben. Gerne wieder ein anderes mal
Roman
2017-04-03T00:00:00Z
Tipe Kamar
Seluruh rumah/apartemen
---
Tipe Properti
Apartemen
---
Mengakomodasi
4
---
Kamar tidur
Törbel, Wallis, Swiss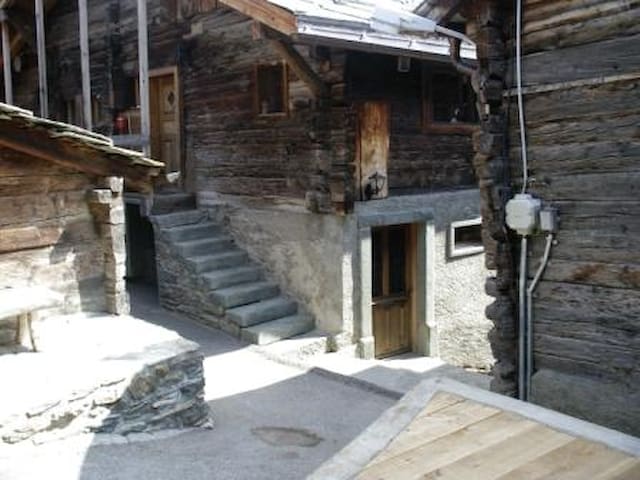 Adorable casa antigua de madera, construida en el siglo 17, que no ha sido reconstruida, muy adelantado. Se encuentra en la pequeña localidad de Zeneggen a 1350 metros sobre el nivel del mar. Hay una hermosa vista de las montañas desde las ventanas de la sala de estar. Una bonita zona de barbacoa justo fuera de la casa se proporciona.
La vista de las montañas y la tranquilidad del pueblo son un gran activo. Zeneggen es el punto de partida ideal para excursiones de senderismo y excursiones de esquí. Por otra parte, no está lejos de la FOM Berna ciudad o de Zermatt. Usted puede comprar todo para sus necesidades diarias en la pequeña tienda en el pueblo. También hay una cafetería en el pueblo.
Wir waren das erste mal per Airbnb unterwegs. Das rustikale Haus hat uns allen extrem gut gefallen. Der Hammer war der riesige, einfach zu bedienende Steinofen, der immer für wohlige Wärme gesorgt hat. Wir konnten von Zeneggen aus langlaufen, skifahren, joggen, wandern... Wir kommen gerne im Sommer wieder !!
Axel
2016-03-01T00:00:00Z
Nous avons séjourné à Zeneggen en couple avec notre enfant en bas âge. Tout était parfait. Le logement, très charmant, est conforme à l'annonce web. Le place pour le grill est très bien avec un beau foyer, et la cuisine intérieure permet de tout faire, y.c. la lessive. Simone est tout à fait sympathique et disponible pour toute question, tout comme son mari. Elle nous a même donné des oeufs de ses poules qui vivent à proximité dans un petit chalet. Le logement est en copropriété, les voisins étaient là, ils sont également très sympathiques et pas gênant du tout. Zeneggen est très préservé, c'est l'image d'épinal du Valais. Pour les promenades en famille, c'est bien adapté (ça grimpe au moins un peu), il y a même une place de jeu pour enfant dans la forêt. Pour les bons marcheurs, c'est top aussi.
Pascal
2015-08-08T00:00:00Z
Die Unterkunft liegt sehr ruhig und hat eine gute Aussicht. Es hat uns ausgezeichnet gefallen. Wir haben den Aufenthalt genossen und die Unkompliziertheit unserer Gastgeber. Die offerierten äussertest delikaten frischen Eier waren super. Auch der Kontakt war herzlich. Wir empfehlen jedem Eure Unterkunft.
Cornelia
2015-08-23T00:00:00Z
The host canceled this reservation 93 days before arrival. This is an automated posting.
Molly Mae
2015-09-29T00:00:00Z
Hôtes super sympas, chalet très beau et rustique, chauffé au bois, une vue unique et très très calme, un luxe pour les citadins. Magnifique. Et cuisine équipée, avec BBQ!
Vincent
2016-03-21T00:00:00Z
Sehr schoene Huette und sehr gut ausgestattet. Simone war sofort offen und hilsbereit bei Fragen aber dennoch hatten wir unsere Privatsphaere. Uns hat es an nichts gefehlt und wir wuerden die Huette jederzeit wieder buchen!
Laura
2016-12-30T00:00:00Z
fantastic place in a very nice setting
Susanne
2016-05-09T00:00:00Z
The house is in a village on the mountain (after a 10+ minute mountainous ride going up from Visp) with some nice views, but when we were arriving at night after a long road trip, it was quite frustrating to find the house because the (SENSITIVE CONTENTS HIDDEN) map was incorrect (of course it took me 20 more minutes to realize that). Later I found that the apple map was correctly showing the address, but it was still rather difficult to locate the house with number 27 in darkness of midnight. Make sure you arrive while there is sun. Especially the roads are hilly and you have to be careful with the parking spot for the first time. The house is an old farmhouse which is unique and clean but not very convenient or modern. The pictures are true so you will get the idea. It's quite spacious and reading/working on the desk with two windows of beautiful scenery was a unique experience. On the other hand, the shower area was rather small/inconvenient and had to wait for water to heat up after one shower. The biggest trouble for me was that the house had no internet connection at all and my own mobile internet was also too weak and useless due to the location on the mountain. (I should have clearly seen that both 'internet' and 'wireless internet' are crossed out in the list of amenities!) I had tons of things to search on the internet for planning the trip and so on, so often had to use internet in my car all the way down on the nearby town like Visp. To make things worse, during my 4 day stay, there was a shocking incident when we were returning to the house at night. A crazy guy driving behind us got angry for whatever reason and when we stopped at the house, he came out of his car and directly tried to open my car door!! I just prayed and hoped that he wouldn't have a gun. Then he drove away.
Dano
2016-08-19T00:00:00Z
Tipe Kamar
Seluruh rumah/apartemen
---
Tipe Properti
Apartemen
---
Mengakomodasi
4
---
Kamar tidur
Zeneggen, Wallis, Swiss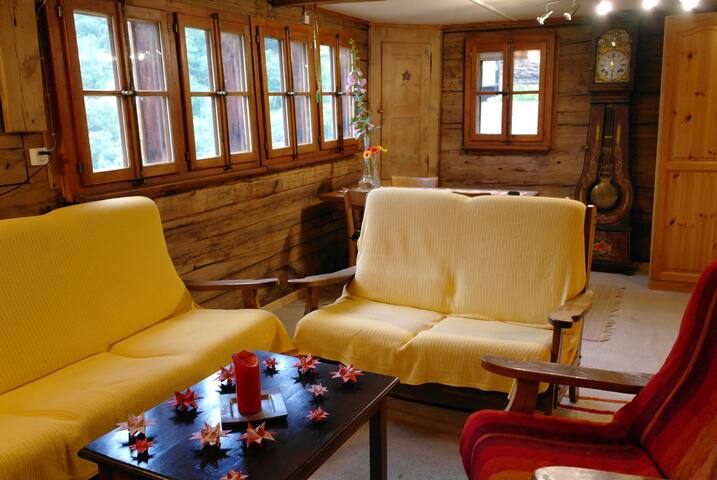 Fantastische Aussicht ins Rhonetal.
Offene Küche mit Essraum, Wohnzimmer und Sofa-Bett, 1 Doppelbett-Zimmer, Bad/WC mit Badetüchern, Sitzplatz mit Ausblick ins Rhonetal, Einstellplatz in Garage. Lebensmittel-Geschäft, Skilift, Bank-Automat, Restaurant und Luftseilbahn in wenigen Minuten zu Fuss erreichbar.
Eischoll- ein kleines Skigebiet dass viel zu bieten hat. Sesselbahn, Skilift sowie Übungslift für Kinder und Anfänger mit angrenzendem Kinderspielplatz. Kleines Bergrestaurant wo sie kulinarisch verwöhnt werden. Schlittelpiste bis ins Dorf und gratis Parkplatz bei der Talstation. Unsere Region eignet sich auch vorzüglich für Winterwanderungen und Schneeschuhtouren. Im Sommer erwarten sie wunderschöne Wanderwege und Ausflüge. Der Sportbus (auf Voranmeldung immer am Mittwoch) verbindet Eischoll mit den Nachbargemeinden Unterbäch und Bürchen. Die Thermalbäder von Brigerbad und Leukerbad sind in ca. 30 bis 40 Minuten erreichbar. Zermatt, Montana, Saas-Fee, Verbier, Grande Dixence, Aletschgletscher, sind innerhalb einer Stunde von Eischoll aus erreichbar und sicher einen Besuch wert.
새로운 경험을할수잇어서좋앗응 케이블카타고마을옴 전망 은 엄청좋음
Soonyeal
2017-03-11T00:00:00Z
房子在山上,景色十分美麗,但有車比較方便。屋內寬敞,設備也齊全。房東亦十分幫忙。
Teresa
2017-03-30T00:00:00Z
Die Wohnung im Haus Wildi ist super gelegen und enthält alles, was man für einen Selbstversorger-Urlaub benötigt, ist zweckmäßig eingerichtet und alles tipop sauber. Alles war genau wie in Beschreibung und Fotos angegeben. Es gab zwar keinen perslönlichen Kontakt zu den Gastgebern, aber Bestätigung und Wegbeschreibung kamen sehr schnell. Auch die Beschreibung von Garage und Schlüsseldepot war sehr exakt und damit ein sehr bequemes Ankommen gegeben. Ich war im Winter dort und da war die Nähe zum Skilift sehr gut. Im Sommer ist die Wohnung sicher ein guter Startpunkt für Wanderungen. Neben der guten Möglichkeit zum Skifahren war der Zeitpunkt während der Eischoller Fasnacht eine sehr schöne Beigabe ein bißchen in das Dorfleben einzutauchen - inklusive Guggemusik.
Helmut
2017-02-25T00:00:00Z
Appartement très bien équipé, propre, conforme à la description. Belle vue, bien situé dans une petite station familiale. Nadine et Christophe ont été très serviables et sympathiques, la communication a été parfaite. Merci!
yuval
2017-01-08T00:00:00Z
The stay at their place was just perfect! They are really nice, the flat is huge, well situated (5min by foot from the center of the village - sesselbahn and 9-10min by foot from the shop and luftseilbahn and just at the departure of beautiful walking tours), really quiet, the view is amazing, the kitchen vers well equiped, internet and tv work as a charm. As we came for New Year's Eve they even offered us a bottle of Prosecco. Christoph also made us the surprise to drive us by car from the luftseilbahn to the flat, given that we came by train. To sum up : just go for it, you ´ ll love it! :-)
Claire & Lianel
2017-01-02T00:00:00Z
sehr schöne Landschaft, tolles Apartment, sehr netter Gastgeber
梦云
2016-12-29T00:00:00Z
Tipe Kamar
Seluruh rumah/apartemen
---
Tipe Properti
Apartemen
---
Mengakomodasi
2
---
Kamar tidur
Eischoll, Wallis, Swiss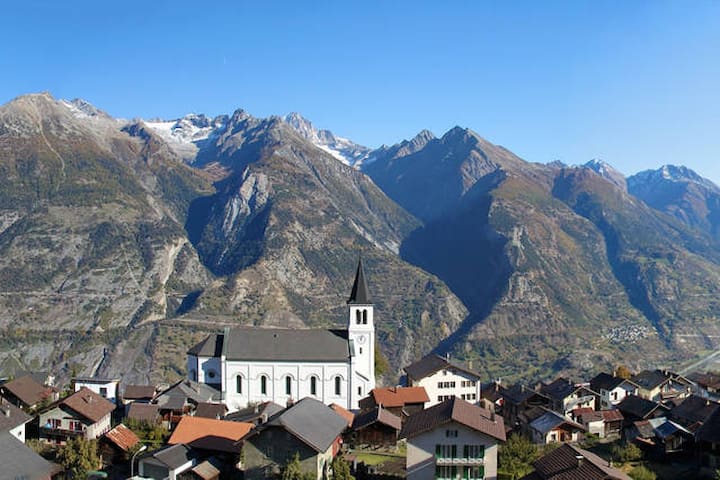 Unser Appartement liegt direkt am Bahnhof in Visp. Das Zentrum ist in 2 Minuten zu Fuss erreichbar. Obwohl es zentral liegt, ist es sehr ruhig in dieser Wohnlage. Das Appartment ist gemütlich eingerichtet. Auch dürfen Sie den schönen Rosengarten geniessen während Ihrem Aufenthalt. Weitere wichtige Infos Zusätzliche Kosten: Kurtaxen: CHF 2.00 /pro Nacht / Person Kurtaxen: CHF 1.00 / pro Nacht Kinder 6 - 16 Jahre
Christine und ihr Mann sind sehr offen und freundlich und jederzeit zur Stelle, wenn es Probleme gibt. Sie haben mich sehr herzlich aufgnommen. Die Wohnung ist zentral in Visp gelegen, alles ist fussläufig super erreichbar. Es ist alles da, was man braucht. Ich würde sie auf jeden Fall weiter empfehlen.
Lena-Marie
2016-12-01T00:00:00Z
We loved our stay at Christine's house just next to the Visp train station. While the nearby groceries are open 7 days a week until late, it was rather quiet and relaxing in the house and in its garden with the roses. Christine was very welcoming and quickly responded to our few questions/requests. We'd love to come back when we'll be in the area again.
Matthias
2016-08-06T00:00:00Z
Can fully recommend! You can't really be any closer to the train station and city centre, and event though it's so close, it's a very quiet place. Very clean also. Really fully satisfied.
Simon
2017-02-24T00:00:00Z
My family has used five airbnbs on this travel so far, and this house was the best one! It is an old house located literally right behind Visp Railway Station, and there is Coop Pronto that is open until 23:00 every day at 2-minute walking distance. Big Coop and Migros are also less than 5 minutes away. While staying here, we did a day-trip to Interlaken, Zermatt, and Leukerbad. All of these are at 1 hour distance by train, so the location is super!! The house was very spacious, more than big enough for three people. It was clean, had a rose garden, and most importantly, the host was very accommodating. We genuinely felt very welcomed, and my parents felt like at home during the whole stay in this house. I would absolutely recommend this house to anyone who wants a comfortable stay in Switzerland.
Eunjee
2016-08-10T00:00:00Z
In der schönen und liebevoll restaurierten Wohnung mit dem wunderbaren Rosengarten haben wir uns sofort sehr wohlgefühlt. Die unglaublich herzlichen Gastgeber haben für alles gesorgt und uns so eine unvergessliche Woche ermöglicht. Lieben Dank!
Paul
2016-08-31T00:00:00Z
Christine was very active via communication and constantly checked on us to ensure we had everything we needed during our stay. The location was fantastic, right behind the train station and very easily accessible. Great place to stay when doing day trips to Zermatt for the Matterhorn. Would definitely be back!
Rui Xin
2016-12-27T00:00:00Z
Excellent accomodation, great location just in front of the station Visp from where we did day trips to Zermatt & interlaken. We had a comfortable stay & Christine made sure to provide us with anything that we needed, also greeted us with a very warm welcome. The apartment had 2 bedrooms, pretty big & a kitchen with a small dining table, everything was very clean, well arranged & homely.
Nimitt
2016-12-29T00:00:00Z
The location is excellent for travel to anywhere. It is just beside the train station. Christine is so kind to give every possible support and allowance to make our stay easy and comfortable. Though she had not mentioned in the web page to have drying machine, the washing machine was in fact with drying function. The two rooms were so spacious and comfort which gave a home like feeling.
Raymond
2017-03-25T00:00:00Z
Tipe Kamar
Seluruh rumah/apartemen
---
Tipe Properti
Apartemen
---
Mengakomodasi
2
---
Kamar tidur
Visp, Wallis, Swiss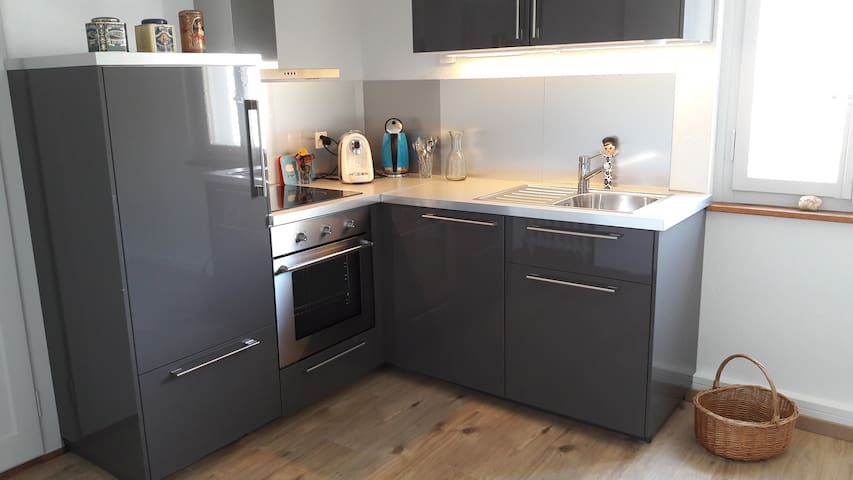 Studio bawah rumah kita sendiri dan bisa disewa secara pribadi. Baru dihiasi dengan cadangan tempat tidur, TV, dapur, ruang dan kamar mandi. pemandangan pegunungan dan lokasi yang tenang. Bus gratis termasuk musim panas dan juga kabel mobil hampir semua gratis!
Studio ini memiliki pintu masuk pribadi dan semua fasilitas-juga dapur dan kamar mandi-digunakan secara pribadi. Sprei, handuk dan handuk dapur disediakan. Di dapur semuanya tersedia; panci dan wajan, kompor, kulkas dan oven kecil. Kamar mandi pribadi dengan shower, wastafel, toilet dan jendela untuk ventilasi. putar cahaya wandklapbed untuk 2 dengan kasur yang baik (180x200). Taman dan furnitur yang digunakan bersama oleh kami, para tetangga dan tamu.
Tamatten adalah bagian desa pada awal Saas-Grund. Itu tenang dan Anda berjalan ke dalam hutan. Indah dilihat dari puncak bersalju. Kadang-kadang ada chamois atau landak di kebun! Pada kaki sekitar 5-10 menit berjalan kaki ke lift ski ..
Der Aufenthalt in Carlas Studio war einfach super. Das Studio ist ruhig und von der Strasse entfernt gelegen, mit einer Wiese vor dem Haus. Trotzdem ist es ganz nah bei der Bushaltestelle. Sehr geschätzt haben wir, dass wir dort sogar abgeholt wurden. Das Studio ist freundlich und gemütlich eingerichtet. Sogar Tee, Kaffee und Gewürze waren da. Ein besonderes Plus: der Bürgerpass ist im Preis inbegriffen. Wir kommen gerne wieder!
Elisabeth
2016-09-15T00:00:00Z
Mooie dagen gehad in Unterseen en omgeving van Interlaken! Fijn plekje, met prachtig uitzicht op de Jungfrau. Kamer voorzien van alle basis benodigdheden, ook een fijne (regen)douche! Zeer aardige en behulpzame gastvrouw en gastheer. Door ons van harte aanbevolen!
Frans Jan
2016-08-03T00:00:00Z
This apartment has everything one could wish for. The bed is super comfortable, furnishings are outstanding and the kitchen is well stocked. There are even spices, coffee and teas. Great location and very thoughtful and accommodating hosts.
Gloria
2016-07-18T00:00:00Z
Wir hatten eine super Zeit im schönen Studio von Carla. Hat alles bestens geklappt! Die Lage nahe der Bushaltestelle ist praktisch, um nach Saas Fee zu kommen, die Verbindungen sind häufig und pünktlich. Die Wohnung ist mit allem ausgestattet was man braucht, war alles wunderbar!
Eva
2017-02-16T00:00:00Z
Complimenti per tutto.
Dario
2016-08-13T00:00:00Z
Perfect ! 5 stars
Lukas
2016-12-04T00:00:00Z
Super Unterkunft. Carla ist sehr gastfreundlich und nett. Würde ich sofort wieder buchen.
Reto
2017-03-05T00:00:00Z
Très beau studio, confortable et propre, dans petit quartier calme et pittoresque à l'entrée du village, accès très facile aux bus pour tout déplacement, parking voiture réservé à proximité ! Très bon contact avec Carla. A recommander.
Emmanuelle
2017-03-02T00:00:00Z
Tipe Kamar
Seluruh rumah/apartemen
---
Tipe Properti
Apartemen
---
Mengakomodasi
2
---
Kamar tidur
Saas-Grund, Wallis, Swiss
L'appartement est proche de la lisière de la forêt, dans un quartier calme. Mon logement est bon pour les couples et les familles (avec enfants). 2,5 pièces au rez-de-chaussée. Séjour avec 2 lits pliants en taille normale, mt chambre avec 2 lits, cuisine séparé, salle de bains / WC, coin repas, coin d'entrée. terrasse, espace de jardin à l'ouest sud-face. En hiver, ski-bus électrique juste en face de la maison. Saas-Fee est sans voiture, la voiture reste dans le Park House 10 - 15 minutes à pied ou en taxi électrique.
Pour 2 à 4 personnes: séjour avec 2 lits, 1 chambre 2 lits, cuisine 1 salle de bains ou: Plus de confort: Pour un maximum de 4 à 6 personnes: séjour avec 2 lits, 2 chambres avec 2 lits, 2 salles de bain, 2 appartement entrées. Pour chambre supplémentaire / atelier tout simplement réserver pour 2 personnes supplémentaires.
Situation calme à la lisière nord de Saas Fee. Outre un restaurant rustique Alphitta et la chapelle de Saint-Théodule. Sentiers de randonnée de la porte.
Ottima
Jacopo
2016-10-02T00:00:00Z
Appartement spacieux, très bien équipé et proche des transports publics, pratique pour aller skier. Se trouve à environ 15 minutes du centre. Thomas est très arrangeant et son accueil était excellent. Je recommande vraiment cet appartement.
Sabrina
2017-02-18T00:00:00Z
Die Wohnung ist sehr gut geeignet für Ferien für 2-4 Personen. Es hat uns sehr gut gefallen und empfehlen es gerne weier
Chris
2017-01-22T00:00:00Z
The host canceled this reservation 76 days before arrival. This is an automated posting.
Lan-Thanh
2017-01-27T00:00:00Z
Great place to stay, far from centre but there is a free bus service so it's convenient. Very quiet and good location for hiking.
Zoltan
2017-04-06T00:00:00Z
Die Wohnung ist in einem super Zustand und perfekt geeignet für 4 Personen. Sie bietet alles was man braucht und ist mit den Ortsbussen gut erreichbar. Thomas ist ein unkomplizierter Gastgeber und gibt jederzeit Auskunft, wenn man eine braucht.
Lorenz
2017-03-26T00:00:00Z
War sehr angenehm und Thomas war ein sehr guter unkomplizierter Host, welcher bei Fragen stehts zur Verfügung stand. Empfehlenswert!!
Simon
2017-02-05T00:00:00Z
Great place to stay to ski. Good communicative host.
Colin
2017-01-30T00:00:00Z
Tipe Kamar
Seluruh rumah/apartemen
---
Tipe Properti
Apartemen
---
Mengakomodasi
4
---
Kamar tidur
Saas-Fee, Valais, Swiss
Einfache, grosse Wohnung in traditioneller Walliserbauweise. Die heimelige Wohnung hat bis zu acht Schlafplätze. Sie ist mitten im historischen Zentrum vom idyllischen Bergdorf Visperterminen auf 1'300 m.ü.M. Sie ist zentral gelegen. Die Bushaltestelle ist zirka 100 Meter entfernt. Die Bergbahn ist in etwa 250 Meter erreichbar. Die Aussicht auf die Walliserberge ist spektakulär. Kleine Skistation Wandern Biken Zermatt ist von hier aus ereichbar. Öffentlichen Parkplatz in der Nähe der Wohnung.
Die Wohnung verfügt über drei Schlafzimmer: - ein Zimmer mit zwei Einzelbetten - ein Zimmer mit einem Doppelbett (1,40 Meter breit) und einem Einzelbett - ein Zimmer mit einem Doppelbett (1,20 Meter breit) und einem Einzelbett Die Wohnung hat auch ein grosses Wohnzimmer, eine Küche mit Essecke. Es gibt ein Badezimmer mit einer Dusche. Im Flur befindet sich eine Waschmaschine. Ein kleine Balkon ist von der Küche aus zugänglich. Er bietet eine wunderbare Aussicht auf das Dorf und die umliegenden Berge. Bettwäsche, Frottewäsche und Küchenwäsche wird Ihnen zur Verfügung gestellt. Die Wohnung befindet sich in einem traditionellen Walliserhaus. Es ist aus Lärchenholz gebaut und von der Sonne dunkelbraun gefärbt. Die Raumhöhe ist zirka 2,10 Meter.
Zermatt mit dem Matterhorn erreichen Sie in zirka 1:30 Stunden. Das Thermalbad Brigerbad mit seinen Thermalquellen mit Spa erreichen Siei in 30 Minuten. Das Thermalbad Leukerbad mit seinen Thermalquellen mit Spa ist in zirka 1:15 Stunden erreichbar. Golf und Thermalbäder gibt es im Umkreis von 50 km. Brig - interessantes Städtchen Sion - interessantes Städtchen Raron mit seiner in Felsen hinein gebaute Kirche und Burgkirche und Rilkegrab (deutscher Lyriker aus Prag). Lötschental Aletschgebiet unterirdische See in St. Leonard Pyramiden von Euseigne Kinderfreizeitpark , siehe (URL HIDDEN) und vieles mehr Informationen zu unserem Dorf finden Sie online unter dem Stichwort heidadorf. Visperterminen hat einen wunderbaren alten Dorfkern. Die typischen Walliserhäusern sind aus Lärchenholz. Im Dorf gibt es verwinkelte Gässchen und verwunschene Ecken. Die Kirche mit ihren herrlichen Barockaltären ist ganz in der Nähe der Wohnung. Der kleine Dorfplatz ist ebenfalls ganz nahe. In Visperterminen leben freundliche, arbeitsame Menschen. In Visperterminen werden Traditionen noch intensiv gelebt. Das kulturelle Erbe ist zum Beispiel im Wohnmuseum erlebbar. Freiwilligenarbeit wird gross geschrieben. Dank dem Engagement der aktiven Dorfbevölkerung finden das ganze Jahr über Aktivitäten jeglicher Art statt. So ist etwa das jährliche Wii-Grill Fäscht (Begehung durch die Rebterrassen mit lokalen Speisen immer am 1. Samstag im September) längst über die Kantonsgrenzen hinaus bekannt. Vor einigen Jahren wurden ungenutze Stadel (Speicher) in Spiellandschaften für Kinder umgewandelt - ein wahres Kinderparadies. Wir empfehlen Ihnen sehr, die Webseite des Dorfes (Heidadorf) zu besuchen. Dort sind Sie über die aktuellen Angebote informiert. Eine Sesselbahn (zirka 10 Gehminuten von der Wohnung entfernt) führt Sie vom Dorf durch idyllische Nadelwälder bis auf 2'000 Meter èber Meer. Dort ist der perfekte Ausgangspunkt für ihre Wanderungen oder Touren rund um Visperterminen. Dort gibt es auch ein kleines, feines Skigebiet. Visperterminen hat eine kleine, aber attraktive Skistation. Es gibt auch Winterwanderwegen und einen Schlittelweg. Sehr empfehlen ist auch die kulinarische Schneeschuhwanderung. Zudem gibt es im Dorf eine Eisbahn. Diese wird von Freiwilligen bereitgestellt, wenn die Temperaturen es erlauben. Auch im Frühling, Sommer und Herbst hat die Umgebung rund um Visperterminen viel zu bieten für für Wanderer, Biker und Kulturinteressierte. Es erwarten Sie blühende Alpwiesen, herrlich duftende Wälder, blaue Bergseen und historischen Suonen (Bewässerungssystem) – immer mit dem herrlichen Panorama auf die Walliser Alpen.
Berthe hat uns sehr herzlich empfangen und war sehr flexibel! Die Wohnung hat alles, was man für Ferien braucht. Sie war sauber und entspricht den Fotos. Wir würden die Wohnung allen weiterempfehlen!
Jeannine
2016-01-03T00:00:00Z
Berthe and her husband are very nice host. They are very warm, friendly and always willing to help. The house is big enough for 7 people. The beds are comfortable, warm and clean. Kitchen and bathroom are clean too. Mountain roads can be hard to drive, but my friends enjoyed a lot. It took us 1 to 1.5 hours to drive to Täsch.
王
2015-11-30T00:00:00Z
We enjoyed our two-night stay in the house. The house is very well equipped and very confortable and the village is lovely. Thank you!
Teofilo
2017-02-27T00:00:00Z
This was an absolutely wonderful place to stay for a few days with my parents in Valais and it exceeded all of my expectations from the site. The chalet was cozy with all you would need for a perfect stay in an authentic Swiss chalet. Berthe and her husband were super accommodating in making sure that we were comfortable and had everything we needed, Georg even picked us up at the bus stop upon our arrival and helped us carry our luggage. I would love to go back to Visperterminen just for the chalet itself and it will be in my weekend plans some point soon!
Andrew
2015-12-31T00:00:00Z
it is a nice place where you can see a lot of snow in March.
David
2017-03-07T00:00:00Z
Unsere kurz Ferien bei Georg und Berthe war sehr schön. Die kleine Dorf war so süss, leider wir haben nur wenig Zeit gehabt die Umgebung zu entdecken. Wir können die Gastgeber nur empfehlen, sie waren sehr nett!
Edina
2017-02-11T00:00:00Z
Tipe Kamar
Seluruh rumah/apartemen
---
Tipe Properti
Apartemen
---
Mengakomodasi
8
---
Kamar tidur
Visperterminen, Wallis, Swiss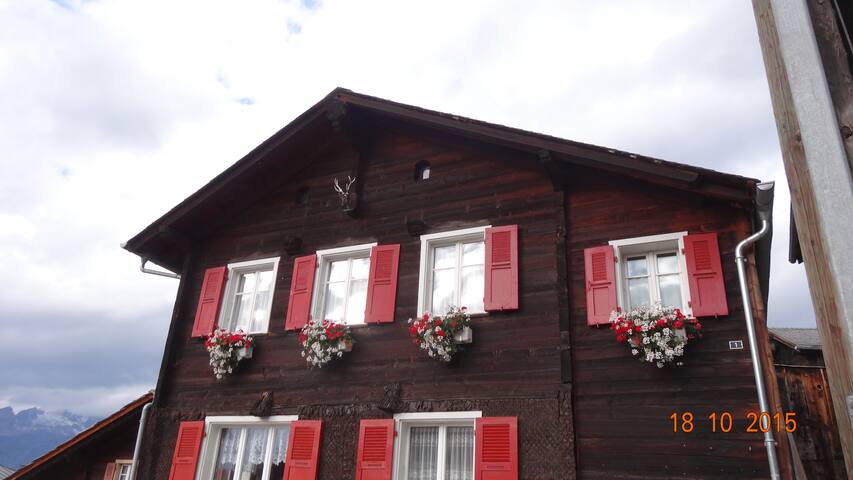 Meine Unterkunft ist in der Nähe vom Dorfplatz Zenhäusern. Grosse Liegewiese mit Liegestühlen und Sonnenschirmen, Grill, Gartenmöbel, Biotop, Kinderspielplatz (Schaukel, Rutschbahn, Baumhaus, Sandkasten, Ping-Pong, tolle Aussicht, Restaurants in der Nähe, familienfreundliche Aktivitäten. Du wirst meine Unterkunft lieben wegen Ausblick, Gemütlichkeit, Panorama der Walliserberge . Meine Unterkunft ist gut für Paare, Geschäftsreisende, Familien (mit Kindern) und pelzige Freunde (Haustiere).
10 Km von Visp immer Richtung Bürchen/Zenhäusern/Moosalpe fahren bis Dorfplatz Zenhäusern Restaurant Alpenrösli. Navi: "Bürchen Zenhäusern 1" Unser Haus Fortuna ist 150 Meter entfernt Richtung Nessjernweg. Rufen Sie uns an Tel +(PHONE NUMBER HIDDEN) od(PHONE NUMBER HIDDEN) und wir zeigen Ihnen Haus und Autoeinstellhalle. Im Winter Nähe Skilift: unser Skidepot (Lorihütte) abschliessbar mit privatem Parkplatz visavis.
Tipe Kamar
Seluruh rumah/apartemen
---
Tipe Properti
Apartemen
---
Mengakomodasi
4
---
Kamar tidur
Bürchen, Wallis, Swiss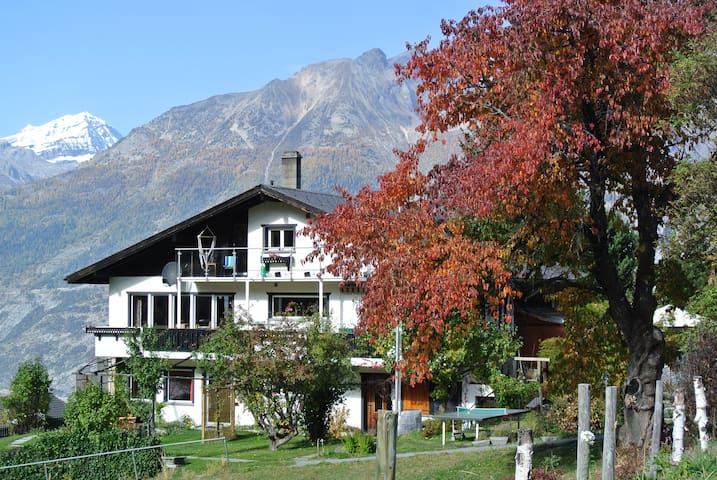 3-pokojový byt 49 m², v přízemí.
Komfortní a útulné zařízení: obývací pokoj / jídelna s TV se satelitním příjmem (plochá obrazovka), rádio. 1x pokoj s dvoulůžkem. Vstup na terasu. 1 pokoj, 2x lůžko. Otevřená kuchyně (3 plotýnky, trouba, mikrovlnná trouba, raclette gril fondue Set (chinoise, sýr)). Sprcha / WC. Sezení, jižní orientace. Zahradní nábytek. Nádherný výhled na hory. Vybavení: internet (Wi-Fi, zdarma). Vyhrazené parkování na 30 metrů. Pozor prosím: nekuřácký byt. 1 malé domácí zvíře / pes povolen.
Kalpetran 5 km od Stalden: Útulný chata "Christl", postavený v roce 1974. V obci, klidná, slunná poloha, 13 km od lyžařského areálu. Společné: zahrada. Patio. V domě: ústřední topení. Příjezd končí 30 m od domu. Parkování 30 m. Obchod 3.5 km, restaurace 3.5 km, nádraží "Kalpetran" 20 m. Tenis, sportovní centrum 250 m, visutá lanovka 50 m, sedačková lanovka 13 km, lyžařské centrum 13 km, tratě 13 km, lyžařská škola 13 km, ledová pole 250 m. Známé lyžařské oblasti lze snadno dostat Grächen 13 km, 25 km Zermatt, Saas-Grund 18 km. Pozor prosím: železnice v blízkosti. Čerstvý chléb je možné zakoupit na lanovkou Kalpetran-EMD (dopoledne mezi 7:00 - 7:45), cca 5 minut pěšky.
Tipe Kamar
Seluruh rumah/apartemen
---
Tipe Properti
Apartemen
---
Mengakomodasi
4
---
Kamar tidur
Stalden, Swiss
Beautiful attic apartment, with two rooms, one bedroom with bed 180/200 cm with reading and writing corner. Kitchen with dining table and sofa bed 180/200. Beautiful private terrace. Bathroom fully equipped. Unique.
This apartment is located in the center of the resort of Unterbäch, overlooking an exceptional landscape in the center of major alpine resorts. This property was completely renovated in 2014 to offer the perfect stay.
You will be the center of a typical Valais village. With grocers, bakery, tea room, restaurant nearby.
Hi Antoine We had a very nice stay in your beautiful apartment everything was clean and the house was attractively decorated. immediate area is also very beautiful. Kind regards Petra
Petra
2015-09-21T00:00:00Z
Cozy zen, indeed. Modern and rustic are well-married in this sweet little apartment. Our priorities -a good shower and a comfortable bed- were easily met. We didn't miss the television, but were so happy to find two modern conveniences -- an espresso machine and washer/dryer. We had everything we needed for eating in. The apartment is truly a five-minute walk from the ski lift, tourist info and a few restaurants. The grocery was three minutes on foot. We are long-lapsed skiers and our daughter is a beginner, so Unterbäch and its low-key ski area were perfect for us. Thank you Antoine!
Millicent
2017-02-25T00:00:00Z
the apartment is located in Unterbach where is a wonderful place which you can truly live like a local. the panorama of the mountains always look gorgeous. the people there are so nice and welcoming, though you will only meet a few because the population there is just a couple hundreds. the apartment itself is very new, well equipped kitchen and bathroom, in specific, host provides you cooking tools for swiss fondue~ Big thanks to Monika for her instant replies and helps.
Beyonce
2016-05-18T00:00:00Z
es ist eine fantastische Wohnung, in der wir uns fast wie zu Hause gefühlt haben, durch die Schrägen und die vielen Holzelemente mit Steinmauern hat sie einen rustikal-heimelichen Charakter, die Betten sind sehr bequem, die Küche ist gut ausgestattet, das Bad ist sehr geschmackvoll angelegt, die Wohnung ist sehr sauber und gepflegt, der Ort Unterbäch war zu unserer Reisezeit sehr ruhig, nur der Bach vor der Tür und die Kühe und Schafe mit ihren Glocken sind ein wenig gewöhnungsbedürftig (habe es in der 1.Nacht zu Hause schon vermisst ;) ) Antoine ist ein sehr netter Gastgeber, wir könnten uns trotz Sprachbarriere gut verständigen, wir waren sehr gerne seine Gäste und werden das Apartement an Freunde weiterempfehlen, Merci beaucoup
Sabine
2015-10-17T00:00:00Z
Our stay at Confortable et zen, sous le toit was lovely. The town was beautiful and peaceful. There were pleanty of trails and activities to do around that town. Antoine was very accomadating, his place had everything one would need to cook, while the beds were extremely comfortable. Everything was clean, like new. Thank you.
Rayanna
2015-10-02T00:00:00Z
Très bon séjour à Unterbäch, village de montagne magnifique, et très agréable pour faire du ski ou de la randonnée ! Antoine a été très arrangeant sur notre départ et notre arrivée. Merci beaucoup à Antoine pour avoir répondu à toutes nos questions et attentes ! L'appartement est très chaleureux, tel un chalet de montagne. Logement très bien équipé ! Ich empfehle diese Wohnung ! Je recommande cet appartement sans hésiter !
Astrid
2016-02-19T00:00:00Z
Le logement est très agréable, propre et très bien équipé. Nous n'avons pas été déçu. Les photos sont représentatives du logement. Antoine est disponible pour tous renseignements. Nous avons passez un agréable séjour à unterbäch, nous recommandons cet appartement.
Pauline
2016-11-30T00:00:00Z
Comfortable apartments, well equipped - kitchen tools, coffee machine, washing machine and dishwasher. No microwave. Good WiFi. Everything is new and clean. Parking place. Only if you are by car. Down to valley to Visp bus station - only cableway + train (1stop). Could recommend for 2 persons.
Daria
2017-03-12T00:00:00Z
Tipe Kamar
Seluruh rumah/apartemen
---
Tipe Properti
Apartemen
---
Mengakomodasi
4
---
Kamar tidur
Unterbäch, Wallis, Swiss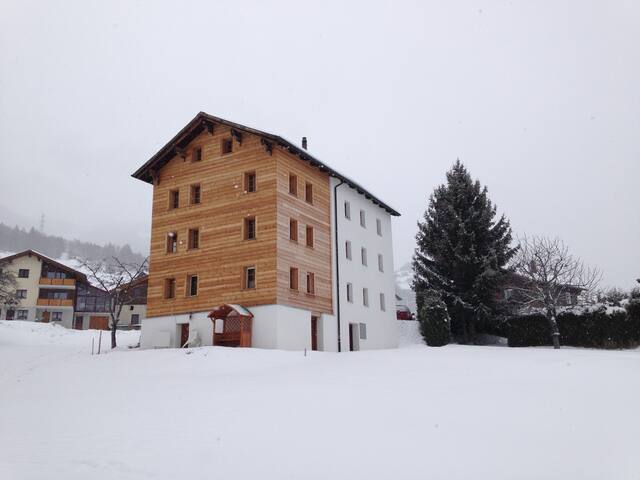 Wir wohnen in einer 41/2 Zimmerwohnung. Wir haben 1 Gästezimmer mit einem Einzelbett. Die grosse Küche mit grossem Balkon kann genutzt werden. Von April - Oktober kann bei gutem Wetter (und das ist bei uns ca 99% der Fall) draussen gegessen werden. Das Wohnzimmer kann auch als Esszimmer gebraucht werden. Ist gross und geräumig. Wir haben 2 Badezimmer einmal mit Dusche und einmal mit Badewanne.
Es hat alles bestens geklappt (auch kurzfristig). Der Aufenthalt war angenehm und ich hab die unkomplizierte und flexible Organisation geschätzt :) Wenn ich wieder ein Bett im Wallis brauche, komme ich gerne wieder.
Miriam
2017-04-08T00:00:00Z
The host canceled this reservation 48 days before arrival. This is an automated posting.
Elian
2017-03-28T00:00:00Z
Très bon contact avec Vera et Aaron qui sont très accueillants et répondent vite et avec précision aux messages. Ils aiment voyager et communiquer. La chambre est pour une personne, calme et tranquille, propre. La salle de bains aussi. Le logement est facilement accessible depuis la gare de Brig à pied ou en bus. Je recommande vivement
Karine
2017-04-09T00:00:00Z
Tipe Kamar
Kamar pribadi
---
Tipe Properti
Apartemen
---
Mengakomodasi
1
---
Kamar tidur
Glis, Wallis, Swiss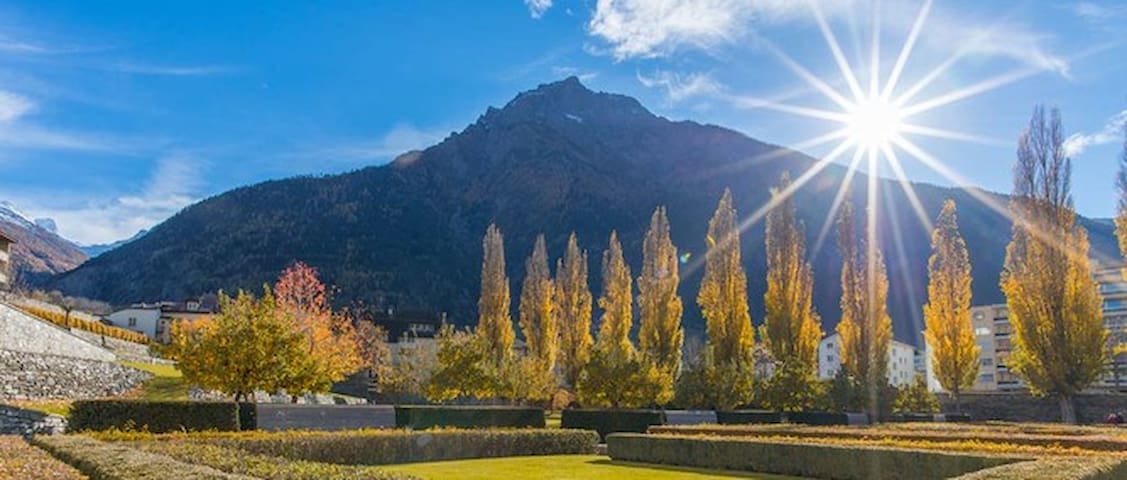 Im wunderschönen bike- und wanderparadies Moosalp. Gemütliche Ferienwohnung mit schönem Vorplatz.
Ruhige Lage mit schönem Vorplatz.
The host was very kind and respond to our queries immidiately..Really recommend to stay here..The location and view was superb...
amelia Hezlin
2017-01-22T00:00:00Z
Martina and Phillip are wonderful hosts! Responded really fast to our questions and explained everything in detail. The place was very clean, cosy and spacious. The kitchen is well equiped, just as the rest of the house. There is even a universal electricity plug adapter, that was really handy. The mountain views from the windows are stunning! We would definitely recommend this place.
Yulia
2016-12-26T00:00:00Z
Sehr liebe, gastfreundliche und hilfsbereite Gastgeberin. Grosszügige Wohnung, mit einer gut ausgestatteten Küche. Alles war wie im Inserat beschrieben oder noch besser. Wir genossen herrliche und gemütliche Tage in einem warmen und gemütlichen Zuhause.
nick
2017-01-07T00:00:00Z
We had a great time in Feb half term week, we skied, we visited Zermatt to see the Matterhorn (1hr away) and we soaked in the Leukerbad hot baths. And then we just sat back and enjoyed the most incredible views from Martina's cosy chalet. Our hosts were very friendly and helpful when we needed and we also enjoyed making friends with the very cute black and white cat who was always saying hello. A fabulous Holiday!!
Liz
2017-02-24T00:00:00Z
Ein wunderbarer Ort, Eure feine Wohnung an dieser schönen Lage, dem liebevoll angelegten Garten und dem tollen Ausblick. Wir habe die Tage bei Euch sehr genossen! Vielen Dank! - auch für das unkomplizierte hier sein, für all unsere Wünsche und Fragen!
ursula
2017-03-04T00:00:00Z
Gemütliche und liebevoll eingerichtete Ferienwohnung. Alles vorhanden, ideal für Familien. Nette, hilfsbereite und zuvorkommende Gastgeber. Die Wohnung können wir jederzeit weiterempfehlen. Ruhige Lage mit schöner Aussicht.
Martin
2017-02-15T00:00:00Z
Great stay
Sharath Chandra
2017-01-01T00:00:00Z
Tipe Kamar
Seluruh rumah/apartemen
---
Tipe Properti
Apartemen
---
Mengakomodasi
5
---
Kamar tidur
Bürchen, Wallis, Swiss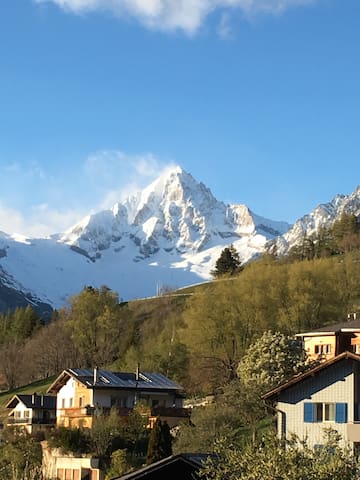 My house is near: the center Brig, shopping possibilities, unique mountains in the UNESCO World Heritage, skiing and hiking areas (Aletsch Belalp, the Saas Valley, Lötschental, Goms, Simplon) Thermaldbad Brigerbad, outdoor pools, armory culture Brig, various museums .. . you will be my guest love because of the quiet location. New apartment with swing and playground. My accommodation is good for couples, lone adventurers, business travelers and families (with children).
Cot, highchair, toys on request.
Gina was such a gracious host! We highly recommend her home! It is a really clean, well-lit, and modern home. We also think that it is centrally located to a multiple ski areas. Definitely one of our best Air BnB experiences! Consider yourselves very lucky if you can stay here!
Vipul
2017-04-08T00:00:00Z
We really loved having a kitchen and coffee every morning with everything needed to have an enjoyable stay. The apartment was very clean and well kept. Thank You!
Andrew
2017-03-24T00:00:00Z
Gina's place is incredible and she is one of the kindest and most hospitable hosts. She mets us at the train station since we had luggage with us and drove us to the apartment. The apartment is flawlessly clean, it looks brand new, and exceeded all of our expectations. She has put work into the place to make it feel as homey as possible and it just felt very comfortable. This place is a great stay, especially for the area! I highly recommend staying here if you are going to be anywhere in the area!
Emily
2017-02-15T00:00:00Z
Wir sind während dreier Wochen beruflich jeweils von Mo - Fr im Wallis, deshalb meine erneute Bewertung. Wiederum alles tiptop!
Manuel
2016-12-16T00:00:00Z
You are very nice.We love your (URL HIDDEN) apartment is wonderful,provide a place for children to play.Traffic is very convenient.And you give us many useful travel advice.You provide us with free shuttle service.Thank you very much.
娟
2017-01-24T00:00:00Z
Beautiful house!Convenient transportation. Gina give us lots of useful tips, and help us patiently. It's a good choice to leave here.
薛凡
2017-01-02T00:00:00Z
Gina war superfreundlich und sehr Hilfsbereit! Alles war perfekt und die Wohnung sauber und schön eingerichtet! Jederzeit wieder.
Valeriy
2017-01-01T00:00:00Z
Die wohnung ist sehr sauber, modern und absolut schön für entspannende Tage. Überzeugt euch selbst
Simon
2017-01-28T00:00:00Z
Tipe Kamar
Seluruh rumah/apartemen
---
Tipe Properti
Apartemen
---
Mengakomodasi
4
---
Kamar tidur
Brig, Wallis, Swiss
Our apartment has a complete baby and children's basic equipment, in a quiet central location with a clear view of the mountains, big game and lawn with sandpit, slide, trampoline, beach chairs, no stairs or steps for and in the apartment
Tipe Kamar
Seluruh rumah/apartemen
---
Tipe Properti
Apartemen
---
Mengakomodasi
4
---
Kamar tidur
Grächen, Wallis, Swiss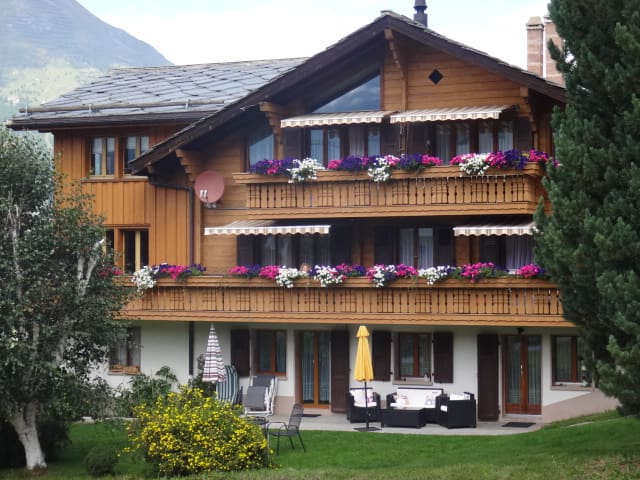 Until Octob(PHONE NUMBER HIDDEN), many included services, drive to Zermatt / Gornergrat, swimming in Brigerbad free rides on the Hannigalp in Grächen and various animations. In the master bedroom there is also a baby cot. beds made up on arrival, bath and kitchen towels provided. Free Wi-Fi, ski storage Other important information: Not included is the tourist tax (per person per night): CHF 2.50 per adult CHF 1.25 for children aged 6-16
Until October 16, with many all-inclusive services such as free ride to Zermatt to Gornergrat, free animations and more. The property is in the center of Grächen, the mountain railway are just a few steps, the bakery is located vis-à-vis, restaurants, grocery stores - all just a few meters away.
Lift for access to the ski resort just a few steps. Tourist office, bakery, restaurants, sports shops, grocery stores are in the neighborhood.
The host canceled this reservation 682 days before arrival. This is an automated posting.
Anja
2017-03-22T00:00:00Z
Tipe Kamar
Seluruh rumah/apartemen
---
Tipe Properti
Apartemen
---
Mengakomodasi
4
---
Kamar tidur
Grächen, Wallis, Swiss