This beautiful chic dwelling is set on 16 acres with views of the Cathedral that will take your breath away. Elite stays - offers guest a luxurious place to come home to after sampling the delights and excitements of Marysville, Yarra Valley , Lake Eildon, Lake Mountain snowfields and Murrindindi region. 95 kilometres from Melbourne on the Maroondah Hwy. Just over 10mins from Marysville, or 50 minutes from Euroa and Mansfield.
Elite Stays - on cathedral Marysville/Taggerty Features: Architecturally decorated, full 1 bedroom, secure dwelling, with chic colour and texture palette. Set on 16 acres with views of the Cathedral range, the blue range and black range. Floor to ceiling stone bathroom with large double shower. Polished floors with high ceilings. Storage area for longer than two night stays. Quality appliances –, refrigerator/freezer, Sharp microwave, iron, flat screen TV with DVD player, ipod docking station. Stylish, comfortable contemporary furniture. A supremely comfortable king size bed with mood lighting, linen supplied. Cooking facilities – Kitchen with dining area. Relax outside on your private deck, shaded by 120 treed olive grove. Set on 16 acres with your own 1/2 acre of private garden . Split cycle air-conditioning. Fire pit
We are in an area just on the edge of the Yarra Valley. SKI - resorts on our door step - Based on the bottom of the Cathedral Range. Close to lake mountain , marysville and the high country . Rivers, hiking, relaxing are all at you door step.
Leanne and David's A-frame cottage was so lovely. We really enjoyed the beautiful surrounds of the cathedral ranges, well-equipped kitchen, ultra-comfortable bed and fresh eggs for breakfast. Great for a couple's weekend getaway!
Alexandra
2016-11-26T00:00:00Z
The photos don't do this place justice! It's the perfect little hideaway on the edge of the Cathedral Ranges, it's perfect when you just need to get away from the world for a while. The home has everything you could need! Thanks so much for everything Leanne and Dave!
Rebecca
2016-12-28T00:00:00Z
Leanne was very welcoming. The cottage was quaint. We appreciated the comfortable bed and large shower. Fresh eggs were also a nice surprise. The cottage was quite close to the main house which detracted from the privacy we have experienced at other accommodation. However, it was not noisy.
Bec
2016-09-18T00:00:00Z
Lovely place and location. House was clean and well located. David was easy to deal with. It would have been great if the place was equipped with a stove or oven however had an electric pan. Overall a lovely stay and would stay again.
Tali
2017-01-07T00:00:00Z
Lovely clean cottage in beautiful peaceful setting. The bed is excellent and the hosts are welcoming and friendly but give you the space to enjoy the serenity.
Neil
2017-01-15T00:00:00Z
On arrival we were greeted by chance... Dave working on the property. It was nice to meet him and we felt very welcome. Their little house for guests is just gorgeous, so cosy, so chic, loved everything. Enjoyed flicking through several interesting coffee table books, my passion ! We love the area and the position of this little gem is right under Cathedral so the view is superb.. a little drink and nibble on the deck chairs in the afternoon is a prefect excuse to relax.... We'll be back ! Thank you for the beautiful flowers from your garden when we left... lovely to meet you both Leanne and Dave.
KIM
2016-11-12T00:00:00Z
The accommodation was amazing!perfect little cottage with amazing views in a beautiful area of the bush.very charming and cosy.the bed was comfy and the house decorated so nice.very close to incredible bush land with great walks nearby.hosts were very friendly and welcoming
Celeste
2016-09-25T00:00:00Z
Beautiful place. Lovely, quiet, peaceful and relaxing.
Niki
2017-04-02T00:00:00Z
Tipe Kamar
Seluruh rumah/apartemen
---
Tipe Properti
Rumah
---
Mengakomodasi
2
---
Kamar tidur
Taggerty, Victoria, Australia
On the fringe of the Yarra Valley, between the Cathedral Range and the Acheron River, rich with natural beauty and wild life. Centered on the 20 acre property, is the homestead and swimming pool amongst 3 acres of flowering and treed gardens. There is something to Wow all who visit. Luxurious accommodation, king bed, wood fire and 270 deg views. Cooked country breakfast included. Lunch, dinner dietary requirements available. Seasonal garden fresh produce. Wines and in house espresso coffee.
The ideal destination were you can just relax and enjoy the views. Or if you choose there is a vast amount of activities our property and surrounds has to offer. A swim in our solar heated salt water pool, a stroll to the river, or around the lake. Perhaps a little fishing or alfresco dinning. If you would like to step up the pace the walk to the top of the Cathedral Range, the view is breath taking. Many scenic walks and drives within 10 minutes, Lake Eildon is 20 min. Wineries, eateries, trout farm the list goes on. A detailed guide is in your room and we are happy to assist in any way to make your stay as comfortable and memorable as we can. As the Spanish say "mi casa es su casa" my house is your house
Tipe Kamar
Kamar pribadi
---
Tipe Properti
Bed & Breakfast
---
Mengakomodasi
2
---
Kamar tidur
Taggerty, Victoria, Australia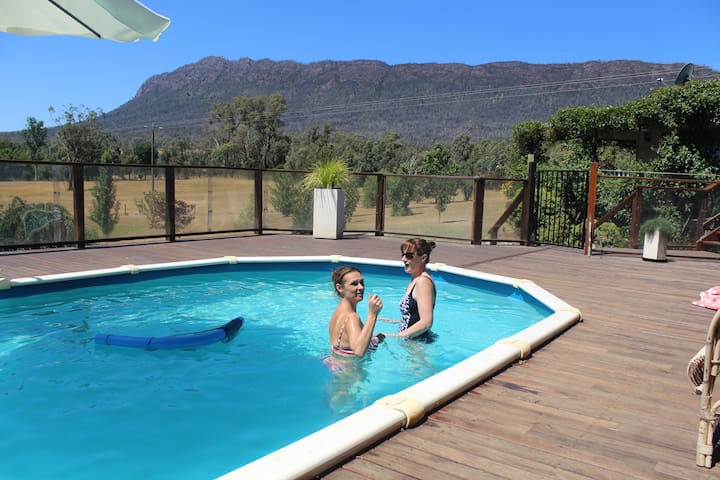 Dieses moderne, umweltfreundliche Haus neu gebaut (Dezember '15), komfortabel, gut ausgestattet, bietet Platz für fünf in zwei separate Schlafzimmer, verfügt über eine voll ausgestattete Küche und ist hell und sauber. Nahe der Stadt mit gemeinsamen Zugang zum Fluss. Er sitzt auf einem großen Block, in einer ruhigen Sackgasse mit schönen Land Aspekte. Große Wohn-und Deck, Holz / Elektro-Heizungen, eine Feuerstelle im Freien, Grill und Trampolin.
Sie genießen die private Nutzung unseres Hauses für den gesamten Aufenthalt. Wir bieten eine kinderfreundliche Haus mit Bücher, Spiele, Filme (alle Altersklassen), Trampolin, Feuerstelle im Freien (bitte alle totalem Feuerverbot Tage beachten) und einfachen Zugang zum Steavenson Fluss. Bitte lassen Sie das Haus, wie Sie es finden.
Entdecken ziemlich Marysville liegt in den Ausläufern des nächsten alpinen Resorts Melbourne. Nur 90 Minuten vom Melbourne in den Mystic Mountains. Marysville ist ein Reiseziel für alle Jahreszeiten und das Tor zum Lake Mountain für Langlaufen, Rodeln und andere Schnee im Zusammenhang mit Spaß! Marysville ist auch die Heimat der höchste Wasserfall in Victoria, fällt Steavenson. Besuchen Sie jederzeit (FOC), aber die Fälle sind besonders spektakulär, wenn Flut in der Nacht beleuchtet (bis 23.00 Uhr) Besuchen Sie eines der wunderbaren Cafés und Restaurants, beobachten Sie die Landschaft und vor Ort die verschiedenen Vögel, gehen Sie einen der vielen Wanderwege (von 1 Stunde bis einen ganzen Tag Wandern). Überprüfen Sie den Skate-Park und großen neuen Spielplatz aus, ein Picknick bei Gallipoli Park und verwenden Sie einen der vielen freien Grillen einen Sturm zu kochen, ein Spiel auf dem Sport Oval spielen, Mountainbike fahren in Marysville oder auf der MBT in Buxton ( 11 km). Genießen Sie ein Bad im Freien 25 Meter-Pool von November bis März. Spielen Sie eine Runde Golf oder testen Sie Ihre Stärke und Schwindel auf der nahe gelegenen Kletterwand oder einfach am Haus entspannen. Das Haus ist eines von drei in einer ruhigen Cul-de-sac, mit Zugang zum Steavenson Fluss am unteren Rand der Straße. Hochrot Rosellas, Kookaburras, Finken, Kakadus und Papageien König die Deck meisten vormittags und nachmittags besuchen. Sie NICHT die Kakadus füttern, da sie sehr zerstörerisch sind. Vogelbeobachtung in vielen Waldgebieten rund um Marys erfolgen. Die Vögel der Regenwälder gehören Pilot Vogel, Lyrebird, Seidenlaubenvogel, Whipbird Golden Whistler, Yellow Robin, Grau Fantail, Grau Shrike Thrush, Striated Thornbills, Gepunktet Panthervögel, Honigfresser, Gelb angebundener schwarzer Kakadus.
Ester provides a wonderful home away from home experience, great fireplace, clear information for the property/town/locality, 10 min walk into town centre and everything you need (info centre, food, restaurants, shops), comfy beds and great kids room, wonderful couch and awesome access to movies/tv. Communication great and there to contact if needed.
Tori
2016-08-15T00:00:00Z
My husband and I had a lovely two night break in Marysville. The accommodation had everything that we should need and it was cosy and inviting. Ester had written instructions for everything so that it was easy to settle in quickly. We will definitely be returning.
Victoria
2016-09-27T00:00:00Z
Lovely accommodation that is well equipped, clean and in a beautiful setting. Definitely recommend.
Tonya
2016-07-14T00:00:00Z
A great weekend, at at fantastic house which was comfortable, beautiful and welcoming! Thankyou Esther, definitely be back!! X
Kellie
2015-11-15T00:00:00Z
Fantastic house in a beautiful location. Ester was a fantastic host and went above and beyond. Definitely a listing to consider. Would stay at again
Jon
2015-12-06T00:00:00Z
Ester's place was delighful, it was cosy and well equipped. The interior design was thoughtful and you instantly felt like relaxing as soon as you entered. We had a great stay and will definitely use the space again
Carmel
2016-07-01T00:00:00Z
Fantastic little house and very warm when the wood heater got going. thank you!
Ee
2016-10-03T00:00:00Z
We had a great hassle free couple of days. There was nothing that was overlooked, and everything we needed was supplied. Loved the location. We look forward to going again we the kids so we can enjoy the fire pit outside. Thank you so much for all your care.
Lyn
2016-04-21T00:00:00Z
Tipe Kamar
Seluruh rumah/apartemen
---
Tipe Properti
Rumah
---
Mengakomodasi
5
---
Kamar tidur
Marysville, Victoria, Australia
寧靜與和平的叢林平房。清潔和舒適的複式與室外的座位和餐廳,以及私人入口打開直接進入茂密的叢林和草地的私人甲板/陽台。我的地方是偉大的夫妻,獨奏冒險家,安慰者和城市逃生。
我的地方坐落在馬里斯維爾和希爾斯維爾的兩個風景如畫的小鎮之間102英畝澳大利亞叢林中。有在最近周圍灌木和綠草許多步行小徑。外臥室的門,你會發現美景和澳大利亞動植物,包括小袋鼠,針鼴,袋熊,笑翠鳥,鸚鵡和我們的常駐鴨嘴獸的所有方式。 我在壁櫥提供一個私人房間,用大號床和充足的存儲/懸掛空間。 有9個步驟去達到你的臥室的私人入口,和7步往上走前門。
絕對華麗的領域!許多自然景點看到 - Steavenson瀑布和高山湖泊是一個短的車程,黑支線是隔壁,和歷史馬里斯維爾,並與著名的希爾斯維爾野生動物保護區非常古樸希爾斯維爾都是必看!亞拉河谷熱氣球和旅遊是美好的事物在這塊兒做,而在冬季Narbethong是一個偉大的門戶雪。
Mon's place is very special - it is off the beaten path in the middle of nowhere almost although it is actually in the middle of a health center so special rules apply. but you also get a special experience. Mon's tea and honey collection is extremely nice as was her lemon semolina :) Thanks!
Elvis
2017-01-21T00:00:00Z
A great place to escape for a break. The house is basic but very comfortable and very inviting and welcoming. The actual room was well presented although it is small and probably best for one person. Loved the verandah and going for walks around the property. Mon was very professional and also very sensitive to my news for space. There are kids living in the adjacent house which I thought might have been a problem but they were quiet on the whole andni enjoyed the gentleman guitar music that carried through the air. The house is on the property of a Christian health retreat. The energy of the area was healing and restorative. Mon goes the extra mile with bath salts and herbal tea and is available at any time to answer your questions. Mon provides brochures and maps of the surrounding areas if you want to adventure out, the black spur is stunning and it would be great to do some walking there if time permits.
Nicola
2017-01-28T00:00:00Z
Very nice host Excellent communications and flexible arrangements Excellent value and nice location
mick
2017-04-01T00:00:00Z
Mon is very lovely and easy going and situated in a gorgeous location! Wish we'd been able to stay for longer!
Hannah
2017-02-01T00:00:00Z
Mon's place is a great spot in a beautiful scenery. Truely one of a kind, as we couldn't find anything simular. The bed is fresh, clean and comfy. The breakfast was great and we even took it on the go. Would definitely recommend this place to anyone!
Bas
2017-01-04T00:00:00Z
Mon met me at the gate and I followed her car through the retreat to her place on an open hillside near the bush. It was the perfect setting for R&R and I loved exploring on long walks and seeing all the native birds that even came to meet me while reading on the balcony! It was a short drive scenic drive to get there and it felt very safe. Mon went above and beyond and also cooked the most amazing breakfast - lemon semolina - best brekky all year! The house is spotlessly clean yet super comfy. She really does have every flavour of herbal tea too. My only regret is I didn't stay longer...️
Jasmine
2016-12-29T00:00:00Z
Mon is super friendly, easygoing, great to talk to. The place is set within a beautiful community. She made us a healthy breakfast, and the local farmer gave us some produce!
Winston
2017-04-03T00:00:00Z
Very clean, quiet peaceful bushland location. Requires private vehicle to access neighbouring towns and facilities.
Carol
2017-03-25T00:00:00Z
Tipe Kamar
Kamar pribadi
---
Tipe Properti
Rumah
---
Mengakomodasi
2
---
Kamar tidur
Narbethong, Victoria, Australia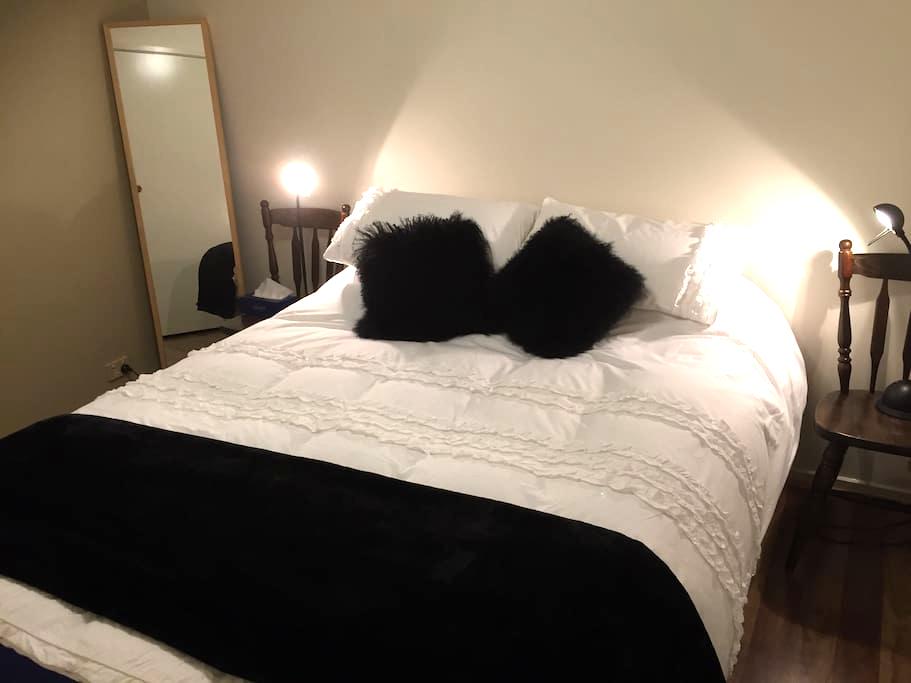 A rural retreat 99klm from Melbourne. Absolute river frontage. A private hideaway next to attractions including Mountain bike track, trout farm, meeting of waters, Lake Mountain/Marysville. The soothing sound of your own river frontage just steps from your cabin. Bridge seating for night lit river observation. Many options for this secret gem. Hosts happy to assist with any query by phone. Linen and Towels supplied.
With absolute river frontage and located just 100 klm from Melbourne CBD, this unique cabin is a perfect escape for a relaxing break. For a central base to Lake Mountain or Marysville (11 klm), it has the following attractions virtually at your doorstep; Picturesque walking/bike tracks past the driveway either around or to the township Walking/driving the beautiful Cathedral Mountain area (8 klm) Buxton Mountain Bike track - 500 metres from Rivers Edge, one of Victorias' best Meeting of the Waters picnic /fishing area (three trout streams coming into one) - 400 metres Buxton Hotel - 1 klm - all meals on menu can be take away to have back at the cabin Buxton Trout Farm - 1 klm - select your own fresh and cleaned fish to BBQ at Rivers Edge Lake Mountain - Biking and other activities during the warmer months, family fun in the snow in winter. Fishing the many streams of the district - Taggerty, Acheron, Steavenson rivers. But to just read a book, relax and have a bit of time out for yourself is probably the real charm of this hidden gem. At night you can sit on the bridge that has lights to see river activity, including a platypus at times.
Buxton is a lovely little hamlet located North East of Melbourne - through Healesville and over the scenic Black Spur. Interspursed with permanent and holiday residents, many city folk are unaware of the beauty it holds. Excellent Pies at the General store and good little country pub if required. However most of our visitors just want to stay at Rivers Edge and enjoy the "serenity"......
A lovely retreat by the beautiful sounds of the river and bird life.
Catherine
2017-03-26T00:00:00Z
Rivers Edge is gorgeous with a pretty little river running through the garden, so tranquil and stunning. With everything in the home and the garden to help and make it an enjoyable getaway. We loved it!
Rachael
2017-02-18T00:00:00Z
Tipe Kamar
Seluruh rumah/apartemen
---
Tipe Properti
Kabin
---
Mengakomodasi
4
---
Kamar tidur
Buxton, Victoria, Australia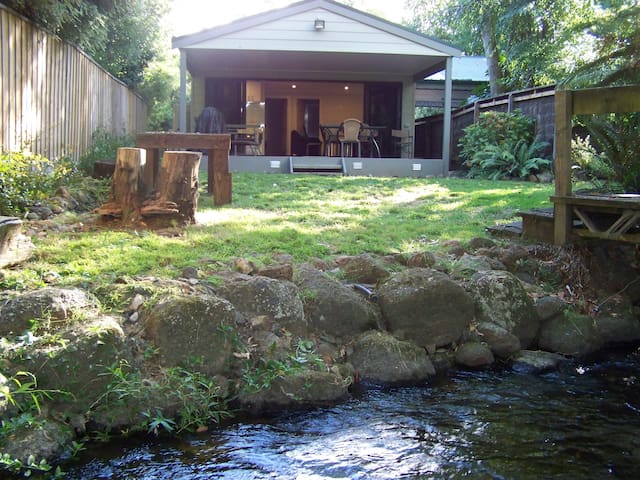 Located in the main street within easy walking distance to all local shops, cafes,restaurants and tourist attractions .Secure off street parking. Relax in the cosy surroundings or enjoy a bath while watching tv . All linen provided, kitchen facilities with tea, coffee,milk etc. Enjoy the use of our adjoining balinese style outdoor room with fireplace, tv and barbeque.The popular bike/rail trail runs behind the property. , Bikes , golf clubs and tennis racquets are available for your use.
We road the rail trail from Yea and arrived late afternoon - a little weary and hot. Robyn was there to greet us, and she provided a really friendly welcome, showed us where things were, how they worked, made some suggestions for dinner, and then left us to 'recover! Robyn's apartment is spacious, clean, really well appointed and comfortable. The great bath and the comfortable bed set us up for our next day's ride! Would really recommend Robyn's place for a stopover like ours.
Peter
2016-11-19T00:00:00Z
My wife and I stayed at this beautifully appointed apartment for 2 nights while riding the Great Victorian Rail Trail. Robyn and her husband gave us a warm welcome on arrival. The apartment is exactly as it is pictured and it had everything we needed with some unexpected extras which we really appreciated. We especially loved the deep bath tub with the flat screen TV. The location is a 2 minute walk to the centre of Yea. Great base to just relax, highly recommended.
Jonas
2016-10-29T00:00:00Z
Robyn's Retreat is quite simply a perfect destination for a weekend away. Every need has been catered for and considered in the beautiful spacious retreat.
Andrew
2017-03-18T00:00:00Z
Robyn's place is beautifully appointed, and close to everything you need. She is a welcoming and friendly host, and we had a very restful break from the hustle and bustle. One of our best airbnb's yet!
Lija
2017-04-02T00:00:00Z
No expense has been spared with this property. Very comfortable, huge TV's (incl. in bathroom and enclosed outdoor barbeque area). Excellent BBQ. Very smart bathroom. The place is spotlessly presented and with welcoming touches, incl. milk, tea, espresso machine, juice, butter etc. A very pleasant couple of days, apart from my lousy golf!
John
2017-03-14T00:00:00Z
Lovely self contained unit great for a weekend away
Lizzie
2016-11-26T00:00:00Z
Very accomodating. Definitely recommended stay
Stephanie
2017-01-14T00:00:00Z
Robyn's place exceeded my expectations! The pictures do not do her place justice. It felt very clean, welcoming and relaxing. Everything from the comfort of the bed, the outdoor area and bathtub made our experience memorable. Robyn was a wonderful host who welcomed us and showed us the place. She provided us with everything that we could need in the home from kitchen supplies and breakfast goodies, down to details such as candles for the bathtub! We were very surprised and thankful with the resources that were available for us in the home. My best airbnb experience yet!
Carmelle
2016-12-03T00:00:00Z
Tipe Kamar
Seluruh rumah/apartemen
---
Tipe Properti
Apartemen
---
Mengakomodasi
2
---
Kamar tidur
Yea, Victoria, Australia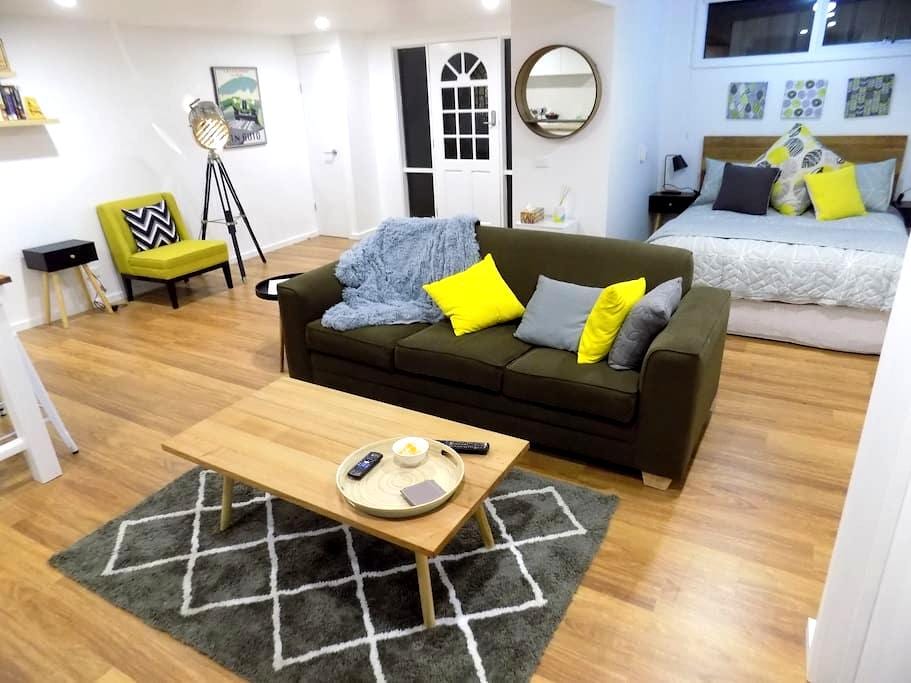 The straw bale structure makes you feel warm and secure. One large room with open plan kitchen and comfortable bed, shower with sustainable compost toilette in seperate room as part of the same structure. Stunning views onto surrounding hills of the Yarra Valley in a peaceful rural setting. Enjoy Earth Mud Straw as a place with a difference, or two.
You can just make out the neighbours houses in the distance. My house is about 50 metres away from the accommodation, which is all within 1acre of my property.
We had such a lovely stay. So peaceful and a great base for exploring the local area. Nice and quiet without a television. Sabine was very welcoming and our children loved playing with her children. We would definitely recommend
Charlotte
2016-08-01T00:00:00Z
Like many who have watched programs like Grand Designs, I have a fascination with sustainable buildings like those built out of straw. So naturally I jumped when I noticed Sabine's cottage on Airbnb when I was planning a trip passing through Healesville. We were not disappointed. We even happened to find the photo album which recorded the building progress and it answered some of our questions about the origin of the building and the process.
Arthur
2016-11-13T00:00:00Z
We had the most lovely stay here! It really is just so beautiful and Sabine is lovely and very helpful. It's relaxing and such a cool Eco cottage with everything you need. We had our little 6 month with us and she slept soundly and boy was it nice to have no TV, we talked and listened to music and were present with our little one, so nice to escape city life. We will definitely back
Claire
2016-04-05T00:00:00Z
Sabine made us feel very welcome! She and her girls were lovely and gave great recommendations for things to do in the area. The studio was great, the facilities were all new and well-maintained. We would definitely come back next time we're in Healesville.
Cassandra
2016-06-27T00:00:00Z
A wonderful place to come and hide and relax!
Cameron
2016-09-03T00:00:00Z
We had a magnificent stay in the cosy, earthy, mud brick cottage and compliments to Sabine and family for the warmth and charm the building brings to its guests. The cottage is punctuated with lovely touches by our host such as vases filled with fresh flowers; bush scented hand and body lotion; numerous candles to set the mood; hot chocolate and even local chai. These little things added to a fully stocked home away from home. We would not hesitate to recommend this lovely cottage to anyone seeking a true country experience.
Mark
2016-04-18T00:00:00Z
Unique cosy little house. Beautiful views and only 3 min drive into the center of town. Amazing place! Will be recommending to family and friends :)
Tara
2016-08-07T00:00:00Z
Sabine was a wonderful host giving us freshly foraged vegetables from the garden for our dinner! The cabin was lovely and we were lucky enough to have a visit from the farmers dog :) Having the option of two decks was awesome and the electric blanket was a welcome addition. Thanks Sabine for a great stay!
Jessica
2016-05-16T00:00:00Z
Tipe Kamar
Seluruh rumah/apartemen
---
Tipe Properti
Rumah
---
Mengakomodasi
4
---
Kamar tidur
Healesville, Victoria, Australia
Wonderful friendly hosts, beautiful house and the best bed that I have ever slept in. Had a lovely dinner and huge breakfast. Loved the views from our bedroom looking over the Cathedral Ranges. Would definitely stay there again.
David
2016-02-08T00:00:00Z
Thanks for a great stay. We couldn't have asked for anymore. You're great hosts and you have such a lovely warm home and stunning view! Thanks
Neil
2015-07-13T00:00:00Z
My partner and I could not fault our stay. Everything was wonderful, the view from the room, the extremely comfy bed, the delicious breakfast to name a few. Sue and Pete were lovely and went above and beyond looking after us. We will be highly recommending this accommodation to all our family and friends. We will return soon and look forward to playing with the very cute Riley and Jack!
Sarah
2016-04-26T00:00:00Z
This was my first airbnb experience and what a lovely experience it was! Sue and Pete were welcoming, friendly and helpful hosts. We took on Sue's offer to have dinner in and what a treat it was. The meal cooked by her and Pete was delicious. The food offered for breakfast was just as wonderful. The view surrounding the house is beautiful and provided a sense of serenity. It really felt like a peaceful escape from the buzz of city life. The house has been built beautifully and the new facilities were amazing. The bathroom felt like we were in a 5-star hotel and the bed was incredibly comfortable. It was difficult to get out of it in the morning because it was warm and just so soft. There is a wood fire which was perfect during a winter's night and day. We were able to have our own private space, but it was also just as easy to have a chat with Sue and Pete. They provided a lot of insight around the area and gave great advice about where to go for food and visits. Thank you so much for the generous hospitality. If we ever head up there again, and I'm sure we will, I know where we'll be staying for a refreshing weekend away.
Chia Yee
2015-07-26T00:00:00Z
Excellent hospitality, clean, comfortable and relaxing accommodation. Highly recommended!
Lachlan
2015-08-24T00:00:00Z
Drom Aluinn is a lovely place to stay. Sue and Peter we're welcoming and helpful. We were the only guests. The front room is large and clean, views fantastic (we spent our time sitting out on the veranda enjoying a drink) and common areas very comfortable. It would feel more like a home stay if there were other guests. We had our meals there, the servings were large, simple and enjoyable.
Christian
2015-11-03T00:00:00Z
The first thing you notice when you arrive is the jaw dropping view. Followed closely by some of the friendliest and curious puppy dogs coming to say hello. Both Sue and Pete were very friendly and accomodating for any of your needs. The peace and tranquility of the property are intoxicating, making relaxation effortless. The home grown produce made for an amazing dinner and breakfast. Would not hesitate to book again and highly recommend Drom Aluinn to anyone looking for time away from the hustle and bustle of everyday life. 10 out of 10.
Casey
2016-03-23T00:00:00Z
Our one night with Sue and Peter was wonderful, great room ( fantastic shower) enjoyed a lovely glass of red with fellow guests under the stars! Gorgeous view out to cathedral ranges and the best morning breakfast and coffee! We had a fantastic scenic drive around lake Eildon. Thanks guys we will definitely be back. Cheers Emily & Jason
Emily
2016-03-16T00:00:00Z
Tipe Kamar
Kamar pribadi
---
Tipe Properti
Bed & Breakfast
---
Mengakomodasi
2
---
Kamar tidur
Acheron, Victoria, Australia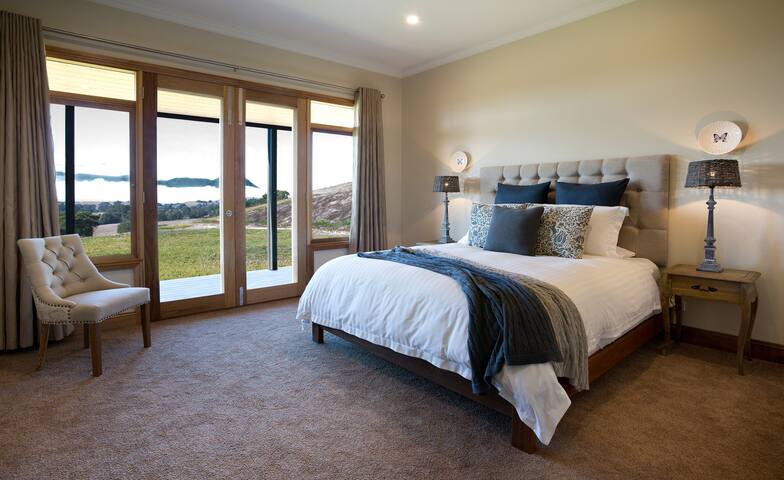 Experience the Victorian countryside's lush natural habitat - winding country roads, rolling hills, wineries, cycling and walking trails, just a short 65km drive north of Melbourne. A beautifully appointed quiet sun-lit rustic guesthouse. Featuring a private bedroom with two queen sized beds, bathroom, kitchenette, library, heating and air-conditioning, in addition to an outdoor cooking area within a private deck, miniature herb garden & sumptuous paddock and bushland views.
Escape the hustle and bustle. Our Guesthouse was created as a private serene space where guests can experience the colourful greenery, rolling hills and natural light that floods into the neutral interior. The private deck too was designed to mesh with the surrounding environment and to maximise the view across the forty acres of lush bushland, complete with an outdoor wood fired chiminea for the colder months. The large beautifully appointed bedroom - with two queen sized beds european panel heating & air-conditioning - is a serene space featuring the simplicity of plywood walls, bamboo timber flooring but still with a country feel. (Please note, the bedroom and the kitchenette both open out to the deck and are joined only by the covered area. Going from the bedroom to the bathroom for example, means you will be stepping out to the deck, walk 2 metres to the kitchenette and through to the bathroom, as there are no connecting doors). The bathroom, with European panelled heating, and the kitchenette, both situated off the private deck, have a contemporary sleek design with handcrafted cedar and blackwood finishes. The Guesthouse features an outdoor wood fired Chiminea, outdoor gas heater, coffee pod machine, microwave, a modern gas BBQ, an electric plug in hotplate, toaster, kettle, crockery and cutlery, in addition to a washing machine and refrigerator. Winding country roads, magnificent walking trails within the National Park and a local winery at our door are but some of the features of the area. Our Guesthouse is the ideal bush retreat for people seeking a quiet country getaway or digital detox, not too far from the city but close enough to Yarra Valley's finest wineries, restaurants and numerous other activities.
We are situated within the National Park and many walking trails are at our doorstep. There are two pub-style restaurants within a 10-15 minute drive of the Guesthouse, however, if you're happy to drive a little further, you shall find countless award winning restaurants and wineries within the surrounding Yarra Valley. Philip Lobley Wines and Wild Crust Bakery (Commercial Bakery) are situated across the road and can be visited by appointment (please ask me for further details). Walking and cycling tracks are located throughout the National Park, in addition to numerous beautiful horse trails. Yering, Healesville, Yarra Glen, Yea and Toolangi to name a few, are all within a 25 minute drive of Glenburn.
Très bon court séjour dans le bush, malgré un temps pluvieux, agrémenté par l'accueil chaleureux et la bienveillance discrète de Kate et de son compagnon. Le passage de la chambre à la cuisine-sdb se fait par l'extérieur via une terrasse couverte et protégée du vent, un peu déroutant au départ mais les deux portes avec moustiquaire protègent des mauvaises surprises. A recommander pour une étape au vert.
Pierre & Nathalie
2016-12-26T00:00:00Z
Very comfortable & private retreat from city life. Really loved watching the local bird life and the sunset behind the hills. Comfy large beds & delicious eggs & bread for breakfast a bonus!
Hannah
2017-02-17T00:00:00Z
A truly relaxing, serene escape in a beautiful rural setting, this accommodation offering provides comfort, raw minimal aesthetics and a sense of seclusion for recharging of the urban batteries.
Giosuè
2016-05-23T00:00:00Z
Thank you Jon and Kate for your hospitality and a lovely weekend stay. The views and house was just as pictured and described — absolutely magnificent! Kate's food and activity recommendations were spot on! We had a lovely sunset dinner and wine at Meletos. The inclusion of a stocked fridge with fresh sourdough, spreads and juice was a perfect way to start our Sunday walk down Yea River and Mt Sugarloaf. If you're looking for an easy getaway from Melbourne, we would definitely recommend this Airbnb and region.
Timothy
2016-12-04T00:00:00Z
Clean and tidy & very helpful host. Lovely spot away from any major roads. Fridge also stocked with nice local produce for breakfast
Dimitrious
2017-02-26T00:00:00Z
Kate was very warm and welcoming. A very tranquil setting.
Jon
2016-09-07T00:00:00Z
Spent only a night at Binah Guesthouse, another night would've been nice as it's so peaceful there. Our booking process and communication with Kate was smooth. John was there when we arrived to show us around. Heaters were on which made it very cozy, comfy beds for a good night's sleep and very nicely decorated too. Everything was as per our expectations and better. A really lovely place to relax and enjoy country side. Perfect for anyone wanting to get away.
Jelena
2016-07-17T00:00:00Z
This place is wonderful if you need to get away from your busy life, and for any other reason! The house is cozy, comfortable and has everything you need. Outside you'll find lot of birds who are fun to watch, cute horses and a sheep. And occasionally one of the cats will come to check you out. Kate is a lovely host, she is very kind, helpful and easy to communicate with. We loved staying here!
Ida
2017-01-23T00:00:00Z
Tipe Kamar
Seluruh rumah/apartemen
---
Tipe Properti
Bed & Breakfast
---
Mengakomodasi
4
---
Kamar tidur
Glenburn, Victoria, Australia
鹰巢是10英亩触及历史的热带雨林的珍稀独特的手工制作的日志小屋。此属性提供了总隐居和隐私。随着看法是这个世界的我们,你可以选择在温泉或明火的地方坐下。沿着黑地理位置优越,坐落支线是游览亚拉河谷的葡萄酒厂或山下湖的冰雪领域的理想基地。
令人难以置信的木屋与您需要在那里的一切设备齐全。所有的床单,毛巾包括spa毛巾都包括在你的包。您可以通过开放式壁炉享受葡萄酒一瓶当地坐,或者你可以选择在甲板上外面坐着看壮丽景色。
Sensational host and property. If you are looking for a relaxing getaway with luxurious amenities, I could not recommend this place more. Cath makes your stay welcoming and provides heaps of additional advice and services to make the stay comfortable. By far the best Airbnb I've stayed at.
Rachel
2017-02-06T00:00:00Z
Cath is a welcoming host and very helpful. Communication was excellent at all times which made our check in and stay seamless. The property is exactly as described and pictured. From the moment we stepped inside we felt at home. The facilities and cleanliness are excellent. The location and the view are breathtaking which all added to our wonderful family weekend. Thank you Cath for your hospitality and assistance throughout the experience.
Lisa
2016-02-29T00:00:00Z
The Eagles Nest is an idyllic holiday location for couples or small groups. The views were breathtaking and were very much complemented by the luxurious log style chalet. Cath's attention to detail, down to the handwritten welcome note made the stay feel even more homely. With the outdoor spa and a large open fire place ready to be set alight, it was easy to be transported to the likes of a far off destination.
Kiera
2017-04-04T00:00:00Z
Cath was a wonderful host right from the start. Communication was a non issue with Cath keeping me up to date with recent changes to the property (fence around the spa) and ensuring that we all had the Fire Ready app. Clear directions were given to the property as it would of been difficult to find - the bottle of bubbles was an added bonus. I would suggest - if possible to arrive during daylight hours as the driveway is long, and quite steep. The property itself was as described, very clean and comfortable. The view from the deck is beautiful, the spa was perfect.
Laura
2016-01-18T00:00:00Z
Eagles Nest is even more magical, romantic and spectacular then the photos suggest. It's a genuine log cabin perched upon a great height, looking out across magnificent views, presenting a vantage point of changing sunrises, sunsets and colour and light plays. There is a total sense of separation from the outside world, with a massive property, sufficiently cleared for space but still surrounded by trees and bush. The house itself has everything you want, complimented by an open design that still manages to provide different spaces for different occasions - a nook, a lounge, a dining area. This house would suit friends spending time together over dinner and conversation, families getting away, or a romantic escape. I highly recommend Eagles Nest AAA+++, and to top if off, Cath is an amazingly professional, fast, warm and friendly communicator. Amazing all around!!
Gareth
2017-03-12T00:00:00Z
I rented Eagles Nest for two days when my family visited Australia from Scotland. They had a great time in Australia, but all agreed that their stay at Eagles nest was by far the best experience they'd had whilst over here. The photos don't do justice to the picturesque mountainside home and it's surrounding grounds, it really is stunning. It's hard to pick our favourite thing from our stay: relaxing in the sun with mountain views; watching the sunset with some champagne in the hot tub, or enjoying a whiskey by the log fire on a cool evening. Couldn't recommend enough. I'll definitely be staying here again in the future. Oh, and Cath was the perfect host. Easily contactable by mobile at all times, and very helpful with any questions we had.
Shane
2017-02-25T00:00:00Z
Eagles Neat is the most beautiful spot and by far the best air bnb experience I have had . Cath was a pleasure to deal with eight from the get go . Thanks a mill !
Eloise
2016-02-01T00:00:00Z
Wow. Just wow. Eagles Nest is an absolutely stunning cabin that offers complete privacy and breathtaking views. It's hard to describe the beauty of the surroundings, which can be enjoyed in the hot tub on the deck. On top of this Cath, the owner, is an excellent communicator who's only too happy to make the experience a memorable one (she organised champagne and a mud cake on arrival for my wife's birthday). Cannot recommend this place highly enough. We will be back!
Jonathan
2016-05-10T00:00:00Z
Tipe Kamar
Seluruh rumah/apartemen
---
Tipe Properti
Kabin
---
Mengakomodasi
6
---
Kamar tidur
Narbethong, Victoria, Australia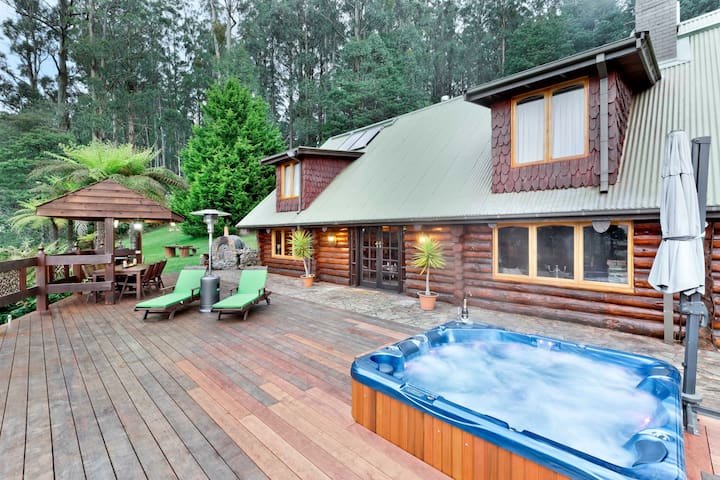 欢迎来到我的小屋适合情侣,独奏探险,商务旅行者。我们也有谁不介意孩子们在休息室睡觉年轻家庭躺椅和脚轮。 (注意,您必须把床单和为沙发床和滚动亚麻毛巾,毛巾只有两个)。
山寨与皇后床和浴室舒适的,单人卧室。它也有茶,咖啡和烤面包设施的独立休息室。小屋设有卧室和客厅循环加热和吊扇。
刚刚从马里斯维尔通往山下湖雪领域的道路。这是一个伟大的小屋占地15英亩的设置,是探索捕鱼机会步行道和山地自行车运动机会的理想场所。探索在该地区的酒吧和伟大的咖啡馆和餐馆。散步到史蒂文森瀑布,赶上在巴克斯顿鳟鱼养殖场鳟鱼,或者在Marysville的高尔夫粗高尔夫球击。
Fantastic location. Quiet with gorgeous wildlife. Recommend for a weekend getaway - especially if you want to golf at the Marysville Course close by.
Lee
2017-03-18T00:00:00Z
Lovely spot, very quiet, relaxing, and pretty. Cosy comfortable stay.
Sonia
2017-01-29T00:00:00Z
David sent full information and directions so check in was a breeze and he was available by phone if needed. The cottage is quaint, and though space is a bit tight, everything we needed was provided. Enjoyed the rustic location and feel.
Jenny
2016-10-30T00:00:00Z
David was very responsive and his lodge was so cozy on a very beautiful farm. Loved meeting the colourful birds, rooster, chickens and cattle. Great value for money and had a nice time up lake mountain was a 25 min drive
Simon
2016-08-28T00:00:00Z
We thoroughly enjoyed our stay in the cottage. David was very helpful with any questions I had and the property was perfect for a little getaway
Sam
2016-09-13T00:00:00Z
Great little cottage. Comfy and very clean. Great base to explore the local trout fishing. Definitely recommend.
John
2016-09-18T00:00:00Z
The place was really beautiful and nice and private. The lake next to it was amazing. Mornings felt really fresh and it was very pleasant. The kitchen was well maintained and everything was available. They had a complementary wine and chocolates for us. Coffee pods and in room entertainment just added more excitement to our stay. I wish I knew fishing. Heaps of dvds available to watch, watched 8 movies during our stay. Highly recommended
Nakul
2016-07-22T00:00:00Z
Absolutely gorgeous cottage. The surroundings are so quiet and amazing. We spent the weekend exploring the local area which was wonderful.
ebonie
2017-02-12T00:00:00Z
Tipe Kamar
Seluruh rumah/apartemen
---
Tipe Properti
Kabin
---
Mengakomodasi
2
---
Kamar tidur
Marysville, Victoria, Australia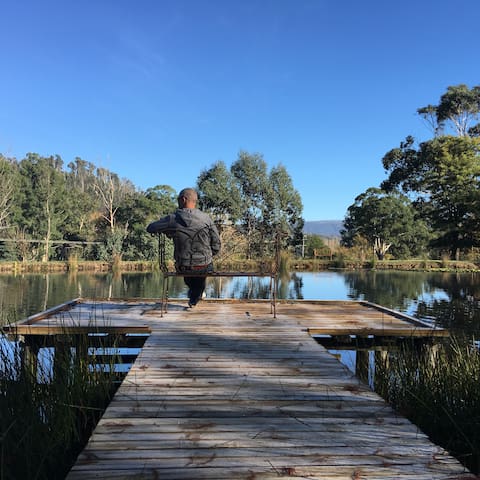 Great to have own kitchen and sun area. Firm bed. Friendly dog. Recommended
Philip
2017-03-10T00:00:00Z
Friendly hosts and simple but comfortable and quiet accommodation in a very beautiful garden setting. I was pleasantly surprised by Alexandra - it's a very pretty town and close to Lake Eildon and the Goulburn River.
stephen
2017-03-10T00:00:00Z
Jodie was so easy to deal with and at such short notice Highly recommend
Pete
2017-04-06T00:00:00Z
Very friendly The bungalow is well equipped and is walking distance to the shops and restaurants
Christine
2017-03-22T00:00:00Z
No surprises. Everything was as expected with the town centre within easy walking distance. I would stay here again.
Jon
2017-03-05T00:00:00Z
Tipe Kamar
Seluruh rumah/apartemen
---
Tipe Properti
Bungalo
---
Mengakomodasi
3
---
Kamar tidur
Alexandra, Victoria, Australia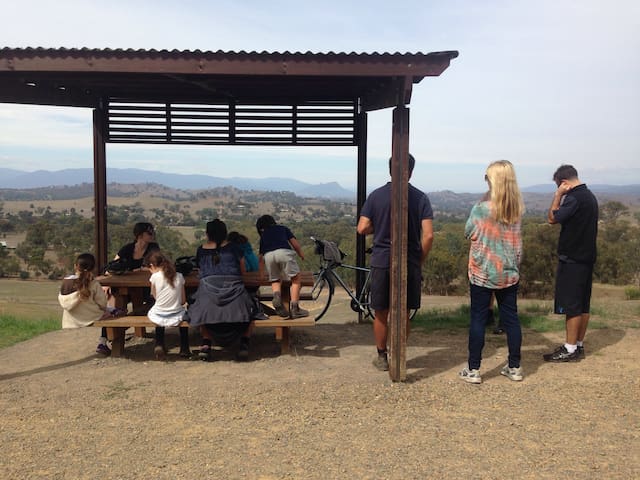 Only 5kms from Healesville, Minkara offers peaceful surrounds only minutes away from the finest restaurants, cafes, wineries and some of Victoria's largest tourist attractions.
Minkara Homestay is a self-contained studio style setup in the idyllic Yarra Valley in Victoria, offering comfortable accommodation close to Healesville and its popular wineries, restaurants and cafes, National Parks, Healesville Sanctuary, RACV Club, Yarra Valley Chocolaterie and Ice Creamery and racetracks. Minkara offers stylish open plan living with a fully equipped kitchen, a double bath designed for 2, and breathtaking views on 10 acres. An ideal romantic getaway or a place to relax, Minkara Homestay is LGBTI friendly. We are NOT a bed and breakfast so we don't provide food (there is tea and coffee). We do however provide a fully equipped kitchen including oven, stove, microwave and dishwasher. The local supermarket (Coles) is open til midnight and there is an organic farmers market on every Saturday morning until 1pm, or just head down into Healesville and enjoy some of the fantastic local cafe's and restaurants. The cabin is heated by a full size Coonara wood heater which is your only source of heating (please ask for assistance if you do not know how to light the fire) and there are fans and an evaporative cooler for summer. There are loads of bicycle and walking tracks nearby. We have bicycles you can use, or you can laze around our property and admire the scenery, wildlife, including kangaroos, echidna and our horses. We have adequate paddocks for you to bring a couple of horses. Riding is straight out from the property.
Minkara Homestay is in Chum Creek which is only 5kms from Healesville. The neighbourhood is very peaceful, friendly and full of wildlife, yet close to all the conveniences of fine food, wine and culture. Within a short drive there are National Parks, Healesville Sanctuary, RACV Club, Yarra Valley Chocolaterie and Ice Creamery, amazing wineries and restaurants, galleries and racetracks. There is a place to swim in the Yarra River at Everard Park, only about 8 minutes drive on the Melba Highway on the right just after Rochford Winery (if travelling from Melbourne)
Place was exactly what we expected. Homely little cottage in a bush scene surrounded by animals. Host was kind enough to start the fire prior to our arrival which was great as it was warm when we arrived. Comfy bed and huge bath easily big enough for two. Only regret is we didn't stay longer!
Luke
2016-11-05T00:00:00Z
What a beautiful place to stay! The fire was on when we arrived and the surroundings were amazing! Just what we needed! Thank you Kerrie for making our stay so delightful
Dallas
2016-09-08T00:00:00Z
What an amazing getaway! Beautiful little cottage, set amongst such wonderful surroundings. Everything was exactly as stated, in fact we thought it was even better than described. Log fire on when we got there and were greeted by kangaroos, horses, kookaburras and rabbits in the first 5 mins! Thank you for a wonderful mini break Kerrie and Paul. We will definitely be back!
Brooke
2016-09-10T00:00:00Z
We had a very relaxing 5 days at Minkara. Kerrie was quick in answering questions and was so kind to cone over to tell us that they discovered an echidna on their property. We really loved seeing one, although our little boy was maybe more interested in the dog The location is very central and there're many things to do around also with a toddler. The cabin was perfect for the three of us with a lot of space to play.
Wendy
2016-12-30T00:00:00Z
Great little place with nice views, very comfy bed
paul
2017-02-04T00:00:00Z
We stayed for one night after an afternoon at A Day on the Green at a nearby winery. Lovely modern space on a peaceful property. Cosy fireplace, luxurious bath, great kitchen. Perfect size space for a couple. Kerrie and Paul are thoughtful hosts who made us feel very welcome. Highly recommend staying here for your visit to Yarra Valley.
Brodie
2016-11-27T00:00:00Z
Kerrie wasn't home when we arrived but left the cabin open on and the fire going for us which was awesome and much appreciated. The cabin was spacious and had everything we needed, bed was super comfy and the fireplace meant the space was toasty warm. Location is great, just a short drive to healsville town cente and yarra valley wineries. Loved the awesome bath too! Thanks guys :)
Julia
2016-08-06T00:00:00Z
We had the perfect weekend getaway at Minkara! The fire was cosy and the bath was beautiful. Just far enough from the city and nice and close to all the wine and cheese! Kerrie and Paul were great hosts and Gary the goat was also a nice addition.
Laura
2016-06-20T00:00:00Z
Tipe Kamar
Seluruh rumah/apartemen
---
Tipe Properti
Kabin
---
Mengakomodasi
2
---
Kamar tidur
Chum Creek/Healesville, Victoria, Australia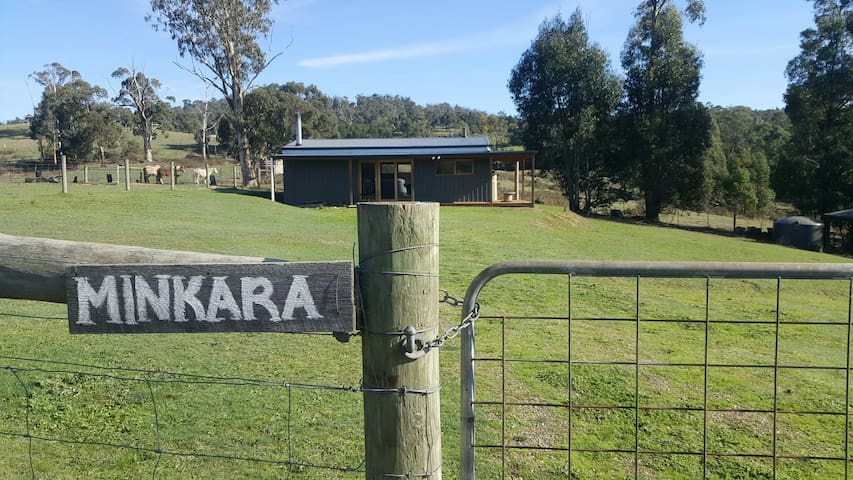 Forest Lodge is a peace of paradise within minutes of the iconic country township, the famous animal Sanctuary, and picturesque Maroondah Dam. This is everything you need to unwind, relax and be close to everything our town has to offer. Superb!
ONE NIGHT STAY ARE AVAILABLE BY REQUEST ON ALL WEEK NIGHTS Sunday-Thursday. ALSO on any pockets on calendar were only 1 night is left available. 1 NIGHT WEEKEND STAY ARE AVAILABLE- We charge $300 per night for a 1 night stay on Friday or Saturday for up to 4 people. An extra $20 per person after 4 people. Max 6. Infants not included. You will need to request the night for approval. BED CONFIGURATION: ROOM 1-Private Room 1 queen size bed. ROOM 2- Bunk bed With a single up top and double on bottom.(URL HIDDEN)Addition single bed. *NOTE- We have 2 additional slim line mattresses that are available to be set up for children. An additional charge of $10 (to cover laundering) ALL BEDDING LINEN and towels are supplied for your ease of stay. KITCHEN: Stove top cooker only, and MINI oven, Microwave-Full size fridge,Tea and coffee provided Breakfast basket can be supplied for an additional charge.
Forest Lodge is nested in the most beautiful location. Minutes walk to tranquil bush walks and national parks. And internationally famous Healesville Sanctuary.
My family and I had a very relaxing and peaceful stay at Forest Lodge after attending a funeral for a loved on. Paige was extremely compassionate, flexible with arrangements and made us very welcome and comfortable. The Lodge is clean, well appointed, and has a seriously good couch for relaxing with a red wine! We all slept well and enjoyed a coffee as we walked the large garden in the morning. This was another terrific AirBnb experience. Thanks very much for your generous hospitality Paige, we'd love to come back again.
Shannon
2016-12-01T00:00:00Z
Thanks to Paige and family for being such a good host. Paige had good communication with us n make sure we had a very comfortable stay. The place is cosy n there were some books n games on the shelves too. They are very friendly people n my kids love to play with theirs. Love to be back again if there is a chance :)
Joanne
2016-11-28T00:00:00Z
Paige's place had a quaint and cosy vibe. Nice and neatly decorated, we enjoyed our stay at the Forest Lodge. It was unfortunate the the reservoir dam was closed due to the storm in the past weeks. Would recommend our friends to book her place should they visit Healsville!
Debbie
2016-10-23T00:00:00Z
Comfortable and well set out with big rooms. Stylish and clean. Host friendly and easy to communicate with.
Janelle
2016-09-27T00:00:00Z
This place has some real upsides - but there are also some faults that mean I wouldn't stay here again. Paige was great to deal with - friendly communication, lots of information, went out of her way to be helpful without being intrusive. We did have one weird issue - after we left Paige contacted us and said that a bed (that she said was unused) had texta on the sheets (that were brand new). She asked us to pay $25 to go towards replacing them. I paid because it was easier than arguing - but I feel a bit odd about the whole thing. The location next to Maroondah Reserve is beautiful - but it is only metres from the highway which got noisy early in the morning. The actual unit is spacious and clean. It was freezing inside when we arrived and the heater took a long while to warm the place up. The couch and chairs were terrible - which meant there was nowhere comfortable to sit and relax. The couch was so bad it was better to sit on the floor
Simon
2016-07-16T00:00:00Z
The host canceled this reservation 46 days before arrival. This is an automated posting.
Christine
2016-01-04T00:00:00Z
Forest Lodge is gorgeous and was perfect for our needs. We were 2 families - 4 adults and 2 3yo girls and the little guest house had everything we needed. The house was well heated so we were nice and cosy, but plenty of extra blankets were available. Communication was easy and our hosts were lovely. No oven, but stovetop, microwave and large fridge with ample cupboard space. Great location - easy to Healesville, the reservoir, wineries and Marysville only a half hour. Thanks Paige!
Tara
2015-07-05T00:00:00Z
Forest Lodge was ideal for our stay in Healesville. The apartment was great & we (my partner and I with our two kids, aged 6 and 4) were very happy with it. Paige and Dan (and their two kids who showed ours around :) ) were very welcoming and helpful. Thanks guys!
Anina
2016-01-06T00:00:00Z
Tipe Kamar
Seluruh rumah/apartemen
---
Tipe Properti
Rumah
---
Mengakomodasi
6
---
Kamar tidur
Healesville, Victoria, Australia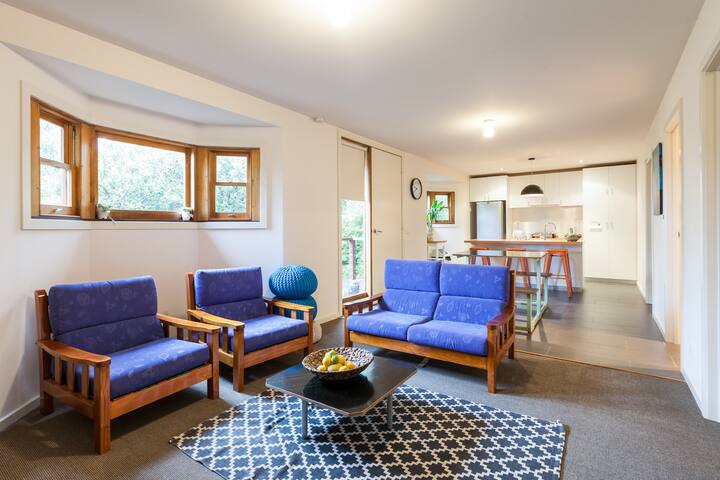 Attached to the main house but totally private - huge stunning deck with views to die for. Great for a couple or young family, within 5 minutes drive of Healesville and a short drive to all the amazing restaurants and wineries of the Yarra Valley. Feed the colourful native birds on your private verandah! King parrots, rosellas, galahs, and cockatoos are frequent visitors to name a few. Seclusion, peace & privacy.
Charming self-contained luxury studio, with its own private entrance, parking spot, stunning deck overlooking 2.5 acres of magnificent gardens & natural bushland. Come and go as you please. Peace, nature and simplicity at it's best. All linen supplied. Basic cooking facilities; microwave, toaster, kettle, teas, coffees, fridge and cutlery/crockery (no oven/stove top). We are in a beautiful spot, on the edge of the Yarra Ranges National Park, just behind Maroondah Dam and Donnellys Weir, hence the great walks and cycle routes nearby. One hours drive from Lake Mountain where you can frolic in the snow over winter - an easy day trip! Feel miles away, but only 2 minutes drive from the thriving country eclectic town of Healesville in the heart of the Yarra Valley. Enjoy a bottle of local Yarra Valley wines on your large, private verandah, or if you're after something more active, why not bring your bikes or walking shoes and explore some of the stunning forest trails. You can even sit out in the evening under the stars and gum trees around own bonfire in the garden (in accordance with fire restrictions). "My stay was excellent, we really enjoyed it. Everything was really well done. Beautiful location - and the bird seed was a nice touch!" by James Campbell, The Herald Sun.
Continue on our road away from town, up the mountain to experience one of the most beautiful drives in Victoria, via towering gum trees, ferns and gullies. Extremely popular with cyclists! Healesville's diversity and multitude of things to do around this beautiful area provide so many opportunities for day trips; Wineries, Healesville Sanctuary, Chocolaterie, Blueberry farm, Hedgend Maze, boutique shopping, National Parks and Forests, Maroondah Dam and Healesville Tourist Railway to name a few. We also have a cottage next door for your extended group (up to 7 people), see Exotic Forest Edge Sanctuary.
Great decor, clean and fresh and surrounds peaceful. The verandah was great to sit out in and watch the birds.
Lynne
2017-04-08T00:00:00Z
Good communication and instructions.
Wendy
2016-12-10T00:00:00Z
The accom served our purpose, it was comfy, clean and private. Chris's communication was great, including clear directions to find the property. We left something behind but Chris messaged us while we were still in the area so we easily doubled back to get it.
Emma
2016-11-28T00:00:00Z
Lovely studio. Love the view. Friendly host. Recommended :)
Ee Wei
2016-03-23T00:00:00Z
The Splendid Wren is in a beautiful little spot very close to the town centre. The studio was lovely and Chris was beyond helpful with his local tips and spots to check out for food. The decking out the back was a particularly serene spot and it was lovely sitting out there with some local wine and cheese.
Josie
2017-01-04T00:00:00Z
This was a fantastic location for quietly enjoying the bush. The accommodation was clean and welcoming with everything we needed for our overnight stay.
Paul
2016-01-27T00:00:00Z
We had such a wonderful time staying here. Chris was a fantastic host, extremely friendly towards us and offered suggestions of places to visit. The apartment is exactly as described and was the perfect getaway, with everything provided and set in a beautiful environment. Tea on the balcony to the sound of birds and the smell of fresh country air was exactly what we needed to relax and unwind. Place is perfectly located a few minutes from the main town of Healesville and a very short drive to wineries and National Parks. Many thanks for an enjoyable stay. Anthony.
Anthony
2016-10-31T00:00:00Z
The place was fantastic and Chris was a great host. Would come again.
New
2015-11-23T00:00:00Z
Tipe Kamar
Seluruh rumah/apartemen
---
Tipe Properti
Apartemen
---
Mengakomodasi
2
---
Kamar tidur
Healesville, Victoria, Australia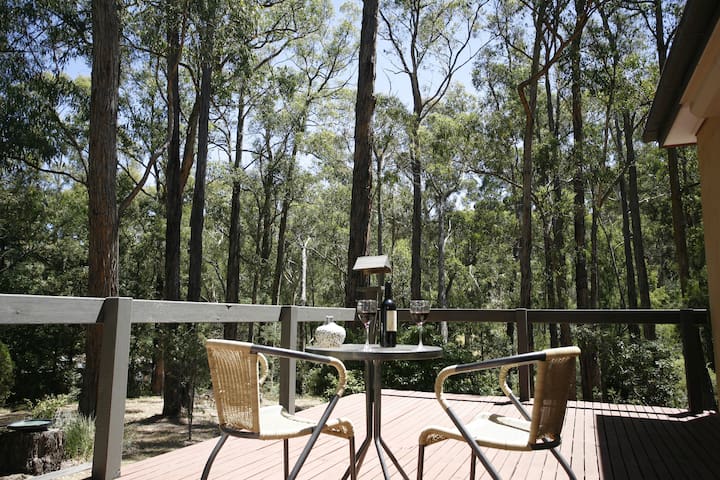 壯麗的景觀大教堂山,釣魚步行距離在古爾河,25分鐘到艾爾登湖,1小時到布勒山。 距離Alexandra鄉鎮5公里,距離墨爾本2小時。 徑自行車賽道,攀岩,滑水和滑雪都在酒店緊挨。
位置
只有農民
Thanks for a great stay. The house was just as described. Comfortable, clean and very homely. We enjoyed our time in country Victoria.
Mikey
2017-04-08T00:00:00Z
An excellent home away from home I would highly recommend a stay here if you're in the area , everything you will need is there and much more , great comfortable beds too, I felt like I was at my own home . And Erich was a great host going above and beyond trying to help us out with a last minute change in our travel plans.
Shelley
2017-03-12T00:00:00Z
the property was just as it was listed
Bruno
2017-01-05T00:00:00Z
Nice house in an great location atop a hill - 360 degree views of beautiful Aussie countryside.
Bas
2016-12-03T00:00:00Z
Stayed here with friends for a long weekend! It is a lovely house which was clean, cosy and had everything you would need! Erich was a terrific host who provided details and responded to messages promptly! Would definitely love to stay here again, it was quiet, the views were amazing and the shops and pubs were only a short drive away!
Tanja
2016-05-04T00:00:00Z
Great place to stay for a relaxing holiday. House was comfortable with amazing views. The kids loved feeding the alpacas and seeing the cows.
hannah
2016-12-31T00:00:00Z
Great, well equipped property with stunning views of the local scenery. Erich was quite helpful and provided all the required information.
Dinesh
2016-08-06T00:00:00Z
Beautiful property for a relaxing weekend away with friends. The view and wood fire made it the lounge a very cosy space to hang out and play board games. Thank you for a lovely stay.
Sallie
2016-08-22T00:00:00Z
Tipe Kamar
Seluruh rumah/apartemen
---
Tipe Properti
Rumah
---
Mengakomodasi
7
---
Kamar tidur
Alexandra, Victoria, Australia
*3 Nights for Price of 2 Special - Monday to Thursday (excl. school/public hols) please enquire!* Nestled amongst the trees, you'll feel a million miles from the hassle of a city, yet less than 5 mins drive from busy Healesville. Tastefully decorated in a Moroccan inspired style, it's hard not to be touched by the magic of this place. Our reviews say it all. Beautiful 3 bedroom country home, with plenty of space to relax. Wood fire, split system aircon, all the mod cons, minutes from town.
Spacious, characterful cottage with 3 bedrooms and wood fire heating, private decking overlooking the picturesque gardens, and surrounded by 2 acres of intriguing gardens. If you really want to get away, like peaceful surrounds and nature, this is for you! We offer a unique, luxurious and private setting. It is suitable for that romantic time away or to share with friends for a wedding or family gathering. It has all the modern facilities expected, plus full verandah with bbq and al fresco dining/relaxing. Original polished hardwood floorboards throughout, the cottage has all the modern conveniences to make your stay really comfortable. In addition to a fully-equipped kitchen, there is a formal dining room and a comfortable lounge room in which to relax in front of the TV or read a book by the log fire. During the warmer months you can relax outdoors on the lovely sundeck or play table tennis in the large games room on rainy days. This is the perfect place to begin that novel you always mean to write, or bring your paints and make use of the house artists' easel! This gorgeous secluded cottage, surrounded by lush gardens and trees, offers three beautiful bedrooms, each with their own personal charm, and equipped with luxury bed linen; 2 rooms each with Queen beds and 1 room with a King bed. An extra rollaway bed can also be booked, with a few days notice, for large groups. Everyone who has come here has raved about the place. It's charismatic and atmospheric. It's got real soul people say. Surrounded by trees, you feel nestled in amongst nature, yet you're less than 5 minutes drive from the town centre and an hour from Melbourne.
The Healesville and the Yarra Valley are one of Australia's premier wine growing areas. It is also famous for it's local produce, the Wildlife Sanctuary and the stunning natural scenery. You can go on any number of day trips wine, cheese and chocolate tasting, walk through the stunning forests or just sit back and take it all in from the veranda. Myers Creek Road is a very popular climb North of Healesville which is popular with recreational riders, which takes you through the beauty of the Yarra Ranges National Park. Hidden at the very top is a 4WD track which is 3.3km's @ 10%, which will take you to the top of Mount St Leanords, which if added to the Myers Creek Road climb, makes for arguably one of Victoria's hardest HC climbs. Only one hours drive from Lake Mountain, makes for a great day out in the snow. Here's some local info that might be handy.... Eating & Drinking Giant Steps/ Innocent bystander is a pretty good spot with lots of room and good food, though on the pricier end of the spectrum. They also do great coffee. You can buy bread and other pastries to take home as well as any of their wines or beers. It's on the corner where you take the road out to the house (St Leonard Rd & Maroondah Hwy). Herd (corner Maroondah Hwy/Church St) is the latest, coolest bar restaurant to hang out in. Great atmosphere, small meals, coffee and drinks. Toolangi Tavern (past the house, up the hill) is open 7 days a week and offers fantastic pub food at very reasonable prices, with gorgeous mountain scenery. Beechworth bakery offers standard fare of pies, cakes, sandwiches and poor coffee. It's useful if you're stuck I guess, but I don't fancy it much. For something in the cheap range much better to go across the road is East End Fish & Chips. They do fantastic hamburgers for $8.50. The fish and chips are pretty good too. I think they also do salads, souvlaki and can probably knock you up a sandwich if you ask. Wombat Chai, Mocha & Lime and the new Alchemy, are good daytime cafes. GelAperia, in Green Street offers the most amazing artisan gelato's handmade on the premises with local seasonal produce. You have to try them! Great coffee too. Bodhi Tree, a few doors down does pizzas and drinks from Thurs-Sunday. It's a pretty relaxed place with a kind of alternative feel In the main street, you'll see a large shopping complex that contains a Coles supermarket and a few other things. There is also a chicken shop and reasonable bakery plus a few bottle shops. Personally, I'd go over the road to Barique for booze. They have a great selection and Sean, the manager is very helpful. Say hi from me. There's a range of pizza shops and Chinese restaurants nearby the Coles Complex on the main street A little further back towards Melbourne on the main street is Harvest that does good, up market café food and coffee at prices you'd expect for this sort of thing. There's a courtyard out the back where you'll often see egrets. Grand Hotel does pub meals which are quite reasonable though traditional. Healesville Hotel does fancy stuff at quite high prices. Nice for a splurge. There's an assortment of other cafes along the Main Street. Watts River Café is one of my favourite daytime cafes. Entertainment Quite a few of the bars have live music on the weekends. The town hall, the Memo, has a cinema that shows recent films. Markets & shopping The big market is on the 1st Sunday of every month, 8am-2pm in the car park on River St behind Coles. There's a whole range of stuff including produce, hot food, work tools, clothes, soap, you name it. There's another smaller one on the 3rd Sunday, 9am-2pm at Coronation park (behind the Coles complex, near the river) The organic market is every Saturday from 8am to 1pm in Coronation Park Garage sales are usually on a Saturday and advertised with notices nailed to the telegraph pole on river St behind the Coles. You might also see a notice on the board in the IGA or Coles. Food shopping The main places are within the Coles complex, though there is a green grocer on the main street heading back towards Melbourne as well as the IGA if you can't handle Coles (fair enough and a massive oversupply of butchers, the best one being the Beef Joint, which you'll find near the far end of the shopping precinct as you head towards Melbourne. The organic market (and others when they are running) is good for picking up quality produce. If you're coming along the Maroondah Hwy through Chirnside Park, you may want to stock up at the shopping Centre here instead. It's just before Edward St. There's an Aldi, Coles, Safeway and an excellent, greengrocer with prices and quality that are on a level with the Queen Vic Market. They also have a selection of Asian goods there too. Other highlights of this shopping centre include a very well priced fresh chicken shop and good quality place selling fish. Other Shopping There are a number of antique and second hand stores along the main street as well as some homewares / interior design places. Harvest has an outlet next to it, called K&B, for locally produced cheese, chutney, meats for your BBQ, etc. All of the local wineries have a range of bits and bobs too. Yarra Valley Pasta, opposite Giant Steps, sell award winning pasta which you can heat up at the cottage when you don't feel like cooking (open till 5pm). Visiting For many people, visiting a winery or 5 is a must and there are plenty to choose from. For a guaranteed great experience, go to Chandon and try the 4 flute sampler. Oakridge is also very good, as is St Hubert's, Stones and Dominique Portet. Most have restaurants. There's a new cider and ale movement out here and a few things to help you find your way around. Check out the Yarra Valley Cider and Ale trail here…. Visit the brand new gin distillery too, Four Pillars, which will change your whole experience and views of gin! (URL HIDDEN) Back towards Yarra Glen, is the chocolate factory. Well worth a visit and they give away free scoops of different flavoured choc buttons. Walking Head to the Tourist Information Office for comprehensive information on walks and cycling around the local area. My favourite though is Donnelley's weir, with the turnoff about halfway along St Leonard's road. From here, there are a number of tracks that head into some great bush land. The longest and hardest will take you to Mt St Leonard (11km), though there are a few gentle, flat strolls to be had as well. One of the most poplar walks is from the Weir over the hill to the reservoir. Maroondah Reservoir – this is a huge park with BBQ facilities, views of the dam, playgrounds, lovely trees and all sorts of things to keep you happy for hours. Driving If you keep heading out of town along Myers Creek Road, you'll wind through some beautiful native forest with huge trees, eventually arriving in Toolangi. From here you can continue up to Mount St. Leonard for a great view and walks. Keep travelling and you can loop back round through Yarra Glenn and the chocolate factory. Further up the road are the townships of Marysville, Kinglake and Alexandria, both hit hard by the bushfires but looking a lot better now. Continue further to access Lake Eildon, the beginnings of the high country and Mount Bulla. There's some great driving to be had heading south towards Gippsland along the C424. This will take you around the back of the Dandenong's. A shorter drive is across to Warburton, which is a lovely little town that the Yarra flows through. It's quite a cultural centre and has some good places to eat as well. Take a walk along the river for something really relaxing.
Had a great weekend with friends at Jamie's place in Healesville. A lovely spot and house- top marks for the table tennis table and good cookware in the kitchen. Jamie was very helpful at addressing a maintenance issue speedily.
Chris
2015-08-02T00:00:00Z
Great place to stay, nice distance from town. House accommodated 5 of us easily. Looked even better than the photos!
Jaden
2015-07-07T00:00:00Z
Yes, very!
Danny
2016-04-26T00:00:00Z
Cozy and welcoming lodge perfect for a weekend getaway for 2 - 6 people, private and secluded but only a short drive from local bars and cafe's. Would definitely stay there again and recommend to others. Host was very polite, prompt with replying to enquires and generally very easy to deal with. Top marks for this one.
Dave
2015-08-15T00:00:00Z
Perfect place for a weekend getaway in Yarra Valley! Very comfortable place set up so you fully relax and chill out. Awesome deck to look out on to the garden. All beds were comfortable. House is in a perfect location surrounded by trees and the property is quietly situated. We thoroughly enjoyed our stay and would return to this place without hesitation! We didn't want leave! Jamie is great host who provided us with ample information about our stay, which was fantastic :)
William
2015-03-22T00:00:00Z
Communication with Jamie was great and the listing is accurately described. The king bed was so comfy! A beautiful setting which I imagine would be even more glorious in spring time. We stayed to be in reasonable proximity to lake mountain for a day at the snow with the kids and it worked really well. We certainly needed to use the heating to capacity at this time of year and the wood fire was well used and provided lovely ambiance. Very short drive to Healesville Main Street including the Innocent Bystander that we really enjoyed. The kids loved running around the yard and made use of the table tennis table. Thank you Jamie.
Elizabeth
2016-08-07T00:00:00Z
We had a truly enjoyable experience over the week we spent here. The place was welcoming, comfortable and very clean. A lovely cosy, rustic home with character and charm. Well equipped for cooking. The beds were comfy and rooms had an appealing style. Wood fire was excellent and so cosy. Lovely garden and deck. Peaceful and quiet. Beautiful birds to observe and listen to. Plenty to see, do and explore around the area. Jamie very prompt in responding to any of our enquiries or needs. April a beautiful time of year to visit with the changing color of seasons. Would love to return again.
Lynette
2016-04-11T00:00:00Z
Excellent location, facilities and character!
Matt
2016-11-19T00:00:00Z
Tipe Kamar
Seluruh rumah/apartemen
---
Tipe Properti
Rumah
---
Mengakomodasi
7
---
Kamar tidur
Healesville, Victoria, Australia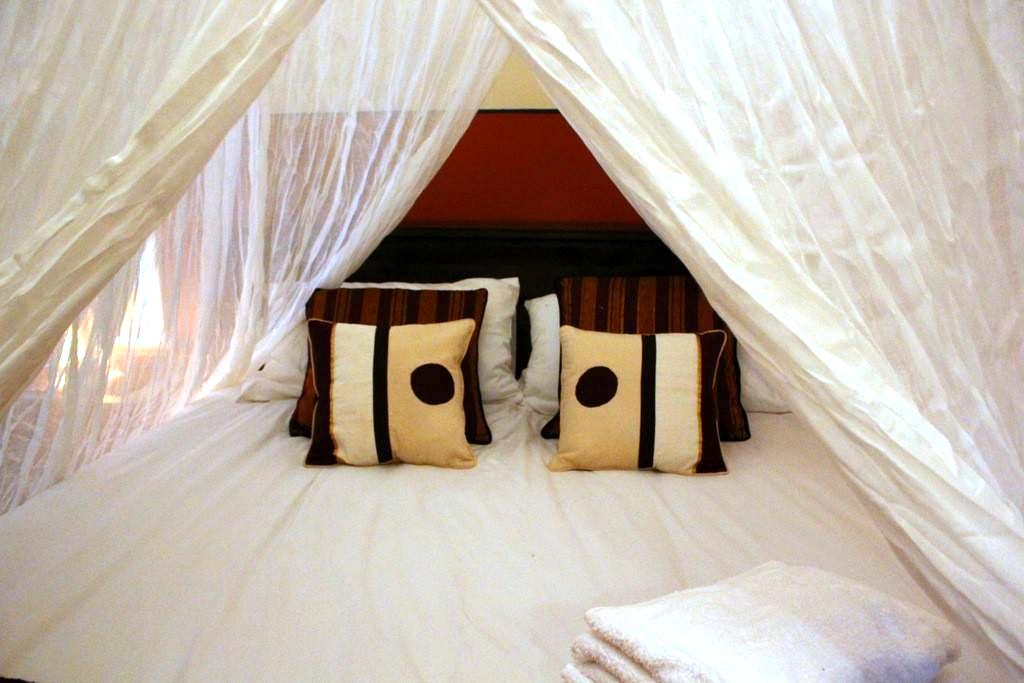 I booked this as a night away for my parents and they loved it. It was warm and cozy, and so close to everything. Definitely recommended for a night away.
Toby
2017-04-09T00:00:00Z
The cottage was very clean, well equipped and cosy - it was a lovely stay. Communication with Anthony was quick, clear and professional. Overall it was a great experience and would book again.
Johnny Sheng Jiao
2016-11-21T00:00:00Z
Absolutely Perfect! From the moment I contacted Anthony with the questions I had about the cottages to our last day, Marysville Garden Cottages was absolutely beautiful. Conveniently located near the town centre, with the cottage stacked with brochures and booklets to help plan our trip and see the sights. The cottage was stunning with huge tv, fireplace, big bathroom with a very nice claw foot bath, and comfy bed. I would recommend staying to anyone and everyone. Particularly for those looking for a nice weekend getaway. Thank you for the wonderful stay at the Spring Cottage, we will be returning in the Summer and hopefully as soon as possible after that!
Ashleigh
2016-07-03T00:00:00Z
Great communication, perfectly clean room, and very well furnished with all the mod cons you could hope for - from the mirror TV to the hdmi and usb wall ports so you can watch your own movies and check out your photos. The spa was amazing and the bed incredibly comfortable. Am very much looking forward to our next trip!
rebecca
2016-06-27T00:00:00Z
Beautiful modern cottage, such a lovely relaxing place and close to town.
Lara
2016-10-31T00:00:00Z
Great stay, lovely accommodation. A couple of suggestions to improve our experience: 1) Provide wifi (we would have like to research what to do in Marysville and surroundings). 2) My wife would have liked a towel hanger near the shower. 3) A later checkout would be preferred (11 rather than 10 am...we woke up late and felt rushed). Otherwise we had a lovely stay!
James
2016-12-28T00:00:00Z
Wonderful little cottage. Perfect location as it is close to everything you need.
Brenda
2016-10-23T00:00:00Z
Thank you for a lovely stay. The cottage was beautiful, clean, and quiet. Close to cafes, shops and restaurants, the cottage made for a wonderful mini break.Thank you very much Anthony and Rod.
Laura
2016-10-03T00:00:00Z
Tipe Kamar
Seluruh rumah/apartemen
---
Tipe Properti
Rumah
---
Mengakomodasi
3
---
Kamar tidur
Marysville, Victoria, Australia