Our relaxing and cozy one bedroom loft with private balcony has everything you need to make your stay a true "home away from home" experience! The Loft is close to many parks, the city center, the airport, the west river community center, pools, Medora and Theodore National Park. The cozy feeling of home is in every detail so you will be relaxed and well rested to continue your adventures. The Loft is great for couples, solo adventurers, and business travelers.
The host canceled this reservation 79 days before arrival. This is an automated posting.
Tom
2017-03-24T00:00:00Z
Beautiful family and home! The Loft was the relaxing way station we sorely needed on our road trip. Comfortable and cozy and private, with a very welcoming atmosphere courtesy of our hosts. We were able to do laundry while we watched a movie on fabulous recliners in front of a huge television screen. I would definitely recommend this stop to anyone traveling through Dickinson. Thanks to Dayna and her family for having us!
Miranda
2017-04-02T00:00:00Z
Dayna was an excellent host! Her and her family were very welcoming upon my arrival and gave me a nice tour. They checked up throughout the week to make sure everything was good and to make sure I had everything I needed. Dayna was always on top of all the communication and I felt very comfortable reaching out whenever I needed. And the place was beyond my expectations; very cozy and roomy. Definitely a home away from home. I enjoyed my stay at the Loft very much!
Ivan
2017-03-25T00:00:00Z
Tipe Kamar
Seluruh rumah/apartemen
---
Tipe Properti
Loteng Studio
---
Mengakomodasi
2
---
Kamar tidur
Dickinson, North Dakota, Amerika Serikat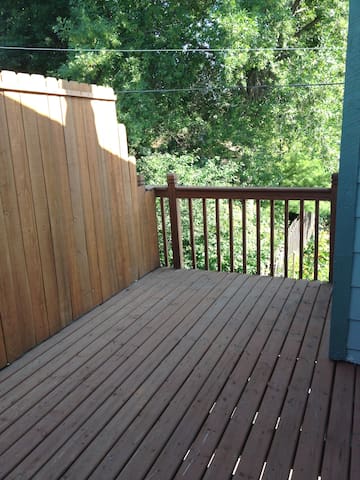 Medora & TR National Park, Assumption Abbey, and the Enchanted Highway are all within 20-40 minute drive. In less than ten minutes you can reach shopping, medical facilities, numerous parks, and Dickinson State University. Day passes at The West River Community Center include water park, climbing wall, classes, and equipment. The municipal golf course and airport are each about 20 minutes away. The River is great for couples, solo adventurers, business travelers, and furry friends (pets).
Sunlight through large wall-to-wall windows overlooking the Heart River make this an exceptionally pleasant place to stay and relax.
The neighborhood is residential, within walking distance of tennis court, outdoor pavilion, and dog park.
Tipe Kamar
Seluruh rumah/apartemen
---
Tipe Properti
Apartemen
---
Mengakomodasi
2
---
Kamar tidur
Dickinson, North Dakota, Amerika Serikat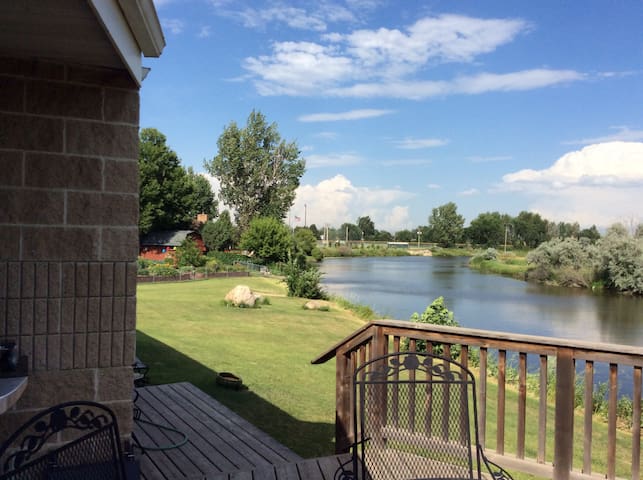 The Lodge is a large A-Frame house with an open floor plan that is decorated with hunting and rustic decor. It is located 4.5 miles east of exit 64 in Dickinson. It is a perfect place for a quiet get away or for a family get together.
This home offers space to relax by the fireplace or sit by the large A-Frame windows and appreciate the view. Families could also gather at the lodge to play pool or other games. The wrap around deck and outside area provides lots of space to relax and have fun.
The lodge is located in a rural setting 4.5 miles from Dickinson.
Tipe Kamar
Seluruh rumah/apartemen
---
Tipe Properti
Rumah
---
Mengakomodasi
10
---
Kamar tidur
Dickinson, North Dakota, Amerika Serikat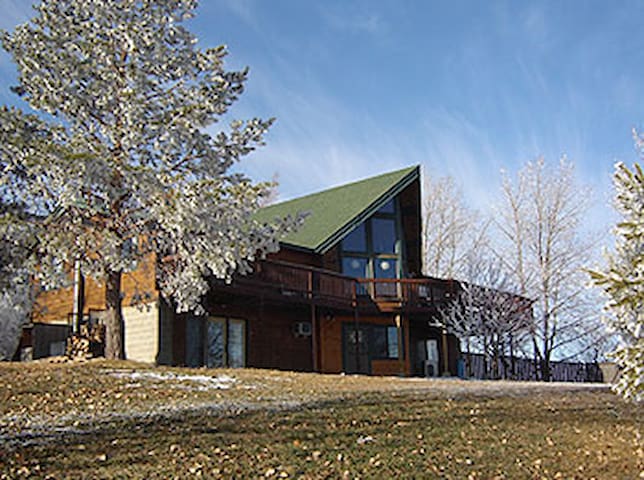 Dies ist eine 1910-Ära Folk viktorianischen vor dem Abriss gerettet liebevoll nachgearbeitet und an den Ufern des Flusses nahe Hock Mott, ND verlegt, in der Nähe der Badlands, Black Hills und im Grünland Prärie Land. Der Westen Blick auf Sonnenuntergänge ist so ruhig und Tierwelt ist reich an den Fluss.
Dies ist eine "gerettet" Eigenschaft, um 1920, die für den Abriss und zog an den heutigen Standort geplant war. Jeder Versuch wurde gemacht, um diese wunderbare Immobilie zu renovieren und die bestehenden Charakter der Wohnung halten _ gibt es einige Anzeichen seines Alters _ Chips in den alten Emaille Waschbecken, zum Beispiel _ aber die sind Teil des Charmes.
Sie werden feststellen, dass Sie viel Privatsphäre haben, aber zu Fuß fühlen sich um und stoppen in ein Hallo zu sagen, wer Sie treffen. Die Innenstadt ist klein, aber freundlich.
The host canceled this reservation 3 days before arrival. This is an automated posting.
Julie
2015-08-13T00:00:00Z
This is a great place to experience North Dakota! Cute cottage on the Cannonball River with everything you need for a comfortable stay.
Monica
2016-11-21T00:00:00Z
Lauren was a great hostess (though we never met). She communicated well via email and gave us a lot of information about the area, which was helpful. She even let us borrow her brothers kayaks, which we did not end up using. The cottage was just what the pictures describe. The locations is remote and quite. It was a very enjoyable place to stay. We would recommed it!
Krystal
2014-09-01T00:00:00Z
Cannonball Cottage is situated amongst some beautiful scenery and perfect if you are looking for a quiet, remote location. Lauren was a friendly, helpful host. We ran into some difficulty locating the property and she was very easy to contact. The cottage is cute and has everything you need including a fire pit which we enjoyed using. We had a very enjoyable stay. Thank you! Jon and Coleen
Jonathan & Coleen
2015-07-07T00:00:00Z
I was hoping for a night of peaceful quiet seclusion and this was *almost* that except for the stormy weather! Perfect location and view from the back porch was even more gorgeous than I expected. But for the heat when I arrived and the noisy windy rainstorm this was a fantastic stay!
Carrie
2016-07-24T00:00:00Z
Our trip was brief but we really enjoyed our stay. The cottage is very nice, and we particularly enjoyed the amazing stars at night and the silence of the surroundings. Great location for rest and relaxation. Lauren had everything ready for us upon arrival. Great stay!
Aaron
2014-07-17T00:00:00Z
The stay at the Cannonball Cottage was just fine. Lauren provided us with ample information and precise directions and we found the place without difficulty, even in the dark. The place itself is a charming, converted farm house that reminded me of my grandma's. The town itself doesn't offer many food options, though, so make sure and bring your own.
Lindsay
2015-11-12T00:00:00Z
The place was great!
john
2016-12-18T00:00:00Z
Tipe Kamar
Seluruh rumah/apartemen
---
Tipe Properti
Rumah
---
Mengakomodasi
4
---
Kamar tidur
Mott, North Dakota, Amerika Serikat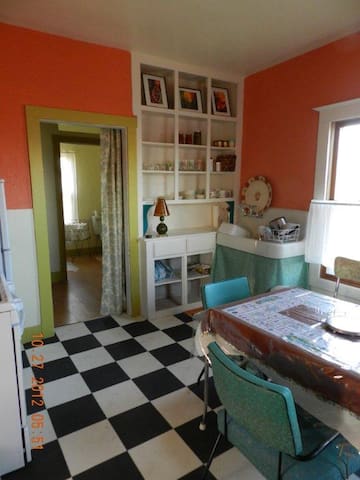 Masukkan tanggal untuk melihat harga lengkap. Biaya tambahan berlaku. Mungkin dikenakan pajak.