Cosy andrúmsloft í fallegu náttúruna í þjóðgarðinum á Þingvöllum. Gott fyrir gangandi, Sáttaumleitan, ljósmyndun og bara að vera. Flottur staður fyrir Northen ljósum eða ís hellinum ferðir. Staðsett á gullna hringnum. Aðeins 45 mín akstur í miðbæ Reykjavíkur.
Við höfum 3 svefnherbergi öll með góðu útsýni og góðum rúmum. Baðherbergið er með nýja sturtu Þetta er 110 fm, tveggja hæð hús. Staðsett í fallegasta hluta landsins. Þingvellir (Website hidden) Þingvalla. norn er hluti af The Golden Circle (website hidden) 3 svefnherbergi, eitt baðherbergi, stofu, sjónvarp loft. Fullbúið eldhús. Með sjálfvirkri expresso vél (fyrir baunir) Panorama útsýni yfir vatnið og nærliggjandi svæði. Hestaferðir 15 mín. Sund og versla 20 mín. Fullkominn staður fyrir náttúruunnendur elskandi ferðamenn. Stutt akstur fjarlæg öllum mest aðlaðandi stöðum í Suður Íslands. Eins Gullfoss og Geysi Nýlega endurnýjuð í gömlum hefðbundnum stíl til að taka vel á charisma og upprunalega eðli hússins. Góður staður til að relalx eða taka göngutúr, lesa góða bók eða bara sitja á verönd njóta Panorama view. Ef þú segir okkur hvað þú áhuga á að sjá að við getum hjálpað þér að hefla dvöl þína. 20 min. aka að næsta bæ Mosfellsbæ eða Laugavatni. Bæði bæir hafa búð, Sundlaugar o.fl. Aðeins 40 mín akstur frá Reykjavík og 90min frá flugvellinum Það er lítið einka veginum fyrir 5 mín frá þjóðveginum til Þingvöllum.
Við erum staðsett í rólegu umhverfi. Gott fyrir afslöppun og meditading. Göngutúr í hverfinu í hvaða átt. Ganga í vatnið, eða allt að hæðirnar.
Very helpful host with lots of recommendations. Extremely responsive. Enjoyed our stay!
Alanna
2015-05-28T00:00:00Z
Mariá was an amazing host and her home is perfect for family traveling to explore the wonders of Iceland. All was exactly as expressed in her profile. Everything about the experience was warm and inviting. Highly recommend Mariá and her home
Frank
2016-04-09T00:00:00Z
We spent a really marvellous time in Maria ´house. So cosy, so Nice , beautiful view on the Lake and easily access. The house was really confortable and very well equipped . We will recommend this house a lot.
Florence
2014-08-02T00:00:00Z
We had a wonderful short stay here over New Years and highly recommend it. Though we had an ambitious 4 day itinerary exploring South Iceland ( perhaps too ambitious ) this home is so warm and well appointed that it was very tempting to simply " stay in" , curl up with a good read and watch for the Aurora, which we were lucky to see from the living room windows on our 3rd and last night. ( the cabin offers 360 degree mountain views on all sides and is well secluded from the main road ) Maria went out of her way to help us hapless Americans find the place and and was gracious in her hospitality to what immediately became apparent is a much loved family home, not a simply an Air bnb rental. We feel lucky to have been able to have spend a short time here and highly recommend it to all.
Colleen
2016-01-02T00:00:00Z
We loved staying here. Very warm welcoming place to stay. Cozy and feels like home. Maria was very gracious and accommodated a last minute stay for us. She answered emails quickly and helped in any way she could. My location was a wonderful place to relax with a beautiful view and amazing solitude about 40 minutes from Reykyavik and right on the Golden Circle Route. N
Mary
2015-07-17T00:00:00Z
What a wonderful place this was and we were very lucky to stay here!. Though we never met Maria, she was very prompt and warm with her communications with us and even let us check in earlier as our flight came in early that day. Her country house was bright, had fantastic views, a lot of country charm and peace and quiet. As soon as you enter, you knew that the house is well-loved and cared for by the family. There were 6 of us and we found the 3 bedrooms very comfortable-2 up a flight of narrow stairs, and one on the ground floor. As in the listing there is only 1 bathroom, downstairs, which was clean. However, we did not read the instructions very well next to the bathroom door and on the first day and ran out of hot water after 2 people had regular length showers. Next day, we managed with very short showers and did not run out. She did explain it on the instruction sheet and it is understandable as it is a country home with electric heated well water for the showers. We did a lot of cooking and the kitchen and dining area was very pleasant and kitchen supplies adequate. We were thankful for the dishwasher although it was a little tricky to operate-best to follow her written instructions well or ask her to explain. The coffee maker was great and so was the coffee-thank you! The best part of the listing is the location- you can't beat being just a couple of minutes to Thingvellir national park- we had a couple of memorable walks around the Almanagja in the early morning before the crowds came-so beautiful and historic! Iceland is gorgeous and Maria's house is also relatively close to other areas we went to. About 45 minutes to Hvegardi where we did a shorter hike along an amazing geothermal river you can sit in. About an hour to Glymur and the Hvalfjordur fjord-very beautiful area and hike up the waterfalls. Also about 40 min to Gulfoss waterfalls and Geysir. 45 min to Reykjavik where we got our groceries on the way to the house from the airport. A very memorable experience for all of us, and relaxing to return from our day trips to this beautiful house.
Winfred
2016-07-04T00:00:00Z
thank you Maria for the wonderful time we have had in Thingvellir with our family and two friends. The house is a pearl in the magnificant Islandic nature. Perfect for a stay in Island and a good base for excursions in the south west region of the country. You are a wonderful host, so helpful prior to arrival and always quick responsive to all our questions. Your personal style makes this place to somethinmg really outstanding. Thank you again. Highly recommend!
Peter
2015-08-09T00:00:00Z
The host canceled this reservation 226 days before arrival. This is an automated posting.
Kristinn
2016-11-19T00:00:00Z
Tipe Kamar
Seluruh rumah/apartemen
---
Tipe Properti
Rumah
---
Mengakomodasi
6
---
Kamar tidur
Thingvellir National Park, South, Islandia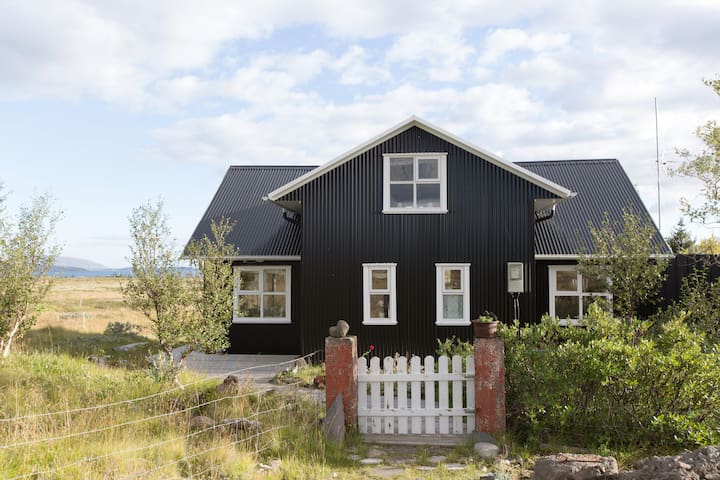 The farm is located about 6 km west of Thingvellir National Park, and about 45 km from Reykjavik city center. Perfect location to spend a few days. Close to Reykjavík and on the Golden Circle route. Stunning view and beautiful hiking trails. Trails around the farm are shown on the pictures. Information about mountain hiking and hiking in Thingvellir available at the Thingvellir Information Center. A beautiful place to view the Northern Lights. 2 other rooms available.
The house has 2 floors. The hosts live on the upper floor. The lower floor has 3 bedrooms, 1 bathroom and common area with a kitchen. Guests might get another room than they book, but the rooms are all similar. 3 horses are on premises and 3 outdoor cats. Rural internet connection for browsing and e-mail. Can be spotty.
The house is located near Thingvellir National Park. The park has many beautiful hiking paths and guests can walk to the park from the house. Lake Thingvallavatn is about 2 km from the house. It is possible to fish in the lake, from June 15th, for an additional fee. It is possible to fish in the lake, Thingvallavatn, from June 15th. For an additional fee.
Great place especially for groups! Large kitchen, good living space. Was able to see the northern lights and tons of stars.
Tammy
2017-03-27T00:00:00Z
Linda has been giving us useful tips both before and after the stay regarding where to buy groceries (there're no restaurants open nearby during winter) and told us about the winter festival in Reykjavík knowing that we'll go there afterwards. Linda's mom was there to host us during the stay. She was really nice and even knocked on our door to tell us the northern lights are out right now :) The house is only 3min drive from Þingvellir so it's really a good place to stay at if you want to go to the park early enough to avoid the big crowd.
Chencheng
2017-02-03T00:00:00Z
A wonderful place to stay and very well located, beautiful and spacious surroundings with a warm and friendly welcome. Thank you! Sjaúmst.
Dave
2017-03-07T00:00:00Z
Nice people, clean place. Lots of space and comfortable beds. Great location. Feels a little sterile, but for the price and location it's worth it!
Rachel
2016-08-13T00:00:00Z
They were very responsive, the place was very nice and in the perfect location for spending time around Thingvellir national park!
Mil
2016-06-03T00:00:00Z
Tota and Linda Farm is a short drive away from Thingvellir National Park and the guesthouse under the house is warm, and comfortable. The obvious draw however was after driving to the National Park and seeing the Northern Lights for the first time (in -12c temperatures) we were then able to come home and watch them from our living room, I couldn't have asked for a better experience!
Lucy
2016-12-31T00:00:00Z
loved this place! loved the bed. full kitchen and spacious living room to relax in. Hosts seemed very friendly, down-to-earth people. great location--would recommend as first night after flying in to KEF, or as a hub for golden circle touring. beautiful farm on main road right outside entrance the Thingamajig National Park.
Tom
2016-10-08T00:00:00Z
We loved staying in this AirBnB location. She has a total of 3 rooms to rent. The restroom was spacious and clean. The living space (a kitchen, living and dining room) was spacious and had great views of the sky. We woke up to see the northern lights at about 11:30pm (but were informed that they started much earlier) they were bright and we could view them from the comfort of her living room. Speaking of spectacular view, you could see Thinvallavatn and the mountain range from the front driveway. Her road is not viewable from (SENSITIVE CONTENTS HIDDEN) maps. However, if you use the app she recommends in her instructions you should have no issues. Also to note - this location is only 7-10 minutes from the visitor center at Thingvellir. However, Thingvellir has no free WiFi so make sure you have directions to her location already mapped out in advance.
Lisa
2016-09-27T00:00:00Z
Tipe Kamar
Kamar pribadi
---
Tipe Properti
Rumah
---
Mengakomodasi
3
---
Kamar tidur
Thingvellir, Islandia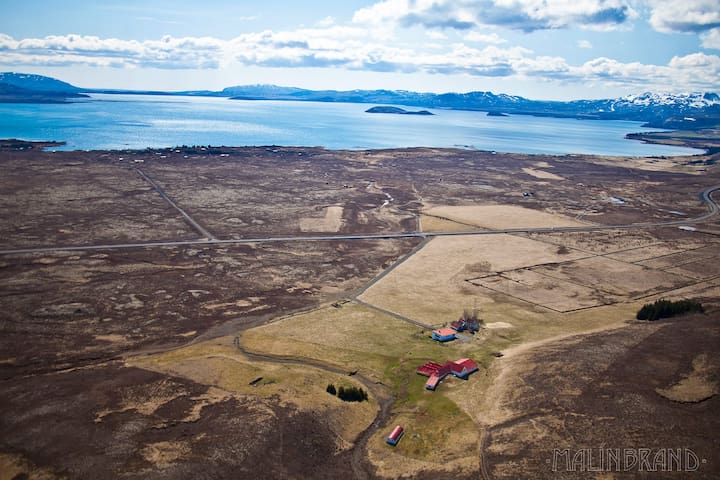 Masukkan tanggal untuk melihat harga lengkap. Biaya tambahan berlaku. Mungkin dikenakan pajak.