Cà du Gino is a nice apartment behind Cinque Terre. Situated on the green hills of Val di Vara, the apartment is a perfect support base to visit Cinque Terre and it is, at the same time, a place where you can relax in the green typical ligurian country thanks to the large garden just in front of it.
Cà du Gino is the perfect place for a getaway from the city; in the garden and in the hammocks you can enjoy after a long day at sea, the tranquility of the countryside, contemplating nature and enjoying the products of our land
The apartment is located in the countryside, in a central location and ideal for exploring by car the whole of the eastern Liguria region; Cinque Terre, Levanto, Bonassola, Valdivara (Varese Ligure, Organic Valley), Portovenere, Lerici, La Spezia and the Gulf of Poets; the apartment is located in an ideal center from which the most distant destination is just a 30-minute drive. Our street number is 37 bis, different from the number 37. Unfortunately 37a can not be set on the GPS, but once you arrive at number 37 continuing for 30 meters on Trezzo street, you can couldn't see the unmistakable pink house. For any questions please contact us!
What a lovely and splendid stay at Marco's! The house is perfectly located near all the beaches with a beautiful scenery of Italy. Staying here gave me the impression of truly living in Italy. Marco welcomed my family and I with a lovely bottle of self made wine. They also gave my son and egg little farm. The apartment was extremely comfortable and cozy; very spacious, too. I really enjoyed staying at Marco's place I look forward to visiting again in September. If you're going to stay in Cinco Terre, make sure to stay at Marco's. From Vienna! Laz, Sandy and Zay
Laz Andres
2016-07-26T00:00:00Z
Très bien agencé, terrasse et jardin de plein pied. Bel intérieur et accueil super. Conseils avisés et même dépannage express.
Laurent
2016-07-29T00:00:00Z
We've had a very pleasant welcome. Marco immediately gave us a map and provided us with travel tips to Cinque Terre. He was very kind to us and even offered eggs from his backyard. His English was pretty good and at least he tried to find the words when necessary. I experienced Marco as a very good host.
Manon
2016-07-21T00:00:00Z
Una buena ubicación para visitar el Cinque Terre y el entorno rural, aunque lo mejor es, sin duda, el anfitrión. Marco consigue desde el primer minuto que te sientas en casa. La casa está súper bien. Lo que más nos ha gustado son los columpios...y los productos caseros con los que nos recibió. Marco, además de buen anfitrión, ejerce de estupendo guía turístico de la región. Si volvemos a la zona, lo haremos aquí. José María y Rocío
JOSE MARIA
2016-08-12T00:00:00Z
De las estancias en las que estuvimos durante nuestro viaje, la casa de Marco fue la mejor, sus apoyos, las atenciones, el paisaje, la cercanía a las playas de CINQUE TERRE, la tranquilidad. 100% recomendado!!!
Vladimir
2016-08-25T00:00:00Z
Marco & Lucia sono deliziosi e la loro dimora agreste è un luogo ideale per un soggiorno in una silente cornice agricola. La casa è pulita, accogliente e davvero dotata di ogni evenienza per un soggiorno confortevole. Il ricordo più bello è stato la loro accoglienza.
marina
2016-07-18T00:00:00Z
We had a wonderful stay at Marco's. It was such a pleasure to spend time in the peaceful countryside away from the hustle and bustle of tourists along the main Cinque Terre drag. His house is modern yet rustic, clean and comfortable. We even got to enjoy some of their traditional homemade wine, tomatoes from their garden and eggs from the chickens. They were incredibly generous, providing us with advice and even transport when we needed it. We highly recommend this listing and hope to return there some day.
Greg
2016-07-30T00:00:00Z
We loved the place! Marco and his girlfriend are really awesome hosts. Probably the best we ever had! They got solutions for us every time we needed! Unfortunately we could not have our car as planned so the place was difficult to reach and to depart from every day but they gave us everything we needed to make our trip the best. We even got to taste their awesome tomatoes eggs and house wine! Really this place is a must and you gotta try it out.. If you have a car! It is a little cocoon outside from the cinque Terre crowd. Loved it!
Edouard
2016-08-19T00:00:00Z
Tipe Kamar
Seluruh rumah/apartemen
---
Tipe Properti
Apartemen
---
Mengakomodasi
4
---
Kamar tidur
Beverino, Liguria, Italia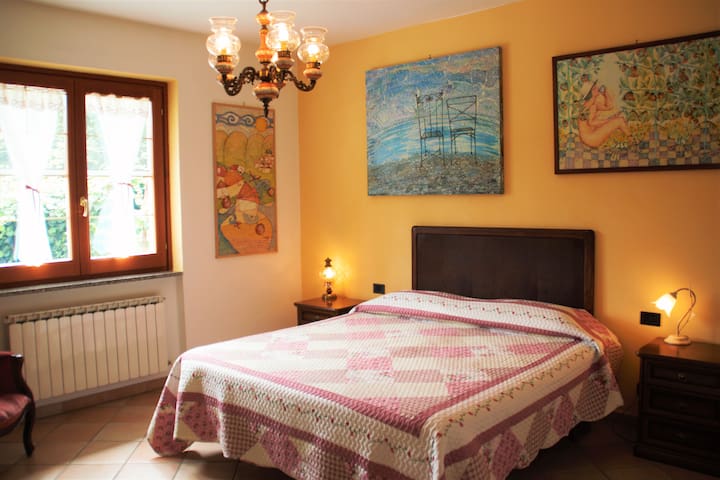 Het is gemaakt van een entree, een keuken die wordt gebruikt als een eetkamer en een woonkamer met een slaapbank, twee slaapkamers en een badkamer. Een terras en een tuin, die een paraplu, een tafel, een aantal stoelen heeft en een barbecue zijn beschikbaar voor bezoekers. Reizigers zullen de toegang tot het hele appartement te hebben.
Gelegen in een natuurgebied, de "Cinque Terre" en de stranden, ons appartement is gelegen op de begane grond van een vrijstaand huis.
In het midden van de natuur, in de buurt van de «Cinque Terre» en de stranden, onze begane grond appartement bestaat met aparte keuken, woonkamer met een slaapbank, 2 slaapkamers en badkamer. Een kinderbedje en baby-autozitje zijn verkrijgbaar op aanvraag Buiten kunt u genieten van het terras en de tuin, met een parasol, stoelen, tafel en barbecue Het huis is ideaal gelegen langs de oude "Via Aurelia" Roman Way. Vandaag is het een nationale weg met gemakkelijke toegang tot diverse toeristische attracties. De regio "la Liguria" tussen zee en platteland, met zijn stranden, zijn typische kleine dorpjes, zijn tochten, zijn mooie uitkijkpunt uitkijkpunt. Een echte Italiaanse manier van leven, met de lokale mensen en hun fantastisch eten ... U zult een voertuig nodig hebben om de verschillende dorpen en steden van toeristische belangstelling te bereiken.
A quiet place, very conveniet to visitar Cinque Terre
Vicente
2016-07-11T00:00:00Z
Elisabetta is a wonderful host and goes out of her way to make her guests feel at home. She succeeds 100% in that respect. The house is nice and spacious with a lovely backyard with plenty of space and sunshine in the morning. The road in front of the house is noisy, as traffic drives at reasonably hogh speeds past the house, but is not unbearable.
Frank
2016-08-18T00:00:00Z
We had a good stay at Elisabetta's place, it was confortable and fully fitted. Thank you !
Segolene
2016-06-07T00:00:00Z
Je recommande le logement d'Elisabetta! Sa maman Lucia nous a acceuilli à bras ouvert! Elle a été là pour nous durant tout le séjour ainsi qu'Elisabetta par téléphone. On a reçu beaucoup de petites attentions. Un énorme merci! La maison est très jolie, aucune déception. Il y a un grand jardin agréable pour y passer du temps. Tout était absolument parfait. Nous avons passons un séjour fantastique à visiter cette magnifique région :D En plus, la maison est bien située, 10 minutes de la Spezia et d'un grand centre commercial et 30 minutes de Levanto. Entre les deux se trouve les 5 terres. Accès facile. Merci encore et peut-être à bientôt
Céline
2016-07-26T00:00:00Z
Le logement est spacieux, confortable, bien équipé, propre et le jardin est très agréable. Ce fut de très bonnes vacances, facilitées par la disponibilité de nos hôtes : l'accueil par Elisabetta et sa maman, qui ont tout fait pour rendre notre séjour réussi, a été formidable : merci pour toutes vos attentions et vos conseils sur la région !
Bernard
2016-08-22T00:00:00Z
Lucia (moeder van Elisabetta)is een schat van een vrouw. Ze heeft ons zeer welkom geheten. Ze probeerde er alles aan te doen om het voor ons aangenaam te maken en dat is haar gelukt. We mochten limonicella proeven, we hebben haar zelf gekweekte tomaten gekregen, heerlijk. Het was een prima plek voor vier dagen.
Tonny
2016-09-06T00:00:00Z
Nous avons été très bien acceuillis par Elisabetta, Lucia et Timothé. Le logement est idéalement situé. La terrasse à l'ombre est très agréable. Le logement dispose de tout ce dont nous avons eu besoin. Merci pour tous les conseils durant notre séjour et toutes les attentions. Nous avons passé un séjour très agréable et espérons pouvoir revenir.
marlène
2016-08-12T00:00:00Z
E' stata una bellissima esperienza, l'appartamento e' ampio, pulito e ha tutto e anche di piu' a disposizione. La signora Lucia, mamma di Elisabetta ci ha accolto con molta cura, abbiamo avuto la fortuna che di provare alcuni prodotti tipici della zona Torneremo sicuramente e lo consigliamo
Roque
2016-05-14T00:00:00Z
Tipe Kamar
Seluruh rumah/apartemen
---
Tipe Properti
Apartemen
---
Mengakomodasi
6
---
Kamar tidur
Riccò del Golfo - Piandibarca, Liguria, Italia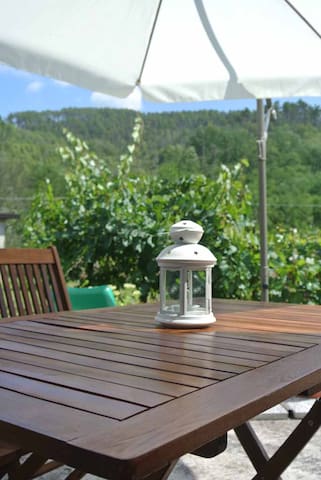 Un appartement ancien confortable de style situé dans l'arrière-pays des Cinque Terre, 18 km loin de Monterosso, idéal pour les cyclistes et les amateurs de randonnée qui veulent explorer la région ou pour les familles qui veulent le calme de la campagne après une journée à la plage.
L'appartement se compose de 2 chambres pour un total de 4 lits, un salon, une salle de bains avec baignoire et douche, une cuisine et un grand sous-sol à vélos de magasin ou d'autres équipements. L'appartement n'a pas l'air conditionné, mais il est naturellement frais grâce aux épais murs anciens. Bracelli, où se trouve l'appartement, est un joli petit village, mais les transports publics, malheureusement, ne sont pas fréquents, de sorte que vous devez être équipé de sa propre voiture.
Ce qui est unique sur le village de Bracelli, où se trouve l'appartement, est le contact avec la nature et le calme campagne environnante. Il est situé dans le Val di Vara, qui est la plus grande et la plus verte vallée de la Ligurie. Si vous aimez la randonnée, vous ne pouvez pas manquer d'atteindre le cœur de la vallée à travers les nombreux sentiers à travers les bois. Verts pâturages et vierge sont sa caractéristique, qui lui a permis de devenir le Organic Valley. Particulièrement célèbres sont le fromage bio de Val di Vara. Agriculture dans le Val di Vara est favorisée par l'authenticité particulière de ses terres, de forêts vertes, les pâturages et la végétation sauvage traversé par la rivière Vara. La rivière Vara offre la possibilité de rafting, le kayak et le canyoning Le Val di Vara est également connu comme la Vallée des villages autour de (architecture typiquement médiévale). En particulier, Varese Ligure est parfaitement rond.
Super acceuille, Adorable Une maison avec un cour dans un village a une demi heure de La Spezia et des plages. Beaucoup aimer la région Il ya une voisine Anna très sympathique, et d'autre un peu plus bruyant pour quelques nuit ça va. Tout était propre et la cuisine bien équiper.
Olivia et Richard
2015-07-30T00:00:00Z
Daniella was amazing throughout the whole experience. She did everything in and out of her control to make our stay as comfortable as possible. I enjoyed our stay and everything was accurate to description. It is vital to note that you need a car or scooter to access her apartment. When our initial car booking fell through, Daniella picked us up near the train station and helped us find an alternate car rental that we wouldn't have been able to find otherwise. I can't thank her enough for all the help through the stay! The house was clean and much bigger than expected. You live on top of a mountain and are able to experience a beautiful view every day and night when you return. I wouldn't recommend anyone else and I can't praise Daniella enough as a host!
Rennie
2015-09-11T00:00:00Z
Appartement tres bien decrit. Nous avins eu un tres bon accueil avec des produits alimentaires de base à notre disposition. Je recommande.
Odile
2016-04-24T00:00:00Z
Thanks for your house,it's real near Cinque Terre and la spezia. The house is very big and clean. 如果你有開車,這是一間值得推薦的房子,屋主住在la spezia ,而且英文說的很好,房間都很大,隔壁鄰居也很親切,離別前還送我們一個自製的蛋糕。地點和價錢是成正比的。
彬彬
2015-08-28T00:00:00Z
Daniela was very kind.and she is keeping a promise.we can meet her on time easily. Her house is cozy.but we missed 1 night for schedule.we can arrive Cinque terre in 20~30minutes by car.
영주
2015-07-28T00:00:00Z
Lief om de eerste avond, zo laat nog, op ons te wachten.
Sandrine
2016-07-10T00:00:00Z
One of the best places of your stay. The location is quite remote and I would highly recommend to stay at this place only if you arrive by car. Otherwise the apartment was clean and well maintained and had all the basic amenities that was required.
Ayden
2015-08-07T00:00:00Z
The apartment was old and the furniture was also old. In the house it felt stuffiness. It would be necessary to ventilate the house before we arrived. We slept just one night, instead 2 nights.
Mirjam
2015-09-21T00:00:00Z
Tipe Kamar
Seluruh rumah/apartemen
---
Tipe Properti
Apartemen
---
Mengakomodasi
4
---
Kamar tidur
Bracelli, Liguria, Italia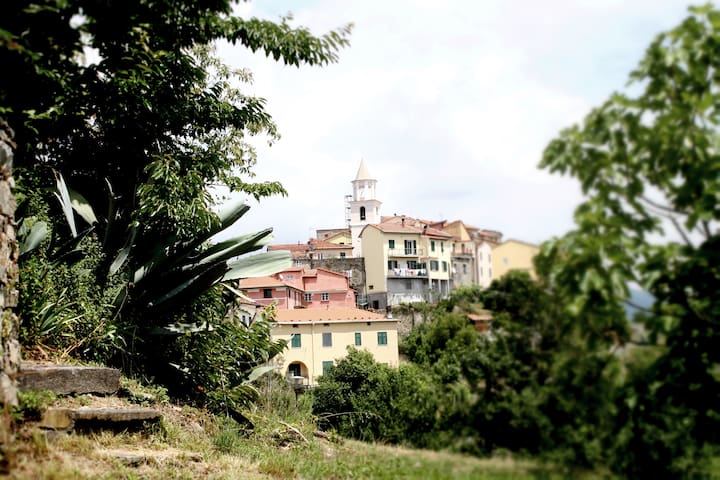 Il mio alloggio è vicino a splendide viste panoramiche. Il mio alloggio è adatto a coppie, avventurieri solitari e famiglie (con bambini).
Tipe Kamar
Seluruh rumah/apartemen
---
Tipe Properti
Apartemen
---
Mengakomodasi
4
---
Kamar tidur
Beverino, Liguria, Italia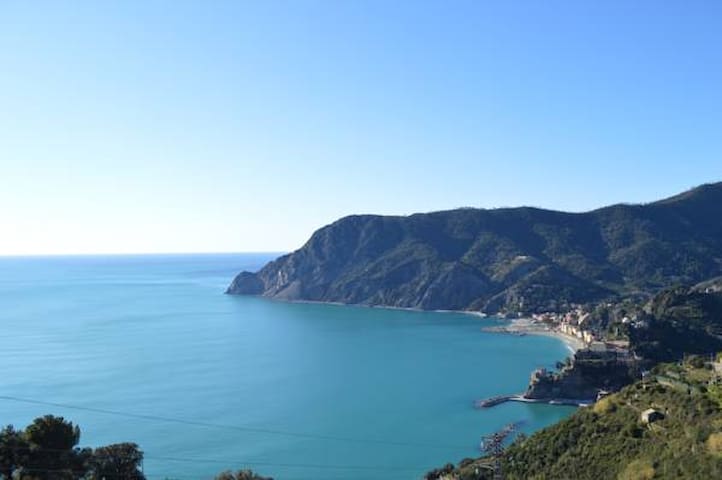 Apartment where pets of small size, located in the center of Riccò del Golfo, close to the Cinque Terre and From Organic Valley, with all the main Post Office services, Bank, Supermarket, Wash-dryer, Bar, Restaurant and Pizzeria. Distances to: Sea - 5 Terre Riomaggiore 16 Km Sea - 18 Km Monterosso 5 Terre La Spezia Km 9 (boat departures to 5 Terre, Portovenere, Lerici and train to the 5 Terre Sea - Path to Vernazza starting from box 2 hours walk
Young, well-furnished, newly renovated very bright and welcoming
Riccò del Golfo petit village avec tous les services nécessaires
Amazing apartment in a small and quiet village, just 10 mins short from La Spezia this is a great alternative to visit the Cinque Terre and surrounding areas if you are traveling by car since you have no problem parking for free. The apartment has all been renovated and you feel very comfortable in it, the bathroom is great. PS: Make sure you play the italian singer CD from the stereo to really feel you are in Italy :)
Luís
2016-09-10T00:00:00Z
Le logement était comme celui des photos, en très bon état, mobilier neuf. Appartement très lumineux.
Fabien
2016-06-09T00:00:00Z
Correspond aux photos, propre, neuf, déco simple et de bon goût. Nous n'avons pas rencontré Gian Luca mais parlé avec au téléphone, c'est quelqu'un de très sympa et attentionné. Nous avons surtout échangé avec Massimiliano, vraiment très sympa, amical, simple, l'accueil a été très chaleureux et tous les échanges ont été vraiment super, il donne beaucoup de bons conseils. Un grand merci pour tout ! Deux bémols cependant, nous n'avons pas eu le Wi-Fi de la semaine, un problème avec l'opérateur en cours de résolution à priori. Ça arrive. Ensuite la terrasse n'est pas terminée apparemment, il n'y a pas de table/chaises etc... pour dehors, nous avons tout de même pu profiter du balcon servant d'accès à la terrasse en sortant 2 chaises et apprécier le concert quotidien des grenouilles ! L'avantage aussi, un petit supermarché juste à côté, un resto excellent (il pappo), lavomatic à 10 mètres, pizzeria très bonne a 100m...accès à la spezia en 10 min en voiture. Merci encore à Gian Luca et Massimiliano.
David
2016-07-18T00:00:00Z
Massimiliano a été super sympathique. Il nous a laissé toute la documentation pour les 5 terres. Un sejour très agréable.
Florent
2016-08-17T00:00:00Z
Après un accueil très chaleureux, nous avons découvert un magnifique appartement lumineux au cœur de Ricco del Golfo. Très paisible, ce lieu de vie est proche de la nature, et permet de rejoindre La Spezia en à peine 10 minutes en voiture pour ensuite visiter les Cinque Terre. Massimiliano nous a beaucoup aidé quand aux activités et bons plans gustatifs aux alentours, et nous a même permis de partager un moment très privilégié au cœur de la fête des pirates annuelle! Une perle rare qui nous a permis de passer un séjour inoubliable! Appartement idéal pour un couple muni d'une voiture!
Maxime
2016-06-28T00:00:00Z
Very nice decorated flat in a quiet lovely area. I didn t have the chance to know Massimiliano in person even though he always answered my messages and doubts at any time.
Caroline
2016-08-24T00:00:00Z
Nous avons eu du retard sur l'horaire prévu mais Massimiliano nous a quand même accueilli avec amabilité . Nous l'avons croisé plusieurs fois, toujours très souriant et s'intéressant à nos activités. Le logement est parfait pour deux et, lorsque la terrasse sera équipée (transat, table...) il sera encore mieux !
Francine
2016-09-26T00:00:00Z
Accueil irréprochable. Appartement propre calme. Proximité des commerces et des moyens de locomotion . Pas besoin de voiture pour visiter les 5 terres , nous avons pris le bus et le train. On a même trouvé un parking gratuit à la SPezia. Que du bonheur.
Michel
2016-08-10T00:00:00Z
Tipe Kamar
Seluruh rumah/apartemen
---
Tipe Properti
Apartemen
---
Mengakomodasi
4
---
Kamar tidur
Riccò del Golfo, Liguria, Italia
Appartamento situato al pianoterreno di un villino, dotato di ampio giardino. E' composto da una camera da letto matrimoniale, bagno, soggiorno, cucina abitabile con veranda coperta ed accesso diretto al giardino. Parcheggio, internet wi.fi gratuiti.
Sono a disposizione degli ospiti le lenzuola e asciugamani bagno. La cucina è dotata di lavastoviglie e a disposizione degli ospiti c'è anche la lavatrice.
E' un quartiere, composto di case unifamiliari, ville e piccoli condomini, si snoda lungo la via Aurelia, appena fuori dal centro storico . La casa di Matilde si trova di fronte alla caserma dei Carabinieri del paese. Riccò del Golfo è un paese dotato di tutti i sevizi : Chiesa, farmacia, Servizio Postale, banche, distributore di carburante,parrucchiera, negozi alimentari, bar, ristoranti, pizzeria, pasticceria.
Per un week end in un luogo così incantevole com'è quello delle cinque terre la sistemazione da Alberto si è dimostrata veramente strategica oltreché comoda e confortevole. Siamo stati accolti venerdì sera dalla signora Anna con tutta la gentilezza che solo una madre può dare. Ci ha fatto sentire a casa, prodiga di consigli e suggerimenti che ci hanno facilitato il soggiorno. Abbiamo trovato una bellissima casa,pulita e ben arredata immersa in un giardino curato in ogni minimo particolare. Lontano dal caos e dalla vita caotica delle città della costa, ma allo stesso tempo vicinissimo a punti strategici e di snodo per un agevole collegamento. Se cercate tranquillità, pace e armonia con l'ambiente, questo è il posto che fa per voi.
Marco
2016-07-03T00:00:00Z
How fantastic it is ! It's surprise for (URL HIDDEN) very very beautiful and lovely house. The landlord are very nice kind and hospitality. They plant colorful flowers and green trees everyday. We've never seen this beautiful garden before. Actually, that means their love . 'Love House' We all love you so much and miss you . That's will be happy memories on our mind. Thank you for your hospitality and love .
jessica
2016-07-30T00:00:00Z
This is a very large nicely appointed complete apartment. If you like to cook-up a storm the kitchen is there for you and they also have a nice large bathroom. The hosts stayed up waiting for us and were very hospitable. Anna even spoke french which was a nice surprise. Finding it was a bit tricky so find the police station and facing them will be the location. The house is located some 7 km from the Cinque Terre heritage site which is a must to see. Bottom line, highly recommended.
Tony
2016-08-27T00:00:00Z
L'accueil de Mario et Anna est formidable : Mario n'hésite pas à se lancer et n'a pas peur de la barrière de la langue pour nous rendre service ; Anna quant à elle parle un bon français malgré toute sa modestie et est toute aussi accueillante et bienveillante. L'appartement est idéalement localisé pour visiter les cinq terres et le golfe de la Spezia Une maison agréable et très bien équipée en plus d'un jardin et d'une terrasse si bien entretenus par Mario Merci !!!
Sébastien
2016-08-22T00:00:00Z
My friends and I had a wonderful stay at Matilde's house! We booked it last minute but this was not a problem and we were recieved with great hospitality and even got espresso the next morning! The owners are the sweetest people and helped us planning our trip to Cinque Terre. Location is great and easy accessible and the appartement is nice and clean as well. Would definitely come back here next time!
Kim
2016-06-26T00:00:00Z
La casa è molto bella e grande. I proprietari sono molto ospitali. We really enjoyed our staying there.
Anastasia
2016-08-13T00:00:00Z
My wife and I had to make a very short notice booking, with about 30 mins notice and Alberto was quick to respond. The home was a wonderful surprise, very spacious, immaculate, with many little touches that made it feel like a home away from home. Many windows allowing plenty of light and a great patio area to take in the beautiful panoramic view of the area. Despite our short notice, Alberto and his wife were nothing but welcoming and did everything to make us feel at home, even a bit like a temporary addition to their family inviting us to coffee a few times during our short stay and providing great information about the area to us. Maps and many pamphlets for nearby destinations were available in the home as well. Definitely recommend this host in particular and this location.
David
2016-07-15T00:00:00Z
Nous avons été très bien accueillis par Alberto et son épouse, qui parle français. Celle-ci nous a bien renseigné au niveau tourisme. La maison est bien équipée. L'accueil a été chaleureux. Je recommande.
Veronique
2016-08-19T00:00:00Z
Tipe Kamar
Seluruh rumah/apartemen
---
Tipe Properti
Apartemen
---
Mengakomodasi
4
---
Kamar tidur
Riccò del Golfo, Liguria, Italia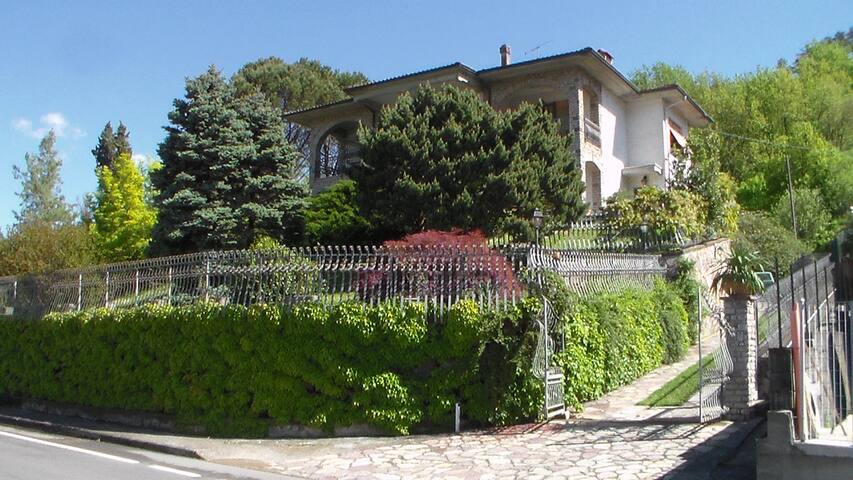 The apartment, recently renovated, is on the top floor of a former bishop's house and has a double bedroom with possibility of adding a single bed, living room with sofa bed, kitchenette, bathroom and terrace with BBQ and deck chairs
The apartment is decorated with great originality and is only 7 km from the central station of La Spezia. With the train can rech Cinque Terre in 10 minutes! I recommend you get to the apartment by car. The area is not well served by public transport.
Valdipino is a small medieval village far from the frenetic city (La Spezia is only 7 km). There are not commercial activities but only a social club where elderly locals meet every day. In the evening during the summer all the inhabitants of the country come together in the only place. Here in Valdipino you step back in the time
L'appartement était top. Elisa travaillait mais elle était disponible si besoin par message. Son ami nous a accueilli à l'heure. L'appartement est grand, bien équipé, propre et bien situé pour visiter les Cinque Terre. Elisa nous a donné de la documentation pour visiter. Grazie per tutti Florent & Johanna (Paris)
Florent
2016-09-05T00:00:00Z
Nous avons passé un très bon séjour dans cet appartement et ce village assez proche de la spezia en voiture (et de la gare pour rejoindre les 5 terre). Nous n'avons pas pu voir Elisa à notre arrivée mais elle nous avait laissé les informations principales pour notre séjour. C'était une chouette expérience au calme et loin de toute l'agitation touristique.
Caroline
2016-10-25T00:00:00Z
Elisa nous a très bien accueilli. Son appartement est très agréable. Il n'est pas situé dans les Cinque Terre mais il est aisé de s'y rendre, soit en voiture ou en train. Un grand parking est disponible juste à côté de son logement, chose rare et agréable pendant les vacances. Un séjour particulièrement réussi.
Michaël
2015-09-20T00:00:00Z
Paesino tranquillo e accogliente. Casa ben attrezzata, dotata di ogni comodità e di una ricca biblioteca. Elisa è una padrona di casa simpatica, disponibile, accogliente e ospitale. Ottima vacanza sotto ogni punto di vista!
Davide
2016-07-11T00:00:00Z
Elisa nous a très bien reçu , et nous a fourni tous les renseignements nécessaire et en plus elle parle parfaitement le français . Nous avons adoré sa maison , très bien décoré, très grande avec bcp de charme . Vous êtes à 10 minutes de la Spézia ds un village typique , ou il n' y a qu 'un café ou les les villageois de rassemblent., comme autrefois. Parfait, nous reviendrons.
dupuis
2015-08-14T00:00:00Z
Great experience in Elisa's house! It's very big and comfortable! the village is very quiet and surounded by mountain. It's perfect if you have a car (then you have to drive 15mn to la spezia,elise will tell you where to park your car there for free and then take a train or boat to cinque terre). Thank you elisa for being so nice :)
Maxime
2016-10-08T00:00:00Z
Un grand appartement, ayant beaucoup de charme, replié dans les terres au calme, bien situé pour visiter les 5 Terres (10-15min de la Spezia) Elisa est super, attentive et pleine de bons conseils.... A faire et à refaire avec grand plaisir...
Gaelle
2016-09-27T00:00:00Z
Whoever looks for a quiet paradise in the beautiful but crowded Cinque Terrre area will find his/her peace in this remarkable place. We woke up with the birds singing, while the morning fog slowly disappeared, revealing nature's beauty. The charming, perfectly clean appartment is only 15 minutes from La Spezia - and just a wonderful basis in Leguria. Elisa is a very nice and easy-going host that made our spontanous stay a 10 out of 10. Mille grazie!!!
Bjørn
2015-10-08T00:00:00Z
Tipe Kamar
Seluruh rumah/apartemen
---
Tipe Properti
Apartemen
---
Mengakomodasi
3
---
Kamar tidur
Riccò del Golfo, Liguria, Italia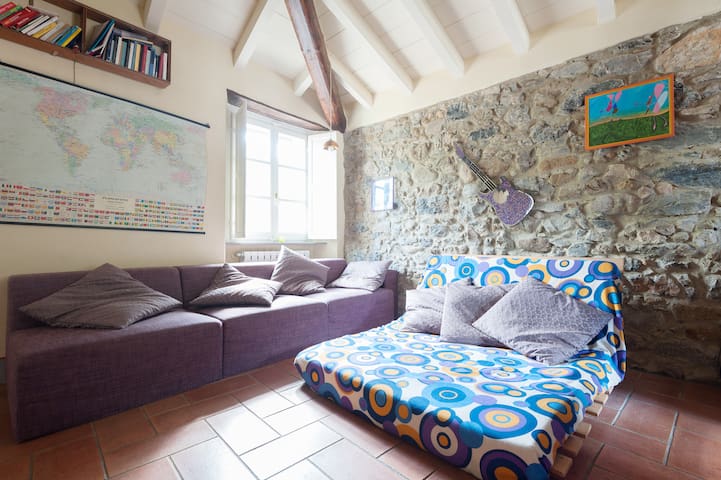 The house is surrounded by greenery of the Ligurian hinterland, you will find yourself in an oasis of relaxation at night resting far from the noise citizens with fresh nature despite being only a few kilometers from the famous and crowded Cinque Terre reached in just 20 minutes, and the city of La Spezia a 15 where you will find a large shopping center "the Terraces", which has restaurants bars shops of all types and a ipermercato.Inoltre from the pier of La Spezia there are ferries.
La casa dispone di due appartamenti uno di 90 m coni un ingresso con sala e zona pranzo, una cucina con forno lavatrice frigo congelatore ripostiglio , camera con letto matrimoniale e un lettino singolo fasciatoio per neonati, camera matrimoniale con cabina armadio e cassaforte e terrazza con vista panoramica ,l altro sottostante ristrutturato nuovo ha anch essoun ingresso indipendente con giardino per conto suo con tavolo ombrellone sdraia e vista panoramica cucina con forno frigo cingelatore e microonde , sala con divano letto matrimoniale con tv ,camera matrimoniale cin lettino singolo tv bagno con doccia e. Lavatrice e ripostiglio .
if you are looking for a bit of relaxation this is the perfect place for couples and families with children
Tipe Kamar
Seluruh rumah/apartemen
---
Tipe Properti
Apartemen
---
Mengakomodasi
5
---
Kamar tidur
Province of La Spezia, Liguria, Italia
L'appartamento è inserito in un antico borgo con piscina, a ridosso del Parco Nazionale delle Cinque Terre. Arredamento curato, balcone, posizione immersa nel verde. Meta ideale per chi ama le passeggiate, il relax e la quiete. Monterosso e Levanto sono a pochi minuti di macchina. No fumatori. Sì animali domestici di piccola taglia.
le logement conforme à la description est très Agréable. Il est situé dans un ancien village parfaitement rénové. L'endroit avec sa grande piscine, situé au milieu de la campagne et des collines liguriennes est paisible. L'accueil de Paola et de son ami a été parfait. A recommander
Christian
2016-08-13T00:00:00Z
From the moment we arrived, we loved the place. Paola's friend was so helpful and welcoming. The apartment was perfect-clean, airy and with a lovely terrace. The pool was amazing and the views stunning. The nearest village, Pignone - a 20 minute walk - was a delight - all the charm of the Cinque Terre villages but without the crowds!! Easy access by car to trains and boats to explore the Cinque Terre also made this an ideal place to stay. The local people were extremely friendly. We ate out at the village Pizzeria and Locanda da Marco and had lovely meals at both places. The traditional sausages and fresh ravioli bought from the local shops are a must! We would like to say a huge thank you to Paola for letting us stay in her wonderful apartment and would love to return in the future!! We had an amazing holiday and were sorry to leave.
Julie
2016-08-28T00:00:00Z
The host canceled this reservation 16 days before arrival. This is an automated posting.
Elisa
2017-03-30T00:00:00Z
We had an amazing time. The quietness and sounds of nature in the evening were most welcome. It was very relaxing and comfortable. The apartment was as cosy and pretty as shown on pictures, and extremely clean. It is located in an old but beautifully renovated traditional hamlet just outside a village and is accessible by a lovely country road. We are especially thankful to Fabio, one of Paola's friend on site, who looked after us and made very useful suggestions about places to visit and where to eat.
Otto
2016-08-19T00:00:00Z
Un appartement agréable et au calme non loin du village de Pignone et à 30 minutes du village de Monterosso (Cinque Terre). L'appartement de Paola est conforme aux photos du site et la literie est très bonne. Le lit d'appoint convient à un petit enfant mais pas pour un adolescent si jamais. Elle a été très disponible et répondu à nos questions avant et durant notre séjour. Nous avons trouvé très sympa la mise à notre disposition de plein de boissons fraîches qui ont été vraiment très appréciées.
Manuela
2016-07-28T00:00:00Z
Tipe Kamar
Seluruh rumah/apartemen
---
Tipe Properti
Apartemen
---
Mengakomodasi
4
---
Kamar tidur
Pignone, Liguria, Italia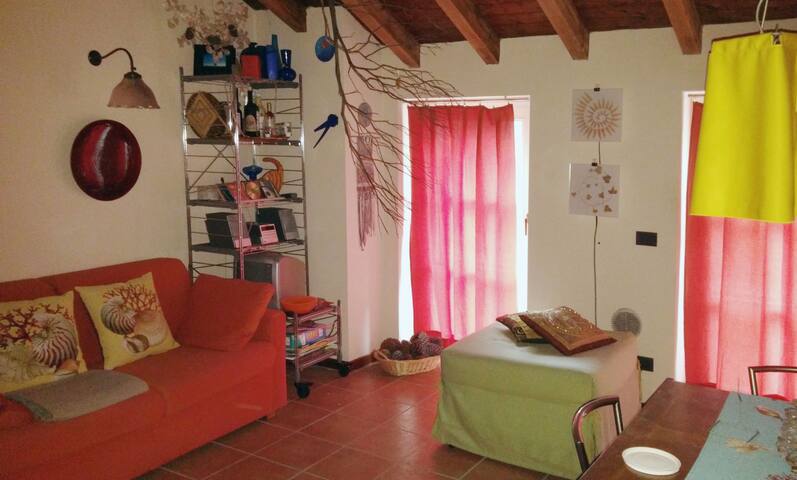 Set in an ancient house recently restored to preserve the ancient arches wall materials ceilings give a retro flavor Site behind the 5 lands 10 minutes from La Spezia to 15 from Portovenere in a quiet area in open country Possibility of mountain bike rental and guided tours with a guide
The tranquility peace landscapes make this place a real paradise where you can stay without any kind of problem The mild climate, the pristine nature allow us to do all those outdoor sports that serve to relax ritempraci There CAI paths that lead us in a short time, both by bike and on foot, in the 5 Terre Park
Ours is an ancient medieval village placed in the hills in the countryside destination
1.The host forgot the key at home and he obligated to have ladder to climb in the house ...... 2.The neighbor relationship seems bad with the host , They argued each other when the host tried to open the house ,and after the neighbor made an obstacle between the gardens when we arrived and used the body language to my parents to make them understand that it is forbidden to entrer . We felt treated as thief …….. 3. Equipements were completes however the washing machine is shared with host as when we arrived in the house , the machine was running for the host …. 4.The village is 35 mins to Levanto and 20 mins to Le Spezia , good for visiting 5 terres if you didn't find a hotel in high season. However ,the road to the village is not easy . 5.Hard to find a parking place even the host was nice as he proposed to give his parking place to me . But as it is a small village , the parking places are limited and do not think about a place close to the house .
Ni
2016-08-03T00:00:00Z
Casa molto bella e ben curata, situata in una zona caratteristica e facilmente raggiungibile, da cui potersi spostare comodamente. Grazie ad Alberto, gentilissimo e disponibilissimo!
Alessandro
2016-08-28T00:00:00Z
The house was beautiful and well equipped. But it is cold (to 30 October, despite a request to have the heating, because the child was ill, we were at 17 degrees), it lacks any kind of necessities (there's a little sugar, salt, a sachet of tea, or coffee) and there are no shops in the village. The house has no shutters or blackout curtains (and therefore to the 6:00 am plenty of daily light). Moreover, contrary to the initial agreement (check out 12:00), Mrs. Elizabeth came to us to say that we had to leave the house compulsorily before 10:00 in the morning. So all in all we must say that although Mr. Alberto and Lorenzo were friendly and punctual the hardships encountered have influenced the quality of service.
Luisa
2016-10-31T00:00:00Z
Nous avons passé un bon séjour. Le positif: le logement est propre et agréable, le lieu est calme et charmant. Alberto et son épouse sont souriants et toujours arrangeants. Le négatif: la 2ème chambre est un espace totalement ouvert et bas de plafond, empêchant d'être exploité par un enfant en bas âge, ou empêchant l'intimité de l'autre chambre. Le logement est peu spacieux également, mais tout le nécessaire est là. On conseillerait tout fait un petit séjour à La Cantina Del Sol. Arrivé Derci Alberto et grazié !
blandine
2016-08-15T00:00:00Z
Très belle découverte. Petit village perdu et rempli de charme, calme et sérénité y règnent. Super appartement rénové, très mignon et confortable avec une magnifique vue sur la vallée. Des hôtes accueillants et fort sympathiques qui nous ont conseillé un bon restaurant le soir de notre arrivée. En bref, nous reviendrons si l'occasion se présente. Grazie ad Alberto e Sua moglie!! :-)
Maeva
2016-06-12T00:00:00Z
Very nice house and very nice hosts. Alberto and Elizabeta made our stay unique! I definitely recommend! :)
Arthur
2016-05-16T00:00:00Z
Tutto ok ... Consiglio L appartamento per chi cerca relax e tranquillità
Michelangelo
2016-09-05T00:00:00Z
Nice and quiet place. Cordial host. Sunny living room. Lovely view on the surrounding mountains.
Tine
2016-08-05T00:00:00Z
Tipe Kamar
Seluruh rumah/apartemen
---
Tipe Properti
Apartemen
---
Mengakomodasi
3
---
Kamar tidur
Province of La Spezia, Liguria, Italia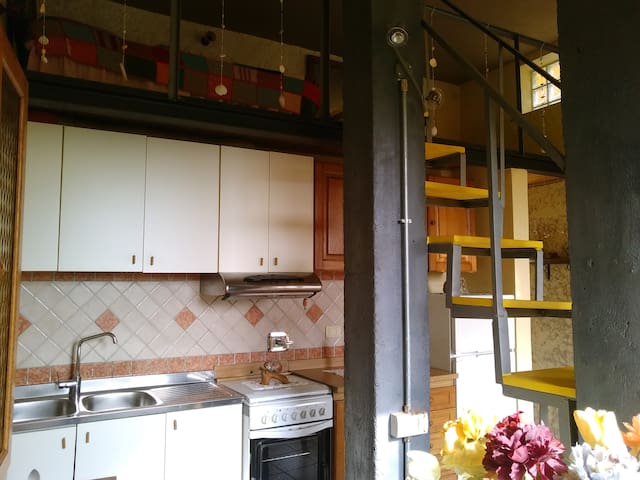 Rustichino ist eine herrliche in der charmanten kleinen Stadt Corvara Landhaus zur Selbstverpflegung, in den Hügeln von La Spezia und der Cinque Terre, platziert sich ideal für diese beeindruckende Gegend zu erkunden oder Spaziergänge auf den zahlreichen Wegen in der schönen Umgebung bewaldeten Hügel .Das Haus ist ein typisches Beispiel für ein 17. Jahrhundert Steinhaus. Es wurde kürzlich (2009) vollständig seine alten Züge restauriert Beibehaltung
Das Haus - ca. 75 qm - ist ein schönes rustikales Steinhaus auf zwei Ebenen gebaut. Die obere Etage besteht aus einem großen Wohn- / Esszimmer, von dem eine Seite mit einer modernen Küchenzeile besetzt ist. Schöne, komfortable Kastanienholz Treppe in die untere Etage führen, bestehend aus einem geräumigen Schlafzimmer mit Doppelbett und ein großes Badezimmer mit voller Länge Badewanne und Stand-up-Dusche. Ein Eingang (Französisch Türen) führt direkt in der obersten Etage; einen separaten Eingang (auch Französisch Türen) führt in das Erdgeschoss. Eine Treppe (auch in Kastanie) führen von der obersten Etage mit einem Mezzanine, die ein anderes Paar bequem schlafen können. Das Haus mit Blick auf einen ruhigen gepflasterten Weg auf der einen Seite und schöne Nachbarschaft Gärten auf der anderen Seite. Es gibt gute Parkmöglichkeiten auf der Straße, nur wenige Meter vom Haus entfernt. Die Rustichino ist ein idealer Zufluchtsort für Künstler, Wanderer oder einfach nur für die Touristen, die einen anderen Geist von Ligurien und der Cinque Terre leben möchten, weit weg vom Lärm der Menge sie während des ganzen Jahres und besonders im Sommer Invasion, für diejenigen, deren Idee Urlaub bricht aus stressigen Alltag, aus der Gefangenschaft der Internet-Verbindung, und pausieren Sie ein Glas Wein zu trinken, ein Buch lesen oder Musik hören oder einen Spaziergang im Wald zu hören Stille haben.
Trés bon accueil.Petit cadeau à l'arrivée (une bouteille d'apéritif local).Disponibilité et réactivité des hôtes(pour remplacer un tuyau de douche percé)
Rene
2016-09-04T00:00:00Z
Very charming house, with the most welcoming hosts !! Even though one could argue the rent isn't so cheap, we really loved it. The house is as displayed on the pictures : very charming ! Although we had some road everyday to La Spezia and the surroundings (by bus, so, yes, it is totally possible from Corvara : it's one hour - opposed to 30min by car), it was totally worth it. We were glad to come back to the village in the evening. You even have a trattoria where you can eat every evening. That being said, the house is equiped with everything you need to cook. The kindness and the help provided by Marilena & Gianni must absolutely be underlined. We had a trouble with our rental car (in Sixth Massa Carrara, where you cannot rent a car with the husband's credit card for the wife to drive... it has to be the same name/people for the card and the driver license : beware!). Marilena & Gianni came to pick us there, with fresh water, a flowers' bouquet (we just got engaged) and a nice basket of goods. Then, they drove us to a cash machine and to a place to buy bus ticket, before taking us to the house. So kind! They were really nice. They put us in touch with the neighbours of the house in Corvara, so that we wouldn't have any issue. They were very welcoming and very helpful. A real double bed (not twins) would make it perfect : ) In summary, we totally recommend it !
Aline
2016-07-14T00:00:00Z
We had a great time in Corvara. Marilena & Gianni were so kind to meet us at the "La Spezia" highway exit to show us the best way to the house and some important places in the surrounding area. They welcomed us with flowers, wine and some snacks, which was awesome. They also were very responsive to any questions we had. The house is the perfect place to spend a relaxed time. A king-size bed and more reliable water heating would make it perfect.
Alexander
2016-08-07T00:00:00Z
Gianni et Marilena sont très accueillants. L'appartement est très sympa (fidèle aux photos) et surtout idéalement situé pour découvrir les villages des cinque terre et la Riviera di levante. 20mn en voiture de la Spezia (départ des bateaux pour les Cinque Terre) et 30mn de Levanto (belle plage privée avec piscine). Le village de Corvara est également très joli. Laure Abbiamo avuto un ottimo soggiorno a Gianni e Marilena . Sono molto ospitali. L' appartamento è molto buono e in posizione ideale per visitare la Riviera di Levante e le cinque terre. Speriamo di tornare in zona per un'altra vacanza. Laure
Laure
2016-08-21T00:00:00Z
Tipe Kamar
Seluruh rumah/apartemen
---
Tipe Properti
Apartemen
---
Mengakomodasi
4
---
Kamar tidur
Corvara, SP, Italia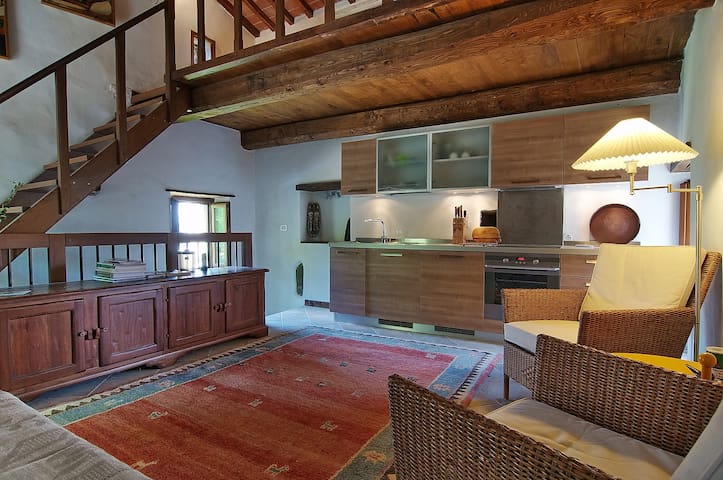 Appartamento di 100 mq in paesino medievale ligure disposto su tre livelli,3 camere doppie ampia terrazza,cucina sala (email hidden)iacente 5 terre, dista 90 km da aeroporti Pisa-Genova 150 km dalle più belle città d'arte del centro-nord Italia. Prenotazioni da sabato-sabato
Esclusivo molto curato nei particolari che lo rendono tipico ligure e Italiano
Il paese di Quaratica è veramente incantevole, un piccolo borgo medievale dove pare si sia fermato il tempo, immerso nella collina con una magnifica campagna è nel contempo a due passi da località di mare esclusive. Dalla terrazza vi sono scorci mozzafiato e l'unico rumore sono i cinguettii
casa raelmente pintoresca, grandes vistas, amables anfitriones
Paula
2016-03-30T00:00:00Z
An amazing experience, that I would recommend to anybody who would like to experience life in an old, authentic hilltop village. The house is part of a cluster of small houses which cling to the mountain. They are connected by cobbled paths and walkways, and are full of character. Annalisa was a great host, communication was great, and checking in was very easy. We enjoyed Pizza in the village , and drove to La Spezia for train connection to the Cinque Terre. Thoroughly recommended for anyone except the very young or the very old. You will enjoy a very authentic rural lifestyle that very few tourists are lucky enough to experience.
Wayne
2016-08-18T00:00:00Z
The typical house of annalisa and carlo is located in a lovely little medieval village. The house has 3 stairs and is very well-equiped. We have had a great week! Annalisa and carlo have been very nice and they have explained us all the main attractions in the region. The antic market by night in saranza was a great moment.
Ophelie&Bertrand
2014-08-17T00:00:00Z
Carlos hat uns sehr herzlich empfangen und war ein unkomplizierter, freundlicher und hilfsbereiter Gastgeber. Das Haus ist ein authentisches mittelalterliches Haus fernab vom Massentourismus. Es war sauber, die Bilder stimmen im Prinzip mit dem überein, was man bekommt. Das Häuschen ist geschmackvoll eingerichtet und hat einen ganz besonderen Charme. Es liegt in einem ganz ruhigen kleinen Dörfchen, man erreicht den Strand und wichtige Sehenswürdigkeiten aber innerhalb von 15-20 Minuten, man braucht allerdings ein Auto. Groß aufkochen kann man mit der Küchenausstattung ( kleine elektrische Herdplatten) zwar nicht, aber für unseren kurzen Aufenthalt war es in Ordnung. Großes PLUS: die Betten sind sehr gemütlich. Wir fanden es wundervoll, auch die Kinder waren begeistert und sie sind gut mit der engen Stiege klar gekommen. Der Ausblick von der Terrasse ist fantastisch.
Christine
2016-08-28T00:00:00Z
La casa è molto bella, il borgo caratteristico ed ideale per raggiungere La Spezia e le Cinque Terre. Soprattutto Annalisa e suo marito si sono dimostrati persone fuori dal comune durante il mio soggiorno che purtroppo è stato, senza alcuna colpa di alcuno, molto tribolato. Si è verificato infatti durante il mio soggiorno un contrattempo e nonostante fosse domenica Annalisa si è subito attivata per ridurre al minimo il disagio. Sono poi dovuto rientrare d'urgenza dalla vacanza a causa della notizia di un grave lutto familiare. Annalisa e suo marito sì sono offerti immediatamente e spontaneamente di rimborsarmi la prenotazione, un gesto non dovuto, di grande ospitalità e signorilità.
Andrea
2016-03-24T00:00:00Z
Super Nice house, we spent a great time there, especially on the terrace with red wine and prosciutto crudo :))) thanks!
Camille
2016-05-30T00:00:00Z
Lovely authentic rural Italian living appartment up in the hills. A wonderful experience and more than expected. Older couples need to remember this property is on a hillside with many steps to, and a ladder type stair to bedrooms and bathroom inside the place. Most welcoming host. Our group of three over 60s couples thoroughly enjoyed our stay here.
David
2016-06-25T00:00:00Z
Nous avons adoré la maison d'Annalisa qui était exactement conforme aux photos. Nous voulions un endroit au calme, dans la nature, c'était exactement ce à quoi nous nous attendions. Nous avons loué la maison 2 semaines avec nos 2 enfants, ils ont adoré, la maison et le village ont énormément de charme, on s'y sent vraiment tranquille. La seule chose qui nous ait manqué est une machine à laver le linge. Quand on reste 2 semaines avec des enfants c'est nécessaire, mais je comprends bien que pour les hôtes qui passent seulement quelques nuits ce n'est pas indispensable. Aussi il manque des choses de base dans la cuisine : planche à découper, essoreuse à salade...des choses pas forcément nécessaires quand on est de passage mais quand on s'installe comme nous c'était un manque. Aussi il faut être en bonne santé car l'escalier de la maison est très pentu et les marches très hautes, à déconseiller pour des personnes âgées ou des enfants trop petits. Mais rien à signaler, conforme à la description !
Juliette
2016-08-14T00:00:00Z
Tipe Kamar
Seluruh rumah/apartemen
---
Tipe Properti
Apartemen
---
Mengakomodasi
6
---
Kamar tidur
Ricco del Golfo, La Spezia, Italia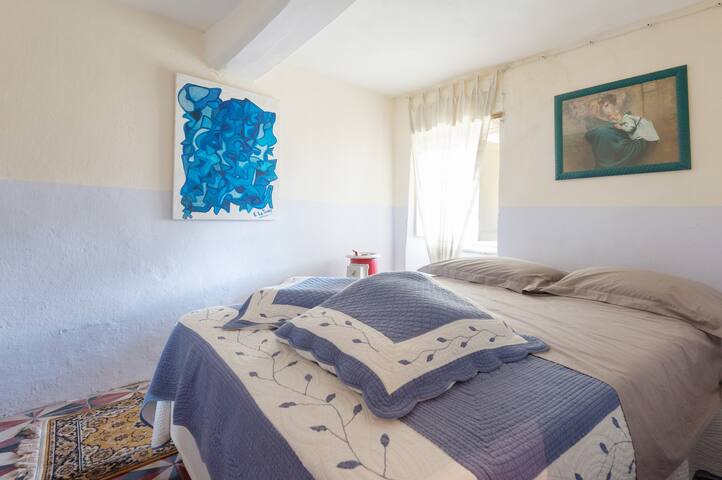 Liguria, Località Puin vicino Pignone, Monte Rosso (La Spezia): A soli 6 Km dal mare di Monte Rosso, nel verde del Parco delle Cinque Terre, appartamento di 4 locali più terrazza in residence con piscina, tennis e giochi per bambini. Custode in loco.
L'appartamento è posizionato su due piani completamente ristrutturato, con arredi su misura. E' composto da soggiorno con affaccio su un terrazzo vivibile , cucina a vista, una camera da letto matrimoniale e un bagno finestrato con doccia/sauna. Una comoda scala ci conduce al piano mansardato abitabile suddiviso in 2 camere da letto e un bagno servito da box doccia.
Il residence si trova in una grande area boschiva protetta, a piedi si possono esplorare i sentieri del parco delle 5 terre. I paesi più vicini sono Monterosso a 6 km e Pignone a 5 km. Ristorante in loco.
Miejsce było bardzo atrakcyjne a informacje od Chiara pozwoliły mam na zaplanowanie zwiedzania na pierwsze dni po przyjeździe. Apartament był doskonale przygotowany na przyjazd. Jedyny problem to brak bliskiego sklepu w okolicy, więc warto zabrać ze sobą jedzenie na pierwszy posiłek, a później już pozostaje korzystanie z smaków 5Terre :-) Krzysztof
Krzysztof
2016-07-20T00:00:00Z
Chiara a été très agréable et a toujours répondu à nos demandes. Sur place, le gardien et sa femme ont été charmants. L'appartement était très bien mais il faut préciser que la chambre du haut n'est pas fermée. Seule grosse déception : l'obligation de porter des bonnets de bain pour la piscine ... Coté voyage, je recommande particulièrement le poissonnier ambulant, les mardis et vendredis, sur la place de Pignone : un régal !
Fanny
2016-08-14T00:00:00Z
Bon accueil par le concierge, il y avait de l'eau fraîche au frigo.
Mélanie
2016-07-29T00:00:00Z
Alles klopte☺️
Kathleen
2016-07-10T00:00:00Z
Tipe Kamar
Seluruh rumah/apartemen
---
Tipe Properti
Apartemen
---
Mengakomodasi
6
---
Kamar tidur
Pignone, Liguria, Italia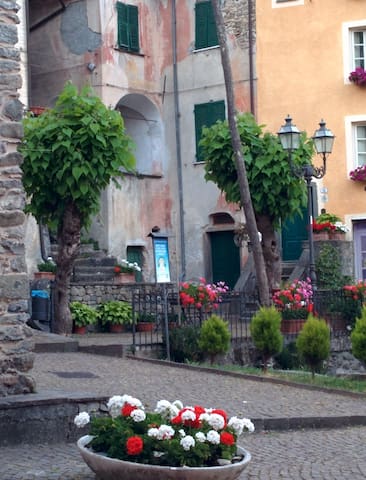 Nella splendida cornice delle 5 Terre, in antico Borgo con piscina a pochi km dal mare delizioso appartamento, con grande terrazzo, arredato con gusto per chi ama la quiete, la natura, il mare. 4 posti letto max. No fumatori e animali .
E' un Borgo davvero speciale per la convivialità tra le persone, dove i bambini possono divertirsi senza problemi.
Un petit havre de tranquillité à quelques kilomètres des cinque terre...L'appartement d'Adriana est un endroit parfait pour des vacances parfaites! Très bien tenu, décoré avec gout, tout est fait pour se sentir le mieux possible au milieu de cette nature reposante...
Mickael
2015-08-09T00:00:00Z
Séjour formidable dans un cadre magnifique et calme. La résidence est un village converti en résidence La piscine se trouve en pleine nature avec une vue dégagée sur la campagne L'appartement est bien aménagé et la terrasse est agréable pour tous les repas
Christelle
2015-07-25T00:00:00Z
The host canceled this reservation 46 days before arrival. This is an automated posting.
Christian
2016-06-15T00:00:00Z
Adriana was very welcoming. She showed us the small "town" where the flat is. We had as a gift a good bottle of white whine of the 5TERRE. That was a perfect start for the holiday. The flat is nice with a big terrace! The location is quite. The swimming pool is big and the water is clean. The flat is 30 minutes away from the see. A bit far from the see, but from there you can visit lots of different places! And to go walking it is a good place! The region is really lovely and beautifull! We had a great stay and great holidays! We were there with our baby girl and that was perfect. We can recommand this flat.
Kevin
2015-07-15T00:00:00Z
Un appartement agréable non loin du village de Pignone et à 30 minutes du village de Monterosso (Cinque Terre). La piscine et la terrasse sont surement très bien mais nous n'avons pas eu l'occasion d'en profiter (les soirées sont plutôt fraiches en cette saison).
Philippe
2015-09-10T00:00:00Z
Nous avons été très bien reçus dans l'appartement d'Adriana ! L'appartement est très joli et correspond à la description. La piscine est très agréable et calme. Le bourg où se situe l'appartement est à 30 min en voiture de Monterosso (routes sinueuses de "montagne") et Levanto. Nous avons passé de très bonnes vacances et vous recommandons cette adresse !
Roxane
2015-08-16T00:00:00Z
The host canceled this reservation 35 days before arrival. This is an automated posting.
Manuela
2016-06-15T00:00:00Z
Tipe Kamar
Seluruh rumah/apartemen
---
Tipe Properti
Apartemen
---
Mengakomodasi
4
---
Kamar tidur
Pignone, La spezia, Italia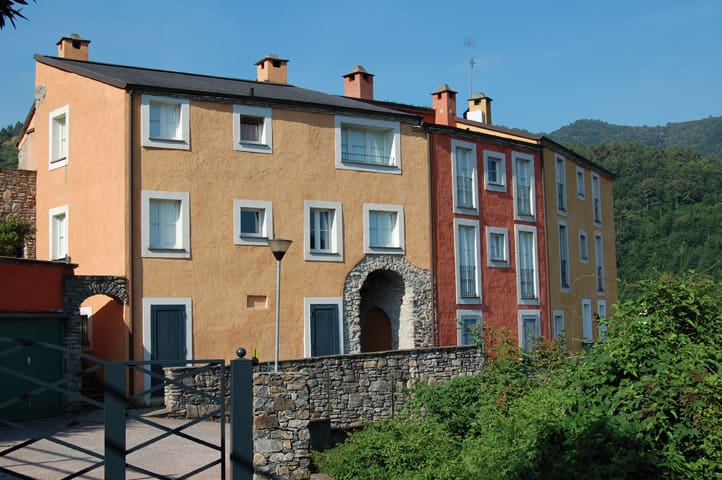 Il mio alloggio è un appartamento in villa con giardino privato e posto auto,adatto a coppie,avventurieri solitari, chi viaggia per lavoro,famiglie con bambini, grandi gruppi e animali domestici.Da qui è possibile raggiungere le 5 Terre in 20 minuti o percorrere i sentieri del CAI.L'appartamento è composto da soggiorno con divano letto matrimoniale, due camere da letto matrimoniali, bagno, terrazza, barbeque, giardino e posto auto privato.Nelle vicinanze sono presenti ristoranti, bottega e parco
L'alloggio è inserito nel verde, in zona molto tranquilla e rilassante
vicino a casa c'è un piccolo parco giochi per i bimbi, grazioso davvero
Séjour parfait appartement conforme à sa description. Très calme et finalement pas si loin. La Spézia est à 20 min avec train et parking pour la voiture sous la gare (1.5€/heure). Restaurant dans le village très bien. Merci encore pour l accueil
Cécile
2016-11-02T00:00:00Z
The second longer period our our stay in Polverara was as pleasant as the first one. We felt like home! I really want to emphasize the tidiness and condition of the apartment, everyhing was so clean and well functioning. Thank you again, Alessandra!
Anne
2016-10-01T00:00:00Z
L'apartament està impecable en tots els aspectes. L'alessandra i el seu company van ser molt amables i comunicatius. Ens van recomanar un lloc perfecte per sopar, proper i econòmic. Què més es pot demanar? Absolutament recomanable, una pena que només ens hi estiguessim una nit... Gràcies per tot! The appartment was in mint condition. Everything was perfect. Alessandra and her boyfriend were very kind and talkative. They recommended us a perfect place to dinner, close and cheap, what else can we ask for? Absolutely recommendable, it was a pitty to stay only one night... Thanks for everything!
Ignasi
2016-08-23T00:00:00Z
Alessandra est charmante et très accueillante. Le quartier est très calme et l'appartement très spacieux, propre et très bien équipé. L'accès est facile bien qu'en moyenne montagne et à 10 minutes de la ville de La Spezia et 20 minutes des 5 Terre. Nous avons trouvé le petit village pittoresque avec sa petite épicerie à l'ancienne et son restaurant local où nous avons mangé les meilleurs raviolis de toute l'Italie. Rien que pour cela, nous y reviendrons car vraiment ça vaut le détour ! De plus il y a un jardin agréable dont nous n'avons pas pu profiter car le temps n'a pas été au beau fixe pendant notre séjour.
FRANCE
2016-10-20T00:00:00Z
Alessandra è una persona davvero carina e accogliente. La casa è davvero bellissima e pulitissima. Molto spaziosa e luminosa, con WiFi e una grande TV. Il giardino fuori è molto curato e c'è anche un piccolo orto. Perfetta sia per coppie che famiglie!
Micaela
2016-07-25T00:00:00Z
Apparemment très joli et spacieux, très propre, bien équipé et bien chauffé. Nous n'avons pas rencontré Alessandra mais la communication par téléphone a été bonne et rapide.
Constantin
2017-02-26T00:00:00Z
Nous ne sommes restés qu'une nuit dans l'appartement d'Alessandra, pour faire une petite pause pendant un long voyage en voiture. Nous avons très bien dormi et pu nous reposer. L'appartement est très grand, fonctionnel, joliment décoré. Tout a l'air neuf. Il pleuvait malheureusement et nous n'avons pas pu profiter du grand jardin. Alessandra a été très arrangeante pour notre arrivée, un peu plus tôt que prévu. Merci encore pour tout !
Sylvie
2016-10-15T00:00:00Z
Casa muy amplia y bonita, en la que es fácil sentirte cómodo. Los peros son que no había productos básicos como detergente para fregar platos o aceite, y no hay súper en la zona. También la zona estaba un poco alejada de lo que es L'Spezia y comunicada por una carretera de montaña con muchas curvas que incomodaba el salir o volver, sobretodo de noche.
Inma
2016-07-24T00:00:00Z
Tipe Kamar
Seluruh rumah/apartemen
---
Tipe Properti
Apartemen
---
Mengakomodasi
6
---
Kamar tidur
Polverara, Liguria, Italia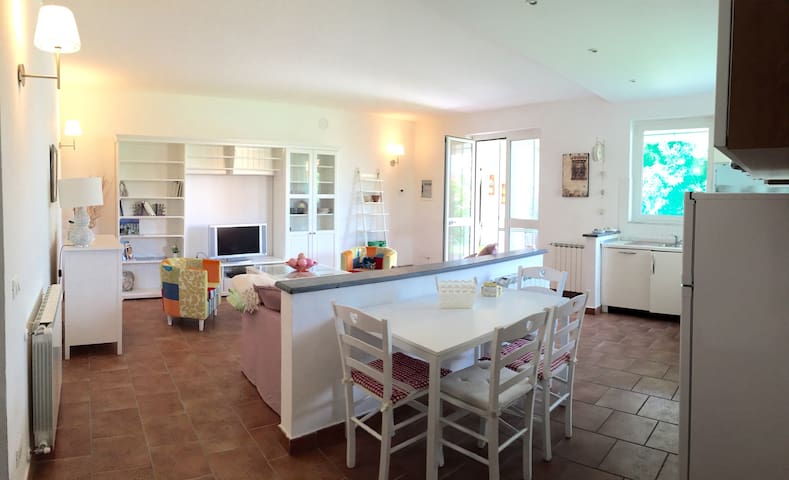 Deep in the green hills near the Cinque Terre, the apartment is in a 1930s villa situated in Riccò del Golfo near La Spezia. The house is located strategically for easy access downtown, all beaches of our Gulf and the magnificent Liguria countryside with its rivers. Pisa is only 45 minutes away while Genoa and Parma are approximately a 60 minutes drive. The use of the garden w/ BBQ is shared with all guests. Nearest airports: Genoa, Pisa and Milan. Ideal also for trekking and biking lovers.
Deep in the green hills near the Cinque Terre, we offer a second floor apartment in a 1930s villa situated in Riccò del Golfo, near La Spezia. The house is located strategically for easy access to the city center, all beaches of our Gulf and the magnificent Liguria countryside with its rivers.
Riccò del Golfo is a very small village from the Middle Ages, with a very cute center. However small the village has all amenities: post office, supermarkets, pharmacy, cafes, restaurants, playground, butcher, laundromat, ...). It is wonderfully located to grant total relax in nature while being fairly close to the beaches and the city centre.
Genni and her husband were amazing! They were so friendly and helpful. The place was gorgeous and so easy to travel to Cinque Terre (We had a car). Definitely recommend staying here!!!
Erin
2016-07-24T00:00:00Z
Nous avons très bien été accueillis par Genni et Carlo dans leur belle maison de campagne. Nous avions tout l'étage à nous et étions très confortablement installés. L'endroit est idéal pour les familles et est un excellent camp de base pour accéder au Cinque Terre!
Vanessa
2016-09-01T00:00:00Z
Nous avons été super bien reçus. Genni et son mari Carlo étaient à notre disposition. Ils nous ont donné beaucoup d'informations sur les endroits à visiter, des conseils, etc ... L'appartement était bien conforme à celui décrit. La mise à disposition d'un salon de jardin est un atout très sympathique pour cette location, salon où nous avons passé une soirée très conviviale. L'endroit est idéal pour visiter les Cinque Terre, situées à un petite vingtaine de kilomètres en voitures et à 3 heures de marche par sentiers pédestres. Nous avons donc passé un super séjour. Nous recommandons
Laurent
2016-09-16T00:00:00Z
Tipe Kamar
Seluruh rumah/apartemen
---
Tipe Properti
Apartemen
---
Mengakomodasi
6
---
Kamar tidur
Riccò del Golfo, SP, La Spezia, Liguria, Italia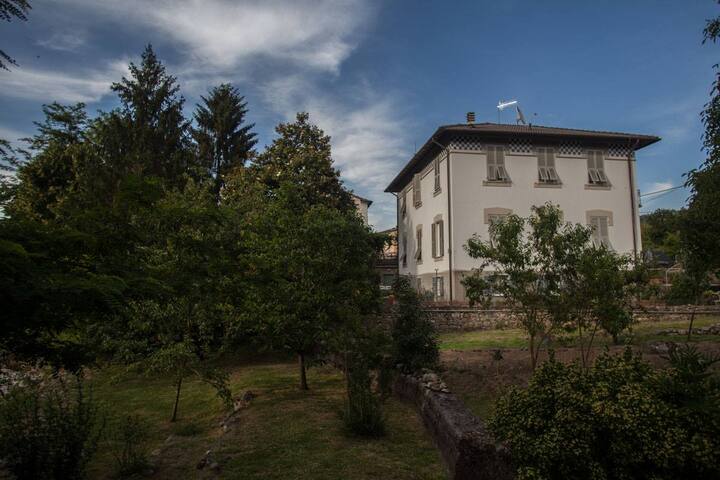 Il mio alloggio è un vecchio castello recentemente ristrutturato. Completamente in sasso, con i suoi 75 mq di ampiezza dispone di due camere da letto con doppi servizi, grande open space con cucina attrezzata, sala da pranzo, e salotto con TV. Dispone inoltre di grande terrazza privata con arredi da giardino. Al vostro arrivo troverete dei presenti di benvenuto (dolci, biscotti, latte e yogurt biologico, frutta di stagione) necessari per una colazione in appartamento.
Tipe Kamar
Seluruh rumah/apartemen
---
Tipe Properti
Apartemen
---
Mengakomodasi
4
---
Kamar tidur
Beverino, Liguria, Italia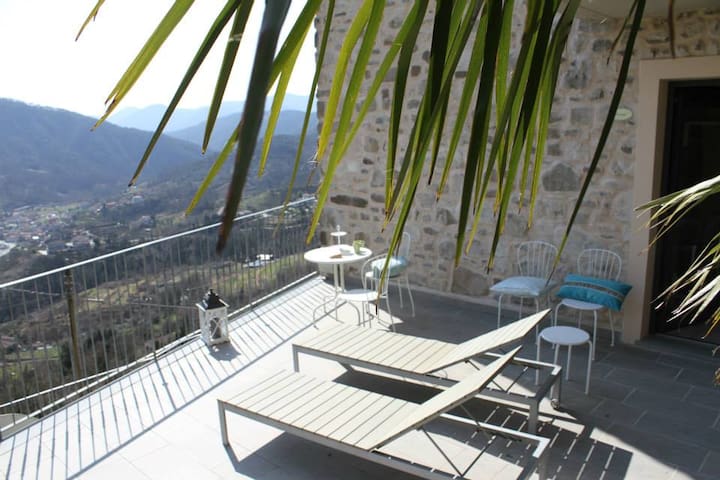 tipico borgo nella campagna delle cinque terre ,a pochi minuti dalle meravigliose spiagge di Levanto e Monterosso,in più hai la possibilità di parcheggio gratis nel bellissimo borgo di Portovenere situato nel Golfo dei (URL HIDDEN) piu' giardino
casa indipendente in zona tranquilla con giardino ,completamente ristrutturata
Borgo tranquillo e molto caratteristico
Bon séjour. Logement très éloigné des cinque Terres quand on a pas de voiture mais situé dans un village de charme.
Agathe
2015-08-10T00:00:00Z
Tipe Kamar
Seluruh rumah/apartemen
---
Tipe Properti
Apartemen
---
Mengakomodasi
6
---
Kamar tidur
Riccò del Golfo, Liguria, Italia