A propriedade está localizada numa aldeia sossegada, próxima de várias cidades (Amarante, Marco de Canaveses, Penafiel e Paredes). A 10 minutos do acesso à autoestrada. A casa está mobilada e a cozinha equipada. Ar condicionado (quartos) e salamandra.
Este pequeno pedaço de céu, situa-se no meio de uma quinta. Está rodeado de verde: jardim, vinha e campos agrícolas. É ideal para famílias com crianças.
A aldeia é muito sossegada. Aqui pode encontrar mercearia, talho, padarias/pastelarias, restaurante, farmácia e caixa multibanco. Existe também um campo de golfe a 5 minutos e um parque aquático a 10 minutos de carro.
Excelente espaço ,aconselho
Renato
2016-09-05T00:00:00Z
This place is so beautiful, even better than in the pictures because you don't see the magnificant view that you have from the house. The outside area is great to relax.
Mattanja
2016-09-17T00:00:00Z
Nous avons adoré notre séjour à la Casa da Eira , la maison était très confortable, une vue magnifique! Tout était parfait et nous recommandons cet endroit intime et tranquille. Un beau bonjour à Olga qui nous a si bien accueillie et merci beaucoup à Olinda pour son amabilité et son hospitalité! À bientôt peut-être!
France
2017-03-18T00:00:00Z
We were Olinda's very first guests and she really went out of her way to make our stay absolutely wonderful! Not only did she provide us with complementary milk, sugar, coffee, bread, pasta, juice and a bottle of spumante but also two bottles of wine they produced themselves which we thought was very special. The kitchen was something us amateur cooks dream about - large and very well equipped with plenty of cutlery, crockery and appliances. The house is spacious with two beautiful bedrooms and two complete dreamy bathrooms, and there was plenty of material available on the area's attractions. The weather did not permit the use of the pool, but we can only imagine how lovely it would be in the summer months. We enjoyed a great barbeque but regrettably didn't have enough time to use the pizza oven! We had quite an adventure finding the spot - but we left Olinda the GPS coordinates to use for future guests. We had two great rounds of golf at the nearby Amarante Course, and enjoyed exploring the countryside and small villages. We would highly recommend this listing.
Mandi
2016-05-01T00:00:00Z
Muito bem recebidos por um casal simpático e hospitaleiro com doces regionais e vinho de produção própria. A casa encontrava-se limpa e de acordo com as fotografias apresentadas, totalmente equipada e com internet. A zona é bastante tranquila e bonita. Recomendo vivamente!
Ana
2016-05-16T00:00:00Z
A casa era muito bonita e o anfitriao extremamente simpatico. Recomendo vivamente para quem quiser descansar uns dias. Local muito agradavel e simpatico.
Antonio
2016-06-14T00:00:00Z
todo de 10.Sitio muy bonito y a todo lujo
Gotzon
2016-09-27T00:00:00Z
Lovely area to stay in, make sure you have the GPS coordinates though ! Olinda and her family were very welcoming, and the house had everything we needed, a well equipped kitchen, lovely bathrooms, space to relax with the children and the swimming pool was excellent. Lots to explore locally, would highly recommend.
Gina
2016-06-25T00:00:00Z
Tipe Kamar
Seluruh rumah/apartemen
---
Tipe Properti
Vila
---
Mengakomodasi
4
---
Kamar tidur
Vila Caiz - Amarante, Porto, Portugal
CRUISE SAVANNA, rustic property located between the towns of Amarante and Penafiel 20 minutes from the city of Porto, Sá Carneiro Airport and 2 minutes from the motorway A4 highway (Porto-Vila Real). Composed of stone houses.
Cosas a destarcar; Calidad-precio inmejorable. Casa con cuatro dormitorios con camas de matrimonio. La localidad es perfecta por estar muy cerca de la autopista para los que quieran ir a Oporto, a MagicLand en Peñafield o parque acuático en Amarante (aunque nosotros preferimos su río) y a la vez en pleno campo, sin ruidos y una paz reconfortante. La casa es más grande de lo que parece con un salón y una cocina impresionante, bien equipada (libros, juegos, televisión, HiFI...) y con un anfitrión inmejorable. Ideal para familias. Con terreno para hacer lo que se quiera. Cosas a tener en cuenta: Sólo dispone de un cuarto de baño. Los dormitorios tiene una distribución rara, y para poder acceder a uno de elllos es necesario pasar por el dormitorio principal. La cocina y baño carece de algunas cosas que a mi parecer son indispensables: Sal, papel de cocina, aceite, vinagre, gel de ducha y champú. Recordar que está en pleno campo y los insectos y roedores puede aparecer. Sin lugar a duda recomendaría la casa de António a todo el mundo. Fueron 5 días inolvidables.
Fernando
2016-07-08T00:00:00Z
La casa de António es preciosa. Está reformada con mucho gusto, las paredes de piedra y los ventanales que miran al campo son una maravilla. Nos alojamos un matrimonio con tres niños y estuvimos muy cómodos. La casa es más grande de lo que parece en la las fotografías y había espacio más que suficiente, dentro y fuera de la casa, para que cada uno estuviera a sus anchas. Lo cierto es que estábamos tan a gusto que nos costaba salir de casa para ir de paseo o de excursión. Está decorada con muchos detalles bonitos y la ropa de cama y las toallas son de calidad. Está ubicada en el campo pero cerca de varias poblaciones. Es un lugar muy tranquilo, los principales sonidos que oíamos eran los pajaritos y las campanas de las iglesias cercanas. Está muy cerca del acceso a la autopista y a unos 40 km de Oporto. Penafiel y Amarante son dos pequeñas ciudades muy cercanas que vale la pena visitar.
Antonia
2016-05-04T00:00:00Z
El día 18 de mayo nos fuimos de vacaciones a Oporto y alquilamos esta casa durante una semana. La experiencia fue muy buena tanto por su ubicación, comodidad y trato de Antonio. La casa está en una zona muy tranquila con un bosque al lado, con un gran espacio propio fuera y a la vez a dos minutos de la autopista, para nosotros que llevamos dos perros es ideal. Tiene todas las comodidades y es muy amplia. Tuvimos un gran recibimiento por parte de Antonio con bombones y una botella de cava enfriando en una cubitera y unas flores. Gracias Antonio por preocuparte en todo momento de nuestra estancia.
Eva
2016-05-26T00:00:00Z
Tipe Kamar
Seluruh rumah/apartemen
---
Tipe Properti
Vila
---
Mengakomodasi
10
---
Kamar tidur
Amarante, Porto, Portugal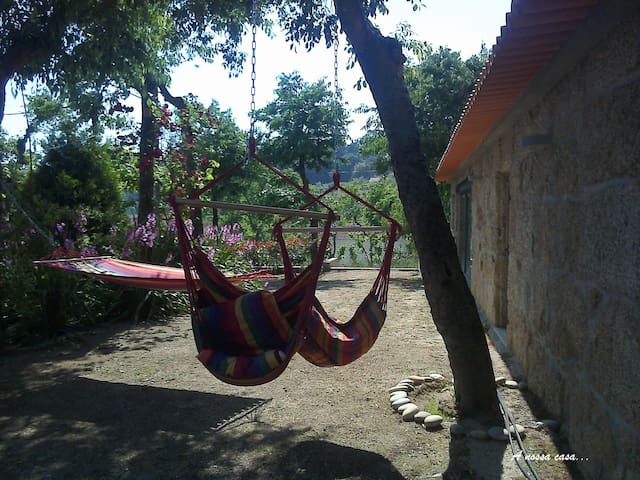 Local onde as histórias de aventura e desventura do mais famoso salteador Português Zé do Telhado se cruzam. Casas do Telhado, propriedade onde nasceu e viveu Zé do Telhado, é o local perfeito que convida ao descanso em ambiente tranquilo e de romantismo histórico. Local onde podemos viver as aventura de outrora, do "Robin dos Bosque Português", a 25 minutos do centro da cidade de Porto.
Tipe Kamar
Seluruh rumah/apartemen
---
Tipe Properti
Rumah
---
Mengakomodasi
2
---
Kamar tidur
Castelões, Porto, Portugal
A magnificent house that has belonged to the same family since 1376, sits in the heart of the Minho, the Garden of Portugal, near Guimarães, Portugal's first capital.
This beautiful house has harmonious lines and an impressive façade that has become a motive of international curiosity in recent years. This manor house's interior has captured a style of simple elegance with its exquisitely decorated bedrooms, some furnished with four poster beds and the lounges boast early 19th century panoramic panels depicting scenes from both the New and Old World. Its vineyards produce an award-winning Vinho Verde- green wine. The elegant and friendly hospitality of the owners, the pleasant swimming pool surrounded by extremely beautiful gardens and surprising horse-riding facilities make this an ideal resting place while visiting the nearby town of Guimarães.
Tipe Kamar
Kamar pribadi
---
Tipe Properti
Bed & Breakfast
---
Mengakomodasi
2
---
Kamar tidur
Guimaraes, Braga, Portugal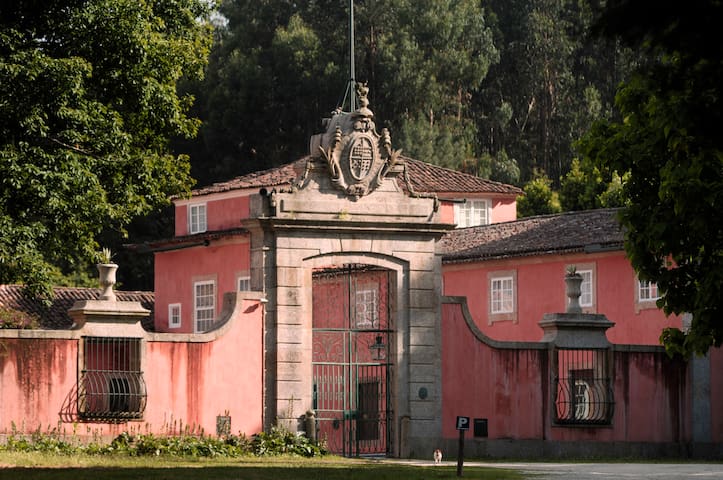 Casa da Cividade está localizada na região entre os rios Tâmega e o Sousa por onde passam a rota do Românico e a rota do Vinho Verde. É um espaço onde as pessoas podem se reconectar com a natureza e consigo mesma.
Andréa a été très attentive à notre bien être, et est même venue nous chercher là où notre GPS nous avait abandonnés, à trois kilomètres de chez elle. Sa discrétion et sa prévenance sont exemplaires, son petit déjeuner inoubliable, le confort de la chambre est parfait.
Benoit
2016-08-09T00:00:00Z
Lugar lindíssimo, exactamente como as fotografias e a Andrea foi absolutamente impecável. Adorámos!!
Laura
2015-07-06T00:00:00Z
Una casa maravillosa, grande y acogedora. Un jardín muy grande, con huerta, un pozo... mucha intimidad respecto a los vecinos. Andrea es una chica fantástica que nos ayudó incluso con una avería que nos dejó sin coche y nos traslado a la estación de tren para que pudiéramos ir a Oporto. ¡Muchas gracias por todo!
Hegoi
2016-08-12T00:00:00Z
We loved our stay with Andrea. Her house, gardens, and rooms are even nicer than in the photos. She spent a lot of time helping us with our visit to Porto, and in general gave us lots of tips for our time in Portugal. We found out about some amazing wine from Penafiel while staying here. The location is good for traveling both towards Porto and the Douro Valley. Only regret is that we could not stay longer.
Tara
2016-07-24T00:00:00Z
Tipe Kamar
Kamar pribadi
---
Tipe Properti
Bed & Breakfast
---
Mengakomodasi
2
---
Kamar tidur
Porto, Porto, Portugal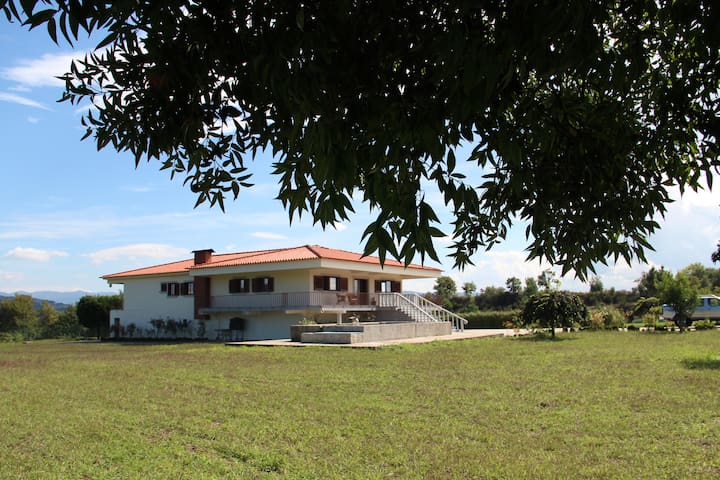 Villa de charme dans un écrin de verdure ruisseau passant, idéal pour se détendre au calme et passer de bons moments. Proche de différents point de visite du Portugal, située à 40 km de Porto, 20 km de Amarante et 10 km de Penafiel, et à 2 km de l'entrée de l'autoroute. Vous y trouverez petits commerces de proximité (restaurants, boulangeries, supérettes, cafés, etc...)
Villa équipée pour séjour, possibilité d'ajouter 2 matelas gonflable dans les pièces de la maison car très grandes.
Située dans un village très calme dans un écrin de verdure
Tipe Kamar
Seluruh rumah/apartemen
---
Tipe Properti
Vila
---
Mengakomodasi
7
---
Kamar tidur
Porto, Porto, Portugal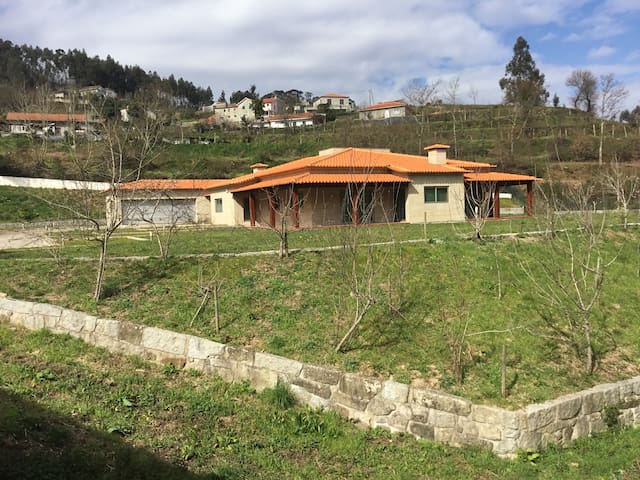 Este quarto isolado insere-se na propriedade do Agroturismo Quinta de Travancela. A propriedade dispõe de piscina exterior, salão de jogos, com bilhar e mesa de ping-pong, e parque de estacionamento privado.
Tipe Kamar
Kamar pribadi
---
Tipe Properti
Lainnya
---
Mengakomodasi
2
---
Kamar tidur
Mancelos, Porto, Portugal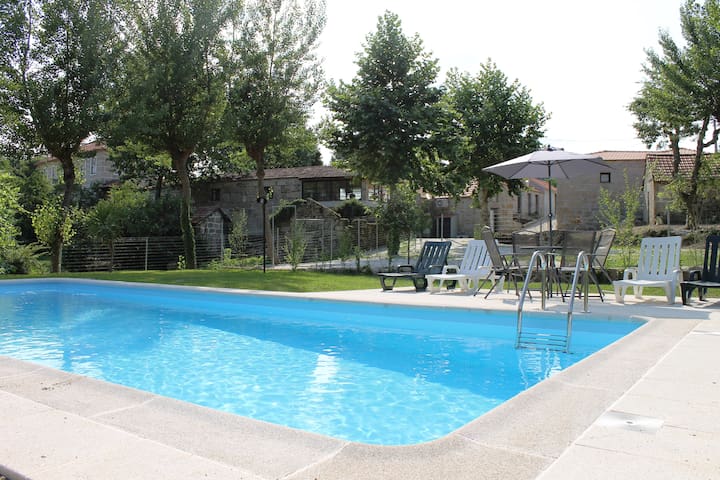 A casa das Camélias é uma habitaçao tipo T2 completa e equipada ,está inserida numa grande quinta tradicional portuguesa muito bonita e com grande charme,com a natureza como vizinho mais proxima.
Très bel accueil par les hôtes. Un endroit qui nous a énormément plu, car la location est propre, très beau avec la clim ce qui est nécessaire au Portugal. La piscine est grande, bien entretenue. On s'y sent bien.
valerie
2016-08-14T00:00:00Z
Comme prévu Filipe est venu nous chercher à 2h du matin au village le plus proche afin de trouver plus facilement. Bon accueil. La maison est un ancien corps de ferme à la campagne entre 4 et 6 ha c'est donc spacieux. La piscine est spacieuse et agréable. A 100 mètres un bar ou prendre un café. On est à 15 minutes en voiture de Marco di Canavese ou on y trouve supermarchés etc...... La gare est à 10 mn à pied pour les amateurs de visite des sites touristiques par ce moyen de transport. Le bruit des trains n'est pas gènant et il n'en passe pas entre 21h et 9h. A noter que la sortie de l'autoroute est à 10 mn et il n'y à aucune nuisance ! En résumé c'est un lieu charmant dans la verdure avec toutes les commodités proches. Nous avons passé un agréable séjour chez Claudia et Filipe.
Stéphane
2016-07-25T00:00:00Z
Superbe quinta sur le flanc de la montagne, spacieuse, très bien équipée, arrangée avec goût, magnifique piscine pour nager. Felipe et Claudia ont tout fait pour nous mettre à l'aise. En partons, nous avons eu l'impression de quitter des amis. Facile de communiquer avec eu, en anglais ou en français.
Gerald
2016-07-27T00:00:00Z
Claudia et Philippe sont très accueillants. Très bon contact claudia nous a dépanné à notre arrivée d'un litre de lait et de café pour le petit déjeuner. Logement agréable et piscine superbe. Tout à côté de la piscine il y a un joli étang plein de charme et de grenouilles ;)
Marielle
2016-08-22T00:00:00Z
Tipe Kamar
Kamar pribadi
---
Tipe Properti
Rumah
---
Mengakomodasi
4
---
Kamar tidur
Amarante, Porto, Portugal
Localisado na lindíssima Casa de Vilar, com acesso a piscina, lago dos peixes, jardins e vinhas, este apartamento, recentemente renovado, oferece o conforto moderno aliado ao charme da tradição. Situado no concelho de Lousada, a 40km do Porto.
Localisado na lindíssima Casa de Vilar, com acesso a piscina, lago dos peixes, jardins e vinhas, este apartemente, recentemente renovado nos anexos da Casa de Vilar, oferece o conforto moderno aliado ao charme da tradição. Espaço aberto que compõe a sala de estar, de jantar e a cozinha e um quarto separado com cama de casal. Na sala há ainda a possibilidade de usar duas camas individuais extra. Parque de estacionamento. E, complementarmente, uma visita guiada de cortesia ao Museu da Imagem em Movimento, também instalado na Casa de Vilar. Situado a 40 minutos a Este do Porto.
A Casa de Vilar faz parte da região abrangida pela Rota do Românico bem como da Rota das Camélias de Lousada.
I spent four days this summer at Abi and Regina's place with family. We greatly enjoyed everything. The place is gorgeous, very friendly and charming. The flat very cozy. The two hosts are really nice and friendly. I absolutely reccomend this stay if you want to be away from the city for a few days.
nicolo
2016-08-29T00:00:00Z
Beautiful house and beautiful environment. Abi is friendly and has an interesting museum you should visit (and take your time for it). The house matches the photos. Delicious fruit/vegetables straight from the garden!
Toon
2017-03-22T00:00:00Z
We had a lovely stay at Casa do Vilar. After what could have ruined our stay — our car broke down in the middle of the highway — we still managed to go the Vilar de Torno e Alentém to be very welcome by Abi, who perfectly understood our 2h delay in checking-in. Both Abi and Regina were very kind to us, leaving fruit, vegetables and eggs for our breakfast in the house, and letting us wander through their property in the company of the cutest Josefine — a young Estrela Mountain Dog — and of an invader small dog with whom Josie became friends with. Not to mention that, on the last day, they asked the kind Jorge to take us to the closest train station, so we could return home. Since we didn't have a car, we had a homy but wonderful couple of days, just chilling and enjoying the landscape. Unfortunately, due to an unforeseen event, which made us leave even earlier on the last day, we couldn't visit the Museum of the Moving Image they have in the house. But we're planing to go back very soon, and take some friends with us! We wish Abi and Regina all the best and highly recommend their place to stay.
Fernando
2016-06-14T00:00:00Z
Abi et Régina sont des hôtes très sympathiques qui nous ont reçu chaleureusement! Un logement très bien conçu dans un cadre magnifique au cœur d'une belle et grande propriété avec arbres fruitiers ( merci encore pour les pamplemousses !!!) , un grand potager à disposition ... Merci pour cet agréable séjour , la visite privée du musée et toutes les petites attentions qui ont rendu notre semaine parfaite !
inès
2016-07-19T00:00:00Z
We had a really amazing time at Vilar do Torno e Alentém. The apartment is beautiful and very thoughtfully outfitted, with a kitchen well equipped for enjoying the fresh vegetables and fruit that we were offered from the garden. The pool was available for a refreshing dip when we arrived by bicycle on a late spring afternoon, and the next morning we had a fantastic and sadly brief tour of the animation museum. Abi, Regina and the other hosts who were there helping to maintain the gardens and museum were friendly and welcoming and we left hoping that someday we can return for a much longer stay.
Colin
2016-05-19T00:00:00Z
Our stay couldn't be better. Abi immediately made us feel at home. He was always available when we were in need of something. We only stayed for two days but they were wonderful: the beauty and tranquility of the property, the private swimming pool, Kasilda the dwarf goat (we miss her already!) and Josephine the kindest dog ever, the tour of Abi's animation museum ***, ... We want to go back!
Wim
2016-07-12T00:00:00Z
Abi is a warm, relaxed and thoughtful host. His property is magical, and this small apartment that forms part of it is a clean, practical and private space. From 20 or more airbnb experiences, this is one of the best I've had.
Scott
2016-12-12T00:00:00Z
faire des papillons avec les yeux 24 fois par seconde et ça laisse un souvenir en technicolor ! de l'orange à cueillir pour la presser au petit déjeuner, du jaune ensoleillé pour caresser l'eau bleue de la piscine, du vert pomme à croquer, du rouge à boire et les sourires arc-cen-ciel d'Abi et Regina. Même quand on plonge dans l'obscurité c'est encore pour nous émerveiller avec un cabinet de curiosités toutes animées. Ces deux-là ont du talent et savent le partager. merci à eux pour cette bulle enchantée.
poukigwen
2015-10-05T00:00:00Z
Tipe Kamar
Seluruh rumah/apartemen
---
Tipe Properti
Apartemen
---
Mengakomodasi
4
---
Kamar tidur
Vilar do Torno e Alentém, Porto, Portugal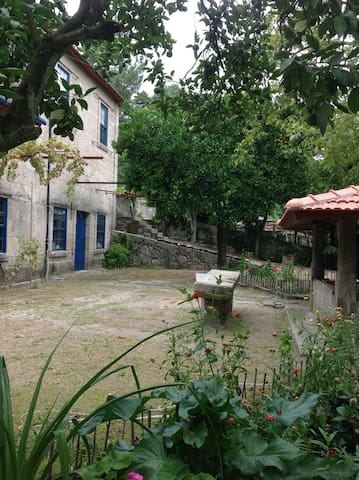 3 Quartos e duas casas de banho. Em parte da casa de aldeia,de 1923, onde está instalada a Casa Museu Acácio Lino, com enorme jardim/parque em bosque frondoso de carvalhas. Excelente paisagem, piscina e possibilidade de atividades lúdico culturais.
Tipe Kamar
Kamar pribadi
---
Tipe Properti
Vila
---
Mengakomodasi
2
---
Kamar tidur
Travanca, Porto District, Portugal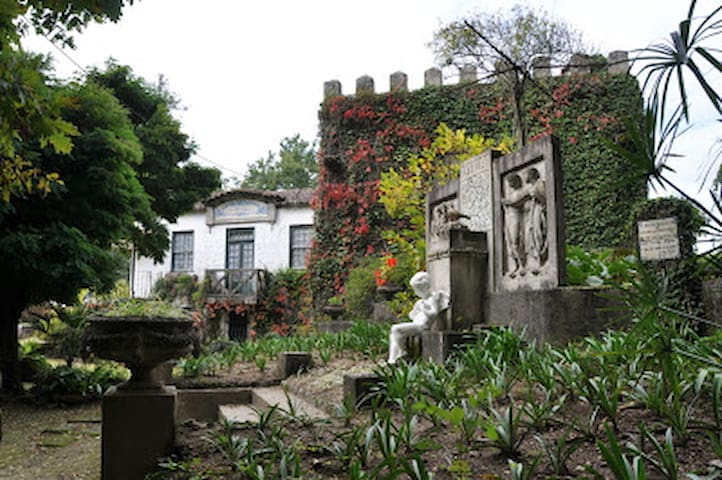 Travel Charme & History Where the stories of adventure and misadventure of the most famous highwayman Portuguese Ze roof intersect. Houses roof, property where he was born and lived Ze roof, is the perfect place in which to relax in peaceful surroundings and historical romanticism. Where we can live the adventure of yore, the "Robin Portuguese Woods", 25 minutes from the center of Porto.
Tipe Kamar
Seluruh rumah/apartemen
---
Tipe Properti
Rumah
---
Mengakomodasi
4
---
Kamar tidur
Penafiel, Porto, Portugal
A noble space of silence, with a Solar-four Villa that form between them a large inner courtyard. The outside lawn, around every house, chapel and pool, can observe the unique rural scenic and read your favorite author.
Quinta de Gatão with its 20ha allows travelers, giving beautiful hiking, horseback or bicycle TT. If you wish to ride a jeep or tractor trailer it is also possible. Alternatively they can immerse themselves in a strategically positioned pool, close to all the houses, being part of a whole that includes the tennis court and riding school where you can learn to ride a horse. Quinta de Gatão is privileged to provide more privacy to personal leisure, standing inside the field and vineyard. However, it is ten minutes from the motorway toll it will take a short time to three World Heritages: Porto, Guimarães and Douro Wine. The pool is private tourists, as well as the tennis court and the farm's interior paths. Other features of the tourists are the bar (with table games and multi-channel TV), billiard room, ping-pong room and the library. For those who travel by car, you can count on a covered private parking. Some activities can be organized such as paintball, extreme games or traditional, boating on the river Douro (18Km) or Tamega (9km) or visits to the exlibris of this region which is the Romanesque Route. In the beautiful town of Amarante (15 minutes) golfers can use the highest mountain of the Iberian field of this type, or visit its remarkable historical part. Space booking only one of the houses (4) up to a maximum of five homes (20 people). For those who want a party, hold a workshop or organize the commemoration of some event, we have a hall for 200 people which can also be used (we have had groups of tourists who came to celebrate some events and weddings).
The Houses of Farm Gatão are in the middle of fields and vineyards where you can sample the Gatão wine. If you prefer to go out with good access may travel to good restaurants (5 minutes), the markets or supermarkets (5/10 minutes) or the city or the nearest nightclub that is located in Penafiel (10 minutes) or in Amarante (15 minutes) . Anyone who wants to have fun at the Port by night you can go by car or train (35 minutes).
PORTUGUÊS Meus amigos e eu tivemos uma estadia simplesmente perfeita na Quinta de Gatão e inclusive uma amizade com o anfitrião Jorge. Pertencente à quinta geração de proprietários da quinta, Jorge foi muito atencioso e fez todo o possível para que nossas férias fossem inesquecíveis. Um senhor muito simpático e com muitas histórias para compartilhar. A Quinta de Gatão é uma quinta com algumas casas e uma grande disponibilidade de lazer para todos os hóspedes. Café da manhã com compota de mirtilo, passeio à cavalo, churrasqueira e água mineral fresquinha direto da fonte são algumas das coisas que nos fez apaixonarmos pela estância. Jorge nos mostrou até uma capela que se encontra ali e os detalhes incríveis do casarão de sua família! Um pouco da história, a decoração rural e até álbuns de fotos antigos. Enfim, incrível! Pode conferir mais detalhes em um vídeo que fizemos em (URL HIDDEN) Muito obrigado Jorge! ENGLISH My friends and I had a simply perfect stay at Quinta de Gatão and even a friendship with the host Jorge. Belonging to the fifth generation of farm owners, Jorge was very attentive and did every possible thing to make our holidays unforgettable. A very nice gentleman with lots of stories to share. Quinta de Gatão is a place with a few houses and a large availability of leisure options for all guests. Breakfast with blueberry compote, horse to ride, barbecue place and mineral water directly from the fountain are some of the things that made us falling in love to the place. Jorge showed us a chapel inside the property and the incredible detailed house of his family! A bit of its history, the rural decoration and even old photo albums. Just amazing! You can check more details in a video we made in (URL HIDDEN) Thank you Jorge!
Eduardo
2016-08-16T00:00:00Z
Tipe Kamar
Seluruh rumah/apartemen
---
Tipe Properti
Vila
---
Mengakomodasi
4
---
Kamar tidur
Penafiel, Porto, Portugal
Casa senhorial portuguesa restaurada ,respeitando a arquitetura original mas equipada aos dias de hoje com os mais altos padroes de conforto e qualidade, tendo a natureza como vizinho mais proximo.Vindo do Porto apanhar auto-estrada A4, sair na saída de Felgueiras/Marco de Canaveses,Após abandonar as portagens na rotunda seguir direcção vila-meã (1km). Apanhando A42 sai na saída Felgueiras/ Marco de Canaveses e seguir o trajecto acima descrito.
O sossego e tranquilidade num vale de vistas deslumbrantes,jantares nos jardins iluminados,com o som único de bicas de águas de mina sobre os tanques em pedra. A paz e o sossego,num local com acessibilidades ímpares,para várias cidades a norte de Portugal,tornam esta casa e vale único!
Local muito tranquilo , situado num vale com vistas magnificas, de acessos fáceis ao povoado e a pouca distancia onde viveu António Nobre e Zé do telhado,Robin dos bosques português. Decoração cuidadosa com todo o conforto . A 5 minutos das entradas da autoestrada.local ideal para rota românica e por se situar a 20 minutos do porto e aeroporto,Cidade de Guimarães,que é Património da humanidade,Braga,etc...desfrute da óptima gastronomia local e também dos belos passeios de comboio nas margens do Rio Douro e ver as belas paisagens das vinhas do famoso vinho do porto ao longo do percurso do Rio,em que a estação de comboio fica a uma distancia de 5 minutos da propriedade. A propriedade tem também á disposição uma guia turística profissional, que trata de qualquer roteiro a norte de portugal, que estará a vossa disposição.
La maison est ancienne et magnifique; elle est idéalement située en haut d'une colline avec une vue superbe sur le village. On dispose d'un grand jardin pour se relaxer dans les chaises longues, manger dehors sous une pergola. Rui est d'une grande gentillesse pour satisfaire les souhaits de ses invités.
Madeleine
2016-08-17T00:00:00Z
Tipe Kamar
Seluruh rumah/apartemen
---
Tipe Properti
Vila
---
Mengakomodasi
10
---
Kamar tidur
Amarante, Porto District, Portugal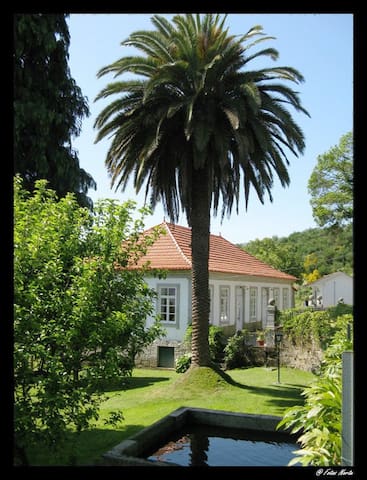 Cottage in farmhouse charm
a beleza da quinta , conforto das instalaçoes e a natureza como vizinho mais proximo
We stayed at Claudia's place for 4 nights. The place is beautiful, very well located - between Porto and the Douro valley in a nice village with beautiful views. The apartment we stayed in is large and comfortable, and stays always fresh, even during the hottest summer days. The decoration is rustic, but nice. The apartment should be a little better equipped for more comfort: be prepared to buy your own toilet paper, paper towels, salt, pepper, oil, sugar, etc, unless you inherit it from the previous client. Very nice place overall, I recommend.
Irina
2016-08-25T00:00:00Z
It's just a piece of paradise. Very convenient place to travel to the Duoro valley. Claudia and Philip were very hospitable - special thanks for the wine and figs *)
Alexandra
2014-09-11T00:00:00Z
This place is a must stay! We were greeted by Felipe very promptly on our late arrival. The rooms were available, very clean, and exactly what we had hoped for. The setting is fantastic - great farmhouse located on the side of the hill with a picturesque view of the other side of the valley. Felipe provided some great tips on friendly morning coffee shop within a short walk and an awesome local restaurant for great wine and BBQ. We stayed at the cottage with our two teenage girls and they had a great time in the pool and enjoyed the natural setting and climate. We also found the cottage to be very well situated for day trips to Amarante, Guimaraes and the National Park. We stayed for four nights in total but would have happily stayed longer. This was our first stop on our first trip to Portugal and it certainly set the bar high.
Gareth
2016-08-04T00:00:00Z
Our family of 4 had a lovely time here. We loved the comfortable beds and the peace and tranquility. Philip and Claudia were very friendly and helpful hosts. The pool is a bonus on hot days. We would definitely stay here again.
Tony
2015-08-13T00:00:00Z
We really enjoyed the beauty and tranquility of the place. Claudia and Felipe are excellent hosts and gave us a lot of helpful advice, not to mention the complimentary bottle of their own Vinho Verde and oranges from the garden. We also loved the maps Felipe drew for us so we could find restaurants, etc nearby. The accommodation is a stable conversion comprising 3 apartments in the one building. The house has got AC but no central heating, it was therefore a bit cold at first (considering we were traveling with our 7 months old baby) but it was heated up with the help of additional heaters Felipe provided for us. We'll love to come back to this beautiful place, but next time in the summer! Muito obrigado
Paula
2016-03-27T00:00:00Z
A peace of heaven during our trip in Portugal. It's a really great place. Just one thing unexpected a train line but really not disturbing. Thanks for all.
Nicolas
2014-07-18T00:00:00Z
Charming environment. Well located at the heart of the Douro area. The pool is welcome on a hot day and is very well organize. Perfect place for a glass of host made wine. Thanks you
Raymond
2016-06-12T00:00:00Z
Nous avons passé une très bonne semaine chez Claudia et Felipe. Ils ont été très accueillants et très disponibles. La piscine a été un véritable plus. Je recommande le lieu.
Hélène
2015-08-08T00:00:00Z
Tipe Kamar
Seluruh rumah/apartemen
---
Tipe Properti
Vila
---
Mengakomodasi
4
---
Kamar tidur
Marco de Canaveses, Porto District, Portugal
Este quarto isolado insere-se na propriedade do Agroturismo Quinta de Travancela. A propriedade dispõe de piscina exterior, salão de jogos, com bilhar e mesa de ping-pong, e parque de estacionamento privado.
O Agroturismo Quinta de Travancela está localizado no centro da região do Baixo Tâmega e do Vale do Sousa, no coração de duas rotas muito procuradas pelos amantes do turismo cultural: a Rota do Românico e a Rota dos Vinhos Verdes. Além disso, conta também com uma rede de acesso rápido a outros importantes pontos de interesse turístico do norte de Portugal, tais como Amarante, Porto, Alto Douro Vinhateiro, Guimarães e Braga. Venha desfrutar de um ambiente calmo e natural, onde é possível observar e realizar diversas atividades agrícolas, fazer caminhadas, passeios de bicicleta ou relaxar na piscina. Mas não vá embora sem saborear os vinhos produzidos nesta Quinta – Tinto, Branco e Rosé.
Supermercado a cerca de cinco minutos de carro.
Diogo our host (the manager) was there to show us around wow what a lovely room spotlessly clean and very tidy, air conditioned, hospitality beverages,all the amenities and a swimming pool all we need for our stay the scenery is spectacular, the continental breakfast was excellent. If you need Dinner the restaurant in the town is very good trust me, regrettable we can only stay one night as we are on rout to Spain and the ferry home thank you Mancelos looking forward to my next visit and a big thank you to your boss the Doctor for helping Arman it helped him a lot much better
James
2016-07-24T00:00:00Z
Tipe Kamar
Kamar pribadi
---
Tipe Properti
Lainnya
---
Mengakomodasi
2
---
Kamar tidur
Mancelos, Porto, Portugal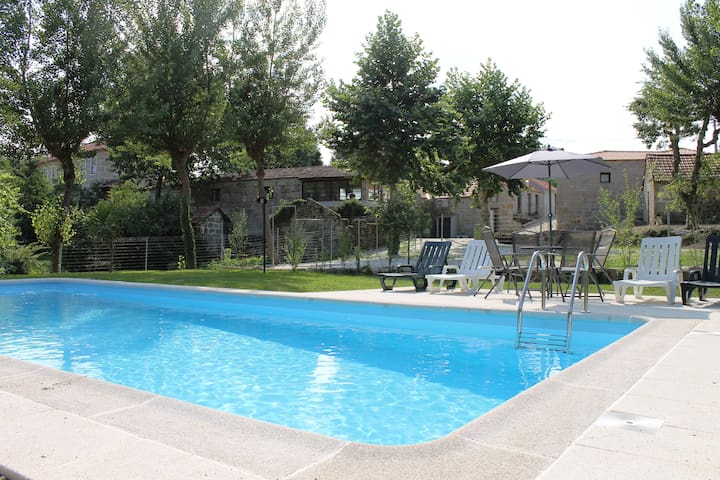 Where the stories of adventure and misadventure of the most famous highwayman Portuguese Ze roof intersect. Houses roof, property where he was born and lived Ze roof, is the perfect place in which to relax in peaceful surroundings and historical romanticism. Where we can live the adventure of yore, the "Robin Portuguese Woods", 25 minutes from the center of Porto.
Tipe Kamar
Seluruh rumah/apartemen
---
Tipe Properti
Rumah
---
Mengakomodasi
4
---
Kamar tidur
Penafiel, Porto, Portugal
Casa tradicional independente recuperada recentemente para acolher hóspedes. Localizada no centro de uma propriedade agrícola dedicada à produção de vinho verde. Proximidade de três sítios classificados como Património Mundial pela UNESCO.
Casa tradicional restaurada, localizada a cerca de 30 km do Porto, fazendo parte de uma quinta com vinhas e bosque. A casa é composta por 2 quartos, sala de estar, cozinha e casa de banho. Parque para estacionamento de viaturas, jardins, relvado, e piscina de água natural. Localização central permite deslocações rápidas em viatura ou comboio a três bens Património Mundial: Centro Histórico do Porto, Centro Histórico de Guimarães e Alto Douro Vinhateiro.
Nas proximidades da propriedade poderá visitar a Cidade de Penafiel, o Museu Municipal e as magníficas Igrejas. Poderá ainda percorrer os diferentes pontos de interesse da Rota do Românico dos Vales do Sousa e Tâmega.
Nous avons choisi cette maison pour la décoration et l'environnement (pas de voisins). Parfait. Le cadre est vraiment très bien et cela doit être splendide à partir de Mai... les propriétaires sont vraiment à nos petits soins. Nous souhaitons apporter quelques informations pour les hôtes suivants : En février, nous n'avons pas eu la chance d'avoir très beau temps : pas de chauffage central : chauffage d'appoint (électriques ou au gaz) mais nous avons privilégié le poêle à bois pour lequel nous avons été réalimentés en bois bien sec. Les fins de nuits restent un peu fraîches. Tout est conforme à la description et aux photos. La cuisine est correctement équipée, lits confortables, très bon réseau wifi. Bémol : douche peu adaptée aux grands. Nous pensons que ce logement est également peu adapté aux enfants de moins de 3 ans : douche, table et chaise, escaliers. Attention à la distance du parking à la maison (200 m environ). Transport des bagages avec le quad...
Laetitia
2017-03-03T00:00:00Z
It was pleasure meeting you both, Benedita and Paulo!! There were a lot of feelings comming up as soon as we arrived the House.. a timeless place, full of quiet and comfy elements!! Well done with the decoration, by the way.... We recommend the place to everyone!! See you soon.... and thank for the passion fruit!!
Daniela
2016-02-23T00:00:00Z
Thank you so much to both Gonçalo and his cousin for helping make our stay in their beautiful little house so amazing. Both were so helpful and always on hand to help as well as giving fantastic advice on where to visit. The house, pool and surroundings were even better than we anticipated, it really was the perfect rural retreat. We both had a fantastic time and would recommend to anyone. A hire car is necessary as it is remote but everything is within touching distance if you have a car. We were both very sad to leave this idillic spot and wouldn't hesitate to return!
Hannah
2016-06-27T00:00:00Z
This place is amazing, clearly looks as in the pictures, and as in a magazine. Sleeps 2 adults and 3 kids very comfortably. Everyone in our family loved the place Our Host was extremely friendly to us and the family, both at time of preparation for our stay, but also during our visit itself. All of the crew was available : to pick us close to the railway station, to carry our luggage, or to book a taxi to go to the airport. Unfortunately the weather was cold and rainy , so we did not have a chance to test the pool. We want to come back. Highly recommended
Ben & Lu
2016-05-09T00:00:00Z
The house was beautiful and comfortable and the overall location was more spectacular than the listing shows-- The pool is an idyllic setting at the top of a hill in a private park-like area on the property, and the patio of the cottage overlooks the vineyard and surroundings in every direction. We could have spent all three days relaxing on the property. If you come without a car (as we did), be prepared for some walking--it's a 20-25 minute vigorous walk from the train station up to house, largely uphill. (Paolo and Benedita were kind enough to pick us up at the train station upon our arrival so we didn't have to make that first trek on our own.) We didn't mind the walking but can imagine that some guests would be better served to rent a car. We highly recommend this rental, especially if you are looking to relax in the country and explore the Douro valley. They have created a home that is simultaneously rustic and extremely comfortably/well-equipped.
Sarah
2014-07-10T00:00:00Z
Au cœur d'un magnifique domaine , les maisons de location sont très agréables, dans les vignes , au charme très vintage et parfaitement fonctionnelles. La gentillesse et la discrétion des hôtes est remarquable. À recommander.
pascal
2016-10-24T00:00:00Z
Enhorabuena a Airbnb por tener en su red esta Casa Cabanelas! El recibimiento de los anfitriones es de diez sobre diez; son acogedores, amables y muy generosos. Nos sentimos realmente bienvenidas. La casa es muy cómoda, decorada con mucho gusto y el entorno es una maravilla. Me encantaría volver.
María
2014-09-13T00:00:00Z
Der kurze Urlaub im Country House war fantastisch. Schade, dass wir nicht länger an diesem schönen Ort bleiben konnten. Das Haus liegt einsam und wunderschön in den Weinbergen. Es ist traumhaft. Die Einrichtung ist sehr gemütlich, man will das Haus gar nicht verlassen. Von der Terrasse hat man den schönsten Blick auf den Sonnenuntergang über die Weinberge. Ein Ausflug nach Porto war kurz und super schön, aber auch die Umgebung hat viel zu bieten. Allein das Anwesen mit Park und Pool. Der Kontakt zu Goncalo und Paulo war mehr als freundlich und wir fühlten uns willkommen. Unsere Kinder liebten die Hunde! Wir kommen wieder!!! Vielen Dank!!!
Katy
2016-10-28T00:00:00Z
Tipe Kamar
Seluruh rumah/apartemen
---
Tipe Properti
Vila
---
Mengakomodasi
4
---
Kamar tidur
Penafiel, Porto District, Portugal
Espaço fica perto do centro da cidade do Marco de Canaveses e de Penafiel. Se pretende um espaço calmo e moderno vai adorar este espaço. Ideal para casais que queiram sair da rotina, dispomos de piscina.
El sitio perfecto,aunque mas para parejas en plan romantico que para familias,aunque limpieza,trato y comunicacion bien,lo unico el acceso un pelin complicado..lo demas ok..
Celsa
2017-02-26T00:00:00Z
Tipe Kamar
Seluruh rumah/apartemen
---
Tipe Properti
Vila
---
Mengakomodasi
2
---
Kamar tidur
Marco de Canaveses, Porto, Portugal