Můj majetek se nachází v blízkosti pláže a centra města L'Ile Rousse, 5 minut jízdy autem nebo 15 minut pěšky. Užijte si svůj ubytování v oblasti pohodlí s výhledem na moře
samostatný byt ve vile obýváme
odlehlém místě, malý provoz, žádný hluk v blízkosti města
We are still lucky, that we have found Sans offer in Monticello. The flat is the ideal place for two People. Bedroom, living room, bath, kitchen and a wonderfull terrace, all very nice, comfotable and clean. The kitchen even has a washing machine, dishwasher and big fridge. And the view over Ile Roussee is really wonderful. Apart from this, we felt very welcome by her whole family, who were always helpful, whenever we had a question, even though our French is not so good. In brief: We would visit that place again und of course would Sans place to our friends.
Matthias
2016-09-22T00:00:00Z
We had really beautifull holidays and stay with Sandra. The house was spacious, clean, and the kitchen equiped with everything we needed. We were really varmly welcomed and the communication was perfect even though we did not speak French. Sandra and her husband did all the best for us.
Inka
2016-10-01T00:00:00Z
je ne peux que dire: excellent! le studio est tres tres joli,tres confortable et avec une belle vue.sandra et tout sa famille sont des 'hosts' excellents:amables, prets a nous aider pour toutes (URL HIDDEN) ne peux que conseiller de passer una vacance ici.encore merci pour tous Sandra! a' bientot!!
Serena
2016-08-27T00:00:00Z
Tipe Kamar
Seluruh rumah/apartemen
---
Tipe Properti
Apartemen
---
Mengakomodasi
2
---
Kamar tidur
Monticello, Corse, Prancis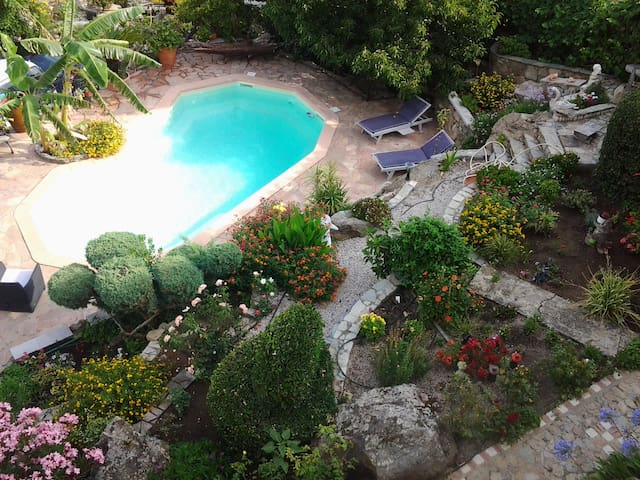 In the immediate vicinity of Ile Rousse, this comfortable T3 is perfect for holidays in couple, family or friends.
Die Wohnung befindet sich neben meinem Haus und hat daher einen Parkplatz im Innenhof. Darüber hinaus beauftragte ein Remote-Portal Ihnen für die Dauer des Aufenthalts. Die Wohnung ist klimatisiert und verfügt über eine private und lauschige Terrasse mit Sonnenliegen, wo Sie Mahlzeiten oder zum Grillen haben können (die dazu vorgesehen ist). Die Zimmer sind mit 140 Betten mit Lagerung (Regale, Schrank und Kleiderbügel) ausgestattet. Die Küche verfügt über einen kleinen Backofen, eine Mikrowelle, eine Spülmaschine und ein Ceran-Kochfeld. Das Bad hat eine Dusche, WC, Stauraum unter Becken Plan und eine Waschmaschine. Bettwäsche und Handtücher werden gestellt und spezifisches Material zur Verfügung gestellt werden: - Reisebett für Baby - Kindersitz - Booster - Kinderwagen - Hochstuhl
Kleines Wohngebiet, ruhig, in der Nähe zum Meer und 5 Minuten vom Zentrum von Ile Rousse.
Tipe Kamar
Seluruh rumah/apartemen
---
Tipe Properti
Apartemen
---
Mengakomodasi
6
---
Kamar tidur
Monticello, Corsica, Prancis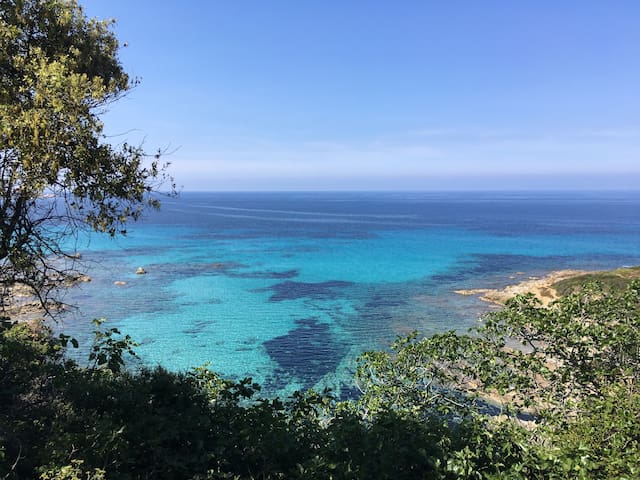 Ideally located in Balagne Monticello in a small complex 5 minutes feet in the water and 1.5 km from the city center of L'Ile Rousse and the beach. The apartment of 30 sqm ideal for two people is air conditioned and fully equipped.
You will find all the necessary comfort for a good stay with a fully equipped kitchenette. A small terrace. A bedroom with a bed 140 cm. In a convertible lounge is available for 2 persons. Bathroom with shower and toilet. Facilities: convection oven, fridge-freezer, induction hob, coffee maker, Expesso, kettle, toaster, washing machine, iron, hair dryer, flat screen TV, box tv, linen, basic products (linen optional bed), vacuum cleaner. The renovated apartment is non smoking inside. Air conditioning, internet connection. Public parking.
Petit appartement calme et très bien équipé a deux pas de la plage. L'hôte est ponctuelle, sympathique et accueillante; un logement que je vous recommande vivement!!!
julien
2017-03-06T00:00:00Z
Tipe Kamar
Seluruh rumah/apartemen
---
Tipe Properti
Apartemen
---
Mengakomodasi
4
---
Kamar tidur
Monticello, Corse, Prancis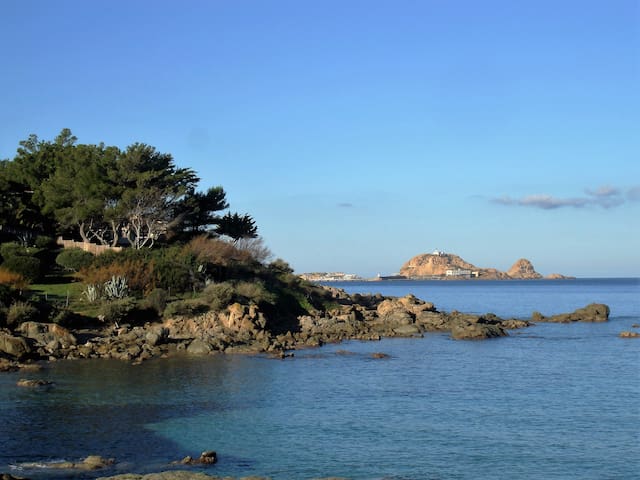 Das Zimmer, die voll ausgestattete Küche, das Wohnzimmer, 60 m2 Terrassen ohne Schraube Meinung, den Pool, das Meer ist allgegenwärtig, die Aussicht, bevor Sie erstreckt, Semaphore Cap Corse. Die Wohnung verfügt über alle Annehmlichkeiten, TV, WIFI.
Die Wohnung 170 m über dem Meeresspiegel gelegen, liegt ideal zwischen L'Ile Rousse und Monticello entfernt. Sie können ganz einfach zu allen berühmten Stränden der Region entfernt. Sie befinden sich in unmittelbarer Nähe der Stadt und Geschäften, aber weit weg vom Lärm.
L'Ile Rousse, ist einer jener Orte, wo das Leben fließt in einer Atmosphäre der Ruhe und Entspannung garantiert. Lebt das ganze Jahr, werden Sie die wahre Gastfreundschaft der Korsen kommen und genießen
Tipe Kamar
Seluruh rumah/apartemen
---
Tipe Properti
Apartemen
---
Mengakomodasi
4
---
Kamar tidur
Monticello, Corse, Prancis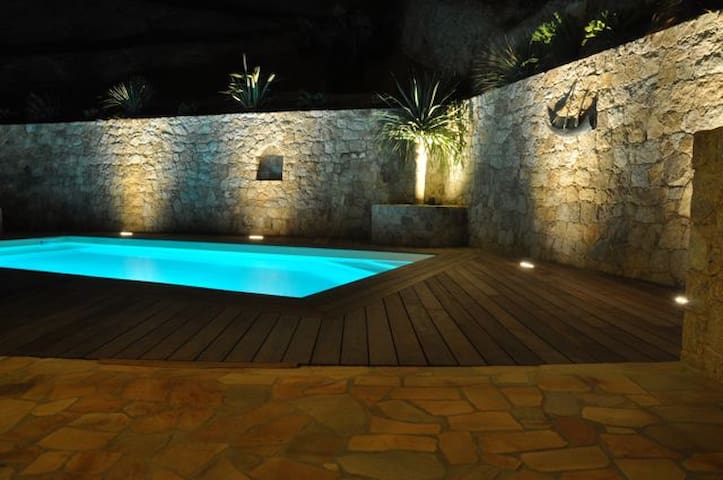 Prostorný a světlý Apartment 2 min chůze od moře a 15 min od města Ile-Rousse. Terasa s s krásným výhledem na moře z Ile Rousse na Cap Corse. Velký obývací pokoj s plně vybaveným kuchyňským koutem a rozkládacím kabriolet ve dvoulůžkovém pokoji; 1 ložnice s manželskou postelí, mezipatr(URL HIDDEN)samostatnými lůžky; 2 koupelny. Moře je přístupná do 2 minut po cestě, která sestupuje přímo od rezidence. Na pláži Ile Rousse je v docházkové vzdálenosti do 10 minut po krásné stinné promenádě.
Tato oblast se dvěma lůžky v mezipatře je oddělen závěsem. Tyto dvě lůžka v mezipatře mohou být spojeny pro páry. Na mezipatře je také jedním ze dvou koupelen a oddělený koutek s dalšími dvěma lůžky, které vytváří příjemné noční prostor pro mláďata / děti (bytu se může tudíž potenciálně hostit 6 dospělých a dvě děti). Vzhledem k tomu, mezipatře je těsně pod střechou, dospělí mohou nestojí v celé oblasti, zejména pokud vysoký. Byt se nachází v prvním patře a přístup je podle venkovním schodištěm zezadu. Zatímco hlavní terasa na přední straně a má nádherný výhled na moře (zejména při západu slunce!), Tam je také malá zadní terasa s pohovkou, která je ideální pro sunbathes / odstín v závislosti na hodině a jako kryté venkovní prostor na zvláště větrné dny.
Nejbližší přístup k moři je cca 3 minuty chůze, pěkná cesta vede ke skalnaté oblasti byly koupání a opalování je možné (a velmi příjemné !, to je naše oblíbené místo a to zejména v sezóně, aby se zabránilo dav). K dispozici je také velmi krásné pobřežní cesty (většinou stínované), která vede k hlavní pláži l'Ile-Rousse asi za 10 až 15 minut.
Appartement correspondant aux photos et descriptif. Toutes commodités a proximité commerce plage par le sentier. Adresse a retenir pour une prochaine venue en Corse. Merci a guilia et ses parents pour tout et surtout un superbe accueil.
christelle
2016-08-21T00:00:00Z
Ottima vacanza. Località stupenda.
Marco
2016-08-30T00:00:00Z
Al nostro arrivo ci siamo subito resi conto che la descrizione dell'appartamento rispecchiava la realtà. La soluzione è adatta alle famiglie e la nostra esperienza è più che positiva. La vista mare e' eccezionale, soprattutto al tramonto! Il sentiero che conduce a Ile Rousse in pochi minuti ti porta a piedi alle spiagge.
Daniela
2016-07-08T00:00:00Z
Appartement bien situé, proche Ile Rousse. vue sur mer agréable . Plage accessible par rochers, ou chemin. Quelques verres (à vin et bière) seraient les bienvenus..
Jean Michel
2016-06-05T00:00:00Z
Im Oktober waren wir in Monticello. Es hat alles reibungslos geklappt. Frau Annie, die selbst in der Anlage wohnt,hat uns empfangen. Die 10 Tage konnten wir in einer angenehm ruhigen Gegend mit schönem Meerblick und Küstennähe verbringen. Die Wohnung ist bestens ausgestattet. 4 der 6 Schlafmöglichkeiten sind offen zum Wohnraum. Eine schöne Adresse!
Anja
2016-10-18T00:00:00Z
I stayed at Guilia's apartment for a week in August. I was with 3 friends and we were just looking for a beach holiday. We found the space perfect for our needs. There is one enclosed bedroom downstairs, but the rooms upstairs were partially open. This was great for us as we were a group of girls and we're all close but it may not be suitable if you require more privacy. It would work well for a family with children too. The location was great. It took us a few days of exploring to find the back track to the beach, by the railway. Once we did it was an easy 15 min walk to the main beach at L'ile-Rousse. This was great as there wasn't a single rental car available in Corsica for the dates we had booked! We were also able to explore the different beaches of la balagne by using the train from L'ile-Rousse. The kitchen in the apartment was well-equipped and the balcony was a great spot for relaxing in the evening, watching the boats pass and admiring the sunset. Ordinarily Giulia doesn't provide bedding, however as this was an issue for us she made special arrangements which was great! Arriving was difficult as we had to collect the keys from the keeper of the residence. She didn't speak any English and didn't seem like she was expecting us but we managed! Half way through our stay Guilia's parents arrived. They were extremely welcoming and happy to help with all our questions. They even phoned to arrange our cab to the airport. We also found that we could only use one source of water at a time, so if somebody was in the shower we couldn't wash dishes, and it was impossible to use both showers at the same time. The shower cubicle was also very small - difficult not to bang your elbows in the doors. It might be an issue of you're larger than average. Overall, if you're a laid back family, or small group of people looking for a chilled out beach holiday, I'd recommend Giulia's apartment!
Rahma
2015-08-10T00:00:00Z
Giulia a répondu à chacun de mes mails. Nous avons été bien accueilli et bénéficié des plaisirs visuels offerts par cet appartement.
Martine
2016-10-31T00:00:00Z
Très bel et spacieux appartement avec une magnifique vue à 180 degrés sur la mer depuis la terrasse ! Quartier très calme, proche de toute commodité et des plages. Nous avons particulièrement apprécié la crique à l'abri des foules à quelques minutes à pied de la résidence. L'appartement était propre et très bien équipé. Les parents de Giulia nous ont très bien accueillis et conseillés (notamment pour les endroits où randonner) et nous ont donné l'accès à l'appartement dès notre arrivée soit 4 heures avant l'heure prévue. Nous recommandons cette location !
Claire
2016-09-23T00:00:00Z
Tipe Kamar
Seluruh rumah/apartemen
---
Tipe Properti
Apartemen
---
Mengakomodasi
6
---
Kamar tidur
Monticello, Corse, Prancis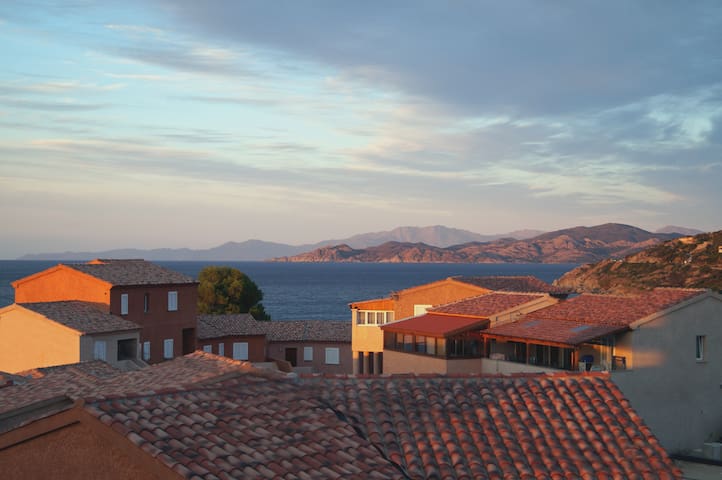 This studio located on the village square in Monticello in Balagne is ideal for a couple alone or with children. It has been completely refurbished and has every comfort. The studio is rented by the week minimum from Saturday to Saturday
Martin's studio is a real gem! First of all it wasn't easy to find but we were looking in the wrong direction as it was just in front of us. The place is located in the main Monticello square, right next to the Eglise Saint Sebastien. The village is very small with only one cafe and shop (next door from the studio) which is very useful. Sells great baguettes and pastries. Make sure to pre order for the next day as they sell out fast. Studio was perfect for two of us and our dog. It is fully equipped (inc. small iron not in the description). The only downside was a lack of towels but I'm sure it could be provided and also a hairdryer would be useful. Martin welcomed us at our arrival. late at night. We would highly recommend this place for your break.
Mateusz
2015-11-13T00:00:00Z
Tres beau studio et situé parfaitement si on veut profiter de la vie locale et des gens du village... Calme et propre et tres bien equipé (malgré l'electricité qui part parfois si on a tous les electriménagers allumés ensemble:)) nous avons apprécié beaucoup notre séjour dans le studio à monticellu, merci encore pour tout!
Claire
2015-08-13T00:00:00Z
Situé au coeur du village de Monticello (dominant l'Ile Rousse), le studio proposé par Mr Fratacci était à la hauteur de nos espérances : logement propre, très équipé, rénové avec beaucoup de goût, et spacieux pour un couple avec un enfant. Mr Fratacci s'est très bien occupé de nous, et nous a recommandé les lieux et restaurants des environs. Monticello est un bon point de chute car ce village se trouve à proximité des magnifiques villages de Balagne (Pina, Sant'Antonino, etc.) et à distance raisonnable des grandes villes telles que St Florent, Calvi, et même Corte. Evidemment, nombre de plages sont accessibles, dont celle de Lozari que nous recommandons, surtout le soir quand la plupart des gens s'en va. Merci encore aux Fratacci père et fils :)
Maxime
2015-08-22T00:00:00Z
Le logement est conforme à la description et aux photos. Le logement est plein de charme et nous avons adoré notre séjour dans ce village. Les hôtes ont été très disponibles. Ce logement offre un très bon rapport qualité / prix !!! Nous y retournerions avec grand plaisir.
Ludivine
2016-07-17T00:00:00Z
Logement conforme à la description. Très bon accueil !
Séverine
2016-08-25T00:00:00Z
Très beau studio, pratique et bien situé à quelques minutes d Ile Rousse dans un charmant petit village. Le studio est refait à neuf et parfaitement équipé. Il est situé à côté d une petite supérette où l on peut tous les jours avoir pain et viennoiseries...très pratique :). Le propriétaire est très sympathique et a pris le temps de tout nous expliquer et de nous parler de lieux et restaurants où aller. Je conseille cet appartement à tout le monde. Très contents de notre séjour à Monticello.
Sandrine
2015-08-30T00:00:00Z
Nous avons passé une agréable semaine dans ce magnifique village de Monticello. Merci a Olivier pour son accueil, sa disponibilité et ses conseils. Le studio est plein de charme et refait a neuf, on s' y sent très bien. Les draps ne sont pas fournis mais vous pouvez en louer sur demande.
josephine
2016-08-07T00:00:00Z
Tipe Kamar
Seluruh rumah/apartemen
---
Tipe Properti
Apartemen
---
Mengakomodasi
4
---
Kamar tidur
Monticello, Corse, Prancis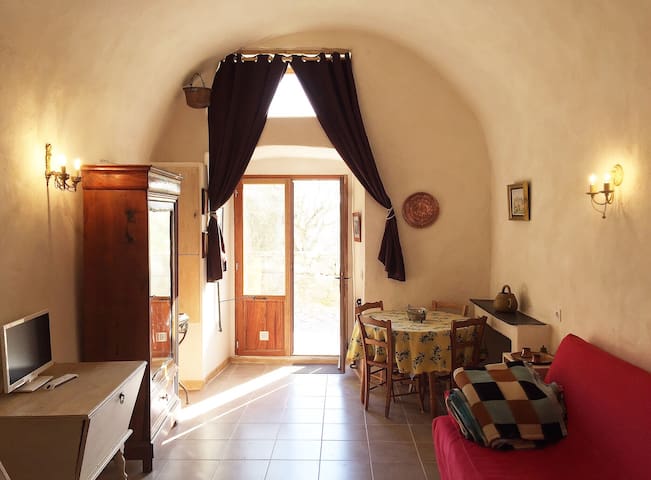 Located in a quiet residence in the municipality of Monticello (3km5 from the center of the red island). Near the leisure center of Monticello (swimming pool, mini golf, tennis, horseback riding) and a short drive (5 min) from the beach of the red island.
Very nice apartment overlooking the red islands. Rent from June 15 to September 15 from Saturday to Saturday only! Ideally located between the villages of Ile Rousse and Monticello, sip a drink while enjoying a nice sea view, on redheads islands, installed on the chairs of the terrace. 30 m² apartment on the ground floor of a 3-storey building in the heart of a quiet residence. -Large Centerpiece making room office area and living room with access to the terrasse.Equipée a sofa bed 2 beds, TV, internet wifi. (With a domino, no livebox!) -The Kitchen is equipped with every modern comfort (micron wavelength, two gas burners, fridge freezer) -1 Room of 10m2, 160 bed -1 Bathroom with tub-shower, sink, toilet, washing machine. -1 Terrace with table, chairs ... and a nice sea view! Extras: Do not run to the grocery arriving! You will find in your cupboards salt, pepper, coffee, tea, toilet paper and to help you out. You will also find basic cleaning products. Sheets are provided and bed room is! We also offer: - Books and guides on our island - Card games - Close to many activities: beaches of course, (the closest is 5 minutes by car), hiking, horse riding, quad biking, museum, cinema, 4x4 tours, boat, golf, sports complex, artisans road, etc ... Great place to contact you for diving enthusiasts! 30 mn from Calvi airport, 5 min from the Ile Rousse, the apartment is ideally located for a holiday ... calm but 5 minutes drive from the beaches of fine sand! Arriving on Saturday from 15 pm Departure Saturday before noon Rent from June 15 to September 15 from Saturday to Saturday. Contact us now!
The tranquility of the residence is its major asset, while remaining very close to the tourist area and the first sandy beaches located 3.5 km, 5 minutes by car!
Très bonne communication et super accueil. Appartement très agréable. Sandrine est aux petits soins pour ses hôtes MERCI
Aurore
2013-07-20T00:00:00Z
Jolie petit appartement, bien equipé, avec vue sur le port de l'Ile Rousse. Nous avons été accueillie avec un petit cadeau d'accueil; des spécialités de la corse. Tout était parfait sauf pour un petit soucis avec le chauffe eau durant notre passage.
Nicolas
2016-09-28T00:00:00Z
Appartement au sein d'un lotissement, bien situé, à proximité de l'île rousse. Propreté au rdv et correctement équipé.
Camcam
2016-09-14T00:00:00Z
Super accueil de nos hôtes , avec pleins de petits conseils pour rendre notre séjour formidable . L'appartement est très bien placé , conforme aux photos et propre . Je recommande fortement cet appartement et encore merci à Sandrine et Michel !
Clemence
2016-09-10T00:00:00Z
Sandrine's nice little apartment in a relatively quiet neighbourhood made for a good stay in the L'Ile Rousse area. Although we did not meet Sandrine in person, we were well accommodated by two of her friends. All communication went smoothly and quickly. As for the apartment, everything is nice and clean and as described. We had some trouble with the Wireless, it seems to work best on the balcony. Other than that we had a very enjoyable stay.
Mathias
2015-07-18T00:00:00Z
It was a beautiful place and Sandrine was a wonderful host - highly recommended!
Sean
2012-06-24T00:00:00Z
Great flat with beautiful views of sea. About 25 min walk to L'Ile Rousse on coast. We got lost trying to find flat first time but host was very helpful.
Christine
2016-09-18T00:00:00Z
Nous avons particulièrement apprécié notre séjour à Monticello dans le T2 de Sandrine. Une autre Sandrine nous a accueillis, tout aussi charmante que la première au téléphone (retenue en métropole). L'appartement dispose de tout le nécessaire pour passer un excellent séjour, et même d'une machine à laver, ce qui est appréciable pour le retour !! Il est d'une propreté impeccable, le lit est parfait. Bref, nous avons beaucoup apprécié (même le bar est approvisionné !). Nous recommandons chaudement cette location, située sur les hauteurs, avec une vue imprenable sur l'île Rousse et dans un quartier très calme. Je n'ai que des compliments à faire à notre hôte ! Nous reviendrons sur cette île de toute beauté.
Katia
2014-07-13T00:00:00Z
Tipe Kamar
Seluruh rumah/apartemen
---
Tipe Properti
Apartemen
---
Mengakomodasi
4
---
Kamar tidur
Monticello, Corsica, Prancis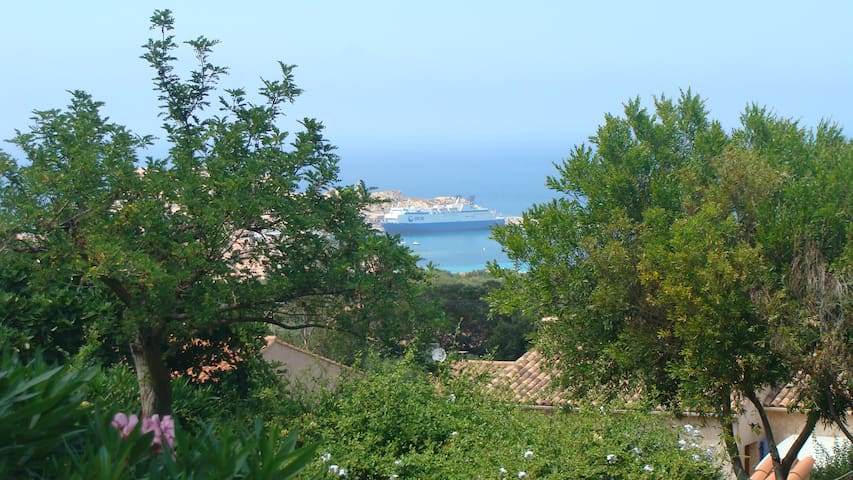 Apartment 60 m²en ground floor of villa in a quiet location. Ideal for 2 people. Located a 1.5Km from Ile Rousse and the beach.
The accommodation is bright spacious and very comfortable with all the comforts for a good holiday. fully equipped kitchen, bedroom with a 140 bed, living room with sofa bed 140, shower room with WC. Covered terrace and outdoor barbecue. Parking on fenced shady.
The area is very quiet and pleasant
Tipe Kamar
Seluruh rumah/apartemen
---
Tipe Properti
Apartemen
---
Mengakomodasi
2
---
Kamar tidur
Monticello, Corse, Prancis
ground floor apartment with double ingresso.cucina and living room with large open terrace on the sea. unmissable sight. 2 minutes walk from the sea and 15 from Ile Rousse.luogo quiet away from the surrounding traffico.giardini. carport.
the beds of the bedrooms are also divided and become single beds. The fifth bedroom is in the entrance area. bathroom with shower and washing machine. satellite TV. the terrace is enjoyable to eat outside and is equipped with table and chairs. The garden areas are communal areas and are not games for children and adults.
the residence is overlooking a beautiful sea with very quiet places and dedicated only to the inhabitants of the residence. very close there is the beach of Ile Rousse, more animated with white sand and clear water ... the town is very lively with cafes and bars under the plane trees and (URL HIDDEN) game are nice shops and narrow streets full of restaurants and attractions .a 20 km Calvi there with discos and (URL HIDDEN) attractions can go on the little train that runs along the coast and makes a stop to the beaches.
Dejligt udgangspunkt for en ferie i Balagne. En fantastisk udsigt fra terrassen ud over Middelhavet, som vi vil savne efter vores ferie. Hvis du er afhængig af byliv, restauranter og cafeer lige ved siden af boligen, er denne lejlighed måske ikke lige sagen, men med 15 min. gang ind til Ile Rousse dækkede beliggenheden så absolut vores behov i løbet af ugen.
Ole
2016-07-19T00:00:00Z
Die Lage der Wohnung ist phantastisch, am Meer (Klippen) ist man in zwei Minuten, zum Sandstrand hat man 10. Die Wohnung ist gut ausgerüstet, es fehlt nichts. Am besten hat uns die Terrasse mit Essplatz gefallen mit perfekter Aussicht aufs Meer inkl. Sonnenuntergang. Auch ohne Klimaanlage ist die Wohnung im Sommer erträglich. Angesichts der Lage ist Dr Preis ok. Uns ( 2 Erwachsene, 2 Teens) hat es sehr gefallen.
Christoph
2016-07-12T00:00:00Z
Quanto scritto nell'annuncio rispecchia la realtà ed è anche molto di piu! la vista panoramica dal patio è davvero fantastica. la casa ha tutto il necessario ed è vicino al centro di Isola Rossa (5/6 minuti di macchina), si può arrivare al mare a piedi (spiaggia rocciosa, mentre per quella sabbiosa la camminata è un pochino piu lunga ma molto fattibile), nel residence sono tutti molto cordiali, non rumorosi e gentili. i proprietari di casa sono disponibili e simpatici. tranquillità e spensieratezza assicurate. consigliato sia per giovani (tranquilli) che per famiglie.
Federica
2016-08-17T00:00:00Z
Nous avons été très bien accueillis par Silvana. L'appartement était parfait et tout à fait conforme à l'annonce, au calme et en même temps permettant un accès facile et rapide à pieds au village et à la plage, la vue de la terrasse est magique. Situation idéale pour visiter l'arrière pays et la côte, avec en plus la voiture stationnée au frais. Nous avons passé une excellente semaine nous reviendrons.
Delphine
2016-07-31T00:00:00Z
Tipe Kamar
Seluruh rumah/apartemen
---
Tipe Properti
Apartemen
---
Mengakomodasi
5
---
Kamar tidur
Monticello, Corse, Prancis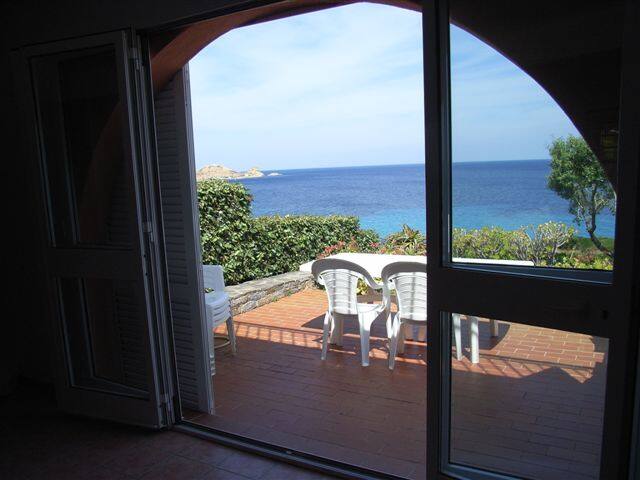 L'appartement est à 2km de la petite ville d'île rousse de sa plage, du port de la gare et de toutes les commodités,et du pittoresque village de Monticello de son centre sportif ( piscine,tennis,chevaux) sentiers de randonnées.
Quartier calme
Marie est venue à notre rencontre pour nous guider jusqu'à l'appartement. Ceci était très apprécié! Marie nous a très bien accueilli, l'appartement était propre, fonctionnel et conforme à l'annonce. Le quartier est tranquille (en octobre en tout cas). Nous avons adoré notre séjour chez Marie. Merci beaucoup!
Victoria
2015-10-25T00:00:00Z
Très bon acceuil. Le logement était fidèle au photo: calme, quasi neuf! Nous avons passé un très bon séjour. Nous avons vraiment appréciés les draps et les serviettes. Accès un peu difficle
Magali
2016-05-28T00:00:00Z
Monticello is a quite neighborhood. We enjoyed our last two days here and just relaxed. The pizzeria nearby is great but you could also prepare your own dinner at the place which has all basic amenities and kitchen utilities.
Christina
2016-09-13T00:00:00Z
L'appartement de Marie est tout à fait conforme aux photos; il est très agréable et Marie a beaucoup de gout pour la décoration Nous ne sommes malheureusement pas restés assez longtemps et c'est avec grand plaisir que nous y retournerons Situation idéale entre Monticello et l'Ile Rousse
Corinne
2015-09-13T00:00:00Z
Nous ne sommes pas restés longtemps mais l'accueil était très sympathique. La location était impeccable avec un jardin agréable pour pouvoir profiter des soirées en extérieur.
Francoise
2016-10-22T00:00:00Z
Heerlijke rustige ruimte, met ruime tuin met barbecue. Is licht, schoon en ruim, met veel voorzieningen. De wifi werkte eindelijk eens!
Diddo
2016-06-25T00:00:00Z
Logement charmant sur les hauteurs, calme avec sa terrasse et son BBQ.
Sacha
2016-05-17T00:00:00Z
LOGEMENT CONFORME A NOTRE ATTENTE. ACCUEIL AGRÉABLE DE NOTRE HÔTE .NOUS AVONS PASSE UN EXCELLENT SEJOUR
florence
2016-06-13T00:00:00Z
Tipe Kamar
Seluruh rumah/apartemen
---
Tipe Properti
Apartemen
---
Mengakomodasi
4
---
Kamar tidur
Monticello , France, Prancis
Tipe Kamar
Seluruh rumah/apartemen
---
Tipe Properti
Apartemen
---
Mengakomodasi
4
---
Kamar tidur
Monticello, Corsica, Prancis
Tipe Kamar
Seluruh rumah/apartemen
---
Tipe Properti
Apartemen
---
Mengakomodasi
4
---
Kamar tidur
Monticello, Corse, Prancis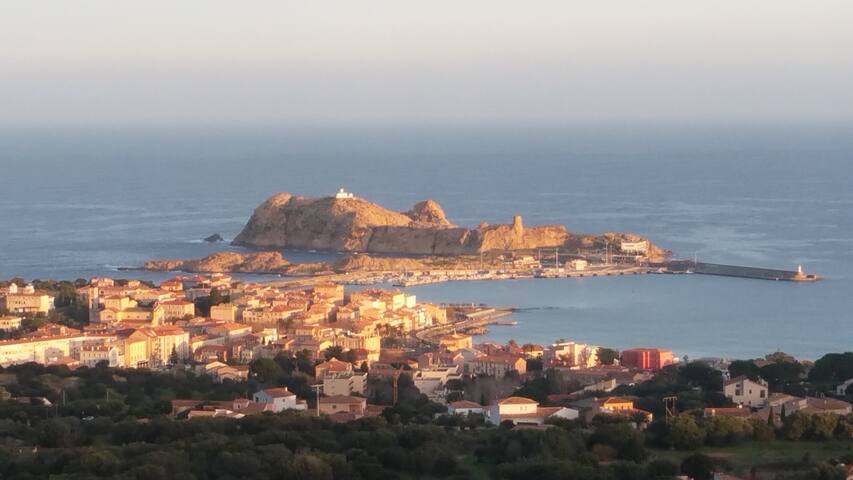 Tipe Kamar
Seluruh rumah/apartemen
---
Tipe Properti
Apartemen
---
Mengakomodasi
4
---
Kamar tidur
Monticello, Corse, Prancis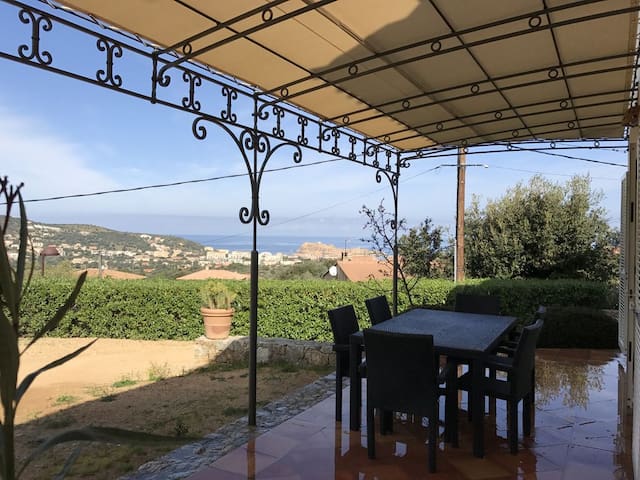 Das freistehende Haus mit zwei Schlafzimmern, einem Obergeschoss begrüßt Sie auf halber Strecke zwischen Monticello und Ile Rousse, in einer ruhigen Gegend in unmittelbarer Nähe zu Wanderwegen, die es Ihnen ermöglichen, um die Umgebung zu erkunden Neue klimatisierte Zimmer, eine Terrasse mit Meerblick von oben
Einfamilienhaus von 45 m2, Lokalität "Bongioco", 3 km vom Dorf von Monticello und 3 km vom Strand von Ile Rousse 1 Wohnzimmer mit offener Küche, eine eigene Terrasse mit Blick auf, ohne vis-à-vis 1 Schlafzimmer im Erdgeschoss mit einem Bett von 160 1 Schlafzimmer im Obergeschoss mit 2 Betten von 80, kann für ein paar zusammengestellt werden 1 Badezimmer (Dusche Italienisch) -WC Erdgeschoss 1 private Terrasse mit Meerblick zur Verfügung aus dem Schlafzimmer im oberen Stockwerk Die Wohnung ist für maximal 4 Personen (1 Paar + Kind (ern) oder 2 Paare), die normalerweise vermietet; Möglichkeit, ein Kinderbett und Zusatzbett für 1 Person im Zimmer mit Aufpreis und Zustimmung des Eigentümers zu mieten Der Preis beinhaltet Bettwäsche (Handtücher und Bettwäsche mit Betten vor der Ankunft der Vorbereitung), nur Strandtücher sind nicht vorgesehen Klimaanlage im ganzen Haus Küchenausstattung: Kühlschrank, Gasherd, Mikrowelle, Backofen, Wasserkocher, Toaster, Geschirrspüler, Nespresso-Kaffeemaschine (Kapseln vor Ort verfügbar) Weitere Ausstattung: Grill, Gartenmöbel, Flachbild-TV Wi-Fi mit dem Zugangscode bei der Ankunft Möglichkeit der Bereitstellung einer Waschmaschine bei Bedarf
Die Gegend ist ruhig genug vom Zweifel weg nicht die Belästigung zu leiden. Sie können für die Erkundung der umliegenden Landschaft in verschiedenen Wanderwegen direkt vom Haus aus zugreifen und kommen Sie, wenn Sie die Küste gerne (eine gute halbe Stunde zu Fuß)
Un logement très cosy, au delà de nos espérances. Très propre, bien équipé et aménagé. Nous avons été très bien reçu par Juliette. Une bonne adresse.
jean
2016-04-29T00:00:00Z
My husband and I thoroughly enjoyed our stay in this lovely apartment. The building itself is very modern and new. You share the driveway with the owner but the apartment is nicely tucked away and you have your own private deck area. The apartment is really nicely presented inside and definitely nicer in real life than in the photos The kitchen is really well equipped and the furniture is all very comfortable (the double bed is super comfortable). The Wifi is strong and reliable. Juliette is very sweet and was quick and efficient with communication. I am sure you will enjoy your stay here as much as we did!
Mandy
2016-11-12T00:00:00Z
The perfect experience. The house is even nicer than in the pictures. Decoration is lovely. All you can need is in there. It is really quiet, so one can relax , it is quite near ile Rousse and many beautiful beaches. Julliette is really charming and kind. It has been a pleasure to stay in her place.
Cristina
2016-09-13T00:00:00Z
The contacts before we arrived with Juliette were very good. All the info we needed was sent to us. One day before arrival we received a mail with exact directions and she was present at the moment we arrived. Juliette gave us fine info off Corsica, for example the best beaches to go to. Everything you need is in the apartment ..........and more ! We had a very pleasant stay at Juliette's apartment and we can strongly recommend the apartment and Juliette's very complaisant attitude
Sjoerd
2016-08-21T00:00:00Z
Wieder einmal hatten wir einen Volltreffer mit Airbnb gelandet! Die Unterkunft sowie die Gegend drumherum sind zauberhaft, und sogar noch schöner als auf den Internetfotos. Das Häuschen ist mit vielen liebevollen Details hergerichtet, so wie man es sich für sein Eigenes auch wünschen würde. Juliette selbst war superzuverlässig, charmant, hilfsbereit und jederzeit ansprechbar, gleichzeitig hat sie uns jegliche Privatsphäre gelassen. Das Haus ist ganz neu gebaut, hochwertig, sauber, absolut ruhig gelegen und nur wenige Autominuten von Ile Rousse und zum nächsten wunderbaren Strand entfernt. Man kann sogar das Meer vom Häuschen aus sehen. Ganz herzlichen Dank für alles. Wir kommen gerne wieder.
Loni
2016-06-12T00:00:00Z
Tipe Kamar
Seluruh rumah/apartemen
---
Tipe Properti
Apartemen
---
Mengakomodasi
4
---
Kamar tidur
Monticello, Corse, Prancis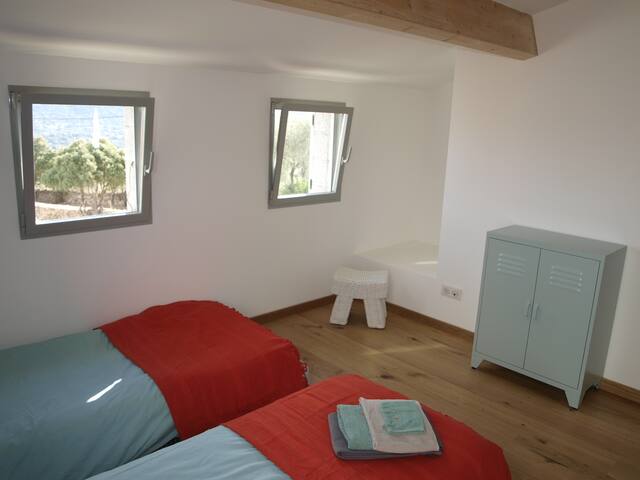 Sutdio 25 m² mit Klimaanlage réversible.Entrée Wohnzimmer mit Erker, Küche mit Fenster, Terrasse, Bad mit WC. Mögliche Abstellen eines Fahrzeugs auf geschlossenem Gelände Samstag bis Samstag buchen
Séjour au top Studio très bien situé proche de l ile rousse Je recommande
Gregory
2016-07-03T00:00:00Z
lotissement a 2 minutes de la ville, calme, Leila est trés simpatique disponible et attentioné, le studio est agréable et bien équipé, que du bon.
Joséphine
2016-05-08T00:00:00Z
Famille très sympathique. Le logement est bien fait et pratique. La climatisation est un plus ! Emplacement du logement proche du centre de l'île Rousse dans un quartier pavillonnaire calme.
Alexis
2016-07-31T00:00:00Z
The appartement was very nice und exactly how descriped. It's small, but very clean and everything we needed was there. Leila was very friendly und helpful. The arrival and departure were not complicated. The only slightly negative thing for us was, that the couch was not so comfortable for sleeping and the refrigerator was quite loudly. But we had a wonderful time in this appartement Monticello, it's very nice located in a calm neighborhood.
Sarah
2016-09-27T00:00:00Z
Nous avons été très bien accueillis dans le studio de Leila où nous avons séjourné durant une nuit. Le logement est moderne, propre et surtout bien situé, calme et offrant une très jolie vue sur les montagnes corses. Nous y reviendrons avec plaisir !
Alexandre
2016-09-18T00:00:00Z
L'appartement est en tous points conforme à sa description et aux photos. Situé dans un quartier pavillonnaire et très calme, il est en très bon état et attenant à la maison des propriétaires. Leila est très accueillante et disponible durant la durée du séjour, elle est à l'écoute des besoins de ses hôtes.
Pierre
2016-10-23T00:00:00Z
Bien accueillis par les parents de Laila, quartier très calme, logement conforme à la photo
DOMINIQUE
2016-09-08T00:00:00Z
tres bien sur tout les plans endroit idéal très calme personnes très agréables et accueillantes merci encore
Yannick
2016-09-30T00:00:00Z
Tipe Kamar
Seluruh rumah/apartemen
---
Tipe Properti
Apartemen
---
Mengakomodasi
2
---
Kamar tidur
Monticello, Corse, Prancis
Master's House, Second floor apartment fully equipped, with 2 large bedrooms and a kitchen with endless sea views, a large vaulted room of 40 m2, with original frescoed walls large terrace of 30 m2; Private parking
classified "old house in France" This building, called U PALAZZU -the Palais is one of the oldest house in the village.battie the XVIth century on the foundations of a Pisan tower, the door of iron entrance is the only vestige, this house was a true remains significant. His imposing stature and evidenced the existence of two stables, now disused, a chapel, a wine press has oil, painted frescoes in some rooms. Famous people stayed there also: PASCAL PAOLI, illustrious history of Corsica, author of a constitution for the Corsican he wrote JEAN JACQUES ROUSSEAU with the XVIII century .C 'was during this period that NAPOLEON, then rises officer visited him and also lived in the house. Later it Théophile Gautier, who fell in love with the daughter of one of the home owner -MARIE MATTEI- went there and stayed also in MONTICELLO and dedicated a poem from his collection "Enamels and cameos" at home. From a practical point of view, the house is ideally situated as it is a little behind the village while a 1 minute walk up the town and that it has a place of its is clean and allows you to enjoy a significant private parking in tourist peak season. On the other hand, like any old building, stone walls with a thickness of 1 m 30 guarantee a natural thermal insulation ensuring a smooth, fresh, undeniable pleasures during the summer.
Monticello is a village overlooking the sea and distant L Ile Rousse 4 KMS
Wir haben uns sehr wohl bei Jean Louis gefühlt. Das Appartement war sehr gut und exakt beschrieben. Die Atmosphäre in seinem Palazzu ist sehr schön und er ist mit allem ausgestattet, das man benötigt, auch für einen längeren Aufenthalt. Die Sicht rundum, auf das Meer, auf Monticello ist ausgezeichnet. Die Lage nahe am Ortskern, mit der Nähe zu einem guten Restaurant und einem kleinen Geschäft für alle wesentlichen Dinge des Alltags, hebt sich angenehm ab von den vielen zersiedelten Urlaubsorten, die man sonst auf Korsika findet.
Stefan
2015-08-29T00:00:00Z
L'appartement, équipé de façon complète, est vaste et remarquablement situé, à proximité du cœur du joli village de Monticello, et offre une vue incroyable sur l'Ile Rousse, la côte et les montagnes environnantes. L'accueil est sympathique, à la fois chaleureux (merci pour les petites attentions gustatives!) et très "pro" (les bons plans de la région sont soigneusement cartographiés). Bref, un très bon séjour !
Celine
2016-09-10T00:00:00Z
Appartement au 2ème étage d'une magnifique maison ancienne. Les fresques du salon sont splendides et la vue des fenêtres et de la terrasse à couper le souffle! On ne s'en lasse pas! Les chambres et la cuisine sont des pièces claires et spacieuses. L'appartement est bien équipé et très agréable. Accueil sympathique du propriétaire qui donne des indications utiles sur les choses à voir et à faire. Nous avons beaucoup apprécié notre séjour dans ce logement atypique et confortable.
Amélie
2015-08-17T00:00:00Z
Diese Unterkunft ist ganz toll. Merci beaucoup.
Stefan
2016-07-03T00:00:00Z
Ho pernottato in questo appartamento per una settimana insieme a 4 amici. La casa è molto accogliente e spaziosa, ed offre una vista panoramica incredibile su l'ile rousse. Il proprietario è molto gentile e disponibile. Consiglio a tutti coloro che sono interessati a visitare la Corsica di pernottare in questo splendido appartamento.
Ugo
2015-08-09T00:00:00Z
We really enjoyed our time at the palais - it is a very special place with incredible history and stunning views. Jean Louis was extremely kind to us helping us getting a rental car in peak season. We also appreciated his fabulous beach recommendations. Monticello is a lovely spot. The kids enjoyed the pony trekking and the restaurant in the square was excellent. It's only a few minutes' drive from the centre of Ile Rousse so well worth considering if you are in that part of the island and are looking for something a bit more authentic.
Sara
2015-07-29T00:00:00Z
Accueil très sympathique et convivial. L'endroit est idéal pour les amoureux de bâtisses chargées d'histoire. La vue est imprenable et à couper le souffle!
Laetitia
2015-10-29T00:00:00Z
Accueil chaleureux accompagné de petites douceurs corses. La maison est très agréable et la vue splendide. Précieux conseils du propriétaire sur les balades et les restaurants alentours. Monticello est très bien situé par rapport à l'Ile Rousse et aux plages paradisiaques... Logement à recommander!
Anne-Lise
2014-08-30T00:00:00Z
Tipe Kamar
Seluruh rumah/apartemen
---
Tipe Properti
Apartemen
---
Mengakomodasi
6
---
Kamar tidur
Monticello, Corsica, Prancis
Appart T3 in a village house. Magnificent views of the sea, the port Islands Coquet, super furnished and decorated. Large window and terrace. Pretty typical and authentic village on the rocky peak overlooking the sea. Quiet, trade nearby.
comfortable, elegant and lovely haven in sympathetic and friendly village
Near the turquoise and transparent sea, sandy beaches, coves, rocks. Initially many hiking trails. Many shops, bars, restaurants, entertainment
merci pour l accueil de votre amie, elle est charmante, nous etions fatigués de notre w.end et n'avons peut etre pas été à la hauteur de son accueil.. nous nous excusons auprès d' elle.. votre vilage est super charmant et merite le détour...
EDITH
2016-08-14T00:00:00Z
Accueil super... appartement fonctionnel sauf le petit problème de la chambre enfant MANSARDEE pas adaptée pour un couple adulte de 67ans (mal de dos).
Angelo
2016-10-16T00:00:00Z
Tipe Kamar
Seluruh rumah/apartemen
---
Tipe Properti
Apartemen
---
Mengakomodasi
5
---
Kamar tidur
Monticello, Corsica, Prancis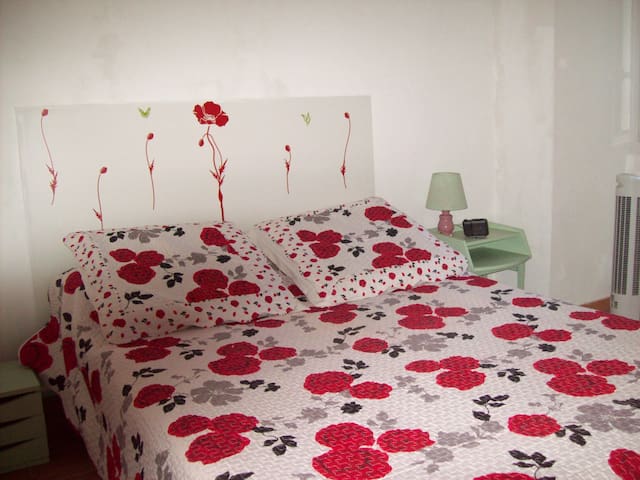 This T2 of about 45 m2 is ideally located in Monticello, quiet but 10 minutes from the beaches of fine sand. Guests can enjoy a large terrace with breathtaking sea views, the village and Cap Corse.
"Balagne" once known as "the garden of Corsica" is a beautiful region dotted with beautiful villages in the hills overlooking the sea and beaches in unspoiled beauty. This T2 of about 45m2 is ideally located. Guests can enjoy a refreshment, barbecues enjoying stunning views of the sea, no doubt the highlight of this lovely home.
The accommodation is close to many activities: beaches (the nearest is 10 minutes by car), diving, walks, horse or quad, museum, cinema, 4x4 tours, boat, golf, sports complex, etc .. . Monticello has a bar restaurant and a small grocery store on the town square. The center of Ile Rousse, 10 minutes by car is very lively and enjoyable. The pedestrian street full of small shops.
The apartment is part of a house, inhabited by the grandparents of Caroline. They are literally next door and available in case you need any help. Monticello is a nice quiet village, and the large terrace has a beautiful view over the village, the sea and the Cap Corse in the distance. The description of the apartment is pretty accurate, it's not big or luxurious, but it's adequate for a short stay for 2 people, especially if you want access to a (small) kitchen and a washing machine. One issue we found was that the apartment was not clean when we entered it. Supposedly the cleaning lady had cleaned the apartment the day before and it had been a very windy night, which could explain the dust and dirt on the floors. But the shower was also not well cleaned, and there were some dirty cooking utensils in the closets. This has seriously peeved us as it put a bit of a damper on the start of our holiday, but Caroline was gracious enough to refund the cleaning costs to us after our stay.
Tom
2015-07-13T00:00:00Z
Die Grosseltern von Caroline, welche uns erwarteten, waren sehr zuvorkommend und nett. Die Wohnung ist ruhig gelegen und die Aussicht super. Ich kann sie nur weiter empfehlen.
Vreni
2016-06-18T00:00:00Z
Les grands-parents de Caroline (partageant l'autre partie de la maison) ont été extrêmement gentils et accueillants. Ils font tout pour vous mettre à l'aise tout en préservant votre tranquillité et intimité. Le logement et la vue de la terrasse correspondent parfaitement aux photos présentées. Il est idéalement situé, proche de toutes commodités et à 5 minutes de l'Ile Rousse. Recommandé fortement voire très fortement !
Clément
2016-08-03T00:00:00Z
Accueil très courtois des grands parents de Caroline, le logement est une partie de leur maison, mais elle est bien indépendante. Une vue magnifique de la grande terrasse, qui vaut vraiment de détour. Maison située dans un très joli village, belles plages à quelques kilomètres et stationnement aisé
Denis
2016-07-22T00:00:00Z
The surroundings are fascinating, the view from the balcony is breath-taking. The grandparents of Caroline are very helpful and kind. They invited us to visit their flat. The communication was a bit hard, as we don't speak french, but we solved it :).
Zsófia
2015-08-05T00:00:00Z
Nous avons été enchantés par ce séjour chez Caroline. Ses grands parents nous ont accueillis chaleureusement, l'appartement est propre et confortable (coin cuisine très petit par contre mais pas gênant en vacances). La vue de la terrasse est impressionnante. À recommander.
Patrick
2016-08-11T00:00:00Z
Accueil charmant des grands parents originaires de Monticello. Appartement conforme aux photos, très bien placé pour rayonner en Balagne. Vue splendide. Nous avons passé un excellent séjour!
JULIE
2014-09-02T00:00:00Z
William und Madelaine waren tolle und warmherzige Gastgeber. Der Blick über Monticello ist überwältigend. Die kurze Anfahrt nach Île-Rousse sind ein weiterer toller Vorteil. Die Zimmer sind klein aber fein aber nicht mehr auf dem neusten Stand. Trotzdem jederzeit empfehlenswert.
Michel
2015-09-05T00:00:00Z
Tipe Kamar
Seluruh rumah/apartemen
---
Tipe Properti
Apartemen
---
Mengakomodasi
2
---
Kamar tidur
Monticello, Corsica, Prancis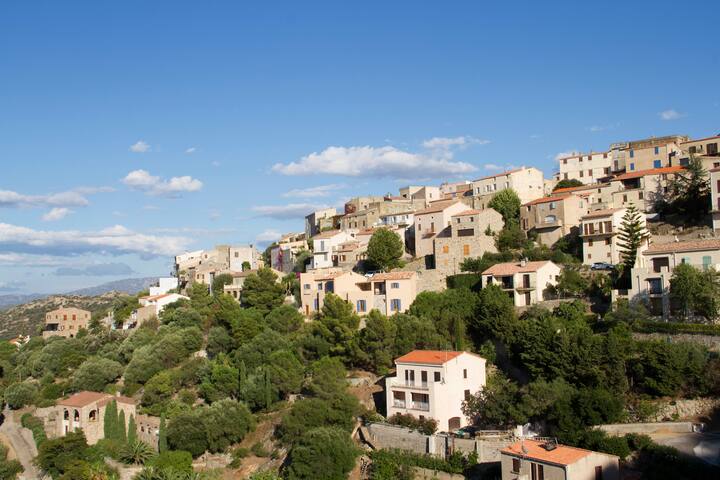 Ville-di-Paraso - Airbnb
:
Rata-rata

4.53

dari

5

bintang dari semua

114

ulasan tamu
1

–

18

dari

300+ Sewa Apartemen
Masukkan tanggal untuk melihat harga lengkap. Biaya tambahan berlaku. Mungkin dikenakan pajak.