Nieuw gebouwde moderne 550 vierkante voet 2 verhaal huisje. Volledige keuken en badkamer met full size apparaten. House is aan het einde van een doodlopende straat in een rustige buurt. Een kinderbed of luchtbed kan ook worden verstrekt indien er meer dan twee gasten.
Unieke lay-out en moderne accenten is wat The Little House echt iets speciaals. Klein genoeg om te ervaren wat "klein huisje living" is als maar groot genoeg om een paar mensen heel comfortabel plaats.
I had a great experience! Devon was very nice and the communication was great. The Little House was very cute and perfect for our visit. It has everything we needed and we were very comfortable there. Would definitely stay there again!
Abby
2015-10-20T00:00:00Z
It's always a great feeling when seeing friends again. That's the way Devon and her family treat their guest. Our flight landed late into DFW and we ended up in Wichita Falls late. When we arrived, we were greeted by Devon and her family with warmth and understanding and of all things....... a tall, beautiful, fully decorated, awesome (daughter's word) Christmas tree!!! I mean, we expected a clean place with accommodating owners. With Devon and her family, we felt and were treated like part of the family. Very appreciated when one wants to get away from it all!!! The family we always wanted!!!
Michael
2017-01-11T00:00:00Z
The Little House was perfect for my recent visit to Wichita Falls! Beautifully finished out, tastefully decorated and immaculately clean, The Little House was a warm and welcoming home-away-from-home. Devon left a great basket of snacks and toiletries, and the coffee and tea selections kept me from having to run out to Starbucks first thing in the morning! I come to town a few times a year and will always book The Little House for my visits.
Adrienne
2016-01-24T00:00:00Z
The Little House was my first Airbnb experience. It was AWESOME! The place was perfect in every way. Comfortable, clean, and the best amenities from the welcome basket, comfortable bed, cable TV, and two porches downstairs and upstairs!! Devon is the sweetest host and goes above and beyond to make her guest feel welcomed and comfortable.
Ladette
2015-10-09T00:00:00Z
Great little house! Very neat and clean and comfortable...I stayed during the Hotter Than Hell Hundred Bicycle ride event, so it was close for me to participate. Devon left plenty of snacks and coffee. I'll be staying here next time I'm in Wichita Falls! Thanks, Devon!
Ginny and Phil
2015-08-30T00:00:00Z
The Little House is a lovely and comfortable place to stay. Devon was very communicative throughout the process and flexible with me when my exact arrival time unexpectedly had to change. I would recommend staying here if you're in the Wichita Falls area.
Karl
2016-01-04T00:00:00Z
Super cute place and great location! Very clean and Devon was a great host!
Chelsey
2017-02-10T00:00:00Z
Devon's tiny home was immaculate! The pictures do not do it justice. Devon was a great communicator throughout and was very welcoming. Such a beautiful place. I highly recommend it!
Jessica
2017-03-24T00:00:00Z
Tipe Kamar
Seluruh rumah/apartemen
---
Tipe Properti
Rumah
---
Mengakomodasi
2
---
Kamar tidur
Wichita Falls, Texas, Amerika Serikat
Accueil à Sheppard Air Base, Midwestern State University, et la course Hotter n Enfer 100 vélos, ainsi qu'une foule d'autres attractions, cette maison très confortable est directement adjacente au club / pays zone club de chalet à Wichita Falls-parfait région pour un moment de détente, promenade ombragée, courir ou à vélo. On peut se rendre à Parker Square, qui propose Cinemark Theatre avec des sièges du stade, Ganache petit gâteau salon et bar à vin, les charcuterie de Jason et tellement plus marcher! Cet espace ouvert et lumineux dispose de 3 chambres bien aménagées, spacieuses, avec un roi extrêmement confortable et 2 grands lits. La salle de bains récemment mis à jour dans le couloir a tout ce dont vous avez besoin et plus, y compris une petite sélection d'articles de toilette, juste au cas où. La cuisine entièrement rénovée appelle simplement pour une utilisation avec c'est beau comptoir en granit et tout le cuisinier expérimenté aurait besoin, y compris une barre d'ouverture de l'espace pour la salle à manger, attendant juste pour vos invités à Sidle jusqu'à et discuter. Ajouter dans la magnifique salle principale de vie pour se divertir ou tout simplement avoir du recul pour regarder un DVD sur l'écran plat et vous trouverez bientôt que vous ne voulez pas partir! Le Roku a plus que vous pouvez regarder dans une vie si vous décidez de se détendre un peu les temps d'arrêt. Lorsque vous ajoutez tout cela et la facilité d'accès à la randonnée, le vélo, le golf et plus, la seule question est, pourquoi est pas encore là vos vacances?
Les arbres matures et la tranquillité cohérente du quartier sont mes aspects préférés de celui-ci, et il est à proximité du country club fait pour de grandes promenades à pied ou à vélo, si vous êtes pour elle. Fondamentalement, vous avez un caché, lieu de repos qui se trouve être à proximité de tous les principaux domaines de Wichita Falls!
This is the perfect place to stay and sojourn in the midst of a long trip. Shannon has worked wonders with the small house and turned into a home with character and warmth. Our stay was short and far exceeded our expectations. Really the perfect choice and stop, perfect.
Michael
2011-11-21T00:00:00Z
Our stay was perfect as usual. Beautiful home and great location for Midwestern State distance students. Shannon is an excellent host!
Jared
2015-12-06T00:00:00Z
The pictures don't do this home justice! THE HOUSE IS FABULOUS! We loved it so much and Wichita Falls too. The beds were a dream, the pillows fluffy and comfy. Our Airman that we were visiting was able to stay with us (he had to sleep on the couch) but no complaints from him, it was comfy, so comfy he slept until 10:00! The home is close to everything. We found our way around Wichita Falls without any problems.
Cindy
2016-05-18T00:00:00Z
Shannon provided me with all of the necessary information in a timely fashion. The house was great and had everything we needed. While we didn't make use of all of the board games Shannon provided plenty! If I was ever in the area again, I'd definitely stay there.
Karena
2016-08-21T00:00:00Z
This was my second time to stay in Shannon's home. We were there for my sister-in-law's funeral and it was so nice to have a home to come to. My brother and his young sons hung out and there were board games to play and we were able to cook meals to share. Shannon is the perfect host!! Her home is cozy, clean, charming, and comfortable. You will love it there!
Michelle
2016-12-04T00:00:00Z
Shannon's house was perfect for our reunion weekend. Just the right size for four old timers trying to relive their glory years. Clean, quiet and super comfortable. We come back every 3 years or so and I can't wait to stay here again.
Kevin
2016-04-17T00:00:00Z
Fantastic accommodations. Super nice home. Very clean and comfortable. Beats any hotel stay.
Scott
2017-02-02T00:00:00Z
Beautiful house with big kitchen- it was perfect for our needs.
Lynne
2017-02-16T00:00:00Z
Tipe Kamar
Seluruh rumah/apartemen
---
Tipe Properti
Rumah
---
Mengakomodasi
6
---
Kamar tidur
Wichita Falls, Texas, Amerika Serikat
全装修单一家庭的伟大的邻居。厨房配备了所有您需要。每3间卧室有一个大号床。阴凉的天井和庭院与烧烤炉。两车附车库。 * HHH周末2 NGT分钟。 $ 200 / NGT多达8人
非常干净的家在安静的街区,包括: -3间卧室,大床,包括了所有的床单 -2间浴室,1间带淋浴,1淋浴间和浴缸,包括了所有的毛巾 - 大型生活区,设有休息用餐区6,设备齐全的厨房 -2车库供客人使用
位于镇西南段。非常靠近足球场和纪念足球场。轻松访问在Wichita Falls主要道路。大约距市中心7英里,距离SAFB 15英里。 安静的街区,请尊重你周围的人。
Julia was very welcoming and made our ten day visit to Wichita Falls a delight. The house was very clean and well appointed from the kitchen supplies to the comfy beds to the clean/working gas barbeque grill outside in the covered area. It is an easy drive to Sheppard Air Force base. We plan on being back in Wichita Falls next month and plan on staying here again.
Denise
2015-08-17T00:00:00Z
Julia was very helpful. The house was cute and is located in a nice neighborhood. The house isn't too far from a highway, so it was easy to get around town. Julia also provided a charger for electronic devices, which was a nice touch if you forget to bring one. I would highly recommend this house to others.
Todd
2016-04-17T00:00:00Z
We had a great stay at Julia's! They house was clean, convenient and perfect for the relaxing weekend. She was a great host. The house was stocked better than most with items we needed. Thanks for a great weekend!!
Tarea
2016-05-31T00:00:00Z
This is such a great house with a really nice, open layout. It had everything we needed! The neighborhood was quiet and we even had a little spot on the back patio to enjoy the sunshine! We would highly recommend this house!
Aaron
2017-03-23T00:00:00Z
Our stay was absolutely wonderful. Julia and her husband were extremely helpful during our entire stay and very gracious hosts. The house was appointed with pretty much anything you could need and the location is close to shopping and restaurants. We would definitely stay again!
Amber
2016-04-06T00:00:00Z
Julie is an exceptional host and the property is in a quiet neighborhood and is very comfortable. I would not hesitate to stay here again.
Chad
2016-09-22T00:00:00Z
Great house with everything you could need. Will definitely be staying there when we come back to Wichita Falls.
Russ
2016-10-17T00:00:00Z
Julia was a wonderful host for my family while we were in Wichita visiting my grandfather. Everything we needed was at the house and the neighborhood was quiet and safe. We will definitely be staying again!
Krista
2016-11-21T00:00:00Z
Tipe Kamar
Seluruh rumah/apartemen
---
Tipe Properti
Rumah
---
Mengakomodasi
6
---
Kamar tidur
Wichita Falls, Texas, Amerika Serikat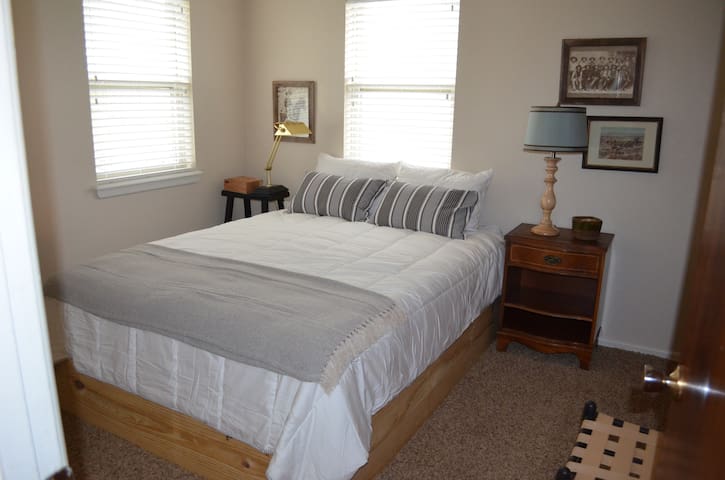 温馨的乡村俱乐部主场从中西部州立大学隔街相望,地理位置优越。我们步行到任何东西在大学正在进行的距离,就在一切的心脏地带,你可以想在威奇托福尔斯。我们家是最近更新的,有3间卧室,2.5浴室,2个居住区,大厨房,车库,大覆盖天井,并拥有近2200平方英尺。我们提供多个电视与Roku公司,咖啡和任何零食或饮料,你可能希望!
我们是来自密歇根州立大学的街对面。这使得我们的房子一个伟大的位置,如果你是住这里涉及到大学什么。同时,我们也非常接近许多餐馆和购物。这么好的位置是很难找到的。我们也有一个大圆圈车道,以适应任何停车需求。 我们已经在这里住两年了,也陆续装修整个房子。大部分房间都粉刷一新和床,床垫和家具都是新的。我们还定期更新的床上用品,并确保它始终是刚洗过的,并像新的一样为每一位客人。我们是坚定的关于清洁而努力奋斗"深层清洁",以每次入住后,我们最好的能力。 你得到一个伟大的第三个卧室中也挂出。我们有一个气垫床,我们可以在这个房间里的地方,如果需要的话,让我们最多可容纳6位旅客。
我们在威奇托福尔斯的乡村俱乐部分裂。该社区是安静的,但不要太安静了。你接近的一切,这是很好的是大学的活力附近。这是一个非常安全和维护良好的区域。您可以前往前门,去晨跑,这是一个美丽的地方这样做。我们当然喜欢它! 赛克斯湖大约是从我们家一英里。在这里,您可以慢跑周围的水,鱼,或只是野餐,聚会的踪迹,并欣赏风景。
A very beautiful home with very comfortable beds, an awesome shower, and a swing set! The kitchen looks fantastic and has ample room to cook in
Tyler
2017-03-13T00:00:00Z
Seth and Brittany were so accommodating. We were visiting Wichita Falls for our son's graduation from Sheppard Air Force Base. Seth & Brittany were wonderful. They put up a brand new flag pole and flag before our arrival. They also asked us what temperature we would like the house to be set at when we arrived late in the evening. Their home was a perfect gathering area for other family members who drove up from Dallas for the ceremony. I give our highest recommendation from setting an extra blanket on the bed for my elderly mother to providing snacks, breakfast items, water bottles, toothbrushes, and many other ammenities. Seth and Brittany were awesome and I would not hesitate to use them again and again.
Vina
2017-04-01T00:00:00Z
Wonderful house in a nice, quiet neighborhood. Seth and his wife are amazing hosts and were very helpful with any questions we had, and responded almost immediately. Would definitely recommend staying here if you are visiting the Wichita Falls area and would like something more than just a hotel room! We love this place!
Cody
2017-03-19T00:00:00Z
Seth is an amazing host! The house was perfect! They even had snacks and a bottle of wine waiting for us when we arrived!
Rebecca
2017-03-05T00:00:00Z
Tipe Kamar
Seluruh rumah/apartemen
---
Tipe Properti
Rumah
---
Mengakomodasi
6
---
Kamar tidur
Wichita Falls, Texas, Amerika Serikat
Thorough and kind hosts; guesthouse was cute, comfortable, and in a great location.
Rachel
2017-03-05T00:00:00Z
Ok...This was a FANTASTIC experience!!! Firstly the hosts were warm and welcoming and went out of their way to make us feel at home. They were really warm people. Now the "treehouse" was perfect for my son and I. It was well stocked with the necessities and with the nice blinds pulled up it really earned its name as the "treehouse"! Very nice. The bed was a dream.Simply excellent. Microwave,fridge,flat screen,stereo,access to a well organized garage...all made for an excellent stay! Nooow....the pool! BEAUTIFUL!!! The gorgeous stone pool was perfectly lit for an evening swim! The lovely and DEEP pool made for a wonderful time to relax and enjoy the water.All while having a very scenic view of the surrounding trees and assorted birds and even a frog visitor. The neighborhood was spectacular.Parking was ample. location was suburb. Literally 5 minutes from EVERYTHING! Restaurants to movie theatres...all just minutes. All in all a wonderful experience. Don't hesitate to book this magical getaway! Just don't do it for the HHH 100...This is my new goto!!! -Shay and Ian McQuaid
Shay
2015-08-30T00:00:00Z
John's place was great for what we needed. Friendly host, privacy, comfortable arrangent, accurate description, the neighborhood is beautiful, and it isn't very far from a mall and many restaurants. I would definitely recommend staying here!
Alfredo
2017-03-15T00:00:00Z
Great space for HH100..!! The place is located in a beautiful neighborhood and is close to everything. Super quiet and with so many amenities you'll feel you're in a resort..!!! John provided us with a great coffee selection, fresh fruit, healthy snacks, wine and beer. He also was available and responded within on hour of being contacted. He also let us use the beautiful swimming pool, which we couldn't use since we had to return home earlier to tend for one if our cats. Would definitely recommend this place for a stay in Wichita Falls.
Maria "Gaby"
2016-08-28T00:00:00Z
This place was fantastic! The bed was super comfortable, the room was spacious and spotless, and the host was kind enough to supply coffee, which was life-saving. The neighborhood was absolutely beautiful and we had a great time looking at the amazing Christmas displays. John was easy to communicate with and responded to our questions immediately, but we had complete privacy. We usually stay at the Baymont when we visit WF, but I think we found a much better place!
Michelle
2016-11-26T00:00:00Z
Tipe Kamar
Seluruh rumah/apartemen
---
Tipe Properti
Apartemen
---
Mengakomodasi
3
---
Kamar tidur
Wichita Falls, Texas, Amerika Serikat
Tiene las comodidades inmediatos con un 1/2 baño en la cabina. La ducha principal se encuentra en la casa principal. Acceso teclado, las teclas no necesario!
Erica's home is fantastic. Clean, quiet, and comfortable. Communication was excellent and she was very accommodating. Thanks so much!
Nick
2017-04-01T00:00:00Z
Erica and her spacious Airbnb cabin are delightful! First, my teenage son and I needed some flexibility in our arrival and departure date and times and Erica accommodated us without hesitation and with a smile!! Erica is user friendly and her lovely family is extremely supportive of her Airbnb hosting. The cabin was noticeably clean and fresh with tons of natural daylight. The double beds and bedding were extremely comfortable and the blankets were exceptionally warm and inviting!! We slept exceedingly well for our 5 night stay. The cabin was fully serviced with mini kitchen for light meals and half bath just as description advertised. Access to the main house shower (towels), kitchen was fully extended and made easily accessible. Erica went out of her way to provide copious "extras" that made her Airbnb truly memorable, from toiletries to food and drinks as well as guest invitation for dinner, just to name a few!! She also provides as much privacy as desired as she is extremely sensitive to and respectful of her guest's individual needs. Access in and out of the gated and lighted courtyard to the cabin entrance was made easy and parking was no problem (designated space right in front of our unit). The outdoor garden and patio with lots of seating area, lights & wind chimes only added to the ambiance of our wonderful stay!! The neighborhood is upscale, safe and quiet. The location is centrally located as it was very close to everything (restaurants, shopping, cinema, division 2 university, parks, groceries, etc.) I will most definitely stay at Erica's Airbnb again when in Withcha Falls, TX and would highly recommend it to others! "Came as strangers, left as friends!"
Judi
2016-10-06T00:00:00Z
Erica is a wonderful host! She checked in several times to ask if there was anything we needed to make our stay more comfortable. The room was clean, comfortable, homey, and had a wonderful assortment of goodies!
Amanda
2017-01-16T00:00:00Z
AMAZING!!!!!! Erica and her family were beyond welcoming and attentive. Erica's attention to detail and personal touches extended to the service she provides to the cabin itself!! We felt like we were at home. She had great suggestions of places to visit. Any question, comment or concern I had there was no problem in approaching Erica or her family. It was an amazing stay and I look forward to returning to the cabin and Wichita Falls!
Victoria
2016-12-28T00:00:00Z
If you are in Wichita Falls with you family or even a close group of friends you should definitely stay here. Ericka has set up the perfect bungalow for a relaxing vacation. The stay was just what I needed.
Rachel
2016-10-23T00:00:00Z
My boyfriend and I had a wonderful time staying at Erica's cabin. It was super clean and cozy. We would definitely stay here again.
Kaitlin
2016-09-03T00:00:00Z
Erica and her family are wonderful hosts. The studio style accommodation was perfect for myself and a friend. We used the couch and bed between us. Erica went out of her way to ensure we were comfortable and had everything we needed. The bathroom is a shared arrangement in their home. There was a private toilet in the studio along with a small fridge and coffee making goodies etc. Everything is super clean and tidy. My friend and I would certainly stay here again on our next trip to Wichita Falls.
Justin
2016-04-13T00:00:00Z
MET AS STRANGERS AND LEFT AS FRIENDS. We had a wonderful time and very pleasant stay. Erica and her family were more than prefect hosts. Felt like we were personal guests and not customers.
Dee
2016-08-29T00:00:00Z
Tipe Kamar
Seluruh rumah/apartemen
---
Tipe Properti
Kabin
---
Mengakomodasi
3
---
Kamar tidur
Wichita Falls, Texas, Amerika Serikat
Marion and her family were kind, welcoming, and very helpful; they always made me feel at home. It was a pleasure to stay with them!
David
2015-04-04T00:00:00Z
The host canceled this reservation 10 days before arrival. This is an automated posting.
Trish & Sanj
2015-11-11T00:00:00Z
I cannot say enough to recommend that anyone coming through town stay with this family. They have many repeat guests. Marion's family made me feel welcome by giving me a lot of space to comfortably come and go at my own pace. I felt completely at home with them. I could stay in my room all day, be out all day or hanging out with the family watching moves all day and was perfectly comfortable in all contexts in their home. They were helpful in accommodating my food allergies. I cannot eat at most restaurants. They gave me a shelf in the pantry and a shelf in the fridge. They let me do all of my cooking in the kitchen and they invited me in on all of their meals, even though I was eating other food. Their kindness and openness were unexpectedly awesome. Their home is ultra comfortable and exceptionally friendly. The room and the bathroom were immaculately clean. The neighborhood is quiet and suburban with close access to the freeway, restaurants and grocery stores. There are doves that coo outside at night and in the morning, which is quite nice.
Lex
2015-08-27T00:00:00Z
Marion was a great host! I had my own private room and bathroom and both were very clean! I'm really glad I got the privilege to meet such nice people. I will definitely be back if I'm ever in the area!
Michael
2016-08-30T00:00:00Z
Great experience. Very relaxed, and open to my schedule. I will definitely stay here again whenever I go to witchita falls.
Mallory
2015-09-24T00:00:00Z
Everything was as described! Marion was very friendly and welcoming.
Sitaifoni
2016-09-26T00:00:00Z
Marion was great as I did a quick reservation and was at her house and in 'my' inviting room in 15 minutes! Marion couldn't have been a better host and guide. Highly recommended!
Judi
2014-11-21T00:00:00Z
We loved loved staying with Marion and her family. They are welcoming, kind, generous and fun. We had great conversations about education and the events of Wichita Falls. We enjoyed the pool and the dogs. We are dog and cat rescuers and so seeing the dogs there was a treat for us.
Mia
2016-08-04T00:00:00Z
Tipe Kamar
Kamar pribadi
---
Tipe Properti
Rumah
---
Mengakomodasi
5
---
Kamar tidur
Wichita Falls, Texas, Amerika Serikat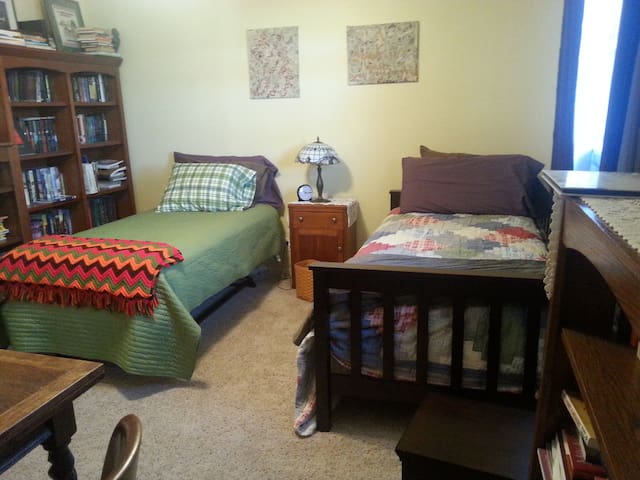 Tipe Kamar
Kamar pribadi
---
Tipe Properti
Rumah
---
Mengakomodasi
3
---
Kamar tidur
Wichita Falls, Texas, Amerika Serikat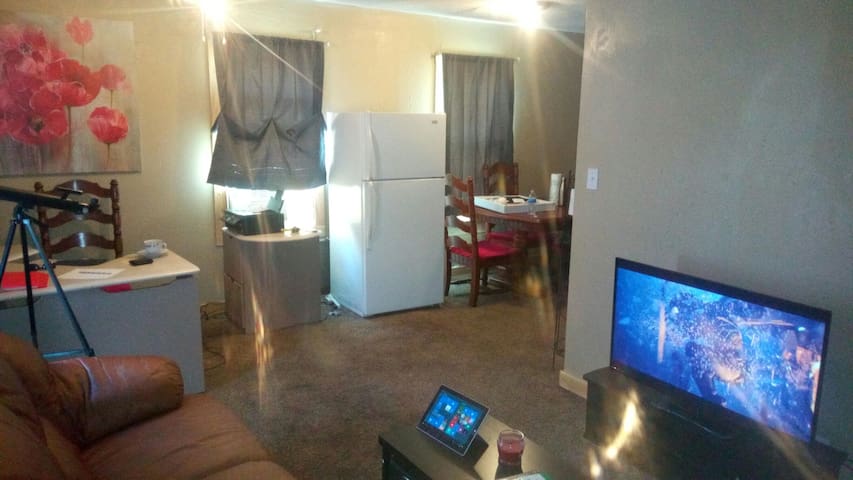 Ali is the Waldorf-Astoria of airbnb. The attention to detail and service was beyond expectations. Extremely friendly host that catered to every need. The property was clean and stocked with everything a person could possibly need. I would not hesitate to book again. If every host and property on airbnb were at this level of service, hotels would be a thing of the past. Thank you!
Matthew
2016-09-01T00:00:00Z
Great location, right dead in the middle. Also the house had space for 8 people which was impressive.
Bijan
2017-02-19T00:00:00Z
Ali is a fantastic host! My first time to Wichita Falls! Ali was very helpful in getting me settled in and contacted me several times during my 5 day stay to see if I needed anything.
Kathryn
2017-03-15T00:00:00Z
Ali was very helpful and accommodating! We greatly appreciate his wonderful hospitality!
Selcon Utility
2016-11-12T00:00:00Z
Tipe Kamar
Seluruh rumah/apartemen
---
Tipe Properti
Rumah
---
Mengakomodasi
8
---
Kamar tidur
Wichita Falls, Texas, Amerika Serikat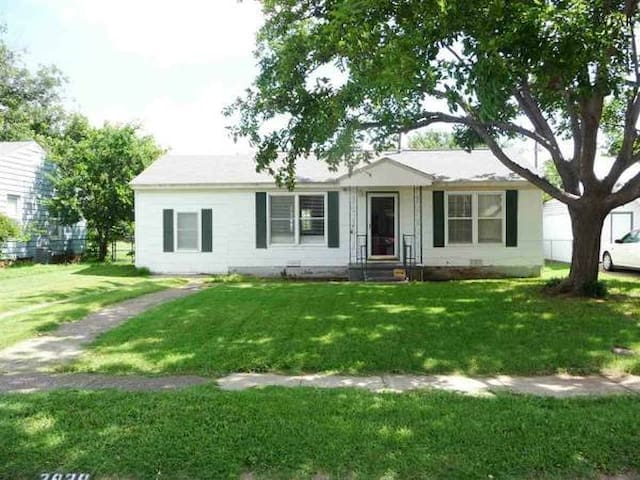 Tipe Kamar
Seluruh rumah/apartemen
---
Tipe Properti
Rumah
---
Mengakomodasi
3
---
Kamar tidur
Wichita Falls, Texas, Amerika Serikat
Este é um quarto confortável, privada com uma casa de banho completa em um quarto 2, 1500 sq. Ft. Apartamento no segundo andar do mais agradável complexo de apartamentos na cidade. Tranquila e conveniente, é a poucos minutos de lojas, restaurantes, e MSU.
Há uma cama de tamanho completo, que pode acomodar 2 pessoas confortavelmente. Se você tem uma preferência de algodão vs. lençóis de flanela antes do check-in, eu posso fazer a cama com qualquer um para quando chegar.
O bairro é uma comunidade muito segura, fechado. Há um restaurante e alguns lugares de fast-food a apenas alguns minutos de caminhada da estrada, e abundância de comida e compras apenas um par de minutos de carro. Aproveite a / corrida / ciclismo caminho a pé à direita fora da porta que irá levá-lo ao longo do Lago Wichita a vários parques.
I stayed with Nathan for a month. He was a great host from the beginning of my stay until the end. I honestly couldn't ask for a better and more friendly host. I definitely recommend him to anyone thinking of staying at his place. He lives in the best apartment complex in Wichita Falls and keeps his place as clean and as comfortable as he could. 5 stars all the way!
Wael
2017-01-01T00:00:00Z
Nathan was really awesome about my late check-in after I was stuck in Austin due to weather and had to leave late. The place was great - very clean and had everything you could want on a business trip.
Gina
2015-05-19T00:00:00Z
Great place!
Elie
2017-03-12T00:00:00Z
Great spot and accommodations, superb host.
Marcela
2017-04-11T00:00:00Z
Nathan was a fantastic host! Wichita Falls was my rest stop, driving from New Orleans to Denver, and he was gracious enough to accommodate me so late in the evening! Everything was very clean, organized, The bed was nicely made up and very comfortable, and the apartment was really big and nice :) I would definitely recommend staying with Nathan, unfortunately I wasn't around long enough to chat very much, but just from the conversations we had he seems to be a great guy!! Thanks again Nathan
Sarah
2016-09-15T00:00:00Z
Swanky place!
Jeff
2017-01-04T00:00:00Z
Nate was a a great host and friend! He always had great suggestions for restaurants/bars, coffee, and places to explore. His apartment is beautiful, clean, and in a great location! Highly recommend staying here!
Courtney
2017-03-11T00:00:00Z
Nate's a very kind, friendly, outgoing guy. His place was very comfortable and I always felt welcome. It was a pleasure.
Liam
2016-11-01T00:00:00Z
Tipe Kamar
Kamar pribadi
---
Tipe Properti
Apartemen
---
Mengakomodasi
2
---
Kamar tidur
Wichita Falls, Texas, Amerika Serikat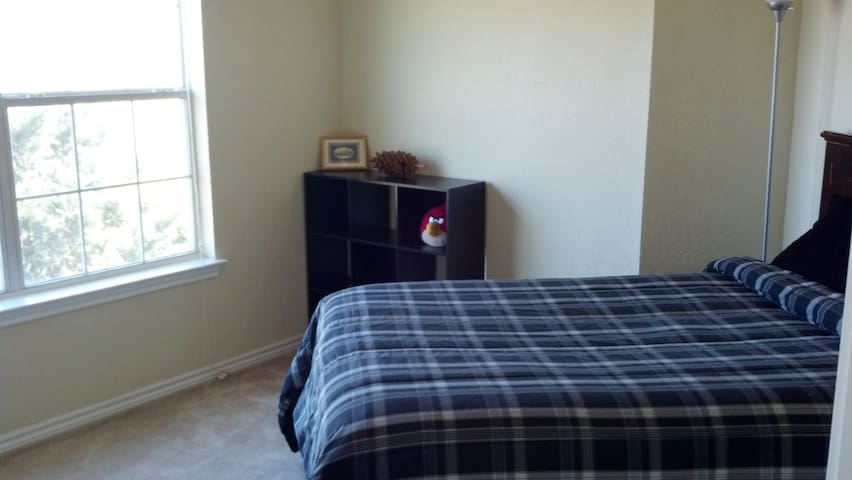 The host canceled this reservation 10 days before arrival. This is an automated posting.
S
2016-12-14T00:00:00Z
Tipe Kamar
Kamar pribadi
---
Tipe Properti
Rumah
---
Mengakomodasi
6
---
Kamar tidur
Wichita Falls, Texas, Amerika Serikat
Чистое, современное пространство для вашего удовольствия. Почувствуйте себя как дома, как вы отдыхаете на удобном диване в своей отдельной комнате с ванной комнатой. 40-дюймовые телевизионные крючки вас с бесконечными развлечениями на Netflix и Amazon Prime. Минута Шеппарда. Расслабьтесь в сауне, а затем перейти в открытый бассейн, чтобы охладиться, позанимайтесь в фитнес-центре на территории.
Отойди и расслабиться в чистом, современном пространстве. Пространство представляет собой две спальни, две ванны квартир и я остаюсь в одной из комнат. Вы будете иметь свой собственный номер с вашей собственной ванной комнатой. Номер с футоном раскладным, который может быть использован в качестве дивана, а также полноразмерной кровати, которые могут спать два. Хотя это будет тесновато для двух людей, так что надеюсь, что вы любите друг друг. 40-дюймовый телевизор оснащен неограниченный доступ к Netflix и Amazon Prime развлечений.
Я обожаю эту область, и это в нескольких минутах езды от везде в Wichita Falls. Мы очень близко к базе ВВС Шеппард (менее 3 миль), вниз по улице от нескольких больших ресторанов (El Mejicano, Pizza Марко, и гриль Parkway в), и есть гигантский Walmart Гипермаркет в нескольких минутах ходьбы. Это прекрасный район, очень безопасный и тихий, но не далеко от всех действий.
Lin was a lovely, & interesting hostess. The place was nice & quiet, clean & uncluttered. Very relaxing stay.
Cheryl
2016-09-16T00:00:00Z
Lin was a very accommodating host. I would happily stay with her again!
Michele
2016-03-10T00:00:00Z
Lin was great! Clean and very accommodating. Enjoyed my stay.
Terrance
2016-06-30T00:00:00Z
Lin's home was comfortable and welcoming. I was visiting my daughter who is stationed at Sheppard AFB for her birthday. Lin left us a bottle of champagne and a birthday card! Such a sweet gesture! She also had information about Wichita Falls and personal recommendations for activities and restaurants. The apartment is VERY convenient to Sheppard, only a mile away. It is a little far (8-10 miles) from activities in Wichita Falls, but freeway access is so easy that the drive doesn't feel the least bit inconvenient. I would absolutely recommend staying with Lin!
Ginny
2017-02-06T00:00:00Z
Lin and the spot were great. Perfect place to rest up on my cross country journey. Super clean, comfortable, and accommodating. Thanks Lin!
Dustin
2016-03-30T00:00:00Z
Room was great, private bathroom and all. Room, bathroom and everything was super nice and clean. I would stay here again.
Bryan
2016-03-19T00:00:00Z
The host canceled this reservation 8 days before arrival. This is an automated posting.
Irene
2016-03-03T00:00:00Z
Lin was a wonderful host. Her home was wonderfully clean. My stay could not have been better.
Paul
2016-07-19T00:00:00Z
Tipe Kamar
Kamar pribadi
---
Tipe Properti
Apartemen
---
Mengakomodasi
2
---
Kamar tidur
Wichita Falls, Texas, Amerika Serikat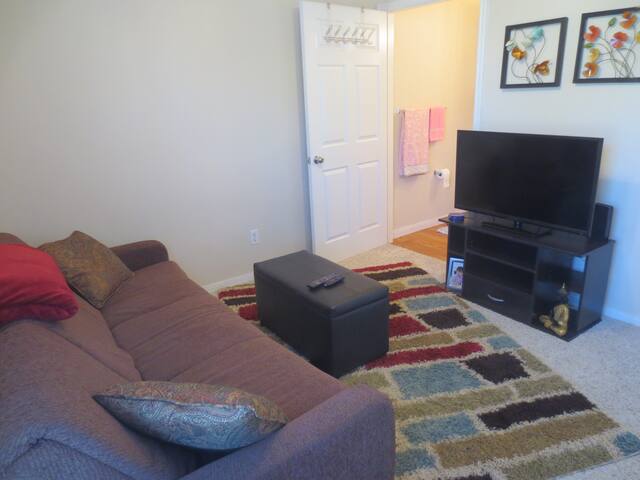 Nous offrons une expérience de homesteading où vous pouvez choisir une activité sur notre propriété. Vous pouvez apprendre à monter à cheval, faire tourner les cheveux d'alpaga dans la fibre, apprendre à traire une chèvre, ou aller chercher de la edibles sauvages !! Nous avons aussi un grand porche si vous voulez juste pour se détendre.
Cet endroit calme est unique en ce que vous pouvez sortir et recueillir vos oeufs pour le petit déjeuner, puis le lait de chèvre pour l'expérience de homesteading complète. Plusieurs options à choisir autre que le lait et l'œuf collecte. D'autres options incluent: Après avoir nourri quelques alpagas, apprendre à carte et tourner leur fibre en fil. Ou Apprenez à selle et monter à cheval. Ou dans la bonne période de l'année, rendez-vous pour une randonnée et fourrages d'herbes sauvages et d'apprendre à les préparer. Ou recueillir et ramener à la maison un petit pot de miel de nos abeilles. Ou avec plusieurs herbes à choisir pour la bonne odeur, apprendre à faire du savon. Ou avec une abondance de lait de chèvre frais, laissez-nous vous apprendre à faire du fromage. Ce sont des options à choisir qui sont inclus dans votre séjour. Étant donné que c'est une propriété réelle de travail, les chances de voir et de vivre beaucoup plus sont les plus susceptibles.
La vue de notre belle ferme est tout autour de nous. Avec une grande enveloppe autour de porche, vous pouvez prendre un café en regardant le soleil se lever ou à régler. L'endroit idéal pour obtenir loin de tout.
This place was AMAZING! We came here for a relaxing weekend getaway and that's what we got and more. It was so peaceful but we were never bored and Clint and Katy were such wonderfully kind hosts. They opened up there homes to us, let us ride horses, taught us about the amazing uses of plants, showed us how to make soap, and made a delicious homemade breakfast! We really felt welcomed and included in their daily homestead life, learned a lot, and we made some great friends. I could go on and on about all the things we experienced and the great conversations we had with such a wonderful family but you really just have to experience it for yourself. They're great at customizing each trip to your expectations and I believe each experience with them will truly be a unqiue one.
Jessica
2016-10-16T00:00:00Z
Tipe Kamar
Kamar pribadi
---
Tipe Properti
Kabin
---
Mengakomodasi
5
---
Kamar tidur
Wichita Falls, Texas, Amerika Serikat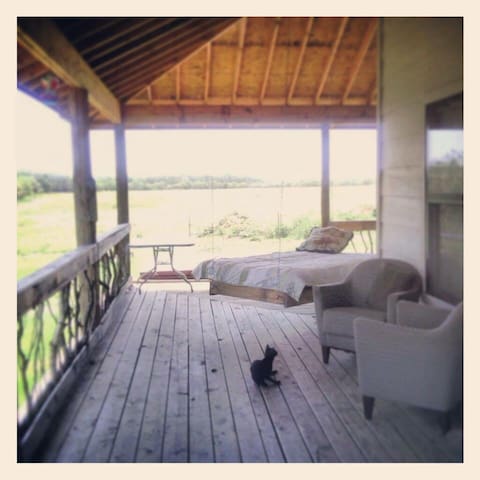 Este es un lugar cómodo para descansar en nuestra biblioteca. Ver las fotos para tener una idea de los divisores He definido que le dan un poco de privacidad. El baño es compartido si hay otro invitado en la otra habitación. Vamos a tratar de ser tranquilo, pero entendemos que soy un madrugador. Si va a viajar con una mascota por favor, añadir un suplemento "persona". Nos encanta los animales domésticos. Tenemos mascotas.
Este espacio está tallada en la biblioteca de nuestra casa. Los divisores nos dan todo, un poco de privacidad. La cama es cómoda y nuestro barrio es seguro. Estamos ubicados cerca de acceso a la autopista que le llevará a cualquier lugar rápidamente o hacia atrás en su viaje por carretera en un santiamén. Que son bienvenidos a utilizar la piscina Las mascotas son bienvenidas, pero hay una persona tarifa adicional de $ 10. POR FAVOR, somos un temprano a la cama y levantarse temprano familia. Llegada: no más tarde de 20:00 a no ser confirmado antes de reservar.
Estamos en una zona tranquila. Tenemos un montón de aparcamiento.
Marion and her loving family are such great hosts. I felt so welcomed. The place was exactly what I expected, but their kindness was overwhelming. I highly recommend anyone to stay with them
IARA
2016-12-01T00:00:00Z
Clean and respectful. Nice easy stay for some who just needs a place to last their head. I'll be going back soon
Carody
2016-11-11T00:00:00Z
We came in at 7, and Marion offered to help us with our bags the showed us our area. Very hospitable and friendly.
Chris
2016-11-13T00:00:00Z
Enjoyed staying in Marion's place. We had several conversations with her and her family members. Super nice family, and definitely more than couch surfing!
Will
2017-01-05T00:00:00Z
Tipe Kamar
Kamar bersama
---
Tipe Properti
Rumah
---
Mengakomodasi
2
---
Kamar tidur
Wichita Falls, Texas, Amerika Serikat
Tipe Kamar
Kamar pribadi
---
Tipe Properti
Rumah
---
Mengakomodasi
2
---
Kamar tidur
Wichita Falls, Texas, Amerika Serikat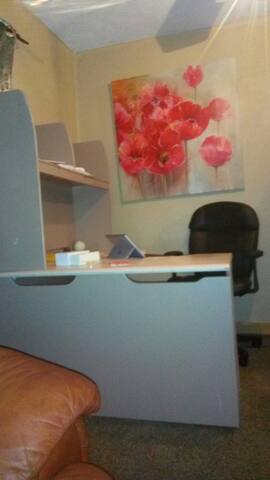 My daughter and I stayed with Seth and Brittney and had a wonderful time. They made us feel welcome by treating us like family. The accommodations were excellent and the location of their home is most times only 5 to 7 minutes away from any where you would want to go in Wichita Falls. The highlight of the trip was spending time with Seth and Brittney. If we are ever in the area again, we would stay with them without question! Sherrie & Shelby
Sherrie
2016-10-02T00:00:00Z
My wife and I stayed the night before the annual Hotter'n Hell bike ride. When we arrived, we were greeted by very friendly and welcoming hosts. The home was not only very clean and well taken care of, but the house sits in a very attractive neighborhood. My wife and are felt like we were definitely staying in the best part of the city. Our room was comfortable and was spacious enough where we didn't feel cramped. The host's took time to leave some bottles of water and mints for us, along with the wifi login information, making us feel like we were staying at a nice hotel. The guest bath was also very clean and came ready with clean towels. The guest room was located away from the host's bedroom, so we felt like we had privacy. Located near the guest room is a living area with a television, games, and a computer. Even though we did not utilize the tv, I really appreciated the extra space to store my bicycle. I also was pleased to have a Keurig coffee maker with coffee, creamer, Truvia, and to-go cups, which really made my day! I would definitely stay here again if passing through, but I'm sure at next year's Hotter'n Hell rally someone will beat me to it!
Scott
2016-08-27T00:00:00Z
From the moment I arrived, I was made to feel really welcome. Seth & Brittany's house and private room were very homely and comfortable, a perfect 1st nights stay after a 16 hour flight into Dallas. This was my first AirBNB experience and future places have a lot to live up to now. It was a nice touch having breakfast bars waiting on the bed and I think there was at least a 100 bottles of water available! Safe and quiet neighbourhood. Thanks guys, all the best for your future travels!
Nate
2016-08-26T00:00:00Z
Everything was great and as described. Very pleasant hosts & neighborhood. Couldn't have been located better for my purposes, which was a college reunion; the college was just across the street.
SALLY
2016-10-30T00:00:00Z
If you are ever in Wichita Falls, you must stay with Seth and Britney! They have a lovely home and a great, safe neighborhood. The room is spacious and the bed is very comfortable. You will have your own separate wing with the bed and bath, a den with computer and TV at your disposal, There home is clean, and you will have everything you need and then some. They are such a nice couple! It really was like staying with friends.
Ruthann
2016-08-11T00:00:00Z
Seth was very accommodating! When we arrived and entered the home it had a very welcoming vibe. Very spacious! Any time we needed anything Seth was there to help. Very responsive and helpful with anything we needed. Had a huge yard with a swing set for my son to play on. Would definitely recommend anyone to book with them except when I'm in town as I plan to book here every time I'm in town! Thanks again for everything!
Trisha
2016-09-05T00:00:00Z
Seth and Brittany were very polite. Their home is exceptionally beautiful. Great neighborhood, plenty of parking on the property, well manicured lawn, and overall a very nice place. I had peaceful rest in a comfortable bed. Can't really ask for much more than that on a work trip. I will definitely request to book with them again.
Mike
2016-07-17T00:00:00Z
Seth and his wife, Brittnay, were perfect hosts. What a lovely, young couple who truly know the meaning of Texas hospitality. Their home is inviting, spacious and warm. The accommodations not only included a bedroom and bath but privacy and a separate living space for hanging out alone if desired. Can't express enough positives.
Jennifer
2016-08-21T00:00:00Z
Tipe Kamar
Kamar pribadi
---
Tipe Properti
Rumah
---
Mengakomodasi
2
---
Kamar tidur
Wichita Falls, Texas, Amerika Serikat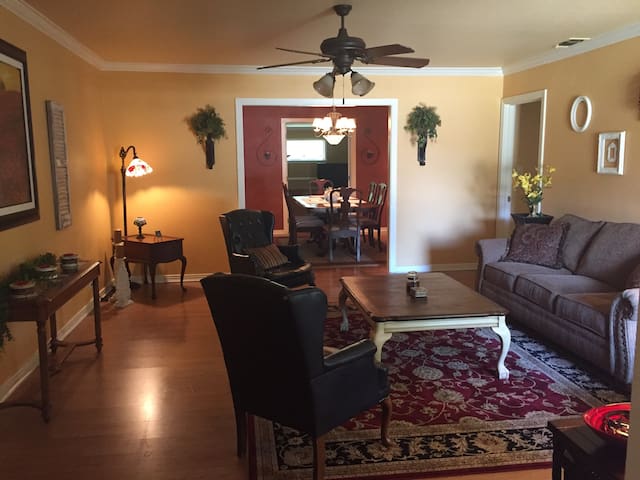 The host canceled this reservation 10 days before arrival. This is an automated posting.
S
2016-12-14T00:00:00Z
Nice home in nice quiet neighborhood... hosts were very kind and nice people...much better than staying in some hole in the wall crummy hotel and better price!!!
Eddie
2016-11-12T00:00:00Z
Al and Ceciley made us feel so welcome and the place was charming. They graciously made room in both the fridge and kitchen cabinets for our goods, and even had water bottles waiting in the room when we first arrived. The neighborhood is well kept, safe, and within minutes of the mall, where most any amenity can be found. And for military families like mine, it's a straight shot to Sheppard AFB.
kyle
2016-10-18T00:00:00Z
Very clean very nice people, would return, Would recommend. Would have even paid more.
Nick
2016-10-29T00:00:00Z
It was a great experience. Our Thanksgiving away from home with our Airman son and his Airmen friends plus another family was really perfect. I would stay here again without a doubt. We managed to lock ourselves in via a screen door that I locked- which had never been locked before and they called a locksmith and fixed the issue right away. Great young people. Their plans to be out of town were cancelled and they still let us have the house to ourselves. It was almost like being at home for my sons first holiday away from home.
Tami
2016-11-27T00:00:00Z
Tipe Kamar
Kamar pribadi
---
Tipe Properti
Rumah
---
Mengakomodasi
6
---
Kamar tidur
Wichita Falls, Texas, Amerika Serikat
Masukkan tanggal untuk melihat harga lengkap. Biaya tambahan berlaku. Mungkin dikenakan pajak.