The room has designed room for two, it is in a family house-WG and for a short stay, close to the airport sxf, city center 30 minutes by public transport.
2 people easily
Mon passage chez Dagmar était très sympa. La chambre très propre et coquette était parfaite. Dagmar a été très flexible en acceptant de m'accueillir malgré une arrivée tardive. Je recommande!
Hélène
2015-09-09T00:00:00Z
Un excellent séjour chez Dagmar. Comme d'habitude.
Vincent
2017-02-20T00:00:00Z
Dagmar was superbly friendly and helpful! She drove me to the house and sent me to the airport by car even that was quite early. Although I stayed for only around six hours, we set up a great friendship. I do hope to be there again!
Hanze
2017-04-11T00:00:00Z
This was the perfect spot after an arrival in to Berlin! It was clean and comfy, and close to shops and the train. Unfortunately I didn't get the chance to meet my host, but her home was great. Everything you need for a good price. Cuddly cat too!
Emily
2015-09-20T00:00:00Z
Dagmar is super nice and a very entertaining host... The room is comfortable, cosy and clean... I had a really great time at her place... Looking forward to the next time...
Lijon
2016-04-23T00:00:00Z
Despite we were staying for only one night , it was nice experience. We really liked Dagmar- our host was very kind and helpful person. The room was nice not big but comfortable. Wi-fi is fast . Overall, we recommend this host and room for staying
Маркіян
2016-12-19T00:00:00Z
Dagmar war super freundlich, kochte mir Tee und ließ mich sogar Fußball schauen. Ich hätte mir keine bessere Gastgeberin vorstellen können. Absolute Empfehlung!
Oliver
2016-12-08T00:00:00Z
Dagmar was very friendly and welcoming and I was even introduced to some her nice friends! The house had everything I needed and was quiet and in a calm location, nonetheless close enough to bus and train lines. I would definetly stay again with Dagmar.
João
2014-10-25T00:00:00Z
Tipe Kamar
Kamar pribadi
---
Tipe Properti
Rumah
---
Mengakomodasi
2
---
Kamar tidur
Berlin, Berlin, Jerman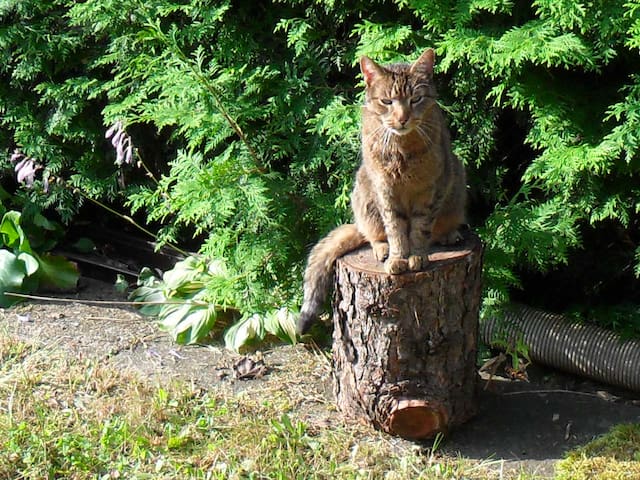 offers The apartment in separate house Sleeps 3 people, comfort and leisure for enjoyable food in a kitchen with outdoor views, plenty of rest and garden use. Shower, toilet and bicycles.
Villa chicken situated on an idyllic lake in the southeast of Berlin, surrounded by woods. So you can wonderfully combine the city discovery with active or passive nature. Morning swim, cycling, windsurfing, boating or simply just rest in the garden, flowers taste and bird watching - you can take a breath and gather strength to enjoy the many experiences that provides Berlin in full screen. The tram 68 (according to "400 trips you will never forget: From Amazon to Zuzuland" described as follows: "The line 68 from Köpenick S-Bahn station to the picturesque village of Alt-Schmöckwitz offers plenty of local color.") Runs along the water in 15 minutes to the S-Bahn station. From there, S-Bahn trains go towards the city center every 10 minutes. From Schmöckwitz to Berlin city center takes about 50 minutes. The plot has no direct access to water, but you can smell the sea, hear and see the land end. The apartment is about 50 square meters. From the garden leads directly into the kitchen with a small dining area. Dishwasher, oven, 2 hotplates, espresso maker are provided. Through a large glass door you can freely look in the garden. Links is the bathroom (toilet and shower). From the kitchen a staircase goes up in the small blue room with a bed. From this room go three steps up in the big long room with large dining table and a double bed and stove. On the staircase a safety barrier is installed.
Kathrin, vielen Dank für den angenehmen Aufenthalt. Das Haus war maximal inseratentsprechend, tip-top sauber, geschmackvoll eingereichtet, Küche war sehr gut ausgestattet; Umgebung ebenfalls entsprechend. ...
Thomas
2015-09-06T00:00:00Z
Villa Hühnchen ist wirklich Klasse! Alles war perfekt und wir haben uns in der liebevoll eingerichteten Villa sehr wohl gefühlt. Katrin ist wundervoll und hat an alles gedacht, so dass wir uns rundum wohl gefühlt haben. Wir kommen jederzeit wieder, wenn es uns in die Nähe von Berlin verschlägt. Liebe Grüße und nochmal Danke für alles.
Annette
2016-09-18T00:00:00Z
Katrins Villa Hühnchen ist genau so wunderschön und gemütlich wie die Fotos zeigen. Viele Einrichtungs-Details lassen das an Design- interessierte Auge leuchten! Der Garten lädt zum Verweilen in der Sonne ein und der See ist keine 5 Minuten zu Fuß entfernt. Katrin selbst in eine großartige und sehr zuverlässige Gastgeberin. Wir kommen sehr gern wieder!
Carina
2016-05-26T00:00:00Z
Schön war es in der liebevoll eingerichteten Villa Hühnchen! Katrin ist eine sehr nette Gastgeberin. Wir können allen, die in der Nähe Berlins entspannte Gastfreundschaft suchen, dieses Plätzchen im Grünen sehr empfehlen.
Ina
2015-05-16T00:00:00Z
Villa Hunchen is a wonderful place to stay. The villa is a perfect size for a couple or a small family. There's a kitchen equipped with everything you'd need for cooking dinner (no oven, but Katrin said they were looking into getting one). The bedroom upstairs is very comfortable and there is another sitting/reading nook/second bedroom with a day bed that also proved very cosy. There's a grocery store within walking distance and the surrounding area is beautiful. The lake is lovely and there are plenty of walking trails through the forest. It is also about 30-40min into the city of Berlin. VERY easy to get to and from. So if you're looking to relax a little bit and have some connection to nature, but also want to see the city of Berlin, this is a really great place to stay. Katrin was such a wonderful host. She went above and beyond, really. Such a lovely person.
Katarina
2014-10-10T00:00:00Z
Danke für die tolle Zeit in der Villa Hühnchen! Das Haus ist ganz liebevoll eingerichtet und bestens ausgestattet. So konnten wir zwei gemütliche und ruhige Tage verbringen. Vielen Dank an die Gastgeber für die guten Tipps und die Umsorgung!!
Torsten
2015-04-04T00:00:00Z
Ein wunderschön gelegenes Häuschen, liebevoll saniert in einem idyllischen Garten. Katrin war super gastfreundlich und hilfsbereit. Die Wohnung liegt ruhig in Schmöckwitz. Zum Supermarkt und zum Wasser ist es nicht weit. Katrin hat gute Tipps. Wir haben uns sehr wohl gefühlt. Danke!
Kai
2015-08-27T00:00:00Z
Villa Hühnchen ist ein wunderschöner Ort zum entspannen, nah am See, sehr aufmerksame, sympathische Gastgeber wie man sie sich nicht besser wünschen kann
wolfgang
2014-06-11T00:00:00Z
Tipe Kamar
Seluruh rumah/apartemen
---
Tipe Properti
Rumah
---
Mengakomodasi
3
---
Kamar tidur
Berlin, Berlin, Jerman
We rent 1 room. Bathroom, kitchen, dining room, garden and garage can be shared. The property is also suitable for a couple with toddler. There is a large garden with Schaukel.Mit the train you are in 30 minutes at Alexanderplatz.
We rent 1 room (about 12 square meters). Bathroom, kitchen, dining room, garden and garage can be shared. The property is also suitable for a couple with toddler. In the garden there is a swing and a sandbox.
The center and the train station Königs Wusterhausen are 5-10 minute walk. From there, have regional and suburban trains. The airport Berlin-Schönefeld and Berlin Ostbahnhof can be reached in about 20 minutes. There is also within walking distance of several beautiful lakes with beaches and boats. The apartment is also suitable as a location for exploring the surrounding area of Berlin.
I was met by the husband of the house and I felt immediate comfort and hospitality. The room was very nice and I talked a few times with the husband and he was very polite and very friendly. Everything was as it should be and I did get a little extra treat, when I saw my room! Thanks. I was also given directions and we talked a little about my further travels. All in all a very, very nice place indeed!
Christian
2014-09-23T00:00:00Z
Very disappointed with this experience, it has been the worst air bnb so far. The room was dirty, full of dust, spiderwebs on the walls, dirty bedding as it clearly have not been changed for long time. The host was clearly interested in other than things than making sure we felt comfortable. We drove for 15h that day and didn't even have towels to wash our faces or take a shower. would definitely not recommend to anyone.
Egle
2016-08-31T00:00:00Z
Reibungslos ... Neter Kontakt !
Mike - Michele
2014-09-13T00:00:00Z
I would recommend this apartment to anyone who would like to visit Berlin. Location is superb-just outside Berlin but with really good conections. Jana was really nice and she was always there for us, to help us or to give us an advice. Really good experience.
Ziga
2014-08-16T00:00:00Z
Nice family! They were very accomodating and let me use their garage and tools when I had a problem with my bike
Seamus
2014-08-17T00:00:00Z
Es war ruhig und schön
Bruno
2016-08-15T00:00:00Z
Sehr nette Familie. Kann ich nur empfählen.
Rafal
2016-09-21T00:00:00Z
da ich selber nicht da war, kann ich nur wieder geben was meine Freunde gesagt haben " einfach toll"
Anja
2016-09-18T00:00:00Z
Tipe Kamar
Kamar pribadi
---
Tipe Properti
Rumah
---
Mengakomodasi
2
---
Kamar tidur
Königs Wusterhausen, Brandenburg, Jerman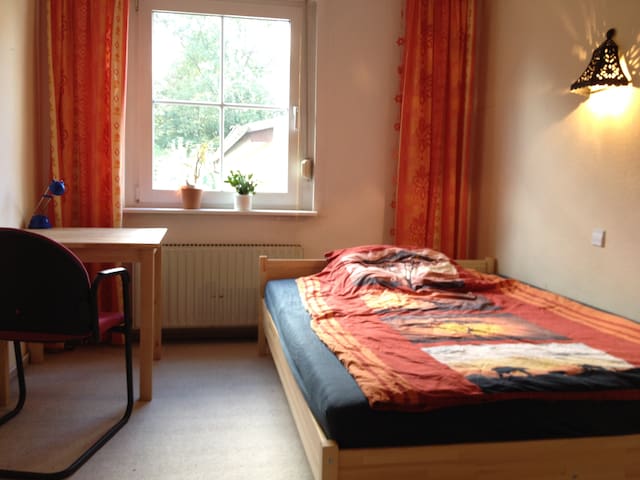 We can from March to late May but now invite Berlin to visit in the spring! Summer is unfortunately already taken. Christmas and New Year is also still available! Have a good time in our beautiful forest house in Berlin!
My wooden house am Walde is located in Berlin Schmöckwitz / Köpenick near plenty of lakes and rivers. Great, cozy atmosphere with fireplace and open kitchen. Most suitable for families with children. Happy with dog. 1 children's room with balcony with 2 sleeping places, 1 master bedroom with a spacious double bed with forest views. Extra bed possible. 1 further bedroom on the ground floor with a fireplace and sofa bed. The living room has an additional pull-out sofa bed. Smart TV and fast wireless. Own a screened garden for privacy. Direct forest access for example. Dog and jogging. In only 10 minutes through the forest to the boathouse on Lake long time, 15 minutes to the beach. Sailboat is vorraussichtlich in repair unfortunately ... In already half an hour in the middle of the city. Fast Autobahnweg. S-Bahn station Eichwalde - in 30 minutes in Kreuzkölln. :-) Many ambient excursions possible.
Neighbors are the most visible. :-)
It's a perfect place to visit Berlin and other places around. They are woods just outside the house and a lake near to take a swim. the place was really nice, quite and stylich. Tom is really nice and available for any questions of tips. I recommend this place "" *****
Éléna
2016-07-25T00:00:00Z
Un barrio muy bonito y en medio de un bosque. Está alejado del centro de la ciudad y es obvio que hay que ir con coche. Es una cálida casa de madera confortable y cómoda.
Eduardo
2016-11-28T00:00:00Z
Fantastic summer holiday and writing break - close enough to Berlin to visit on occasion but far enough away for peace and quiet. Great to cycle around area and lovely lakes to swim in. No problems at all with the house or host, highly recommend!
Sarah
2016-08-27T00:00:00Z
The host canceled this reservation 53 days before arrival. This is an automated posting.
Brandy and Eric
2016-11-21T00:00:00Z
Tom is hospitable and the house is very cozy.
Malika
2017-04-02T00:00:00Z
First of all it is a really amazing house. It's located in a relative safe and quiet neighbourhood. Beside that it is also located near beautiful forest. It's a place where you really can relax. The house is also really amazing from the inside. The house is fully equipped (from a washing machine to a kitchen). There are more than enough bedrooms and they are also amazing. Finally the bathroom is super great. The supervisors of the cottage are great people, they respect your privacy. They are always ready to help you with anything and are always ready for some small talk. Tom is a really amazing host. He is friendly and kind and is always making sure that his guests are provided with all. Besides that, Tom has some great tips and advices about Berlin. The supermarket is close to the house. Furthermore it is about half an hour travelling to berlin form the house and if you're on foot, the public transport is also really nearby. However some doors are really difficult to open and close. Also some taps were not fully installed. Finally we disappointed about the fact that there were no curtains in the master bedroom. But this negative points are minor things. We had an amazing time and we really recommend this house to any future guests.
Nico
2016-05-09T00:00:00Z
Das Waldhaus von Tom hat unsere Erwartung zur vollsten Zufriedenheit erfüllt. Es ist einfach ein Ort zum Wohlfühlen. Man merkt wieviel Arbeit und Liebe in diesem Haus steckt. Die Umgebung mit dem schönen Wald vor der Nase ist für jeden Naturliebhaber ein Genuß. Die Kommunikation mit Tom und seinem Vater war sehr nett. Beide geben sich große Mühe, damit sich die Gäste wohlfühlen. Ich kann diesen Ort nur wärmstens weiter empfehlen.
Friederike
2016-11-01T00:00:00Z
Das Haus war wunderschön, wie auf den Bildern zu sehen und in einer ruhigen Lage. Alles war wie beschrieben und sehr nett vorbereitet. Der Gastgeber war sehr zuvorkommend und unser Aufenthalt hat uns gefallen. Wir empfehlen das Haus samt nettem Gastgeber gerne weiter!
Lin
2016-03-30T00:00:00Z
Tipe Kamar
Seluruh rumah/apartemen
---
Tipe Properti
Rumah
---
Mengakomodasi
6
---
Kamar tidur
Berlin, Berlin, Jerman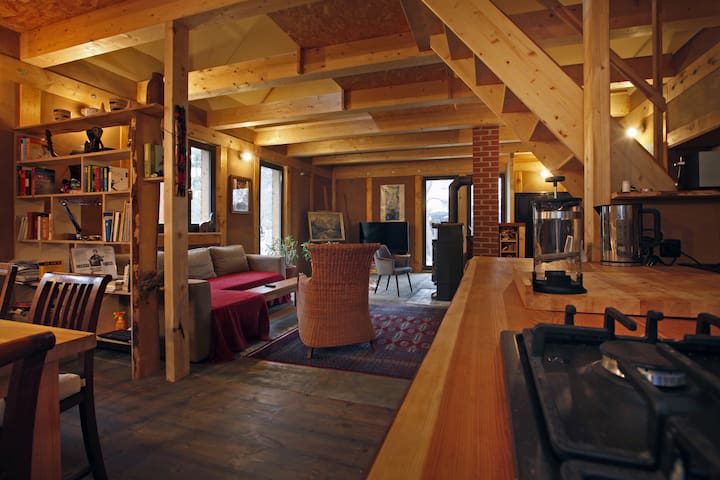 Das Zimmer ist 18 qm. Groß und eingerichtet mit hochwertigen Möbeln wie ein Flat-TV, Holzmöbeln und es gibt auch eine Fußbodenheizung im ganzen Haus. Die Küche ist eingerichtet für den ganzen Tag und braucht. Der sonnige Garten Sie auch nutzen können.
Brandneues Haus.
Das Haus liegt in einer ruhigen Straße in Berlin Bohnsdorf gelegen. Das Haus verfügt über ausreichend Parkplätze und Einkaufsmöglichkeiten befinden sich in unmittelbarer Nähe.
Gisela was a very good host. Place was super nice and clean and Gisela came by often to check if we needed anything. Place is a bit outside of the city but very convenient, with a bus stop right on the curb. If you need a place and don't mind a 40mn-1h commute to the center, for the price, it's probably among the best we've been, ever.
Loïc
2016-11-01T00:00:00Z
J'ai passé un très bon séjour. Le logement de Gisela était conforme à la description & aux photos. Il s'agit d'une maison où cohabite plusieurs locataires. Tout le monde a été relativement respectueux & c'est agréable d'échanger avec d'autres personnes. L'ensemble est spacieux & confortable, et il y a un accès internet. Gisela est une hôte extrêmement sympathique, très joignable et qui répond à la moindre de nos questions. Nous avons été très bien accueilli. Le quartier est sympa & calme, peu de voitures passent mais il y a un aéroport à proximité, donc des avions survolent souvent la zone, ce qui pourrait en gêner certains. Pour ma part ça n'a pas été un soucis. Question transports en commun, c'est très bien, il y a des arrêts de bus dans toute la rue & le S-Bahn est accessible en bus et en voiture. Je recommande ce logement.
Anaïs
2016-07-30T00:00:00Z
This house is located in a quiet area though under the direct flight path to the airport. You can't hear the planes when the windows are closed. There is a bus stop out the front, I only drove and cycled to Berlin with the car being 30 minutes and the push bike about an hour and 10 minutes. The place is new, two bath rooms, nice kitchen and very very clean. There are 5 rooms and a lovely deck and chairs out the back. Parking is in the street and costs nothing. I would stay again.
Peter
2016-08-20T00:00:00Z
Awesome house, everything is almost brand new. Super welcoming hosts.
Victor
2016-07-02T00:00:00Z
Tipe Kamar
Kamar pribadi
---
Tipe Properti
Rumah
---
Mengakomodasi
2
---
Kamar tidur
Berlin, Berlin, Jerman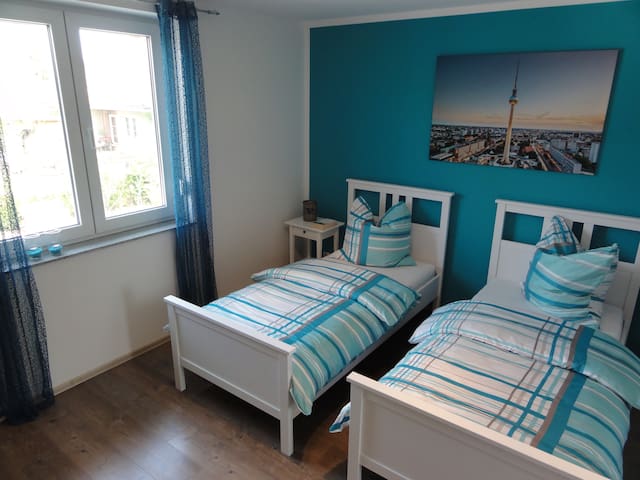 For business travelers, seminar participants or Berlin vacationers - I rent a 16m² room with a desk, a single bed and double sofa bed and an optional extra room m. Double bed (on weekends or from 3 pers.) For children over 8 years. Supermarket and bakery are a 5-minute walk, diff. Restaurants, shops, beach and forest in 10 minutes walking distance. With the foot-to-reach suburban train you in about 30 minutes in central Berlin.
In my house you live in a quiet cozy room with a large desk, single bed, double sofa bed, closet, shelf and TV. From occupancy by 3 people or weekend another room can be used as a bedroom with a double bed. With private bathroom with bath and the coffee corner with small refrigerator in the hallway the guests is therefore available almost the entire top floor. The ground floor kitchen is shared.
Alles soweit ok
Thomas
2017-02-03T00:00:00Z
Schöner Aufenthalt in toller Umgebung!
Imke
2016-10-22T00:00:00Z
Schönes Zimmer in sehr ruhiger Gegend, dennoch ist Berlin sehr gut und schnell zu erreichen. Kerstin war hilfsbereit und Kommunikation super einfach. Alles bestens, sehr zu empfehlen!
Timo
2017-01-11T00:00:00Z
Kerstin is a great host, very thoughtful and welcoming ! We had a great stay. Her house is beautiful and perfectly located for us, to visit our friends who live locally. Without forgetting, very clean. There is a lovely coffee place 5 minuted away too! Thank you once again for looking after us. Take care !
Rose
2017-03-05T00:00:00Z
It was a very nice and quiet neighborhood surrounded by some nature outside of Berlin, great to visit the city and return to a quiet and cozy place. Nice house too!
Ruben
2017-01-01T00:00:00Z
Kerstin ist eine sehr nette Vermieterin. Vielen Dank für die Gastfreundschaft. Das Zimmer habe ich in einem 1A Zustand angetroffen. Alles war sehr sauber. Alles wie beschrieben Ich komme gerne wieder und es ist nur zu empfehlen.
Pavlo
2016-10-07T00:00:00Z
Kerstin ist eine tolle Gastgeberin. Sie war immer ansprechbar und kommunikativ. Ich habe mich sehr wohl gefühlt.
Thomas
2017-02-28T00:00:00Z
Tipe Kamar
Kamar pribadi
---
Tipe Properti
Rumah
---
Mengakomodasi
4
---
Kamar tidur
Eichwalde, Brandenburg, Jerman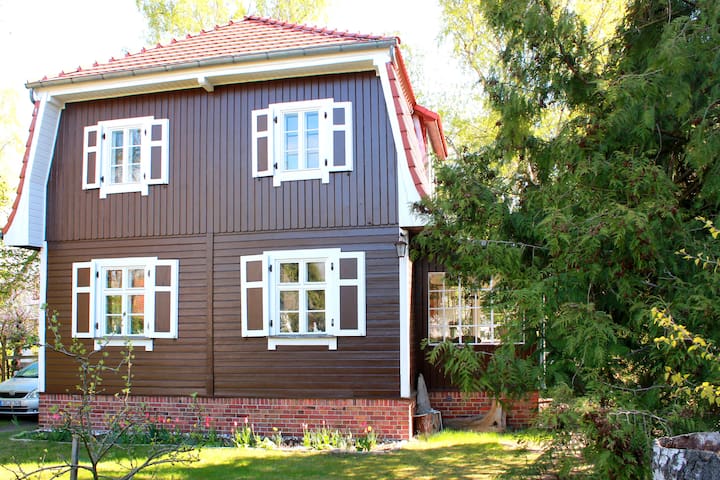 A dream house, quiet area with a beautiful garden; the house has a very peaceful atmosphere and is rich in detail furnished with a lot of love and taste ... In total there are 2 guest bedrooms, one of which is a connecting room and can be separated by a door from the something smaller. In 10 minutes, the train is within walking min reach and in 25 it is in the City; in the immediate vicinity are lakes and forests to enjoy the surroundings of Berlin completely!
Jeannette ist eine der besten Gastgeberinnen, die man sich nur vorstellen kann. I promise, you can go to Jeannette and feel well. Chez Jeannette, c`est manifique.
Corinna
2016-07-27T00:00:00Z
Ich habe mich sehr sehr wohl gefühlt.
petra
2016-05-21T00:00:00Z
Jeannette was the absolute perfect host. The rooms were beautiful, clean and welcoming. It was a little far from the center of Berlin, but my friends and I were there on New Years and that was perfect. We were able to escape and be relaxed and feel safe and at home. I would definitely stay here again: not only because of the beautiful home but because Jeannette easily became a friend in just 2 days. Lovely! Ich will das auch auf Deutsch schreiben: Jeannette war wunderschön. Ich war dort mit 2 freundin aus den USA und die reden kein Deutsch. Trotzdem es war gar kein Problem weil Jeannette so nett und einladend war. Es war ein bisschen weit weg vom Berlin Innenstadt aber für mich das war kein Problem. Die zwei Zimmer war sauber und so schön. Wenn ich komme zurück nach Berlin, ich will auf jeden Fall hier bleiben! Ich kann nicht genug gute Sachen über Jeannette erzählen!
Julie
2016-01-01T00:00:00Z
Ursprünglich wegen eines in der Nähe stattfindenden Lehrganges Jeannettes Zimmer gemietet. Das Zimmer ist tadellos und hat einen schönen Blick auf den hauseigenen Garten. Jeannette ist eine sehr nette und hilfreiche Gastgeberin, absolute weiterzuempfehlen.
Haitam Daniel
2015-09-17T00:00:00Z
Wir suchten eine Übernachtung für 4 Personen. Küche und Verköstigung waren nicht notwendig ebenso wie aufenthaltsmöglichkeiten über Tag und am Abend. Wir fanden eine sehr sympathische Gastgeberin in einem kleinem älteren freistehendem Haus mit großem Garten. Die Zimmer und das Bad waren im 1 og . Das gesamte Haus war innen anscheinend vor kurzer Zeit renoviert worden. Alles sauber und in Weißtönen. die alten Dielen quietschten passend zum Haus. Insgesamt sehr gut.
Thilo
2015-09-13T00:00:00Z
Very nice house with a lovely garden. Jeanette is a very good host, who did everything to make my stay confortable and easy. The area is quite and family oriented. Five minutes walk to the supermarket and ten minutes walk to S-bahn which will take you in to the city.
Johanna
2016-09-22T00:00:00Z
Ein Monat bei Jeannette war einfach tadellos. Jeannette ist ein sehr netter Host, gehe ich davon aus, den man kennenlernen kann! Ich wurde an dem ersten Tag herzlich empfangen und Jeannette hatte alles versucht, als ich da war. Obwohl Jeannette sehr viel auf der Arbeit waren, hatten wir eigentlich gar kein Problem bei der Kommunikation. Die Umgebung vom Haus ist sehr ruhig und friedlich mit viel Natur. Ab und zu hoert man Fluglaerm, aber er ist durchaus nicht irritierend. Wenn es um das Haus und das Zimmer geht, muss man darauf achten: der Boden knarrt viel. Das ist aber nur in der Nacht zu beachten, wenn man den ganzen Tag unterwegs war und erst in der Nacht zu Hause ankommt. Ansonsten ist alles im Haus sehr angenehm und sauber eingerichtet. Ausserdem besuchten Jeannettes Eltern und ihre Tochter regelmaessig das Haus, sie stoerten mich aber gar nicht. Alle waren sehr freundlich. Wer bei Jeannette bleiben moechte, egal kurz- oder langfristig, zoeger nicht. Es wird euch gefallen, das kann ich aus meiner eigenen Erfahrung sehr gut bestaetigen!
성모
2016-07-01T00:00:00Z
Marvellous vintage house and garden in green and quiet suburb of Berlin! Jeannette was a wonderful, hospitable host, she made my parents and I feel like home. We would return without hesitation!
Ines
2016-05-24T00:00:00Z
Tipe Kamar
Kamar pribadi
---
Tipe Properti
Rumah
---
Mengakomodasi
4
---
Kamar tidur
Berlin, Berlin, Jerman
maison lac, en périphérie de Berlin, grand jardin, accès privé au lac et à la jetée. Nous vivons dans la maison elle-même et louer au besoin jusqu'à trois chambres avec une utilisation commune de la maison et le jardin. Nous avons les options suivantes: Chambre 1: Studio 35 mètres carrés, un lit double 180 x 200 cm et 1 lit supplémentaire / canapé-lit pour 1-3 personnes. Chambre 2: chambre (15 m²) avec lit double 160x200 pour 1-2 personnes. Salle 3: véranda (9 m²) avec un lit double 140 x 200 pour 1-2 personnes, vue sur la mer, AußenWC
Photos des chambres 2 et 3 suivront ... Notre maison se compose de deux étages. L'étage supérieur est entièrement rénové, voici la cuisine ouverte avec salon et cheminée (voir photos). La chambre 1 est un studio au rez-de-chaussée avec une porte patio donnant sur la cour et le jardin et une entrée séparée par la cour. Tout en se tenant avec vue sur le lac :) parce que le jardin a une légère pente vers le lac. Elle est équipée d'un grand lit double confortable, une petite cuisine, table à manger et chaises, espace de rangement et un canapé (lit) confortable. Pour les petits enfants, nous pouvons fournir un lit Voyage. Sur demande, nous fournissons une télévision dans la chambre, de sorte que vous pouvez regarder à travers notre vaste collection de DVD (nous aimons la série de la BBC et les pays scandinaves) ou via Internet. L'étage inférieur n'a pas été entièrement rénové. La salle commune ouverte attend toujours le plâtre et la peinture; mais des équipements de cuisine, un Roherd invité, et de nombreux fours mixtes plats pour une utilisation partagée. L'étage inférieur a une belle chambre récemment rénovée (pas. 2) avec un lit double (160x200 cm) et un studio entièrement rénové (pas. 1) avec une petite cuisine, un lit double et un canapé (troisième lit) et un accès privé (porte patio) à jardin. Dans toutes les chambres est parquet. La salle de bain avec baignoire et machine à laver est au fond; une petite salle de bain avec douche au-dessus. Quand nous avons des invités, nous utilisons habituellement la salle de bains supérieure et nos clients la salle de bain inférieure (laver uniquement lessive ou le bain, nous obtenons là-bas et vers le bas ...) Notre trésor est notre chambre d'été (pas. 3), 9 m², 1 lit double (140x200 cm) situé sur la paroi arrière de la grange avec un beau plancher de tuiles de ciment antique, de grandes fenêtres donnant sur le lac lambrissés. Cependant, vous avez ici la nuit sur nos toilettes de jardin (toilette et lavabo normale) à 10 mètres de la salle d'été, ou marcher dans le jardin de la maison, là pour utiliser la salle de bains. Les prix des chambres se trouvent dans les annonces individuelles. Le jardin est d'environ 1000 mètres carrés et offre tout pour l'âme. Le lac a de l'eau magnifique et est considéré comme particulièrement propre, la jetée de l'eau est de 1,40 mètres de profondeur. Notre chat Hugo vit avec nous et ne peut ignorer les chiens pendant quelques jours ... pour des séjours plus longs devraient consulter chien voyager Hugo avant, donc s'il vous plaît indiquer dans la demande de réservation, si un chien arrive.
Wernsdorf se trouve dans de beaux lacs, idéal pour la navigation de plaisance, la natation, le cyclisme et la randonnée. Berlin est à une courte distance et offre tout le reste. Nous VOISINS sympathiques. Nos voisins ont une petite aire de pique-nique, la « Anglerheim » où vous pouvez manger merveilleux schnitzel (également du poisson). En été, il y a des événements occasionnels avec le même vieux DJ ivre (pop commence par se termine à la roche ...). Là, vous pouvez parfois ramasser des puces rapides, la crème glacée et un Berliner Weisse dans notre jardin, aussi longtemps que vous retournez la vaisselle :)
Tipe Kamar
Kamar pribadi
---
Tipe Properti
Rumah
---
Mengakomodasi
3
---
Kamar tidur
Königs Wusterhausen, Brandenburg, Jerman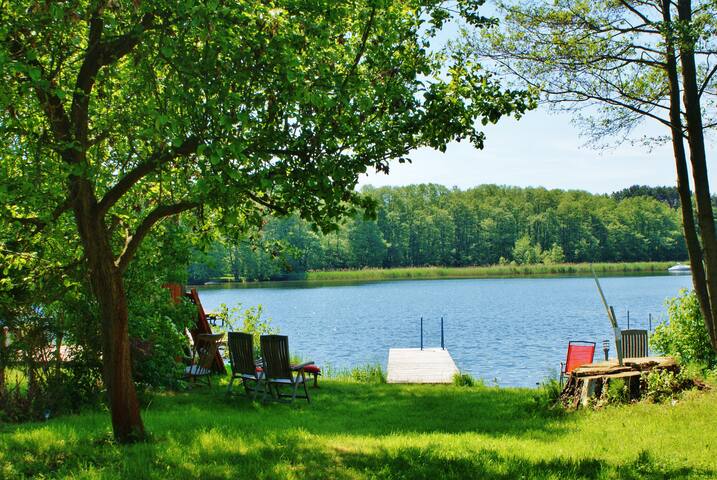 All transport is easily reached on foot and shopping facilities. Zoo is about 45 minutes, for 30 minutes Friedrichshain. We are looking for a roommate who is quiet and friendly and uses the room as a temporary solution
Flexibility and improvisation is my livestyle. Not perfection.
Alles sehr gut organisiert und inkompliziert. Gastgeberin sehr hilfsbereit, behilflich und höflich. Die Wohnung ist 5 Minuten zum Fuß von der Haltestelle der S-Bahn. Es könnte ein bisschen kompliziert sein, den Weg zur Wohnung zu finden, aber mir waren ausführliche Informationen gegeben, so dass ich mich nicht verirre. Die Wohnung war sehr sauber und ruhig. Die Gegend ist sehr ruhig auch. Stark empfohlen auf jeden Fall.
Ioannna
2016-01-10T00:00:00Z
Dagmar was great! She picked us up from the airport because she had some spare time and was very friendly and helpful. The apartment was warm and the facilities were in good condition. She helped us find a nice store only a few minutes away to get some necessities for ourselves. She was very friendly and kind. I would definitely stay with her again!
Liesl
2016-05-09T00:00:00Z
Dagmar was a wonderful host. She even dropped me to the airport and helped with my luggage. The room was cosy and comfortable. Dagmar also gave me some nice maps which helped me get around the city. The train system in Berlin is quite elaborate and I'm glad to have her explain things to me. I would highly recommend this place to anyone who is flying out of schönefeld and wants to see the city for a few days. It worked out perfectly for me as the airport is only one stop by train and a 5 minutes drive from Dagmar's place.
Divyashri
2016-05-06T00:00:00Z
We stayed at Dagmar`s place just for one night because of dislocation near to the airport. But we found out an excellent partner of communication. We shared with our travels experiences and spoke till early morning. Highly recommend a Dagmar`s place for short or long stay!
Kitija
2016-04-22T00:00:00Z
Nice experience! The house is clean, quiet and more than adequate for one person. It's within 20 mins walk to sxf airport: most convenient for plane catchers :D
CAP
2016-04-19T00:00:00Z
Dagmar is so nice! She is so hospitable!She picked us from airport at night, the send us to the railway station at very early morning in the next day! Everything is clean and comfort! Thank you Dagmar! Highly recommend !
瑞洁
2016-05-07T00:00:00Z
The host canceled this reservation 40 days before arrival. This is an automated posting.
Guilherme
2016-04-15T00:00:00Z
Dagmar ist ganz nett und freundlich,wegen der Verspätung bin ich sehr spät in Berlin angekommen,trotzdem wartete sie auf mich und holte sie mir ab.Das Zimmer gefällt mir sehr und ich habe gut geschlafen, das war sowieso ein schöner Urlaub!
shanhong
2016-03-27T00:00:00Z
Tipe Kamar
Kamar pribadi
---
Tipe Properti
Rumah
---
Mengakomodasi
2
---
Kamar tidur
Berlin, Berlin, Jerman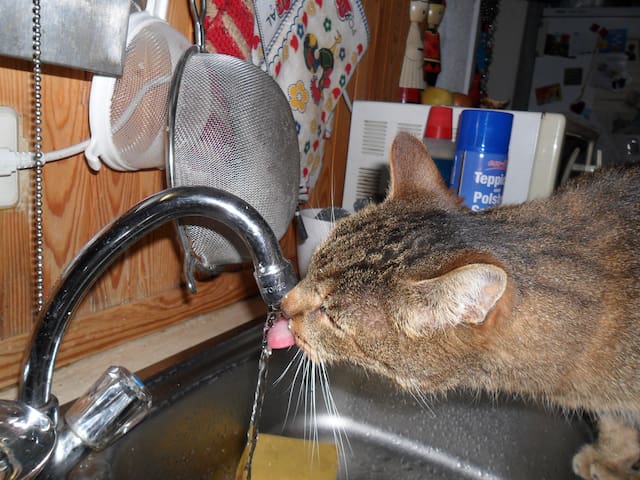 Všechny pokoje jsou 18 m². Velké a zařízeny vysoce kvalitním nábytkem jako ploché TV, dřevěný nábytek a tam je také podlahové vytápění v celém domě. Kuchyň je vybavena pro váš celý den potřebuje stejně.
Všechny pokoje jsou 18 m². Velké a zařízeny vysoce kvalitním nábytkem jako ploché TV, dřevěný nábytek a tam je také podlahové vytápění v celém domě. Kuchyň je vybavena pro váš celý den potřebuje stejně. V koupelně je moderní walk-in-sprchou. Velkou terasou a slunné zahradě jsou pro sdílené užívání bez jakéhokoli omezení.
Dům je situován v klidné ulici v Berlíně Bohnsdorf.
Tipe Kamar
Kamar pribadi
---
Tipe Properti
Rumah
---
Mengakomodasi
2
---
Kamar tidur
Berlin, Berlin, Jerman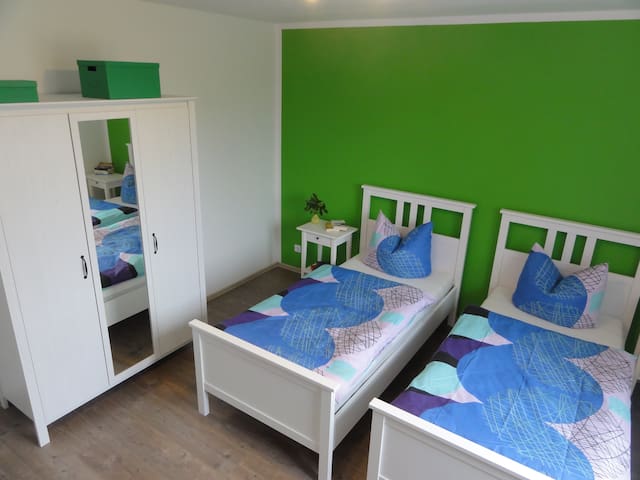 Haus direkt am Berliner See ca. 40 min mit dem Auto bis zum Brandenburger Tor
Tipe Kamar
Seluruh rumah/apartemen
---
Tipe Properti
Rumah
---
Mengakomodasi
3
---
Kamar tidur
Königs Wusterhausen, Brandenburg, Jerman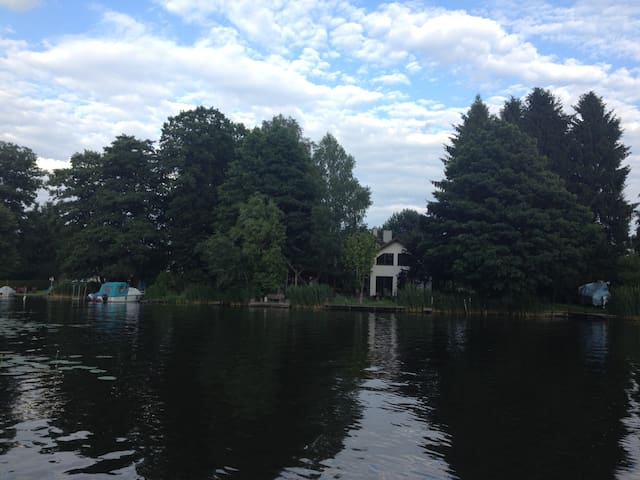 우리는 한 방을 임대. 욕실, 부엌, 태양 테라스와 아름다운 정원. 그것은 그릴 수있다. 30 분 하나 Ostkreuz 또는 Friedrichstr에서 기차입니다. 이 호텔은 가족에 이상적이다. 우리는 이탈리아어 영어, 프랑스어를 구사합니다.
중심과 기차역 Königs Wusterhausen 5 ~ 10 분 거리에 있습니다. 거기에서, 지역 및 교외 열차가 있습니다. 공항 베를린 쇠네 펠트 베를린 오스트 반 호프 약 20 분 안에 도달 할 수 있습니다. 해변과 보트 대여 여러 아름다운 호수의 도보 거리에 있습니다. 아파트는 베를린의 주변 지역을 탐험의 위치로 적합하다.
Es war ein nettes zimmer und ich habe mich in dem haus sehr wohl gefühlt. auch dass ich meine Hündin mitbringen konnte, fand ich sehr nett.
Marina
2016-10-21T00:00:00Z
The host canceled this reservation 20 days before arrival. This is an automated posting.
Veronika
2015-12-02T00:00:00Z
The week I spent at Janna's house was exactly what I was looking forward to. The room, the house and the neighbourhood are quiet, the other occupants extremely friendly, the garden beautiful and the area perfect for walking and cycling - and only an hour away from Berlin. The description given in the ad is accurate and I would like to highly recommend this address.
Beatrice
2015-09-09T00:00:00Z
Ich wurde sehr freundlich von Janna empfangen und direkt durch die Räumlichkeiten geführt. Die Unterhaltung am Abend war sehr nett und das Zimmer bestens. Gerne wieder!
Jörg
2016-01-20T00:00:00Z
Wie beim letzten Mal, alles prima!
Sam
2015-12-13T00:00:00Z
Die Buchung war auch kurzfristig möglich, Janna kommuniziert sehr zeitnah und freundlich. Das Zimmer war wie beschrieben und picobello sauber, das Haus ist hübsch und hat einen großen Garten. Da ich auf der Durchreise war, spät anreiste und nur für eine Übernachtung blieb, kann ich nicht mehr sagen. Ggf. gern wieder!
Christine
2014-10-02T00:00:00Z
Ich wurde pünktlich und herzlich empfangen. Auf meine Ankunftszeit stellte man sich sehr flexibel ein. Das Zimmer entsprach der Beschreibung. Küchen- und Badbenutzung waren unkompliziert. Ich fühlte mich aufgenommen und als Gast geachtet.
Annette
2016-01-10T00:00:00Z
Hostess Janna was welcoming, helpful and friendly. The place was easily accessible by car. The overnight stay at this room was a very pleasant experience.
Tomas
2014-12-22T00:00:00Z
Tipe Kamar
Kamar pribadi
---
Tipe Properti
Rumah
---
Mengakomodasi
2
---
Kamar tidur
Königs Wusterhausen, Brandenburg, Jerman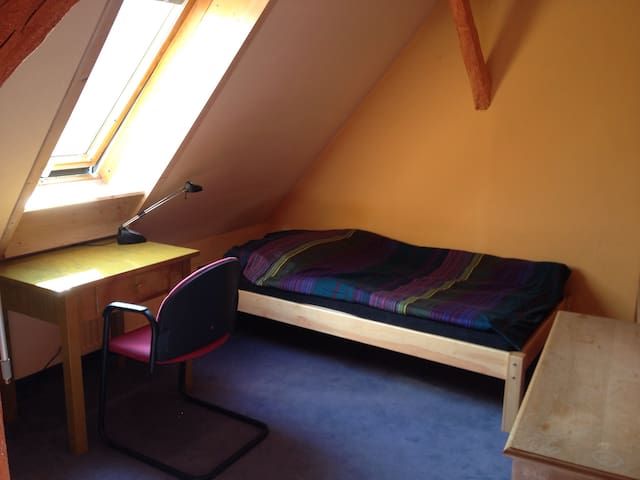 Rent holiday cottage in Southeast Berlin with large garden, about 45 minutes from the city center. Pure nature experiences. 5 minutes from the lake with a beach and private pier. The cabin has sleeping loft, fireplace, fully equipped kitchen and ..
The house has a fireplace. There is a large garden. BBQ and fireplace are available. 5 min. walk there is a lake. A boat can be used. There are beautiful nature, forests and lakes in the vicinity. The spa Bad Saarow be reached in about 15 minutes by car. There is a sleeping loft. There is a double bed. If desired, another mattress can be provided. The living room is furnished with a sofa bed. The size is ideal for 2 people with child. Maximum can be accommodated 4 people. THe kitchen is fully equipped with stove and refrigerator for self-catering.
The district called Zernsdorf and surrounded by 2 lakes. There are several restaurants and shops. In the immediate vicinity of the small town of Koenigs Wusterhausen is the hunting lodge Friedrich Wilhelm I and other interesting sights. Easily accessible is the Spreewald, Tropical Iceland, but also offers entertainment Berlin u Aabwechslung in every respect, not forgetting Potsdam. the host is at your disposal for tips, event tickets u. ä.. We speak English, Spanish, French., Italy. u a little Russian.
Es war alles super!
Daniela
2016-10-07T00:00:00Z
Es waren 4 extrem schöne Tage in dieser tollen Hütte. Klein aber extrem fein würde ich dazu sagen. Die Hütte sieht sehr sauber und gepflegt aus und man fühlt sich sehr schnell wohl. Ein See ist in Reichweite ( 5 min. Fußweg!) und es wurde sogar ein Schlauchboot für umsonst mit dazu gegeben was uns das Wochenende nochmal mehr verschönert hat. Abends konnte man sich dann in eine Hollywood Schaukel werfen und an einer Feuerstelle gemütlich den Abend ausklingen lassen. Genau das richtige wenn man mal der Großstadt entfliegen möchte und einwenig 2samkeit genießen will. Wir bedanken uns recht herzlich und wollen auf Jeden Fall wieder kommen!!! Davina & Mario
Mario Enrico
2015-07-20T00:00:00Z
The place was perfect and accurately described. Everything super clean and ready to enjoy. Highly recommended.
elliot
2016-05-04T00:00:00Z
Wir hatten ein angenehmes und sehr entspannendes Wochenende in Viktors kleiner Hütte! Lesen vor dem Kaminfeuer, kochen in der super ausgestatteten kleinen Küche, Nickerchen auf dem sehr bequemen Schlafsofa, lange Spaziergänge entlang des nahegelegenen Sees und in den Wäldern außen herum. Viktors Unterkunft ist perfekt für erholungsbedürftige Großstädter (auch ohne Auto und Fahrrad - die SBahn- und Busanbindung aus Berlin ist super). Leider hatten wir kein Glück mit dem Wetter, aber der großzügige Garten und die kleine Terrasse kann man bei Sonnenschein sicherlich auch toll nutzen, nachts den Sternenhimmel angucken oder in der Hollywoodschaukel liegen. Viktor beantwortete uns vorab alle Fragen und war gut erreichbar. Vorort wurden wir von seiner Mutter herzlich und unkompliziert empfangen und sie stand uns telefonisch auch jederzeit zur Verfügung. A very recommendable escape to the country!
Su
2015-04-06T00:00:00Z
Kommunikation mit dem Gastgeber und Übergabe verlief reibungslos. Das Haus war genauso ausgestattet wie auf den Bildern. Sehr ruhige Umgebung, riesiger und schöner Garten. Einkaufsmöglichkeiten ausreichend vorhanden und See in 2min Entfernung. Ein absolutes Plus waren das Schlauchboot und der Grill, beides konnten wir ungehindert nutzen und uns auch von den Blaubeeren bedienen. Hatten einen tollen Aufenthalt und bedanken uns sehr! Wir kommen gern wieder :)
Elena
2016-07-25T00:00:00Z
we had a wonderfull stay and could perfectly recover from the city stress. communication was quick and nice, uta welcomed us warmely. yes, he bed situation (it is small) was a bit a pain point, but we arranged us with the other sleeping possibilities (there is an other matress and also a bed sofa). the wonderful garden, the boat and the nice cottage made the stay perfect.
Manuela
2016-08-22T00:00:00Z
Viktor und seine Mutter sind sehr nette und zuverlässige Gastgeber! Immer erreichbar und sehr freundlich! Wir hatten einen super Aufenthalt, alles war sehr sauber und gemütlich! Herzlichen Dank!
Thomas
2014-05-19T00:00:00Z
Amazing little cabin, perfect for a few days of peace! Easy check in and check out, great location near the water. Even though there are houses nearby, you still feel private. Will come back again soon!
yasmin
2015-07-23T00:00:00Z
Tipe Kamar
Seluruh rumah/apartemen
---
Tipe Properti
Rumah
---
Mengakomodasi
4
---
Kamar tidur
Königs Wusterhausen, Brandenburg, Jerman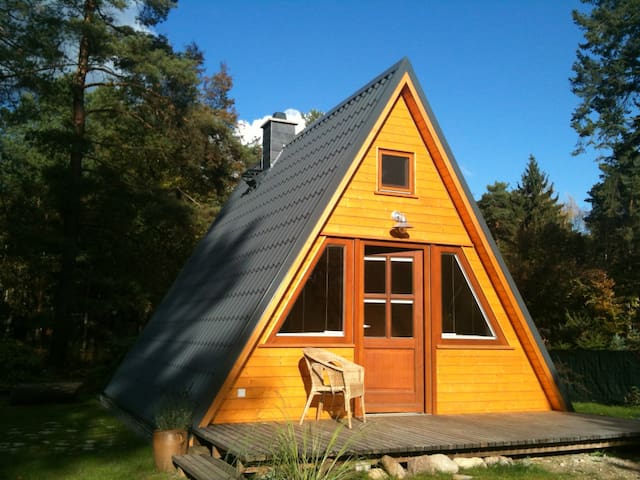 Meine Unterkunft ist in der Nähe vom Flughafen Berlin-Schönefeld, jedoch trotz Flugverkehr ruhig gelegen. Ideal für Reisende, die mit dem Flieger anreisen und Berlin erkunden wollen. Die Unterkunft liegt am Rand von Berlin, zwischen Wald, Wiesen und Feldern. Ideal für Wanderungen oder Fahrradtouren. Es gibt in der Nähe viele Seen die zum Baden einladen.
Great place, quite and beautiful. Rainer is a great host, didn't face any issues staying there. Only thing to keep in mind is that it's just in outskirts of berlin. Once one understands the public transportation and its timings, everything is good.
Gurpreet
2017-02-28T00:00:00Z
Hallo Reiner, alles war bestens, ich habe mich sehr wohl gefühlt und komme gerne wieder! mit sonnigem Gruß aus Schleswig-Holstein Stephan
Mira
2016-09-02T00:00:00Z
Mein Aufenthalt bei Rainer war super. Man hat seinen eigenen Zugang und kann Küche und 2 Bäder nutzen. Vor allem vielen Dank für das spontane Verlängern können und deine Flexibilität. Immer wieder gerne.
Lisa
2016-09-20T00:00:00Z
I had a very good experience staying at the property. Mr. Wille was a very warm and welcoming host. Will try and visit again. Nice quiet place with good natural beauty all around. Well kept house and excellent services.
Amit
2016-10-02T00:00:00Z
ME ENCANTO!!!! TODO ESTUVO GENIAL, DESDE EL PAISAJE A LOS ALREDEDORES, EL TRANSPORTE, LA AMABILIDAD DE TODAS LAS PERSONAS CON LAS QUE TUVE LA OPORTUNIDAD DE HABLAR, LA CASA HERMOSA!!! MUY COMODA, ORDENADA Y LIMPIA. RAINER SIEMPRE MUY ATENTO Y AMABLE EN TODO, SIEMPRE QUE NECESITE AYUDA EL SIEMPRE ME FACILITO LA INFORMACION. ME VOY MUY CONTENTA DE HABER TENIDO LA OPORTUNIDAD DE HABER CONOCIDO A RAINER Y LOS OTROS HABITANTES EN SU CASA, "MUY BUENA ONDA" TODOS, SI TENGO OPORTUNIDAD DE REGRESAR A ESTOS RUMBOS TAN HERMOSOS VOLVERIA A HOSPEDARME CON RAINER !!!! MUCHAS GRACIAS POR TU HOSPITALIDAD Y AYUDA RAINER ;)
DAMARYS
2016-08-30T00:00:00Z
Отличный дом ,рекомендую
Gennadiy
2016-11-20T00:00:00Z
Rainer is a great host. The place itself is great & the neighborhood is rather idyllic in a suburban lawn kind of way. My main qualm with the place is that it's hard to get to & from the heart of the city from this location.
Jeffrey
2016-09-11T00:00:00Z
距离市区远一点,适合自己驾车的客人
LEO
2016-09-06T00:00:00Z
Tipe Kamar
Kamar pribadi
---
Tipe Properti
Rumah
---
Mengakomodasi
1
---
Kamar tidur
Schönefeld, Brandenburg, Jerman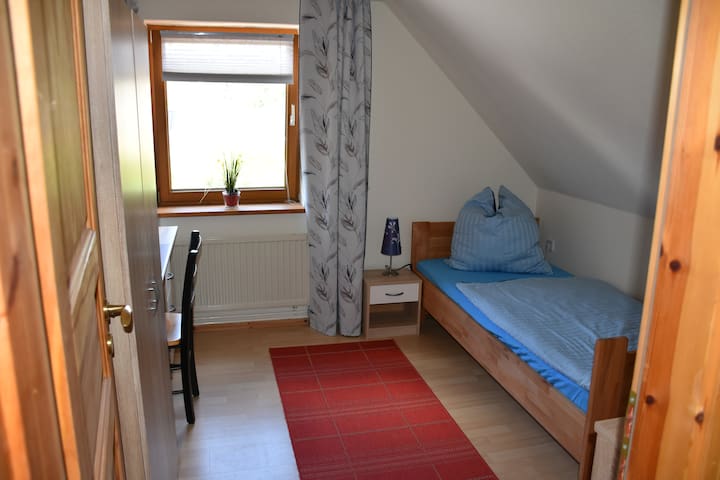 sul interna pontile lungo 6 metro Sentitevi anche creare la loro barca, se non è troppo grande per questo - perché la sicurezza viene prima di tutti gli ospiti in vacanza La proprietà si compone di una grande camera da letto della famiglia di 20 mq e una di 25 mq
pv pv pv ZK ZK pv ZK KZ ZK pv pv pv pv ZK ZK ZK PZK PZK pvzkpkzvpvzk kkkkkk BSCH Godetevi con noi la vacanza pura, turismo e tempo libero - fare una vacanza indimenticabile con noi a Berlino! I nostri appartamenti offrono divertimento per le vacanze in una natura bellissima e incontaminata, in parte dall'acqua. Approfittate della splendida cornice per lunghe passeggiate, gite in bicicletta e passeggiate, e giocare a golf, la pesca, la canoa e il nuoto. I nostri appartamenti sono con gusto e arredate in modo funzionale, in modo da poter anche lasciare subito sentire a casa. Attendiamo con ansia la vostra visita! Informatevi facilmente in anticipo sul nostro sito web sui nostri servizi e il nostro servizio. Siamo naturalmente in qualsiasi momento per le domande e le prenotazioni si possono avere.
La tranquillità e la posizione unica della proprietà Dressler lungomare e l'appartamento Dressler lungomare sono unici
So kindly people, beautiful house with a big lake, we will be back again!
Johnny
2015-05-09T00:00:00Z
Tipe Kamar
Seluruh rumah/apartemen
---
Tipe Properti
Rumah
---
Mengakomodasi
4
---
Kamar tidur
Berlin, Berlin, Jerman
Some rural area but only 30 minutes to the center. Room in the basement of a detached house, separate entrance.
Es hat alles gut geklappt. Wir wurden freundlich und hilfsbereit von anderen Airbnb-Nutzern empfangen und, von einem besonders, ins Zimmer gebracht und rum geführt. Dagmar war leider nicht anwesend. Dennoch vielen Dank.
Sabine
2015-10-02T00:00:00Z
Einfach nur toll! Dagmar ist unkomplizierte und sehr gastfreundlich :-) ich freu mich schon auf das nächste mal!
Lona
2016-02-08T00:00:00Z
Dagmar is very nice host. Although I havent slept in the room because I was able to catch my last bus to Prague, she was very nice and she gave me very descripted directions to her place. She was really helpful! :)
Milan
2016-01-17T00:00:00Z
Sehr angenehmer Kontakt. Ruhig gelegen und trotzdem gut erreichbar.
Daniel
2016-11-27T00:00:00Z
Dagmar was an incredible host: she wait for us at the train station late in the night, took us with her car to her home and even gave us a ride to the airport the next morning. We only spent a few hours with her but we enjoyed it every each of them. Dagmar is an incredible person and we hope to see her again in the future. Thanks Dagmar for everything!
Juan Manuel
2016-05-02T00:00:00Z
Perfekt Alles wie abgesprochen, dazu sehr freundlich und hilfsbereit. Immer wieder gerne
Oliver
2015-09-26T00:00:00Z
Super nette Gastgeberin und die Unterkunft nach unseren Vorstellungen, Lage perfekt
Wolfram
2015-09-07T00:00:00Z
Dagmar was an excellent host! She picked us up from the train station on arrival and was exceptionally warm and friendly. The room was cute and comfortable, we felt right at home and were even treated to breakfast the next morning followed by a tour of a local village. Dagmar was so lovely and I would definitely stay with her again.
Samuel
2015-08-24T00:00:00Z
Tipe Kamar
Kamar pribadi
---
Tipe Properti
Rumah
---
Mengakomodasi
2
---
Kamar tidur
Berlin, Berlin, Jerman
It is fully equipped, approx 90sqm, comfortable, quiet (lake) and central (Berlin) situated. The price includes bed linen, towels, garden, BBQ, fire bowl, bicycles, DVDs, and much more ..
* Tours to land / water & air in the surrounding area * Via bicycle through nature * Via kayak through the surrounding lakes and canals *Fishing * Berlin day tour * Spa town of Bad Sarrow * Charles Erdbeerhof * Kletterwald * Relaxing in the garden * Filmpark Babelsberg * Boat tour in the Spreewald etc etc
Wir haben die Ferienwohnung als Familie mit zwei kleinen Kindern gebucht und hatten eine wunderschöne Zeit in Senzig. Die Wohnung bietet mit 3 Schlafzimmern genug Platz für alle. Sie ist liebevoll eingerichtet und bietet mit vielen gut gewählten alten Möbeln eine gemütliche Behausung mit Seele. Uns hat es an nichts gefehlt. Alles war ausgesprochen ordentlich und sauber. Wir mochten besonders die vielen kleinen Details: ein paar Teebeutel im Schrank, schöne Bettwäsche...oder das süße Betthupferl auf den Kissen in den Schlafzimmern. Für Kinder gibt es zudem eine Menge Kinderbücher, die zum Abend vorgelesen werden können. Das hat uns gut gefallen. Toll war auch, dass uns die hauseigenen Fahrräder für spontane Ausflüge zur Verfügung standen. Der See ist gleich um die Ecke. Es ist ruhig und beschaulich. Kurz gesagt, wir haben uns daheim gefühlt. Vielen Dank.
Andre
2015-08-26T00:00:00Z
The host canceled this reservation 98 days before arrival. This is an automated posting.
Stefanie
2017-01-05T00:00:00Z
Die Unterkunft entsprach genau der Beschreibung, durch die vielen Fotos konnten wir uns auch leicht und schnell orientieren! Wir, eine Gruppe von sechs Personen, Mitte zwanzig, hatten eine sehr erholsame Zeit. Das Haus bietet genügend Platz und durch die kleinen Details auch einen enormen Wohlfühlfaktor. Wir haben uns dort sehr willkommen gefühlt und sind froh, so nette Vermieter gehabt zu haben! Stets bereit für Fragen und Hilfestellungen, wenn man mit dem Infobuch nicht weiterkommt. Durch die Vielfalt der Möglichkeiten (bsp. Grillen, Rad fahren, chillen am See...) bleiben keine Wünsche offen! Im Ort bekommt man alles für den täglichen Bedarf und mit der Bahn ist man in 30 Minuten ganz bequem in Berlin City! Vielen Dank für die schöne Zeit!
Janine
2016-05-17T00:00:00Z
Tipe Kamar
Seluruh rumah/apartemen
---
Tipe Properti
Rumah
---
Mengakomodasi
6
---
Kamar tidur
Königs Wusterhausen Ot Senzig, Brandenburg, Jerman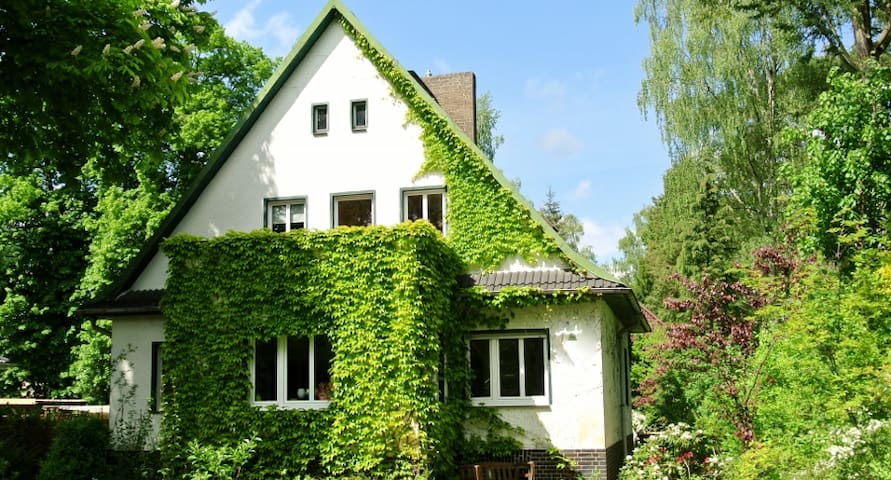 You want to conquer Berlin but after a day full of adventures you looong to get away from it all? And you are curious about how "real" people live in the leafy outskirts? This chalet with a big garden in a nice and quiet neighbourhood (in the former East of Berlin, now Brandenburg) is close to lakes and it is an unique, romantic place to relax, recharge the batteries and to feel at home in an instant. For groups of friends or families with grown up kids! Close to Schonefeld Airport SXF!
This house wants to be a sanctuary for cultivated, mature, interesting people who appreciate the opportunity to live in a proper German's home... :) On your arrival you will find a little surprise in the fridge or on the table. Please let us know if we can do anything in advance to make your "Landing" in Berlin as smooth as possible! Thanks a lot for choosing us!
Our chalet is situated in the former East Germany... and although the wall came down 25 years ago you will still find a lot of traces from the past. It is a super green area with woods and many lakes nearby (5 minute walk) and a lot of detached houses and 5 restaurants in the village (Indian, Greek, Mexican, Italian and even a Michelin starred German one in a former butchery). Nearby you will find a very special "road trip" with the famous tram line 68 along the lakes... from Schmockwitz to Grunau... it's an insider tip!
Nous avons passé 10 jours merveilleux dans cette belle et chaleureuse maison. Salka est juste une personne Adorable! Nous espérons vivement y retourner. Yolande et Eric
Eric
2015-08-19T00:00:00Z
What a wonderful place, hosted by a lovely lady. Salka went well beyond what hosts really need to do in order to make my family feel most welcome in Zeuthen. The entire stay was excellent...great location for me to pop into work with only a 10 minute commute and plenty of things nearby for the family to walk/quick drive to including the woods, lake, mini beach, cafe, restaurants...a real find!!! I highly recommend Salka's place if you are looking anywhere near the outskirts of Berlin but want to be handy for transport and stuff to do. The house itself is very large with a lovely back garden to sit in and large rooms (bedrooms and living rooms).
Brian
2015-07-18T00:00:00Z
The place you need if like us you want to recover from busy Berlin downtown. Extremely quiet location, comfortable house with a charming garden and Salka made everything easy and was always promptly available. Can only recommend!
Paul
2016-08-17T00:00:00Z
Dieser herzliche und wärmende Empfang von Salka war der Beginn eines wunderschönen Aufenthalts in einer romantischen Idylle. Wir, eine 6köpfige Gruppe, entspannten und genossen unsere Zeit und waren traurig wieder in den Alltag zurück zu müssen. Die Schönheit des Hauses lässt sich nur ansatzweise durch die eingestellten Bilder festhalten und darüber hinaus bietet es alles das, was man zum Leben und zum Wohlfühlen braucht.
Thomas
2016-01-03T00:00:00Z
We were a group of 5 people from India visiting Berlin to participate in an exhibition and chose to stay at Rest In Peace. 4 0f the group were first time visitors to Germany and 3 of them hadn't left India before. With all these challenges, I chose on Saskia's house and banked big on what was on the listing. Our overall experience was really fantastic and Saskia was much more than a host. She took care of every little detail to make our stay enjoyable. She was so kind that she even advised us that her place was too far away from the exhibition center and tried real hard to find a more convenient place. Luckily she wasn't successful as Berlin was fully booked up. But for us, the experience of staying in a German house with a German host was priceless. We used up every part of her house extensively incl the kitchen and relaxing areas. It is indeed a really pretty house maintained exquisitely.. More than the House, Saskia made the big difference. We all have a friend for Life now..
shamil
2016-09-24T00:00:00Z
Me and my friends came from a long 10 hour drive and really had no other option but to come in the morning. Saskia was really nice to let us check in earlier and get a needed sleep. She is a really warm and kind person and it shows not only on a personal level but it also shows in her investment in the house - decoration and positive energy it vibrates. This is THE BEST airbnb experience I've ever had. We had a whole house for ourselves. It is located in a beautiful town Zeuthen ( Eichwalde ). Train station is nearby ( 15 minutes of walking, or 5 min drive ), centre of berlin is cca. 30 minutes with S-BAHN ( train ). Everything in this place is just magical. We went to Lollapalooza festival in the evening and came home usually really late. Every sleep was so regenerating and refreshing. This is the place to go with family or friends to enjoy peaceful and quiet whispering of nature. I really can't recommend this place enough. I will chersih all the good memories I had there for all my life. If it would be possible I would give it 6 stars out of 5. Top notch listing.
Valentino
2016-09-13T00:00:00Z
My family and I had good time in Salka's gorgeous house. The house is quite spacious and comfortable enough for five members to stay for five nights. It also has nice interior design that has been prepared with her meticulous care. Without a doubt, the garden is much better than what is expressed in the photos. Most of all, Salka is really nice host.. I won't forget her kind consideration. Thank you, Salka!
Kwanghoon
2015-09-09T00:00:00Z
Tipe Kamar
Seluruh rumah/apartemen
---
Tipe Properti
Rumah
---
Mengakomodasi
6
---
Kamar tidur
Zeuthen bei Berlin, Brandenburg, Jerman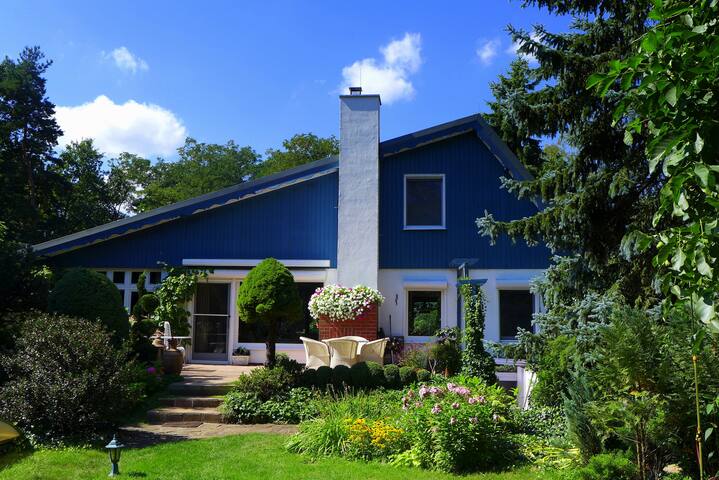 Wildau - Airbnb
:
Rata-rata

4.67

dari

5

bintang dari semua

372

ulasan tamu
1

–

18

dari

34 Sewa Rumah
Masukkan tanggal untuk melihat harga lengkap. Biaya tambahan berlaku. Mungkin dikenakan pajak.