Isolated in it's own private garden surrounded by all sorts of fruit trees,herbs and flowers,this two level studio will definetly compensate you.. A stone yard with a barbeque for special evenings and sea view for the perfect relaxation,completes the scenery.Also available rental cars uppon request.
Seluruh apartemen · 2 tamu · 2 tempat tidur · 1 kamar mandi + ruang toilet
Beautiful home with view sea
Το σπίτι είναι πολύ φωτεινό και όμορφο στο εσωτερικό του,ειναι πρόσφατα βαμένο και ανακαινισμένο...υπαρχει μια κουζινα με ένα φουρνακι ένα μεγαλο ψυγειο με καταψύκτη καθως υπαρχει τραπεζι με δυο καρεκλες για να απολαμβάνεται το φαγητο σας,στην κουζινα απέναντι βρίσκεται ένα κοκκινο καναμπεδακι για να καθεστε..υπαρχει ένα διπλο μεγάλο κρεβάτι και μια πολύ μεγαλη ντουλαπα καθως τηλεοραση και Air Codition,μια μεγαλη μπανιερα με νεροχυτη και τουαλετα.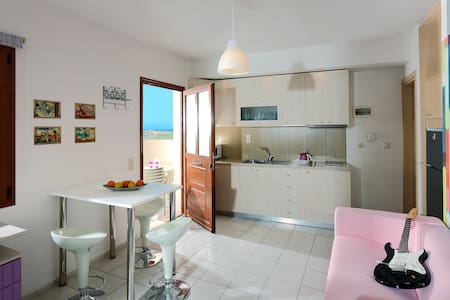 SUPERHOST
Seluruh apartemen · 2 tamu · 0 tempat tidur · 1 kamar mandi
Charming retro studio with shared pool and view
An apartment for two. A space designed in a pop mood. Colourful scenery for a memorable stay. A spacious studio that reflects the unparalleled colours of the pebbles of the Cretan land. The Votsalo is an unforgettable place to stay in, with all the modern amenities in the kitchen, bathroom and bedroom. Among the generous amenities which don't differ in the least to those of the bigger areas of accommodation, the Votsalo satisfies all the requirements for a relaxed, calm and playful stay.